May, 14, 2014
5/14/14
2:01
PM ET
Is it perhaps a coincidence that the two National League teams currently playing at a 100-win pace, the
Milwaukee Brewers
and
San Francisco Giants
, are the two rated to have fared the best at using defensive shifts?
Perhaps. But it strikes us as worth noting.
That the Brewers are getting good value from their infield shifts is not surprising, as shifting has been a staple since Ron Roenicke became their manager in 2011.
That the Giants are also getting good value is also intriguing. Their infield has been credited with 7 Defensive Runs Saved, a year after finishing with -6. They are turning 78 percent of groundballs into outs, a rate that ranks third-best in the majors behind the Athletics and Rockies.
Think that might have something to do with why
Tim Hudson
has pitched so well?
A couple of weeks ago,
Andrew Baggarly of CSNBayArea.com talked with Giants coach Ron Wotus
about the Giants' use of shifts this season.
The Giants have taken a reasoned approach to shifts, in contrast to a team like the Astros that is using shifts in abundance. The Giants are tied for 13th in shifts used with 110, on pace to nearly triple last season's total of 449. Baseball Info Solutions has credited them with saving the Giants six runs, based on how effective the Giants have been at getting outs with the shifts.
"It's a game of percentages," Wotus told Baggarly. "That's the thing. The percentages might (favor) the shift, but using good judgment on how you're approaching the hitter, sometimes that's better than going with the percentages.
"All of it, the charts and information, it's all valuable. But the instinct of the player is still your most tremendous asset when it comes to defending hitters."
The combination thus far seems to have allowed Wotus' team to take a (pardon the pun) Giant step forward.
Baseball Tonight takes: Boone on Arenado; Perez on improved defenders
I wanted to get the thoughts of a third baseman on the defensive play of
Nolan Arenado
, the runaway leader in Web Gems this season and the reigning NL Gold Glove third baseman, so I turned to "Baseball Tonight" analyst
Aaron Boone
.
Boone saw Arenado in spring training 2013 and liked what he saw then. He likes what he sees now even more.
"There is a recklessness to the way he plays and that's a compliment," Boone said. "He can make the most difficult athletic plays, and he doesn't have to stop to gather himself when doing so. He's reckless, but completely under control."
I asked Boone what Arenado could improve upon, noting that he is the leader among third basemen in both video-reviewed Good Fielding Plays and Defensive Misplays & Errors. Boone had a one-word response:
"Consistency."
I also asked
Eduardo Perez
the same question I asked a couple of our analysts last week: Name a defender who you think has improved the most from last year to this year. He gave me two.
"Josh Donaldson. I like him a lot. He expects every ball to be hit to him and he's really good from side to side."
"Alexei Ramirez: I don't know that there is anyone who is as good at making the routine play as he is now."
Who's best at handling tough throws?
In writing about the
key defensive play made by
Lucas Duda
to end the first Mets-Yankees meeting this season, I came across a note showing that Duda had good numbers on handling what are termed "difficult throws" by those who do video review for Baseball Info Solutions.
As of that day, Duda ranked third in the majors at the rate in which he was turning difficult throws into outs.
The standard setters at handling difficult throws in terms of quantity since the start of last season are
Paul Goldschmidt
(83) and
Eric Hosmer
(70).
On a per-inning basis, looking at the 30 first basemen who have played the most innings over the last two seasons,
Todd Helton
and
Gaby Sanchez
rate highest, with Goldschmidt third and Hosmer sixth, behind
Edwin Encarnacion
and
Justin Morneau
.
This data, by the way, is one of the hidden gems on FanGraphs. You can find it
here under "Scp."
We can add another wrinkle to the data by factoring in mishandled throws (a stat provided to ESPN by BIS).
Helton rated best there as well, as his ratio of difficult throws handled to ones he misplayed was 46 to 1. The rest of the leaderboard is noted in the chart on the right.
Mark Simon evalutates defensive stats for the Sweet Spot blog each week. He can be found on Twitter at @msimonespn
March, 3, 2014
3/03/14
2:30
PM ET
By
Christina Kahrl
| ESPN.com
So, you think
Cleveland Indians
shortstop prospect Francisco Lindor might be ready for the show, do you? Paul Swydan
makes a great case
for why the Tribe should turn to one of the game's top 10 prospects, not just to reap defensive benefits but to follow a time-honored tradition of fast-tracking a top-shelf shortstop prospect.
The question is, who needs one year of
Asdrubal Cabrera
? He's a free agent after 2014, so if you get him, you get him because you need a shortstop now, because you have big expectations for your team in 2014 and maybe because you think you can sign him next winter.
[+] Enlarge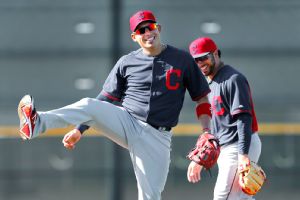 AP Photo/Paul SancyaAsdrubal Cabrera might be more than happy to step into a high-profile gig like playing short for the Mets.
Who fits all of those criteria? I think just one team, the "
we'll win 90 now
"
New York Mets
.
What can the Mets give up to get him? Stuff the Indians need, and dealing from depth: First base/LF type
Lucas Duda
, third-base prospect
Wilmer Flores
and right-hander Michael Fulmer.
The Mets' gains are pretty obvious, especially if you accept projections of Cabrera rebounding in 2014, whether Baseball Prospectus' .734 OPS, Dan Szymborski's ZiPS (.736 OPS, 17 home runs) or the Bill James Handbook's projecting a .746 OPS. That's a 100-point jump from what's generally expected from incumbent
Ruben Tejada
at the plate. Like Cabrera (minus-16 in BIS' plus-minus last year), Tejada's defense wasn't an asset last year (rating minus-9 in almost a third of a season); unlike Cabrera, there's no past track record to suggest that he can do better. And why Duda and not
Ike Davis
? Well, if you're drinking the Kool-Aid that says 90 wins is possible for this team now, I have to believe Davis' .954 OPS in the second half last year is a big part of the reason. And trading for Cabrera means you're drinking pretty deeply from that pitcher of Kool-Aid.
Why does this work for the Indians? Because it gives them help now
and
upside. Starting with the least valuable player first, Duda would give Cleveland a lefty bat to mix in at first, DH and the outfield, another moving part with platoon punch to fit within Terry Francona's lineup-card shifts. Duda's career numbers against right-handers (.255/.356/.456) will come in handy, especially if
David Murphy
's awful 2013 season (.656 OPS) was his career's death rattle, leaving the Tribe without a good answer for lefty at-bats at first or in right.
Moving to the long shot with upside, Fulmer is the injury-prone arm in the Mets' stack of talented arms who might reach a middle slot in a big league rotation. Between shoulder and knee problems last year, he didn't log much time on the mound after making his full-season debut in low Class A in 2012, and his bulk combined with the knee injury and the general fragility suggests he might wind up as "just" a bullpen asset. But with a plus fastball/slider combo that he throws with command, and heat that can hit the mid-90s in a bullpen role, he's an upside guy who wouldn't be on the 40-man roster and who could move up fast from high Class A in the next few years if he's healthy.
Which brings us to the top-shelf prospect, which is something you have to give up to get something of value. The question isn't the big league value the Indians would get in the deal. By starting with Duda to help out at first base, DH and the outfield corners, they're getting three years of adequacy. And they already have
Mike Aviles
around as an insurance policy at short if Lindor stalls, gets hurt or even just needs that initial month in the minors. But what moves the dial for the Tribe is a prospect, especially since trading Cabrera means giving up their own shot at compensation picks. They need a quality prospect, and the Mets, thanks to
the sixth-best farm system in baseball according to ESPN Insider's Keith Law
, have something to offer.
[+] Enlarge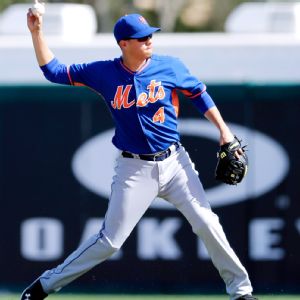 AP Photo/Jeff RobersonWilmer Flores' upside at the plate could eventually bring the Indians a .500 slugger at third base.
The easy thing would be to ask for a first-round-quality talent, either a high-OBP tweener like Brandon Nimmo or a ready-now option for third base like Flores. But I don't see the Mets giving up Nimmo, while Flores is blocked by
David Wright
and his new deal. And frankly, third base is where the Indians have a need, now and into the immediate future. They're already forced to ask themselves how good
Lonnie Chisenhall
is ultimately going to be, either as a lineup regular (since a .300 OBP or a .700 OPS aren't automatic for him) or as an everyday defender at third base. Chisenhall's shortcomings have already inspired this spring's experiment with putting starting catcher
Carlos Santana
at third base, a case of robbing Peter to pay Paul the Tribe should forgo so that they can keep Santana behind the plate or at first and DH.
So they get Flores in the Cabrera trade. He's just 22, but is about as ready as he's ever going to be after an .888 OPS in Triple-A last year and .855 at Double-A the year before that. He has a quick bat and good power to all fields, and he comes with .500 slugging potential. Like Chisenhall, he's already projected to produce around a .700 OPS in the majors, but his youth suggests higher eventual upside. Assuming the Indians aren't permanently scarred from the
Andy Marte
experience -- the last time they traded for another organization's top touted hot-corner prospect -- Flores is a perfect fit.
Finally, remember, the Mets wouldn't be trading for Cabrera to have and to hold forever after -- they're just renting him for a year. But once you have him, you also have a season to make a sales pitch on why he should stick around. If you're the Mets, wouldn't you want to be able to exploit that window, before free agency? Because the other thing to consider is that if the Mets don't trade for Cabrera now, they may well be in the exact same situation in nine months: Making him a multiyear pitch paying eight figures per year, but while competing against every other team on the market. Why not take your chance now, gain that brief, exclusive negotiating window in the offseason?
There are also side benefits come draft day. Let's say getting Cabrera is already something the Mets are thinking about for next winter. By getting Cabrera now they don't just protect their own future first-round pick that they might lose by signing him in December (if they wind up outside the 10 protected picks), they potentially gain one if they instead lose him to free agency. As one former governor of Illinois put it, that's a frickin' valuable thing.
Christina Kahrl writes about MLB for ESPN; you can follow her on Twitter.
January, 24, 2013
1/24/13
1:35
PM ET
Right now, the
New York Mets
' website lists their starting outfield as
Lucas Duda
in left field,
Kirk Nieuwenhuis
in center and
Mike Baxter
in right. Not exactly Mooke, Lenny and Darryl, let alone Upton, Upton and Heyward or Harper, Span and Werth. You can see why the Mets
may be interested
in
Michael Bourn
. The conflict there is the Mets own the 11th pick in the draft -- but only the top 10 are protected, so the Mets would lose that first-round pick if they sign Bourn.
Last year, the Mets' outfield accumulated 4.1 WAR via FanGraphs -- 29th in the majors, just ahead of the Astros. Now, some of that responsibility fell to
Jason Bay
(.165 in 215 plate appearances), but Duda was the biggest negative, primarily thanks to his terrible defense in right field. Duda is really a first baseman, except he doesn't really hit like a first baseman, not with a .239/.329/.389 line.
[+] Enlarge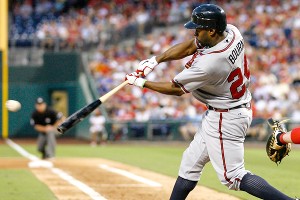 Brian Garfinkel/Getty ImagesUnlikely to be in contention for a few more seasons, it would not make sense for the Mets to sign Michael Bourn.
Niewenhuis flashed some potential but with 98 strikeouts in 314 plate appearances, he'll need to improve his contact rate to become anything more than a fourth outfielder. Baxter is a journeyman/4-A type of player and at 28 isn't going to get better. He'll take a few walks but won't give you the power you want from a right fielder.
Collin Cowgill
and
Jordany Valdespin
are also hanging around. As you can guess, there isn't a lot of upside here.
Even worse, the two most productive Mets' outfielders from 2012 are gone.
Scott Hairston
provided power in a part-time role and
Andres Torres
at least played decent defense in center. Could this end up being a historically awful outfield?
Over the last 10 seasons, FanGraphs rates the 2004 Royals as the worst, with a cumulative -2.2 WAR. That group featured
Carlos Beltran
for half a season and a rookie
David DeJesus
, who was about a league average hitter in 413 PAs.
Matt Stairs
played a lot out there and hit OK but killed them defensively and
Dee Brown
and
Abraham Nunez
each had more than 200 PAs with OBPs around .300.
Juan Gonzalez
even played a few games out there. That's past-his-prime Juan Gone. Certainly a pretty uninspiring group, especially after Beltran was jettisoned off to Houston.
The second-worst outfield is a bit of a surprise: The 2005 Yankees, with
Hideki Matsui
,
Bernie Williams
and
Gary Sheffield
, at -2.2 WAR. Bernie didn't hit but the other two did and collectively the Yankee outfield had a wRC+ of 101, so it was about a league average group offensively. But FanGraphs rates those three as -70 runs on defense and others who filled in (
Tony Womack
,
Bubba Crosby
,
Ruben Sierra
) as another -27. Defensive Runs Saved isn't quite as harsh with a collective -65 runs, but it was clearly one of the worst defensive outfields ever assembled. The Yankees managed to win 95 games anyway.
Third worst on the FanGraphs list is the 2007 White Sox, which ... well, it was a terrible group, with
Scott Podsednik
and
Rob Mackowiak
in left;
Jerry Owens
,
Darin Erstad
and
Luis Terrero
each starting at least 24 games in center; and
Jermaine Dye
(-27 Defensive Runs Saved) in right. Dye didn't even hit much that year, with a .317 OBP.
If we're talking strictly offense, the group with lowest wRC+ is the 2011 Mariners (the 2012 Astros being next-lowest), which no surprise to Mariners fans reading this. Mariners outfielders hit .235 with a .285 OBP. That's bad for a glove-first shortstop let alone an entire outfield.
The Mets' outfield won't be
that
bad. But I don't see the point in signing Bourn and losing that first-round pick. The Nationals and Braves have built powerhouse franchises for 2013 and beyond. The Mets aren't likely to sniff the playoffs this year, even the second wild card. Maybe by 2014 or 2015 they can contend around a great rotation as
Matt Harvey
and
Zack Wheeler
mature, but how productive will Bourn still be in two or three years? There's no doubt Bourn would help some of those young starters race down some mistakes in center, but at what cost? Considering his age, strikeout rate and a game built around speed, if Bourn loses a couple steps the decline could be rapid.
While I can understand the rationale in signing Bourn to improve the defense, unless you can get him at a steep discount (less than what the Braves paid
B.J. Upton
, for example), I say pass.
March, 13, 2012
3/13/12
10:54
AM ET
Could it be that the
New York Mets
won't be as bad as everyone thinks?

After all, they did win 77 games in 2011. And, yes, they will be without
Jose Reyes
and
Carlos Beltran
, their two best hitters last season. On the other hand ... OK, I'm trying to come up with an other hand.
No, there are reasons the Mets could conceivably chase .500 in 2012. Here are five:
1. A full season from
Ike Davis
. Remember, Davis was tearing it up (.302/.383/.543) in 36 games before his injury.
2. Improved production from
David Wright
and
Jason Bay
with the Citi Field fences moved in.
3. The return of
Johan Santana
.
4. A better bullpen -- Mets were 15th in the NL with a 4.33 relief ERA.
5.
Lucas Duda
can hit -- .322/.411/.546 in the second half.
OK, that's the positive spin. What do you think? Oddsmakers have the Mets at 74.5 wins.
February, 16, 2012
2/16/12
9:00
AM ET
I asked readers on Twitter to name their top choice for breakout player for this season.
The question is fairly vague, although I did say not to include rookies like
Yu Darvish
,
Matt Moore
and
Mike Trout
, players who have received plenty of hype and will have high expectations.
Out of 100 responses, I got 63 different names listed, although that included my friend Thomas jokingly picking
Don Kelly
. Who knows, maybe Kelly
will
push
Miguel Cabrera
to full-time designated hitter. Anyway, here are the players who received more than two votes:
Justin Smoak
, Mariners: 7
Brett Lawrie
, Blue Jays: 6
Brandon Beachy
, Braves: 3
Mike Minor
, Braves: 3
Dexter Fowler
, Rockies: 3
Travis Snider
, Blue Jays: 3
Lucas Duda
, Mets: 3
Brandon Belt
, Giants: 3
Dustin Ackley
, Mariners: 3
This is what makes baseball so exciting and unpredictable. Some of the 63 guys mentioned
will
break out. All 63 certainly have a chance to break out, even in the vague definition of the term. And while Lawrie is an obvious candidate after his monster performance late last season, we
don't
know if Smoak or Belt or Fowler will become a big star. Maybe one will; maybe all three will. It's why we watch. My own pick:
Homer Bailey
. Long-heralded, he finally started putting it together last season. Cincinnati's a tough place to pitch so I'm not expecting a 3.18 ERA or anything, but I think he can get that ERA in the 3.50-3.75 range and become a solid No. 3 starter behind
Mat Latos
and
Johnny Cueto
.
Some comments from Twitter:
Dexter Fowler. I think this is DexFo's year to break out and become the third part of the Tulo, Cargo, Dexfo triumverante. -- @sskapyak
@LoMoMarlins Goes off .300/.405/.515 with a bump in power numbers. -- @faust74
Brett Lawrie is gonna have a memorable season. -- @GTAdross
Matt Wieters
. Continues to cut his strikeouts down, .840 OPS in the second half of 2011. -- @GreenLineOutfit
I like jordan zimmermann to really break out this year. Keeps the ball in the park and limits his BBs #checkoutmynewWHIP -- @TheMuzz34
Cameron Maybin
. Finally puts up a .290-20-90-50 campaign like the Tigers and Marlins expected. --@djameson87
Kris Medlen
? Very good when healthy, and is finally healthy. Will play a huge roll for Braves this year. --@Max_Jensen10
Mike Stanton
. He will lead the Majors with 45 HRs. --@JoeBoria
Alex Gordon
, will have an MVP type season and finally live up to his potential --@Sean_Bealer
Justin Smoak. Or is that just wishful thinking?? --@CRoscoe2121
November, 28, 2011
11/28/11
9:30
AM ET

Sure, every team would love to plug its shortstop hole with Jose Reyes or Jimmy Rollins. Albert Pujols would look terrific in any uniform. Have a spare $40 million sitting around? Sure, Ryan Madson is an underrated closer.
But let's be realistic here: Those can't be solutions for every team. So let's identify three key areas of importance for each team and determine a more likely action plan as the offseason wheeling and dealing starts to heat up. We'll start with the National League East. (Check back all week for the other divisions.)
Philadelphia Phillies
1. Shortstop: Empty (
Jimmy Rollins
, free agent)

Rollins just turned 33, but the Phillies would like to bring him back -- on a four-year contract, while Rollins is reportedly looking for a five-year deal that would take him through his age-37 season. While Rollins isn't the hitter he was in his 2007 MVP season, Phillies shortstops still ranked ninth in the majors in OPS, tied for second in runs scored and tied for sixth in RBIs. Rollins is the obvious candidate here, but if it takes five years, why not go after the younger
Jose Reyes
?
Likely solution: Rollins. The big question: Was his 2011 season a fluke, or will he regress back to his subpar numbers of 2009 and 2010 (.248 average, .306 OBP)? It's also worth mentioning that Rollins hasn't been a good postseason player. He has a career .686 OPS in 46 postseason games, and he's homerless in his past 140 postseason at-bats.
2. Left field: Empty (
Raul Ibanez
, free agent)
Stats you may not believe: Despite Ibanez's .298 on-base percentage, Phillies left fielders ranked 16th in the majors in OPS and tied for fourth with 95 RBIs. Remember when left fielders owned big bats? Those days are gone. Still, considering Ibanez's lack of defensive value, it should be easy for the Phillies to upgrade the overall production with
Domonic Brown
and
John Mayberry Jr.
Oddly, the Phillies offered Ibanez arbitration, meaning they're risking Ibanez accepting and earning a likely payout of $12-14 million. (As Buster Olney writes, there could be a gentleman's agreement between the two sides to not accept the offer, although Ibanez must know he won't get anything close to that on the open market.)
Likely solution: Brown/Mayberry Jr. platoon. It's time to give Brown 450 at-bats to see what he can do. Mayberry can play against lefties (and also fill in at first base until
Ryan Howard
returns). Even if Ibanez DOES return, the Phillies should stick with the youngsters.
3. Third base: 22nd in majors with .665 OPS
Here's incumbent third baseman
Placido Polanco
's year-by-year WAR (wins above replacement) since 2007, via Baseball-Reference: 5.0, 3.7, 2.5, 2.0, 1.8. He still carries an excellent glove, but this is a player in decline. Factor in that he's missed 70 games the past two seasons and he's an even bigger question mark.
Likely solution: Polanco will return, but the Phillies would be wise to have a solid alternative. Unfortunately, recent acquisition
Ty Wigginton
is not the answer, as he's been a below-average hitter each of the past three seasons, despite having a little pop. As the Phillies are learning with Polanco, and will learn with Howard, giving long-term contracts to guys past 30 can be a very risky proposition.
Atlanta Braves
1. Shortstop: Empty (
Alex Gonzalez
, free agent)

The Braves didn't even offer arbitration to Gonzalez, a solid fielder with a little pop, but also the owner of an abysmal .270 OBP. Atlanta has a couple of good shortstop prospects in Andrelton Simmons (.311 in Class A) and Tyler Pastornicky (who hit .314 between Double-A and Triple-A). They may believe Pastornicky is ready to handle the job or maybe they'll enter the Rollins/Reyes sweepstakes.
Likely solution: Considering the state of shortstops, the Braves' best option could be to dangle one of their talented young starting pitchers in a trade. But good luck finding a team with an extra shortstop -- maybe Boston's
Jed Lowrie
, with the Red Sox looking for a rotation arm. Short of that, maybe the Braves bring
Rafael Furcal
back to Atlanta.
2. Left field: Upgrade
Martin Prado
One hot rumor was the Braves trading Prado for
Delmon Young
, a "big" right-handed bat the Braves need. Here's the problem with that rumor: Young isn't a big bat. Prado had a .687 OPS in 2011 while battling a staph infection, but Young's OPS was just .695. Over the past three years, Prado's OPS is .771, Young's .758. And Young is a lousy left fielder. Anyway, that rumor was quickly shot down for those obvious reasons, but it does point to the larger issue of trying to upgrade left field: If Young is considered a big bat, maybe you're better off sticking with Prado and hoping for a bounce-back season.
Likely solution: Prado. Why not see if he hits better; if not, you can always seek an in-season fix. Or what about a trade for Dodgers outfielder
Andre Ethier
? The Braves could keep Prado as
Chipper Jones
insurance, and trade a young pitcher for Ethier, who the Dodgers may not want to pay after inking
Matt Kemp
to a $160 million deal.
3. Right field: More production from
Jason Heyward
In reality, the best hope for more offense for the Braves rests in improvement from Heyward and sophomore first baseman
Freddie Freeman
. With Heyward hitting just .227/.319/.389, Braves right fielders ranked just 26th in the majors in OPS, 29th in runs and 27th in RBIs.
Likely solution: Heyward is just 22. I think he's going to have a big season.
Washington Nationals
1. Rotation: Find a power starter

Washington's rotation actually posted a respectable 3.80 ERA, seventh in the NL, but did so despite averaging just 5.67 K's per nine innings, 15th in the NL. That's a difficult equation to maintain. With
Jordan Zimmermann
the only good bet to repeat his 2011 production, the Nats shouldn't simply rely on a healthy
Stephen Strasburg
to bolster the rotation.
Likely solution:
C.J. Wilson
. While some expect the Nats to bid for
Prince Fielder
or
Albert Pujols
, why not spend around half the money and go after Wilson? He's not a classic power pitcher in the sense of fastball velocity but he's racked up 376 strikeouts the past two years. His adjusted ERA over the past two seasons is seventh best among all starters. If you can pitch in Texas, you could dominate in the NL. And with Strasburg around, he won't have to shoulder the pressure of staff ace.
2. Center field: Vacant (
Rick Ankiel
, free agent)
Nationals center fielders posted a .691 OPS, 23rd in baseball. They've reportedly inquired about one of the Twins' glove wizards,
Denard Span
or
Ben Revere
. But rather than trade away a good prospect for a marginal player like Span or Revere (neither would offer much with the bat), why not play
Jayson Werth
there? He'd be an adequate defensive center fielder, at least for a couple of years, and clear room for Bryce Harper in right field, who may be ready by the All-Star break. The Nats will also have to find room in a year or so for 2011 top pick Anthony Rendon, a third baseman in college who will have to move positions with
Ryan Zimmerman
around. Rendon could end up in left field.
Likely solution: Move Werth to center, sign a short-term corner outfielder like
Josh Willingham
,
Jason Kubel
or
Cody Ross
(
Michael Morse
could also play left if
Adam LaRoche
returns healthy, but is best suited for first base).
3. Manager: Is Davey Johnson the long-term answer?
Considering he'll be 69 in January and hadn't managed in the majors since 2000, Johnson was an interesting choice to replace Jim Riggleman. Following an 80-win season and with a slew of talented prospects close to the majors -- Harper, Rendon, pitcher
Brad Peacock
, catcher Derek Norris -- this is a team on the verge of becoming a playoff contender. Maybe not in 2011, but soon. Johnson built a young team in the Mets, but also had veterans Gary Carter and Keith Hernandez as clubhouse leaders. He won in Baltimore, but with a veteran team. Is he the right guy to trust the youngsters as they gain big league experience? I believe he is.
New York Mets
1. Shortstop: If not Reyes, who?

Likely solution: Sign Reyes, or give the job to
Ruben Tejada
. He's never going to hit with any power, but he posted a .360 OBP last season at age 21 (in 376 plate appearances). How rare is that? Since 1980, only three other middle infielders had at least 300 plate appearances at age 21 and posted an OBP of at least .350 --
Alex Rodriguez
,
Delino DeShields
and Jerry Browne. If Tejada can handle short, maybe the Mets are better off spending their money elsewhere.
2. Bullpen: Who closes?
Only the Cubs, Rockies and Astros had a worse bullpen ERA than the Mets in 2011, and none of them had the luxury of pitching their home games in Citi Field. While the Mets could certainly use an ace for the rotation (only the most hopeful will believe in
Johan Santana
's comeback), building a bullpen can be cheap and easy.
Likely solution:
Ryan Madson
? No, he's too expensive. If the Mets don't trust a guy like
Bobby Parnell
, how about a second-tier closer like
Frank Francisco
, who would cost about $30 million less than Madson? I'd also consider adding a second reliever like righty killer
Octavio Dotel
or veteran
Takashi Saito
. Hopefully the Mets learned their lesson with
Francisco Rodriguez
: Bullpen depth is more important than an overrated $15 million closer.
3. Power in the outfield
With
Carlos Beltran
gone,
Jason Bay
a shell and
Angel Pagan
apparently returning to play center, the Mets may be struggling to get power from the outfield.
Solution: Move in the fences! (Wait, this will help the other team as well?) OK: Don't discount
Lucas Duda
, who presumably moves into a regular spot in right field, with the return of
Ike Davis
to first. Duda hit an impressive .292/.370/.482. His park-adjusted OPS was higher than
Troy Tulowitzki
, Howard,
Shane Victorino
or
Carlos Gonzalez
.
Miami Marlins
1. Third base: Empty

Since the Marlins traded
Miguel Cabrera
to the Tigers, they've had four different regular third basemen in four seasons. In 2011, Marlins third basemen ranked 23rd in the majors in OPS and only the Mariners received fewer home runs and RBIs. Certainly, signing Jose Reyes to play shortstop and moving
Hanley Ramirez
to the hot corner makes perfect sense, especially since Reyes would be a defensive upgrade and maybe moving Ramirez would get his bat back to his 2007-2009 level. Prospect Matt Dominguez, who received a September cameo, carries a superb glove but questionable stick (.258/.312/.431 in Triple-A). He's still just 22, though.
Likely solution: In a year with so few top free agents, the odds are slim the Marlins will be the top bidder for Reyes, new ballpark or not. It's a nice smoke screen in an attempt to sell a few season tickets. The most realistic option is to give the job to Dominguez, or if management feels that he needs another year in Triple-A, go the stopgap approach and sign a guy like
Wilson Betemit
. If the Marlins are determined to spend money, they could go after
Aramis Ramirez
, although a Ramirez-Ramirez left side of the infield is a little scary defensively. (The other option would be to slide
Emilio Bonifacio
back to third base, but that would mean more
Chris Coghlan
in center field, and nobody wants that.)
2. Find a quality starter
For all the talk about Reyes and Albert Pujols, the Marlins have some problems in the rotation. Their 4.23 ERA ranked 12th in the NL, and that's despite a pretty good home park to pitch in.
Javier Vazquez
, who rebounded with a strong second half (2.15), is also a free agent, leaving a current rotation of
Josh Johnson
,
Anibal Sanchez
and the eternally disappointing
Ricky Nolasco
and
Chris Volstad
.
Brad Hand
, who turns 22 in March, is in the mix, but his minor league track record is mixed, and more seasoning in Triple-A to improve his command appears necessary.
Likely solution: Re-sign Vazquez and go after a high-risk, lower-cost starter like
Erik Bedard
. Look, Volstad has made 102 starts in the majors; while he's still young, it's time to maybe face the fact he just isn't that good. He doesn't miss bats and for a guy who is supposed to be a ground ball pitcher, he gives up way too many home runs (23 in just 165.2 innings).
Mark Buehrle
would be a nice addition, but Bedard is the more realistic signing. If Johnson returns healthy and Bedard comes up big, the Marlins could suddenly have a strong rotation.
3. Be realistic about appraising your players
Volstad isn't that good. Coghlan hasn't hit in two years.
Gaby Sanchez
is OK, but hardly a star -- 20 teams had a better slugging percentage from their first basemen than Sanchez's .427 mark. (And at 28, he's unlikely to get better.)
Logan Morrison
is better suited to first base, not left field, where he's a big defensive liability.
Likely solution: Yes, a lineup of Reyes, Bonifacio, Ramirez, Pujols,
Mike Stanton
, Morrison,
John Buck
and
Omar Infante
and would look pretty impressive ... even adding a guy like Aramis Ramirez would plug a hole in the middle of the lineup. Despite their 72-90 record, I don't think the Marlins are
that
far away, but I have doubts they'll be able to lure any of the big free agents. But at least the pitches to guys like Pujols and Reyes indicates the Marlins may be aware that Sanchez isn't a star or that Ramirez's days at shortstop may be numbered. Those are good signs.
June, 17, 2011
6/17/11
1:23
PM ET
The
Baseball Today podcast

finished off another stupendous week of shows with Friday's version, as me and Mark Simon didn't "balk" at any topics ... see what I did there, Mets fans? Sorry ... but not really. On any given day in baseball you see something cool. Here are reasons to listen to the Friday show:
1. The Mets found an interesting way to lose, but let's spin it positively: The Braves found a way to win! Regardless, a balk-off win isn't as unique as one might think.
2. Nice job by
New York Yankees
right-hander
Brian Gordon
in his first big league start. Gordon's outing highlights a fun Thursday of baseball, which we chronicle by the numbers 1 through 9.
3. Which pitcher benefits the most from his home ballpark? We
stat
the case for a West Coast right-hander.
4. Last week I was able to interview Mike Schmidt, my favorite player growing up, and now Mr. Simon discusses the same thrill this week. Look, it's baseball, it's fun, we all have memories and remember anniversaries, right?
5. I love interleague play, because we get fun series like Yankees-Cubs, Brewers-Red Sox and Phillies-Mariners. Not all the series are winners, but they don't need to be as we preview another great weekend!
Plus: Excellent emails, the streaking Twins get help, the Pirates are contenders -- at least today -- and we say a Happy Father's Day to everyone this weekend, all on Friday's Baseball Today podcast! Enjoy your baseball this weekend!
April, 7, 2011
4/07/11
12:05
AM ET
A few days before the season began I was out running with Matt, one of my editors. Matt is a Mets fan and I was having a good time threatening to write a "Why the Mets could be the worst team in the National League" post.
I never got around to writing it; I guess I didn't really believe in the premise. But we all know nobody thinks the Mets will do anything in 2011, except maybe Bernie Madoff; not one ESPN insider predicted the Mets to make the playoffs. Baseball Prospectus projected the Mets to win 80 games. The Vegas over/under was 77 wins.
So even though they lost Wednesday night to the Phillies to fall to 3-2, they showed some energy by rallying from a 7-0 deficit to tie it. I liked what I saw (other than
Mike Pelfrey
). In fact, I have 10 reasons the Mets may be better than we believe.
1.
David Wright
is still a really good player. He fell out of the "SportsCenter" highlights during that 10-homer season in 2009, but hit 29 last season. If he gets his OBP back in the .390 range, he's one of baseball's best third baseman, a step below the
Ryan Zimmerman
/
Evan Longoria
duo.
2.
Jose Reyes
in a contract year. All the skills are still there. He still has the speed and the rocket arm. He doesn't turn 28 until June. I feel a big year, back among the NL runs leaders … and a big contract in the offseason.
3.
Angel Pagan
is for real. He's a solid center fielder, a switch-hitter with speed and just enough extra-base power to be dangerous. You can win a division title with Pagan out there. For example, is
Shane Victorino
really any better than Pagan?
4. Depth in the lineup. As Baseball Prospectus pointed out in its annual, the Mets gave 40 percent of their plate appearances to hitters worse than league average. Among the culprits with at least 100 plate appearances:
Luis Castillo
,
Rod Barajas
,
Alex Cora
,
Henry Blanco
and somebody named
Jesus Feliciano
. This year, the Mets go eight deep in the lineup, with catcher
Josh Thole
hitting eighth. And Thole isn't that bad. Not much power, but a decent .357 OBP as a rookie in 2010.
5.
Brad Emaus
. My colleague Eric Karabell loves Emaus. Trust in Eric. Hey, he's gotta be better than Luis Castillo. Of course, my couch is better than Luis Castillo.
6. The bench.
Lucas Duda
has some good minor league hitting numbers,
Scott Hairston
can hit lefties,
Daniel Murphy
is back after being injured last season and he's a nice utility guy.
7. Potential in the rotation. I am worried about Mike Pelfrey after two bad starts, but the rotation could be solid with
R.A. Dickey
, a step forward from
Jonathon Niese
, a comeback from
Chris Young
and
Chris Capuano
. Yes, they lack an ace unless
Johan Santana
returns healthy, but all these guys could at least be decent. And if you have five decent starters, you have a chance.
8. The bullpen is sneaky good. Hard-throwing
Bobby Parnell
is ready to emerge in the setup role,
D.J. Carrasco
is a ground ball specialist with a rubber arm who won't give up many homers,
Taylor Buchholz
was really good with the Rockies before getting injured. I'm no fan of K-Rod, but he's better than a lot of closers. (But can we dump the nickname please? He really hasn't been K-Rod since about 2007.)
9. Terry Collins. Let's put it this way: BP reminded me of the incident last season when Jerry Manuel had Castillo bunt in extra innings against Cardinals
outfielder
Joe Mather
. Collins is worth a win or two from a strategic/lineup viewpoint. Or maybe three or four.
10.
Carlos Beltran
's knees. I've avoided mentioning them until now. The Mets are due a little luck in the health department, right?
Add it all up and the Mets could win 86-87 games, and in the National League that could make them wild-card contenders.
Photo Of The Day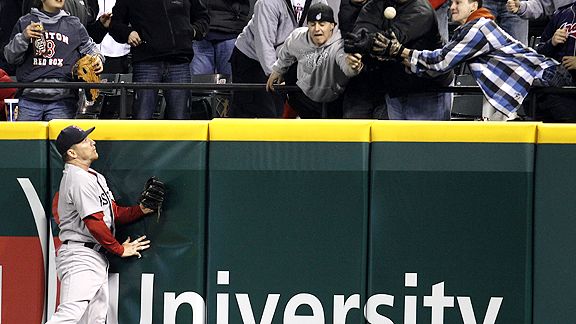 AP Photo/Tony DejakAs the Sox drop to 0-5, could Boston's J.D. Drew be singing "Come Sail Away" already?