March, 9, 2013
3/09/13
12:42
AM ET
Justin Verlander
,
Prince Fielder
,
Clayton Kershaw
and
Mike Trout
aren't on the United States roster, and their absence means a lot of fans don't care about the World Baseball Classic -- certainly not enough to spend a Friday evening in early March watching a baseball game between a largely no-name Mexico team and a still-star-laden U.S. team.
But this tournament isn't for fans who so willingly dismiss it. It's not even so much for fans in the United States, who are more focused on their professional teams or the impending NCAA basketball tournament. Earlier in the day, MLB reported that one-third of all television sets in Japan had watched the first-round games involving the Japanese team. I'm sure its dramatic comeback win over Taiwan on Friday morning rated even higher. Fans in Puerto Rico cheered on their team to a victory over Spain. Fans in Venezuela and the Dominican Republic care intensely about how their teams fare.
And Chase Field in Phoenix was nearly full for Friday's Mexico-U.S. game -- with maybe half that crowd rooting for Mexico.
Those
fans certainly cared that Mexico pulled off the huge
5-2
upset victory, essentially avoiding elimination after Thursday's heartbreaking ninth-inning loss to Italy. The players on the Mexican team certainly cared.
The Mexico lineup is pretty weak outside of Dodgers first baseman
Adrian Gonzalez
.
Jorge Cantu
hit fifth and he spent all of last year in Triple-A.
Karim Garcia
is still around and he hasn't played in the majors since 2004. But
R.A. Dickey
's knuckleball wasn't effective, a leadoff bloop single led to two runs in the first inning and Gonzalez torched a 73 mph knuckler to center field for a two-run homer in the third.
Other thoughts:
Pool D is really interesting now. It could all come down to run differential to see which two teams advance to the second round. If we assume the U.S. beats Italy on Saturday, and the U.S. and Mexico both beat Canada, then Italy, the U.S. and Mexico all finish 2-1. But Italy mercy-ruled Canada in a 14-4 victory, putting pressure on the U.S. lineup to do some damage in its next two games. The eighth inning could prove a key for the U.S., as Tim Collins and Steve Cishek worked out of a second-and-third, nobody-out jam.
After Dickey's performance, fans will be crying that Verlander or Kershaw or David Price aren't here. First off, Dickey wanted to be here and those guys didn't. Second, Dickey earned his invite as much as those guys would have, coming off his National League Cy Young Award. He just didn't have a good night. That's what happens in a tournament, not much different than what happens in the postseason: Anything can happen.
Joe Torre's lineup left a little to be desired. He hit Jimmy Rollins and Brandon Phillips 1-2, because they're fast and they hit at the top of the order for their regular teams. He hit Eric Hosmer sixth, pushing Giancarlo Stanton -- who only led the NL in slugging percentage -- all the way down to seventh, and Adam Jones, he of the 32 home runs last year, batting eighth. Stanton and Jones are better hitters than Rollins, Phillips and Hosmer. Torre might have been playing the hot hand with Hosmer, who had hit .391 in spring training with the Royals, and maybe he wanted to spread out his three left-handed hitters (switch-hitter Rollins, Joe Mauer and Hosmer). Still, a little more creativity would have had something like David Wright, Mauer, Ryan Braun, Stanton, Jones, Rollins, Phillips, Hosmer and catcher J.P. Arencibia.
Dodgers third baseman Luis Cruz had two key at-bats for Mexico. In the first inning, he delivered a sacrifice fly that was also deep enough to move Ramiro Pena to third, and Pena scored on Gonzalez's sac fly. In the fifth, after Eduardo Arredondo slapped an Ichiro-like double down the left-field line off Twins closer Glen Perkins and was bunted to third, Cruz delivered another sac fly.
Pitchers are allowed a maximum of 65 pitches in first-round games, but Yovani Gallardo was on a 50-pitch limit for Mexico. He looked sharp, allowing two hits and striking out four in 3.1 innings, but that meant Mexico had to rely on its bullpen, a day after using four relievers in that 6-5 loss to Italy. Royals righty Luis Mendoza escaped a jam in the fifth after walking the first two batters, striking out Arencibia on a nice 0-2 slider and then retiring Rollins and Phillips on ground balls. Oliver Perez got a key out in the sixth and Oscar Villareal pitched a scoreless seventh. The U.S. scored once off Cardinals reliever Fernando Salas in the eighth, and Giants closer Sergio Romo closed it out.
The Giants were undoubtedly nervous seeing Romo come in. They had apparently requested that Romo not appear in consecutive games, and manager Bruce Bochy has always been very cautious with his use of Romo. He threw 26 pitches Thursday, but this was a must-win game for Mexico. Saving him for Saturday's game against Canada doesn't make any sense if you lose this game. A reliever can't appear three consecutive days, so Romo is unavailable now for Canada.
Ryan Vogelsong starts for the U.S. against Italy, and while the Italian team is mostly comprised of U.S.-born players -- including several major leaguers -- they will start an actual pitcher from Italy: Luca Panerati, a left-hander who was in the Reds' system from 2008-11, never advancing past Class A. Last year, he pitched in the Italian Baseball League. Now he gets to face a team of the best players in the world. This is what the World Baseball Classic is all about.
September, 16, 2012
9/16/12
1:26
AM ET
By
Christina Kahrl
| ESPN.com
If there's one takeaway where the defending world champs are concerned, it's this: Even wounded, these Cardinals could still fly. Most teams, you scratch a No. 1 starter, a leadoff man and a cleanup hitter, and you might expect them to be long since dead in the water. But even without
Chris Carpenter
, without
Rafael Furcal
, without
Lance Berkman
-- all of that in the post-Pujols era -- no matter how many blows the Cards take, they aren't dead, not by a long shot.
The big question, though, isn't why they're still going, but why they're not ahead just the same. With a record that is
games worse than expected
, they're supposed to be able to lose games like Saturday night's --
a 4-3 defeat
in Los Angeles -- and not break a sweat. But that's not where they are. Instead, they've fallen into a tie with the Dodgers for the National League's last slot.
It isn't supposed to have worked out this way.
Allen Craig
plated every run the Cardinals scored, a Pujolsian feat that also reflects a creeping problem for the Cards' offense: The league-leading attack that had been scoring 5 runs per game before the All-Star break has dropped off to score 4.4 runs per game since. They were allowing 4.2 runs before the break, and they're at 4.0 runs allowed per nine after, but because of the offense's drop-off, the margins they get to work with have narrowed.
The first-half question over why the Cardinals weren't doing as well as they should has become more persistent in the second half, and after a swing game like Saturday's, the uncomfortable questions are unavoidable.
Is it the manager? Rookie manager Mike Matheny's under fire, but he was tasked with the impossible task of following in Tony La Russa's footsteps as the old mast heads down the road to Cooperstown. It's easy to single out the Cardinals' record in one-run games -- now 18-25 -- and assert that some better manager to be named later would do better than that.
But that's looking for a fall guy, and Matheny may not really deserve that, save as a matter of expectations as the first-year skipper managing a defending world champ. Any suggestion that La Russa might be the Cardinals' missing man most missed might have needed one particular proof this night: Would the bullpen deliver? Love it or hate it, that's the gold standard by which most managers get judged by many commentators and fans, because 'pen management is the one task that's transparent to the public.
After getting a good game from
Jaime Garcia
, without getting too clever playing matchup games Matheny ran through his crew in straightforward style:
Edward Mujica
to
Mitchell Boggs
to
Jason Motte
... and Motte blew it, giving up a two-out double in the ninth to
Luis Cruz
for the tie, then gave up the game-losing single to
Juan Rivera
.
There was no special brand of genius involved, just a scripted set-up gone wrong: Closer tasked with closing, leaves the door open, then sees it blown off its hinges. If Matheny's to be judged, it's by exactly the same standard that Casey Stengel suggested back in the day, in happier circumstances after
winning the 1958 World Series
: "I couldna dunnit without the players."
To Matheny's credit, he managed other elective tasks just fine on Saturday night. Swapping around in the middle infield midgame is the Cardinals' lot. Early on they paid the penalty of making
Daniel Descalso
a shortstop as a matter of need: His first error in the first inning created the Dodgers' first score. With second baseman Descalso playing short and converted outfielder
Skip Schumaker
starting at second, the Cards have been sacrificing defense to put their best available players in the lineup. Is that on Matheny? No more than the subsequently regretted decision to dump key utilityman
Tyler Greene
on the Astros.
With a lead six frames into the game, out came Schumaker, in came good-glove
Pete Kozma
at shortstop, and Descalso slid back to his natural position. Lineup management isn't particle physics. Inveterate tinkerer La Russa may be history in every sense of the word, but this sort of lineup tinkering can still go on without him as Matheny tries to compensate for losing Furcal.
Given the Cardinals' increasingly narrow margins, watching every run, every opportunity, forces Matheny to make tough calls. You can't really blame him for the choices he made, given the options he had. No less than the bullpen blowing the game, you can't blame him too badly for having Descalso at short. The agony for the Cardinals right now is that it's adding up to just enough to lose.
PHOTO OF THE DAY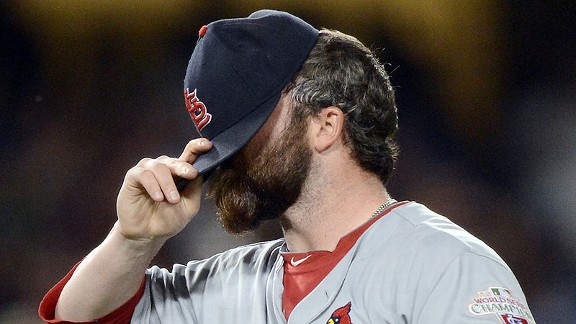 Harry How/Getty ImagesWell that Jason Motte might cover his face after blowing the save on Saturday night.
Christina Kahrl covers baseball for ESPN.com. You can follow her on Twitter.