SweetSpot:

Luke Gregerson
October, 1, 2014
Oct 1
2:03
AM ET
This is supposed to about the five key things that decided this game. There were about 20 of those. Or 50. Or 100. I lost track somewhere there in the 10th or 11th inning of one of the craziest, wildest, most improbable baseball games I can remember watching.
This was supposed to be a pitcher's duel between
Jon Lester
and
James Shields
. It wasn't.
It was supposed to be about the
Kansas City Royals
getting the ball to their dominant bullpen trio with a lead. It wasn't.
It was supposed to be about
Oakland Athletics
manager Bob Melvin matching wits with the Royals' Ned Yost, and Melvin winning in a landslide. OK, Yost did make one of the worst tactical decisions in recent playoff history.
The Royals won anyway.
Right. Because this all makes sense.

— Mike Ferrin (@MikeFerrinSXM) October 1, 2014
Baseball > (name any sport)

— AJ Ellis (@AJEllis17) October 1, 2014
The best awful game of all time.

— Dustin Parkes (@dustinparkes) October 1, 2014
This game ties Game 7 of the 1924 World Series for the longest winner-take-all postseason game ever played. Walter Johnson won that one.
Jason Frasor
, the seventh Royals pitcher of the game, won this one, after helping to give up the lead in the 12th inning. The Royals were down 7-3 in the eighth inning and won. They were down 8-7 in that 12th inning and won. The heroes were guys such as
Brandon Finnegan
and
Christian Colon
. It was small ball over Moneyball, at least for a day. It was baseball, not always beautiful, but still baseball at its most entertaining, at October intensity.
OK. Doug Padilla has the Royals angle. Here are five reasons the A's lost.
1. Bob Melvin stuck too long with Jon Lester.
Down 7-3, the Royals rallied in the bottom of the eighth inning. Melvin, determined to apparently ride starter Lester straight to closer
Sean Doolittle
, left him in for 111 pitches, and maybe one batter too many. A
Jed Lowrie
error, a stolen base and a single made the score 7-4 and then Lester walked
Eric Hosmer
with one out (after
Lorenzo Cain
had stolen second). Melvin finally brought in
Luke Gregerson
, but
Billy Butler
's RBI single made it 7-5. Pinch-runner
Terrance Gore
stole second and a wild pitch made it 7-6 and put Gore on third with one out. Gregerson pitched carefully to
Alex Gordon
, who walked and then stole second with
Salvador Perez
up. A base hit puts the Royals up, a sac fly at least ties it up ...
Does anyone remember how to breathe air?

— Beyond the Box Score (@BtBScore) October 1, 2014
Salvador Perez takes three helpless swings to make the second out. It will be up to Omar Infante.

— Andy McCullough (@McCulloughStar) October 1, 2014
There are cars parked on the side of I-70, watching the crowd from the highway.

— Sam Mellinger (@mellinger) October 1, 2014
That is a grown man's slider. Wow.

— Troy Renck (@TroyRenck) October 1, 2014
Gregerson fanned Perez on three sliders, the third one a good foot off the plate. Yes, the Royals drew the fewest walks in the majors and Perez drew just 22 in 606 plate appearances. Gregerson exposed his free-swinging ways and it was a terrible at-bat. He threw four sliders to Infante, the fourth swung and miss on a pitch in the dirt. Gregerson, a sneaky offseason pickup from the Padres, does have a nasty slider, as batters hit .212 against this season. But it's not the nastiest in the game -- they also hit four home runs and nine doubles (all four home runs by right-handed batters). What makes it impressive is how often he throws it -- 48 percent of the time. Among pitchers with at least 50 innings, only five threw their slider a higher percentage of the time.
The Royals were 90 feet from tying the game. Assuming the A's would close it, I had written, "Royals fans will have all offseason to think about those seven sliders."
Instead the postscript will read: How do you leave in a starter to give up six runs in a do-or-die game? (Actually, I was surprised that it has happened 14 times out of 182 sudden-death games, the last in 2012, when
Adam Wainwright
and
Mat Latos
both allowed six runs in Game 5 of the division series.
The difference is those guys weren't still in there in the eighth inning with a four-run lead. The last comparable game was Nolan Ryan in Game 5 of the NLCS for the Astros, when he took a 5-2 lead into the eighth and coughed up the lead. Melvin let the game slip out of his hands even though the A's bullpen -- despite a couple notable tough losses -- had actually pitched well. Obviously, if Lowrie doesn't make the error the inning probably unfolds differently, but in this day of dominant pens, Melvin waited too long to go it.
2. Geovany Soto leaves with a thumb injury.
When you think about potential critical moments, you really aren't thinking about the loss of Geovany Soto. And yet...

— Joe Sheehan (@joe_sheehan) October 1, 2014
Soto says his thumb was jammed, it's not broken. But it was brutal catching. Crisp strained his hamstring.

— Susan Slusser (@susanslusser) October 1, 2014
Soto was a controversial starter at catcher over
Derek Norris
, in part because he had never caught Lester. But he's the best defensive catcher on the A's, with the best arm. When he left in the third inning, unable to catch, it allowed the Royals to take advantage on the bases against Norris. They stole seven bases, with five of those thieves eventually scoring.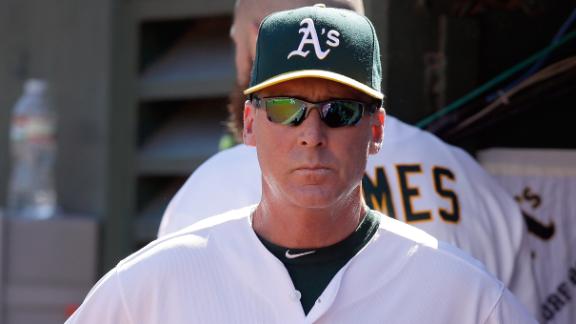 3. Royals' bunting finally pays off!
OK, the sabermetrically inclined folks on Twitter were having a fun time with Yost and his bunts -- the Royals had four sacrifice bunts in the game. But in the ninth inning, the Royals tied the game off Sean Doolittle on a
Josh Willingham
flare to right, with
Jarrod Dyson
pinch-running (Willingham had hit for
Mike Moustakas
); Dyson was bunted to second and then, in maybe the most important play of the game, stole third, the first steal of third Doolittle had given up in his career. Dyson then scored on
Norichika Aoki
's sac fly.
4. The dropped pitchout.
In the bottom of the 12th inning, after Hosmer tripled and Colon scored him on a high hopper of an infield hit to third base, Colon was running against
Jason Hammel
, who had just entered the game. The A's had called a pitchout, but Norris dropped the ball.
5. Oakland's No. 5 starter gave up the winning hit.
Huge for @SalvadorPerez15 a great player who gets biggest hit of classic game. Now, get her that puppy! #BeRoyalKC pic.twitter.com/vLptxexr4z

— Steve Berthiaume (@BertDbacks) October 1, 2014
What the hell did I just witness? No words tonight. Only amazement. #Royals

— Craig Brown (@royalsauthority) October 1, 2014
To be fair, Hammel pitched very well in September, with a 2.20 ERA and .198 average allowed. He was one of eight pitchers on the Oakland roster, kind of the designated long man.
Sonny Gray
had started Sunday and
Jeff Samardzija
on Saturday, so the choice probably came down to Hammel to
Scott Kazmir
(although Kansas City put Ventura on its roster, despite his starting on Sunday). This wasn't a bad call by the A's so much as you just hate to lose a game with a guy pitching in an unconventional situation. Hammel actually threw Perez -- who had had awful at-bats all game -- a pretty good 2-2 slider that was off the plate, knowing Perez will chase any pitch within the vicinity of Kauffman Stadium. Perez was just able to pull it inches past a diving
Josh Donaldson
-- a Gold Glove-caliber third baseman -- for the winning hit.
December, 3, 2013
12/03/13
6:21
PM ET
Take a deep breath. If Tuesday's slew of transactions is any sign of what will happen at next week's winter meetings, then be prepared for a great week of rumors, deals and signings. As for Tuesday, so much happened that I'm starting to believe the
Robinson Cano
-to-
the-Mariners rumors
.
Let's start with the Astros acquiring
Dexter Fowler
from the Rockies. The Rockies have seemingly been shopping Fowler for years, but apparently the market for him was more lukewarm than a three-day-old cup of Starbucks.
Jordan Lyles
is still young and throws strikes but has been hit hard at the major league level (5.35 career ERA with 65 starts) and doesn't possess a quality strikeout pitch; he's the kind of pitcher who will get absolutely destroyed at Coors Field.
Even if the Rockies will put a better defense behind Lyles than the Astros did --
Troy Tulowitzki
and
Nolan Arenado
will help in that department -- Lyles appears to be a long shot to succeed.
Brandon Barnes
was a 27-year-old rookie center fielder who posted a .289 on-base percentage, struck out 127 times while walking just 21 times, and was 11-for-22 in stealing bases, a package that made him one of the worst percentage players in the majors. His defense is OK but he looks like a fourth outfielder at best.
What did the Astros get? A player with two years remaining until free agency who has averaged a consistent 2.4 WAR over the past three seasons. He's a good player whom the Rockies always expected more from, perhaps creating a poor read of his actual value. There is the possibility that his numbers will crater outside of Coors Field -- he's hit .298 there in his career, .241 on the road -- but as a guy who takes his walks I like his chances to produce once he gets away from the Coors effect. Kudos to the Astros for acquiring some talent without giving up much in return. With prospect George Springer presumably ready to take over center, I wouldn't be surprised to see Fowler move to left field; his bat won't play as well there but he'll improve the Astros' defense dramatically over the statue-like
Chris Carter
.
What were the Rockies thinking? Who knows. The Rockies and Mariners seem like the two franchises without any semblance of a game plan right now. Are the Rockies trying to win now? Are they trying to rebuild? Were they merely dumping a salary (Fowler will make $7.35 million in 2014, a relative bargain for a 2-WAR player)? Are they trying to improve the rotation or the offense? If I had to guess, the Rockies see this as a salary dump to clear space to sign a free-agent pitcher. Last year,
Roy Oswalt
,
Jeff Manship
,
Drew Pomeranz
,
Collin McHugh
and
Chad Bettis
combined to go 0-19 in 26 starts with a 7.42 ERA. Can't wait to see the Rockies sign
Ervin Santana
and be shocked when he gives up 40 home runs.
But there was more that happened on Tuesday ... much more!
February, 18, 2012
2/18/12
11:00
AM ET
By
You Can't Predict Baseball
| ESPN.com
Last year, You Can't Predict Baseball came up with
bold predictions
for the year. We had a lot of fun coming up with them, and then laughing at how hilariously wrong they were
at the end of the year
. This year, we're bringing these predictions to SweetSpot, along with explanations for some of them. Keep in mind, these predictions are supposed to be bold, but not insane -- even we know the Orioles aren't going to the playoffs in 2012.
Los Angeles Angels:
Kendrys Morales
stays healthy all year.
Houston Astros:
Bud Norris
is top five in K/9 in the NL.
We figured something good had to happen to the Astros, right? Norris actually has a pretty nice career K/9.
Oakland Athletics:
Yoenis Cespedes is their starting center fielder by Memorial Day.
Toronto Blue Jays:
Brandon Morrow
makes the jump to elite starting pitcher.
He's struck out more than 10 batters per 9 innings two years running, though his ERAs have remained ugly. We think this is the year his results finally match the stuff, especially considering his declining walk rate.
Atlanta Braves:
Julio Teheran
has more wins than
Tim Hudson
.
[+] Enlarge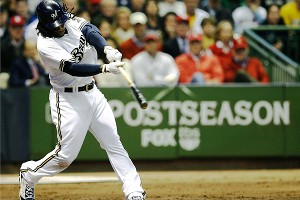 AP Photo/David J. PhillipWith Prince Fielder gone to Detroit and Ryan Braun facing possible disciplinary action, Rickie Weeks could lead the Milwaukee Brewers in home runs in 2012.
Milwaukee Brewers:
Rickie Weeks
leads the team in home runs.
He was fourth on the team last year, with 20. In front of him were Corey Hart with 26, Ryan Braun with 33, and Prince Fielder with 38. Fielder is gone, and for this prediction we'll assume Braun will miss a third of the year due to a suspension. It's not too bold to think Weeks could pass Hart in 2012.
St. Louis Cardinals:
Carlos Beltran
outproduces
Albert Pujols
from last year.
Albert Pujols was great last year, but not quite best-player-of-his-generation Albert Pujols. If healthy, it's not absurd to think of Beltran outproducing Pujols' 5.1 WAR in 2011.
Chicago Cubs:
Matt Garza
isn't their best pitcher.
It'll be Ryan Dempster, who had great peripherals but bad results last year.
Arizona Diamondbacks:
Aaron Hill
will be good again.
He was great with them in limited time, and Arizona's park is quite hitter-friendly.
Los Angeles Dodgers:
James Loney
will be a top-three first baseman in the National League.
Many thanks to Mike Scioscia's Tragic Illness for somewhat alerting us to this one. We just decided to take it semi-absurdly far.
San Francisco Giants:
Madison Bumgarner
is their best pitcher.
In terms of ERA, he already wasn't very far behind Matt Cain and Tim Lincecum, and his K/BB ratio eclipsed theirs by quite a bit.
Cleveland Indians:
They'll have the best pitching in the American League Central.
We're banking on Ubaldo Jimenez, making a major comeback to something closer to what he was in 2010, and the rest of the staff displaying the good that they did in 2011. We're also counting on the Tigers' starters not being very impressive behind Justin Verlander, which is bold but not quite insane, and the pitching of the White Sox, Twins and Royals not being able to keep up with Cleveland's.
Seattle Mariners:
Jesus Montero
catches 100-plus games.
The Mariners probably aren't going to compete, so why not try and play him where he'll accrue the most value?
Miami Marlins:
Despite all their new acquisitions and the hype, they still finish fourth in the NL East.
When you think about it, this one isn't so crazy. If Josh Johnson isn't healthy and maybe even if he is their pitching still trails that of Philadelphia, Washington, and Atlanta; even with Heath Bell, we don't think their bullpen is as good, either. Their offense might be better than some of those teams', but the Marlins were quite a bit below league average offensively last year and we're not sure how much Jose Reyes is going to make up for that.
New York Mets:
Mike Pelfrey
is the worst starter in the NL.
Pelfrey's been pretty terrible two of the past three years, and now they're moving the fences in at Citi Field. He was far better in his huge home stadium, but we're guessing with the moved-in walls he'll be significantly worse at Citi. Here at YCPB, we actually don't think the Mets are going to be quite as dire as many are saying, even if they do come in last place in the NL East - but Pelfrey won't be a bright spot.
Washington Nationals:
Stephen Strasburg
has a 17-strikeout game.
Baltimore Orioles:
Matt Wieters
is the best catcher in the AL.
A lot of people are so obsessed with Wieters not matching the hype that they didn't notice he became a plus offensive performer last year, to go along with very good defense. His taking the next step isn't that bold as predictions go, especially if Joe Mauer has to move off catcher.
San Diego Padres:
Luke Gregerson
is a top-three closer in the NL.
Philadelphia Phillies:
Cole Hamels
is their best starter.
And this isn't meant to be a slight to Roy Halladay or Cliff Lee, but considering their ages and the fact that Hamels is pretty darn good himself, plus a possible boost from a contract year...
Pittsburgh Pirates:
Charlie Morton
is their All-Star.
Texas Rangers:
Yu Darvish
isn't their best starter -- but he's still good.
And we think he'll be pretty good, we just think Derek Holland will become more consistently good, or Matt Harrison will put up numbers like his 2011.
Tampa Bay Rays:
James Shields
will have no complete games.
Predicting someone to have no complete games might not seem bold, but it is when it's a guy who was known as "Complete Game James" last season. Shields did have 11 complete games in 2011, an almost unheard-of number these days, but he had no complete games in 2009 or 2010.
[+] Enlarge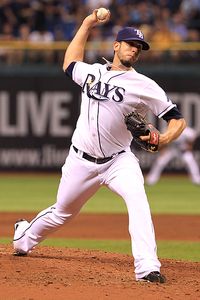 Kim Klement/US PresswireAfter none in either 2009 or 10, James Shields pitched 11 complete games for Tampa Bay in 2011.
Boston Red Sox:
No one hits 30 home runs.
This might seem crazy when you consider their great offensive numbers last year, but only one player on their team hit 30 home runs and it was Jacoby Ellsbury with 32.
Cincinnati Reds:
Brandon Phillips
is the best second baseman in the NL.
Colorado Rockies:
Jamie Moyer
will have the best HR/9 on the staff.
Kansas City Royals:
They reach .500.
While their pitching won't be great, their offense will take a big step forward this year. Combined with the rest of their division being the Tigers and some dumpster fires, it's not that difficult to see it happening.
Detroit Tigers:
They score fewer runs than they did in 2011.
Yes, that's even with Fielder. It's not improbable that Jhonny Peralta, Alex Avila and Delmon Young regress quite a bit from their numbers with Detroit last year, and that Prince Fielder's production "only" makes up for the offensive loss of Victor Martinez in 2012. They'll still have a very good offense, though.
Minnesota Twins:
Joe Mauer hits 15 home runs.
Chicago White Sox:
Robin Ventura gets ejected more times than Ozzie Guillen.
Look at the state of the White Sox. We'd get ejected too.
New York Yankees:
Hiroki Kuroda
leads the team in ERA.
You Can't Predict Baseball is an affiliate of the SweetSpot network.
October, 2, 2010
10/02/10
1:00
AM ET
SAN FRANCISCO -- I'm absolutely sure that I'm missing some key piece of information, but from where I was sitting, Bud Black did not have a particularly good bottom of the sixth inning.
His starting pitcher,
Clayton Richard
, had given up just one run but escaped a few jams, gave up a number of well-struck blows, and never seemed to have any real grip on the proceedings. From the beginning, he seemed to just be hanging on until the cavalry arrived; anything more than five innings would be a real bonus for his manager.
Leading off the sixth against Richard,
Buster Posey
hit an easy grounder to shortstop. But
Pat Burrell
ripped a double into the left-field corner.
Aaron Rowand
, a strong (if little else) right-handed hitter was dispatched as a pinch-hitter. Bud Black's bullpen is absolutely loaded with right-handed relievers who eat hitters like Aaron Rowand like they're M&Ms.
Black stuck with Richard. Rowand hit a two-run homer.
Black took out Richard, and summoned one of those right-handed relievers. Not his
best
right-handed reliever. Not his second-best right-handed reliever. Or his third-best. Black called on
Ryan Webb
, a fine pitcher who is the Padres' fourth- or fifth-best right-handed reliever.
Hey, it's still just the sixth inning and Black obviously didn't want burn his best relievers so early in the game.
No, it's what happened next that I couldn't quite figure.
Well, not exactly next. What happened next is that Webb walked
Juan Uribe
(no easy chore, by the way), struck out
Edgar Renteria
, and gave up a double to
Cody Ross
.
All the while, super-situational lefty
Joe Thatcher
was heating up in the bullpen.
Why?
I wondered.
Aubrey Huff
was still a few batters away, and Huff is essentially the Giants' only dangerous left-handed hitter.
After Ross's double (his second in two innings), Black took out Webb and brought in Thatcher to face switch-hitting
Andres Torres
, who has a huge platoon split this season -- .223/.303/.346 against lefties, .288/.360/.537 ... but essentially
no
real split in his career. Maybe Torres is simply a different hitter now, or maybe Black was seduced by a small sample size. You decide.
Either way, Thatcher -- one of the great lefty relievers in the game, at least this season -- was used for exactly one batter. Torres reached base (and drove in a run) with a swinging bunt, and Black yanked Thatcher in favor of
Luke Gregerson
, who finally nailed down the third out.
But the Giants scored three runs in the inning, and Black won't have his best lefty if a scary situation should arise.
I just wonder if he would do exactly the same things, if he have the bottom of the sixth to do over again.
October, 1, 2010
10/01/10
11:16
PM ET
SAN FRANCISCO -- If
Clayton Richard settles down
the Giants dig themselves out of this four-run hole and this game turns into a battle of the bullpens, you'd probably figure the Padres have the edge.
And you might be right. But you might be wrong.
Yes, San Diego's relievers sport a 2.81 ERA, lowest in the National League. But the Giants aren't far behind, in third place with a 3.09 mark.
Let's look at their specific guys.
The Padres have
Heath Bell
(1.86 ERA, 86 strikeouts/27 walks), but the Giants have
Brian Wilson
(1.83, 92/26).
The Padres have
Luke Gregerson
(3.21, 88/18), but the Giants have
Santiago Casilla
(2.08, 53/26)
The Padres have
Mike Adams
(1.80, 71/23) , but the Giants have
Sergio Romo
(2.24, 68/14!).
Really, the Padres have just one real weapon the Giants don't: left-hander
Joe Thatcher
, who's been almost unbelievably brilliant in his 63 games -- and only 35 innings -- this season. If Bud Black needs to retire a lefty swinger in a key spot, he can bring Thatcher in and feel really confident.
As edges go, though, this one's particularly small tonight. Because the Giants have just one key left-handed hitter,
Aubrey Huff
. And I'll bet Joe Thatcher's thinking about Huff already.