September, 28, 2012
9/28/12
1:26
PM ET
I joined Mark Simon on Friday's
Baseball Today podcast
and we had fun talking about all the big news in the world of baseball: The Rays winning again; Doug Fister's strikeout record; the NL Cy Young race between R.A. Dickey, Johnny Cueto and Gio Gonzalez; Manny Acta getting fired in Cleveland.
But that's not all! We talk about defensive players of the year, all-time hits leaders by franchise, have user mail and somehow invoke the names of Yank Robinson, Lance Blankenship and Blake Stein. Plus we look ahead to Friday's games.
May, 23, 2012
5/23/12
12:30
AM ET
OK, I'll give you
Justin Verlander
.
I'll even give you
Miguel Cabrera
,
Prince Fielder
and
Austin Jackson
.
But five through 25? I think I'll take the
Cleveland Indians
over the
Detroit Tigers
.
The
Indians beat the Tigers 5-3
on Tuesday, even though
Ubaldo Jimenez
struggled once again with his control. Relief ace
Chris Perez
, who criticized Indians fans on Saturday for their lack of support (Cleveland is last in the majors in attendance), was greeted with a thunderous ovation as he came in out of the bullpen in the ninth inning. With two runners on, he struck out Cabrera and got Fielder to ground out.
Just another save. "That's the loudest I've ever been cheered here," Perez said. "I was pumped, the adrenaline was going. It could have gone the other way. I came through. I didn't know which way it was going to go. I was thankful it went the good way."
The good way pushed the Indians to 24-18. The Tigers are 20-22, and for the life of me I can't understand why everyone still thinks Detroit is the better team. Mind you, I'm not saying the Indians are better. I just don't see why the Tigers are better. Just because everyone picked them before the season?
Once you get past those big shiny names on the Tigers' roster, if you want to pinpoint one big difference between the two clubs, it's a little statistic that us sabermetric types love: the old base on balls. The Indians lead the American League with 188 walks, 25 more than any other team; the Tigers have 127 walks, ninth in the league. That patience will go a long ways toward giving Cleveland an offense capable of scoring as many runs as Detroit's (the Indians have outscored the Tigers by one run so far, 184 to 183).
In fact, when you go position by position, you'll see what I mean.
Catcher: Carlos Santana versus Alex Avila.
So far, Avila has been unable to match 2011's .366 average on balls in play, the sixth-best average in the majors. Which means he's hitting like he did in 2010. Santana, meanwhile, is a walks machine who hit 27 home runs in 2011.
First base: Casey Kotchman versus Prince Fielder.
Obvious edge to Fielder, of course. The most interesting thing about his start (.292/.354/.472) is his walk rate is down from 15.5 percent to 8.5 percent. Part of that is he was intentionally walked 32 times a year ago, just three this year.
Second base: Jason Kipnis versus Ramon Santiago/Ryan Raburn.
Please. Big edge to Kipnis with Santiago and Raburn both hitting under .200. Will Detroit make a move here?
Third base: Jack Hannahan/Jose Lopez versus Miguel Cabrera.
This may be the first and only time you'll see Jose Lopez mentioned in the same breath as Miguel Cabrera. So far, however, this edge has been minimal. Cabrera is hitting .304/.362/.488, Hannahan .287/.365/.436 but with better defense. According to Defensive Runs Saved, Cabrera has cost the Tigers four runs -- worst among third basemen (tied with
Hanley Ramirez
).
Shortstop: Asdrubal Cabrera versus Jhonny Peralta.
With the Indians preaching plate discipline, check out Cabrera: Last year, 44 walks and 119 strikeouts; this year, 18 walks and just 12 strikeouts. He's hitting .309 with an OBP over .400 but hasn't lost any power. In 2011, he swung at 31 percent of the pitches out of the strike but he has cut that down to 24 percent. Small differences can go a long way. Peralta was a big surprise for Detroit last season but hasn't matched the numbers in the plate or in the field.
Left field: Johnny Damon/Shelley Duncan versus Andy Dirks/Delmon Young.
Damon has looked terrible. Dirks has looked great, but too early to evaluate this one.
Center field: Michael Brantley versus Austin Jackson.
With his defense and hot start at the plate, Jackson has been as valuable as any player in the American League not named
Josh Hamilton
.
Right field: Shin-Soo Choo versus Brennan Boesch.
This one isn't close and that's with Choo off to a middling start in the power department. Choo has a .391 OBP, Boesch a .271 OBP. Choo is a solid defender while Boesch is slow and lumbering. With his poor start at the plate and poor defense, Boesch has been one of the worst regular in baseball so far. Choo is an underrated asset and I love Manny Acta's decision to move him into the leadoff spot.
Designated hitter: Travis Hafner versus field.
Cleveland's designated hitters have six homers and .370 OBP (fourth in the league). Detroit's DHs have one home run and a .238 OBP (13th in the league). Big, big edge to Pronk.
Rotation.
With the best pitcher on the planet, Detroit's rotation has posted a 3.87 ERA; without the best pitcher on the planet, Cleveland's rotation has posted a 3.94 ERA. Both teams have played 42 games and Cleveland's starters have thrown 12 more innings. Moving forward, maybe you think Detroit's group will perform better. After all,
Doug Fister
missed some,
Max Scherzer
just struck out 15 in game (never mind that the Pirates have been an historic strikeout binge of late) and
Rick Porcello
will put it together one of these years, because everyone says so. Meanwhile, Ubaldo Jimenez can't throw strikes,
Justin Masterson
hasn't pitched as well as last year and
Derek Lowe
is doing it with smoke, mirrors and a deal with the devil. The one thing the Cleveland starters do is keep the ball in the park; they've allowed 20 home runs, second-fewest in the league. Look, maybe you think Scherzer will start pitching better; I'd say so will Masterson. Maybe you're a Porcello believer; I'm not, especially with that infield defense behind him. Lowe is a fluke? Well, let's see how
Drew Smyly
does as the scouting reports get around on him.
Bullpen.
Neither pen has been stellar, as Cleveland's 4.16 ERA ranks 13th in the AL and Detroit's 4.76 ranks 14th. Cleveland's top guys, however, have been pretty solid -- Chris Perez is 14 of 15 in save opportunities while
Vinnie Pestano
,
Joe Smith
and
Nick Hagadone
have pitched well. Detroit's top two of
Jose Valverde
and
Joaquin Benoit
, so dominant a year ago, have both struggled to throw strikes.
I said before the season that I believed the Tigers were drastically overrated. On the Baseball Today podcast late in spring training, I predicted Cleveland would win the division. Unfortunately, when ESPN.com published predictions a few days later, I changed my pick to Detroit. I bought into the hype.
I'm not buying any longer. This division is wide, wide open. (And I haven't even mentioned the White Sox!)
PHOTO OF THE DAY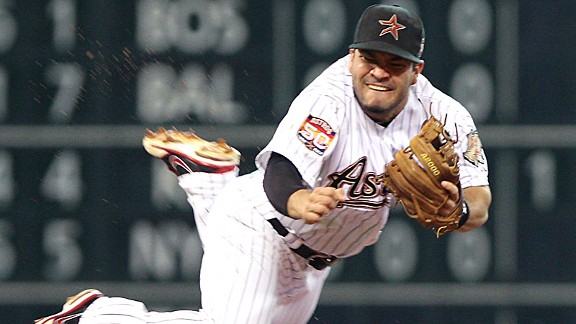 Troy Taormina/US PresswireDiminutive Astros infielder Jose Altuve isn't always so low to the ground.
May, 15, 2012
5/15/12
9:45
PM ET
By
Christina Kahrl
| ESPN.com
Not every move involves rosters: Some just involve putting your better assets to work. Case in point: Today's lineup card for the
Cleveland Indians
, which featured
Shin-Soo Choo
batting leadoff, something Manny Acta started trying just yesterday.
Choo was followed by second baseman
Jason Kipnis
in his usual slot, then
Asdrubal Cabrera
, then
Carlos Santana
. If that sounds to you like every good Indians batter, stacked up in a row, you'd be right. But with Choo's .362 OBP (pre-game) up front, it gave manager Manny Acta some big-inning potential, and when Minnesota's
Jason Marquis
got into trouble in the fifth, there was no easier out for him to get, and they
cranked a trio of home runs
before Ron Gardenhire could get him off the mound.
[+] Enlarge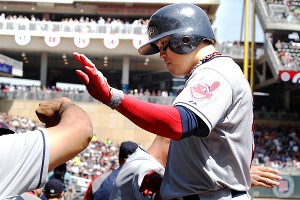 AP Photo/Jim MoneShin-Soo Choo homered as part of the Indians' fifth-inning barrage against Minnesota.
Admittedly, your best four up front is pretty much the definition of a short-sequence offense. But stacking all the good stuff up front is usually a better way to get a crooked number or two on the board, and then you can try to be cute with the assorted sidekicks in the bottom of the order:
Jack Hannahan
and
Michael Brantley
,
Casey Kotchman
and
Johnny Damon
. Considering that it was a rare day off for
Travis Hafner
against a right-hander, though, that front-loaded lineup can at least go five deep, Choo to Kipnis to Cabrera to Pronk to Santana. That isn't a bad place to start.
And while that back end might not be a good group, it's worth remembering that the Indians aren't married to any of them. Hannahan and Kotchman are defensive specialists who at the best of times get on base. But behind them, the Tribe has options:
Lonnie Chisenhall
's slugging .562 at Columbus and ready to roll, while
Matt LaPorta
's hammered 10 home runs as his teammate.
It's the outfield where things aren't happy. Damon's utility as a source of OBP or power is now several seasons out of date, while Brantley's marking time until he goes from ex-prospect to outright suspect and career fourth outfielder. And the Tribe doesn't have a ready or ready-ish alternative in the upper levels among their outfielders; rather, they have the latest iteration of a story they've been putting children to sleep with for years: "Grady Sizemore will be back soon." When your former center field star is the stuff of milk-carton legend, you know that you probably shouldn't count on him as an in-season solution.
Which is what will make the weeks and months to come interesting to follow as far as the Tribe's lineup cards are concerned. Will Brantley or Damon earn his keep? Will Sizemore actually return, and play well enough to consign one of the other two to the bench? Will Chisenhall or LaPorta get the call?
Or will Mark Shapiro simply deal for a corner bat worthy of the name before the end of July? Because that's the thing that you can really wonder about: If you're not getting offense out of first base or left field, that's usually one of the easiest things to fix around the deadline, and without having to give away a top prospect. If Choo gets to be the Indians' once and future leadoff man, then in addition to riding the benefits of that front-loaded lineup, you can stop excusing Damon or Brantley as guys who help at the top of the order, and start looking at how little they're delivering on offense. Fix that, and the team the Tribe's winning with now could be better still a deal later in August.
Christina Kahrl covers baseball for ESPN.com. You can follow her on Twitter.
April, 7, 2012
4/07/12
9:30
PM ET
By
Stephanie Liscio
| Special to ESPN.com
After my father and I nearly froze to death from 16 innings of Opening Day "magic" at Thursday's Indians game, he turned to me and asked, "What if it goes extra innings on Saturday as well?" I responded by saying, "
Ubaldo Jimenez
will probably give up seven or eight runs in the first couple of innings.
Dan Wheeler
will be sent in for mop-up duty, and he'll give up a few more. The offense will be terrible, so it will assuredly end in nine innings."
I'm glad to say that if I had to be wrong about one of those statements, it was the one about Jimenez. Nobody really knew what to expect from Jimenez today, but Indians fans seemed to fear the worst. He was all over the map in spring training, and was shaky after he plunked
Troy Tulowitzki
against Colorado last Sunday. With a five-game suspension looming (Jimenez announced that he will drop his appeal) and the ongoing drama with the Rockies, would he be able to put all of that behind him and help the Indians bounce back from their heartbreaking loss Thursday?
Jimenez looked sharp today, and despite the fact that he earned a no-decision in Cleveland's
7-4, 12-inning loss
, he took a perfect game into the sixth inning, and a no-hitter into the seventh. From what I saw on the radar gun at the ballpark, he topped out at 93 mph and looked like he was throwing a lot of off-speed pitches. His command, a problem at times this spring, was sharp until the sixth inning. He was able to quiet the bat of
Jose Bautista
, which no Indians pitcher seemed able to do on Thursday (including
Justin Masterson
).
While I'm certainly not ready to declare last summer's trade with Colorado a complete success yet, it has to make Indians fans feel a little bit better to see a strong opening performance from Jimenez. I expected to see more tension and excitement at today's game as it reached the later innings. The closest I've ever been to witnessing a no-hitter was when
Cliff Lee
took one into the eighth inning against the Cardinals on June 14, 2009; on that night, you could just feel the electricity in the air at Progressive Field, as if something really special was taking place. Today, much of the crowd around me appeared to be disengaged, or Toronto fans. Nobody really seemed to fully grasp the performance they were seeing from Jimenez.
To be fair, most people with a rooting interest in the Indians were preoccupied with complaints about the Indians' offense. The Tribe has now played 28 innings of baseball in just two games. In those 28 innings, they've scored eight runs, six of which have come via the home run. The Indians left just three runners on base on Saturday, two of which were left stranded in the 12th inning after Toronto had already gone ahead by four. While there were a number of missed opportunities on Thursday, they didn't even have any opportunities to miss this afternoon. In their first two games they've had just 12 hits, and three of those came in the bottom of the 12th today. The "major" free agent signing this winter,
Casey Kotchman
, has started the season 0-for-12. He has yet to hit a ball out of the infield; a couple of his groundouts today didn't even make it past the pitcher's mound.
The "Bullpen Mafia" has shown some signs of weakness early in the season, with
Chris Perez
,
Jairo Asencio
,
Vinnie Pestano
, and
Tony Sipp
all responsible for surrendering runs in pivotal situations. With the offense as weak as it has looked these first two games, the Indians would probably still be playing Thursday's game if the bullpen continued to hold the Toronto offense scoreless. Both Thursday and today, manager Manny Acta appeared slow to pull the trigger once Perez and Sipp got into trouble. Nobody was warming up, and nobody even tried to stall for time to get someone else up in the bullpen. When your team is struggling to score runs, a quick hook with a struggling bullpen pitcher may be the best form of action.
Even though the Indians have only played two games thus far, Masterson and Jimenez have been the bright spots in both. This offseason, fans were most worried about the starting pitching and the offense. Even though it's far too soon to declare the starting pitching situation "fine," I've seen enough from the offense to know that I'm concerned. Masterson went eight innings on Thursday, and Jimenez lasted seven today; you can't ask for much more than that from your starting pitchers.
Now the offense needs to step up and prove that these two games were a fluke, and not the norm. Perhaps they just need to start a feud with Troy Tulowitzki and the
Colorado Rockies
. It seemed to work for Jimenez.
PHOTO OF THE DAY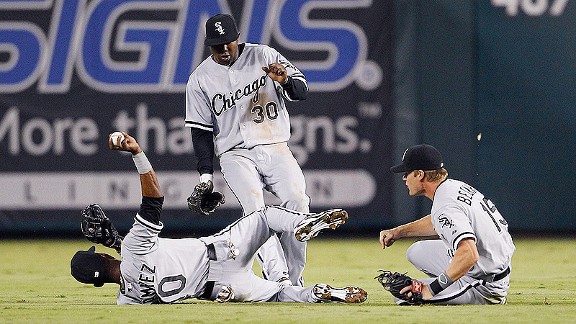 Jim Cowsert/US PresswireAlexei Ramirez took a tumble with a critical ninth-inning catch for the Sox.
Stephanie Liscio blogs about the Indians for the SweetSpot network at "It's Pronounced 'Lajaway'," and can be followed on Twitter at @stephanieliscio.
November, 15, 2011
11/15/11
10:30
PM ET
Quick, who won last year's Manager of the Year awards?
Exactly. Not the most interesting of the postseason awards. But here's a quick preview of the award that usually goes to the manager whose team surprised the most.
American League
Joe Maddon, Rays:
The odds-on favorite to win his second award, following Tampa Bay's miracle playoff run in September. Positives: Kept team positive after 0-6 start,
Evan Longoria
's April injury and
Manny Ramirez
's drug test/retirement; overcame two shortstops who hit under .200; mixed and matched guys like
Ben Zobrist
,
Matt Joyce
and
Sean Rodriguez
for maximum producitivity; rebuilt bullpen thrived; sent up
Dan Johnson
to pinch-hit in the ninth inning of game No. 162. Negatives: Was that a mullet?
Ron Washington, Rangers:
Remember, postseason performance doesn't come into play. Positives: Moved
Alexi Ogando
to the rotation; got a big year out of
Michael Young
by moving him around the DH role and the infield; let
Mike Napoli
eventually take over as the regular catcher. Negatives: Remember, postseason performance doesn't come into play.
Jim Leyland, Tigers:
A two-time winner with the Pirates and once with the Tigers, Leyland could be the first manager to win the award four times (the award began in 1983). Positives: Gave the ball to
Justin Verlander
and stayed out of the way. Negatives: Poor lineup construction.
Manny Acta, Indians:
The Indians ended up at 80-82, but it was a positive season as they remained in the playoff race much of the season. Positives: Hung in there despite injuries to
Grady Sizemore
and
Shin-Soo Choo
; worked in young players like
Jason Kipnis
and
Lonnie Chisenhall
; adeptly handled no-name bullpen to a nice season. Negatives: Couldn't straighten out
Fausto Carmona
; stuck with
Orlando Cabrera
way too long in No. 2 hole.
SweetSpot network voting
Joe Maddon: 114 points (21 first-place votes)
Jim Leyland: 32 points
Ron Washington: 28 points (1)
Manny Acta: 20 points (1)
Joe Girardi: 20 points (1)
Terry Francona: 1 point
Mike Scioscia: 1 point
My ballot
1. Joe Maddon
2. Manny Acta
3. Ron Washington
National League
Kirk Gibson, Diamondbacks:
Arizona improved from 65 to 94 wins, making Gibson the front-runner. Positives: Made regulars out of
Ryan Roberts
and
Gerardo Parra
; installed a new energy and attitude into the team; got nice work out of rookie starter
Josh Collmenter
; dramatically improved the bullpen from a year ago; constantly forced to change lineup. Negatives: Let's not talk about that Division Series.
Ron Roenicke, Brewers:
In his first season, the Brewers set a club record with 96 wins (one more than 1982's Harvey's Wallbangers). Positives: Inspired move to eventually hit
Corey Hart
leadoff; got good results from mercurial center fielder
Nyjer Morgan
; once
Zack Greinke
returned, had top four guys who didn't miss a start all season; didn't overreact because team didn't have a good lefty in the pen. Negatives: Stuck with
Casey McGehee
too long; stuck with
Craig Counsell
as utility guy.
Tony La Russa, Cardinals:
The future Hall of Famer went out in style, although the award is voted on before the postseason. Positives: Overcame season-long injury to
Adam Wainwright
, plus DL stints from
Albert Pujols
,
David Freese
and
Matt Holliday
; coaxed good work out of bullpen after closer
Ryan Franklin
self-destructed in April; went with
Jason Motte
as closer down the stretch; believed in
Jon Jay
's ability to play center, allowed trade of
Colby Rasmus
. Negatives: Inability to enunciate during calls to the bullpen.
SweetSpot network voting
Kirk Gibson: 99 points (16 first-place votes)
Ron Roenicke: 51 points (3)
Tony La Russa: 49 points (5)
Charlie Manuel: 8 points
Don Mattingly: 4 points
Clint Hurdle: 4 points
Fredi Gonzalez: 1 point
My ballot
1. Kirk Gibson
2. Tony La Russa
3. Ron Roenicke
August, 18, 2011
8/18/11
12:20
AM ET
Mark Buehrle
took the mound for the
Chicago White Sox
against the Cleveland Indians on Wednesday night riding a streak of 18 straight starts with three or fewer runs allowed. Buehrle's string of exceptional performances goes back to April 22, which means that the last time he was dinged for at least four on the board,
Derek Jeter
and
Jim Thome
were early in their milestone pursuits,
Buster Posey
's left ankle was still intact, and everybody was asking, "What's wrong with the Red Sox?"
Trivia buffs take note: The last White Sox pitcher to go 18 straight starts with three or fewer runs surrendered was Frank Elmer Smith of the 1909 squad. Smith went by the nickname "Piano Mover" because he made a few extra bucks toting Steinways during the offseason. According to his SABR
Baseball Biography Project
profile, Smith liked to brag that he could "carry a baby grand up four flights of stairs without a rest."
In contrast, Buehrle is making $14 million in the final installment of a four-year, $56 million contract. All he has to do is help make White Sox chairman Jerry Reinsdorf and general manager Kenny Williams forget that they're paying
Adam Dunn
$12 million to slug .296 with a .590 OPS.
As it turns out, Buehrle's streak ended when he allowed four runs on 12 hits over 7 1/3 innings in a 4-1 loss to Cleveland at U.S. Cellular Field. He was outpitched by the Indians'
Fausto Carmona
, and the White Sox missed out on a chance to move into second place for the first time since April 12 and pass the Indians in the standings for the first time since April 4. The Piano Mover and the Tribe are both safe for the time being.
At the risk of flogging the same theme ad nauseam, it's tough for the White Sox to generate any momentum with two of their three de facto "boppers'' making such negligible contributions.
Paul Konerko
ranks among the American League's top five with 27 homers and a .556 slugging percentage. But center fielder
Alex Rios
, hitting .213 with seven homers in 413 at-bats, took a seat again for
Alejandro De Aza
, a fringe big leaguer who at least brings energy and some speed to the mix. As for Dunn, he singled in three at-bats to
raise
his average to .164. Just to put that in perspective, Dunn could go 15-for-his-next-15 and he still wouldn't be hitting .200.
Former Indians outfielder
Jody Gerut
dropped by the Indians' broadcast booth during the middle innings and did his best to show compassion, but he was still at a loss for words to describe the anguish that Dunn must be feeling.
"If you asked him now, he would probably say he'd have a better shot right-handed," Gerut said.
Throw in third baseman Brent Morel's four walks and .272 on-base percentage in 88 games and the recent loss of catcher
A.J. Pierzynski
to a fractured wrist, and the White Sox are one offensively challenged bunch. They've scored 488 runs this season, fewer than Cleveland and Baltimore. They rank 12th among the 14 American League teams with 60 stolen bases, and dead last with a 61 percent success rate. And they're 11th with a .242 batting average with runners in scoring position.
The White Sox have won nine of their past 12 games, but it's been a generally buzz-free ride. After dropping six straight to Boston and New York, the Sox climbed back into the race while beating up on Minnesota, Baltimore and Kansas City. Maybe that's enough to quicken the pulse of the diehards -- and Hawk Harrelson -- but the Sox rank 19th in the majors in attendance, so they haven't exactly captured the imagination of a city. Your average Chicagoan is more consumed by Jay Cutler's training camp and Ryan Dempster's true feelings about a return to action by
Carlos Zambrano
.
The White Sox's staff ace couldn't do much to change that Wednesday. Cleveland manager Manny Acta started five lefty hitters against the left-handed Buehrle, and the lineup configuration paid off. Buehrle's stuff was up in the zone for much of the evening, and the Indians routinely took him up the middle or the opposite way for base hits.
Carmona, meanwhile, came within two outs of his first complete game this season and pulled the Tribe within two games of first-place Detroit. These Indians have their flaws, but they're feisty to the point of Eckstein-ian.
So where is the American League Central race headed? It's the only three-team scrum remaining in all of baseball, but it remains compelling for all the wrong reasons: The Indians, with 511 runs scored and 507 allowed, are the only team in the division with a positive run differential.
As Phil Rogers of the Chicago Tribune recently pointed out, it might be time for manager Ozzie Guillen to find a way to cram a little more Buehrle into the equation. The White Sox are 16-8 in Buehrle's starts and 45-53 behind the rest of their rotation. If Guillen can squeeze an extra start or two from Buehrle by pitching him every fifth day, rather than every five or even six games, it might be worth considering.
But if the Sox can't figure out a way to score more runs, rotational machinations are the least of their concerns. Winning the AL Central is going to be like toting a piano to the top of the Sears Tower.
PHOTO OF THE DAY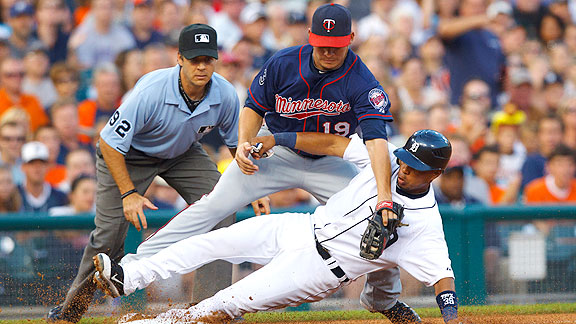 Rick Osentoski/US PresswireRamon Santiago cuts it close coming into Danny Valencia's corner.
May, 10, 2011
5/10/11
1:01
PM ET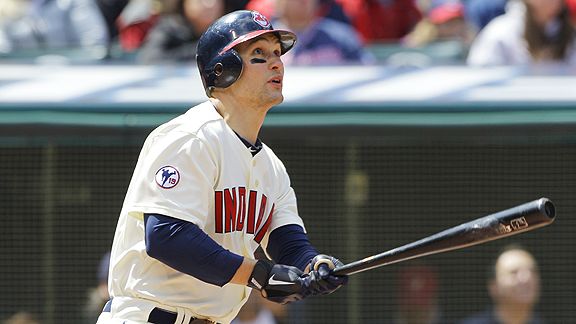 AP Photo/Mark DuncanGrady Sizemore's return has provided a big boost -- offensively and defensively.
The
Cleveland Indians
were quiet this past offseason. No sexy free-agent signings, no wheeling and dealing. When I arrived to Indians camp in spring training, I spent considerable time with rookie GM Chris Antonetti and second-year manager Manny Acta. Both were convinced that if everything went as planned the Indians could contend as early as this season -- even though this was a team that hadn't had a winning record since 2007 and had lost 93 games in 2010 and 97 in 2009. Contending? Really? How?
Antonetti, one of the youngest and brightest GMs in baseball, broke it down this way for me on that hot Arizona March day: "To contend we need the following to happen: (1) We need our key players to get healthy, specifically
Grady Sizemore
,
Carlos Santana
,
Asdrubal Cabrera
and
Travis Hafner
; (2) We need our other young players on the roster to continue their development with meaningful contributions on the field. This list of players includes
Justin Masterson
,
Carlos Carrasco
,
Josh Tomlin
,
Chris Perez
,
Michael Brantley
,
Matt LaPorta
and our young bullpen arms; (3) We need our veterans to contribute and provide leadership on the field and in the clubhouse, including
Orlando Cabrera
, Sizemore and Hafner."
Check, check and check, Mr. Antonetti.
This Indians team is not only contending but has the best record in the American League. Are they for real? Yes, they're for real. I'm not saying they're going to win the division, but what I am saying is that if they stay healthy, this team will contend into September and should win more games than they lose. The main reason this team is for real is the pitching and defense. The starting pitching is solid, the bullpen underrated and the infield defense is the best the Indians have seen since
Jim Thome
,
Roberto Alomar
,
Omar Vizquel
and
Travis Fryman
played together.
[+] Enlarge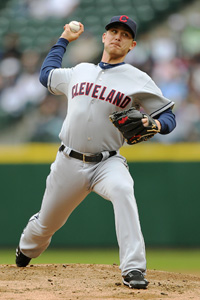 Otto Greule Jr/Getty ImagesJosh Tomlin is 4-1 with a 2.43 ERA and a 0.81 WHIP through six starts this season.
The starting rotation is led by
Fausto Carmona
, who won 13 games last year and is capable of winning 13-16 again this season. Masterson, one of the pitchers acquired in the
Victor Martinez
trade with Boston, is emerging as a solid No. 2 behind Carmona. Masterson has great size and stuff. His four-seam fastball goes up to 97 mph while the two-seamer sits between 89-94. He mixes in a slider and change from a deceptive lower arm angle and has great downward bite. His command in the lower part of the strike zone has improved due to the fact he solidified his delivery. Most importantly, Masterson continues to develop the understanding of how to best utilize his stuff to attack left-handed hitters, a weakness throughout his career. Masterson has quickly become one of the better pitchers in the league, starting 5-0 with a 2.11 ERA.
Carrasco just spent time on the DL for the first time in his career, but the Indians are not concerned as he is set to return to the rotation this week. In my discussions with
Shin-Soo Choo
, Santana and Acta, they raved about Carrasco's potential. They think he'll develop into a 15-game winner. That brings us to Josh Tomlin, who wins everywhere he goes. His minor league career record is 54-21 and his major league career record is 10-5, including 4-1 this year. Here is Antonetti's scouting report on Tomlin that he gave me this week: "Great competitor. Won't beat himself. Pounds the zone. Good four-pitch mix. Understands how to pitch and get hitters out." No argument from me. He might not chalk up a lot of strikeouts each night, but he'll get the groundballs and get the outs to win games.
That brings us to the infield defense. When you have a rotation that pounds the lower part of the strike zone, but doesn't always miss bats, then you better catch the ball in the infield with range. This infield catches the ball with range.
Jack Hannahan
, the journeyman infielder, has done a tremendous job defensively at third base, catching everything with soft hands and an accurate arm. Asdrubal Cabrera is quickly becoming one of the best all-around shortstops in the American league, a very good offensive and defensive shortstop with power, quick hands and feet and a strong arm from the hole. He also has great baseball instincts. He exchanges the ball from glove to release as quickly as anyone. Orlando Cabrera was the one major free-agent signed by Antonetti this offseason and here's his assessment of Cabrera: "He has made an impact both on the field and in the clubhouse. He has great baseball intelligence and understands what it takes to win." In fact, it seems wherever Cabrera goes his teams win (see: Reds, Twins, Red Sox).
Behind the plate Santana has helped lead the Indians' staff to the third-best ERA in the AL. He has well above-average arm strength and eventually will be able to stop the running game when he gets more experience. He's off to a slow start with the bat, but he can hit and hit with power from both sides of the plate. He's a legit future All-Star.
The outfield defense matches the infield defense. Choo is one of the best right fielders in baseball. He gets great jumps, angles on balls and has a strong arm. He can also hit and hit with power. Sizemore is back diving for baseballs and Brantley covers everything in left field like a center fielder. Not a lot of balls are going to be falling in the the gaps at Progressive Field this summer.
The Indians' starting pitchers are pitching deep into games, their offense has put up quality at-bats and has manufactured runs in a variety of ways, thanks to the shrewd managing of Acta, and the bullpen has done a great job of closing games when they get leads as closer Chris Perez has saved 10 of 11 opportunities while
Tony Sipp
,
Vinnie Pestano
and
Rafael Perez
all have ERAs under 2 setting him up.
Remember, this first-place team is doing it without much production from the heart of the order as Choo and Santana have struggled to get past the Mendoza line and top hitting prospect Lonnie Chisenhall is in the minor leagues getting additional seasoning. But we all know that will change, and all three will be productive offensive weapons by season's end.
Hafner and Sizemore are competing for the Comeback Player of the Year Award. Hafner's shoulder is finally healthy and according to Acta, that allowed him to weight train for the first time in years in the offseason. The result is that Hafner's bat speed is back, as shown by his .347 average and .932 OPS.
The farm system is also about to add another wave of young talented players as well. Rookie starter
Alex White
made his debut recently with a win, Nick Hagadone and Drew Pomeranz aren't far behind ( not to mention Jason Knapp, Zach Putnam and Bryce Stowell) and Chisenhall will probably be taking over third base by the middle of this summer. Chisenhall has a chance to be a .290-to-.300 hitter in the big leagues with 15-20 home runs and 40 doubles. He can really hit and is adequate and improving defensively at third base.
Acta is not only one of the best-dressed managers, but he's also quickly becoming one of the most respected young skippers in the game. He's done a phenomenal job in developing the Indians' young arms the last two years and his ability to communicate and motivate are special.
The Indians -- if they stay healthy -- are for real and should produce a summer of winning and continued improved parity in the American League Central.
Thanks for reading and as always I appreciate your comments and feedback. Follow me on Twitter @JimBowdenESPNxm and feel free to send me ideas for future blogs.
April, 30, 2011
4/30/11
12:37
AM ET
By
Christina Kahrl
| ESPN.com
Because analysts like to worry about sample size and caution against "too much, too soon" when it comes to drawing conclusions about April outcomes, let's put the shoe on the other foot and identify an instance of an April result that has made a difference: the Indians' infield.
The specific action that brought this to mind today was the activation of
Jason Donald
from the DL -- and his immediate dispatch to Columbus. This was especially a step down for him because less than two months ago Donald was the early favorite to win the Tribe's open third-base job. It wasn't necessarily a permanent opportunity he'd be winning for himself -- already in his age-26 season, Donald's opportunities at third or second are either going to come now, or perhaps never, especially with a bat projected to deliver OBPs south of .330 while slugging less than .400. Lacking the range you ideally want from a shortstop, his every-day options were limited, and his bat rates are below ideal at the hot corner.
[+] Enlarge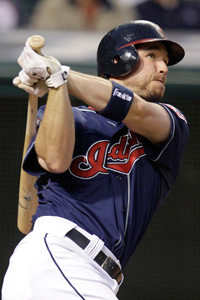 AP Photo/Amy SancettaJack Hannahan, a career .360 slugger, currently has a slugging percentage of .507.
Unfortunately for Donald, he hurt his left hand in the first week in March in Arizona, and his opportunity started to get away from him, a turn of events he could ill afford. That's because his future is now, limited not only by his own possibilities, but also because long-term the Indians are going to want to turn to a series of prospects at second or third, starting with Lonnie Chisenhall, and followed by Jason Kipnis, Cord Phelps, and perhaps Jared Goedert.
One of the great complaints about spring training performance is that it doesn't mean anything, so managers shouldn't make substantive decisions based on it. However, in a case like Donald's, there wasn't anything else to work with as far as his winning much loyalty from his manager, Manny Acta. Once Donald went down, Acta had to turn to the temporary alternatives available to him. As a result, veteran journeymen
Jack Hannahan
and
Adam Everett
got chances that, without spring training's turn of events, would never have existed. They made the most of it, both making the team as non-roster players, and now that veteran tandem is operating in a loose job-sharing arrangement at third base for the Indians.
Now, swapping in Hannahan and Everett for Donald should be far from earth-shattering in terms of the offensive value you would expect. Using True Average to aggregate their offensive contributions, none of them are projected to be anything like an average third baseman (.268), since Hannahan and Donald projected in the .230s, and Everett was down around the Mendoza Line. Hannahan and Everett are no more likely than Donald to hold the job at third for a full season. Even if you're the sort of cynic who thinks that Chisenhall's time in a
Columbus Clippers
uni is directly tied to his potential super-two arbitration eligibility after 2013, both halves of the Hannaverett combo are over 30 years old, and neither half is likely to keep cranking with OPS clips north of .800. Hannahan and Everett are both good fielders, and both have their uses, but even a platoon between the pair seems short-lived.
However, both had good Aprils, and because of that plus Donald's injury, it's going to be that duo that will be manning the Indians' infield for the next few weeks before Chisenhall's case for the job becomes too obvious to avoid. Hannahan and Everett can fend off that future for some time, like Donald might have, but Hannahan is a career .360 slugger (.131 ISO) -- betting on his keeping his SLG north of .500 is "would you also like the Brooklyn Bridge?" territory.
If the Indians are to continue winning, they must not get overly sentimental when the time comes to swap out players who got off to hot starts. That will mean accepting that Hannahan is the same hitter he's been over most of his career, and that they'll be better off with people who deliver more at the plate over the season's long march. The Tribe's front office is more than smart enough to know all this, but in the meantime, whatever possibilities Hannahan possesses have come directly at Donald's expense.
Christina Kahrl covers baseball for ESPN.com. You can follow her on Twitter.
March, 3, 2011
3/03/11
12:00
PM ET
By
Bill
and
The Common Man
| ESPN.com
On Tuesday, Darryl Johnston caused a bit of a stir when he ranked the components of "organizational management" -- the owners, GMs and managers -- of
the five AL East teams
. Being Midwest guys, we thought we'd try the same thing with the AL Central; not as sexy, maybe, but fun nonetheless. We're using the same basic method Darryl did, with one point for a fifth-place ranking and five points for a first-place ranking.

Owner
: Jerry Reinsdorf |
AL Central rank
: 2nd |
Points
: 4
Reinsdorf generally stays out of the way and cuts checks these days. He's also succeeded at the unenviable job of maintaining détente between his manager and general manager. Which is good, because the two are both excellent in their roles, even if they don't always work well together. Reinsdorf gets a slight ding here because of his role as Bud Selig's chief supporter and his role in collusion in the late 1980s.
General manager
: Kenny Williams |
Rank
: 1st |
Points
: 5
Williams, who has held his job since 2000, excels at making trades, picking up guys like
John Danks
,
Gavin Floyd
,
Carlos Quentin
and
Jose Contreras
in very one-sided deals. He's reached into the Cuban market, generally hit on his free-agent acquisitions, and had decent farm systems that he's mostly leveraged to acquire more talent.
Manager
: Ozzie Guillen |
Rank
: 1st |
Points
: 5
Ozzie has made waves this offseason by not keeping his clubhouse's business in-house. But he's typically been quick to leap to his players' defense and take the blame himself for any failures. He also consistently provides the best quotes in the business.
White Sox's composite score: 14 points
---

Owner
: Larry Dolan |
Rank
: 4th |
Points
: 2
The Indians used to be the class of the American League Central. They had a beautiful ballpark, they sold out every single game (literally), and they finished 171 games over .500 from 1994-99. Working diligently, Dolan has managed to undo all of that hard work. The Indians sit at the bottom of the division, they drew under 1.4 million fans last year, and they've finished .500 or worse seven times in nine seasons.
General Manager
: Chris Antonetti |
Rank
: 4th |
Points
: 2
Antonetti's hard to figure, given that this is his first season at the helm and the club still has ties to former GM Mark Shapiro. It's also unclear how much of the Indians' performance these last several years are traceable back to Antonetti, Shapiro's right hand since 2007. His first offseason was not exactly inspiring.
Manager
: Manny Acta |
Rank
: 2nd |
Points
: 4
We like Acta. He earns high marks for his open-mindedness, willingness to experiment, demeanor and jaunty hat. His overall record, 227-345, is deceiving, since his owners and GMs steadfastly refuse to provide him with actual major league players.
Indians' composite score: 8 points
---

Owner
: Mike Ilitch |
Rank
: 1st |
Points
: 5
IIlitch and the Tigers spent a long time in baseball's wilderness. Now he's mostly content to hand out the checks and let Jim Leyland and Dave Dombrowkski run the show. This is a good thing. Pizza! Pizza!
General manager
: Dave Dombrowski |
Rank
: 2nd |
Points
: 4
When he's had a free hand, he's put winners on the field. He's occasionally played a little too fast-and-loose with Ilitch's money -- like this year, comically overpaying for a middle reliever and apparent DH in
Joaquin Benoit
and
Victor Martinez
.
Manager
: Jim Leyland |
Rank
: 4th |
Points
: 2
Leyland's still a good and popular manager when he's engaged and happy. As he gets older, there's additional risk that he'll burn out again or fall asleep in the dugout. We're probably starting to get into Casey Stengel-with-the-Mets territory here.
Tigers' composite score: 11 points
---

Owner
: David Glass |
Rank
: 5th |
Points
: 1
We'll never blame an owner for refusing to spend on a team that's going nowhere, but their continually going nowhere is in large part BECAUSE of Glass, who had a huge hand through the mid-90s in turning the team into the perpetual downer it's become.
General manager
: Dayton Moore |
Rank
: 5th |
Points
: 1
Yes, the farm system is excellent right now. Yes, GMDM remains the worst GM in all of baseball. Virtually every move he has made at the big league level has failed spectacularly and predictably. There's been no indication at all that, once those great kids are ready, he is capable of acquiring the pieces necessary to turn that core into a contender.
Manager
: Ned Yost |
Rank
: 5th |
Points
: 1
He's had only about three-fourths of a season in KC, but he has a rep among Brewers fans as a high-strung statistics-phobic dinosaur who used his bullpen in a bizarre and ineffective way. Yost probably isn't a terrible manager, but he's at the bottom of a strong stack.
Royals' composite score: 3 points
---

Owner
: Jim Pohlad |
Rank
: 3rd |
Points
: 3
Pohlad's father did basically what Glass did in the '90s, with the same results. The Twins are spending a lot more these days, but that's the park, not the owner. It's pretty hard to argue with the results under either Pohlad since 2002, though.
General manager
: Bill Smith |
Rank
: 3rd |
Points
: 3
Smith is an enigma. After starting his career with two disastrous trades and little else, Smith shockingly hit a home run with nearly every move a year ago. This offseason, he seems back to his old ways. Antonetti gets ranked behind him for now, but I have a suspicion that Smith might be pretty close to 29th out of 30.
Manager
: Ron Gardenhire |
Rank
: 3rd |
Points
: 3
The esteem in which one holds Ron Gardenhire seems to have an inverse relationship to how often you watch the Twins play. You love him at 30,000 feet, but if you're close enough to see his irrational love of "scrappy" players and his bullpen usage, the cracks start to show. But the players seem to love him and love playing for him, and I think that's the one aspect of managing that sometimes gets unfairly overlooked.
Twins' composite score: 9 points
---
Overall AL Central ranking
:
1. Chicago (14 points)
2. Detroit (11 points)
3. Minnesota (9 points)
4. Cleveland (8 points)
5. Kansas City (3 points)
This roughly approximates how you might expect the 2011 standings to look, at least with the group of three who will finish at the top and the two who are destined for the bottom. The all-around futility of the Royals kind of skews the rest of the results (making Cleveland and Minnesota appear closer than they probably are), but the general order is right.
The Common Man and Bill write obsessively on The Platoon Advantage and bicker incessantly on Twitter here and here.
April, 16, 2009
4/16/09
11:08
AM ET
Is Manny Acta in trouble? Mark Zuckerman on
the manager of the worst team in the majors
(so far):
Throughout the season's first week, Acta preached patience as always. No reason to panic, not this early. The team would be fine. So would its struggling players.

What, then, to make of the Nationals' decision Tuesday to option Lastings Milledge to Class AAA Syracuse? Sending down a young but struggling player who is supposed to be a key building block for the organization after only seven games -- how is that a display of patience?

If anything, it was a reactionary move, one the Nationals felt they had to make both because of Milledge's struggles and because of the overall team's struggles. It was a move supported by many within the organization, according to club sources, but it wasn't necessarily supported by Acta.

Acta is a Milledge guy, has been since their days together in New York. When others rip the outfielder for his play or his personality, Acta defends him. And he did it again Wednesday in discussing the demotion.

"I'm a big fan of Lastings," Acta said. "I think Lastings is going to be a good player. "I'm pulling for him, and I'm anticipating him being back up here and making a contribution."

Others in the organization may not feel the same way. Some, in fact, believe there's a chance Milledge won't return.

Managers and their bosses disagree on roster moves often. But there are growing signs that the Nationals-Acta marriage may not be as strong as it once was.

Several team officials weren't happy when Acta didn't bench Milledge for arriving late to a pre-Opening Day meeting. Some weren't happy with the way he handled his bullpen in Monday's 9-8 loss to Philadelphia. Acta's coaching staff, aside from pitching coach Randy St. Claire, was overhauled during the offseason. The Nationals have shown no inkling of picking up Acta's contract option for next season, leaving him a lame duck in the interim.
I wouldn't read too much into Acta's comments about Milledge. That's what a manager is supposed to say about an obviously talented player who's just taken a big step backwards. Yes, Acta's going to get fired if the Nationals don't win a few games soon. That doesn't have anything to do with what he said about Milledge, and it's got little or nothing to do with how he's handling the bullpen or anything else. Enough losses pile up, and the manager's job simply becomes untenable.
But the Nats aren't there yet. As Pinto points out,
Milledge isn't the problem. The problem is a pitching staff with a 7.71 ERA. Now, maybe Manny doesn't handle the staff well, but I'd have to say there's not a lot of talent to manage well. The Nats already fired the person responsible for shaping this staff, so maybe Mike Rizzo can get Acta some better arms before they fire him.
A lovely thought, but there aren't a bunch of starting pitchers out there, just waiting for Rizzo to swoop in and deliver them to his beleaguered manager. And what's really scary is that of the Nats' seven games, six have been started by the club's "top three" starters:
Daniel Cabrera
,
John Lannan
, and
Scott Olsen
.
Then again, Lannan and Olsen were actually pretty good last year and Cabrera's not the worst pitcher in the world. On paper, the 2009 Nationals were supposed to win something like 70-75 games. Today, 75 looks like a remote possibility. If nobody panics, though, we shouldn't be shocked by 70.