SweetSpot:

Marcus Stroman
June, 7, 2014
6/07/14
12:20
AM ET
By
Jason Wojciechowski
| ESPN.com
The first thing you notice about
Toronto Blue Jays
rookie pitcher
Marcus Stroman
is that he's short. There's no two ways about it: at 5 feet 9, he is unusually vertically challenged compared to the pool of baseball players at large. And pitchers? Forget it. He's tiny.
But the second thing you notice about Stroman is that he has a big arm. Like 95-mph fastball big. Filthy slider big. First-round draft pick big. Top-100 prospect by Baseball America twice big.
The reconciling of these facts has produced uncertainty about Stroman's future: Is he a top-flight starter, as the stuff implies he can be? Is he a closer because his body can't take the workload of throwing 100 pitches every five days? Does he spend his entire career injured because he'll break down regardless of his role? The list of good recent short starting pitchers basically goes:
Kris Medlen
,
Mike Leake
and
Wandy Rodriguez
. And those guys are all 5-10. You have to go back to
Tom Gordon
in the mid-'90s to find a starting pitcher with success while being 5-9. (Not that being big is any guarantee of greatness. Stroman's opponent Friday,
Lance Lynn
, is a bear of a man, 6-5 and listed at 240 pounds. He has a 98 ERA+ from 2012-14.)
Nevertheless, for now, Stroman is a starter, and an effective one. He has started twice and in each game has gone six innings and given up one run while striking out more than a batter per inning. He doesn't always seem to know where his fastball is going, as seen on a hit-by-pitch of
Matt Holliday
on Friday as well as a couple of hard-hit balls in the first inning that caught entirely too much plate, but he settled down as the game went on, moving his fastball around and burying the aforementioned filthy slider below the strike zone.
All of this matters for the first-place Jays because they have, for a team with such a great record, a surprisingly mediocre run-prevention unit. While they're busy destroying the ball on offense (their .453 slugging percentage leads the American League by 34 points), the pitching and defense is literally middle-of-the-pack: They rank eighth in the American League in runs allowed. The bullpen is uninspiring and the defense features the memorable sight of
Juan Francisco
playing third base every day. Those issues can be papered over with a good starting staff, however. The problem is that the Jays don't have one of those either:
•
Mark Buehrle
is having a crazy year. There aren't many other words for a 35-year-old with a 110 ERA+ since his age-30 season suddenly going 10-1 with a 2.10 ERA. He has been superb so far, but Toronto would be foolish to believe it will continue. His recent past shows that he's a No. 3 starter. That's worth a lot, but it's still just a No. 3 starter.
•
R.A. Dickey
is the reverse of Buehrle, which is even more confounding: From 2010 through 2012, the ace knuckleballer, who named one of his bats Orcrist, posted a 129 ERA+ and won the NL Cy Young Award in '12. Then he was traded to Toronto, where he has a 99 ERA+ in 303 innings. And he doesn't get to use Orcrist anymore. It's impossible to write Dickey off because the knuckler is a fickle beast and age is less relevant for Dickey than any other player, but with each passing start, it looks less and less like the Jays got the ace they thought they were getting when they acquired him from the
New York Mets
.
•
Drew Hutchison
has thrown a good 72 innings this year in his return from Tommy John surgery, but his upside as a prospect was the middle of the rotation, a pitcher who is just a tad more than the sum of his average parts.
• About
J.A. Happ
the less that is said the better. He won't be this team's savior.
All of which adds up to the Jays being in a position to benefit greatly from a big-league breakout for Stroman. No team can't use a rookie ace pitcher, but this Jays team, with realistically three No. 3 starters and one No. 5, could use a bump more than most if it wants to keep winning at a .600 clip, especially in an AL East that, while not as intimidating as in years past, still has at least three other good teams ready to make a run should the Jays falter. As its 90 percent playoff odds indicate, Toronto is in a strong position to head to the postseason for the first time since winning the World Series in 1993. Stroman, the Jays hope, is the Little Engine That Could get them there.
Jason Wojciechowski writes for Beanball on the SweetSpot Network.
May, 31, 2014
5/31/14
11:27
PM ET
By
Jason Collette
| ESPN.com
In a day dominated by talk of comparing baseball games to wars and continued chirping between
David Ortiz
and
David Price
, three young arms stole the show with stellar performances on the mound in Cleveland, Boston and Toronto.
Trevor Bauer
,
Rubby De La Rosa
and
Marcus Stroman
flashed the skills that have excited talent evaluators and fans alike despite the varying levels and lengths of struggles each has faced in their careers.
Bauer faced a
Colorado Rockies
team that came into play with a league-best .341 weighted on-base average as a team. Colorado's offense typically displays Jekyll-and-Hyde tendencies in terms of its home and road splits, and this season is no different. The team's .400 wOBA at home is 49 points better than any other team in baseball, but its .295 wOBA in road games is 11th worst. Bauer was coming off a game against Baltimore in which he permitted four earned runs and nine baserunners in less than five innings of work. While he struck out eight Orioles in that game, he also permitted two home runs and walked three batters.
[+] Enlarge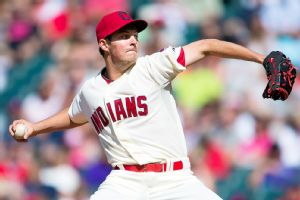 Jason Miller/Getty ImagesTrevor Bauer tossed six innings of two-run ball against the Rockies, walking one and striking out eight.
Bauer's outing against Colorado was arguably the best of the four starts he has made for Cleveland this season. He threw 70 of his 100 pitches for strikes, which forced Colorado batters to expand their strike zone while in protect mode at the plate. He induced 19 swings on pitches out of the zone and got the Rockies' batters to swing and miss at 14 offerings while striking out eight in the contest. Bauer, as he often does, used a wide assortment of pitches, from a fastball that maxed out at 99 mph to a 12-to-6 curveball at 77 mph that froze
Troy Tulowitzki
with two men in scoring position to end the third inning.
The outing was Bauer's third quality start in four outings this season after having just one quality start in the four starts he made at the major league level last season. His 2013 season at the big league level was bookended by two horrific outings: the first one saw him walk the first four batters of the game while the latter saw him get chased in the first inning after allowing six hits and five earned runs.
The 2014 version of Bauer is one that has simplified his delivery to stay on one side of the mound rather than drift back and forth on the rubber depending on the batter he is facing. His fastball command is noticeably better this season for a team that is looking for someone to step up behind
Corey Kluber
.
Rubby De La Rosa was making his first appearance of the season for the
Boston Red Sox
, hoping to erase a rather unimpressive showing in August and September last season. This season in Pawtucket, De La Rosa had a 3.04 ERA over 10 starts, allowing fewer hits than innings pitched, striking out nearly a batter an inning and not permitting a home run. Despite the statistical success, Boston wanted to see more pitch efficiency from him, something Tim Britton of The Providence Journal outlined a few weeks ago.
Against a Tampa Bay lineup that was missing
Wil Myers
and
Yunel Escobar
, De La Rosa had one of the best outings of the season by a Boston pitcher. He induced 17 swings and misses by Tampa Bay batters, which trailed only the 20 swings and misses
John Lackey
had against Atlanta on May 28. While his fastball hit triple digits at one point, it was his changeup that was most impressive on the evening. According to BrooksBaseball.net, De La Rosa threw the pitch 30 times, enticing 20 swings and generating 11 empty swings.
The win was Boston's sixth consecutive win after its 10-game losing streak earlier this month.
Marcus Stroman was making his first start since being demoted to Triple-A earlier in May. Earlier this month, he worked five times out of the bullpen for Toronto and permitted 14 baserunners and nine earned runs in just over six innings of work. In his first start this season at the big league level, Stroman showed the side of himself that impressed evaluators during the 2013 Arizona Fall League and in parts of the 2014 Grapefruit League.
He established his fastball in this outing, throwing it 66 percent of the time to set up his breaking balls to finish off batters. That was the opposite of the approach he tended to take as a reliever, when he utilized his fastball just half the time and relied too much on his secondary pitches.
Despite throwing fewer secondary pitches, Stroman was able to get batters to chase more pitches (15) out of the zone against Kansas City than he had in his five relief appearances (13). He also generated 10 swings and misses on 48 pitches in this outing compared to the 12 swings and misses out of 57 swings while pitching in relief.
The outing was a learning experience for the sharp young pitcher from Duke as he figured out that he could generate empty swings with his fastball and his breaking ball.
Trevor Bauer, Rubby De La Rosa and Marcus Stroman all have bright futures in baseball. Bauer is in his second organization and has shown signs of putting his extreme struggles with command behind him. De La Rosa has overcome an elbow injury and a change in organization, and Saturday night looked like the prospect who first turned heads in 2011. Stroman, until Saturday, had struggled in May at both the minors and the majors. Today, each of these promising youngsters showed why their respective organizations and scouts are so high on the pitchers.
Jason Collette writes for The Process Report, a blog on the Tampa Bay Rays, and also contributes to FanGraphs and Rotowire.