July, 28, 2014
Jul 28
2:47
PM ET
More bizarre news emanating from the
2017 World Series champions
: Over the weekend, the Astros promoted Mark Appel, the No. 1 overall pick in the 2013 draft, from Class A Lancaster to Double-A, despite terrible overall numbers at Lancaster. But he stopped by Houston on his way to Corpus Christi to throw a bullpen session, which angered Astros players.
Via Houston Chronicle reporter
Jose de Jesus Ortiz and Drew Silva of Hardball Talk, one Astros player said, "It's (expletive) unbelievable," about Appel throwing that bullpen.
In other words: You have to earn your way to the big leagues. Even to throw a bullpen session.
As Ortiz tweeted, "In a sport that prides itself on having guys pay dues, the Astros didn't help perception in clubhouse that Appel is being babied."
Look, the whole "paying your dues" thing in baseball has created a terrible caste system, where poorly paid minor leaguers are forced to eat peanut and jelly sandwiches or unhealthy fast food because they can't afford to eat better, but the system is the system and the Astros clearly ticked off players on the current major league roster.
At Lancaster, Appel had a 9.74 ERA in 12 starts, allowing 74 hits and nine home runs in 44.1 innings. For a supposedly polished college pitcher who was the No. 1 overall pick, Appel should be dominating Class A pitchers, even in a hitter's heaven like Lancaster. Early on, Appel suffered from tendinitis in his right thumb and recently the Astros reported he'd been pitching through a wrist problem that required a cortisone shot. Maybe that explains some of the numbers; but he's healthy enough to pitch and has been lit up.
Maybe the Astros just figured they needed to get Appel out of Lancaster. His last start was a good one -- five hits, seven strikeouts, no walks in six innings -- but he'd been roughed up for 20 hits and 14 runs in six innings over his two previous starts. Those two starts came in Lancaster; the last one was in Stockton. Still, you can't defend the promotion based on performance.
Chris Rodriguez of Baseball Prospectus wrote a
scouting report on Appel
last week:
Appel's struggles are not simply explained by his delivery or command. What many other sources have noticed and written about Appel is his lack of pitchability. Appel's stuff is good; in his July 10th start, Appel's fastball touched 96 mph a couple times, sitting mostly 91-95. Early in his start, it was 94-96 mph. As the start progressed he seemed to tire, and kept pitching out of jams using mostly his slider and changeup. The fastball velocity dipped, and in his last inning sat only 91-93 mph. Most of the 13 hits off of him that evening were off his fastball, which was flat and up in the zone. He made no adjustment with his tempo throughout the game, keeping the same pace, which made it very easy for the opponent to time. He also made no adjustment with his pitch sequence, going to his fastball every time he was behind in the count, which was often a flat 93 mph get-me-over offering. He rarely attacked. It seemed he was simply going through the motions, and he didn't show any emotion on the mound or in the dugout once he was removed from the game. While it's not a requirement to show some fire, when you pitch like you're scared of the opponent it doesn't look good.
Not the kind of report you want to read about the guy drafted one spot ahead of Kris Bryant.
This is simply the latest questionable episode to rock the Astros' world, from the public leak of internal trade discussion notes to the failed negotiations with this year's No. 1 overall pick, Brady Aiken. Really, going back to the handling of George Springer -- starting him in the minor leagues to save on service time after offering him a low-ball seven-year, $23 million contract -- it's been a bad year for the Astros. The big league team had started to play better when that Sports Illustrated cover appeared, but has gone 10-25 in its last 35 games.
There is a potential trickle-down effect of the Springer, Aiken and Appel situations: The Astros are arguably developing a bad reputation among players. When the team
is
ready to compete and may need to sign free agents to fill out holes on the roster, will players want to play there? Sure, in the end money talks and the Astros will have money to spend considering the youth on their rosters, but they may find it difficult to attract players (let alone keep their homegrown stars if they feel they've been mistreated by the organization).
Investing in analytics is a nice story, especially for us numbers geeks. Tanking, while despicable, may prove to be a smart strategy. But before we praise the Astros, let's see if their "new way of doing things" actually works.
May, 12, 2014
May 12
1:34
PM ET
It's been a rough start for some of baseball's top prospects -- three of Keith Law's top 10 have barely played or haven't played at all due to injuries (Byron Buxton, Addison Russell, Miguel Sano) and a fourth (Archie Bradley) is currently sidelined as well.

But here are some performances that have caught my eyes, mostly for the good but a few for the wrong reasons.


Gregory Polanco, OF, Pirates (Keith's No. 13 prospect)
2014: .357/.419/.564, 14 BB, 28 SO (Triple-A Indianapolis)
With Pirates right fielder hitting a pedestrian .245/.309/.344, fans are clamoring for Polanco to get the call. He leads the International League in batting average and his plus defense would essentially give the Pirates three center fielders in the outfield. But Pittsburgh is holding back for service time issues and, to be fair, he has barley 400 plate appearances above Class A.

Francisco Lindor, SS, Indians (No. 6)
2014: .293/.362/.466, 14 BB, 24 SO (Double-A Akron)
The Indians are last in the majors with -27 Defensive Runs Saved, including -2 from shortstop Asdrubal Cabrera. Considering Cabrera isn't tearing it up the plate (.246/.325/.391), Lindor and his outstanding glove are a candidate for a midseason call-up if he continues hitting.

Javier Baez, SS-2B, Cubs (No. 7)
2014: .151/.248/.280, 10 BB, 38 SO (Triple-A Iowa)
So much for Baez's quick path to stardom. After a monster spring training, maybe he's been too homer-happy at Iowa, swinging for the fences too often. Whatever the cause, his overly aggressive approach at the plate has been exploited so far at Triple-A.

Kris Bryant, 3B, Cubs (No. 15)
2014: .331/.437/.624, 20 BB, 43 SO (Double-A Knoxville)
While Baez has struggled, Bryant has flourished with 10 home runs in 133 at-bats. The strikeout rate is big, but he walks and hit home runs. There's always the chance he turns into Mark Reynolds with the K rate, but he's going to hit a lot of home runs in the majors

Oscar Taveras, RF, Cardinals (No. 5)
2014: .293/.340/.489, 9 BB, 20 SO (Triple-A Memphis)
The best thing is Taveras has remained healthy after playing just 47 games last season. Cardinals outfielders are struggling but you're not going to bench Allen Craig yet just to get Taveras' bat in the lineup. For those wanting Taveras to play center, most scouts say he's stretched defensively there (he's been playing all three outfield spots at Memphis).

Kevin Gausman, RHP, Orioles (No. 23)
2014: 0-1, 2.08 ERA, 26 IP, 23 H, 14 BB, 26 SO (Triple-A Norfolk)
For whatever reason, the Orioles have been very conservative with Gausman's pitch counts; the 77 he threw on Saturday were a season high. Combined with some control issues, he's yet to pitch more than five innings. I don't see him getting recalled any time soon unless Baltimore's rotation is hit with a rash of injuries.

Trevor Bauer, RHP, Indians (not rated)
2014: 4-0, 1.12 ERA, 40.1 IP, 27 H, 11 BB, 40 SO (Triple-A Columbus)
Bauer also pitched well in one major league start (two runs, eight strikeouts in six innings). The former No. 3 overall pick has been an enigma as a professional, but the Indians are currently using Josh Tomlin in the rotation.

Jonathan Singleton, 1B, Astros (No. 78)
2014: .293/.406/.624, 26 BB, 36 SO (Triple-A Oklahoma City)
That line includes 11 home runs and 21 total extra-base hits. While he'll be held down at least until June for service time reason, the 36 strikeouts in 36 games is also an sign that he could be exploited for now at the big league level.

Carlos Correa, SS, Astros (No. 4)
2014: .323/.379/.460, 11 BB, 22 SO (Class A Lancaster)
OK, everyone hits in the California League, but keep in mind he doesn't 20 until September. He could reach Double-A while still a teenager.

Mark Appel, RHP, Astros (No. 11)
2014: 0-0, 6.23 ERA, 13 IP, 17 H, 4 BB, 13 SO (Class A Lancaster)
I thought it a little odd that a No. 1 overall pick who was supposed to be a polished college pitcher would start in Class A. Anyway, Appel struggled enough in four starts the Astros sent him back to extended spring training.

Joc Pederson, OF, Dodgers (No. 41)
2014: .368/.482/.669, 30 BB, 42 SO (Triple-A Alburquerque)
There's a lot going on in those numbers, including 11 home runs and he's stolen 10 bases. He's walking a ton but also striking out a lot. Still, I wonder if he'll be the Dodgers' center field come August, with Matt Kemp moving over to left.

Nick Franklin, IF, Mariners (not eligible)
2014: .388/.470/.673, 16 BB, 20 SO (Triple-A Tacoma)
Chris Taylor, SS, Mariners (not rated)
2014: .360/.405/.581, 12 BB, 28 SO (Triple-A Tacoma)
With Brad Miller struggling at the plate and in the field, one of these guys may get a chance soon to play shortstop for Seattle.

Mike Fiers, RHP, Brewers (not eligible)
2014: 6-1, 1.59 ERA, 45.1 IP, 30 H, 6 BB, 64 SO (Triple-A Nashville)
Fiers came out of nowhere as a rookie with the Brewers in 2012 to impressive despite a less-than-overpowering fastball. But he bombed in 2013, allowing eight home runs in 22.1 innings. He's back to dominating in the minors with the best numbers of any minor league starter, ready if Milwaukee needs a starter.

Mookie Betts, 2B, Red Sox (No. 61)
2014: .396/.458/.597, 17 BB, 11 SO (Double-A Portland)
Betts had one of the best seasons in the minors in 2013 but his small stature, lack of power projection and position (he's not a shortstop) kept him from being rated higher. But this kid can flat hit (his .396 average leads all minor leaguers), including five home runs. He can run (15 for 18 stealing) and plays a good second base. He's blocked by Dustin Pedroia so we probably won't see him this year and you hate to trade him because he's so good.

Jonathan Gray, RHP, Rockies (No. 12)
2014: 3-2, 3.22 ERA, 36.1 IP, 32 H, 5 BB, 34 SO (Double-A Tulsa)
Last year's third overall pick gave up seven hits and six runs in two-thirds of an inning in his second start but has allowed just five runs over his past five starts. He's performed better than Tulsa teammate Eddie Butler (No. 17), who has a 3.45 ERA but a 27/11 SO/BB ratio. You know the Rockies will need a starter at some point.

June, 4, 2013
6/04/13
3:00
PM ET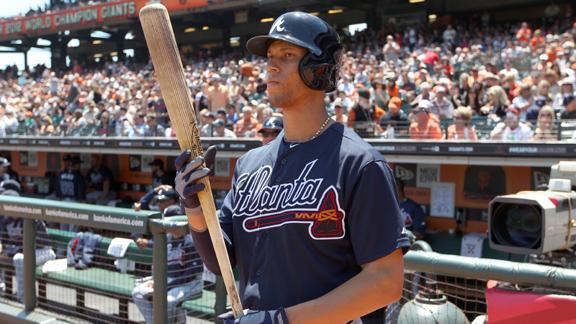 The
Franchise Player Draft has been completed
, so it's time for Eric Karabell and myself to continue our tradition of doing the second round. All picks were made by Eric and myself, not the franchise "owners," so yell at us, not them. Eric made all the odd-numbered picks and I made the even-numbered picks.
And, no, I did not draft
Eric Hosmer
.
31. Keith Law (David Price): Oscar Taveras.
KLaw knows a few things about prospects, and Taveras was his No. 2 guy entering the season, after the already chosen
Jurickson Profar
.
32. Manny Acta (Jose Bautista): Matt Moore.
Bautista is a win-now type of building block, but so is Moore, a 24-year-old with terrific stuff, hasn't been overworked and has as good a chance as anybody to be the best pitcher in baseball over the next five years.
33. Eric Karabell (Andrelton Simmons).
Carlos Gonzalez
. Defense in Round 1, offense in Round 2. And even if this mythical team doesn't play its home games at Coors Field, note that CarGo is hitting better on the road this season.
34. Jonah Keri (Joe Mauer): Madison Bumgarner.
Hard to believe that he doesn't turn 24 until August, but he already has two World Series rings and two 200-inning seasons. He's so efficient that he should be a 200-inning guy for years to come.
35. Scott Spratt (Felix Hernandez): Jean Segura.
I'll admit I considered Segura late in Round 1, but instead opted for the elite defense of Simmons. Segura won't hit .350 all year, but he's not a bad pick at this spot.
36. Jim Bowden (Stephen Strasburg): Jordan Zimmermann.
Hey, don't blame Strasburg and Zimmermann for the Nationals' problems this year! Jim was the Nationals' GM when the club selected him in the second round of the 2007, so he's happy to snag him again.
37. Paul Swydan (Jurickson Profar): Matt Wieters.
Build teams up the middle! Wieters remains a building-block player, despite a slow start to 2013.

38. Curt Schilling (Shelby Miller): Paul Goldschmidt.
Too early for a first baseman? Maybe, but Goldschmidt is more than just a slugger. He's an elite defender at first, swipes some bases, and at 25 is entering his prime years.
39. Mark Simon (David Wright): Zack Wheeler.
Well, Mark is, after all, a Mets fan. And pretty soon Wheeler will have many fans.
40. Justin Havens (Ryan Braun): Prince Fielder.
A relatively safe pick considering Fielder's durability and on-base skills. Plus, Justin can now watch that 2011 Brewers highlight DVD that has been collecting dust.
41. Orel Hershiser (Justin Upton): Adam Wainwright.
OK, so maybe the Cardinals right-hander has never tossed 59 consecutive scoreless innings, but he's pretty good.
42. David Schoenfield (Troy Tulowitzki): Miguel Sano.
Prospects are overrated! Plus, Sano is only in Class A ball, you say? Sure, but he'll be in Double-A soon, putting him on track for a midseason promotion to the Twins in 2014. And then my future third baseman will start winning home run titles.
43. Mike Greenberg (Matt Kemp): Chris Davis.
Well, at least one of these sluggers is healthy and producing. And Davis does look legit.
44. Mike Golic (Dustin Pedroia): Elvis Andrus.
With that double-play duo behind them, the pitchers on Golic's team will be very happy pitchers. Well, assuming the outfield doesn't consist of
Raul Ibanez
,
Lucas Duda
and
Mike Morse
.
45. Richard Durrett (Justin Verlander): Adam Jones.
This elite center fielder looks even better than his breakout 2012.
46. Christina Kahrl (Jason Heyward): Xander Bogaerts.
He probably doesn't stick at shortstop, but he's going to hit at whatever position he plays. Plus, his name starts with an X, and he'll be better than Xavier Nady.
47. Buster Olney (Robinson Cano): Clay Buchholz.
Olney got a close-up look at Buchholz on Sunday night at Yankee Stadium, and had to be impressed. Perhaps he can build an entire fake team with all Yankees and Red Sox.
48. Dan Szymborski (Yu Darvish): Carlos Santana.
We're not privy to the super secret ZiPS projection system that Dan keeps stored in a bank vault somewhere in Maryland, but we have to think it likes a catcher with power and on-base skills.
49. Jon Sciambi (Giancarlo Stanton): Yasiel Puig.
Could be 80 home runs from this duo in 2014. Or, we suppose, fewer.
50. Mike Petriello (Andrew McCutchen): Yadier Molina.
Talk about building up the middle. Molina turns 31 in July and caught a lot of games before turning 30, so there's risk that he won't hold up. But he's the kind of guy you take a risk on.
51. C.J. Nitkowski (Joey Votto): Austin Jackson.
Terrific center fielder and leadoff hitter could have gone in the first round. It's tougher to find an all-around center fielder than a first baseman.
52. Alex Cora (Miguel Cabrera): Chris Sale.
Some believe he's an arm injury waiting to happen, but there's no denying he's one of the best starters in the game.
53. Tim Kurkjian (Matt Harvey): Wil Myers.
One future Cy Young winner is set, and here comes the prototypical slugging right fielder to join him. If the Rays would just cooperate and promote him.
54. Jim Caple (Yoenis Cespedes): Matt Cain.
We know Caple loves those West Coast guys, so let's give him Cain, who is still just 28. Don't overreact to his current 5+ ERA. He'll be fine.
55. Dave Cameron (Evan Longoria): Mike Zunino.
Mariners fan gets the next great Mariner. Thought about giving him
Dustin Ackley
or
Jesus Montero
, picks from last season, but that seemed a bit unfair.
56. Molly Knight (Clayton Kershaw): Cole Hamels.
What's wrong with Hamels? As with Cain, let's not overreact to two subpar months. A rotation with these two lefties would look pretty sweet.
57. Jayson Stark (Buster Posey): Jose Fernandez.
Future ace has certainly impressed as a rushed rookie this season.
58. Aaron Boone (Manny Machado): Starling Marte.
He's playing left field for the Pirates, but could easily move to center, giving Aaron two elite young defenders who have some ability at the plate as well.
59. Doug Glanville (Bryce Harper): Starlin Castro.
What a fall from grace! A year ago the
Chicago Cubs
shortstop was the ninth overall selection in Round 1. Now he barely gets chosen at all. I have to admit, he doesn't seem to be growing at the plate or in the field, but Glanville probably has more patience.
60. Jerry Crasnick (Mike Trout): Mark Appel.
Jerry loves
Dylan Bundy
, but he was just recently cleared to start throwing for the first time since late March. So let's go off the board and give him a guy who hasn't even started his professional career yet. Thanks us later, Jerry.
June, 5, 2012
6/05/12
12:45
PM ET
Keith Law was again live in studio with me for Tuesday's
Baseball Today podcast

, as we talked quite a bit about the amateur draft but also the veteran players.
1. The Astros surprised some with the first overall pick, while the Pirates got a potential bargain at pick No. 8. Keith recaps Round 1.
2. I was struck by how excited these youngsters were with being drafted, and there was a notable backflip. Can you see someone in an NBA or NFL draft doing that?
3. Meanwhile, on the field,
Chicago Cubs
shortstop
Starlin Castro
has angered his manager, and we've got stats to prove he has a point.
4. Emailers want to know more about the draft, its financial implications, what it means to have an "advisor" and about how the Mariners are proceeding.
5. Tuesday is a big day in MLB and as the draft continues. Keith highlights some potential draftees and we discuss the big AL East and NL East matchups.
So download and listen to
Tuesday's Baseball Today podcast

and learn more about the draft! Mark Simon will join me Wednesday and Keith returns Thursday!