April, 8, 2011
4/08/11
12:08
PM ET
The Red Sox are 0-6, but things could be worse: the 1988 Braves started 0-10, the 2002 Tigers started 0-11, the 1997 Cubs started 0-14 and the 1988 Orioles lost an amazing 21 in a row to begin the season. The Cubs finished 68-94, the best record of the four teams. Thomas Neumann at Page 2 digs into the archives to see what was being said about those teams.
Take his quiz
to see where the Red Sox fit in.
Nishioka out with broken leg
Nick Swisher's hard slide breaking up a double play took out Tsuyoshi Nishioka, the Twins' rookie second baseman from Japan. Swisher sought out Nishioka after the game to apologize and nobody on the Twins complained that Swisher was out of bounds with the slide. I thought it was a little rougher than you usually see, as Swisher kind of kicked his legs out and up to get Nishioka.
Nick Nelson over at Nick's Twins blog
makes a good point
that in Japan takeout slides aren't really part of the game and the Twins worked with Nishioka on this during spring training. Matt Tolbert presumably steps in at second base. Considering his career .246/.305/.345 line, the Twins won't be getting much offense up the middle. The Twins have hit just two homers in their first six games and anxiously await Justin Morneau launching his first long ball.
Yankees-Red Sox: Friday's big game
You may have heard about the afternoon tilt at Fenway. It's not just the Red Sox with the spotlight on them, however. Phil Hughes struggled in his first start for the Yankees, topping at about 88 mph with his fastball. Dave Cameron writes that his
velocity drop isn't a cause for concern

right now.
Other links of the day
Follow David Schoenfield on Twitter at @dschoenfield. Follow the SweetSpot blog at @espn_sweet_spot.
February, 8, 2011
2/08/11
12:00
PM ET
Even the best teams usually need a lot of things to go their way to win the World Series, a run of good luck that can come to an abrupt end the following season, especially if you stand pat.
[+] Enlarge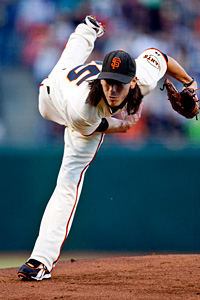 Jason O. Watson/US PresswireThe Giants are hoping for a return to Cy Young form from pitcher Tim Lincecum.
The
San Francisco Giants
mostly bring back the same team that won the title last fall. Although they no doubt peaked at the right time, there's actually room for improvement from some key personnel. Whether they can take advantage is another matter.
For starters, look no further than
Tim Lincecum
, whose 2010 ERA of 3.43 was nearly a full run higher than his 2009 mark of 2.48. Still only 26, Lincecum allowed a career-high .310 batting average on balls in play last year, creating the possibility of a bounce-back 2011 that would return him to the Cy Young Award short list.
At the plate,
Pablo Sandoval
went from the heart of the order to the butt of the bench last year.
Fangraphs
has Sandoval's wOBA (Weighted On-Base Average) falling 20 percent year-to-year, from .396 to .314. Conventional wisdom points to Sandoval's poor conditioning as the culprit, though perhaps there was also the matter of adjustments he needed to make as pitchers figured out ways to retire him. Either way, at age 24, Sandoval is anything but at the point of no return.
Then there are the young-'uns who didn't even have a chance to spend a whole season with San Francisco. Rookie catcher
Buster Posey
made his 2010 debut May 29 and sat out exactly a third of the Giants' 162 regular-season games, squeezing in an .862 OPS (.993 on the road, mind you) when he did play. While Sandoval provides a reminder of what can go wrong following a blistering start to a career, Posey has the breathing room to make himself a sophomore sensation in 2011.
Madison Bumgarner
played even less in the majors than Posey. With his first start coming June 26 (about two months shy of his 21st birthday) the 6-foot-4 lefty made 18 starts in the regular season with a 3.00 ERA, followed by a 2.18 ERA in 20 2/3 postseason innings, including his eight innings of shutout ball against the Rangers in the Fall Classic. More so than Posey, the opportunity is there for Bumgarner to increase his value just by being around in April.
San Francisco can tout a rotation that is young and talented: four reliable starting pitchers 28-or-under (their oldest,
Barry Zito
, is but 32). The Giants also have another card to play in minor-league first baseman Brandon Belt, who had a .455 on-base percentage and .620 slugging percentage as he soared from Single-A to Triple-A last summer.
Elsewhere in its lineup, San Francisco shows its vulnerability to age with returnees
Aubrey Huff
(34),
Aaron Rowand
(34),
Freddy Sanchez
(33) and
Andres Torres
(33), midseason acquisitions
Pat Burrell
(34) and
Cody Ross
(30), the offseason free-agent pickup of
Miguel Tejada
(36), and a player trying to come back from health issues,
Mark DeRosa
(36 this month). But some of those players are going to be competing for playing time.
Four that San Francisco might like to rely upon in 2011 are Huff, Sanchez, Burrell and Ross, and those four performed noticeably better for the Giants in 2010 than they had with their various teams the year before -- hinting at the lightning in a bottle that San Francisco might fear escaping this year. But when you can counter the probability that those four players will decline with the strong possibility that Lincecum, Sandoval, Posey and Bumgarner will be among those who shine even more brightly, fans of the Giants have good reason to feel that their luck hasn't yet run out.
Jon Weisman writes about the Dodgers at Dodger Thoughts for ESPNLosAngeles.com.
May, 14, 2010
5/14/10
1:06
PM ET
By
Chris Quick, Bay City Ball
| ESPN.com
After coming of a somewhat surprising 88 win season in 2009, the
San Francisco Giants
were looking to improve their ailing offense. The pitching was top notch. The offense, outside of
Pablo Sandoval
, was a major problem. Team hitting ranked dead last or near dead last in a number of statistical categories -- runs scored, OBP, OPS, wOBA -- and it was clear from the start of the offseason that the club was determined to do something about it.
On December 29, 2009, the Giants signed
Mark DeRosa
to a two-year, $12M deal.
The Giants, unfazed by DeRosa's wrist injury in 2009, expected the 35-year-old veteran to play multiple positions on the diamond while providing some much needed stability on offense. Before entering the 2010 season, DeRosa laid claim to a career slash-line of: .275/.343/.424.
Unfortunately for the Giants, DeRosa has struggled to produce at the plate in 2010. After 104 plate appearances with his new team, DeRosa is hitting a paltry .194/.279/.258 -- most shocking has been DeRosa's total absence of power. In 2010, DeRosa has 18 hits, 14 of which have been singles. As a right-handed batter, his power is to his pull-side of left field. Yet, of the 18 hits that DeRosa has collected, only 2 of them have been pulled into LF.
A few numbers:
The above data (thanks to Baseball-Reference) indicates Mark DeRosa's hit trajectory for the past three years, his current numbers and his career average. As you can see, DeRosa being a right-handed hitter, is most likely to pull the ball for hits (33.1% career average) or hit the ball up the middle (48.4% career average). DeRosa's 2010 data sample is small, but I think it's somewhat telling. DeRosa has flared a few hits up the middle (55.5%) but has nearly doubled his career average when hitting the ball to the opposite field. And, of course, this data only represents base hits and not all batted balls from DeRosa. If you examined his spray charts, you would see that he's hitting an awful lot of balls into the opposite field.
With the latest news of DeRosa dubbing his offseason wrist surgery a "total failure" the Giants are going to have to address his health issues soon. There's a good chance DeRosa could undergo another procedure and miss a chunk, if not all, of the this year. If the Giants are looking to replace DeRosa with an in-house player, they should look no further than current bench rider,
John Bowker
.
Bowker has been somewhat of a middling prospect in the Giants farm system. He's already grabbed 448 (mostly sporadic) plate appearances in the majors split between 2008-2010. Over those 448 PAs Bowker has hit a lackluster: 241/.291/.397. You might be asking, why do we want to give Bowker a chance? Because for Bowker, something appears to have changed in AAA in 2009. Under the tutelage of then AAA hitting coach, and current Giants hitting coach, Hensley "Bam-Bam" Meulens, Bowker transformed from a free-swinging outfield prospect into the AAA version of
Bobby Abreu
. He nearly doubled his career average for walk percentages in the minors -- walking in 16.4 percent of his plate appearances -- while posting a .451 OBP. Bowker finished his PCL gig with a line of: .342/.451/.596. A remarkable year anyway you slice it.
The Giants options for replacing DeRosa in left field after they traded away
Fred Lewis
are slim. Giving Bowker increased playing time is a risk, but the Giants don't have much of a choice. Bowker represents a hitter with an up-and-down development path but he does offer upside if his AAA performance was the sign of a player making adjustments to his approach. It's hard to see any team making a trade so early in the season so the Giants should let Bowker get 150-200 at bats as the starter in left field.
December, 28, 2009
12/28/09
5:56
PM ET
According to our own Jayson Stark, it looks like the Giants might have
a new third baseman
(in the form of
Mark DeRosa
):
The 34-year-old free agent has been pursued by a number of teams this winter, including the Yankees, Mets, Cubs, Cardinals, Braves and Phillies, but hasn't been able to find a club willing to give him the three-year deal he was originally seeking.

The Giants would use DeRosa primarily at third base, but he is also expected to see action at several other positions. He has played more than 20 games at every position except catcher and pitcher in his 12-year career.

DeRosa had wrist surgery in late October to repair a torn tendon sheath. So the physical, in his case, is more than a formality. However, he's expected to be ready for spring training.
Wrist problems, like back problems, are notoriously fickle. So I take seriously the notion that a Mark DeRosa physical is "more than a formality." Still, thanks to the wonders of modern medicine, teams generally assumed (if not always correctly) that if a doctor says a player will be ready for spring training, he'll be ready.
I was prepared to disparage this deal, but after looking at the numbers I'm not sure that I can. DeRosa was terrible after joining the Cardinals last summer, but even with the injury he was still worth more than $6 million over the whole season. Throw in his versatility, and it's hard to see a two-year, $12 million contract as any sort of blunder.
The arrival of DeRosa -- assuming he plays third base -- will necessarily push
Pablo Sandoval
to first base, and
Travis Ishikawa
to the bench or another team. I was hoping Ishikawa would get one more chance with the Giants, but considering his struggles with the bat and
Panda
's struggles with the glove, it's hard to fault the Giants for making the switch.
Now, about that outfield ...
October, 20, 2009
10/20/09
1:21
AM ET
More early news about a 2010 lineup, this time from
MLB Trade Rumors
:
According to Joe Strauss of the St. Louis Post-Dispatch, David Freese should get first crack at the Cardinals' third base job next season.Freese was impressive in his 225 plate appearances with Triple-A Memphis, posting an .894 OPS, and hit well in a very small major-league sample as well (.837 OPS in 34 plate appearances).

Should Freese excel, it would be a welcome change from 2009 for the Cardinals, when eight different players held down the hot corner.

"I think we would like to give him a shot to play every day," St. Louis GM John Mozeliak said. "If we need to ramp up the offense in another way, we have plenty of time. But given what he accomplished this year, I definitely think (Freese) deserves that chance."
Here's a question for the Cardinals: Why didn't Freese get first -- or second or third or fourth -- crack at the Cardinals' third-base job
this
season?
Freese's numbers in Memphis this season were impressive, no doubt ... and they were
more
impressive in 2008, when he batted .306/.361/.550 in 510 plate appearances with Memphis. Actually, Freese did open this season with the big club, but was sent down after a couple of weeks and spent a good chunk of the season recovering from an ankle injury. By the time he'd proved he was back in form, the Cardinals had traded for
Mark DeRosa
.
Meanwhile, nobody really seems to have noticed, but DeRosa was awful after joining the Cardinals. He's a free agent this winter, and turns 35 in February. The Cardinals have made happy noises about bringing him back, but it's pretty obvious that Freese is a significantly cheaper option, and perhaps significantly better. His true arrival seems to have been delayed by roughly a year, but there's no obvious reason to think he won't take over as the Cardinals' every-day third baseman next spring.
Which is great news. Because as Viva El Birdos notes, though nobody really seems to have noticed, the Cardinals hitting attack this season suffered from
some real deficiencies
. While Freese isn't likely to improve (much) the Cards' lack of discipline, he might help elsewhere.