April, 23, 2014
Apr 23
11:17
AM ET
From my Twitter feed on Tuesday:
@dschoenfield Hey, David: Who's the best player since 1933 who never made an All-Star game?

— Larry Fahey (@hotdogdynamite) April 22, 2014
This is pretty easy to check. Thanks to Baseball-Reference.com's Play Index, we can search for most career Wins Above Replacement for players who never played in an All-Star Game. By position, we get:
C -- Rick Dempsey (25.3)
1B -- Earl Torgeson (32.7)
2B -- Mark Ellis (33.3)
3B -- Eric Chavez (37.1)
SS -- John Valentin (32.5)
OF -- Tim Salmon (40.5)
OF -- Kirk Gibson (38.3)
OF -- Garry Maddox (36.6)
UT -- Tony Phillips (50.8)
Also in the top 10: Ken McMullen (34.1), Dwayne Murphy (33.2) and Richie Hebner (32.9).
Phillips tops the list with 50.8 career WAR, higher than many Hall of Famers. He was an underrated player who played all over, mostly at second base and the outfield, but he was a shortstop early in his career and started 336 games at third base. During his peak from 1990 to 1997 he averaged .277/.396/.409 and 104 runs per season, more or less playing as a regular for the Tigers, Angels and White Sox while moving around the field. I suspect his utility status hurt him at All-Star time, plus a lot of his value came from drawing walks more than hitting for a high average (he hit .300 once) or for power (hit more than 20 home runs just once).
Gibson told MLB.com in 2011 that he was twice invited as a reserve to the All-Star Game, in 1985 and 1988 (the year he won the NL MVP Award), but turned down the selections. Ellis, Maddox and Murphy were defense-first players, although I was surprised Maddox never made it considering he played for a lot of good Phillies teams. In 1976, he was hitting .321 with five home runs and 40 RBIs at the All-Star break and he'd finish fifth in the MVP vote that year. The National League All-Star outfielders were Greg Luzinski, George Foster and Dave Kingman (starters), plus Bake McBride (.345-3-18 at the break, but St. Louis' only rep), Cesar Cedeno (.297-14-48), Ken Griffey Sr. (.340-4-50) and Al Oliver (.360-12-49 and Pittsburgh's only rep). Pretty tough group to crack.
Salmon's best season came in 1995 when he hit .330 with 34 home runs and 105 RBIs, worth 6.6 WAR (fifth among AL position players that year). The American League All-Star outfielders were Albert Belle, Kenny Lofton and Kirby Puckett (starters), plus Ken Griffey Jr. (injured), Jim Edmonds, Manny Ramirez and Paul O'Neill. Another tough group and Salmon hit .364 in the second half.
You can have a lot of fun doing this. Chavez's best years came from 2000 to 2005 when he averaged .278-30-98 and 4.7 WAR. AL All-Star third basemen those years were Travis Fryman, Troy Glaus, Cal Ripken and Tony Batista (2000); Ripken and Glaus (2001); Shea Hillenbrand, Robin Ventura and Batista (2002); Glaus and Hank Blalock (2003); Alex Rodriguez and Blalock (2004); Rodriguez, Melvin Mora and Hillenbrand (2005). Yes, Shea Hillenbrand started an All-Star Game.
For the pitchers, the top five in career WAR since 1933 to never make an All-Star team:
Tom Candiotti (42.5)
Danny Darwin (40.5)
Charlie Leibrandt (34.4)
Fritz Ostermueller (34.4)
John Tudor (34.3)
The active leader is A.J. Burnett at 27.2.
Tudor didn't make it in 1985, the year he went 21-8 with a 1.93 ERA. He was 10-7 with a 2.27 ERA at the break before going 11-1, 1.59 in the second half (he threw 10 shutouts that year). Not as many pitchers were selected back then so it was more difficult to make it. There were nine NL pitchers and the weakest starter on the staff was the one who actually started, LaMarr Hoyt, who was 12-4 with a 2.93 ERA.
Most career saves to never make an All-Star team? Gene Garber, with 218. Kevin Gregg, with 177, is third on that list and is the active leader.
One more list. Here's the most single-season WAR for players who didn't make the All-Star team that year:
1. John Valentin, 1995: 8.3
2. Josh Donaldson, 2013: 8.0
3. Bernard Gilkey, 1996: 8.0
4. Nick Markakis, 2008: 7.4
5. Brett Gardner, 2010: 7.3
6. Randy Velarde, 1999: 7.0
7. Bill North, 1973: 7.0
8. Andrelton Simmons, 2013: 6.9
9. Dwayne Murphy, 1980: 6.9
10. Chris Hoiles, 1993: 6.8
11. Eddie Lake, 1945: 6.8
12. Solly Hemus, 1952: 6.7
13. Franklin Gutierrez, 2009: 6.6
14. Tim Salmon, 1995: 6.6
15. Rick Wilkins, 1993: 6.6
Valentin actually led AL position players in WAR in 1995, hitting .298/.399/.533 with 27 home runs and 102 RBIs while playing solid defense at shortstop. He finished ninth in the MVP voting (his teammate Mo Vaughn won). The AL All-Star shortstops were Ripken and Gary DiSarcina of the Angels.
For pitchers, the top five (or seven, with ties):
1. Bill Hands, 1969: 8.4
2. John Tudor, 1985: 8.1
3. Mike Caldwell, 1978: 8.1
4. Jim Abbott, 1991: 7.6
5. Mark Eichhorn, 1986: 7.4 (as a reliever!)
6. John Denny, 1983: 7.4
7. Dave Roberts, 1971: 7.4
Hands went 20-14 with a 2.49 ERA for the Cubs, pitching 300 innings. Don't blame him for the Cubs' fade that year: He had 2.27 ERA in August and 2.27 in September.
December, 29, 2013
12/29/13
9:31
AM ET
Today, Buster Olney
rated the top defensive teams in the majors
. We thought we would take the time to look at the offseasons for each team from a defensive perspective. Here's our National League look:
NL East
Braves:
The big change for Atlanta will be dealing with the departure of
Brian McCann
, whose strike-stealing skills will be hard to replace.
Evan Gattis
and
Gerald Laird
will try. Gattis may be better than you think (3 Defensive Runs Saved in 2013). By our tally (and that of StatCorner's
publicly available data
), he ranked among the best in the majors at getting pitches in the strike zone to be called strikes.
Marlins:
The Miami infield rated as average last season, but it has a new -- and potentially worse -- look in 2014, with shortstop
Adeiny Hechavarria
as the lone holdover. The Marlins will try
Garrett Jones
(and his negative-22 career Runs Saved) at first base,
Rafael Furcal
at second base (last played there for two innings in 2004) and
Casey McGehee
at third (bad numbers there in 2009 and 2010, but average in 2011). They'll also have
Jarrod Saltalamacchia
catching; he typically rates bottom of the pack when it comes to defensive metrics.
Mets:
The big story for the Mets will likely be how three center fielders coalesce in the outfield. If it works, the Mets could have the best ground-covering combo in the league. The likely alignment will be
Curtis Granderson
in left,
Juan Lagares
in center and
Chris Young
in right, though Young could shift to center (with Granderson moving to right and
Eric Young
to left) if Lagares' offense isn't to the Mets liking.
Nationals:
Washington hasn't done anything to tinker with its primary starting unit. Arguably the biggest worry will be making sure
Bryce Harper
doesn't overhustle his way into any walls as he did last season. The other thing that will be intriguing will be how new acquisition
Doug Fister
fares with a better infield defense behind him than he had in Detroit the past couple of seasons.
Some think that could bode really well
.
Phillies:
Many scoffed at the
Marlon Byrd
contract, but he represents a
huge
defensive upgrade for the Phillies in right field. The transition from John Mayberry Jr.,
Delmon Young
,
Darin Ruf
and
Laynce Nix
to Byrd represents a swing of 31 Runs Saved (the four combined for negative-19 Runs Saved; Byrd rated among the best with 12).
The Phillies still have a lot of defensive issues, though. First baseman
Ryan Howard
has minimal range. Shortstop
Jimmy Rollins
may still pass the eye test but has rated poorly three years running (negative-30 Runs Saved in that span). Their third-base combo rated almost as badly as right field. And primary center fielder
Ben Revere
had all sorts of issues with balls hit over his head last season. There is a lot of potential trouble brewing for 2014.
NL Central
Brewers:
Ryan Braun
will not just be returning from a performance-enhancing drug suspension. He'll also be playing a new position, right field, as the Brewers announced their intention to shift him from left field. Braun has 23 Runs Saved over the past four seasons, but the deterrent value of his throwing arm, which is minimal to below average, will now be a bigger factor. He'll have to be pretty good all-around to match what the team got from
Norichika Aoki
& Co. (combined 13 Defensive Runs Saved).
Cardinals:
St. Louis ranked second to last in the NL in Defensive Runs Saved last season and had only one position that rated above the major league average. That shouldn't happen again.
The Cardinals have moved
Matt Carpenter
from second to his natural spot at third, where he should be an upgrade over
David Freese
. Freese was traded to the Angels for
Peter Bourjos
, who, if his hamstrings are healthy,
could be a 20-plus run improvement
over
Jon Jay
in center field. Another great glove in
Mark Ellis
signed to share second base with
Kolten Wong
, which will be an improvement over Carpenter. And
Jhonny Peralta
probably is no worse than on par defensively with the man he'll replace at short, Pete Kozma. In sum, the Cardinals could be the most-improved defensive team from last season to this season.
Cubs:
The Cubs aren't vastly different from what they were at the end of last season, at least not yet. Their outfield defense needed an upgrade, and the one thing they've done to that end is obtain
Justin Ruggiano
. He has fared both well and poorly in center field in the past. Ruggiano may get a full-time shot to see what he can do in 2014.
Pirates:
Pittsburgh liked
Russell Martin
so much it brought in a defensive standout to back him up in
Chris Stewart
. Stewart
excels in all areas
and could invert what the team got in 2013 from its backup catchers (negative-6 Runs Saved). The Pirates were also smart about keeping
Clint Barmes
around on a low-salary deal. He's no
Andrelton Simmons
, but he rates
among the best defensive shortstops
in the league.
Reds:
Cincinnati will give
Billy Hamilton
every chance to be the every-day center fielder in 2014. He
rates as "fine,"
which will be a major upgrade from the struggles of
Shin-Soo Choo
, who was forced to play out of position last season. The Reds will also fully take the training wheels off
Devin Mesoraco
with outstanding defender
Ryan Hanigan
having been traded to the Rays. Keep an eye on that one. The security of having Hanigan could be a big loss on the defensive side.
NL West
Diamondbacks:
Mark Trumbo
shifted back and forth between first base and the outfield with the Angels, but he should be the full-time left fielder in 2014 for a team that had four players with 25 or more starts at the position last season. Trumbo showed he could handle left in a stint there with the Halos two seasons ago (a better fit there than in right). My guess is the
Diamondbacks will play him deep
and concede some singles to limit the number of times he'll have to retreat to chase a potential extra-base hit.
Dodgers:
Yasiel Puig
posted a terrific defensive rating in his initial stint in the big leagues (10 Runs Saved), but one concern the Dodgers will have was visible in the NL Championship Series -- how Puig does at limiting his mistakes.
Puig ranked 20th in innings played in right field last season but had the seventh-most Defensive Misplays & Errors (22) based on Baseball Info Solutions' video review. Over 162 games, that might not
affect his overall rating
, but that sort of thing could play a large role in swinging a couple of important games one way or the other.
The loss of Mark Ellis could also be big, though the jury is out until we see how
Alexander Guerrero
handles second base.
Giants:
San Francisco cast its lot with a pair of outfielders who will look a bit awkward in the corners, with Mike Morse in left and
Hunter Pence
in right. This could be a problem if the pitching staff is fly ball inclined. Pence is at negative-16 Runs Saved over the past two seasons. Morse fits best as a DH, and his value will be in whether he can drive in more runs than he lets in. Whoever the Giants' center fielder is this season will have his work cut out for him.
Padres:
San Diego will look to run
Seth Smith
, whom it got from the Athletics for
Luke Gregerson
, in right field. This could be a little dicey. Smith has negative-13 Runs Saved in the equivalent of about a season's worth of games there. Expect
Chris Denorfia
(21 career Runs Saved in right) to remain as a valuable fourth outfielder, late-game replacement.
Rockies:
The big defensive-themed news for the Rockies this offseason was their decision to commit to Gold Glove left fielder
Carlos Gonzalez
as a full-timer in center after trading
Dexter Fowler
. So long as he's not the Gonzalez of 2012, who looked a little heavy and finished with negative-13 Runs Saved, that should work out all right.
Colorado does have a lot of flexibility in its outfield with
Brandon Barnes
and
Drew Stubbs
coming off the bench for now. Either could come in as a late-game replacement for
Michael Cuddyer
if needed, and we wouldn't be surprised if either got some significant playing time in left field too.
December, 15, 2013
12/15/13
2:12
PM ET
The
St. Louis Cardinals
continue to make small moves that will make the team deeper and stronger than the World Series squad of 2013, the latest being
agreeing with veteran second baseman
Mark Ellis
on a one-year contract.
The basics on Ellis: Good glove, gets on base enough to not be worthless at the plate, will battle rookie
Kolten Wong
for playing time at second base.
Most importantly, it means the Cardinals added more depth and increased their flexibility throughout the roster. We saw the lack of bench depth in the World Series, when light-hitting
Shane Robinson
replaced the struggling
Jon Jay
in center field in Game 5 ... and hit second in the lineup.
Now look at the various options manager Mike Matheny will have:
Ellis and Wong at second (since Wong bats left-handed, you even have a perfect platoon if Wong performs).
Peter Bourjos and Jon Jay in center field. You can platoon them, or you can play Bourjos when you want defense or play Jay against tougher right-handed pitchers.
Allen Craig and Matt Adams can both play first base.
Craig can play right field, with top prospect Oscar Taveras probably ready after a month or two in Triple-A.
Pete Kozma is still around to back up Jhonny Peralta at shortstop.
Robinson is still around as a decent backup outfielder.
The bench, a weakness in 2013, now looks like a potential strength.
Yes, the Cardinals lost
Carlos Beltran
and
David Freese
. In sliding
Matt Carpenter
over to third base and going with the Wong/Ellis combo at second, the Cardinals essentially replaced Freese's offense (.262/.340/.381) while upgrading defensively at two spots. Beltran hit .296/.339/.491 but the hope is Adams and Taveras can come close to replacing that offense. Peralta is a big upgrade offensively over Kozma, and Bourjos is an upgrade defensively in center.
There is one potential issue here. The Cardinals ranked 13th in the National League in home runs and
Matt Holliday
is now the only player on the roster who hit 20 in 2013. They hit .269 overall, but a record .330 with runners in scoring position. They led the NL in runs scored due to that timely hitting, results that won't necessarily be repeated in 2014. (The 2012 team hit .264 with RISP; the 2011 World Series champs hit .290.)
The offense may not score 783 runs again, but it wasn't likely to score 783 runs again, anyway. However, it gives Matheny better matchup possibilities. I don't think we'll be seeing Shane Robinson hitting second in a playoff game in 2014.
November, 14, 2013
11/14/13
8:00
AM ET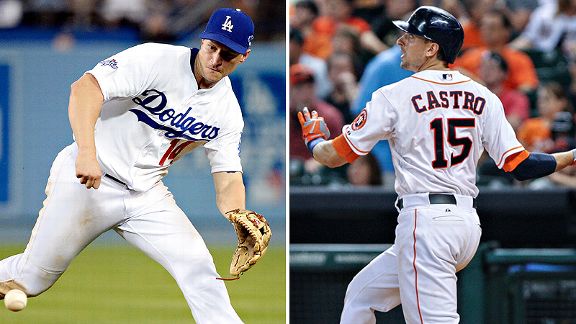 USA TODAY SportsMark Ellis and Jason Castro were two of 2013's unsung players.
While most people are drawn to the top of the names at the MVP ballot, I always find myself checking the bottom of the list.
I've always found the one-vote wonders intriguing -- someone who one person out of 30 voters found worthy of recognition.
In the past, I've voted in small-college football and basketball polls and have tried to find instances in which I could be that voter, one who had a good (often unnoticed) reason to deem someone legitimate. I found it to be a fun and challenging exercise and it's one I've decided to repeat here.
I can fully understand wanting to reward the 10 players whose value was greatest, but I think it would be cool if any of these five got a single 10th-place vote.
Mark Ellis, 2B, Dodgers
Ellis hit .270 with six home runs and 48 RBIs, so it's not his offense for which we're rewarding him. Ellis was credited with 12 Defensive Runs Saved, the most by an NL second basemen and that helped him finish with 3.0 WAR, which ranked just outside the top 40 among NL position players.
But Ellis was probably worth more than that when you consider the Dodgers' alternatives at second base. Five other players combined to play about 500 innings there and they were worth a combined -14 Defensive Runs Saved. The Dodgers went 69-37 when Ellis started in 2013. They were 23-33 when he didn't.
Drew Smyly, RP, Tigers
There are a couple of directions I could have gone in for picking a non-closing relief pitcher (whether one is
really
worthy of a vote is a subject of legit debate).
I went with Smyly over a couple of other options (Alex Torres and Luke Hochevar among them) because I liked his versatility. He could get one out when needed and more when necessary. He gave the Tigers a relief-pitching option who was just as good as their starting pitchers.
If you wonder how good he was, just ask the teams in the AL East.
Smyly pitched 13 games against the Yankees, Orioles, Blue Jays, Red Sox and Rays. In them, he pitched 20 innings and allowed no runs and 10 hits, with 22 strikeouts and one walk (and for those asking, I excluded the postseason appearances, since the MVP is based on regular-season production).
Martin Prado, 3B/LF/2B, Diamondbacks
This one seems counter-intuitive, given that Prado's WAR dropped from 5.5 in 2012 to 2.3 in 2013.
But I call your attention to him because he was the NL leader in a cool stat.
Prado had a dozen plate appearances in the seventh inning or later in which he either tied the game or gave the Diamondbacks the lead. That was two more than the Diamondback who will rightfully get lots of MVP votes (Paul Goldschmidt) and matched the major-league best totals of Chris Davis and Jose Bautista.
Lest you say that Prado racked these up when the Diamondbacks were wilting, that's not true. His 11th of those 12 came on Aug. 27, a date on which they were still within five games of the wild-card spot.
Eric Young Jr., OF, Mets
Full disclosure here: Eric's father worked with me on Baseball Tonight for three seasons and I enjoyed his time at ESPN. So if you accuse me of not thinking clearly on this one, that's fine.
But the Mets were not just a better team when Young started (46-44 when he did, and an ugly 28-44 when he didn't), they were much more watchable. Young's presence made the Mets more reliant on their baserunning and that was a good thing. He led the NL in FanGraphs' baserunning metric (UBR) and the Mets led the majors in that stat.
The Mets also defended much better in the outfield because it cleared out Lucas Duda in favor of a player who wound up rating second among left fielders in the SABR Defensive Index used to aid in the Gold Glove voting.
Yes, the Mets also added Zack Wheeler around the time they added Young, but Wheeler only pitched every fifth day. Young played every day and played well.
Jason Castro, Astros
You know how bad the Astros were.
But imagine how much worse they would have been without Castro, who finished with 4.5 WAR, nearly two wins better than anyone else on the team.
It was the fourth-highest WAR for anyone who played at least 50 percent of their games at the position last season. The three guys ahead of him were Yadier Molina, Joe Mauer and Buster Posey.
And since I can't get away with calling any of those three underrecognized, I'll go with Castro, who played a significant role in preventing the Astros from being mentioned in the same sentence as the 1962 Mets.
July, 5, 2012
7/05/12
12:30
AM ET
By
Christina Kahrl
| ESPN.com
At some point, you might start thinking that the Dodgers' litany of woes is like the real estate market: Sure, it's
supposed
to get better, but it finds new ways to make you unhappy. After all, no sooner had they started working up excitement over
Matt Kemp
's imminent return from the DL than they had to absorb the next unaffordable body blow to the lineup: Now right fielder
Andre Ethier
is headed to the DL, as well.
Earlier in the year, you could talk about how the Dodgers were a testament to the purported wisdom of general manager Ned Colletti's aggressive offseason assemblage of journeyman bit players -- usually at top dollar, and overwhelmingly on two-year, back-loaded contracts. People wondered about those deals in December and January, but those concerns were easy to set aside in the early going.
Chris Capuano
and even
Aaron Harang
were doing good things in the rotation,
Mark Ellis
was getting on base as their regular at second base and with
Jerry Hairston Jr.
getting plugged into every hole in the lineup as it opened up, Colletti was an easy April tout.
Bobby Abreu
washing up on waivers and longtime farmhand
Elian Herrera
posting a .400 OBP in his first month on the roster, and Colletti's crew appeared to be the roster equivalent of found money. It was easy to credit Colletti with a certain brand of genius in an NL West without any easy favorite.
But all of that is much more easily affordable when the middle of the order features Kemp slugging .700 and Ethier providing his blend of offensive balance. Bit players doing their bit is nice and further evidence of the old saying that victory has many fathers, while defeat's an orphan. Boppers bopping has a way of making everybody look good.
But take that one-two punch of Kemp and now Ethier out of the picture, and you've got a lineup that scrapes by at best. Without either Ethier or Kemp around this past week, the Dodgers have averaged just more than two runs per game and are drawing about two walks per game. They've hit one home run. That's what happens when your supporting cast is put into the limelight, not for a scene, but carrying the whole show.
Things were already bad before Ethier left, though. Last week's three consecutive shutouts to the Giants may be the signature setback, but during their latest 5-12 run, the Dodgers have scored more than three runs in a ballgame just three times. (Consistent with the way their luck has been going, they also managed to lose one of those rare outbursts.)
None too coincidentally, the supporting cast looked terrible during that time. The highest OPS of
any
Dodger position player over the past 30 games is
Juan Rivera
's .653. The team-wide OPS from June 1 on is .572. The guys who are supposed to be center pieces have been anything but: Ethier is among those struggling (.628 OPS since June 1, with one homer).
James Loney
's bat has been MIA for so long that you're more likely to see it on a milk carton, but even he has managed to disappoint the low standards he's set for himself in recent seasons, contributing just a .540 OPS since the calendar turned to June.
How low can the Dodgers go? Much depends on if Ethier will really be ready to come back right after the All-Star break -- the same time as Kemp's supposed to return to action. Back-dating Ethier's trip to the DL to June 28 isn't suggestive so much as it's a formality. Ethier joins a long list of ballplayers who've suffered oblique injuries in the past two seasons, and rushing him back brings on a high risk of re-injury -- as high as 12 percent, according to the American Journal of Sports Medicine in a 20-year study that Dodgers senior trainer Stan Conte co-authored earlier this year.
So there's that risk, but that's without getting into the Dodgers' unhappy recent experience with Kemp at the end of May. The Dodgers reactivated their star slugger from his original hamstring injury six weeks ago only to have to return him to the DL two games later because he aggravated the injury. Even if Kemp's back and 100 percent after the All-Star break, however much everyone involved might want all of the best Dodgers back on the field, their tenuous contention bid can't afford a rush-back re-injury repeat experience with Ethier, as well. As the Dodgers have learned as the bit players get overexposed by everyday play, the supporting cast simply isn't good enough for them to be able to afford it.
Things will get better once Kemp and Ethier return, of course. But how much better, and will it be in enough time? Even then, thanks to Colletti's multiyear commitments, the question of whether or not the Dodgers can honestly expect better things next year remains to be seen, especially when the balloon payments to Capuano, Harang, Ellis and Hairston add another $11.5 million to the team's payroll. If you think things can't get worse, the bad news is that, relative to their fast opening in April and May, they may never get better.
PHOTO OF THE DAY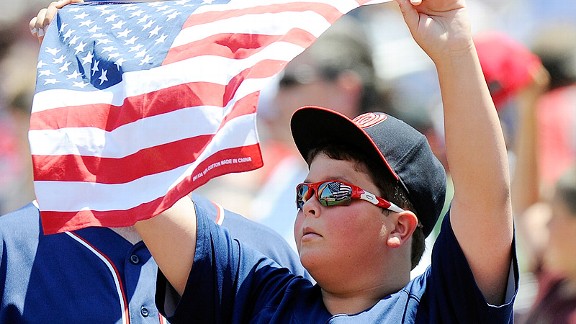 Greg Fiume/Getty ImagesWhat fan doesn't want to say happy birthday to the U.S. of A.?
Christina Kahrl covers baseball for ESPN.com. You can follow her on Twitter.
December, 6, 2011
12/06/11
12:50
PM ET
Baseball Today
is back on Tuesday and live from the winter meetings in Dallas -- well, one of us is! -- as me and Keith Law talked about the busy baseball offseason. Guess what, we'll be podcasting on Wednesday and Thursday as well! As for the topics, glad you asked ...
1. I compared what the
Miami Marlins
are doing to Richard Pryor's exploits in the fun movie "Brewster's Millions." Hey, I enjoyed the movie, at least. How will it work out for the Marlins?
2. What else is on the horizon for the next 24 hours at the winter meetings? Did I mention Keith Law is actually there getting all the dirt? We discuss why a deal involving
Prince Fielder
news isn't likely pending but plenty of other stuff is.
3. Kudos to the
Los Angeles Dodgers
for assembling … well, we're not really sure what they're doing in L.A. But what could go wrong with
Mark Ellis
,
Chris Capuano
and
Aaron Harang
aboard?
4. Want emails? We got emails. Today we serve up information on under-25 stud
Jason Heyward
and how to cook olive oil. Yep, I don't write the emails.
5. Ron Santo makes it into the Hall of Fame, but certainly a little late. Still, it's a better Hall with him in it.
Tune in Wednesday as we talk more baseball with KLaw, discussing the big and small news from Dallas and also answer your emails. For now, download Tuesday's Baseball Today and have a great day!
December, 6, 2011
12/06/11
12:16
AM ET
DALLAS -- The Dodgers are kind of like that guy you invited into your fantasy league in 2006 who hadn't followed baseball in 10 years and immediately traded three players for Ken Griffey Jr.
Name recognition? Check.
Rigorous analysis of the players involved? Umm ...

Besides signing MVP runner-up
Matt Kemp
to a $160 million contract, the Dodgers have signed the following six players this offseason:
Give GM Ned Colletti credit for being quick with the trigger finger. He identified the glaring holes on his team and moved to fill them. Sure, he overpaid and he's deferred the salaries, but now he has a second baseman! And two third basemen! A quick review of these signings:
Ellis:
He hit .316 in 2005. He hit 19 home runs in 2007. But he'll turn 35 in 2012 and his home runs have declined from 19 to 12 to 10 to five (and back up to seven in 2011, although five of those came in Colorado). At one point, he was an underrated fielder with excellent range, but while he's still sure-handed, he doesn't cover as much ground as he used to.
Capuano:
In his first full season in a major league rotation since 2007, he posted a 4.55 ERA for the Mets. Decent season? Well, among 75 NL pitchers who threw at least 100 innings, that ERA ranked 61st. Pitching in a favorable park for a left-handed flyball pitcher, he still served up 27 home runs (17 on the road). He comes with some positives, namely a 168/53 strikeout/walk ratio, but the home run rate is a potential red flag.
Rivera:
A poor defensive outfielder with a .315 on-base percentage since 2007 who will turn 34 in July.
Harang:
Reports have him coming to L.A. on another two-year deal. Harang had a nice comeback year with the Padres, going 14-7 with a 3.64 ERA -- in the best pitcher's park in baseball. Dig deeper into the numbers and you see Harang allowed a .684 OPS at Petco Park, but an .878 OPS on the road. His strikeout rate, which peaked at 8.7 K's per nine innings in 2007, has dropped to 6.5 per nine, a strong indicator that 2011 wasn't a resurgence so much as a pitcher benefiting from the Petco canyons.
Hairston:
He's scrappy and managers love his attitude (Ron Roenicke said Monday that he loved having him on the Brewers), but in the end he's still a 36-year-old utility player. A nice guy to have on a team, but at $6 million for two years?
Kennedy:
Hey, he had that big playoff game for the Angels back in 2002.
The collective problem with these signings is that they have little chance of making the Dodgers better in 2012. Only Capuano has much of an upside, but even that is unlikely to match what
Hiroki Kuroda
produced in 2011 (3.07 ERA over 202 innings). Worse, there is a good chance all five players contribute little more than a replacement-level signing would accomplish ... but instead of at league minimum wages, they'll cost the Dodgers $29 million plus Harang's deal.
Somewhat problematic as well: The Dodgers have backloaded the contracts (Hairston will get $3.75 million in 2013, Ellis $5.25 million in 2013, Capuano $6 million plus a $1 million buyout in 2013). The new owner will be saddled with contracts of these mediocre, declining veterans (not to mention that
Juan Uribe
is owed $16 million over the next two seasons).
The Dodgers have Kemp and Cy Young winner
Clayton Kershaw
. Shortstop
Dee Gordon
could become one of the most exciting players in baseball.
Kenley Jansen
should step in and become a dominant closer. That's a great foundation for a new owner to take over.
Unfortunately, that foundation now has the cracks of a group of players who won't push the club past the 82 victories of 2011. It looks like another season of Dodger Stadium sitting half empty, a once-proud franchise and its fans only hoping the right group of buyers purchases the club. It better have some deep pockets and a large supply of patience.
June, 30, 2011
6/30/11
5:10
PM ET
By
Christina Kahrl
| ESPN.com
Seeing
Mark Ellis
get dealt away is sort of a bittersweet thing if you have any rooting interest in the A's. It's been a little more than 10 years now since Oakland got him in the huge three-way deal that put
Cory Lidle
,
Johnny Damon
and Ellis in Oakland. The deal also sent
Ben Grieve
-- once considered proof of the A's draft-day genius -- to the then-Devil Rays, and dispatched
Roberto Hernandez
,
Angel Berroa
and A.J. Hinch to the Royals. It was huge news at the time, and another example of Billy Beane's willingness to wheel and deal.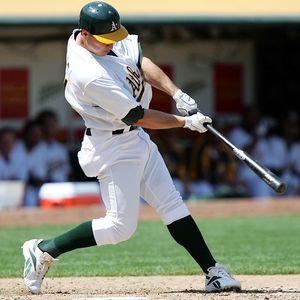 Phil Carter/US PresswireMark Ellis owns a career batting average of .265 after nine seasons in Oakland.
In retrospect, it was a deal that left almost everyone disappointed. Grieve's power evaporated in Florida, leaving the D-Rays stuck with a slow twenty-something DH who didn't "H." The Rays realized all of 2.0
WAR
, wins above replacement, from adding Grieve -- across three seasons, and the former first-round pick was out of the majors before he was 30. In Berroa, the Royals briefly possessed the blue-chip prospect they thought they'd gotten in the deal. He gave them 4.0 WAR in 2003, he won the Rookie of the Year, and all seemed well. Berroa then "contributed" -0.2 WAR over the next three years, making him less valuable over his Royals career than he was in his first season. Hernandez gave the Royals 1.4 WAR across the last two expensive seasons left on his old deal, costing the Royals $12 million for an adequate performance as the team's closer. Hinch was the definition of doing no harm, or much good (0.0 WAR) before earning his release from the Royals' backup backstop duties.
Not that the A's had much to brag about. Damon was in his age-27 season and a year removed from free agency, so if you thought he was going to break out because of his age or his walk year, you were disappointed -- his 2.7 WAR was decidedly worse than his two previous seasons for the Royals. However, it was everything
else
the A's got in the deal that made this a massive win for Beane and for Oakland. Damon's departure as a free agent to Boston gave the A's the pick they used on
Nick Swisher
in 2002, and Swisher eventually became
Gio Gonzalez
,
Ryan Sweeney
, and
Fautino De Los Santos
. Lidle was more valuable than Damon per year in his first two full seasons in the rotation (6.6 WAR, 3.74 ERA in 59 starts) before his final year of arbitration eligibility priced him out of the A's budget. He was dealt to the Jays for junk, so not every offshoot of this trade blossomed.
Then there's Ellis. At the time he was acquired, he was a minor-league shortstop whose arm and range were perhaps a bit short for short. But he was a patient hitter with a line-drive bat and managed a .302/.406/.409 season in Wilmington in the Carolina League, a tough park. The A's had him skip Double-A in 2001, and in 2002 he was ready to take the place of aging scrappers like Frankie Menechino and
Randy Velarde
. He'd miss time to injuries over the years, but between his modest power and plus defense, he gave the A's 21.8 WAR, or 3.3 per 162 games -- more valuable than Damon had been, certainly, and not shabby for a tacked-on talent in the transaction. You didn't have to be an A's fan old enough to remember Dick Green, but it helped, and watching Ellis play, you were almost certainly a fan.
So, Ellis has been shipped off to Denver as a 34-year-old with a slowing bat and a spotty track record for staying healthy. That's not a bad thing in itself.
Jemile Weeks
owns the keystone in Oakland these days. While the A's had to eat some of Ellis' $6 million in salary, they had more use for the roster spot than wait out the end of his deal and send him on his way. He wasn't going to be offered arbitration, so there was no possibility of picks to reap. Getting a PTBNL and
Bruce Billings
, a 25-year-old organizational arm with low-90s heat and a low upside outside of situational ROOGY-dom is a decent return as these things go; this year Billings held Double-A righties to a .670 OPS with a 26 percent strikeout rate. Billings may never don an A's uniform outside of spring training, but that's what you get in most deals these days. Expectations for who the PTBNL might be ought to be set low, but you never know.
As a fan, seeing Ellis wind up a Rockie gives me some small additional cause to hope the Rox make one of their second-half charges back into contention and beyond. His glove should be an asset -- especially now that the brief, mad
Jonathan Herrera
craze has long since worn out its welcome -- and hitting in Coors and in the National League might help put some life back in Ellis' bat. Getting both Ellis and Lidle in the big three-way trade of January 2001 became yet another minor coup, one of the many things behind Beane's reputation as a canny trader before
Moneyball
, and it makes for a nice reminder that sometimes it isn't the name players in the deal who deliver -- or have to.
Christina Kahrl covers baseball for ESPN.com. You can follow her on Twitter.
May, 27, 2011
5/27/11
8:00
PM ET
By
Christina Kahrl
| ESPN.com
Sizemore traded.
Those words make you pause, especially as the Sizemore you think of first -- Grady -- is coming off the DL. But this wasn't
Grady Sizemore
, or Ted if you remember your bat-control fiends of the '70s, or Tom if you're following the travails of a has-been actor. No, this was "just"
Scott Sizemore
that the
Detroit Tigers
dealt to the
Oakland Athletics
for lefty
David Purcey
, an odd sort of exchange that represents a torte of disappointments for both ballclubs.
[+] Enlarge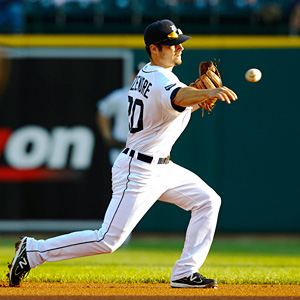 Rick Osentoski/US PresswireScott Sizemore is hitting .222 with 19 strikeouts and 10 walks in 63 plate appearances this season.
Take the Tigers' side of the exchange. Heading into the 2010 season, Sizemore was seen as the organization's instant fix at second base, but that notion didn't make it to Memorial Day last year, as the 25-year-old rookie failed to last all that far beyond his first hundred at-bats. He was pressing, and rather than ride it out, the Tigers decided to prove (again) that
Carlos Guillen
couldn't stay healthy manning any position, then got briefly carried away with
Will Rhymes
' well-timed streak. This season, they've already run through Rhymes, Sizemore, and now, with this deal, they're lurching toward some sort of ramshackle arrangement between utility infielders
Ramon Santiago
and
Danny Worth
, or maybe
Ryan Raburn
.
To say that the Tigers haven't figured out what to do at second base would be an understatement, but this is a team with issues all through their lineup thanks to many bad commitments. Predictably enough,
Brandon Inge
isn't hitting, and
Magglio Ordonez
looks done, and
Brennan Boesch
still hasn't rediscovered his power stroke,
and
Austin Jackson
's remarkably high .396 BABIP from 2010 has proven impossible to sustain. The Tigers can't punish the lot of them, so shaking things up again at second base -- where the financial commitments are negligible and the quality of the players are almost interchangeable -- makes for a place to act out while the Tigers look to goose themselves beyond second place and a record beyond .500.
They do add a hardish-throwing lefty in Purcey, who has hopskotched from the
Toronto Blue Jays
to Oakland to the Motor City inside of two months. He might be a useful alternative in a pen that so far really only has
Daniel Schlereth
to provide reliable left-handed relief help. Schlereth is already being used in a situational role, and Purcey is probably slotted to replace the injured
Brad Thomas
in middle relief. On some level, this reflects another source of frustration as
Fu-Te Ni
's role as a situational relief hero waned last season. There's potentially an additional developmental payoff. This might mean they can return top prospect Charlie Furbush to the Mudhens' rotation in Toledo instead of leaving him in the back end of Jim Leyland's bullpen. But with
Phil Coke
on the DL and prospect
Andrew Oliver
starting in Coke's place on Saturday, the Tigers can't be too sure of their rotation.
For the A's, there's probably some faith in Sizemore's minor league performance after he hit .313/.395/.511 in more than a thousand plate appearances between Double- and Triple-A.
Mark Ellis
is struggling badly in his walk year, and the A's might prefer to plug in Sizemore instead of starting prospect Jemile Weeks' service-time clock, even as Weeks seems to be making short work of Triple-A pitching this spring (.322/.412/.454 for Sacramento). Even then, Sizemore might not distinguish himself from other fill-in aspirants beyond Weeks, because the River Cats also have
Eric Sogard
(career .394 minor-league OBP),
Steve Tolleson
(.375) and
Adrian Cardenas
(.370), all of whom have some experience at second base. Weeks and Tolleson are the two who aren't on the 40-man roster, but that might seem like a lot of redundancy to insure a team against Ellis' slump.
Second isn't the only problem position in the infield, because at third base the A's have two more graying OPEPs -- Other People's Ex-Prospects -- where
Kevin Kouzmanoff
and
Andy LaRoche
have combined to hit .202/.262/.307. Here again, Sizemore, Tolleson, Cardenas and Sogard all have some experience at third base. If the A's decide to mimic the Tigers and shake things up at second or third, it isn't like the starters haven't given them cause.
Christina Kahrl covers baseball for ESPN.com. You can follow her on Twitter.