June, 28, 2014
6/28/14
8:01
AM ET
The reason for doing this piece should be pretty obvious:
Masahiro Tanaka
is 11-2 with a 2.11 ERA, leading the American League in wins and ERA. He's not just the clear best rookie so far but a Cy Young
and
MVP contender.
Tanaka makes his 16th start on Saturday and his consistency has perhaps been his most impressive attribute. He's pitched at least six innings each start and allowed more than three runs just once, a four-run game against the Cubs in May. He's allowed more hits than innings three times and has reached double-digit strikeouts in five starts, second-most in the majors only to
David Price
. His splitter has been as good -- or better -- than advertised, as opponents are hitting .119 against it with one home run (his first pitch of the season, actually).
Of course, some don't like to call him a rookie considering his years of experience in Japan, but he's a rookie under MLB rules. We're just about at the halfway point and Tanaka has earned 4.1 Wins Above Replacement via Baseball-Reference. Double that and you get 8.2, and only one rookie pitcher since the lively ball era began in 1920 has been worth more.
More on that guy later. Let's take a look at some of the great rookie seasons ever since 1901.
The MVPs: Ichiro Suzuki, 2001 Mariners (7.7 WAR), and Fred Lynn, 1975 Red Sox (7.4 WAR)
Suzuki and Lynn rank fourth and fifth on the all-time rookie list for WAR among position players, if we consider Joe Jackson a rookie in 1911. Did both deserve their awards? Suzuki ranked fourth in the AL in WAR, behind
Jason Giambi
(9.1), teammate
Bret Boone
(8.8) and
Alex Rodriguez
(8.4). I always thought Boone deserved MVP honors that year, hitting .331 while driving in a league-leading 141 runs. Of course, one reason he drove in 141 was Ichiro getting on in front of him. There's no doubt Ichiro had the "wow" factor that year and was so unique -- this little guy playing small ball in the middle of the steroids era -- that everyone fell in love with him.
Lynn hit .331 with 21 home runs and 105 RBIs, leading the league in slugging percentage, runs and doubles and winning a Gold Glove for his defense in center. Baseball-Reference has Rod Carew (7.8 WAR) better, but you can't argue with Lynn getting MVP honors considering the numbers are close and the Red Sox won the AL East while the Twins finished under .500.
The should-have-been MVP: Mike Trout, 2012 Angels (10.8 WAR)
Not to rehash old wounds, but Trout's rookie season WAR is easily the best ever for a rookie position player -- and one of the best ever no matter the experience level. He hit .326/.399/.564 with 30 home runs, 129 runs and a league-leading 49 steals in a depressed offensive era. He played great defense, including four home run robberies. Baseball-Reference ranks his season 22nd all-time since 1901 among position players and the seventh-best of the expansion era (1961).
The only other rookie position player to lead his league in WAR was Paul Waner of the 1926 Pirates, by the modest total of 5.3.
A guy you've probably never heard of: Russ Ford, 1910 Yankees (11.0 WAR)
Actually, they were still called the Highlanders back then. Ford was a right-hander born in Manitoba, Canada -- the first player born in that province to reach the major leagues (and still just one of three, and the other two played a combined 14 games in the majors). Ford had pitched one game in 1909 and then went 26-6 with a 1.65 ERA in 1910, great numbers even for the dead-ball era. He ranked second to Walter Johnson in pitching WAR. His secret? He used an emery board hidden in his glove to scuff up the baseball. The pitch was actually legal back then and Ford was apparently an early practitioner of the pitch, or maybe even its inventor.
This SABR bio
of Ford says he claimed to the press that he had 14 different varieties of the spitball (also still a legal pitch). "He had the emery paper attached to a piece of string, which was fastened to the inside of his undershirt," said umpire Billy Evans. "He had a hole in the center of his glove. At the end of each inning he would slip the emery paper under the tight-fitting undershirt, while at the start of each inning he would allow it to drop into the palm of his glove."
Ford wasn't quite a one-year wonder. He was effective in 1911 but then led the league in losses in 1912 as he started suffering from arm fatigue. He jumped to the Federal League in 1914 but then the emery ball was banned, and combined with his arm problems, Ford was out of the majors by 1916.
Best rookie teammates: Shoeless Joe Jackson (9.2 WAR) and Vean Gregg, 1911 Indians (9.1 WAR)
There is dispute on whether to call Jackson a rookie or not. He had 127 plate appearances with the Athletics and Indians over the three previous seasons, below the 140-PA standard we now use, although he probably exceeded the roster time limits. I would prefer to call him a rookie, and what a year he had: He hit .408/.468/.590, knocked in 83 runs and stole 41 bases. He was the second-best player in the league behind Ty Cobb, who hit .420.
His teammate has been forgotten, but Gregg went 23-7 with a league-leading 1.80 ERA. The 6-foot-2 left-hander was already 26 years old when he joined the Indians. Actually, the Indians had purchased his contract from Spokane in 1910, but Gregg refused to sign with Cleveland for $250 a month and was instead sold on option to Portland of the Pacific Coast League. He won 32 games and finally went to Cleveland.
That was a pretty interesting team. Besides Jackson and Gregg, you had an aging Cy Young in his final season (for seven starts) and Hall of Famer Nap Lajoie. Star pitcher Addie Joss, who had fallen ill the previous season, died in April. Anyway, Gregg was a revelation. Cobb and Eddie Collins called him the best left-hander in the league. He remains the only pitcher to win 20 or more games his first three seasons in the majors. Unfortunately, Gregg suffered from recurring arm pain throughout his career and 1913 was his last good season in the majors, although he eventually returned to the PCL and had some good years with Seattle.
1964: Dick Allen, Phillies (8.8 WAR) and Tony Oliva, Twins (6.8)
Allen's WAR total is third among rookie position players behind Trout and Jackson. He hit .318/.382/.557 with 29 home runs while leading the NL in runs and triples. Oliva won the AL batting title with a .323 mark and hit 32 home runs, also leading in hits, runs and doubles. Both had Hall of Fame talent, although they failed to get there. Oliva led the league five times in hits and won two more batting titles but had knee injuries that ruined the second half of his career.
The catchers: Carlton Fisk, 1972 Red Sox (7.2 WAR) and Mike Piazza, 1993 Dodgers (7.0)
In a dominant year for pitchers, Fisk hit .293/.370/.538, making him one of the best players in the league. Piazza hit .318/.370/.561 with 35 home runs. Fisk finished fourth in the MVP voting, Piazza ninth (although he ranked second to
Barry Bonds
in WAR).
The shortstops: Troy Tulowitzki, 2007 Rockies (6.8 WAR) and Nomar Garciaparra, 1997 Red Sox (6.6 WAR)
Kind of similar in one regard: If Garciaparra had remained healthy, he was on a Hall of Fame trek through the first part of his career. As a rookie, he hit .306 with 85 extra-base hits. Tulo: If
he
stays healthy, we could be talking about a Hall of Famer.
Ted Williams, 1939 Red Sox (6.7 WAR)
Williams hit .327 with 31 home runs and a league-leading 145 RBIs as a 20-year-old rookie. He was already cocky. When asked before the season opener who he hit like, Williams said, "I hit like Ted Williams." It was in April of his rookie season when he uttered his famous quote, "All I want out of life is that when I walk down the street folks will say, 'There goes the greatest hitter who ever lived.'"
Fifty-two years later, another future Hall of Famer put up nearly identical numbers:
Williams: .327/.436/.609, 31 HR, 145 RBIs
Albert Pujols
: .329/.403/.610, 37 HR, 130 RBIs
Greatest relief season ever: Mark Eichhorn, 1986 Blue Jays (7.4 WAR)
By greatest, I don't mean just among rookies. Eichhorn's season was a season for the ages: 14-6, 1.72 ERA, 10 saves and a mind-boggling 157 innings pitched. The sidearmer struck out 166 and allowed just 105 hits. Somehow, he finished third in the Rookie of the Year voting behind
Jose Canseco
and
Wally Joyner
, whose combined WAR doesn't beat Eichhorn's 7.4.
Britt Burns, 1980 White Sox (7.0 WAR)
Among starting pitchers since 1980, Burns has the highest WAR --
Jose Fernandez
's 6.3 from last year would be second-highest. (Dwight Gooden had a 5.5 WAR in 1984; thought he'd rank a little higher.) Burns went 15-13 with a 2.84 ERA, throwing 238 innings at age 21. He actually led AL pitchers in WAR that but didn't factor in the Cy Young voting due to his win-loss record (the White Sox were 70-90 that year). Burns also finished just fifth in the Rookie of the Year voting, which didn't make any sense. Joe Charboneau won it and Dave Stapleton, a part-time first baseman for Boston who hit seven home runs, was second.
Burns, who made his debut in 1978 just two months after getting drafted, made the All-Star team in 1981 and could have been a great one. He hurt his shoulder in 1982, costing him velocity, and suffered from a degenerative hip condition. After winning 18 games in 1985, he never pitched again in the majors.

Mark Fidrych, 1976 Tigers (9.6 WAR)
A lot of pitchers in the pre-1920 era put up big numbers as a rookie. Hall of Famer Pete Alexander, for example, went 28-13 while pitching 367 innings for the Phillies. Even then, Alexander's WAR doesn't beat what Fidrych did in his rookie season with the Tigers.
The numbers are astounding -- 19-9, 2.34 ERA, 24 complete games in 29 starts -- but don't begin to tell the story of Fidrych's magical season. He didn't even begin the season in the rotation, pitching once in relief in April and then once in early May before finally making his first start on May 15. He threw a two-hitter. He started again 10 days later and lost that game but then came a remarkable run: From May 31 through July 20, Fidrych went 10-1 in 11 starts with 10 complete games. He averaged
more
than nine innings per start because he twice pitched 11 innings. He was a phenomenon, this quirky kid with the curly hair who talked to the baseball.
I just mentioned this video the other day, but
here it is again
: the final moments of Fidrych's Monday night game against the Yankees that June. As the announcer says, "He is some kind of unbelievable."
June, 25, 2014
6/25/14
4:02
PM ET
In my Tuesday chat session, we somehow got on the topic of one-year wonders. I mentioned Mark Fidrych, who had a great rookie season with the Tigers in 1976 and then got injured.
Chris from NYC responded: "I saw Fidrych pitch live a few times and he was absolutely electrifying. I never experienced anything else like him at a sporting event."
I mentioned a video from Fidrych's famous 1976 Monday night game against the Yankees. I'm sure I've written about that game before; I was 7 years old and it's probably the first game I actually remember watching.
Chris wrote back:
It's hard to imagine Detroit being any worse off than it is now but it really was horrible in the 1970s. A lot more people were living there at the time and the crime rate was incredibly depressing. Fidrych was like a breath of fresh air -- he really seemed to enjoy playing the game -- and the locals really took to him. I think he was making $19,000 in 1976, living in a crappy apartment but he was happy as a lark. At least he got one decent contract and bought the farm he always wanted to own.
Anyway,
here's a 4-minute video
from the end of the game. I love the announcer saying, "And the Tigers act like Fidrych just won the seventh game of the World Series."
That's
how exciting he was. Be sure to watch the whole video to see Fidrych receive a curtain call -- after he'd already gone into the clubhouse.
September, 6, 2012
9/06/12
1:00
PM ET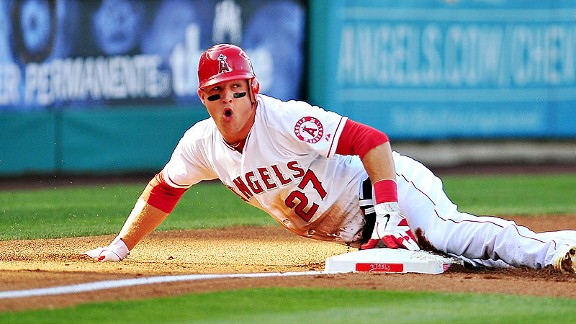 Gary A. Vasquez/US PresswireAngels outfielder Mike Trout has the tools to be baseball's most exciting player for years to come.
We all have our own favorites, of course, and maybe they change from season to season. Or month to month. That's a little of the beauty of baseball; we don't all have to enjoy and appreciate the same players. The stars aren't necessarily shoved down our throats like a certain sport played with an orange ball.
For me,
Mike Trout
has been the most exciting player in baseball in 2012. It's completely subjective opinion, of course, but if you think of some of the factors that would be considered for such a description, Trout fits (as do
Bryce Harper
,
Andrew McCutchen
,
Matt Kemp
and others):
1. Power. Check.
2. Speed. Check.
3. Spectacular plays on defense. Check.
4. Young. Check. This is kind of like how we get excited over a new restaurant or new girlfriend or new TV show.
5. Looks good in a baseball uniform. Check.
6. Has the It Factor. Hard to define, but you know what it is when you see it.
7. Cool name. Mickey Mantle wouldn't quite be Mickey Mantle if his name had been "Andy Stankiewicz."
8. He's good. Duh. Although I suppose there's a different kind of excitement for players who aren't good.
Pitchers have a slightly different list of criteria, much of which boils down to "He's one bad dude."
The first year I remember following baseball was 1976, the year before the Mariners arrived in my hometown. Leaving out the fact that most of us probably prefer a guy on our favorite team, here's my own list of Most Exciting Player in Baseball since that year.
1976: Mark Fidrych, P, Tigers
There hasn't been anybody like Fidrych since he became a national phenomenon as a 21-year-old rookie. For all the attention given to Trout or Harper this year, imagine if ESPN and 24-hour sports coverage had been around in 1976, when Fidrych was talking to baseballs and shaking hands with infielders after a good play -- in the middle of innings. I remember watching the famous June "Monday Night Baseball" game against the Yankees, that's how big it seemed at the time. Fidrych would start the All-Star Game, complete 24 of his 29 starts and boost attendance whenever he pitched (he accounted for nearly half of the Tigers' attendance that year while making just 18 starts at Tiger Stadium). In Dan Epstein's "Big Hair and Plastic Grass," a history of baseball in the '70s, he writes that other teams begged the Tigers to pitch Fidrych in their parks.
How exciting was he? Here's a
clip of that Yankees game
; fast-forward to the 2:30 mark and not just for the awesome '70s clothes and fans smoking in the stands. Detroit fans hung out
after
the game, chanting "We want The Bird! We want The Bird!" When he finally appears from the clubhouse, the place explodes. One of a kind.
1977: George Foster, LF, Reds
Maybe a bit of a one-dimensional slugger, but his 52 home runs that year seemed otherworldly. And maybe they were. It was the only 50-homer season between Willie Mays in 1965 and Cecil Fielder in 1990, Foster waved that menacing black bat and was awesome.
1978: Dave Parker, RF, Pirates
Built like a linebacker, for a few years there Parker was arguably the best all-around player in baseball. He was the MVP in 1978 as he led the majors in batting average and OPS and owned a howitzer for an arm. Plus, this was the year he fractured his jaw and cheekbone in a home-plate collision and returned two weeks later
wearing a hockey mask
at the plate (quickly replaced by a football-like face mask).
[+] Enlarge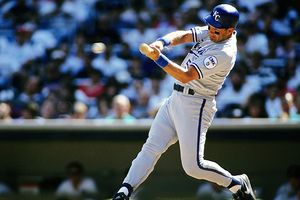 Ronald C. Modra/Sports Imagery/Getty ImagesGeorge Brett had 85 extra-base hits for the Royals in 1979.
1979-1980: George Brett, 3B, Royals
That sweet Charlie Lau swing. The dirty uniform even though he played his home games on turf. And then the chase for .400 in 1980. But how about this line in 1979: .329, 212 hits, 42 doubles, 20 triples, 23 home runs.
1981-1983: Rickey Henderson, LF, A's
Actually, you could probably give him the whole decade if you want.
1984-1985: Dwight Gooden, P, Mets
In 1984, he was Kid K, the 19-year-old phenom who finished second in the Cy Young vote, helping turn around a moribund Mets franchise. In 1985, he was Dr. K, the best pitcher on the planet -- 24-4, 1.53 ERA, 268 strikeouts. He pitched eight shutouts that year with his blistering high fastball and knee-buckling curveball, plus he had two more nine-inning scoreless outings where he got a no-decision. The four games he "lost" he allowed two, two, two and three runs. With a little luck, he could have gone unbeaten. You couldn't watch all the games back then, of course, unless you lived in the New York area, but I'd stay up late to watch the news to see how Gooden fared or devour the box score in the morning paper.
1986: Roger Clemens, P, Red Sox
Twenty strikeouts in a game. Twenty-four wins. Nothing then about needles in the butt.
1987: Eric Davis, CF, Reds
Skinny as a golf club, Davis somehow generated big power from his slight frame and combined that with blazing speed and acrobatic outfield play. In 1986, he hit 27 home runs and stole 80 bases; in 1987 he hit 37 home runs and stole 50 bases (in just 129 games). In a Sports Illustrated story, Reds manager Pete Rose said, "It's like having an atomic bomb sitting next to you in the dugout." Teammate Dave Parker said, "Eric is blessed with world-class speed, great leaping ability, the body to play until he's 42, tremendous bat speed and power, and a throwing arm you wouldn't believe. There's an aura to everything he does." In the long run, he couldn't stay healthy, although he did last until he was 39. If you missed seeing the young Davis, you missed something special.
1988: Jose Canseco, RF, A's
Don't laugh. When he went 40-40 it was a
very
big deal. But, no, I never called the
Jose Canseco hotline
.
1989-1994: Ken Griffey Jr., CF, Mariners
OK, Barry Bonds was better. He was faster. When you break it down, he was a little better hitter and that was even before Big Barry broke out. But Griffey had the It Factor from the time he reached the majors at age 19 and Bonds never really did.
[+] Enlarge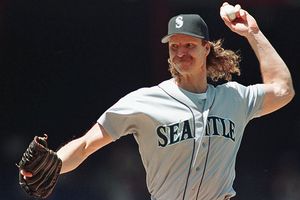 AP Photo/Duane BurlesonRandy Johnson's heroics in 1995 perhaps saved baseball in the city of Seattle.
1995: Randy Johnson, P, Mariners
Power and might, adrenaline at 100 miles per hour with his long hair flapping behind him, as intimidating a pitcher the game has ever seen. And if you were a Mariners fan in those days, a Johnson game was a treat to be savored. And when he trudged in from the bullpen in Game 5 of the 1995 Division Series, the Kingdome exploded in pandemonium. Without Johnson's spectacular '95 season (remember, Griffey was hurt part of that year), there may not be baseball in Seattle.
1996: Alex Rodriguez, SS, Mariners
The common theory is that A-Rod -- like Bonds -- never managed to connect with the fans on a national scale like Griffey, but that's a little rewriting of history, especially after he left Seattle for his first megabucks contract. In 1996, when he was 20 years old (turned 21 in July), he was, like Mike Trout, a young guy putting up bizzaro offensive numbers -- he'd hit .358 with 36 home runs and 54 doubles. It's too easy to forget now but there was a moment when Rodriguez was a player of our affection instead of a player of derision.
1997: Ken Griffey Jr., CF, Mariners
Griffey's MVP season when he led the AL with 56 home runs and 147 RBIs.
1998: Mark McGwire, 1B, Cardinals ... and Sammy Sosa, RF, Cubs
You have to put them together, no? And, no, you can't rewrite history: The home run chase was exhilarating, thrilling and astonishing.
1999-2000: Pedro Martinez, P, Red Sox
In the midst of the barrage of home runs, Pedro was putting up numbers we'd never seen before from a pitcher. In 1999, he struck out 313 batters in 213.1 innings, an average of 13.2 K's per nine innings ... and he walked just 37. He was Nolan Ryan with command and one unhittable changeup. In 2000, opponents hit .167 off him. This wasn't some reliever throwing one inning at a time. Attending a Pedro game at Fenway during this peak was like going to a religious revival, 35,000 fans believing fervently in the gifts of Pedro. He wasn't a god, but he sure pitched like one.
2001: Ichiro Suzuki, RF, Mariners
I think this list is just making Mariners fans sad.
2002-2004: Barry Bonds, LF, Giants
Are walks exciting? Bonds somehow made them so. Love him or hate him, a Bonds at-bat in this era was must-see TV.
2005: Albert Pujols, 1B, Cardinals
A weird season.
Bartolo Colon
won a Cy Young Award. Roger Clemens had a 1.87 ERA at age 42. Scott Eyre picked up 10th-place MVP vote. No, seriously, he did. We'll give the nod to Pujols, if only for that 9,000-foot home run off
Brad Lidge
in the NLCS.
2006-2008: Jose Reyes, SS, Mets
Over those three seasons he hit .292 while averaging 16 home runs, 16 triples and 66 stolen bases per season. Admit it: He was fun.
2009: Hanley Ramirez, SS, Marlins
Maybe should have mentioned him during the Reyes seasons. This was the year he hit .342 with power and speed.
2010: Josh Hamilton, CF, Rangers
He was so good he won the MVP Award despite missing the final month.
2011: Justin Verlander, P, Tigers
With apologies to Matt Kemp.
So that's my list, no slights intended to those I left off. What about your most exciting players? Discuss below ... and enjoy baseball.
June, 13, 2012
6/13/12
11:32
PM ET
There is nothing in sport like a knuckleball pitcher.
I mean, the fat goalie theory doesn't work in hockey. You don't see 6-foot-10 forwards in the World Cup who stand near the goal to head in corner kicks. Three-point specialists in the NBA still have to defend and dribble. I suppose you can argue that kickers and punters in football are unique, but that's still a specialized and routine part of the game; every team has kickers and punters.
Knuckleball pitchers? As my colleague Christina Kahrl points out, throwing a knuckleball is a signature skill. You see a guy throwing a knuckler, and you know it, and you viscerally know this pitcher is different from everybody else. Who else is like that? Rick Barry shot his free throws "granny" style and maybe the last straight-on kicker in the NFL was a bit of novelty and certainly fat old George Foreman was a curiosity at first until he actually won ...
But
R.A. Dickey
? The man is a true iconoclast, the only knuckleball pitcher remaining in the major leagues, maybe the last one we'll see for a long time. But he's not just a novelty act, no longer a fringe pitcher fighting for a spot on some team's roster. He's been an underrated starter the past two season, and, right now, he's as good as any pitcher in baseball.
On Wednesday, he absolutely dominated the
Tampa Bay Rays
in the New York Mets'
9-1 victory
. He ran his scoreless streak to 32.2 innings until an error and two passed balls led to an unearned run in the bottom of the ninth. He allowed just one hit, an infield trickler that
David Wright
failed to come up with. He struck out 12. The Rays flailed away and hit only a couple balls hard. Dickey -- and not Tom Seaver or Dwight Gooden or Jerry Koosman or
Johan Santana
-- holds the Mets' record for most consecutive scoreless innings in franchise history.
Dickey throws his knuckleball harder than
Tim Wakefield
or Phil Niekro, pumping it up to 80-81 mph. And when you're throwing it with precision like Dickey has recently -- he has 58 strikeouts and just four walks over his past six starts -- it's like trying to guard Kevin Durant with Spud Webb.
In his postgame interview on the Mets' TV broadcast, Dickey explained his philosophy in going up against
David Price
. "First and foremost, you knew it was going to be a dogfight. ... You don't feel like you're going to be able to make many mistakes," he said. "What I try to do is take it one swing at a time. If they take a poor swing, I try to repeat that pitch, which is difficult to do with a knuckleball."
As Bobby Ojeda pointed out on the Mets' postgame show, what has made Dickey so effective of late is that hard, high knuckler. It doesn't move as much as a more traditional, fluttering knuckleball, but it moves late, usually away from a batter, making it difficult to lock in on. Importantly, he throws it for strikes. With 90 strikeouts and 19 walks, he has a SO/BB ratio of 4.63. Wakefield's career-best ratio was 2.63. Charlie Hough's was 2.23. Niekro's was 3.39, with a career rate of 1.85.
Dickey is 10-1 with a 2.20 ERA. He's third in the majors in ERA, tied for third in innings pitched, fourth in WHIP. He has been let go by the Rangers, Brewers, Twins, Mariners and Twins (again). Now he's the ace of the surprising Mets, a possible All-Star starter and, who knows, maybe a Cy Young contender.
* * * *
There used to be more knuckleball pitchers in the major leagues. The 1944-45 Washington Senators actually had four knuckleballers in their rotation. Hoyt Wilhelm became a Hall of Fame reliever throwing the knuckleball and many pitchers in the '50s and '60s continued to use the pitch as a secondary offering.
But the pitch slowly died out. Baseball people, of course, don't fully trust the knuckleball. For a time, there seemed to be bias against knuckleball starters, as guys such as Wilbur Wood and Hough pitched in relief before becoming successful starters. However, maybe the main reason for the demise of the pitch (besides the fact that it's hard to throw, of course) is that baseball, like society, has become more homogenized.
If you've seen movies or clips of pitches from the '30s and '40s and even into the '70s, you'll see all different sorts of deliveries and styles, from guys using madcap windmill windups to
Juan Marichal's leg kick above his head
to
Bob Gibson flailing wildly off the mound
to Mark Fidrych talking to the baseball and crazily
running around after a victory
shaking hands with teammates, umpires and policemen.
Now? Conformity is the rule. Teach the same delivery. Say the right things. Don't show a bit of personality outside the norm or you'll be torn apart by the media. Show emotion? Don't get beyond a smile and a high-five or home-plate dance (but only on a game-winning home run). I just picked up a book the other day, the paperback version of Dan Epstein's "Big Hair and Plastic Ride," about baseball in the '70s. I'm not saying baseball itself was
better
then (I believe the quality of play is superior now), but in some ways it was more interesting. Or, at least, maybe a little more mysterious and fun.
Could you imagine Mark Fidrych today? Would he be celebrated for his quirkiness or ridiculed? More likely, he'd get it beaten out of him in Class A.
R.A. Dickey, however, is our resident dissident of 2012, I guess. A singular man. Keep knuckling, R.A., keep on.
PHOTO OF THE DAY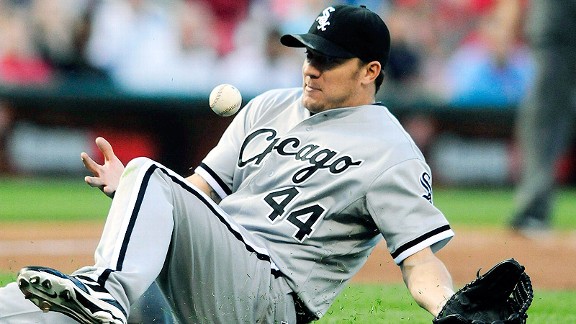 Jeff Curry/US PresswireJake Peavy isn't just a talented big-league pitcher, he also juggles.
February, 13, 2012
2/13/12
6:00
PM ET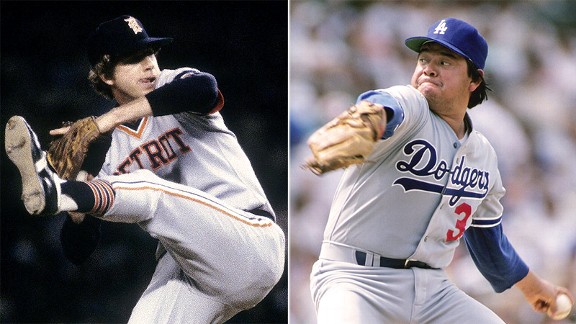 Getty ImagesMark Fidrych, left, and Fernando Valenzuela came out of nowhere, taking baseball by storm.
Even if you don't follow the NBA you've been unable to ignore the amazing story of New York Knicks point guard Jeremy Lin.
Whether the story would be getting the same amount of attention if Lin played for the Sacramento Kings or Charlotte Bobcats is a question we probably know the answer to, but Lin's rise got me thinking of similar episodes in MLB history. Here are five guys who seemingly came out of nowhere to spark the baseball world. Bonus points if the player has an interesting back story.
Bob "Hurricane" Hazle, 1957 Milwaukee Braves.
Hazle was a 26-year-old minor league vet with six games of big league experience with the Reds in 1955 when the Braves recalled him in late July. At the time, the Braves were tied for first. In 41 games, Hazle hit .403 with seven home runs, 12 doubles and 27 RBIs, earning the nickname "Hurricane" -- named after, in part, a powerful hurricane that had struck his home state of South Carolina in 1954. The Braves went on to win the World Series, and while Hazle was just 2-for-13, both hits came in Game 7, including a one-out single in the third inning that started a four-run rally. The following spring, Hazle was hit in the head by a pitch and then early in the season sprained his ankle and was again hit in the head by a pitch, putting him in the hospital. The Braves sold him to Detroit in May, and after 63 plate appearances with the Tigers
his major league career was over
.
Mark Fidrych, 1976 Detroit Tigers.
Fidrych was a one-time 10th-round draft pick who began 1975 at Class A, although he had worked his way up to Triple-A. He wasn't overpowering (just 73 strikeouts in 117 innings) but made the Tigers' Opening Day roster. And mostly sat on the bench, appearing just twice in relief in the team's first 23 games. But he started on May 15 and threw a two-hit complete game. Ten days later, he threw another complete game. In his third and fourth starts, he won again -- pitching 11 innings both times. He was a sight few fans had ever seen: With his long, curly hair, he was nicknamed "The Bird," after "Sesame Street's Big Bird. More oddly, he talked to the baseball. A memorable "Monday Night Baseball" game in late June drew a packed Tiger Stadium and huge TV audience. Fidrych didn't disappoint. He'd go 12-6 with a 2.36 ERA that first half, completing 16 of his 18 starts, and started the All-Star Game. Everywhere Fidrych went
he drew huge crowds
. In Anahem, he reportedly had to sign autographs from inside a cage to prevent fans from rioting. Sadly, after winning 19 games as a rookie, he suffered knee and shoulder injuries in 1977 and was never the same.
Fernando Valenzuela, 1981 Los Angeles Dodgers.
Back in 1981, there was no Internet and no overhyping of prospects, certainly not of baseball prospects. Valenzuela was a 20-year-old rookie from Mexico who had pitched out of the Dodgers bullpen in September of 1980. He spoke no English, had those chubby cheeks, a screwball and that crazy windup where he looked up into the heavens at the apex of his delivery. Steve Wulf did profile Valenzuela that March for Sports Illustrated, but nobody expected this when the season unfolded: Shutout, complete game with one run, shutout, shutout, shutout, nine innings with one run, shutout, complete game with two runs. Eight starts, eight wins, five shutouts, 0.50 ERA. In early May, SI wrote on Fernando Fever; two weeks later he was on the
cover
. The media hounded Valenzuela so much that the Dodgers had to hold special news conferences, and Valenzuela complained to his agent that he didn't have time to shag flies or take batting practice.
Fernandomania was so intense
that it spread across the country and into South America: the number of Mexican radio stations carrying Dodger games increased from three to 17, and the number of Venezuelan stations from 20 to 40. When the Dodgers traveled to Shea Stadium early in the season, the Mets built two extra ticket booths. Averaging barely 11,000 fans per game, the Mets drew nearly 40,000 for Fernando.
Hideo Nomo, 1995 Los Angeles Dodgers.
Fourteen years later, the Dodgers had another rookie sensation, although this time it was a 26-year-old veteran from Japan. Nobody knew what to expect when Nomo came over, and once the season finally began in late April, Nomo started off slow, failing to win any of his first six starts. But then he won all six of his starts in June, allowing just five earned runs and posting games with 16 strikeouts and two with 13. Like Fernando, he made the
cover of Sports Illustrated
. He started the All-Star Game against Randy Johnson and threw two scoreless innings. Nomo never matched the success of his first season, as hitters clued in on his deceptive delivery, but with 123 career wins he wasn't a mere flash either.
Jeff Francoeur, 2005 Atlanta Braves.
Francoeur didn't exactly come out of nowhere, as he'd been a first-round pick and Atlanta's No. 1 prospect entering the 2005 season. But when the local product got called up on July 7 and then hit .432 through his first 23 games,
Sports Illustrated put him on its cover with the headline "The Natural,"
the same billing used back in 1990 for Ken Griffey Jr. The magazine also asked of Francoeur, "Can anyone be this good?" It was, of course, an absurd and unfair question, highlighted by the fact that Francoeur didn't draw a walk until his 34th game. That lack of strike-zone judgment would end up undermining his "natural" abilities throughout his career.
Others of note:
Tim Wakefield
(converted minor league first baseman went 8-1, 2.15 with the Pirates in 1992, helping them reach the playoffs);
Albert Pujols
(Baseball America ranked him as the Cardinals' No. 2 prospect before 2001, behind ... Bud Smith);
Jose Bautista
(if Lin turns into an MVP candidate then we can compare him to Bautista).
April, 9, 2011
4/09/11
12:58
AM ET
By
The Common Man
| ESPN.com
Allow me to date myself a little. When I was growing up and just becoming cognizant of baseball, Pete Rose was finishing up his career as a player-manager and transitioning into the manager's role full-time. I didn't know Pete Rose "The Hit King" or "Charlie Hustle." I knew Pete Rose, manager of the Reds. And frankly, that guy seemed awfully sour. Never smiling on his baseball cards. Always intense. I had no connection to the joy that Rose brought to millions of baseball fans who admired his accomplishments and his style.
And that's the main reason, when it was revealed he had bet on the game, I had no forgiveness in my heart. I had nothing to fall back on. No good memories of Rose that would help humanize him even a little. And over the years, as he continued to lie about his activities, and eventually try to profit off finally telling the truth, I found him increasingly distasteful. That's my problem, and that's why I don't much cotton to Charlie Hustle. But as I look at baseball fans who continue to marvel at his career, I wish I did. Just a little. I feel like I'm missing something.
Why do I bring this up? Of course, because of
Manny Ramirez
and
his sudden retirement today
. Because it's important to start deciding now, or in five, 10, 20 years ... how are you going to remember Manny Ramirez? What is the first thing you're going to think of when you think back to Manny's career? Is it his youth and 165 RBIs in 1999 for Cleveland? Is it peppering balls at and over The Green Monster and winning two World Series with Boston? Is it his brief resurgence in Mannywood, where he lifted the Dodgers into the playoffs almost single-handedly? Is it the sound of the ball off his bat? Or the dreadlocks sprouting from beneath his helmet? Or is it this, this end, this sad finish? Really, if that's what you choose to remember, I feel sorry for you.
This is not an apology for Ramirez, nor a defense. Taking banned substances, especially in this era, is a defenseless decision that has hurt Manny's team and ended his career. It's inexcusable and stupid. But there was so much more to Manny that is worth remembering.
First and foremost, he was one of the most dangerous right-handed hitters in baseball history, and finished his career in the top ten righties in virtually every category that we use to measure overall hitting performance. He hit 555 homers and drove in more than 1,800 runs. He hit .312 and got on base 41 percent of the time. He was, quite simply, among the elite batters in baseball history.
Too often I, and other online writers, get accused of getting too buried in the numbers. Maybe it's just better to try to figure out Manny's impact, as so many have tried to do with Jack Morris and Jim Rice. You want feared? Manny twice led the American League in intentional walks, and finished with more than 20 four times. In the postseason he was excellent, hitting .285 with 29 homers (more than anyone else in history), and was the MVP of the 2004 World Series. He was selected to 12 All-Star teams and won nine Silver Sluggers. And he finished in the top five of the MVP vote four times.
He also leaves his mark as one in a long list of characters that have made baseball great over the past century and a half, evoking memories of King Kelly, Rube Waddell, Dizzy Dean and Mark Fidrych. Men who were simultaneously loved and hated (well, not Fidrych). Who frustrated everyone around them, except on the diamond, and who made baseball's history richer.
I hope that, if you're a real baseball fan, watching Manny Ramirez hit gave you a little bit of joy (and maybe a little bit of dread, if he was facing your team). I hope you loved it and marveled at it. And, more importantly today, I hope that remember how happy he made you, or how much you may have laughed because of him. And I hope that, just a little bit, you thank him for it.
The Common Man writes for The Platoon Advantage on the SweetSpot Blog Network and spreads the word in 140 characters or less on Twitter.
Photo of the Day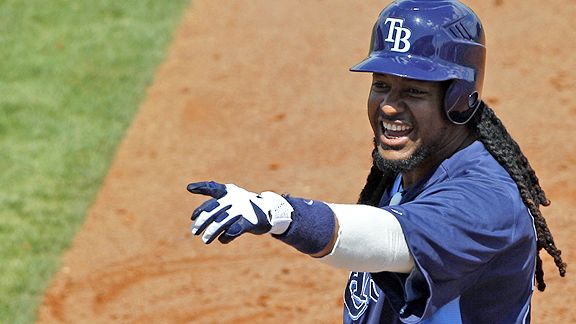 AP Photo/Charles KrupaManny Ramirez... in happier times.
February, 17, 2011
2/17/11
8:49
AM ET
In the spring of 2009, when Nolan Ryan sent a directive to the entire
Texas Rangers
organization banning pitch counts as a means of regulating a starting pitcher's length of time in a game, it sent shockwaves throughout baseball -- and criticism toward Ryan.
After Texas reached the World Series for the first time in its history -- with some of the success attributed to its suddenly formidable, unlimited moundsmen -- Ryan got the last laugh, and one has to wonder if the 100-pitch boundary is on the way out.
Ironically, it was Ryan's first manager in baseball -- Gil Hodges -- who brought the idea of counting pitches from his days with the Dodgers to the Mets. Though Hodges counted, he did not necessarily limit -- the purpose was to "condition" arms to handle specific workloads, via a measured training progression, and to get a finite understanding of each individual's point of fatigue.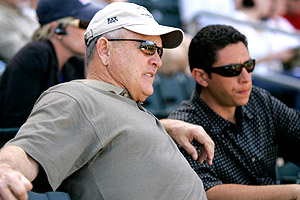 AP Photo/Charlie RiedelNolan Ryan isn't a fan of using pitch counts as a method of regulating a pitcher's time on the mound.
Which brings us to the irony: The counting helped Hodges ascertain unique limits (everyone is different, after all); yet for the rest of baseball, the counting evolved into a general demarcation line applied universally. Specifically, into a nice, round, arbitrary number that satisfied physicians and statisticians, and gave managers an easy, cover-your-butt reason to pull a starter from the mound: the 100-pitch limit.
There are some statistical studies suggesting that pitchers tire after pitch No. 100, but that's not the point to argue today. Rather, it's the theory that developed suggesting pitchers' careers ended because their workload was too heavy. Mark Fidrych was often referenced as an example, since he completed 24 games in his phenomenal 1976 rookie season, but never pitched well again. However, Fidrych's arm injuries began only after he suffered a serious knee injury while goofing around in spring training shagging flies. "The Bird" missed the first month and a half of 1977, returned too soon with altered mechanics that took stress (and pain) off the knee but put more on the shoulder, resulting in a rotator-cuff tear that eventually ended his career.
And that's the crux of the matter when it comes to protecting pitchers: Generally speaking, it is poor mechanics, rather than the workload, that ultimately injures a pitcher. Too many young pitchers with potentially harmful pitching motions go uncorrected due to disagreement over what constitutes "correct" form, the financial ramifications and the dearth of talent.
"Fixing" a mechanical issue can be a long-term process that becomes more difficult as a pitcher ages (and bad habits become more ingrained). With the six- and seven-figure bonuses paid to young hurlers these days, there's an economical urgency to get that talent to the big leagues as soon as possible. There's also the thought that "if it ain't broke (yet), don't fix it." In other words, if a teenage fireballer is touching triple digits on the radar gun, why change what he's doing, even if it looks awkward? The coach/organization would look bad if the change caused a drop in velocity, after all. Real life example:
Joel Zumaya
.
Zumaya's mechanics -- like many hard-throwing youngsters today -- are inefficient and fight, rather than embrace, the principles outlined in Newton's Laws of Motion (straight lines, momentum, etc.). Zumaya has been seriously injured twice, despite the "protection" of pitch counts. He heads a long list that includes
Matt Anderson
,
Chien-Ming Wang
,
Ben Sheets
,
Rich Harden
,
Angel Guzman
and countless others who have suffered career-threatening injuries despite limited pitch counts.
The number of seriously injured pitchers -- i.e., those who require surgery -- that we see today is more voluminous than the career-ending stories of 25-30 years ago, when pitchers routinely completed games and hurled in 220-250-plus innings in a season -- in four-man rotations, no less. For every Steve Busby of yesterday there are five Erik Bedards today, so how has the coddling and pitch counts helped avoid injury? If it weren't for modern medicine there would be just as many, if not more, career-ending stories resembling those of Busby, Fidrych, Wayne Garland, etc.
Throwing a baseball is an unnatural act for the human body to perform -- I get that. Doing it 150-175-plus times a day could be harmful, I'll admit -- particularly if the action used is inefficient and/or the person is not properly conditioned to handle such a workload. But the idea that limiting a pitcher to 100 pitches in and of itself is "protection" is nonsense. Nolan Ryan knows that, and began proving it with the 2010 Rangers. Hopefully, more organizations will follow his lead and begin instilling more logical methods of developing and "protecting" young arms.
Joe Janish writes the Mets Today blog and is a part of the SweetSpot blog network.
April, 14, 2009
4/14/09
11:35
AM ET
ESPN's Eric Karabell and Peter Pascarelli on Baseball Today

remember Harry Kalas and Mark Fidrych.
On the Mike & Mike show, Hall of Famer Mike Schmidt shared his memories

of Kalas and talks with about Kalas' relationship with Phillies players.
Former Tigers broadcaster Ernie Harwell

discusses the relationship between an announcer and fans and explains why being an announcer is a great responsibility.
April, 14, 2009
4/14/09
4:58
AM ET
From
a book I wrote a few years ago
:
In 1976, Mark Fidrych struck out only 97 hitters in 250 innings. It didn't matter, because he allowed only 217 hits, 53 walks and 12 home runs. But as we've learned over the last few years, the number of hits a pitcher allows is largely a function of how many batters he strikes out. Fidrych allowed 217 hits in his 250 innings, a very low number of hits for a pitcher who didn't strike out many batters.

| | |
| --- | --- |
| | |
| | Tony Tomsic/Getty Images |
| | Mark Fidrych was the American League Rookie of the Year in 1976. |

Statistically, the most similar pitcher to Fidrych -- including their ages -- is Bill Stafford, and Stafford's career petered out pretty quickly. Focusing only on age, innings, home runs allowed, walks, and strikeouts, the two most similar pitchers to Fidrych (and his 1976 season) are Rich Nye and Dave Fleming. Not exactly household names.

On the other hand, if Fidrych was "hit-lucky" in 1976, then he was hit-lucky in 1977 and '78, too. He was able to start only 14 games over those two seasons ... but when he did pitch, he was outstanding. In those 14 starts, Fidrych went 8-4 with a 2.80 ERA. We can fool around with the numbers 'til the cows come home, but the fact is that we'll never know how good Fidrych could have been, absent the arm injury. And that's the real shame, isn't it?
That's the biggest question, of course: "How good could he have been?"
The second-biggest question is, "Was Fidrych terribly overworked in 1976?"
At that time, 250 innings was not considered an immense number of innings, even for a 21-year-old (he turned 22 in August); Jim Palmer threw 315 innings that season, and 11 other American Leaguers topped Fidrych. But Fidrych did pack his 250 innings into a short period.
His major league debut came on the 20th of April, and was far from auspicious as Fidrych faced one batter (Oakland's Don Baylor) and gave up a walk-off single. He didn't pitch again until the 5th of May -- another late-inning relief job, this time in a lost cause -- and didn't pitch again after that until the 15th, when he started ... and what a start!
Having throwing one official inning and facing six batters all spring, Fidrych beat the Indians 2-1, giving up only two hits and one walk in nine innings. Again, that was May 15; from then through the end of the season, Fidrych started 29 games and completed 24 of them, averaging nearly nine innings per start (in five of his starts, he pitched at least 10 innings).
Those are some of the stats, and I'm sure you know about Fidrych's quirks and the huge crowds who showed up to watch him and the Sports Illustrated covers (here and -- especially -- here).
What was Fidrych like as a pitcher, though? Here's Roger Angell writing, back then:
On the mound, Fidrych represented the classic profile and demeanor of a very young hurler -- long legs and a skinny, pleasing gawkiness (he is six-three); a pre-delivery flurry of overexcited twitches, glances, and arm-loosening wiggles; and a burning anxiety to get rid of the ball, to see what would happen next, to get on with this, man! The results were something altogether different. His pitching was cool and intelligent, built around some middling-good fastballs and down-slanting sliders, all delivered with excellent control just above or below the hemline of the strike zone ..."
You know the rest of the story, I guess. Fidrych hardly pitched in 1977 and '78, but was outstanding when he did pitch, great control and only three home runs in 103 innings. One might argue that he was even better in those seasons than he'd been in '76. But the next two years were disasters, and he was finished at 26. We'll never know, for sure ...
A few testimonials after Monday's sad tidings:
April, 14, 2009
4/14/09
12:28
AM ET
Posted by ESPN's Claire Smith
NEW YORK -- New York Mets manager Jerry Manuel fondly recalled Mark Fidrych, a friend since the two met at Class AAA Oklahoma City in the Tigers organization.
"I knew him well. Very well," Manuel said. "I was very surprised and saddened [at news of Fidrych's death]. I remember Mark's first game in Triple-A, at Oklahoma City. He comes walking in, with all this curly hair, a white t-shirt, cut-off jeans and red Converse sneakers."

Manuel, saying that the teammates, sensing that they had a character on their hands, encouraged Fidrych to be himself from the very start.
"We instigated it all, I think. We had a big part in him talking to the baseball and all those things. I'm shocked by this. Saddened by this. He was a tremendous character for this game."
Claire Smith is a news editor at ESPN. She covered baseball for 27 years at the Hartford Courant, the New York Times and the Philadelphia Inquirer.