April, 26, 2013
4/26/13
10:52
PM ET
You have to feel for
Jordan Zimmermann
, he of the Friday evening one-hitter, and
Kyle Kendrick
(three-hit shutout) a little bit. On any other night, either of those two would have been the story. But they were both upstaged by
Anibal Sanchez
, who set a
Detroit Tigers
franchise record by striking out 17 batters in a
10-0 victory
against the
Atlanta Braves
.
That's right, a current member of the Tigers holds the franchise record for strikeouts in a game,
and it's not
Justin Verlander
or
Max Scherzer
.
Sanchez isn't in the class of Verlander or Scherzer as a strikeout pitcher (few are), but he did whiff 202 batters while pitching for the Marlins in 2011. So that got me thinking: Could the Tigers' pitching staff set the record for most strikeouts in a season?
The record is just 10 years old, and it was set by the 2003
Chicago Cubs
; the Mark Prior/Kerry Wood-led staff fanned 1,404. Through 21 games, the Tigers have 211 strikeouts, which is a hair more than 10 per game and puts them on pace to shatter the record with 1,628.
That figure is a bit misleading due to the fact that the season is in its infancy, and Sanchez's performance is being given too much weight as a result.
Rick Porcello
and his 2.1 strikeouts per nine innings are set to take the bump for the Tigers on Saturday, and if Detroit's pitchers only rack up five strikeouts, for example, that strikeout "projection" would drop to 1,583.
Nonetheless, this staff has what it takes to threaten the record. Verlander and Scherzer are in the upper echelon of strikeout pitchers, and it wouldn't be unheard of for each of them to surpass 230 Ks apiece, as they did last season. For context, Wood and Prior had 266 and 245 for the Cubs, respectively, in 2003. The Cubs club didn't have another pitcher crack the 200-K plateau, which is where Sanchez can give the Tigers an edge.
Assuming Sanchez can surpass 200 punchouts, the Tigers would be halfway to the record before any of their other starters or relievers entered the equation. Thus far, the Tigers' relievers are doing their part, as
Al Alburquerque
(15.2 strikeouts per nine),
Darin Downs
(13.0),
Joaquin Benoit
(10.5) and
Phil Coke
(10.4) are all fanning more than a man per inning. And the recently promoted
Bruce Rondon
throws 100 mph and should pull his weight in the strikeout department. As you might recall, the 2003 Cubs featured two relievers who racked up a ton of strikeouts, with
Kyle Farnsworth
fanning 92 and Mike Remlinger whiffing 83.
When it comes down to it, the Tigers' chances of breaking the record will be dictated by two factors: health (duh) and Porcello. While his current strikeout rate is lower than his career rate of 4.9 per nine, he's never been a guy who misses a lot of bats. If he remains in the rotation all season, he will make it difficult for Detroit to pass the Cubs.
Of course, Porcello might pitch himself out of the rotation if he can't get his ERA into single digits posthaste, and the Tigers' chance of breaking the record would almost certainly get a boost from whomever his replacement might be. (It would likely be
Drew Smyly
, who is fanning 10.2 per nine as a reliever this season and has a career mark of 8.7.)
With the way strikeout rates have been rising over the lpast decade, it's only a matter of time before the team strikeout record falls. With Anibal Sanchez in top form, the Tigers are equipped to make it happen.
January, 23, 2013
1/23/13
9:00
AM ET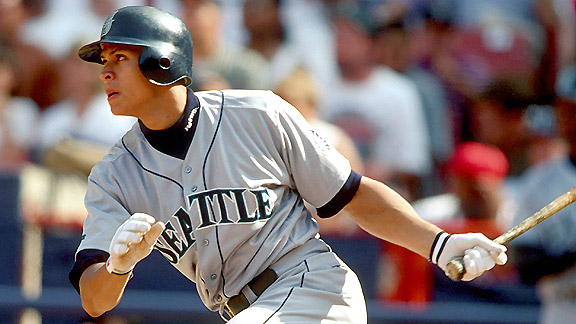 US PresswireAt age 20 in 1996, Alex Rodriguez boasted a 9.2 WAR for the Seattle Mariners.
A couple weeks ago, Keith Law unveiled his annual list of the
top 25 players under the age of 25

. Keith's list isn't a projection of the best players for 2013, but rather a projection and ordering of players if you were starting a franchise.
I thought it would be fun to do a similar list for all time. Of course, it's a difficult assignment because I was attempting to follow the same line of thinking as in Keith's piece: Whom would you build a team around? In doing this you have to pretend to ignore what happened in a player's career
after
a certain moment in time and project how he would have been valued at a particular age.
So this isn't just a list of the best players through the age of 24, or a list of the best seasons under the age of 25 -- although many of those players appear here. We're looking at the numbers and considering what the scouting reports would have been. Mark Fidrych, for example, was great at 21, but didn't possess the explosive fastball to make this list.
So here goes. A couple quick points. First, I ignored the 19th century. Second, I think it's important to understand that it was easier for a young player to excel in 1905 or 1929 or even into the 1950s than it is now. In my opinion, a 20-year-old
Mike Trout
dominating in 2012 is more impressive than a 20-year-old Ty Cobb dominating in 1907. Also, position matters. You build around up-the-middle guys more than corner guys (although there are some of those here). Cobb, for example, spent his early years as a right fielder before moving to center, so I downgraded him because of that.
Here's a way to look at this: If one player is ranked 23rd and another is ranked 14th, I'm saying I wouldn't trade the No. 14 player -- at that point in his career -- for the No. 23 player. Feel free, of course, to disagree.
25. Sam McDowell, LHP, 1965 Indians (age 22)
How dominant was McDowell in 1965? He averaged 10.71 strikeouts per nine innings, a record at the time and one that would last until 1984. In fact, while McDowell's K rate now ranks 25th all time, it's one of only three in the top 25 that came before 1990. He led the American League in ERA that year and the following May Sports Illustrated ran a
cover story
on McDowell with the billing, "Faster than Koufax?"
As you can see from his walk total, he had the blazing fastball but not Koufax-like command. That SI article perhaps points to some of McDowell's future issues in that it portrays him a pitcher with a fastball, slider, changeup and overhand curve ... and all too willing, apparently, to throw all four pitches. "He has such a good changeup that he wants to use it -- too much, in my opinion," catcher Del Crandall said. "I do not believe he is as impressed with his fastball as the hitters have indicated that they are."
McDowell liked to think out there. You wonder if he had just settled on two pitches -- maybe fastball/slider like
Randy Johnson
-- if he would have solved some of the control problems that did plague him throughout his career. The article mentions a game where he threw 163 pitches. "About par for me," McDowell said. Back then, nobody cared. "He has a good idea how to pitch," his manager Birdie Tebbetts said, "and he's going to be a real pitcher, one of the truly great ones. He runs three times as much as some pitchers, and he concentrates. He's going to get very tired in the next few years from all those pitches he throws, but he can stand that because he's young and strong, because he has a perfect build for a pitcher and because he doesn't have a sore-arm delivery. He's smooth."
24. Mel Ott, RF, 1929 Giants (age 20)
John McGraw didn't discover Ott so much as Ott found John McGraw. Ott was a 16-year-old playing for a lumber company semi-pro team in Louisiana when the lumber company owner bought Ott a train ticket to New York to try out for McGraw's Giants. A year later, Ott was playing in the Giants' outfield -- McGraw not wanting to farm out his young discovery to the minor leagues and have him fall prey to unknown evils.
Ott hit .322 with 18 home runs at age 19 and then exploded at age 20. Even in the high-scoring season of 1929, Ott's numbers were impressive: 42 home runs, one behind league leader Chuck Klein and the most ever by a 20-year-old; first in walks; fourth in on-base percentage and third in slugging percentage; second to Hack Wilson in RBIs. Ott -- helped by the short porch at the Polo Grounds -- never again hit 42 home runs but did lead the National League in homers six times and and in OBP four times.
23. Pete Reiser, CF, 1941 Dodgers (age 22)
Reiser's numbers are more impressive then they may appear at first glance: He led the National League in batting average, doubles, triples, runs, slugging percentage, total bases, runs created, OPS and OPS+, plus he was regarded as one of the fastest players in the league and played a terrific center field. Reiser led the NL in WAR that year, not that WAR existed in 1941, so teammate Dolph Camilli, who drove in 120 runs, won MVP honors.
Reiser would become one of baseball's legendary "what if" players. On July 19, 1942, he crashed head-first into an unpadded concrete wall in St. Louis, knocked unconscious with "blood pouring from his ears." Reiser either fractured his skull or didn't;
history is a little murky
on the whole incident, according to Steven Goldman. Reiser would miss only a few games and finished sixth in the MVP vote but he suffered from blurred vision the rest of the year. He was hitting .350 at the time, tailing off to .310 by the end of the season.
After that came World War II, and in 1947 Reiser crashed into another wall and was injured severely enough that he was given last rites. He was never the same. Does he deserve a spot in the top 25? While it's true that he may have never developed into a big home run hitter, it seemed clear he was already one of the game's best all-around players. Leo Durocher, who managed Reiser in '41, would say Willie Mays was the greatest player he ever managed, but that Reiser had the same potential.
22. Andruw Jones, CF, 1998 Braves (age 21)
Look where Jones stood at this point in his career: He already was compared to Willie Mays defensively (indeed, Baseball-Reference ranks Jones' 1998 season as the sixth-best since 1901 of any position, with his '99 season even better), hit more home runs than Ken Griffey Jr. did at the same age, stole 27 bases in 31 attempts and hit a respectable .271. There may have been some concern about the ultimate potential with the batting and on-base ability, but if you remember the young Jones, we saw a gifted all-around player with MVP glitter in his future.
Jones would have seasons of 51 home runs, a .302 average and as many as 83 walks -- he just never did all those things at once. He was a
great
player with his range in center, but eventually he got fat, his 30s were a big zero and a Hall of Fame career wasted away.
21. Bert Blyleven, RHP, 1973 Twins (age 22)
Blyleven ended up pitching so long and then his Hall of Fame debate became so heated that it's easy to forget that he was one of the greatest young pitchers of all time. He made the majors at 19 and the next year won 16 games with a 2.81 ERA. In the early '70s, pitchers were treated about as well as a herd of cattle intended for fast-food hamburgers and Blyleven pitched 278 innings at age 20, 287 at 21 and then 325 at age 22. Somehow his arm remained attached to the shoulder socket.
He threw nine shutouts in 1973 and two one-hitters, leading the AL in adjusted ERA and strikeout/walk ratio. That he finished seventh in the Cy Young vote was a reflection of less-informed times, when writers looked at his 20-17 win-loss record and failed to realize how good he was. While we know about his famous curveball, Bill James also rated Blyleven's fastball the ninth-best between 1970 and 1974. Sure, we would be concerned about Blyleven's workload, but he had the total package.
20. Bryce Harper, OF, 2012 Nationals (age 19)
In terms of WAR, Harper just had the best season ever by a 19-year-old position player. The rest of the top five: Mel Ott,
Edgar Renteria
, Ken Griffey Jr. and Ty Cobb. And Ott is 1.3 wins behind Harper.
19. Frank Tanana, LHP, 1975 Angels (age 21)
Maybe you remember the old junkballing Tanana instead of the young flamethrower who compiled 22.3 WAR from ages 21 to 23 -- second-best over those three ages since 1901, trailing only Walter Johnson (22.7). Nolan Ryan was a teammate those three years and Tanana was better: He went 50-28 with a 2.53 ERA while Ryan went 50-46, 3.16.
As a 21-year-old, Tanana led the AL in strikeouts and strikeout/walk ratio while finishing fourth in the Cy Young voting. Two years later, Sports Illustrated's Ron Fimrite
wrote
, "They know it exists; they just cannot find it, because the Tanana curve is among the most wicked in all of baseball. But then so are his fastball and his changeup. And all three are thrown with withering accuracy. Unlike Ryan, with whom he forms the most devastating one-two pitching entry in the game, he has complete control." James ranked Tanana's fastball the third-best of that era, behind two famous ones: Ryan's and Goose Gossage's.
Then he hurt his shoulder, and lost his speed. To his credit, he stuck around to win 240 games.
18. Hank Aaron, RF, 1957 Braves (age 23)
Aaron hit .314 at 21, won a batting title with a .328 mark at 22, but at age 23 his power exploded as he hit those 44 home runs and won what would be the only MVP Award of his career. Aaron led the NL in home runs, RBIs and runs and chased the Triple Crown into August (he would finish fourth in batting average). The only thing he didn't do yet was run -- one steal that year (though at his base-stealing peak in 1963 he took 31 bases).
In a profile that year in Sports Illustrated -- titled, appropriately,
"Murder With A Blunt Instrument"
-- Roy Terrell painted the image of Aaron that would last throughout his career: "Perhaps the most unusual part of the Aaron story is the fact that no one gets very excited about it. Sometimes it is even easy to forget that Henry Aaron is around. Without the physical proportions or explosive speed of a Mickey Mantle, without the breathtaking color of a Willie Mays, without the long and brilliant -- and controversial -- career of a Ted Williams, Aaron seems to be hardly a personality at all. He says practically nothing, stays out of nightclubs, never loses his cap running the bases, and spits only upon the ground."
17. Al Kaline, RF, 1955 Tigers (age 20)
Here's one example of why this list was difficult to put together: Do you take the 20-year-old Kaline over the 23-year-old Aaron? Or the 20-year-old Kaline over the 21-year-old Aaron for that matter? I think you have to go with Kaline, trying to ignore what happened after each age. An 18-year-old bonus baby in 1953, in 1955 Kaline led the AL with his .340 average, 200 hits and 321 total bases. He finished second in the MVP vote to Yogi Berra. He played a terrific right field.
Kaline went on to collect 3,000 hits and become a Hall of Famer, of course, but 1955 remained arguably the best year of his career (in terms of WAR, 1961 edges it out at 8.2). Kaline never hit 30 home runs and never hit .340 again. Looking back at '55, he got off to a great start, hitting over .400 in April and .371 in the first half (.301 in the second). Perhaps the league eventually figured something out; he also tore up the woeful Kansas City A's that year, hitting .451 against them with nine of his 27 home runs.
16. Cesar Cedeno, CF, 1972 Astros (age 21)
The sky was the proverbial limit for Cedeno in 1972 when he finished third in the NL in OPS while playing in the expansive Astrodome. Not shown above: He stole 55 bases and won a Gold Glove. Cedeno was outstanding again the next year, hitting .320 with 25 home runs and 56 steals. What happened from there? I wrote about his
cautionary tale
last August.
15. Mark Prior, RHP, 2003 Cubs (age 22)
How good was Prior in his first full season in the majors? As good as advertised when he came out of USC. From 1994 to 2004, the only pitchers with a lower ERA in a season were
Greg Maddux
,
Pedro Martinez
,
Kevin Brown
,
Roger Clemens
,
Jake Peavy
, Randy Johnson and
Jason Schmidt
. In the heart of the steroids era, Prior looked like the next Clemens, a 6-foot-5, 230-pound horse who would lead the Cubs to a World Series championship.
"Chicago Heat"
read the Sports Illustrated cover that summer, featuring Prior and
Kerry Wood
. The article detailed Prior's extensive conditioning program between starts and his fundamentally sound mechanics.
The next year, he got hurt.
14. Eddie Mathews, 3B, 1953 Braves (age 21)
Check those numbers again. Mathews' 47 home runs not only led the NL but remain the most ever for a player 21 or younger -- 20-year-old Mel Ott being the only other player that young to hit at least 40. Ty Cobb had seen Mathews as a minor leaguer and declared, "I've only known three or four perfect swings in my time. This lad has one of them."
Mathews finished second in the MVP voting to Roy Campanella that year, but in some regards, Mathews spent the rest of his career trying to live up to the unlimited promise of his sophomore campaign. He would finish second again in the 1959 MVP vote and hit over 500 home runs but tailed off in his early 30s. In his autobiography, Mathews mentioned that his drinking caused him to lose several jobs in baseball, including a stint as Braves manager in the early '70s, although it's unclear if that was a problem during his playing days.
13. Cal Ripken, SS, 1983 Orioles (age 22)
On June 22, 1982, Earl Weaver moved a 21-year-old rookie from third base to shortstop in a game against Cleveland. The Orioles lost 8-6 and the kid moved back to third base. On July 1, Weaver started the rookie again at shortstop. He'd spend the next 14 years there -- starting every game.
In his first full season at shortstop, Cal Ripken's Orioles won the AL East (and went on to win the World Series) and Ripken captured MVP honors with his strong year at the plate -- he led the AL in runs and finished second in total bases -- and surprising defense up the middle. Maybe he didn't have the speed of other shortstops, but his arm strength allowed him to play deep and he had a quick first step.
Ripken's bat never really developed from where it was as a 22-year-old -- he only had two more seasons that compared, offensively, to 1983 (1984 and his second MVP season of 1991) -- and while too much attention was paid to his ironman streak, he remained a power-hitting shortstop with underrated defense.
12. Walter Johnson, RHP, 1910 Senators (age 22)
Johnson's speed was apparent from the day he joined the Senators in 1907, a raw youngster with impossibly long arms. After losing 25 games in 1909 -- the Senators were awful -- Johnson had his breakthrough season at 22, winning 25 games for a team that would limp to a 66-85. Johnson led the AL in games started, complete games, innings pitched and strikeouts, and threw eight shutouts.
That offseason, the Washington Post circulated a rumored trade of Johnson for Ty Cobb. Tigers president Frank Navin denied the rumor, saying the Senators would never trade Johnson, whom Navin called "in my opinion the best young pitcher in the country, and doubly valuable because he is so young."
Was Johnson the hardest thrower of all time? It's possible, although some speculate that Johnson was merely the first pitcher to throw hard all the time (instead of saving his best stuff for key situations, as most pitchers could do during the dead-ball era), thus making his fastball
seem
faster than it was. Cobb would probably disagree with that. In Henry Thomas' biography of Johnson, he quotes Cobb saying, "The first time I saw him, I watched him take that easy windup -- and then something went past me that made me flinch. I hardly saw the pitch, but I heard it. The thing just hissed with danger. Every one of us knew we'd met the most powerful arm ever turned loose in a ballpark."
11. Vida Blue, LHP, 1971 A's (age 21)
Blue had started only 10 games in the big leagues (those 10 games included a no-hitter and one-hitter) when the 1971 season began. He got knocked out in the second inning of the season opener, but then quickly announced his presence: A six-inning shutout with 13 strikeouts in his next start, followed by a two-hit shutout and then eight complete games in his next nine starts, including three more shutouts. At the All-Star break he was 17-3 with a 1.42 ERA and 17 complete games in 22 starts. He would appear on the covers of Sports Illustrated and Time.
"He throws harder than Sandy Koufax did," Orioles first baseman
Boog Powell said
that season. "He has an effortless motion, a smooth, compact delivery. He goes out for nine innings and doesn't seem to weaken."
Blue relied mainly on his overpowering fastball, which he sometimes "cut" to add sinking movement. He also had a curveball and threw an occasional changeup. Blue was an outstanding athlete -- he threw 35 touchdown passes his senior year in high school, but chose baseball because there wasn't a future in pro football back then for black quarterbacks.
Blue's usage was an issue that summer and manager Dick Williams did cut back in the second half. But the damage may have been done. A holdout in 1972 -- Blue went 6-10 that year -- didn't help matters. But a quote from teammate Sal Bando in 1973 sums up why Blue, while remaining an excellent pitcher, never duplicated his 1971 wonders: "He found out that you can't throw the fastball for 300 innings."
10. Ken Griffey Jr., CF, 1990 Mariners (age 20)
"The Natural,"
billed the Sports Illustrated cover in May of 1990. Indeed, when told before one game to watch out for Bert Blyleven's curveball, Junior asked, "Is he a righty or lefty?" Griffey hit .300 and slugged .481 in his second year in the bigs with that picture-perfect swing, numbers more impressive in those years before muscles and offense exploded. He ranked seventh in the AL in batting average and ninth in slugging, won a Gold Glove and drew the inevitable comparisons to the next man on our list.
Am I overrating him on the list? After all, Bryce Harper had the same WAR in 2012, at the age of 19, as Griffey had at 20 and is 10 spots lower on the list. I think there was a certain awe about Griffey's potential at the time -- the leaping grabs in center field, the ability to hit for average, the untapped power that would eventually be unleashed. As Bill James wrote then, "He hasn't been overhyped; he's worth it. Griffey is the only major league player who has not yet established reasonable limits for himself. He could be anything -- he could be the greatest player there ever was, or he could be Cesar Cedeno."
I guess you could say the same thing right now about Harper, but let's wait a year on him. Obviously, I think he's going be awesome -- he's on this list after all -- but potential is a tough label to put on one so young.
9. Willie Mays, CF, 1954 Giants (age 23)
Mays missed most of 1952 and all of 1953 in the Army, but his return to the majors was so spectacular that he cracks my top 10, even if he is a little older than most of the others on this list. This is what the debate is all about: Would you trade 23-year-old Willie Mays for 20-year-old Ken Griffey Jr.? Mays led the NL in batting average and slugging percentage while finishing third in home runs. If there had been a Gold Glove Award back then, Mays would have won that, too. He
did
capture MVP honors and deservedly so.
I think the difference is this: The 23-year-old Mays was the finished product; the 20-year-old Griffey wasn't. While Griffey
did
develop into the player everyone projected, Mays was already that player. While Griffey made the cover of Sports Illustrated in 1990, Mays made the cover of Time in 1954. In July, Mays appeared on three network TV shows in one weekend. He was a phenomenon, and a Newsweek headline read: "Willie Mays: The Hottest Thing Since Babe Ruth."
8. Bob Feller, RHP, 1939 Indians (age 20)
I could have put the 17-year-old Feller on the list (he made the majors while still a high school junior in Iowa and struck out 17 batters in a game that September), or the 18-year-old Feller (he appeared on the cover of Time that spring and his high school graduation was aired by NBC Radio), or the 19-year-old Feller (went 17-11 with a 4.08 ERA but walked 208 batters), but I think the 20-year-old Feller is the better choice.
It was his breakout season and while he still wasn't quite polished, his control had improved enough for him to make that leap to superstar status. He led the AL in wins, innings and strikeouts. In a league where only eight pitchers struck out 100 batters, Feller had 246. How fast did Feller throw? In the days before radar guns, he
challenged a motorcycle
in the summer of 1940. The motorcycle was racing at 86 mph as it flew past Feller as he unleashed his pitch. He managed to hit the target on his first try -- three feet ahead of the motorcycle. MLB declared he threw the ball 104 mph.
7. Mickey Mantle, CF, 1956 Yankees (age 24)
The oldest player on my list, you could argue I made the wrong choice: That 20-year-old Mickey Mantle was more valuable than 24-year-old Mantle, in part because in a theoretical trade you would lose the four seasons from ages 20-23. I'm sure Nate Silver or Dan Szymborski could run the numbers through their projection system and give a mathematical answer. Anyway, the 20-year-old Mantle was already one of the best players in the league: He hit .311 with 23 home runs, led the AL in OPS and finished third in the MVP vote. He remained at the level the next two seasons then hit 37 home runs at age 23.
But then ... then came one of the greatest seasons in major league history. Mantle hit .353 with 52 home runs and won the Triple Crown. He slugged .705 and had a 1.169 OPS. At the time, you may have thought: OK, Mantle raised his game to a new level -- the highest level -- and he's just entering his peak years; he may do this for the next seven or eight seasons. We know now that didn't
quite
happen. He was nearly as good in 1957 when he hit .365 and had an on-base percentage over .500, but those were his two best years.
That Mantle wasn't able to maintain that level of play isn't really a knock against him, although we can debate how much was bad knees and other injuries and how much was off-the-field habits. But he was so good in 1956 that even a 20-year-old Mantle -- even a raw kid with big speed and huge power -- couldn't have been projected to have this kind of season.
6. Joe DiMaggio, CF, 1937 Yankees (age 22)
Picture Joe D at age 22: Second season in the majors, a league-leading 46 home runs, a league-leading 151 runs scored, third in batting average, second in RBIs, first in slugging percentage, graceful in the outfield and on the bases, nearly twice as many walks as strikeouts, the best player on the best team in the world. What kind of future would that player have?
By WAR, it would be DiMaggio's second-best season. One reason I ranked him sixth is that you could easily project a 22-year-old who hit 46 home runs to become a 50-homer guy; but the 46 would be DiMaggio's career high, as he never hit 40 again. (Yankee Stadium, with its mammoth 457 feet to left-center, certainly hurt him; he hit 27 homers on the road in 1937, for example.)
"Name a better right-handed hitter, or a better thrower, or a better fielder, or a better baserunner," Hank Greenberg once said. "That's right, a better baserunner. Did you ever see him slide when he hooked the bag with his toe? Absolutely perfect."
5. Mike Trout, CF, 2012 Angels (age 20)
Wait: I just ran that quote and then ranked Trout ahead of DiMaggio? Well, where do we begin?
1. Trout just played his age-20 season (he turned 21 in August). DiMaggio was still in the Pacific Coast League at 20.
2. DiMaggio may have been a great baserunner, but he did play in an era when there weren't many stolen bases. He stole 30 bases in his career; Trout just stole 49 bases in 54 attempts.
3. Check their adjusted OPS. Trout's is actually a shade higher. The AL hit .281/.355/.415 in 1937; it hit .255/.320/.411 in 2012.
4. Trout drew more walks in fewer plate appearances -- in a league where pitchers averaged nearly a walk less per nine innings.
5. Trout's WAR is the highest of any 20-year-old position player. Or 21-year-old for that matter.
So ... yes, I would rather build around 20-year-old Mike Trout than 22-year-old Joe DiMaggio.
4. Johnny Bench, C, 1970 Reds (age 22)
The only catcher to make the list, Bench's value, in part, lies in that positional scarcity. Who was he in 1970? Only the NL MVP after leading the league in home runs and RBIs while possessing the strongest arm many had ever seen -- he started 130 games at catcher and allowed only 32 steals while throwing out 30. You did not run on Johnny Bench.
3. Ted Williams, LF, 1941 Red Sox (age 22)
OK, maybe he couldn't play center field like DiMaggio or Trout. But the man did hit .400. By the way, the feat is more impressive now than it was at the time. From 1935 to 1940, seven players had hit better than .370, including Luke Appling's .388 mark. So Williams was 18 points higher than the recently established high at the time. The highest average in the past seven years was
Joe Mauer
's .365 mark in 2009, so in some fashion Williams' .406 would be akin to somebody hitting .383 today. (The AL hit .267 in 2009 and .266 in 1941.)
2. Dwight Gooden, RHP, 1985 Mets (age 20)
All these years later, I'm still trying to figure out how Gooden finished
fourth
in the MVP vote. "His pitch does everything," Cubs first baseman
Leon Durham said
that year. "It moves, it sinks, it rises." Gooden threw a hard curve and a slow curve and hitters couldn't touch either one. Batters hit .201 off him and slugged .270. He threw eight shutouts -- and that doesn't count two other games where he pitched nine innings with no runs and got a no-decision. He allowed one run or fewer in 19 of his 35 starts.
It wasn't just the best pitching season ever by a young starter, it may have been the best, period. Baseball-Reference.com rates it fourth-best since 1901, behind two Walter Johnson seasons and one Cy Young year, back in the days when hitters didn't hit home runs and pitchers could spit on the ball.
What happened? Sure, there were the drugs and maybe hitters learned to lay off the high fastball and maybe he lost the feel for his curveball -- as good as Blyleven's they said -- and then pitching coach Mel Stottlemyre instructed him not to go for strikeouts all the time and he hurt his shoulder in 1989 and was definitely never the same after that.
But in 1985, in that glorious summer, Dr. K was as good as any pitcher ever was.
1. Alex Rodriguez, SS, 1996 Mariners (age 20)
"The way he's going, someday he might bat .400 and hit 60 home runs. He's the best young talent I've seen in years." --
Red Sox GM Dan Duquette, summer of 1996
.
I think the 20-year-old A-Rod is the pretty easy call for No. 1. He was already a five-tool player, leading the AL in batting average while swatting 36 home runs and a league-leading 54 doubles. He was polished in the field, with range and a strong arm. Like Trout now, he didn't have to get better to become the best player in baseball.
For me, as a Mariners fan, I can't believe that was 17 years ago. As much as I loved the young Griffey or the middle-aged
Edgar Martinez
or the fireballing Randy Johnson, Rodriguez's year was something special, when a player so young is so good you can only cherish the present and dream of a future with no limits.
* * * *
Honorable mention: Christy Mathewson, Ty Cobb, Smoky Joe Wood, Babe Ruth (the pitcher), Rogers Hornsby, Lou Gehrig, Jimmie Foxx, Arky Vaughan, Herb Score, Frank Robinson, Don Drysdale, Vada Pinson,
Rickey Henderson
, Roger Clemens,
Albert Pujols
.
May, 9, 2012
5/09/12
2:42
PM ET
Baseball's top sluggers were in the news as Keith Law and I gathered to record Wednesday's
Baseball Today podcast

as one of them kept on hitting home runs Tuesday and the other didn't get the chance.
1. Kudos to
Josh Hamilton
for a record-tying performance in Baltimore, but what does his excellent start to the season mean for his future contract negotiations?
2. Meanwhile in Los Angeles, another poor managerial decision -- they're everywhere, frankly -- takes the bat out of Matt Kemp's able hands. We talk about bad managers, contract extensions and more.
3. Do managers really listen to their front office, or is it like the scene in "Moneyball" with Art Howe and Billy Beane? Law shares some inside information.
4. Emailers have thoughts about Pittsburgh's front office, the Cardinals' run differential,
Mark Prior
,
Kerry Wood
and the Olympics.
5. Keith's top 100 prospects are posted and he gives insight to strengths, weaknesses and other themes to watch about the upcoming draft.
So download and listen to Wednesday's Baseball Today podcast, and not only because we tell you Hamilton can't repeat the feat in Baltimore. For many other reasons!
May, 26, 2011
5/26/11
11:30
AM ET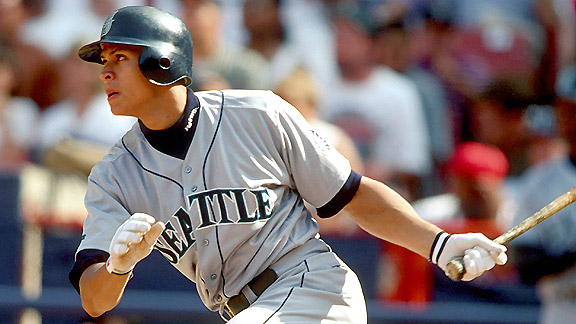 US PresswireAlex Rodriguez proved to be as good as advertised when the Mariners drafted him in 1993.
Mickey Mantle was probably the greatest prospect of all time: A switch-hitting shortstop who could run like the wind and hit home runs over light towers. What more would you want? He hit .383 with 26 home runs as an 18-year-old in the Class C Western Association. The next year, he was in the outfield at Yankee Stadium.
Bryce Harper is drawing comparisons to some of the greatest prospects we've ever seen. Still just 18, he's hitting .340 and slugging .615 for the Nationals' Class A team in Hagerstown, Md. His potential at the plate, combined with good speed and strong throwing arm, make him, in scouting lexicon, a five-tool athlete.
Where would he rank on a mythical all-time prospect list? I'm going to go back to 1965 and the advent of the draft, and come up with my list of the top 50 prospects. What does this mean? I'm not thinking of where guys stood when drafted, but where they were at any time before they reached the majors. We know the hype around Harper, and Stephen Strasburg before him, but I tried to imagine how players from 40 years ago would have been evaluated and hyped if we'd had prospect lists and the Internet.
I'm not a scout. I didn't see these guys play. But I've been following this stuff for over two decades and can remember the hype around guys like Ben McDonald or Brien Taylor. Baseball America has been around 30 years and has been running its annual top 100 prospect list since 1990, so that was a great resource. For players before then, I scoured minor league statistics, looked at where players were originally drafted to get a better idea on their tools, factored in age and performance and came up with the following.
Needless to say, our judgment is probably influenced somewhat by future performance, but not all these players became superstars.
50. Greg Luzinski, 1B/LF, Phillies
OK, he was slower than dirt and didn't have the magazine-cover baseball body, but his bat was so good the Phillies made him the 11th pick in 1968. He was arguably the most dominant teenage hitter of the draft era. He led the Carolina League with 31 home runs as an 18-year-old, hitting for average and drawing walks. The next season, he hit .325 with 33 home runs in Double-A. The next year, he belted 36 home runs in Triple-A. He moved from first base to left field in the majors and let's just say he always tried hard out there. He got fat and became a DH, but he did twice finish second in the NL MVP voting.
49. Shawon Dunston, SS, Cubs
The first overall pick in 1982, Dunston had an absolute cannon for an arm, good speed and range, and hitting potential -- in other words, everything you want in a shortstop. He hit .321 in rookie ball and .310 in Class A and reached the majors in 1985. While he had a long career, his free-swinging ways prevented him from ever being a valuable player.
48. Kevin McReynolds, CF, Padres
A college product out of Arkansas, McReynolds fell to sixth in the 1981 draft over concerns about a knee injury. A five-tool talent, he abated those concerns by hitting .368 with 33 home runs in 1982 and .377 with 33 home runs at Triple-A Reno in 1983. His major league career was more solid than spectacular, although he did finish third in the 1988 NL MVP vote while with the Mets.
47. Jose Rijo, RHP, Yankees
While Dwight Gooden was burning up the Carolina League in 1983, Rijo was doing the same for the Yankees in the Florida State League that year at the same age. He went 18-7 with a 1.88 ERA and 184 strikeouts in 200 innings (including a few starts in Double-A). When Gooden made the majors the following season, George Steinbrenner wanted his own teenage sensation and rushed Rijo to the majors, and then later included him in a trade with the A's for
Rickey Henderson
. He had his best years for the Reds, winning World Series MVP honors in 1990.
[+] Enlarge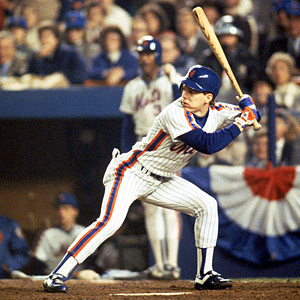 T.G. Higgins/Getty ImagesLenny Dykstra was the prototypical leadoff hitter during his career.
46. Lenny Dykstra, CF, Mets
He didn't come with a high-pick pedigree as a 13th-round selection, but his 1983 season in the Carolina League was one of the best minor league seasons in the past 30 years. As a 20-year-old, he hit .358/.472/.503, with an incredible 107/35 BB/K ratio
plus
105 stolen bases. His size and questions about his power potential may have been raised, but he profiled as a classic leadoff hitter and center fielder.
45. Ted Simmons, C, Cardinals
A first-round pick out of a Michigan high school in 1967, the switch-hitting catcher made a major league cameo the next season after hitting .331 with 28 home runs in Class A. He'd go on to become one of the best-hitting catchers in major league history.
44. Keith Hernandez, 1B, Cardinals
Hernandez fell to the 42nd round of the 1971 draft after sitting out his senior season following a dispute with his coach. By 1974, he was in Triple-A at age 20, displaying a sweet stroke to the tune of a .351 average and 14 home runs, and showing off the slick glove that would make him one of the best defensive first basemen of all time.
43. Clint Hurdle, OF, Royals
"This Year's Phenom" screamed the 1978 Sports Illustrated spring training cover story. The ninth pick in 1975, Hurdle shot through the minors and hit .329/.449/.529 at Triple-A in 1977, a year in which he turned 20 years old. He didn't have much speed but he had everything else -- including the attitude. The SI story tells how he had asked for a single room on the road as a rookie -- not exactly a request that won over the veterans (back then, you had to
earn
a single room with a few years in the majors). Hurdle hit a decent .264 that year and .294 with 10 home runs in 1980, but the Royals traded him 1981 and he
never escaped the phenom label
.
42. Mike Ivie, C, Padres
The Padres made Ivie the first player selected in the 1970 draft, a power-hitting catcher with a strong arm from a Georgia high school. In 1971, he hit .305 with 15 home runs at Class A, playing most of the season as an 18-year-old, and getting a cup of coffee in the majors. Trouble is, he soon had to move to first base. After getting drafted, the Padres brought Ivie to San Diego and he caught batting practice for the big league team. One of his throws back to the pitcher hit the protective screen and veteran Chris Cannizzaro reportedly said, "That, rook, is why they're sending you to Tri-Cities." Ivie developed a block about throwing the ball back to the pitcher (although the Cannizzaro incident may be more apocryphal than anything) and had to move to first base. As Rick Monday once said, "Mike Ivie is a $40 million airport with a $30 control tower."
41. Jack Clark, 3B, Giants
You have an 18-year-old third baseman hitting .315 with 19 home runs in the California League? Yes, that's a top prospect. Clark had a strong arm (he actually pitched some his first season as a pro) but never did master the intricacies of playing third base and moved to right field (and later first base), but he became one of the most feared hitters in the majors in the '80s.
40. Dwight Evans, RF, Red Sox
He wasn't drafted until the fifth round in 1969, but was already in Triple-A at age 20 in 1972, winning International League MVP honors by hitting .300 with a .409 OBP and 17 home runs. Add in his legendary throwing arm (he'd win eight Gold Gloves with the Red Sox) and prospect mavens would have been drooling over Dewey.
[+] Enlarge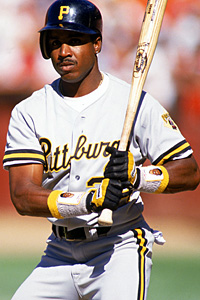 Otto Greule Jr./Getty ImagesBarry Bonds was a part of a deep draft class in 1985.
39. Barry Bonds, CF, Pirates
Five teams passed over Bonds in the 1985 draft, even though he was a power-speed threat at Arizona State (it was a loaded draft, with
B.J. Surhoff
, Will Clark,
Bobby Witt
and
Barry Larkin
going ahead of him). In the minors, he quickly showed it wouldn't be long before he reached the majors, although it seems there were some doubts about his home run potential ... including from Bonds himself. I dug up a fun quote from a 1985 newspaper article: "I've never thought of myself as a home run hitter," Bonds said. "But I have the ability to put the ball in play and hit it to all fields. I like getting on base better than going around the bases."
38. Corey Patterson, CF, Cubs
Prospect analysts drooled over his package of tools, a mesmerizing mix of athleticism and baseball skills. Baseball America rated him its No. 2 prospect in 2001, behind only Josh Hamilton. Patterson lacked one thing, however: strike-zone judgment. It derailed his career. And while he's hung around, it's mostly been as a backup outfielder/Triple-A call-up.
37. Adrian Beltre, 3B, Dodgers
Just 17 years old in 1996, he hit .284 with 26 home runs between the South Atlantic League and the California League (somehow, that made him only the 30th-best prospect in baseball, according to Baseball America). The next year, he hit .327 with 26 home runs in the Florida State League and jumped to the No 3 prospect.
36. Vida Blue, LHP, A's
A second-round pick out of a Louisiana high school in 1967, Blue had an electrifying fastball. In 1970, he dominated at Triple-A Iowa, with a 2.17 ERA, 88 hits and 165 strikeouts in 130 innings. That September he pitched a one-hitter for the A's ... and then followed that up with a no-hitter later in the month.
35. Tim Raines, 2B, Expos
He may have fallen to the fifth round of the 1977 draft due to his short (5-foot-8) stature, but by 1980 the Expos had a super prospect on their hands. Playing second base for Triple-A Denver, Raines -- just 20 years old -- hit .354 with 77 stolen bases and more walks than strikeouts. His fielding numbers actually looked pretty good, but the Expos moved him to the outfield and he became one of the best leadoff men in the game's history.
34. Jim Rice, OF, Red Sox
Rice and Fred Lynn shared the Pawtucket outfield in 1974 … and the team finished 57-87. Rice was named International League MVP after hitting .337 and slugging .579. Just 21 and powerfully built, Rice ran well as a young player as well. The next year, Lynn and Rice led the Red Sox to the AL pennant and finished first and third, respectively, in the MVP vote.
33. Don Baylor, OF, Orioles
While many of us may remember him only as a barrel-chested designated hitter and manager, Baylor was a superior athlete coming up through the minors, having all the tools other than a strong throwing arm. A second-round pick in 1967, he tore up Triple-A Rochester as a 21-year-old, hitting .327/.429/.583 with 26 steals.
[+] Enlarge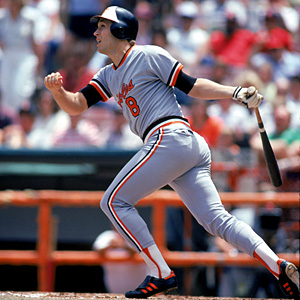 Rick Stewart/Getty ImagesCal Ripken played his entire career for the Baltimore Orioles.
32. Cal Ripken, 3B, Orioles
The Orioles took Ripken in the second round of the 1978 draft -- their first-rounder was actually another high school third baseman named Robert Boyce. Ripken had excelled as a pitcher in high school (100 strikeouts in 60 innings with a 0.70 ERA) but the Orioles liked his bat. Of course, they had an inside track -- his father was the team's third-base coach. Junior took BP once at Memorial Stadium. "He was 15 and he was hitting them into the concrete seats," Earl Weaver said later, in 1982. Ripken may have lacked foot speed, but he had everything else and rose quickly through the system. At Triple-A, spending most of the season at 20 years old, he hit .288 with 23 home runs, playing mostly third base -- but also some shortstop. "He's very intelligent, too, like a young [Ken] Singleton," Orioles pitching coach Ray Miller said before Ripken's rookie season. "He's a low-key guy whose voice doesn't carry, unlike his father, but he'll make people notice him. I just wish he were my kid."
31. Josh Hamilton, CF, Rays
Tampa Bay made the five-tool talent the first overall pick in 1999. We know the detours he took along the way, but the talent did, indeed, prove to be special.
30. David Clyde, LHP, Rangers
His story is pretty well known: The Rangers made the Houston high schooler the first pick in 1973 and put him immediately in the big leagues as a gate attraction. While he won his first start, he wasn't ready for the majors, his career fizzled and he became a famous "what-if."
29. Felix Hernandez, RHP, Mariners
As Baseball America wrote after he dominated the minors at age 18 in 2004: "It's difficult to project Hernandez's ceiling because his ability seems limitless." The Mariners prevented him from throwing his slider for several years to help prevent injury. I'd say that worked out and his ceiling turned out to be pretty high.
28. Gary Sheffield, SS, Brewers
Scouts weren't sure if he'd be able to stay at shortstop, but there was no denying his bat: He hit .327 with 28 home runs between Double-A and Triple-A in 1988, earning a late-season call to the majors while still at teenager.
27. Ben McDonald, RHP, Orioles
Before
Stephen Strasburg
and
Mark Prior
, there was McDonald, the 6-foot-7 hurler from LSU who moonlighted on the basketball team. At the time, I remember there being more pre-draft hype about McDonald -- stuff like how he wrestled alligators -- than previous No. 1 picks. The negotiations with the Orioles were a bit contentious and there was talk of a new baseball league starting, with McDonald being the big name. That never happened, he signed with Baltimore and had a solid career before getting injured.
26. Steve Avery, LHP, Braves
Smooth, efficient and hard-throwing, Avery was your classic lefty pitching prospect. The No. 3 overall pick in 1988, he was the No. 1 prospect in the game before the 1990 season (ahead of McDonald). By 1991, he was winning playoff games for the Braves at 21. While you wouldn't say he was abused or overworked, the heavy workload at a young age took its toll and he lost his fastball by the mid-'90s.
25. Brad Komminsk, CF, Braves
The fourth overall pick in 1979, Komminsk was an outfielder with all the tools. He hit .322 with 33 home runs and 35 steals in the Carolina League in 1981, leading Braves farm director Hank Aaron to say, "He will do things Dale Murphy never dreamed of." In 1983, he still looked like a future star after hitting .334 with 24 home runs in Triple-A. The Braves reportedly turned down an offer of Jim Rice from the Red Sox. For whatever reason -- maybe a victim of great expectations, maybe a stiff swing, maybe never getting a full season in the bigs -- he hit just .218 in his major league career.
24. J.R. Richard, RHP, Astros
Outside of
Randy Johnson
, maybe the most intimidating pitcher who ever lived. The 6-foot-8 righty threw about 100 miles per hour and didn't always know where it was going. The second pick in 1969 (after Jeff Burroughs), he took a few seasons to refine his control but became a durable, 300-strikeout pitcher in the late '70s, before a stroke sadly ended his career in 1980, in the middle of his best season.
23. Mike Trout, CF, Angels
He doesn't turn 20 until August, but is already putting up big numbers in Double-A, showing tools across the board, including plate discipline and a flair that few possess.
22. Todd Van Poppel, RHP, A's
The top prize in the 1990 draft, the Texas high school sensation was threatening to attend college, so he fell to the A's with the 14th pick. The A's signed him to a major league contract, and while he pitched well that first year in the minors -- earning him Baseball America's No. 1 prospect status before 1991 -- he never again dominated. The Braves' consolation choice as the No. 1 pick?
Chipper Jones
.
[+] Enlarge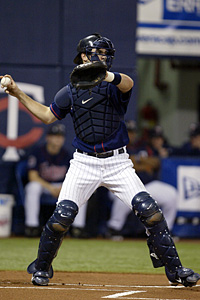 David Sherman/Getty ImagesJoe Mauer has thrown out base runners 35 percent of the time over the course of his career.
21. Joe Mauer, C, Twins
"Mauer combines a picture-perfect left-handed stroke with impeccable strike-zone judgment to generate high batting averages and on-base percentage," wrote Baseball America before the 2004 season, when it made Mauer its No. 1 prospect. The Twins had taken a chance in drafting the hometown kid over Mark Prior in 2001, but their homework paid off.
20. J.D. Drew, RF, Cardinals
As John Sickels recently wrote in a
career retrospective about Drew
, "A superstar outfielder at Florida State University, J.D. Drew was rated as the best position player available in the 1997 draft class. He was the first 30-30 player in college baseball history, and many scouts felt he was a once-a-decade talent." The Phillies drafted Drew second in 1997, but he didn't sign in a famously contentious Scott Boras negotiation and the Cardinals drafted him the next year.
19. Bobby Grich, SS, Orioles
He hit .383 (with a .503 OBP!) as a 21-year-old slick-fielding shortstop in Triple-A in 1970 and then won league MVP honors the following season after leading the International League with 32 home runs and a .336 average. Mark Belanger's presence in Baltimore forced him to second base in the majors, where he'd make six All-Star teams and win four Gold Gloves as one of the most underrated players of the past 40 years.
18. Josh Beckett, RHP, Marlins
Baseball America's No. 1 prospect before the 2002 season, it's easy to understand why: In 2001, Beckett pitched 140 innings in the minors, allowed just 82 hits and delivered a strikeout/walk ratio of 203/34. He was big, he threw hard and he was a cocky Texan. They compared him to
Roger Clemens
with good reason.
17. Delmon Young, RF, Rays
Baseball America ranked him as one of baseball's top three prospects four years running, including No. 1 in 2006. Scouts loved his bat and -- oddly, considering his major league reputation on defense -- his range and arm in right field. He hasn't been a bust, but he hasn't lived up to the hype.
16. Darryl Strawberry, RF, Mets
Before he became the first pick in the 1980 draft, Sports Illustrated ran a short feature on Strawberry that included this quote from scout Phil Pote: "He's got a [Ted] Williams-type physical makeup -- tall, rangy, good leverage. He's got bat quickness, he can drive the ball. The ball jumps off his bat. He's got what we call 'bat presence' -- an intangible, a something. Any swing of his can hurt you. He's just a natural hitter. He could make a lot of money in baseball."
15. Matt Wieters, C, Orioles
After hitting .355/.454/.600 between Class A and Double-A in 2008, Wieters became everyone's No. 1 prospect before the 2009 season. As Kevin Goldstein wrote at Baseball Prospectus: "A monster on offense, Wieters is a switch-hitter with plus to plus-plus power from both sides of the plate, an excellent batting eye, and a fantastic feel for contact. He walked more times (82) than he struck out (76) in '08, hits to all fields, rarely chases a bad pitch, and punishes mistakes. Defensively, he's incredibly agile behind the plate, and his plus-plus arm can shut down an opponents' running game." Wieters is hitting better this season, but his not turning into an elite hitter is one of the biggest prospect disappointments in years.
14. Jason Heyward, RF, Braves
His .323/.408/.555 line in the minors as a 19-year-old brought comparisons to other tall right fielders like Dave Winfield and Dave Parker, only with a little more speed and a more precocious understanding of the strike zone.
13. Mark Prior, RHP, Cubs
Coming out of USC, many scouts called him the best college pitcher they'd ever seen, and the hype around him was similar to what Stephen Strasburg would experience nearly a decade later. He was the consensus best player in the 2001 draft but went No. 2 to the Cubs as the Twins took Mauer. The minor leagues were no problem and he was dominating major leaguers by 2002.
12. Gregg Jefferies, SS, Mets
Was he overhyped because he was a Mets prospect? I don't think so. A first-round pick in 1985, Jefferies was a pure hitter and won Baseball America's Minor League Player of the Year award in 1986 after hitting .353 with 16 home runs and 53 steals, and then again in 1987 after hitting .367 with 48 doubles and 20 home runs. He was a switch-hitter who rarely struck out and reached the majors a few weeks after his 20th birthday. Turned out he wasn't a shortstop (or a second baseman, for that matter) and he did end up having a decent career after leaving the Mets.
11. Bobby Valentine, SS, Dodgers
The fifth pick in the 1968 draft by the Dodgers, Valentine was a football and baseball star from Stamford, Conn., owner of blazing speed and a good bat. By 1970, just 20 years old, he was the Pacific League MVP after hitting .340 with 69 extra-base hits and 29 steals as a shortstop. He was a little raw in the field (54 errors), but he was penciled in as the Dodgers' starting shortstop in 1971. But that offseason he tore up his knee playing touch football, an injury that caused his leg to knit with an 18-degree bend between the knee and ankle. "The doctors said the condition would restrict my running," Valentine said in a 1974 Sports Illustrated article, "and to really correct it would require a 13-to-16-month project with surgery, plates and screws and another cast, and that after two years my leg would be good as new." The speed was gone. He later broke his leg in two places running into an outfield fence.
10. Reggie Jackson, OF, A's
A high school catcher named Steve Chilcott was the No. 1 overall pick in the 1966 draft by the Mets -- the only team that apparently didn't have Jackson as the top player on its board. A star at Arizona State, Jackson was a center fielder with power, speed and a strong throwing arm. The A's gladly took him with the second pick and he was in the majors by 1967.
[+] Enlarge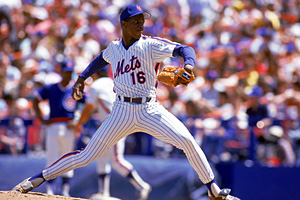 Scott Halleran/Getty ImagesDwight Gooden had a career-high 276 strikeouts in 1984.
9. Dwight Gooden, RHP, Mets
He was the sixth overall pick in 1982 and the next season he struck out 300 batters in 191 innings in the Carolina League ... at age 18. He then pitched for Tidewater in the Triple-A playoffs. (Can you imagine that kind of workload today?) At 19, he was the best pitcher in the National League.
8. Brien Taylor, LHP, Yankees
To this day, many scouts still say Taylor was the best left-handed pitching prospect they've ever seen, throwing in the upper 90s with a smooth, easy delivery. The first pick in 1991 and signed to a then-record $1.5 million deal (shattering the previous mark by nearly $1 million), Taylor was on his way to stardom when he injured his shoulder in a bar fight after the 1993 season.
7. Bryce Harper, RF, Nationals
Too high? Dave Cameron recently asked: "
Best prospect ever
?"
6. Andruw Jones, CF, Braves
Baseball America's two-time Minor League Player of the Year and No. 1 overall prospect, Jones was a precocious talent with more speed and range than Ken Griffey Jr. After hitting two home runs in Game 1 of the 1996 World Series at age 19, the potential seemed unlimited. Some may view his career as a disappointment, but that's a little harsh for a guy who won 10 Gold Gloves and hit more than 400 home runs.
5. Bo Jackson, OF, Royals
Jackson's tools made scouts drool. Monster 500-foot home runs. Electrifying speed. A laser-beam arm. Considering there have been few athletes like Bo in any sport, his tools were off the charts. He fell to the Royals in the fourth round of the 1986 draft only because everyone thought the Heisman Trophy winner would play football (the Angels had five of the first 28 picks and passed). Jackson did sign with Kansas City ("Now it's time for what I love to do," he said then) and was in the majors that September. In this
Sports Illustrated article
after he signed, Royals owner Ewing Kaufman compared him to Willie Mays and Mickey Mantle, saying he had more power and speed then George Brett. The Royals' scouting director said he had a better arm then Roberto Clemente. Reggie Jackson said he could become ... the next Reggie Jackson.
Truth be told, Jackson's tools never translated to great baseball results. He had raw power but struck out too much, wasn't a great outfielder (despite his speed and strong arm, he played left field), and didn't steal many bases because he didn't get on base enough. Before he injured his hip in the NFL, he had become a good player -- but not a great one.
4. Johnny Bench, C, Reds
How did Bench fall to the second round in the 1965 draft? Scout Jim McLaughlin tells the story in Kevin Kerrane's classic book, "Dollar Sign on the Muscle": "A friend of mine with another club said, 'You better send someone down to Binger, Oklahoma, to look at this kid Bench. We're not gonna draft him, because the general manager's seen another catcher he likes up in New England.' … Nobody else knew much about him; his team hadn't played many games, and our scout was usually the only one there, so we could wait."
The story may or may not be true -- the Orioles did draft a catcher from Dartmouth one spot ahead of Bench -- but Bench's legendary throwing arm and power quickly asserted itself. At 18, he hit .294 with 22 home runs in the Carolina League and the next season he was The Sporting News' Minor League Player of the Year after hitting 23 home runs at Triple-A Buffalo. By the time he reached the Reds at 19, he was already a big name.
3. Ken Griffey Jr., CF, Mariners
The Mariners nearly took a college pitcher named Mike Harkey instead of Griffey with the first pick in the 1987 draft. If they'd done that, Seattle may not have a major league baseball team right now. Griffey tore up the Northwest League as a 17-year-old, and as an 18-year-old hit .325 with 13 home runs in 280 at-bats in the California League. With power, defense, speed and the prettiest swing you'll ever see, Griffey broke camp with the Mariners in 1989 at age 19 and never looked back.
2. Stephen Strasburg, RHP, Nationals
We seem to hear "best pitching prospect" ever more often than "best position player prospect," and maybe Strasburg was a product of getting drafted in the Internet age, but everyone agreed: This kid was one of a kind. Before blowing out his elbow, he was everything the scouts had promised, blowing 100-mph fastballs by minor leaguers for a few weeks then striking out 12.2 hitters per nine innings in the majors.
1. Alex Rodriguez, SS, Mariners
"The next Cal Ripken," a scout said before the 1993 draft. "He's not just a field-and-throw guy, he's got all of the tools." Interestingly, Baseball America actually rated
Trot Nixon
as the best pure high school hitter before that draft, and
Derrek Lee
as the best power hitter. It did rate Rodriguez as being closest to the majors. "I originally wanted us to go for the college relief pitcher," Mariners manager Lou Piniella told the Seattle Times in 1993, referring to
Darren Dreifort
. "Then I saw films of the shortstop [Rodriguez]. He's a man among boys out there. Wow! No way we could pass on him." Baseball America was correct: Just 18, Rodriguez made his major league debut the next year, and hit .312 with 21 home runs between three levels in the minors. With power, speed, work ethic and an excellent glove at a premium position, he was the perfect prospect.
March, 16, 2011
3/16/11
4:12
PM ET
Two years ago
Johan Santana
,
Francisco Rodriguez
, and
Carlos Beltran
were considered three-fifths of the
New York Mets
' "core" -- the vital keys to the New York Mets' success on the field. In an ironic twist, those three players remain "core" components of the team's financial fate.
[+] Enlarge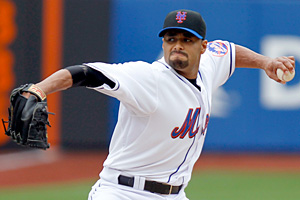 William Perlman/The Star-Ledger via US PresswireThe Mets say ace Johan Santana, recovering from September shoulder surgery, will pitch this season.
Yes, if all three were 100 percent healthy, they'd still be valuable performers on the field. But injuries and extenuating circumstances have changed management's view of this trio, and finances dominate the decisions related to these players.
It's no secret that the Mets are in a financial crisis; a $25 million loan from MLB was confirmed by the Wilpon family, who have also publicly offered a piece of the club for sale. Compounding their economic woes are the impending billion-dollar lawsuit filed by Irving Picard and the team's waning ticket sales. How can the family keep the team afloat without selling out?
Increased revenues and decreased expenses would help -- i.e., ticket sales and salary shedding. And this is where Santana, Rodriguez and Beltran figure prominently.
Santana is coming off major shoulder surgery. Typically, when a pitcher has shoulder repair, the procedure is limited to arthroscopy -- usually, debridement or "clean up" of scar tissue around the labrum and rotator cuff -- and results in about nine months to a year of recovery time. However, Santana's injury required an invasive procedure -- a full incision. Generally speaking, this type of surgery extends the rehab process significantly; for comparison, it is similar to what was done to
Chien-Ming Wang
and
Mark Prior
.
Yet Mets management has said from Day 1 that Santana will return by midseason -- an optimistic expectation if last September's surgery was a simple 'scope. But the Mets' postseason hopes rest heavily on the healthy shoulders of Santana. No Santana means no chance of the playoffs, which in turn means fewer fans are purchasing season-ticket packages.
Spinning the story to keep hopes alive is understandable -- and perhaps acceptable -- but becomes irresponsible when "spin" evolves into altered reality. This past week, a NJ newspaper suggested that Santana might miss the entire season -- a charge the team and Santana vehemently denied. Maybe Santana will come back in 2011 -- but will it be because it makes sense for the pitcher's health, or because the team needs to sell tickets? Santana's fierce competitive spirit will motivate him to get back on the mound perhaps earlier than is safe. It's a situation that happens regularly with world-class athletes on the mend: their will to compete clouds their judgment, they return too early, and inevitably suffer a setback (or worse). In these cases, outside forces with cooler heads must prevail -- i.e., doctors and team management. But will the Mets be "cool" enough to make the right decisions in Santana's rehab? With over $70 million committed to him over the next three years, one would think they'd be careful with their ace's recovery. They might "lose" their money on him this year, but it would be to ensure they'd recoup their investment over the final two years. But the Wilpons aren't looking long-term right now; they're looking to survive from month to month.
Similarly, there is the case of Carlos Beltran, who had three at-bats as a designated hitter on March 6 and hasn't been back since because of ailing knees. Yet the team has insinuated that he'll be ready to go on Opening Day -- an unrealistic assumption even if the team played in the AL and used him in a DH role. But again, the team needs to broadcast optimism and to sell tickets.
Further, Beltran is in the final year of his contract, earning $18.5 million. If the team is not looking at the long-term view with Santana, will they make responsible decisions with Beltran? One would surmise that they'll do everything possible to keep Beltran on the field -- even if it's damaging. Beltran has his own motivation as well -- he's playing for a new contract.
In contrast, the Mets will do everything in their power to keep Francisco Rodriguez
off
the field. Rodriguez has a $17.5 million option for 2012 that automatically vests when he finishes his 55th ballgame (he has reached that milestone five of the past six years). Manager Terry Collins has already suggested that Rodriguez might be used in "high-leverage situations" before the ninth inning -- a concept fully endorsed by the SABR-focused Mets front office. But if Collins follows through with that plan, and it keeps Rodriguez from finishing 55 games, will the true motivation be because of belief in the data, or avoidance of the option? Either way, the MLBPA will be watching the situation closely.
Considering their current financial state, the Mets need to sell tickets immediately and foster the fantasy that the team will play "meaningful games" in September. Toward that end, Beltran will limp out to right field, perhaps when he shouldn't, and Santana might push himself to return more quickly than he should. Meanwhile, Rodriguez could be utilized in a way he's never been used before. We understand that MLB teams need to turn a profit, but in this case, financial desperation might be governing decisions more than they should. Is that a healthy way to operate?
Joe Janish writes for Mets Today, which is part of the SweetSpot network.
March, 13, 2011
3/13/11
11:30
AM ET
Every now and then, when I'm looking for something to do, I head over the Baseball Reference to play with some of the many tools they have on the site. I can't even begin to describe how much I've been able to do on that site to satisfy the inner baseball geek inside of me. During a recent trip, I took a look at
Mark Prior
's statistics and reminisced about what could have been. As I ventured down the page, I was reminded of the similarity scores and I was curious how his career compares. (If you have no idea what a similarity score is, they have an
explanation
.)
At age 22, with an 18-win season under his belt, the most similar pitcher to Prior was Vic Willis. I didn't know much about Willis, so I looked him up. Turns out he started his career right before the 20th century and was inducted into the Hall of Fame with 249 wins. That's less than Tommy John, who's not in the Hall of Fame, but that's another article all together. The point is that at that point in his career, things looked great for Prior. Fast forward to present day and we're left to wonder what could have been for the boy with "perfect mechanics".
[+] Enlarge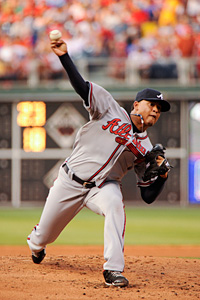 Howard Smith/US PresswireAt age 22, Atlanta's Jair Jurrjens, now 25, compared statistically to a young Roger Clemens.
That got me thinking about present-day guys that rank right with Hall of Fame players early in their careers. It's by no means a career predictor, but it is kind of cool to see how you compare to the greats.
At age 22,
Roger Clemens
turned in a 7-5 season fresh off finishing sixth in the rookie of the year balloting the previous season. The most similar pitcher to the Rocket through age 22?
Jair Jurrjens
of the
Atlanta Braves
. (
Compare Stats
).
Moving over to the hitters, at age 23,
Barry Bonds
was just getting his feet wet with the
Pittsburgh Pirates
. In his second season in the league, Bonds led the team in home runs with 25. The most similar hitter to 23-year-old Barry? The
Cincinnati Reds
slugging right fielder,
Jay Bruce
. (
Compare Stats
).
Maybe those two examples are sour to you based on PED issues. Fine, how about one of the biggest characters the game has ever seen? At age 22,
Rickey Henderson
had stolen 189 bases and had a goal in mind to break Lou Brock's record. It's hard to pin down a perfect fit for matching Rickey, but if we look at who was most similar at that age we'll see
Carl Crawford
's name. (
Compare Stats
).
What does it all mean? To be honest, probably nothing. It's just fun to play around with history some times. Take a few minutes the next time you're bored on the Internet, turn off Facebook, and immerse yourself in the numbers.
Joe Aiello writes for The View From the Bleachers blog, which is part of the SweetSpot network.
May, 4, 2010
5/04/10
1:59
PM ET
Everything's going
according to plan
:
Stephen Strasburg is one step closer to the majors.

The Washington Nationals promoted the 2009 No. 1 overall pick to Triple-A on Wednesday. He will make his debut for the Syracuse Chiefs on Friday against the Gwinnett Braves.

The 21-year-old Strasburg dominated Double-A competition going 3-1 with a 1.64 ERA in five starts for the Harrisburg Senators.

He struck out 27 batters and walked just six in 22 innings.

Strasburg signed a record $15.1 million, four-year contract with the Nationals last year. Barring a setback, he is expected to make his major league debut next month.
From the beginning, it seemed to me that Strasburg would probably follow
Mark Prior
's path to the majors. In 2002, Prior started six games in Double-A, then three games in Triple-A before making his Cubs debut in late May. Strasburg's arrival in the majors probably won't come until a week or two later, in the interest of saving some money down the road. But the model's the same.
I know Strasburg's probably the most impressive college pitcher we've seen. But Prior was pretty good, too. In those six Double-A starts, he struck out 55 (and walked 10) in 35 innings, which compares favorably to Strasburg's line. In his three Triple-A starts, Prior struck out 24 (and walked eight) in 16 innings. Strasburg will hard-pressed to top those numbers.
And as good as he is, Strasburg isn't a lock to match Prior's numbers in the majors that season, either.
June, 8, 2009
6/08/09
12:08
PM ET
Alan Schwarz on
great college pitchers and Stephen Strasburg
:
Twenty years ago, Louisiana State's Ben McDonald was roundly hailed as the best college pitching prospect ever; he won 78 major league games before retiring at 30 with a bum shoulder. No one took McDonald's consensus best-ever tag until 2001, when Mark Prior of the University of Southern California was such a steely-eyed, bazooka-armed, strike-throwing machine that he was nicknamed Robopitcher. Prior won 18 games for the Chicago Cubs two years later before an avalanche of injuries left him pitching's Venus de Milo.

Three high school pitchers during this period also were electric enough to prompt best-ever hyperbole: Todd Van Poppel in 1990, Brien Taylor in 1991 and Matt White in 1996. Van Poppel won just 40 games in a meandering career, and Taylor and White descended into the moat of the minor leagues, never to be heard from again.

Strasburg, who turns 21 next month, is in fact the sixth once-in-a-lifetime pitcher of his own short lifetime. But this has barely distracted the raving scouts, whose job is to look forward, not back. This time, they mean it. Really.
And the piece goes on from there, in essentially the direction you would expect, but it's still worth reading because Schwarz is good at what he does. If this isn't the last word on why we shouldn't start carving Strasburg's Hall of Fame plaque already, I don't know what will be.