October, 4, 2012
10/04/12
9:07
PM ET
With help from the blog network writers, here are reasons each team can win the World Series.
St. Louis Cardinals

1. A potent, balanced lineup. The Cardinals had the best on-base percentage in baseball, including four starters --
Matt Holliday
,
Jon Jay
,
David Freese
and
Yadier Molina
-- with a .370 OBP or better, and that doesn't even include two of their most dangerous sluggers,
Carlos Beltran
and
Allen Craig
.
2. Deep and solid starting rotation. Cardinals starters featured the second-best fielding-independent pitching in the majors, and
Chris Carpenter
has rejoined the staff just in time for the playoffs.
3. Playoff experience. If there's an advantage to be gained from experience, the Cardinals have it, with nearly three-quarters of their championship team returning to the tournament.
4. "The postseason is a crapshoot." As a wild-card team, the Cardinals proved this last year by beating a dominant regular-season team in the Phillies in a short series, then the powerful Rangers in the World Series.
5. They're saving their best ball for last -- again. As with the 2011 squad, the Cardinals are coming together at the right time. They won their last two series of the season against potential playoff foes Washington and Cincinnati and their regulars are generally healthy.
--Matt Philip, Fungoes.net
Atlanta Braves

The biggest thing the Braves need to do this postseason is hit left-handed pitching. For the year, they have an 85 wRC+ compared to the league average of 100 against left-handed pitching, the lowest of any of the playoff teams. If they win the play-in game against the Cardinals on Friday, they could face three left-handed starting pitchers in the first round in
Gio Gonzalez
,
Ross Detwiler
and
John Lannan
.
On the pitching front,
Kris Medlen
has taken the ace role of the staff, but the Braves will specifically need
Mike Minor
and
Tim Hudson
to perform at a high level to compete with the other National League teams. Defensively the Braves have been stellar, so the key for all of their starters will be to avoid free passes and long balls. They do not have an overpowering or star-filled staff as other rotations do, meaning their starters will need to rely on command and pitch sequencing to perform well against upper-tier offenses.
If the Braves get solid pitching performances from Medlen and Minor, and manage to scrape enough runs across against left-handed starters and relievers, they should be able to advance through the playoffs and potentially win their first World Series since 1995.
--Ben Duronio, Capitol Avenue Club
Cincinnati Reds

Here are five reasons that there will be a celebration in Fountain Square the first weekend in November:
1. The bullpen. This is the Reds' most obvious advantage. Their bullpen ERA ranks first in baseball at 2.65. How deep is this bullpen? One of these pitchers probably isn't going to make the postseason roster:
Logan Ondrusek
(3.46 ERA),
Alfredo Simon
(2.66) or
J.J. Hoover
(2.05).
2.
Jay Bruce
. The Reds' right fielder is one of the streakiest hitters in the game. If he gets hot, the Reds will be tough to beat. Bruce was twice named National League Player of the Week this year. In those two weeks, Bruce hit .488 AVG/.542 OBP/1.186 SLG (1.728 OPS). If Bruce gets on a hot streak like that, he could carry the Reds to the 11 wins they need.
3. The defense. Defensive metrics are flaky, but when you look at all of them, you start to learn something. The Reds rank near the top of almost every leaderboard. Seven of their eight starters are plus defenders, and three-quarters of the infielders have Gold Gloves on their shelves.
4.
Ryan Hanigan
. One of the things I'm most excited about this postseason is the broader baseball world discovering Ryan Hanigan. He does a lot well. His .365 OBP is better than any Red but
Joey Votto
. He walked more than he struck out. He threw out 48.5 percent of would-be base stealers -- the best in baseball -- and his handling of the pitching staff has the Reds' coaching staff speaking about him in hushed tones.
5. Luck, or something like it. The Reds outperformed their Pythagorean W-L by 7 games. Since Sept. 1, they have an 8-3 record in one-run games. This could mean they're due for a reversion to the mean. I like to think it means they're destined to win the Series.
--Chris Garber, Redleg Nation
Washington Nationals

1. The one-two punch of Gio Gonzalez and
Jordan Zimmermann
. Few teams could lose a starter like
Stephen Strasburg
and still claim that starting pitching is a strength, but the Nats can. Cy Young candidate Gonzalez leads the NL in strikeouts per 9 innings and is second in hits per 9. Zimmermann rarely allows a walk, and has an ERA under 3.00. I'd match Gonzalez and him up with any team's one-two.
2. The infield defense. Each position is manned by someone you could argue is one of the majors' top 10 fielders at his spot. The staff throws a lot of ground balls. Put them together and you get a lot of outs.
3. The re-emergence of
Drew Storen
.
Tyler Clippard
had been manning the closer role effectively but has recently looked very shaky. No matter. Storen returned to the 'pen and has been dominant, allowing just one run in his past 16 appearances. He'll be closing games going forward.
4. The offense with no holes. While there is no individual superstar, six of the Nats' eight regulars had an OPS+ between 112 and 128 for the season. A seventh,
Danny Espinosa
, would have been right there as well if not for a hideous April. The weak link is
Kurt Suzuki
-- and he hit over .300 in September.
5. Davey Johnson. Outside of
Jayson Werth
, this team has little postseason experience, but this is the fourth team Davey has led to the playoffs, and he's won five postseason series. You have to expect that he can guide this team through the highs and lows of October baseball.
--Harper Gordek, Nats Baseball
San Francisco Giants

1.
Buster Posey
. His second half was off-the-charts awesome, hitting .385/.456/.646. He was the best hitter in the majors after the All-Star break -- even better than
Miguel Cabrera
.
2. The rest of the Giants' offense. Even though they ranked last in the NL in home runs in the second half, they still managed to rank second in runs per game.
Marco Scutaro
proved to be a huge acquisition, hitting .362 with the Giants.
3.
Matt Cain
. Remember his dominant postseason performance in 2010? In three starts, he allowed just one unearned run. This time around he's the Giants' No. 1 guy.
4.
Sergio Romo
. The Giants rode
Brian Wilson
a lot in 2010, but this time they'll have Romo, who could be just as dominant closing games. He allowed just 37 hits and 10 walks in 55.1 innings while striking out 63. He was equally crushing against lefties (.491 OPS allowed) and righties (.537).
5. Bruce Bochy. He's considered by many to be the best manager in the game. If a series comes down to in-game tactics, most evaluators would rate Bochy superior to Dusty Baker, Fredi Gonzalez and Mike Matheny.
--David Schoenfield
Baltimore Orioles

1. No. 1 -- and, you could certainly argue Nos. 2-5 as well -- is the bullpen. The O's went 73-0 when leading after the seventh inning. As relievers,
Tommy Hunter
is touching 100 mph and
Brian Matusz
has struck out 19 batters in 13 innings. Then there's
Troy Patton
(2.43 ERA),
Pedro Strop
(2.44),
Darren O'Day
(2.28) and
Jim Johnson
(2.49, 51 saves) to finish things out. While it might not be the best bullpen ever -- or even the best bullpen in the league this year -- it may have been the most "effective" 'pen in history, as noted by its record-setting (record-obliterating, really) +14 win probability added. Maybe 16 consecutive extra-inning wins and a 29-9 record in one-run games (the best since the 1800s) is partially a fluke, but having a quality bullpen certainly doesn't hurt in keeping that going.
2. Buck Showalter. Aside from bullpen management that's been so effective, Buck seems to just make all the right moves, putting guys in positions to succeed and making in-game decisions that seem to work even when they probably shouldn't. Sac bunt? You get the run you need. Hit and run? Batted ball goes right to where the second baseman was. Bring in
Chris Davis
to pitch? Two shutout innings, a pair of strikeouts (including
Adrian Gonzalez
!), and a win. Judging managers is tricky, but it would be mighty hard to argue that Buck isn't a net plus.
3. A surging offense. Overall, the O's were a little below average, but since the beginning of September they've actually been one of the league's better hitting teams (with an AL-best 50 home runs). It's mostly been the Davis show recently (.320/.397/.660, 10 home runs), but
Matt Wieters
(.296/.389/.541),
Adam Jones
(.295/.343/.504) and
Nate McLouth
(!) (.280/.355/.456) haven't been slouches either.
4. An improved defense. The glove work was often sloppy early in the year, all around the diamond, but not so much lately (largely since
Manny Machado
was called up). Machado is a shortstop (with the range that implies) playing third base, and adjusting both well and quickly to it.
J.J. Hardy
is one of the game's better shortstops. Whoever is playing second is decent (
Robert Andino
or
Ryan Flaherty
).
Mark Reynolds
may have found a home at first base, even if he's not a Gold Glover there (yet). The O's fielding (via FanGraphs) for the first four months: -20 runs. Fielding since: +0.
5. Orioles magic. Even if you count the O's as underdogs in each playoff series -- and really, you probably should -- they still have a 3-5 percent chance of winning it all (those chances double if they knock off Texas, by the way).
--Daniel Moroz, Camden Depot
Texas Rangers

1. An obvious on-paper advantage in the wild-card game.
Yu Darvish
has been dominant down the stretch with a 2.13 ERA and just 10 walks over his final seven starts. He's a strikeout pitcher against a lineup that strikes out a lot. Meanwhile,
Joe Saunders
is 0-6 with a 9.38 ERA in six career starts in Arlington.
2. Big-game experience.
Matt Harrison
had a terrific season, and having started a Game 7 of the World Series won't be fazed by the postseason.
Derek Holland
has had an inconsistent season but, as he showed in the World Series last year, is certainly capable of huge performances.
Ryan Dempster
also has playoff experience with the Cubs.
3. Defense. The infield defense with
Adrian Beltre
,
Elvis Andrus
and
Ian Kinsler
is arguably the best in baseball and was a key component to the Rangers' World Series run a year ago.
4.
Josh Hamilton
. If these are his final days with the Rangers, you get the feeling he'll be focused to go out with a bang, especially after his disastrous game in the regular-season finale. After his hot start, Hamilton recovered from his slump in June and July to hit 14 home runs over the final two months.
5. One game equals momentum. OK, the series sweep in Oakland was a disaster, but all it takes is one win over Baltimore and the Rangers can forget what happened down the stretch. Do that and this team is still the scary opponent everyone figured it was a few days ago.
--David Schoenfield
Oakland Athletics

1. Sometimes a very good overall team matches up poorly against a playoff opponent. As far as lefty-righty goes, the A's won't have that issue. General manager Billy Beane gave manager Bob Melvin the pieces to construct platoons, including at first base (
Brandon Moss
/
Chris Carter
), designated hitter (
Seth Smith
/
Jonny Gomes
) and catcher (
Derek Norris
/
George Kottaras
). Further, the top two everyday hitters,
Josh Reddick
and
Yoenis Cespedes
, bat from opposite sides of the plate, and leadoff man
Coco Crisp
, a switch-hitter, has very similar career splits from both sides of the plate.
2. The top three relievers,
Grant Balfour
,
Ryan Cook
and
Sean Doolittle
, have pitched remarkably well. All three bring gas. Cook can struggle with his command and Doolittle might hit a rookie wall any minute, but Balfour's 3.01 FIP is the highest of the group.
3. The A's are third in baseball in runs scored after the All-Star break. Ahead of the Yankees. Ahead of the Rangers. Well ahead of the Tigers. The current roster has been legitimately excellent on offense.
4. Defensive efficiency is a very simple metric: It is the rate at which a team turns balls in play into outs. It doesn't account for everything, but it does measure the core skill of a team's run-prevention unit. The A's are third in baseball in this number. Either the pitching staff doesn't give up hard-hit balls, the defense catches everything in sight, or both. Regardless of the why, the what is indisputable: Hits don't happen against the A's.
5. By record, the Tigers are the worst squad in the playoffs, yet the A's, the No. 2 AL team, play them in the first round because of the structure of playoff seeding. It likely isn't a huge advantage (the A's did just sweep Texas, after all), but every little bit counts on the way to a trophy.
--Jason Wojciechowski, Beaneball
Detroit Tigers

1. Miguel Cabrera. MVP or not, the Triple Crown speaks for itself. He is the best pure hitter in baseball and, unlike last year, is healthy heading into the postseason.
2.
Prince Fielder
was the American League's only .300/.400/.500 hitter, and he's not even the best player on his own team. He isn't completely helpless against LOOGYs either, posting an OPS of .808 against left-handed pitchers this season.
3.
Justin Verlander
, who has been just as good as he was in 2011. If Mother Nature cooperates this year, he will put a serious dent in that career 5.57 postseason ERA.
4. The rest of the rotation. With
Doug Fister
finally healthy,
Max Scherzer
's breakout second half, and the acquisition of
Anibal Sanchez
, the Tigers have the best playoff rotation in the big leagues. The four starters (Verlander included) combined for a 2.27 ERA in September and October.
5. Jim Leyland. The Tigers' skipper has been ridiculed by the fan base for most of the year for the team's lackluster performance, most of which was a mirage created by its early struggles. He has had his finger on this team's pulse all season and deserves credit for managing the outrageous expectations for a team with more flaws than people realized. Now he has the Tigers playing their best baseball heading into October and is the biggest reason why they could be parading down Woodward Avenue in early November.
--Rob Rogacki, Walkoff Woodward
New York Yankees

1. The rotation. This looks like the strongest playoff rotation the Yankees have had in years, even better than 2009, when Joe Girardi rode three starters (
CC Sabathia
,
Andy Pettitte
,
A.J. Burnett
) to the World Series title. Sabathia has battled a sore elbow but looked good down the stretch, including eight-inning efforts in his final two starts. Pettitte is 40 years old but still looks like Andy Pettitte.
Hiroki Kuroda
had a quietly excellent season, finishing eighth in the AL in ERA and 10th in OBP allowed among starters.
Phil Hughes
is a solid No. 4.
2. Home-field advantage. While this generally isn't a big factor in baseball, the Yankees' power comes into play with the short porch at Yankee Stadium. Earning the No. 1 seed was probably more important to the Yankees than any other team.
3.
Robinson Cano
. He's locked in right now, going 24-for-39 in his final nine games, all multihit games. Don't be surprised if he has a monster postseason.
4. Lineup depth and versatility. In this age of bullpen matchups, the Yankees are difficult to match up with. They can run out a lineup that goes right-left-right-left-switch-switch-left-left/right-right. You'd better have a deep bullpen to beat this team in the late innings.
5. Health. While
Mark Teixeira
may not be 100 percent, at least he's back in the lineup, meaning the Yankees finally have all their position players available (even
Brett Gardner
may make the postseason roster as a pinch runner/defensive replacement). They've been dinged up all season, but Sabathia and Pettitte should be strong. The only question: The Yankees haven't won a World Series without
Mariano Rivera
since 1978.
--David Schoenfield
September, 4, 2012
9/04/12
11:51
PM ET
On July 18, the
New York Yankees
blanked the
Toronto Blue Jays
6-0 in a rain-shortened game.
Hiroki Kuroda
pitched the seven-inning shutout,
Mark Teixeira
homered and the Yankees ripped 12 hits off
Ricky Romero
. The Yankees were cruising, having won nine of 11 and 16 of 22 games, and were leading the American League East by 10 games, on pace for 95 wins.
The hated rivals up in Boston already were turning into a bad joke, barely a rival anymore after the Yankees had taken three of four a few days before. The upstart
Baltimore Orioles
had won that day but had lost 13 of their pevious 19, slowly drifting into their usual pathetic irrelevance. The
Tampa Bay Rays
? Hey, never discount them -- they'd made a big comeback in 2011, after all -- but this wasn't their year, the lineup wasn't any good and the rotation wasn't as dominant as expected.
Yes, the Yankees were going to cruise to another division title. Print the playoff tickets.
* * * *
Perhaps the most impressive aspect of the modern Yankees dynasty is their numbing consistency. Sixteen playoff appearances in 17 years. Twelve division titles. Twelve 95-win seasons in the past 15. Yes, they have more money than Zeus, but money is no guaranteed road to success.
Just look at their neighbors to the north, who are going to miss their third postseason in a row and have won just one division title in 16 years. Look at the
Philadelphia Phillies
, the team with the second-highest opening-day payroll. The Phillies had a nice run, five National League East titles in a row, but age and injuries caught up to them this season, and they're struggling to finish .500. The Angels will have spent more than $300 million the past two seasons and another $104 million in 2010, and might have no playoff appearances to show for that.
The Yankees have kept their dynasty going, defying age and bad luck. They did miss the playoffs in 2008, a season in which they won 89 games. Yes, that was the season they gave 20 starts to
Darrell Rasner
and 15 to
Sidney Ponson
. That offseason, they reloaded with Teixeira,
CC Sabathia
and
A.J. Burnett
, and then they won the World Series.
Still, this can't go on forever, can it?
* * * *
The
Yankees lost 5-2 to the Rays
on Tuesday as Tampa slugged three home runs off
Freddy Garcia
, and a lineup that featured
Raul Ibanez
,
Jayson Nix
,
Chris Dickerson
and
Chris Stewart
failed to do much against
Alex Cobb
. The
Orioles pounded the Blue Jays 12-0
on Tuesday as
Zach Britton
pitched seven scoreless innings and
Mark Reynolds
belted his fifth home run in five games.
The Orioles are now tied with the Yankees for first place.
"We're just having a good time and we're not putting pressure on ourselves," Reynolds said after the game. "Everybody knows the situation we're in but we're just taking it day by day and having fun."
Something tells me the Yankees aren't having a lot of fun right now.
Here's some data from Katie Sharp of ESPN Stats & Information:
Since July 19:
Yankees: 19-25, run differential of plus-3
Orioles: 29-15, run differential of plus-37
Rays: 28-16, run differential of plus-84
As Katie points out,
Nick Markakis
returned from an injury after the All-Star break and the Orioles' offense has been vastly improved since. The O's hit .240/.302/.402 (BA/OBP/SLG) in the first half and .253/.322/.423 in the second (entering Tuesday's game). Markakis' .343 average and .902 OPS in the second half rank fifth and 13th, respectively, among AL hitters (before he went 3-for-5 on Tuesday). In their past 11 games, Orioles starters have nine quality starts and a 2.22 ERA.
Why not Baltimore?
* * * *
If the Orioles and A's are this year's miracle teams, that means we now have to consider the Rays grizzled vets, even if their $64 million payroll is higher than that of just five other teams. The Rays were a miracle in 2008 and a mini-miracle in 2011. We are no longer surprised.
Since the All-Star break, the Rays have a 2.45 staff ERA, which would be the second-lowest second-half ERA by an AL team since the first All-Star Game in 1933 (the 1972 Angels had a 2.37 ERA).
Pitching, my friends, pitching. The Yankees are relying on Sabathia's elbow to hold up, and the retread Garcia, and the inconsistent
Phil Hughes
, all the while hoping 40-year-old
Andy Pettitte
will return to offer a lifeline.
The Yankees look old, mediocre and beaten up.
Why not Tampa Bay?
* * * *
From 10 games ahead to pure panic. Yankees fans
should
be worried. Right now, they're the third-best team in the AL East. They're even with the Orioles, and the Rays are 1.5 games back, with a chance to cut the deficit to a half-game with a win Wednesday.
Sure, injuries. Sure,
Alex Rodriguez
just returned and
Robinson Cano
didn't play Tuesday and Teixeira is out. But that's what happens when you get old. Ibanez is old.
Ichiro Suzuki
is old.
Andruw Jones
is old.
Curtis Granderson
isn't old but has morphed into Dave Kingman in the past couple of months, a guy who hits home runs and strikes out.
The Yankees are struggling. The Yankees are not going to win the AL East.
The playoffs? Hey, it's still the Yankees; you never want to count them out. They have four games left with Tampa Bay and a four-game series this weekend in Baltimore, but the rest of the schedule is soft other than one series with Oakland -- six games against the sinking Red Sox, seven against the banged-up Blue Jays, three against the Twins. Even if the Orioles and Rays rise past the Yankees, New York can make the wild card if it can hold off the Tigers/White Sox loser and the A's and Angels.
I want to say the Yankees won't make it, that they're too old, overpaid and overrated. People in baseball often talk about digging deep. It's just something they like to say.
But I'll say this: Get out your shovels, Yankees.
PHOTO OF THE DAY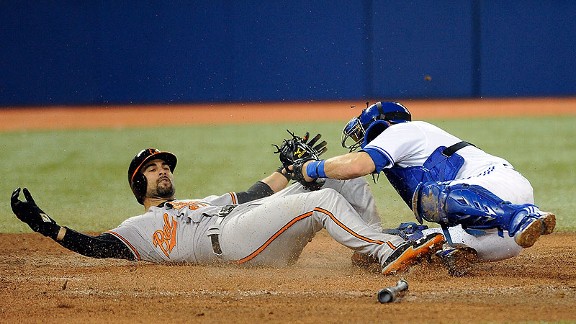 Brad White/Getty ImagesNick Markakis slips in the same way the Orioles tied for first: Stealthily and safely.
July, 20, 2012
7/20/12
2:31
PM ET
OK, so Mark Simon and I got just a bit ridiculous at times on
Friday's Baseball Today podcast

, but there was much information and entertainment and hey, isn't that a good thing? Here are some of the topics discussed:
1.
Edinson Volquez
nearly tossed the first Padres no-hitter ever, and the only blemish was a play that many pitchers could have made. Also, how bad are the Astros?
2. We discussed the breaking news as the Astros and Jays
exchanged many players
in a trade that probably won't make much noise. Or will it?
3.
Chipper Jones
is aging nicely, and as Mark points out, his defense has become a strength. Also,
Brett Lawrie
gets evaluated a bit differently now.
4. Our emailers sent us down a ridiculous path, but we like that! Among the issues today were the haul
Mark Teixeira
brought back, home runs to runs and RBI ratios and of course, the All-Sitcom team. We kid you not.
5. It's a big weekend not only for the Rangers and Angels, but the top American League Central teams and top National League East teams meet. The pitching matchups are rather interesting.
So download and listen to Friday's Baseball Today podcast and have a little fun, because as Crash Davis said in Bull Durham, "This game's fun, OK?" Oh, and hold the ball like an egg.
June, 7, 2012
6/07/12
12:56
AM ET
"Show us some respect," yell Baltimore Orioles fans. Or maybe they're politely demanding. But I've seen the complaints in the Power Rankings comments, read the emails sent to "Baseball Today," been asked the question in my chats: Why doesn't anyone believe in the Orioles?
The Orioles traveled to Fenway Park this week in a precarious situation. They've lost two of three in Tampa. They've been swept in Toronto. They've lost two of three at home to Kansas City. They've lost two of three at home to Boston. They haven't won a series since the big weekend showdown in Washington from May 18-20.
So, yes, the concerns all of us "experts" had been raising -- it's a long season, let's see what happens to the rotation, let's find out if some of the hitters can keep up their hot starts, the bullpen can't keep its ERA under 2.00 all season -- were proving true. The O's were 27-14 after winning the second against the Nationals but had gone 3-10 since, with the staff posting a 4.95 ERA while the offense scored 3.5 runs per game.
These were the Orioles we all expected. And then they beat the Red Sox in extra innings on Tuesday. And then they
beat the Red Sox 2-1
on Wednesday behind a solid effort from
Wei-Yin Chen
and scoreless innings from
Pedro Strop
and
Jim Johnson
. They're 5-0 at Fenway in 2012 and Chen is now 5-2 with a 3.49 ERA. The key moments came in the seventh inning after the Red Sox threatened with a pair of singles to start the frame. But after a sacrifice bunt, Chen struck out
Marlon Byrd
and induced
Mike Aviles
to pop out to first base.
Normally, Buck Showalter might have turned to his stellar bullpen, but after Tuesday's victory, in which the bullpen threw five innings, he left Chen to escape the jam. He set up Byrd with three fastballs and then got him swinging on a beautiful changeup. He threw three more fastballs to Aviles that he couldn't get around on. Don't underestimate Chen. His stuff plays up big, with his four-seamer reaching 94 mph. His last pitch to Aviles was clocked at 93. In 11 starts, he allowed two or fewer runs seven times and I think this outing will give Showalter more confidence to stretch Chen a little deeper into games.
So the Orioles remain in first place for another day, half a game ahead of the Yankees. Is it time to show them a little respect, to give Orioles fans what they crave? Let's do some position-by-position rankings to help sort out this tightly packed division. Rankings are simply listed in order of who I would want the rest of the season.
(Season-to-date Wins Above Replacement from Baseball-Reference.com, before Wednesday's games, listed in parenthesis.)
Catcher
1.
Matt Wieters
, Orioles (1.6 WAR)
2.
Jarrod Saltalamacchia
/
Kelly Shoppach
, Red Sox (1.6)
3.
Russell Martin
, Yankees (0.7)
4.
J.P. Arencibia
, Blue Jays (0.2)
5.
Jose Molina
, Rays (0.1)
There is a case to be made that Boston's duo is more valuable since they've combined for 14 home runs and an OPS over .900. But Wieters brings elite defensive skills and I also don't believe Salty is going to slug .583 all season. For the second consecutive season, the Rays are essentially punting offense at catcher. Rays catchers have the worst OPS in the majors.
First base
1.
Adrian Gonzalez
, Red Sox (0.8)
2.
Mark Teixeira
, Yankees (0.6)
3.
Mark Reynolds
, Orioles (-0.6)
4.
Carlos Pena
, Rays (0.4)
5.
David Cooper
/others, Blue Jays (incomplete)
Gonzalez is still struggling to get his stroke going, but he's the best of a weak group. Yes, I just called Mark Teixeira weak, but at this point he's a low-average guy who pops a few long balls, doesn't draw as many walks as he once did and isn't as great on defense as Yankee fans believe. But in this group that's good enough to rank second. Reynolds has a low WAR but he's missed time and that includes his bad defense at third base, a position we've hopefully seen the last of him playing. The Jays, meanwhile, need to quit fooling around at first base and find a legitimate hitter, or move
Edwin Encarnacion
there and find a designated hitter. You hate to waste a potential playoff season because you can't find a first baseman who can hit. (No, David Cooper is not the answer, although he's hit well so far in 11 games.)
Second base
1.
Robinson Cano
, Yankees (2.1)
2.
Dustin Pedroia
, Red Sox (1.8)
3.
Kelly Johnson
, Blue Jays (2.1)
4.
Ben Zobrist
, Rays (0.7)
5.
Robert Andino
, Orioles (0.6)
I love Ben Zobrist almost as much as two scoops of Vanilla Heath Bar Crunch from Ben & Jerry's, but a .199 average isn't going to cut it in this group, even if you are on pace to draw 100-plus walks. Zobrist has actually play more right field so far, but should be back at second on a regular basis with
Desmond Jennings
back.
Third base
1.
Evan Longoria
, Rays (1.4)
2.
Brett Lawrie
, Blue Jays (3.1)
3.
Alex Rodriguez
, Yankees (1.2)
4.
Kevin Youkilis
/
Will Middlebrooks
, Red Sox (0.5)
5.
Wilson Betemit
/
Steve Tolleson
, Orioles (-0.1)
Lawrie's WAR is boosted by defensive metrics that treat him like he's the second coming of Brooks Robinson. He's a good player but don't I think he's been the second-best position player in the American League. Longoria hopes to
return at the end of the Rays' current road trip
. As for A-Rod, his health is always a question at this stage of his career, but Youkilis has health questions and I'm not a believer in Middlebrooks' ability to hit .321 with power all season. His 29/4 strikeout/walk ratio is something pitchers should learn to exploit. As for the Orioles ... third base is an obvious concern. But don't expect a rare intra-division trade to acquire Youkilis.
Shortstop
1.
J.J. Hardy
, Orioles (2.1)
2. Mike Aviles, Red Sox (2.2)
3.
Derek Jeter
, Yankees (0.9)
4.
Yunel Escobar
, Blue Jays (1.9)
5.
Sean Rodriguez
, Rays (1.9)
Wait ... Jeter has been the
least
valuable of this group so far? The other four all rate as excellent fielders -- in fact, Baseball-Reference rates them all in the top 13 fielders in the AL. Jeter, meanwhile, ranks 310th in the AL on defense -- out of 313 players.
Left field
1. Desmond Jennings, Rays (1.2)
2.
Daniel Nava
/
Carl Crawford
, Red Sox (1.7)
3.
Brett Gardner
/
Raul Ibanez
, Yankees (0.3)
4.
Eric Thames
/
Rajai Davis
, Blue Jays (-0.1)
5.
Endy Chavez
/
Xavier Avery
/
Nolan Reimold
, Orioles (-0.3)
Not to keep picking on the Orioles, but this is another problem position, especially if Reimold's disc problems lingers all season. Nava has quietly been a huge savior for the Red Sox, batting .305 with a .438 OBP. He's drawing walks at a crazy rate. He should slide some but he's provided the kind of depth the Orioles don't have.
Center field
1.
Adam Jones
, Orioles (2.5)
2.
Curtis Granderson
, Yankees (1.3)
3.
B.J. Upton
Rays (0.9)
4.
Jacoby Ellsbury
/
Scott Podsednik
/Marlon Byrd, Red Sox (0.5)
5.
Colby Rasmus
, Blue Jays (1.3)
Ellsbury might be the biggest wild card in this race, because the Red Sox can't survive much longer with the Podsednik/Byrd platoon. When will he return? How will he hit? He just started throwing and could
return by the end of the month
. I've conservatively put him fourth, which seems fair considering the unknown. And please note, Orioles fans, that I believe in Mr. Jones.
Right field
1.
Jose Bautista
, Blue Jays (0.9)
2.
Matt Joyce
, Rays (2.2)
3.
Nick Swisher
, Yankees (-0.1)
4.
Cody Ross
/
Ryan Sweeney
, Red Sox (1.6)
5.
Nick Markakis
/others, Orioles (0.3)
Markakis is out three to four weeks with a broken bone in his wrist, an injury that once again reflects Baltimore's lack of depth. But all five teams are solid in right field. Ross is about to return from his broken foot; we'll see if he pounds the ball like he was before the injury (.534 slugging).
Designated hitter
1.
David Ortiz
, Red Sox (1.4)
2. Edwin Encarnacion, Blue Jays (1.6)
3. Revolving Door, Yankees
4.
Chris Davis
, Orioles (0.3)
5.
Luke Scott
, Rays (0.0)
No respect for Davis? OK, he's hitting .295/.333/.494. And he has 53 strikeouts and eight walks. Sorry, call me skeptical, O's fans. Yankee designated hitters have actually fared well, hitting a combined .279/.354/.467 with 10 home runs.
No. 1 starter
1.
David Price
, Rays (2.2)
2.
CC Sabathia
, Yankees (1.9)
3.
Ricky Romero
, Blue Jays (0.3)
4.
Josh Beckett
, Red Sox (0.5)
5.
Jason Hammel
, Orioles (1.9)
Look, Hammel has been terrific so far thanks to a career-high strikeout rate
and
a career-high ground-ball rate. But this is tough group and the question is who is going to be best moving forward? My biggest concern is that Hammel has never pitched 180 innings in a season. Can he pitched the 210 to 220 that you need from a No. 1?
No. 2 starter
1.
Brandon Morrow
, Blue Jays (1.1)
2.
James Shields
, Rays (-0.4)
3.
Andy Pettitte
, Yankees (1.5)
4. Wei-Yin Chen, Orioles (0.7)
5.
Jon Lester
, Red Sox (-0.4)
I like Chen. Heck, right now I like him better than Jon Lester, which tells you how much I like him. But he averaged just 172 innings in Japan over the past three seasons. Can he hold up over 32 starts?
No. 3 starter
1.
Jeremy Hellickson
, Rays (1.0)
2.
Hiroki Kuroda
, Yankees (1.4)
3.
Felix Doubront
, Red Sox (0.4)
4.
Brian Matusz
, Orioles (0.2)
5.
Henderson Alvarez
, Blue Jays (0.4)
Matusz is holding his own at 5-5, 4.41, but he's still walking a few too many, allowing a few too many hits, a few too many home runs. The velocity is solid, averaging 91 on his fastball. We're talking minor upgrades needed in his command, getting the ball down in the zone more often to get more groundballs. If the Orioles are to have any chance, Matusz's improvement may be the single most important aspect.
No. 4 starter
1.
Matt Moore
, Rays (-0.6)
2.
Ivan Nova
, Yankees (0.3)
3.
Jake Arrieta
, Orioles (-0.4)
4.
Clay Buchholz
, Red Sox (-1.2)
5.
Kyle Drabek
, Blue Jays (-0.1)
Five pitchers who have struggled, but Arrieta's peripheral numbers are actually pretty solid. Like Matusz, there is hope for improvement. On the other hand, he's been awful since pitching eight scoreless innings against the Yankees on May 2, giving up 29 runs in 31.2 innings. His BABIP was .243 through May 2; it's .361 since. The truth is probably right in the middle, leaving Arrieta third on our list of fourth starters.
No. 5 starter
1.
Alex Cobb
/
Jeff Niemann
, Rays (0.3)
2.
Drew Hutchison
, Blue Jays (0.1)
3.
Phil Hughes
, Yankees (0.2)
4.
Daisuke Matsuzaka
/
Aaron Cook
/
Daniel Bard
, Red Sox (-0.3)
5.
Tommy Hunter
, Orioles (-0.5)
Hunter isn't really a major league starter, but I'm not sure
Jamie Moyer
-- just signed to a minor league contract -- is exactly a solution. The Orioles need to upgrade here.
Bullpen
1. Yankees (2.76 ERA)
2. Orioles (2.48 ERA)
3. Red Sox (3.66 ERA)
4. Rays (3.43 ERA)
5. Blue Jays (4.39 ERA)
If you watched Pedro Strop and Jim Johnson close out Wednesday's win, you'll realize the back of the Orioles' end has two guys with filthy stuff.
Darren O'Day
and
Luis Ayala
are strike-throwing machines and
Troy Patton
is a lefty who isn't a LOOGY. It's a good pen and it's deep. But the reliability of the pen ties into the rotation's inability to pitch deep into games -- Orioles relievers have already thrown 39 more innings than Yankees relievers, for example.
OK, let's add it up … one point for ranking first, five points for ranking fifth. Hey, this isn't meant to be scientific, so don't overanalyze this too much. The totals:
Yankees: 36 points
Rays: 40 points
Red Sox: 45 points
Blue Jays: 51 points
Orioles: 53 points
Not the respect Orioles fans are seeking. Sorry about that; it's nothing personal. Look, I don't think the Orioles are going to fade away anytime soon. I worry about the rotation's ability to hold up all summer and the bullpen's workload. They lack depth on offense and have a couple of obvious holes. Hey, you never know, and the Orioles are certainly due for a winning season. I would love to see it happen.
PHOTO OF THE DAY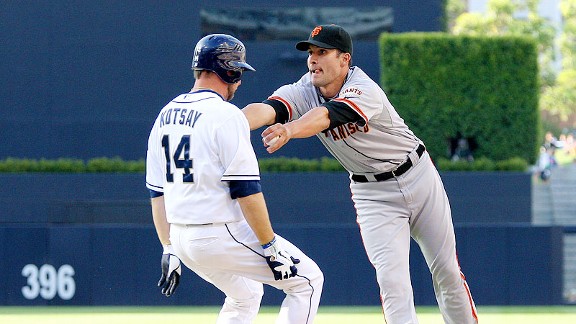 Jake Roth/US PresswireJavier Lopez is sending a message to Mark Kotsay: Tag, you're out!
August, 9, 2011
8/09/11
12:17
PM ET
Jose Reyes
landed on the disabled list for the second time this season with hamstring issues, and Adam Rubin of ESPNNewYork.com asks
how this will affect Reyes' free-agent payday
. Can Reyes expect a deal similar to what Boston gave
Carl Crawford
-- seven years, $142 million?
Reyes was having an MVP campaign, but after missing just 14 games from 2005 through 2008, he's now missed 126 games in 2009, 29 games in 2010 and now he'll miss about 30 in 2011, assuming his current DL stint lasts two weeks.
An easy way to check the likelihood of Reyes getting Crawford-type money is to check the injury history of other players who signed the biggest deals in MLB history. Here are the injury histories of all position players who signed $125 million-plus contracts.
Alex Rodriguez
($275M, 2008-17): Through 2007, A-Rod had played 154-plus games seven years in a row. But he hasn't played 140 since.
Derek Jeter
($189M, 2001-10): This season will be only the second time in his career Jeter has played fewer than 148 games.
Joe Mauer
($184M, 2011-18): Mauer had suffered various leg ailments as a rookie in 2004 that limited him to 35 games. He played just 109 games in 2007. He'd suffered back issues in spring training in 2009. He was a risky investment.
Mark Teixeira
($180M, 2009-16): One of the most durable players in the majors, Teixeira has had just two minor DL stints in his career.
Manny Ramirez
($160M, 2001-08): Ramirez signed his big deal despite missing 39 games in 2000 with a left hamstring injury. He'd play 150-plus games four years out of the eight-year contract, with a low of 120 in 2002.
Troy Tulowitzki
($157.7M, 2011-20): An interesting test case, as Tulo missed 61 games in 2008 and 40 games last year. He's been healthy in 2011, missing just five games.
Adrian Gonzalez
($154M, 2012-18): Gonzalez had missed just 11 games over five seasons when the Red Sox acquired him.
Miguel Cabrera
($152.3M, 2008-15): He's never been on the DL and has missed just 29 games over eight seasons.
Crawford ($142M, 2011-17): He missed six weeks in 2008 with a finger injury and 19 games in 2007, but had played 150-plus his six other seasons.
Todd Helton
($141.5M, 2003-11): Had never been on the DL at the time of the extension, although he'd suffer through back problems during the contract and top 100 RBIs just once.
Alfonso Soriano
($136M, 2007-14): A terrible contract for an overrated player, but not because of any injury history.
Vernon Wells
($126M, 2008-14): He'd missed 28 games in 2004, but it's not his health that has made this a terrible deal.
Jayson Werth
($126M, 2011-17): Werth missed all of 2006 with a wrist injury but had missed just nine games combined in 2009-10.
Ryan Howard
($125M, 2012-16): Howard's extension signed last April doesn't even kick in until
next
season. Health isn't an issue, but declining numbers are.
Two players -- Mauer and Tulowitzki -- had enough injury history to raise a red flag at the time of their mega-contracts. It's important to note both were signed by their original teams, so that could be an indicator that if any team is willing to give Reyes a $125 million deal, it might be the Mets. (Well, if they have the money to do so.)
How much would you pay for Reyes? Vote in the poll.
Follow David Schoenfield on Twitter @dschoenfield.
February, 9, 2011
2/09/11
12:50
PM ET
By
Evan Brunell
| ESPN.com
Daric Barton
is one of the best first-basemen in the game.
Now that I've caught your attention, I can assure you I am serious. Barton deserves to be considered a top 10 first baseman over the next several seasons. In fact, I'd rank Barton ahead of players such as
Mark Teixeira
and
Ryan Howard
.
Barton is only just beginning his age-25 season in the majors and already has 1,485 career plate appearances to his name. He might not have the power many projected him to have, but Barton has more than held his own at the plate with a career .260/.369/.399 mark -- that .399 mark is dragged down by a .348 slugging percentage over 523 PA in 2008.
Barton will never be confused with his predecessors of
Mark McGwire
and
Jason Giambi
, but posting a .359 wOBA (Think OPS, but better: Weighted On-Base Average, scaled to OBP) was enough to place him 12th among all qualifying first baseman, just behind Teixeira and Howard. And I like Barton's chances of sustaining and improving his offensive production over the next three seasons a whole lot more than I like Howard -- who appears to have already entered his decline phase -- and Teixeira, who is fast developing a reputation for being dinged up and streaky over in New York.
Oh, and we haven't even talked about the contracts that made Howard and Teixeira very rich men. Both have contracts that will bring in well north of $100 million while Barton is just entering his final season at league-minimum salary. The ability for the A's to control Barton for the next four seasons at minimal dollars is a major, major mark in Barton's favor.
But even that's not enough to justify ranking Barton ahead of these players. That's where defense comes in. Barton had a staggering 14.2 UZR/150 (I prefer using UZR/150 to UZR as it allows for across-the-board comparisons) and 20 defensive runs saved (otherwise known as John Dewan's plus/minus rankings).
The Mets'
Ike Davis
came in second at 13, but he's the only other one in double-digits ... and only seven first basemen have done better than Davis over the past eight years ... and just one has beaten Barton out. That's
Albert Pujols
, with 29 DRS in 2007.
How about UZR/150? Barton's 14.2 figure was in front of Davis again, who checked in at 11.9. No other first baseman ranked higher than 4.8. And of the past eight seasons, only five first baseman bettered that figure, led by Pujols again in '07 with a 21.7 mark.
Barton's defense and overall offensive game is exactly why he placed sixth in all first baseman in WAR with 4.2, and that mark is what first caught my attention on how underrated Barton's season was.
Now, a caveat: it's generally accepted that one season is not enough to judge a player on defensive merits. You need more than that as defense can vary wildly from year to year. (Barton is no exception: he had 2 DRS in 2009 with a 6.3 UZR/150, which is still very good.) Three seasons of data appear to be what is necessary. Pujols bookended his sublime 2007 season with 17 DRS in 2006 and 15 in 2008. His UZR/150 were 10.5 and 11.9, respectively. That gives a pretty good picture that his defensive prowess in those years was for real, but he's been on the decline since. His 2009 totals were 12 DRS, 2.3 UZR.150. 2010? Exactly zero DRS and 1.1 UZR/150. Oh, and Pujols was 30.
Why do I mention Pujols' age? Because Bill James wrote the other day that "defensive value peaks earlier and fades MUCH younger than offensive value." (Hat tip to SweetSpot founder
Rob Neyer
for turning me onto that article.) James contends that defensive peak is reached at ages 22-25 and "many players are fading defensively by the age of 27, long before 30."
And that's why I bring up Pujols' age. Yes, it's cherry-picking, but it's a relevant example, and that's why I also feel Barton's a pretty good bet to hang onto his defensive value over the next three seasons, given he's beginning his age 25 season.
Tie it all together and Barton is one of the best first basemen in the game.
Evan Brunell runs the SweetSpot Red Sox blog at Fire Brand of the American League.