SweetSpot:

Matt Dominguez
May, 27, 2013
5/27/13
12:45
AM ET
This whole closer thing is a tough business. Perfection isn't just expected; it's demanded. Slip up once and it's a headline; slip up twice and fans are ready to trade you to Topeka. Slip up three times and your manager usually starts questioning your intestinal fortitude. As the late, great Dan Quisenberry once said, "A manager uses a relief pitcher like a six-shooter: He fires until it's empty then takes the gun and throws it at the villain."
The trouble with closers, and the decisions managers have to make when they start to struggle: When do you know if the chamber is empty?
Three playoff contenders suffered wrenching defeats this weekend when their closers blew multirun leads. Blown saves in one-run games are bad enough; blowing leads of two or three runs is generally unacceptable. The victims, or saboteurs if you prefer:
Jim Johnson
of the
Baltimore Orioles
,
Chris Perez
of the
Cleveland Indians
, and
Fernando Rodney
of the
Tampa Bay Rays
.
Here's what happened:
The Orioles led the Blue Jays 5-2 on Sunday entering the bottom of the ninth, but Edwin Encarnacion doubled, Adam Lind grounded a single up the middle and J.P. Arencibia lined a base hit to right. A fly out, walk and fielder's choice made it 5-4 with runners at the corners and two outs. Light-hitting Munenori Kawasaki was at the plate. Johnson threw Kawasaki six consecutive fastballs -- six of his signature mid-90s sinker -- but the sixth one didn't sink much. The pitch hung out over the middle of the plate, and Kawasaki lined it into left center for a game-winning two-run double. The Orioles lost just one game last season they led heading into the ninth inning; they already have five such defeats in 2013. Johnson has lost three of those, and he has two other defeats, as well.
The Indians also led 5-2 entering the bottom of the ninth, ready to salvage a split of a four-game series at Fenway Park. Dustin Pedroia walked to lead off, and, as you can probably guess, bad things happen when you walk the leadoff batter with a three-run lead. David Ortiz doubled. A groundout scored a run, Ortiz stole third and then another groundout made it 5-4. But now the bases were empty and Perez had two outs. He walked Jonny Gomes, who is hitting .200 without a homer against right-handed pitchers; Stephen Drew lined a base hit to right; and Perez walked light-hitting Jose Iglesias. Terry Francona had finally had enough and brought in Joe Smith to face Jacoby Ellsbury, who won it with a double to left center. It was the first game Cleveland lost entering the ninth inning and just the second loss for the bullpen, but Perez has been shaky of late. Last week, he blew a two-run lead in the ninth to Seattle only to get the win, and two days later, he gave up the go-ahead run in the ninth only to be rescued again as Cleveland won in extra innings. That's seven runs his past three outings.
Rodney blew his fifth save on Saturday night, a 3-1 lead against the Yankees, who won in 11 innings. The Rays have now lost three games they led entering the ninth (and five they led entering the eighth). Last season, when Rodney allowed just nine runs all season and the entire pen was stellar, those figures were two and three.
So that's the play-by-play of disaster. That all three are struggling isn't necessarily a big surprise. Their Proven Closer labels were a little dubious entering the season, especially for Johnson and Rodney, who each had just one full season as a closer under the belt. In fact, it's time we take the magic out of the whole "closer mystique" nonsense that everybody likes to pretend exists. The fact that guys like
Jason Grilli
of the Pirates and
Edward Mujica
of the Cardinals are doing just fine is another indication that closers are often lucked into, not made.
There are few great ones --
Mariano Rivera
, of course, and
Craig Kimbrel
(although even he has three blown saves) -- but the truth is that for most of these guys there's a slender margin between invincibility and Tom Niedenfuer. That's exactly what we're seeing with Johnson, Rodney and Perez this season.
Johnson is a pitch-to-contact closer whom sabermetric analysts predicted would be hard-pressed to match his big 2012 campaign when he saved 51 games. His strikeout rate is up, but that's because he's throwing more pitches up in the zone; a sinker up in the zone is a bad pitch. Last season, Johnson's ground ball rate was 62 percent; this season, it's 42 percent. Thus, he's getting hit more.
Perez was an All-Star the past two seasons, but his 3.45 ERA during that span is hardly elite material for a closer. He's always been a guy who lives on the edge, a decent reliever who got the ninth-inning role. His heat map shows a lot more pitches up in the zone this season, as well -- he's already allowed five doubles, four home runs and 10 walks in 16⅔ innings.
Rodney's implosion is probably the least surprising of the three. From 2007 to 2011, his ERA was more than 4.00 each season. Last season, he suddenly developed the perfect feel for his changeup to go along with fastball command, and batters hit .071 off it with 55 Ks and five walks. This season, the fastball command hasn't been there, and neither has the dominance on the changeup. He's already walked 18 batters (including 10 on changeups) after walking 15 all of last season. After giving up four extra-base hits in 2012, that total is already at nine. In other words, instead of getting Dennis Eckersley in his prime, the Rays are back to getting Fernando Rodney.
The managers of these clubs have some difficult decisions. Because all three have the Proven Closer label, how many chances do they get? And just shuffling them into the eighth-inning role and promoting the setup guy to closer doesn't necessarily solve anything; they can blow games just as easily in the eighth as in the ninth. Orioles manager Buck Showalter has the best options, as relievers
Tommy Hunter
,
Darren O'Day
and
Brian Matusz
have all pitched well.
"We should be getting on the plane with three wins here, but I can't hang my head too long," Johnson said after the game. "It's going to hurt for a little bit, and it should."
For now, it appears Johnson will keep his job despite four blown saves in his past five appearances. But no matter what happens the rest of the season, the ninth inning has already been a disaster for the Orioles. Last season, the average team lost 3.7 games it lead heading into the ninth. As mentioned, that's already five such defeats for the O's this season. And each one has hurt a little bit.
REST OF THE WEEKEND

Three stars
1. Anibal Sanchez, Tigers.
Sanchez lost his no-hit bid on Friday when
Joe Mauer
singled with one out in the ninth. After Detroit acquired Sanchez from the Marlins last season, his strong performance in the playoffs led the Tigers to sign him to an $80 million contract that seemed a little ambitious considering his 3.65 career ERA and the fact that he'd never pitched 200 innings in a season. So far, however, Sanchez has been much better than a midrotation starter, as he's increased his strikeout rate from 20.4 percent a season ago to 30.6 percent now. While he's getting more strikeouts with all four of his pitches, the biggest increase has been with his fastball, which had a strikeout rate of 13.8 percent on plate appearances ending with the pitch in 2012 but 28 percent this season. The command of his fastball -- especially on the outside corner to righties -- has made his other pitches even more effective.
2. Stephen Strasburg, Nationals.
For a guy who is "struggling," Strasburg has looked pretty good of late. He allowed just one run in eight innings against the Phillies on Sunday. In his past three starts, he's allowed four runs and just 13 hits in 23 innings. He's recorded 39 groundouts and 15 fly outs over those three starts. He's still seeking his first double-digit strikeout game of the season but still has 71 Ks in 72⅓ innings. While his ERA of 2.49 is a little misleading -- he's allowed nine unearned runs -- his recent outings should alleviate the minor concerns about his early performance.
3. Pete Kozma, Cardinals.
How to beat
Clayton Kershaw
? The Cardinals shortstop went 4-for-4 on Sunday with three doubles; three of those hits came off Kershaw, including a three-run double and rally-starting two-base hit, as the Cardinals won 5-3.
Clutch performance of the weekend
Of our many walk-off heroes, how about
Chris Young
of the A's? The A's trailed the Astros 5-3 on Friday.
Jose Veras
walked
John Jaso
and
Coco Crisp
on 3-2 pitches, setting the stage for Young with two outs.
Young did this
on a 1-1 curveball. The A's are now five games over .500 -- thanks in large part to a 9-0 record against the Astros, who they've outscored 68 to 31. Hey, if they go 19-0 against the Astros, it's going to be hard to deny them another trip to the playoffs.
Best game
The Giants fell behind 4-0 to the Rockies on Saturday but chipped away and tied the game in the seventh. Manager Bruce Bochy got ejected in the eighth when
Marco Scutaro
was thrown out at third base, and the Giants escaped a two-on, nobody-out jam in the ninth.
Troy Tulowitzki
homered off a
Sergio Romo
slider
in the 10th. But then, after the usually steady
Rafael Betancourt
walked
Brandon Crawford
,
Angel Pagan
lofted a deep fly to right center that kicked off the wall … and, well,
Pagan ran 360 feet around the bases
, helped a bit by a lazy relay throw from Rockies center fielder
Dexter Fowler
.
Hitter on the rise: Matt Dominguez, Astros
When the Astros acquired Dominguez last season from the Marlins for
Carlos Lee
, everyone knew he had a major league caliber glove at third base. After going homerless in his first 33 games, doubts began increasing about his bat. Dominguez, however, has now popped seven homers in his past 13 games. His season line still needs some work, especially in the on-base department (.279), but he's starting to look like a positive in this dismal Astros season.
Pitcher on the rise: Jason Vargas, Angels
Don't look now, but the Angels have won eight in a row and are a respectable 23-27. Did they start too late, just like last season? Vargas is 4-0 with a 2.25 ERA in May, allowing nine runs in five starts. The Angels' next 10 games are against the Dodgers, Astros and Cubs. If they're a couple games over .500 at the end of those 10 games, they'll be back in the wild-card race.
Team on the rise: White Sox
Besides the Angels and Pirates (last week's team on the rise), the hottest club is the White Sox. We keep wanting to count out the South Siders, but, somehow, they find a way to hang in there. They don't score much, but they've won nine of 12 the old-fashioned way: with starting pitching. The starters have a 3.25 ERA over those 12 games, and that despite ace
Chris Sale
missing his last start with mild tendinitis in his shoulder. He's scheduled to start Tuesday against the Cubs.
Team on the fall: Mariners
They pulled out an extra-inning victory over the Rangers on Sunday, but that ended an eight-game losing streak. Starters not named Hernandez or Iwakuma have combined for a 6.78 ERA, which essentially means three-fifths of the Seattle rotation is below replacement level. The
Jesus Montero
catching experiment was finally, mercifully, brought to an end as he was demoted to Triple-A to see if he can rediscover the supposed hitting prowess that once made him a top-10 prospect (and play some first base).
Dustin Ackley
continues to be awful and
Michael Saunders
is three for his past 37. Things are so bad that Mariners fans are excited about
Justin Smoak
and his .698 OPS.
May, 2, 2013
5/02/13
12:30
PM ET
By
Mark Simon
| ESPN Stats & Information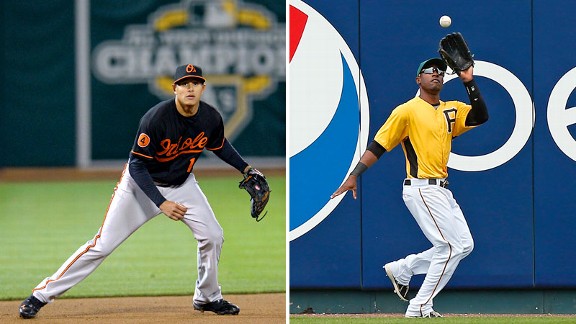 Getty ImagesThe glovework of Manny Machado and Starling Marte helped the O's and Pirates to winning Aprils.
We've brought back the Defensive Player of the Month Award for the 2013 season, and our choice for April, Orioles third baseman
Manny Machado
, was in the ESPN spotlight with a pair of stories on Tuesday.
The Stats & Info Blog ran through Machado's defensive credentials since his recall. Breaking those down into those accumulated in the season's first month, they are:
--5 defensive runs saved, tied with Evan Longoria and Matt Dominguez for the most in the majors at third base.
--13 "Out of Zone" plays (in other words, plays made outside the zones in which third basemen most often turn batted balls into outs), tied for the most with Dominguez.
--6 Web Gems, the most of any player in baseball, and twice as many as any of the eight other nominees we considered combined.
The voting was handled by ESPN.com writers, baseball analysts and researchers from ESPN and Baseball Info Solutions (BIS), and includes Doug Glanville, Jayson Stark, Jonah Keri and Eric Karabell. Each voted for a first-, second- and third-place finisher, with points awarded on a 5-3-1 basis
Machado was a well-deserved winner, earning seven of the 10 first-place votes, but also getting defensive props for the month were:
Starling Marte, Pirates LF
Marte was the runner-up to Machado in our voting. He led major league left fielders with seven defensive runs saved, three more than any other player at that position.
One of the reasons that Marte rates so highly statistically is because he had two home run-robbing catches during the month -- in other words, plays that directly saved runs. They weren't your classic
Mike Trout
, scale-the-wall leaping grabs. In each instance, Marte raced back to a low left-field fence and made a reaching grab to snag a would-be home run.
For more on Marte's impact this month, check out the ESPN Insider piece from Scott Spratt on the significant
improvements to the Pirates' defense
.
Evan Longoria, Rays/Matt Dominguez, Astros
This was a good month for third basemen. We mentioned that Longoria and Dominguez finished tied with Machado in runs saved at the position.
Longoria had three Web Gems, second most among our nominees, and was slightly better than Dominguez in terms of good play/misplay & error ratio (documented by Baseball Info Solutions' video tracking).
Norichika Aoki/Carlos Gomez, Brewers
Aoki and Gomez both had great months from a statistical perspective. Aoki led right fielders with nine defensive runs saved. Gomez had the most among center fielders with seven.
It seemed odd to us that
both
had such high ratings, and in surveying Brewers fans on Twitter, we got a partial explanation why. The Brewers' coaching staff has been playing their outfielders, particularly Aoki, very deep. That's allowed them to take away a few potential extra-base hits, with a limited cost thus far.
That's reflected in both their numbers. BIS' range rating (a "plus-minus system") has Aoki taking away 17 bases above what the average fielder would take away on balls hit to the deepest parts of the park (in other words, a bunch of extra-base hits) and being five bases below average on balls hit to the shallowest parts of the outfield. Gomez has taken away 10 bases on deep balls, and one on the shallow balls.
It's an interesting strategic decision, and one that bears watching throughout the regular season to see if the numbers hold up.
Andrelton Simmons, Braves
This isn't the first time we've
talked about Simmons' defense
and it certainly won't be the last. Simmons led shortstops with six defensive runs saved for the month. He converted 92 percent of the balls hit into shortstop "zones" (the areas in which a shortstop gets outs more than half the time) into outs, second best in the majors to
Cliff Pennington
.
Simmons had an outstanding month. Machado just happened to be a little bit better.
November, 28, 2011
11/28/11
9:30
AM ET

Sure, every team would love to plug its shortstop hole with Jose Reyes or Jimmy Rollins. Albert Pujols would look terrific in any uniform. Have a spare $40 million sitting around? Sure, Ryan Madson is an underrated closer.
But let's be realistic here: Those can't be solutions for every team. So let's identify three key areas of importance for each team and determine a more likely action plan as the offseason wheeling and dealing starts to heat up. We'll start with the National League East. (Check back all week for the other divisions.)
Philadelphia Phillies
1. Shortstop: Empty (
Jimmy Rollins
, free agent)

Rollins just turned 33, but the Phillies would like to bring him back -- on a four-year contract, while Rollins is reportedly looking for a five-year deal that would take him through his age-37 season. While Rollins isn't the hitter he was in his 2007 MVP season, Phillies shortstops still ranked ninth in the majors in OPS, tied for second in runs scored and tied for sixth in RBIs. Rollins is the obvious candidate here, but if it takes five years, why not go after the younger
Jose Reyes
?
Likely solution: Rollins. The big question: Was his 2011 season a fluke, or will he regress back to his subpar numbers of 2009 and 2010 (.248 average, .306 OBP)? It's also worth mentioning that Rollins hasn't been a good postseason player. He has a career .686 OPS in 46 postseason games, and he's homerless in his past 140 postseason at-bats.
2. Left field: Empty (
Raul Ibanez
, free agent)
Stats you may not believe: Despite Ibanez's .298 on-base percentage, Phillies left fielders ranked 16th in the majors in OPS and tied for fourth with 95 RBIs. Remember when left fielders owned big bats? Those days are gone. Still, considering Ibanez's lack of defensive value, it should be easy for the Phillies to upgrade the overall production with
Domonic Brown
and
John Mayberry Jr.
Oddly, the Phillies offered Ibanez arbitration, meaning they're risking Ibanez accepting and earning a likely payout of $12-14 million. (As Buster Olney writes, there could be a gentleman's agreement between the two sides to not accept the offer, although Ibanez must know he won't get anything close to that on the open market.)
Likely solution: Brown/Mayberry Jr. platoon. It's time to give Brown 450 at-bats to see what he can do. Mayberry can play against lefties (and also fill in at first base until
Ryan Howard
returns). Even if Ibanez DOES return, the Phillies should stick with the youngsters.
3. Third base: 22nd in majors with .665 OPS
Here's incumbent third baseman
Placido Polanco
's year-by-year WAR (wins above replacement) since 2007, via Baseball-Reference: 5.0, 3.7, 2.5, 2.0, 1.8. He still carries an excellent glove, but this is a player in decline. Factor in that he's missed 70 games the past two seasons and he's an even bigger question mark.
Likely solution: Polanco will return, but the Phillies would be wise to have a solid alternative. Unfortunately, recent acquisition
Ty Wigginton
is not the answer, as he's been a below-average hitter each of the past three seasons, despite having a little pop. As the Phillies are learning with Polanco, and will learn with Howard, giving long-term contracts to guys past 30 can be a very risky proposition.
Atlanta Braves
1. Shortstop: Empty (
Alex Gonzalez
, free agent)

The Braves didn't even offer arbitration to Gonzalez, a solid fielder with a little pop, but also the owner of an abysmal .270 OBP. Atlanta has a couple of good shortstop prospects in Andrelton Simmons (.311 in Class A) and Tyler Pastornicky (who hit .314 between Double-A and Triple-A). They may believe Pastornicky is ready to handle the job or maybe they'll enter the Rollins/Reyes sweepstakes.
Likely solution: Considering the state of shortstops, the Braves' best option could be to dangle one of their talented young starting pitchers in a trade. But good luck finding a team with an extra shortstop -- maybe Boston's
Jed Lowrie
, with the Red Sox looking for a rotation arm. Short of that, maybe the Braves bring
Rafael Furcal
back to Atlanta.
2. Left field: Upgrade
Martin Prado
One hot rumor was the Braves trading Prado for
Delmon Young
, a "big" right-handed bat the Braves need. Here's the problem with that rumor: Young isn't a big bat. Prado had a .687 OPS in 2011 while battling a staph infection, but Young's OPS was just .695. Over the past three years, Prado's OPS is .771, Young's .758. And Young is a lousy left fielder. Anyway, that rumor was quickly shot down for those obvious reasons, but it does point to the larger issue of trying to upgrade left field: If Young is considered a big bat, maybe you're better off sticking with Prado and hoping for a bounce-back season.
Likely solution: Prado. Why not see if he hits better; if not, you can always seek an in-season fix. Or what about a trade for Dodgers outfielder
Andre Ethier
? The Braves could keep Prado as
Chipper Jones
insurance, and trade a young pitcher for Ethier, who the Dodgers may not want to pay after inking
Matt Kemp
to a $160 million deal.
3. Right field: More production from
Jason Heyward
In reality, the best hope for more offense for the Braves rests in improvement from Heyward and sophomore first baseman
Freddie Freeman
. With Heyward hitting just .227/.319/.389, Braves right fielders ranked just 26th in the majors in OPS, 29th in runs and 27th in RBIs.
Likely solution: Heyward is just 22. I think he's going to have a big season.
Washington Nationals
1. Rotation: Find a power starter

Washington's rotation actually posted a respectable 3.80 ERA, seventh in the NL, but did so despite averaging just 5.67 K's per nine innings, 15th in the NL. That's a difficult equation to maintain. With
Jordan Zimmermann
the only good bet to repeat his 2011 production, the Nats shouldn't simply rely on a healthy
Stephen Strasburg
to bolster the rotation.
Likely solution:
C.J. Wilson
. While some expect the Nats to bid for
Prince Fielder
or
Albert Pujols
, why not spend around half the money and go after Wilson? He's not a classic power pitcher in the sense of fastball velocity but he's racked up 376 strikeouts the past two years. His adjusted ERA over the past two seasons is seventh best among all starters. If you can pitch in Texas, you could dominate in the NL. And with Strasburg around, he won't have to shoulder the pressure of staff ace.
2. Center field: Vacant (
Rick Ankiel
, free agent)
Nationals center fielders posted a .691 OPS, 23rd in baseball. They've reportedly inquired about one of the Twins' glove wizards,
Denard Span
or
Ben Revere
. But rather than trade away a good prospect for a marginal player like Span or Revere (neither would offer much with the bat), why not play
Jayson Werth
there? He'd be an adequate defensive center fielder, at least for a couple of years, and clear room for Bryce Harper in right field, who may be ready by the All-Star break. The Nats will also have to find room in a year or so for 2011 top pick Anthony Rendon, a third baseman in college who will have to move positions with
Ryan Zimmerman
around. Rendon could end up in left field.
Likely solution: Move Werth to center, sign a short-term corner outfielder like
Josh Willingham
,
Jason Kubel
or
Cody Ross
(
Michael Morse
could also play left if
Adam LaRoche
returns healthy, but is best suited for first base).
3. Manager: Is Davey Johnson the long-term answer?
Considering he'll be 69 in January and hadn't managed in the majors since 2000, Johnson was an interesting choice to replace Jim Riggleman. Following an 80-win season and with a slew of talented prospects close to the majors -- Harper, Rendon, pitcher
Brad Peacock
, catcher Derek Norris -- this is a team on the verge of becoming a playoff contender. Maybe not in 2011, but soon. Johnson built a young team in the Mets, but also had veterans Gary Carter and Keith Hernandez as clubhouse leaders. He won in Baltimore, but with a veteran team. Is he the right guy to trust the youngsters as they gain big league experience? I believe he is.
New York Mets
1. Shortstop: If not Reyes, who?

Likely solution: Sign Reyes, or give the job to
Ruben Tejada
. He's never going to hit with any power, but he posted a .360 OBP last season at age 21 (in 376 plate appearances). How rare is that? Since 1980, only three other middle infielders had at least 300 plate appearances at age 21 and posted an OBP of at least .350 --
Alex Rodriguez
,
Delino DeShields
and Jerry Browne. If Tejada can handle short, maybe the Mets are better off spending their money elsewhere.
2. Bullpen: Who closes?
Only the Cubs, Rockies and Astros had a worse bullpen ERA than the Mets in 2011, and none of them had the luxury of pitching their home games in Citi Field. While the Mets could certainly use an ace for the rotation (only the most hopeful will believe in
Johan Santana
's comeback), building a bullpen can be cheap and easy.
Likely solution:
Ryan Madson
? No, he's too expensive. If the Mets don't trust a guy like
Bobby Parnell
, how about a second-tier closer like
Frank Francisco
, who would cost about $30 million less than Madson? I'd also consider adding a second reliever like righty killer
Octavio Dotel
or veteran
Takashi Saito
. Hopefully the Mets learned their lesson with
Francisco Rodriguez
: Bullpen depth is more important than an overrated $15 million closer.
3. Power in the outfield
With
Carlos Beltran
gone,
Jason Bay
a shell and
Angel Pagan
apparently returning to play center, the Mets may be struggling to get power from the outfield.
Solution: Move in the fences! (Wait, this will help the other team as well?) OK: Don't discount
Lucas Duda
, who presumably moves into a regular spot in right field, with the return of
Ike Davis
to first. Duda hit an impressive .292/.370/.482. His park-adjusted OPS was higher than
Troy Tulowitzki
, Howard,
Shane Victorino
or
Carlos Gonzalez
.
Miami Marlins
1. Third base: Empty

Since the Marlins traded
Miguel Cabrera
to the Tigers, they've had four different regular third basemen in four seasons. In 2011, Marlins third basemen ranked 23rd in the majors in OPS and only the Mariners received fewer home runs and RBIs. Certainly, signing Jose Reyes to play shortstop and moving
Hanley Ramirez
to the hot corner makes perfect sense, especially since Reyes would be a defensive upgrade and maybe moving Ramirez would get his bat back to his 2007-2009 level. Prospect Matt Dominguez, who received a September cameo, carries a superb glove but questionable stick (.258/.312/.431 in Triple-A). He's still just 22, though.
Likely solution: In a year with so few top free agents, the odds are slim the Marlins will be the top bidder for Reyes, new ballpark or not. It's a nice smoke screen in an attempt to sell a few season tickets. The most realistic option is to give the job to Dominguez, or if management feels that he needs another year in Triple-A, go the stopgap approach and sign a guy like
Wilson Betemit
. If the Marlins are determined to spend money, they could go after
Aramis Ramirez
, although a Ramirez-Ramirez left side of the infield is a little scary defensively. (The other option would be to slide
Emilio Bonifacio
back to third base, but that would mean more
Chris Coghlan
in center field, and nobody wants that.)
2. Find a quality starter
For all the talk about Reyes and Albert Pujols, the Marlins have some problems in the rotation. Their 4.23 ERA ranked 12th in the NL, and that's despite a pretty good home park to pitch in.
Javier Vazquez
, who rebounded with a strong second half (2.15), is also a free agent, leaving a current rotation of
Josh Johnson
,
Anibal Sanchez
and the eternally disappointing
Ricky Nolasco
and
Chris Volstad
.
Brad Hand
, who turns 22 in March, is in the mix, but his minor league track record is mixed, and more seasoning in Triple-A to improve his command appears necessary.
Likely solution: Re-sign Vazquez and go after a high-risk, lower-cost starter like
Erik Bedard
. Look, Volstad has made 102 starts in the majors; while he's still young, it's time to maybe face the fact he just isn't that good. He doesn't miss bats and for a guy who is supposed to be a ground ball pitcher, he gives up way too many home runs (23 in just 165.2 innings).
Mark Buehrle
would be a nice addition, but Bedard is the more realistic signing. If Johnson returns healthy and Bedard comes up big, the Marlins could suddenly have a strong rotation.
3. Be realistic about appraising your players
Volstad isn't that good. Coghlan hasn't hit in two years.
Gaby Sanchez
is OK, but hardly a star -- 20 teams had a better slugging percentage from their first basemen than Sanchez's .427 mark. (And at 28, he's unlikely to get better.)
Logan Morrison
is better suited to first base, not left field, where he's a big defensive liability.
Likely solution: Yes, a lineup of Reyes, Bonifacio, Ramirez, Pujols,
Mike Stanton
, Morrison,
John Buck
and
Omar Infante
and would look pretty impressive ... even adding a guy like Aramis Ramirez would plug a hole in the middle of the lineup. Despite their 72-90 record, I don't think the Marlins are
that
far away, but I have doubts they'll be able to lure any of the big free agents. But at least the pitches to guys like Pujols and Reyes indicates the Marlins may be aware that Sanchez isn't a star or that Ramirez's days at shortstop may be numbered. Those are good signs.
June, 14, 2011
6/14/11
12:05
PM ET
June is starting to be referred to as "prospect month." That's the time you start seeing more of the top prospects getting called up, as teams hold back their service time as long as possible. The Royals just promoted third baseman
Mike Moustakas
to join rookie first baseman
Eric Hosmer
, the Rockies
called up outfielder
Charlie Blackmon
, and
Julio Teheran
has made a couple of spot starts for the Braves.
If you're a prospect hound or play fantasy baseball or read the great coverage from Keith Law and Jason Grey on ESPN Insider, you'll know all about the following guys. But if you're a fan who sticks to the majors, this primer will help you learn about some of the top prospects who might soon be ready to make an impact in the majors.
Dustin Ackley, 2B, Mariners
Who is he?
Seattle's first-round pick, second overall, in the 2009 draft.
Keith Law's preseason top 100:
7.
Stats:
.291/.410/.481, 9 HR, 53 BB, 37 SO at Triple-A Tacoma.
After a slow start, Ackley hit .355 with a 1.054 OPS in May and is hitting .350 with a 1.119 OPS in June. He's got one of the best eyes in the minors and projects as a 20-homer guy in the majors. He was an outfielder and first baseman at North Carolina, and the Mariners have attempted to switch him to second base. However, some scouts believe it's time to give up on the experiment and move Ackley to left field. Regardless, his bat is ready, and the Mariners desperately need a top-of-the-order on-base guy. Actually, they just need any hitter who can hit something called major league pitching.
Quote:
"We view Ackley as our second baseman going forward." -- Mariners GM Jack Zduriencik to The Seattle Times' Geoff Baker in late May.
ETA: Any day.
Desmond Jennings, OF, Rays
Who is he?
A 10th-round pick in 2006, Jennings has been on top-100 prospect lists since 2008.
Keith Law's preseason top 100:
20.
Stats:
.285/.379/.475, 9 HR, 12 SB at Triple-A Durham.
After Jennings' cup of coffee in September, many expected the Rays to hand him their starting left-field job, but the club instead brought in
Johnny Damon
to play left and
Manny Ramirez
to DH, with Jennings sent back for a return engagement to Triple-A. After Manny retired, the Rays instead installed
Sam Fuld
in left (and lately,
Justin Ruggiano
), content to preserve Jennings' service time. After hitting three home runs in 109 games last year, Jennings has increased his power output. He's a little old (24) to be considered a future star in my book but has a nice all-around game and is ready for a major league job.
Quote:
"I've been more aggressive towards the ball. Last year, I was tentative in swinging at some pitches, but now I'm feeling good about letting it go and taking an aggressive swing." -- Jennings, last week.
ETA:
July. That said, at this point there isn't evidence to suggest that Jennings could outhit Ruggiano, so the Rays are still in no rush to promote him.
Jason Kipnis, 2B, Indians
Who is he?
Second-round pick in 2009 out of Arizona State, moved from center field to second base.
Keith Law's preseason top 100:
56.
Stats:
.293/.366/.489, 7 HR at Triple-A Columbus, over .300 since May.
Kipnis has a nice all-around game with decent pop for a second baseman and baseball instincts that have him 10-for-10 in stolen-base attempts. His move to second base has gone smoother than it has for Ackley.
Quote:
"One scout who has seen him multiple times over the past two years noted his improved defense and projects him to be average at the position." -- Kevin Goldstein, Baseball Prospectus
ETA:
June. Veteran
Orlando Cabrera
offers nothing at this point. He's lost range and is a zero with the stick. The Indians need to call up Kipnis ASAP.
Lonnie Chisenhall, 3B, Indians
Who is he?
Cleveland's first-round pick in 2008 (29th), owner of what Keith Law describes as one of the sweetest-looking swings in the minors.
Keith Law's preseason top 100:
39.
Stats:
.250/.342/.392, 5 HR at Triple-A Columbus.
Chisenhall's swing hasn't produced big numbers at Triple-A, and he's done nothing to alleviate concerns about his production against left-handers, hitting just .175 against them. Even though the Indians could use help at third base --
Jack Hannahan
is hitting like Jack Hannahan after a solid April -- Chisenhall's recall doesn't appear imminent.
Quote:
"Lonnie has been a little more of a challenge. He's had periods where he's been consistent with his swing and approach. He's had other periods where he's struggled a little bit. All the attributes are there for Lonnie to be a very successful major league hitter. He's just a young player developing." -- Indians GM Chris Antonetti to the Cleveland Plain Dealer's Paul Hoynes on Sunday.
ETA:
August.
Matt Dominguez, 3B, Marlins
Who is he?
2007 first-round pick with an outstanding glove but questions about his bat.
Keith Law's preseason top 100:
55.
Stats:
.250/.337/.463, 4 HR in 80 at-bats at Triple-A New Orleans (after fracturing his elbow in spring training).
Dominguez won't turn 22 until August, and the spring training injury set him back a couple of months. As desperate as the Marlins are for help at third base, they'll undoubtedly want to give Dominguez more time at Triple-A to work on his hitting.
Quote:
"His defense is plus-major league defense for a third baseman, and that's his thing. Now he needs to get used to upper-level pitching and get out of here." -- New Orleans manager
Greg Norton
ETA:
Late July/August.
Brett Lawrie, 3B, Blue Jays
Who is he?
Milwaukee's first-round pick in 2008, the key part of the
Shaun Marcum
trade in the offseason.
Keith Law's preseason top 100:
37.
Stats:
.354/.415/.677, 15 HR at Triple-A Las Vegas (currently on the DL with a fracture in his hand).
Lawrie was days from a call-up when hit by a pitch on May 31. He'll be out another couple of weeks before returning to Triple-A. Lawrie had played second base in the Milwaukee system but was moved to third base in spring training. The move has gone well, although some still think he'll end up in the outfield. He's made 12 errors at Las Vegas. In other words, he should look like Brooks Robinson compared to
Edwin Encarnacion
.
Quote:
"There's at least a chance he stays at third base, although I doubt it, but he has the arm and athleticism to play a good right field, and in general has made positive changes that have put old makeup concerns about him [to rest]." -- Keith Law, May 31,
updated top 25 prospects
.
ETA:
All-Star break.
Devin Mesoraco, C; Yonder Alonso, 1B; Dave Sappelt, OF, Reds
Who are they?
Three Reds prospects at Triple-A Louisville. Prime trade bait.
Keith Law's preseason top 100:
Mesoraco No. 31, Alonso No. 65.
Stats:
Mesoraco .330/.409/.558; Alonso .313/.369/.502; Sappelt .333/.402/.543.
Although the Reds are getting solid production from
Ramon Hernandez
and
Ryan Hanigan
, they would be reluctant to trade Mesoraco given his terrific Triple-A numbers. (They also have Yasmani Grandal, their first-round pick in 2010, hitting .293 in Class A.) Alonso, blocked by
Joey Votto
, is more likely to be dealt, but he's a tier down on the prospect rankings. The Reds have been trying him in left field, but nobody really believes he's a left fielder. Sappelt is one of my favorite unheralded prospects in the minors. Drafted out of Coastal Carolina, he's 5-foot-9 and about 200 pounds, so he doesn't have a classic big league body. But he can hit -- .333 in 27 games this season (he missed time with an oblique injury) and .342 last year (winning the Southern League batting title). The Reds might be content with
Chris Heisey
in left or use Sappelt as part of a trade offer.
Quote:
"He has the potential to be a top-notch everyday hitter and catcher in the big leagues." Louisville manager Smokey Garrett on Mesoraco.
ETA:
Trade deadline or later.
David Phelps, RHP, Yankees
Who is he?
14th-round pick in 2008 out of Notre Dame. His fastball rates better than his draft round would indicate, into the 91-93 mph range with good control. He also throws a slider, curve and changeup.
Keith Law's preseason top 100:
Not rated.
Stats:
4-4, 2.95 ERA, 76.1 IP, 76 H, 20 BB, 66 SO, 8 HR at Triple-A Scranton/Wilkes-Barre.
With
Bartolo Colon
heading to the DL, Phelps might get the call to start on Thursday. He throws strikes and pitches with confidence.
Hector Noesi
is still the favorite to start, but Phelps was scratched from his Triple-A start on Monday, with Brian Cashman saying they are "preserving all options" for Colon's slot. Even if he doesn't make his major league debut this week, Phelps is a good bet to appear at some point this season, considering the fragile state of health and age of the Yankees' rotation. As much as Yankees fans want to see top prospects Manny Banuelos and Dellin Betances, neither is dominating Double-A and both need to refine their command before getting a big league call.
Quote:
"Will he make the cover of ESPN Magazine's NEXT issue if he makes two good starts?" -- Yankees fanboy.
ETA:
This week?
Trayvon Robinson, CF, Dodgers
Who is he?
A local product from Crenshaw High School, Robinson was a 10th-round pick in 2005 and has moved along slowly through the minors.
Keith Law's preseason top 100:
Not rated.
Stats:
.304/.363/.567, 14 HR at Triple-A Albuquerque.
The power numbers are impressive, but a lot of hitters are tearing up the PCL this year, and a .304 average actually isn't all that impressive. Of concern is his 68-to-20 strikeout-to-walk ratio, so although Robinson will turn 24 later this season, he might need a full year of Triple-A. That said, left field has been a problem all season for the Dodgers, and prospect
Jerry Sands
was just sent back down after struggling in the majors. A natural center fielder, Robinson might be next in line.
Quote:
"Will Robinson be the next player in the Dodgers' youth movement to get the call? He went though a stretch in which he was pressing and opening up his swing too much. Still, he's on the club's radar screen for the second half." -- Jason Grey
ETA:
July.
Shelby Miller, RHP, Cardinals
Who is he?
The 19th overall pick in 2009 out of high school in Texas, Miller might be the top pitching prospect in the minors.
Keith Law's preseason top 100:
9.
Stats:
3-3, 2.77 ERA, 65 IP, 53 H, 24 BB, 95 SO between Class A and Double-A.
Miller is the long shot on the list, but after dominating Class A for nine starts, he's been promoted to Double-A and pitched well there in two starts (14 SO in 13 IP). And once you're in Double-A, the majors aren't far away. Just 20, he has a high-powered 95 mph fastball, plus an excellent changeup and curveball. The strikeout rate attests to his dominant stuff, but the one concern is he's been an extreme fly-ball pitcher this year. Although that's translated to only two home runs allowed in the minors, it's something to keep an eye on. Miller is unlikely to get the call anytime soon, but with St. Louis in the pennant race, Miller could be a late-season option if needed.
Quote:
"Big league hitters don't chase off the plate. They'll chase on the plate below the zone. That's what we're trying to get him to do." -- Springfield pitching coach Bryan Eversgerd to Joe Strauss of the St. Louis Post-Dispatch
ETA:
September.
Others to watch:
Kyle Gibson, RHP, Twins; Jesus Montero, DH, Yankees; Johnny Giavotella, 2B, Royals;
Rex Brothers
, LH reliever, Rockies; Matt Moore, LHP, Rays; Mike Montgomery, LHP, Royals.