June, 21, 2013
6/21/13
1:15
AM ET
What to make of
Matt Moore
right now?
His 9-3 record looks nice, but he hasn't pitched like a 9-3 pitcher, especially of late. Even when he started the season 8-0, there were some red flags: a lot of walks, high pitch counts that led to early exits and a .181 batting average allowed that seemed unsustainable.
After that hot start, a one-inning outing truncated by a rain delay was followed by three blow-up starts: six runs and six walks in two innings, 12 hits and nine runs in five innings and five runs and four walks in 5⅓ innings.
I don't know if we really learned anything from Thursday's
8-3 victory
over the Yankees, in which Moore took a shutout into the sixth inning before giving up three runs. For starters, the Yankees' is a pretty sad excuse for a major league lineup, and it's particularly pathetic against left-handers.
Chris Capuano
, who has been terrible for the Dodgers, just threw six scoreless innings against New York on Wednesday.
Moore did throw 63 of 99 pitches for strikes, about four percent higher than his season rate, but he should be throwing strikes against a lineup that had
Jayson Nix
batting second and
Ichiro Suzuki
hitting sixth. The uncertainty over Moore's production -- is he an ace or a No. 4 starter? -- makes him the most important guy moving forward in a Tampa Bay rotation that has been a disappointment.
You could pick almost any Tampa Bay starter here, including
David Price
, who
begins his rehab stint
from a strained triceps Friday, or
Jeremy Hellickson
, who has a 5.50 ERA. But if Price is healthy, he should be fine. Hellickson has a better strikeout rate, lower walk rate and the same home run rate as last season; instead of the 82 percent strand rate he's had the past two seasons, it's 61 percent this seaspn. He should be better moving forward as well.
That makes Moore the key starter if the Rays are to stay close in the crowded American League East race. In fact, with the Blue Jays surging -- winners of eight in a row -- seven games separate first-place Boston from last-place Toronto. Here are nine other key players the rest of the way, one hitter and pitcher per team.
[+] Enlarge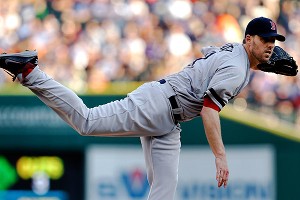 AP Photo/Paul SancyaJohn Lackey could well be Boston's No. 2 starter right now -- and will be a key player in the AL East race.
Matt Joyce, Rays
Since April 26, Joyce has hit .292/.383/.590 with 12 home runs to give the Rays a lethal 1-2 combo with
Evan Longoria
. If he continues hitting like he is, the Rays offense will continue scoring runs.
John Lackey, Red Sox
Lackey continues to impress in his return from Tommy John surgery, throwing seven strong innings against the Tigers on Thursday, leaving with a 3-2 lead and lowering his ERA to 3.03. Red Sox fans might not be willing to forgive him just yet for 2011, but he's starting to win them over. He's throwing in the low 90s, painting the corners with his fastball and getting inside to left-handers with his slider (lefties are hitting just .174 against that pitch). Considering
Jon Lester
's inconsistency, Lackey has arguably become the team's No. 2 starter. Who would have thought that?
Jacoby Ellsbury, Red Sox
He's not the MVP candidate of 2011 -- just one home run -- but he's providing energy at the top of the lineup with a .281 average, .348 OBP and 31 steals in 34 attempts. While more power would be nice, the Red Sox just need him to at least keep replicating what he's done so far.
Jason Hammel, Orioles
Look, the Orioles can't expect to keep running
Freddy Garcia
and
Jake Arrieta
out there and expect to win the division. They'll get
Wei-Yin Chen
back soon, but they're desperate for Hammel to replicate his 2012 performance. Last season, Hammel was getting great sinking movement on his fastball, off which batters hit .252/.318/.378; this season, he's leaving it up too often, and hitters are pounding it for a .309/.377/.510. Last year was a career season for Hammel, so the Orioles might have to decide on banking on his improvement or look to supplement the rotation via trade.
Chris Davis, Orioles
Well, he's on pace for 58 home runs and 146 RBIs. I don't
think
he'll keep doing this, and while he's clearly an improved hitter over last season, we have to expect some regression at some point … right?
CC Sabathia, Yankees
Most pitchers would be happy with a 7-5 record and 3.93 ERA, but it's been an up-and-down season for Sabathia. Manager Joe Girardi is still riding his horse -- Sabathia's on pace for 230 innings -- but righties are slugging .447 off him, up from last season's .374 mark. It's clear he doesn't have the fastball he once had (average velocity: 90.3 mph), so the issues here: Should Girardi back off him a little? Does Sabathia get better? Should we just view him as an innings-eater instead of an ace?
Alex Rodriguez, Yankees
We have to put somebody here, and I can't bring myself to write "
Vernon Wells
." But the Yankees
do
need to find some right-handed bats. Heck, maybe they'll sign
Manny Ramirez
.
R.A. Dickey, Blue Jays
The Jays are starting to get healthy again,
Josh Johnson
has looked better of late and
Mark Buehrle
is looking like Mark Buehrle, so if Dickey can find some consistency and pitch like last season's NL Cy Young winner, the Jays
will
climb over .500 -- they're 35-36 now -- and make things interesting.
Jose Bautista, Blue Jays
The Jays are seventh in the AL in runs, and while
Jose Reyes
will improve the offense when he returns in a few days, they could use a patented Bautista tear in the second half. His numbers are OK, not great -- .257, 15 home runs, .352 OBP -- but, considering the hole they dug, they'll need more from him.
May, 20, 2013
5/20/13
12:00
AM ET
A quick warning about
Jurickson Profar
's call to the majors to
replace
the disabled
Ian Kinsler
: Do not expect
Mike Trout
; do not expect
Bryce Harper
; do not expect
Manny Machado
.
Yes, the performance of those three wunderkinds has, unfortunately, raised the expectations for
all
prospects, especially one deemed the best in the game entering this season.
In time, maybe Profar joins them as generational talents (I can see the corny nickname already: "The Four Tops"), but it would be unfair to believe Profar will hit like they have, at least right off the bat. Remember, he's only 20, and, while he held his own in Triple-A, hitting .278/.370/.438 with four home runs, HE'S ONLY 20 YEARS OLD. Most 20 year olds are still learning how to hit curveballs in the South Atlantic League.
That said, I'm excited to see the kid play for a couple weeks. While Profar didn't start Sunday and Ron Washington said he'll split time with
Leury Garcia
, I'm not sure the Rangers recalled Profar to play three games a week. Profar has a good approach at the plate, particularly for a kid so young, drawing 21 walks in 37 games at Round Rock, so that's a good sign that he'll come up to the majors and not get in trouble by being overly aggressive. And, as Washington likes to say, "He's not afraid of the game."
Kinsler had been one of the best players in the league so far, hitting .302 with seven home runs, 20 RBIs and 24 runs, so the Rangers will miss his production from the leadoff spot. But they have a comfortable lead in the AL West and there was no reason to push him through the injury.
Profar is likely headed back to Triple-A once Kinsler's DL stint ends. Of course, who knows, maybe Profar hits so well he leaves the Rangers no choice but to find a regular spot for him. I don't think that will happen, but I wouldn't be that eager to bet against him, either.
REST OF THE WEEKEND

Three stars
1. Matt Joyce, Tampa Bay Rays.
Down 4-0 after one inning to the
Baltimore Orioles
on Saturday, Joyce hit a two-run homer in the third to get the Rays closer and then hit a two-run, go-ahead double in the ninth. On Sunday, Joyce's homer provided the insurance run in a 3-1 win as the Rays swept the O's.
2. Dexter Fowler, Colorado Rockies.
The Rockies had many heroes in winning three of four against the
San Francisco Giants
at home, but Fowler jumpstarted the offense all weekend with 10 hits and seven runs scored. Not a bad four days: He raised his average from .252 to .286.
3. Justin Masterson, Cleveland Indians.
Masterson tossed his second consecutive scoreless start, striking out a season-high 11 in seven innings against the
Seattle Mariners
on Sunday in a 6-0 victory. Masterson improved to 7-2 while lowering his ERA to 2.83. This is a different Masterson than we've seen the past couple seasons, with a much higher strikeout rate (25 percent versus 18 percent last season) but still keeping the home runs to a minimum (just three). While he's struggled in the past against left-handers, he's held them to a .226 average this season with a 36/19 K/BB ratio compared to 72/56 in 2012. And it's not all batting average on balls in play (BABIP), which is a fairly normal .285 so far. If he keeps getting lefties out, he's going to keep winning games.
Honorable mention star of the weekend
Have to mention
Joey Votto
for getting on base all six times in Saturday's win for the
Cincinnati Reds
-- he went 4-for-4 with two walks, a double and a home run. Only two players had a "6-for-6" day last season --
Aaron Hill
of the
Arizona Diamondbacks
and
Neil Walker
of the
Pittsburgh Pirates
. Both went 5-for-5 with a walk and, like Votto, doubled and homered.
One more honorable mention star of the weekend
The Diamondbacks beat the
Miami Marlins
on Saturday as
Brandon McCarthy
pitched the three-hit shutout (no save!), but he had a lot of help from
Gerardo Parra
, who led off the game
with this
on the first pitch and
then did this
in the bottom of the first. Parra has one of the better arms in the majors, but his bat is a big reason the D-backs are in first place, as he's hitting .320/.385/.494 with 28 runs (11th in the NL). That batting line, combined with his outstanding defense, has Parra leading the NL in Wins Above Replacement (WAR), tied with
Matt Harvey
and
Clayton Kershaw
, at 3.1. Justin who?
Clutch performance of the weekend
Atlanta Braves
rookie
Evan Gattis
keeps finding a way to get himself into the highlights. On Saturday, he pinch hit in the eighth inning against hard-throwing
Kenley Jansen
of the
Los Angeles Dodgers
with the Braves down 1-0 and a runner on and
did this
on a 2-2 fastball. The best part of the highlight is
Freddie Freeman
's "I don't believe that" reaction in the dugout.
The Dodgers bullpen, meanwhile, continues to implode. They followed Saturday's loss with another one on Sunday, giving up four runs in the eighth in a 5-2 loss. It has 13 losses, three more than any other team, and its 4.61 ERA is better only than the
New York Mets
and
Houston Astros
.
Unclutch performance of the weekend
Aroldis Chapman
, step on down. Chapman entered with a 2-1 lead on Sunday and walked
Delmon Young
with one out. That was bad enough, but
Cliff Lee
pinch ran for Delmon (yes, a guy who plays the outfield regularly got run for by a pitcher) … and got picked off for the second out of the inning. Game over, right? Nope.
Erik Kratz
homered on a 3-2, 98 mph heater. And then
Freddy Galvis
-- Freddy Galvis! --
hit the dramatic walk-off home run
off a 95 mph fastball.
Best game
OK, it's pretty difficult to top that one. There were some wild games this weekend -- Tampa beat Baltimore 12-10 on Friday, the Indians gave up two home runs in the ninth to Seattle on Saturday only to win in the bottom of the inning -- but Friday's
Washington Nationals
-
San Diego Padres
game was a tough one for San Diego.
Adam LaRoche
homered twice off rookie
Burch Smith
, but the Padres tied it with two runs in the bottom of the ninth off
Rafael Soriano
-- with the help of another
Ryan Zimmerman
throwing error. (A situation that's becoming a serious problem for the Nationals, as that's nine errors for Zimmerman with his fielding percentage a
Mark Reynolds
-like .897.) Anyway,
Chad Tracy
hit a
pinch-hit homer
off
Huston Street
in the 10th to give the Nats a 6-5 win. That's already six home runs allowed for Street, whose trade value is shrinking with each home run.
Hitter on the rise: Jason Kipnis, Indians
He had a three-run,
walk-off home run
in the 10th inning on Friday and two hits on Saturday and Sunday, giving him nine in his past four games, all Cleveland victories. The Indians are 17-4 since April 28 and Kipnis has hit .305 with seven home runs and 21 RBIs in the 20 games he's played. He won't start the All-Star Game with
Robinson Cano
in the American League, and the AL is loaded at second base with Kinsler,
Dustin Pedroia
and
Jose Altuve
, but it wouldn't surprise me to see Kipnis at the All-Star Game.
Pitcher on the rise: Jeff Locke, Pirates
I'm not necessarily buying, but the lefty is now 4-1 with a 2.73 ERA after tossing seven scoreless innings on Sunday against the Astros
in a 1-0 win
. His K/BB ratio is a pedestrian 32/22, but opponents are hitting just .219 off him, thanks to a .230 BABIP. With that number likely to rise, Locke will need to record a few more whiffs to maintain success close to this level. Still, that's three scoreless outings this season and one did come against the Cardinals. Even though he's not
this
good, if he can give the Pirates 175 solid innings as a No. 4 starter, they'll take it.
Team on the rise: Pirates
The Pirates took two of three from the Astros to improve to 11-6 in May and 26-18 overall. They're second in the majors in ERA, and it's not necessarily a huge fluke as they're third in strikeouts. One thing to keep an eye on: Only the hapless Astros have needed more innings from their bullpen, so while the Pittsburgh crew has been outstanding, the workload is a possible concern down the road.
Team on the fall: Dodgers
The two bright spots this week were
Zack Greinke
's return and
Matt Kemp
's great catch
on Saturday, but three losses in Atlanta reiterated that this isn't just a team ravaged by injuries: It's a bad team with a bad bullpen that finds ways to lose. Manager Don Mattingly said not to blame the bullpen. "You add on a run here or there, it takes a lot of pressure off a guy that you can't give up one hit that changes the whole game. I think we have to take this all as a group."
OK, then, we'll call it a team effort of a team on the fall.
September, 14, 2012
9/14/12
12:00
AM ET
As the
Tampa Bay Rays
and
Baltimore Orioles
played on in the late-afternoon shadows, the managers turned to
Chris Archer
and
Tommy Hunter
, a rookie with just 18 innings of big league experience making his first relief appearance of the season and a veteran starter banished to the bullpen, respectively.
This is pennant-race baseball.
In Anaheim, Angels ace
Jered Weaver
took the mound, making his first start in 11 days because of biceps tendinitis, and all he had to do was prevent the A's from completing a four-game sweep and keep the Angels within shouting distance of the playoffs.
This is playoff-race baseball.
In Houston, the Phillies -- who punted back in July when they traded two-thirds of their starting outfield -- had suddenly found themselves smelling the sweat of the Cardinals, Dodgers and Pirates. They started a rookie named
Tyler Cloyd
, making his fourth major league start. Not only that, he was starting on three days' rest. I knew nothing about him, so I looked up a few facts. He was the International League pitcher of the year, but he's a finesse right-hander who rarely reaches 90 mph. He was an 18th-round draft pick in 2008 out of Nebraska-Omaha, but his lack of velocity meant he wasn't one of Baseball America's top 30 Phillies prospects entering the season despite good minor league numbers in 2011.
This is wild-card baseball.
I intended to watch the monumental
Chris Sale
-
Justin Verlander
showdown, two Cy Young contenders facing off in a crucial game in the American League Central, but that game was rained out, so I focused on the Yankees-Red Sox showdown at Fenway Park.
Phil Hughes
, a pitcher who had allowed the second-most home runs in the major leagues, was trying to pitch the Yankees back into a first-place tie with the Orioles. All he did was pitch one of the best games of his career, allowing no runs for just the second time this season.
This is baseball.
[+] Enlarge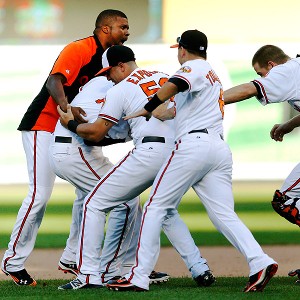 AP Photo/Patrick SemanskyThe Orioles should be celebrating. They're in playoff contention after not having a winning record in 15 seasons.
I'm riveted to my television set, flipping channels, checking box scores, watching a second game on my laptop. It's the best time of the year, when nearly every game matters, when important outs in important games start taking on an October-like intensity. It's why we watch the first 140 games, to build up to these moments: Archer versus 20-year-old rookie
Manny Machado
with the game on the line.
Archer had used a little magic in the 13th inning, when he escaped a bases-loaded, no-outs jam to extend the game another inning. During that high-wire act, he fell behind
Matt Wieters
3-0 but came back to strike him out on a 94 mph fastball, his seventh consecutive fastball of the at-bat. No tricks, just heat, and it worked. I tweeted something along the lines of: "If the Rays win this game and eventually make the playoffs, remember this inning."
But Buck Showalter has been around this game a few years. They say he's pretty wise. In the 14th inning, Archer got the first batters out, but
Adam Jones
fouled off a 3-2 slider and then drew ball four.
Endy Chavez
singled to left. That brought up the rookie Machado, 0-for-5 on the day, 2-for-his-past-20. Archer fell behind 3-and-0.
You don't give a rookie the green light.
Buck gave Machado the green light.
Machado swung and lofted a sinking line drive near the left-field line.
Matt Joyce
ran in, dove, stretched out, his glove reaching for the baseball, reaching for hope -- to keep the game going, to give the Rays hope of getting a win closer to the playoffs rather than a loss further away. Off the glove. Base hit.
Orioles win 3-2
-- their 13th in a row in extra innings; 27-7 in one-run games, the best percentage in history. How can you not believe in the Orioles?
Joyce came up a few inches short. If
Sam Fuld
, an outfielder with more range, had been in left field, he makes the play. But Fuld had been removed in the 13th inning when Joe Maddon had replaced him with
Reid Brignac
to give the Rays five infielders after the Orioles loaded the bases. And that strategy worked when the Rays got the first out of the inning on a force at home. Maddon used 26 players in the game, clawing for any little edge.
That's what you do this time of year.
* * * *
Cloyd pitched three scoreless innings against the Astros but then gave up a single -- single -- home run and got the hook. He was replaced by another rookie,
B.J. Rosenberg
, with an ERA of 9.00. Rosenberg pitched two scoreless innings. In the eighth, the Phillies clinging to a 4-3 lead, Charlie Manuel turned to yet another rookie,
Phillippe Aumont
, once the prize of the
Cliff Lee
trade with the Mariners. Big stuff, no command: He averaged 6.9 walks per nine innings in Triple-A. He walked a guy, but got a caught stealing. He walked another guy. He hit a batter.
Two outs, two on, the Phillies cannot afford to lose. They have a $50 million closer in the bullpen.
Manuel brought in yet another rookie,
Jake Diekman
. He gave up a two-run double and an RBI single, and the
Phillies lost 6-4
.
Jonathan Papelbon
sat in the bullpen, and suddenly that playoff run seems a little less likely.
The victories are extra sweet. The losses extra bitter. Welcome to the best time of the season.
June, 17, 2012
6/17/12
1:30
AM ET
By
Christina Kahrl
| ESPN.com
Suffice to say that these days, Orioles starter
Jason Hammel
is making room for himself. Having shut down the Braves with
a one-hit shutout
Saturday, Hammel is redefining his career. The win was his first shutout, the first nine-inning complete game of his career. He posted the highest
Game Score
(91) of any turn in his career.
Hammel has had to come a long way to get to this point, though, because it wasn't so long ago that he was just an extra guy, a fringe guy, a fifth man. The sort of pitcher who has to hear that he'll have to pack his bags because there's no room for him. That's despite the big, 6-foot-6 frame scouts love in a right-hander and a fastball that sits around 93 mph. But Hammel's mixed fortune was that he began his pro career in the Rays' system, where if you weren't a blue-chipper with Cy Young potential, you were trade bait.
That effectively was Hammel's lot. As a pitching prospect in the Rays' system, being pretty good was nice, but it wasn't enough, certainly not with as many top pitching prospects as that system has been cranking out. When Hammel debuted for Tampa Bay in 2006, he was in the same cadre as
James Shields
and
Edwin Jackson
, not to mention
Andy Sonnanstine
and
J.P. Howell
, all useful guys to stock a rotation behind an already-there
Scott Kazmir
. Then the Rays brought in
Matt Garza
in 2008, with
Jeff Niemann
and
David Price
coming into the picture. Now there really wasn't much space for "pretty good" in Tampa Bay. Even after Jackson was dealt to the Tigers (for
Matt Joyce
), Hammel just wasn't going to stand out in this crowd, not even at 6-6. He didn't rate among the Rays' front five. Or six. Or seven.
So, as Opening Day 2009 approached, the Rays decided they needed Hammel's spot on the roster more than they needed Hammel's brand of pretty good. They gave him the most bittersweet of liberating opportunities to start every fifth day in the big leagues by sending him to Denver and baseball at altitude, perhaps with the standard expectation that the pitcher-munching environment would chew him up as it had so many other pretty good pitchers, going all the way back to David Nied. Who survives that long enough to make the team dealing a pretty good pitcher look bad?
But Hammel endured and survived and stayed pretty good, giving Colorado three years of useful mediocrity (including a definitively average 100 ERA+ and a 4.63 ERA). Perhaps that sort of damnable consistency can bore even the most pitching-hungry team, because the Rockies decided they needed more than pretty good this winter, flipping him (with the reliably disappointing
Matt Lindstrom
) to the Orioles for rotation workhorse
Jeremy Guthrie
.
Credit Rockies general manager Dan O'Dowd with this much: A front-of-the-rotation starter was getting moved in this deal. Unfortunately, his Rockies weren't the team getting one -- the Orioles were, and Saturday night's start merely represented the latest in kind as Hammel turns in a season that redefines his upside and his value.
Consider what he's throwing and the results he's generating. Despite moving into the vaunted American League East, he's striking out a career-high 22.7 percent of batters, a jump of roughly 40 percent over his career rate. He's generating 40 percent more ground balls, and his ratio of ground ball outs to flies has moved to a career-high 1.53. What's he doing differently? Ditching his changeup, for starters.
If you look at PitchF/X sites that try to break down fastball types into four-seam, two-seam and cut fastballs, you'll find Hammel seems to be throwing fewer four-seam fastballs, which might help explain the jump in ground ball outs. More simply, he's becoming a quality sinker-slider guy, and that reliance on a classic power assortment is paying off with a career-high clip for swinging strikes, 18 percent, the first truly above-average mark of his career.
As a result of all this good stuff, unlike so many first-half performers providing surprises, Hammel isn't being tagged with the dreaded "regression" label. His FIP isn't much different from his actual ERA, so analysts might have to accommodate themselves to the notion that Jason Hammel isn't just pretty good anymore -- perhaps he's flat-out good.
The timing of this turnaround couldn't come at a better time for Hammel; he's a viable All-Star starter on a contending team. Among the Orioles, only center fielder
Adam Jones
(2.6) and shortstop
J.J. Hardy
(2.1) had higher wins-above-replacement values than the 1.8 Hammel was sporting before his shutout. He might be a long-shot selection, but on a personal level, it would be icing on the offseason cake he's already baking as he heads toward a last spin with arbitration and a fine shot at leveraging that into multiyear money.
In the meantime, he is giving the Orioles a better season than Guthrie ever had and seems poised to deliver more of the same. At 29, he's proved to be durable, having never suffered a major arm injury as a pro -- his one career trip to the disabled list was caused by a strained groin in 2010.
Put all of that in one package, and you can still ask whether it adds up to an All-Star, a 10-figures-per-year pitcher or a reliable No. 2 in anybody's rotation. But the way Hammel is going, we won't have to ask much longer, because he's providing the answer one turn after another. How good is that? Pretty good.
PHOTO OF THE DAY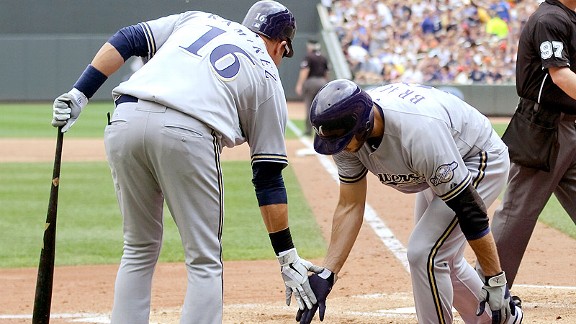 Hannah Foslien/Getty ImagesHigh or low, Ryan Braun's reliably able to celebrate another cheap-seat souvenir.
Christina Kahrl covers baseball for ESPN.com. You can follow her on Twitter.
June, 7, 2012
6/07/12
12:56
AM ET
"Show us some respect," yell Baltimore Orioles fans. Or maybe they're politely demanding. But I've seen the complaints in the Power Rankings comments, read the emails sent to "Baseball Today," been asked the question in my chats: Why doesn't anyone believe in the Orioles?
The Orioles traveled to Fenway Park this week in a precarious situation. They've lost two of three in Tampa. They've been swept in Toronto. They've lost two of three at home to Kansas City. They've lost two of three at home to Boston. They haven't won a series since the big weekend showdown in Washington from May 18-20.
So, yes, the concerns all of us "experts" had been raising -- it's a long season, let's see what happens to the rotation, let's find out if some of the hitters can keep up their hot starts, the bullpen can't keep its ERA under 2.00 all season -- were proving true. The O's were 27-14 after winning the second against the Nationals but had gone 3-10 since, with the staff posting a 4.95 ERA while the offense scored 3.5 runs per game.
These were the Orioles we all expected. And then they beat the Red Sox in extra innings on Tuesday. And then they
beat the Red Sox 2-1
on Wednesday behind a solid effort from
Wei-Yin Chen
and scoreless innings from
Pedro Strop
and
Jim Johnson
. They're 5-0 at Fenway in 2012 and Chen is now 5-2 with a 3.49 ERA. The key moments came in the seventh inning after the Red Sox threatened with a pair of singles to start the frame. But after a sacrifice bunt, Chen struck out
Marlon Byrd
and induced
Mike Aviles
to pop out to first base.
Normally, Buck Showalter might have turned to his stellar bullpen, but after Tuesday's victory, in which the bullpen threw five innings, he left Chen to escape the jam. He set up Byrd with three fastballs and then got him swinging on a beautiful changeup. He threw three more fastballs to Aviles that he couldn't get around on. Don't underestimate Chen. His stuff plays up big, with his four-seamer reaching 94 mph. His last pitch to Aviles was clocked at 93. In 11 starts, he allowed two or fewer runs seven times and I think this outing will give Showalter more confidence to stretch Chen a little deeper into games.
So the Orioles remain in first place for another day, half a game ahead of the Yankees. Is it time to show them a little respect, to give Orioles fans what they crave? Let's do some position-by-position rankings to help sort out this tightly packed division. Rankings are simply listed in order of who I would want the rest of the season.
(Season-to-date Wins Above Replacement from Baseball-Reference.com, before Wednesday's games, listed in parenthesis.)
Catcher
1.
Matt Wieters
, Orioles (1.6 WAR)
2.
Jarrod Saltalamacchia
/
Kelly Shoppach
, Red Sox (1.6)
3.
Russell Martin
, Yankees (0.7)
4.
J.P. Arencibia
, Blue Jays (0.2)
5.
Jose Molina
, Rays (0.1)
There is a case to be made that Boston's duo is more valuable since they've combined for 14 home runs and an OPS over .900. But Wieters brings elite defensive skills and I also don't believe Salty is going to slug .583 all season. For the second consecutive season, the Rays are essentially punting offense at catcher. Rays catchers have the worst OPS in the majors.
First base
1.
Adrian Gonzalez
, Red Sox (0.8)
2.
Mark Teixeira
, Yankees (0.6)
3.
Mark Reynolds
, Orioles (-0.6)
4.
Carlos Pena
, Rays (0.4)
5.
David Cooper
/others, Blue Jays (incomplete)
Gonzalez is still struggling to get his stroke going, but he's the best of a weak group. Yes, I just called Mark Teixeira weak, but at this point he's a low-average guy who pops a few long balls, doesn't draw as many walks as he once did and isn't as great on defense as Yankee fans believe. But in this group that's good enough to rank second. Reynolds has a low WAR but he's missed time and that includes his bad defense at third base, a position we've hopefully seen the last of him playing. The Jays, meanwhile, need to quit fooling around at first base and find a legitimate hitter, or move
Edwin Encarnacion
there and find a designated hitter. You hate to waste a potential playoff season because you can't find a first baseman who can hit. (No, David Cooper is not the answer, although he's hit well so far in 11 games.)
Second base
1.
Robinson Cano
, Yankees (2.1)
2.
Dustin Pedroia
, Red Sox (1.8)
3.
Kelly Johnson
, Blue Jays (2.1)
4.
Ben Zobrist
, Rays (0.7)
5.
Robert Andino
, Orioles (0.6)
I love Ben Zobrist almost as much as two scoops of Vanilla Heath Bar Crunch from Ben & Jerry's, but a .199 average isn't going to cut it in this group, even if you are on pace to draw 100-plus walks. Zobrist has actually play more right field so far, but should be back at second on a regular basis with
Desmond Jennings
back.
Third base
1.
Evan Longoria
, Rays (1.4)
2.
Brett Lawrie
, Blue Jays (3.1)
3.
Alex Rodriguez
, Yankees (1.2)
4.
Kevin Youkilis
/
Will Middlebrooks
, Red Sox (0.5)
5.
Wilson Betemit
/
Steve Tolleson
, Orioles (-0.1)
Lawrie's WAR is boosted by defensive metrics that treat him like he's the second coming of Brooks Robinson. He's a good player but don't I think he's been the second-best position player in the American League. Longoria hopes to
return at the end of the Rays' current road trip
. As for A-Rod, his health is always a question at this stage of his career, but Youkilis has health questions and I'm not a believer in Middlebrooks' ability to hit .321 with power all season. His 29/4 strikeout/walk ratio is something pitchers should learn to exploit. As for the Orioles ... third base is an obvious concern. But don't expect a rare intra-division trade to acquire Youkilis.
Shortstop
1.
J.J. Hardy
, Orioles (2.1)
2. Mike Aviles, Red Sox (2.2)
3.
Derek Jeter
, Yankees (0.9)
4.
Yunel Escobar
, Blue Jays (1.9)
5.
Sean Rodriguez
, Rays (1.9)
Wait ... Jeter has been the
least
valuable of this group so far? The other four all rate as excellent fielders -- in fact, Baseball-Reference rates them all in the top 13 fielders in the AL. Jeter, meanwhile, ranks 310th in the AL on defense -- out of 313 players.
Left field
1. Desmond Jennings, Rays (1.2)
2.
Daniel Nava
/
Carl Crawford
, Red Sox (1.7)
3.
Brett Gardner
/
Raul Ibanez
, Yankees (0.3)
4.
Eric Thames
/
Rajai Davis
, Blue Jays (-0.1)
5.
Endy Chavez
/
Xavier Avery
/
Nolan Reimold
, Orioles (-0.3)
Not to keep picking on the Orioles, but this is another problem position, especially if Reimold's disc problems lingers all season. Nava has quietly been a huge savior for the Red Sox, batting .305 with a .438 OBP. He's drawing walks at a crazy rate. He should slide some but he's provided the kind of depth the Orioles don't have.
Center field
1.
Adam Jones
, Orioles (2.5)
2.
Curtis Granderson
, Yankees (1.3)
3.
B.J. Upton
Rays (0.9)
4.
Jacoby Ellsbury
/
Scott Podsednik
/Marlon Byrd, Red Sox (0.5)
5.
Colby Rasmus
, Blue Jays (1.3)
Ellsbury might be the biggest wild card in this race, because the Red Sox can't survive much longer with the Podsednik/Byrd platoon. When will he return? How will he hit? He just started throwing and could
return by the end of the month
. I've conservatively put him fourth, which seems fair considering the unknown. And please note, Orioles fans, that I believe in Mr. Jones.
Right field
1.
Jose Bautista
, Blue Jays (0.9)
2.
Matt Joyce
, Rays (2.2)
3.
Nick Swisher
, Yankees (-0.1)
4.
Cody Ross
/
Ryan Sweeney
, Red Sox (1.6)
5.
Nick Markakis
/others, Orioles (0.3)
Markakis is out three to four weeks with a broken bone in his wrist, an injury that once again reflects Baltimore's lack of depth. But all five teams are solid in right field. Ross is about to return from his broken foot; we'll see if he pounds the ball like he was before the injury (.534 slugging).
Designated hitter
1.
David Ortiz
, Red Sox (1.4)
2. Edwin Encarnacion, Blue Jays (1.6)
3. Revolving Door, Yankees
4.
Chris Davis
, Orioles (0.3)
5.
Luke Scott
, Rays (0.0)
No respect for Davis? OK, he's hitting .295/.333/.494. And he has 53 strikeouts and eight walks. Sorry, call me skeptical, O's fans. Yankee designated hitters have actually fared well, hitting a combined .279/.354/.467 with 10 home runs.
No. 1 starter
1.
David Price
, Rays (2.2)
2.
CC Sabathia
, Yankees (1.9)
3.
Ricky Romero
, Blue Jays (0.3)
4.
Josh Beckett
, Red Sox (0.5)
5.
Jason Hammel
, Orioles (1.9)
Look, Hammel has been terrific so far thanks to a career-high strikeout rate
and
a career-high ground-ball rate. But this is tough group and the question is who is going to be best moving forward? My biggest concern is that Hammel has never pitched 180 innings in a season. Can he pitched the 210 to 220 that you need from a No. 1?
No. 2 starter
1.
Brandon Morrow
, Blue Jays (1.1)
2.
James Shields
, Rays (-0.4)
3.
Andy Pettitte
, Yankees (1.5)
4. Wei-Yin Chen, Orioles (0.7)
5.
Jon Lester
, Red Sox (-0.4)
I like Chen. Heck, right now I like him better than Jon Lester, which tells you how much I like him. But he averaged just 172 innings in Japan over the past three seasons. Can he hold up over 32 starts?
No. 3 starter
1.
Jeremy Hellickson
, Rays (1.0)
2.
Hiroki Kuroda
, Yankees (1.4)
3.
Felix Doubront
, Red Sox (0.4)
4.
Brian Matusz
, Orioles (0.2)
5.
Henderson Alvarez
, Blue Jays (0.4)
Matusz is holding his own at 5-5, 4.41, but he's still walking a few too many, allowing a few too many hits, a few too many home runs. The velocity is solid, averaging 91 on his fastball. We're talking minor upgrades needed in his command, getting the ball down in the zone more often to get more groundballs. If the Orioles are to have any chance, Matusz's improvement may be the single most important aspect.
No. 4 starter
1.
Matt Moore
, Rays (-0.6)
2.
Ivan Nova
, Yankees (0.3)
3.
Jake Arrieta
, Orioles (-0.4)
4.
Clay Buchholz
, Red Sox (-1.2)
5.
Kyle Drabek
, Blue Jays (-0.1)
Five pitchers who have struggled, but Arrieta's peripheral numbers are actually pretty solid. Like Matusz, there is hope for improvement. On the other hand, he's been awful since pitching eight scoreless innings against the Yankees on May 2, giving up 29 runs in 31.2 innings. His BABIP was .243 through May 2; it's .361 since. The truth is probably right in the middle, leaving Arrieta third on our list of fourth starters.
No. 5 starter
1.
Alex Cobb
/
Jeff Niemann
, Rays (0.3)
2.
Drew Hutchison
, Blue Jays (0.1)
3.
Phil Hughes
, Yankees (0.2)
4.
Daisuke Matsuzaka
/
Aaron Cook
/
Daniel Bard
, Red Sox (-0.3)
5.
Tommy Hunter
, Orioles (-0.5)
Hunter isn't really a major league starter, but I'm not sure
Jamie Moyer
-- just signed to a minor league contract -- is exactly a solution. The Orioles need to upgrade here.
Bullpen
1. Yankees (2.76 ERA)
2. Orioles (2.48 ERA)
3. Red Sox (3.66 ERA)
4. Rays (3.43 ERA)
5. Blue Jays (4.39 ERA)
If you watched Pedro Strop and Jim Johnson close out Wednesday's win, you'll realize the back of the Orioles' end has two guys with filthy stuff.
Darren O'Day
and
Luis Ayala
are strike-throwing machines and
Troy Patton
is a lefty who isn't a LOOGY. It's a good pen and it's deep. But the reliability of the pen ties into the rotation's inability to pitch deep into games -- Orioles relievers have already thrown 39 more innings than Yankees relievers, for example.
OK, let's add it up … one point for ranking first, five points for ranking fifth. Hey, this isn't meant to be scientific, so don't overanalyze this too much. The totals:
Yankees: 36 points
Rays: 40 points
Red Sox: 45 points
Blue Jays: 51 points
Orioles: 53 points
Not the respect Orioles fans are seeking. Sorry about that; it's nothing personal. Look, I don't think the Orioles are going to fade away anytime soon. I worry about the rotation's ability to hold up all summer and the bullpen's workload. They lack depth on offense and have a couple of obvious holes. Hey, you never know, and the Orioles are certainly due for a winning season. I would love to see it happen.
PHOTO OF THE DAY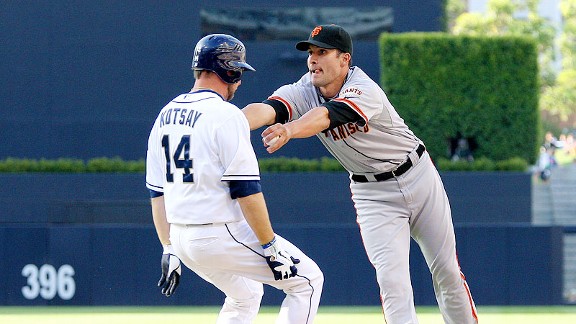 Jake Roth/US PresswireJavier Lopez is sending a message to Mark Kotsay: Tag, you're out!
April, 28, 2012
4/28/12
2:17
AM ET
By
Ben Duronio
| Special to ESPN.com
Facing baseball's top team in their ballpark Friday night, the
Tampa Bay Rays
brought home run power at the plate and strikeouts on the mound to put away the
Texas Rangers
,
8-4
. This marked the sixth consecutive win for the Rays, who have seemingly righted themselves after sputtering to a 4-5 record to start the season.
The Rays have managed to go 9-2 since then, mainly due to a potent offense that is fourth in the American League in runs scored.
Evan Longoria
has hit like an MVP candidate, currently sporting a .319/.437/.569 line with four home runs, including a three-run shot Friday.
Desmond Jennings
owns a nine-game hitting streak, during which he's hit .324, and
B.J. Upton
has come off the disabled list with a vengeance with a .788 OPS.
Newly acquired bats
Carlos Pena
and
Luke Scott
have made Rays fans forget the short, though productive, stints in Tampa Bay of
Johnny Damon
and
Casey Kotchman
. Pena and Scott have already combined for nine home runs, more than one-third of the amount that Damon and Kotchman produced all of last year. For reference, the Rays have played 12.3 percent of their games so far, so it looks like these one-year deals on the heels of letting Damon and Kotchman walk could provide excess value.
Interestingly, the Rays are not utilizing the stolen base as the catalyst to their offensive production. Last season the Rays finished second in the majors in stolen bases, marking the first time since 2007 that they did not lead the league in the category. Entering last night, the Rays ranked 16th with 12 total steals. The Rays do have stolen-base threats in Jennings and Upton, but the Rays have been generating offense in a different manner than they are accustomed to -- with power.
The Rays have hit 27 home runs this year, tied for fourth in the majors. Longoria, Pena, Scott, and
Matt Joyce
have hit at least four long balls apiece. Behind them, Jennings and
Ben Zobrist
have three each. Those hitters comprise the Rays' 1-5 hitters against right-handed pitchers, as Joyce sits against southpaws. The impressive patience and power displayed by the Rays has been evident over their current win streak in that they have hit at least one home run in each of the past five games.
In addition to their offense, which was on display against Rangers lefty
Matt Harrison
on Friday night, the Rays have gotten a lift from their pitching over their past 10 games. Allowing just 2.9 runs per game has been a huge part of their 8-2 record over that span. Their run prevention has not all been pitching, however, as their defensive shifts have also proven to be effective. Adam Berry of MLB.com has
a great article
on the Rays and their shifts, along with the index cards they pull out for each hitter. The Rays currently rank second in the majors in Defensive Runs Saved with 19, nine more than the third-place
Arizona Diamondbacks
.
The Rays pride themselves on taking as many small advantages as possible, which is a testament to the quality of their front office, scouting and management. Signing players like Scott to a $6 million, one-year deal and moving starter
Wade Davis
to a bullpen role rather than trading him, are just two decisions that appear to be solid. Davis currently has a 1.86 ERA along with eight strikeouts and two walks in 9.2 innings out of the bullpen and was able to get out of a bases-loaded jam unscathed in the eighth inning of Friday's victory.
The Rays will have to pitch better overall, specifically in the bullpen, over the course of the season. With the type of talent they possess and their excellent defense, their over-4.00 ERA should continue to decrease. With their offense scoring plenty of runs, improved pitching may make them the best team in baseball. But for now, that designation belongs to the team that is in the opposite dugout this weekend: the Rangers.
Ben Duronio writes about the Braves at Capitol Avenue Club. Follow him on Twitter.
PHOTO OF THE DAY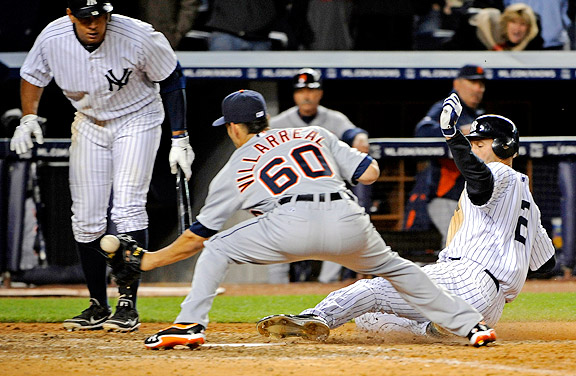 AP Photo/Bill KostrounFar from your typical ending, Derek Jeter scores the winning run on a passed ball as the Yankees topped the Tigers.
April, 15, 2012
4/15/12
1:30
AM ET
By
Christina Kahrl
| ESPN.com
Pitching, defense and three-run home runs? It's a formula that has worked going back to the days of Earl Weaver and beyond. An inning into Saturday's game, the Rays had all of that going for them: Designated hitter
Luke Scott
had already hammered a bomb off Boston's
Clay Buchholz
to plate a trio of runs, reigning Rookie of the Year
Jeremy Hellickson
was on the mound, and nobody is more alertly creative and productive on defense than Joe Maddon's ballclub.
Unfortunately, none of that mattered all that much in the next eight innings of action against the Red Sox. Boston's bats hammered the Rays, hitting five home runs, and made their initial case for why they'll still be able to score runs hand over fist without
Carl Crawford
or
Jacoby Ellsbury
. Rather than throw too much of a pity party for their life absent Ellsbury, just try to keep in mind that
Adrian Gonzalez
,
Dustin Pedroia
,
David Ortiz
and
Kevin Youkilis
provide an offensive platform that 29 other teams would be happy to work from. Counting out the Red Sox a week into the season or a half-inning into a ballgame is just silly; they're still stacked.
What's less silly is looking at the Rays' challenges in the weeks and months to come. Tampa Bay's problem is that while the Red Sox opened up on offense, the Rays didn't have the usual collection of moving parts to respond on offense or defense.
The Rays' pitching depth is the envy of the industry, but
Joel Peralta
has taken a series of beatings out of the bullpen en route to handing the closer's job to
Fernando Rodney
. Maybe that will work out the way
Kyle Farnsworth
did last year, but Peralta's not that far removed from his days as waiver bait, and Rodney's reputation for flammability perhaps exceeds Farnsworth's -- before last season.
The Rays being the Rays, they get a pass on running risks other teams might shrink from, but this year's bullpen confection is still a soufflé with as much potential to flop as rise. Having one less body around proved expensive when a three-run game still in reach became a blowout in the eighth thanks to rookie
Dane De La Rosa
's five-run debut against that Red Sox offense.
The other early issue in terms of reaping the downside of risk is that their offense is cranking less than most others in the early going, ranking just 10th in the American League in runs scored. That doesn't mean that much in itself, because we're still not even talking about two full weeks' worth of action. It's what you get when you wind up with
Jeff Keppinger
and
Sean Rodriguez
as everyday players.
That wasn't part of any plan, but that's the upshot of being without the flexibility of having
Ben Zobrist
moving around on the field to wherever he's needed while Maddon plays matchup games on offense with bit parts like Rodriguez or Keppinger. They knew they wouldn't get many runs out of
Jose Molina
or
Jose Lobaton
as their catchers, but that's another slot you can't count on in terms of offense, and another reason why the Rays have that much less margin for error in the early going. The Rays' offense is the sort of high-flying act that can't really afford to lose certain key regulars for a great length of time.
Which is why much will change for the better soon, once
B.J. Upton
comes back from the disabled list and returns to his spot in center field. The Rays won't simply get the benefit of adding his bat to the everyday lineup or his glove to the defense. They'll also reap the tactical in-game benefit of all of the situations in which Maddon will be able to use his valuable part-time contributors -- like Keppinger and Rodriguez -- to his advantage.
Matt Joyce
won't have to face the left-handed pitchers he can't hit. That's not because of what Upton does and will do, but because of the multiple benefits the Rays get from having him healthy.
Taking a few chances on "extra guys" is not automatically bad -- far from it, especially when you're dealing with budget handicaps as the Rays do. Taking a chance on Scott was an eminently worthwhile low-cost risk: After averaging 25 homers per season for three years for the Orioles, Scott's injury-wracked 2011 brought him into the Rays' orbit as far as his sale price as a free agent. If he gives the Rays' lineup a third source of power from the left side beyond
Carlos Pena
and Joyce, you'll have a lineup that gives opponents fits, just as it did in each of the past two years.
Add it up, and just like the bullpen, the Rays' offense is a complicated proposition few other teams would risk. Handled as well as the Rays have and will, though, and it works … until you knock a key starter or two out of action for any great length of time. Expose their irregulars' shortcomings, and the risk becomes one to the Rays' bid for a postseason three-peat.
PHOTO OF THE DAY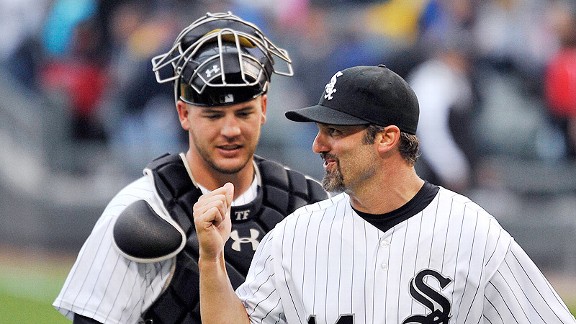 Brian Kersey/Getty ImagesPaul Konerko can afford to smile, at least as long as the White Sox are in first place.
Christina Kahrl covers baseball for ESPN.com. You can follow her on Twitter.
April, 6, 2012
4/06/12
8:15
PM ET
If my math is correct, the
Tampa Bay Rays
and
New York Yankees
still have 17 games against each other. The Rays and
Boston Red Sox
have 18 games against each other. The Red Sox and Yankees have 18 games against each other. And all three teams have 18 against the
Toronto Blue Jays
.
That's 107 more games of American League East mini-wars, in which every game will be treated as the one that may win -- or lose -- a division championship.
Friday's game at the Trop was as interesting as a regular-season game can be, with a hundred little moves worth discussing and dissecting. Rays manager Joe Maddon was already in midseason form, calling for a squeeze bunt, pinch-hitters and lefty/righty matchups out of the bullpen. Yankees counterpart Joe Girardi went to his trusty binder in the bottom of the first inning and got burned. And the greatest closer of all time failed to do his job. Yes, I'll take more, thank you very much.
[+] Enlarge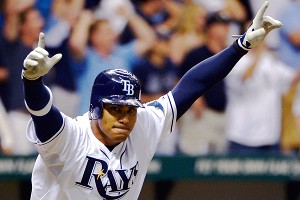 AP Photo/Phelan M. EbenhackCarlos Pena's game-winning hit was his first ever off Yankees closer Mariano Rivera.
A few quick highlights about a game you could write 3,000 words about:
With two out in the first and runners on second and third, Girardi had CC Sabathia walk Sean Rodriguez to pitch to Carlos Pena. Girardi has a bit of unusual obsession with the intentional walk. Sabathia, for example, issued 17 IBBs over the previous three seasons. Compare that to guys like Justin Verlander (0), Cliff Lee (3), Roy Halladay (5) or Jon Lester (0). Anyway, while it's true Pena struggles against left-handers (.133 in 2011, .179 in 2010), it's also true that he's a very patient hitter willing to take a walk. Juicing the bases forces Sabathia to throw a strike. Pena worked the count to 3-2 and drilled a fastball for a grand slam. An intentional walk on Opening Day with two out in the first inning? Just ... well, wow.

Down 6-5, the Rays had a great chance to tie the game in the bottom of the eighth when they put runners on the corners with no outs against David Robertson. Maddon sent Stephen Vogt in to hit for Elliot Johnson, Vogt's first major league at-bat. Robertson struck him out on four pitches -- two 92 mph cutters and a fastball up sandwiched around a curveball in the dirt. With Jose Molina up and a 1-1 count, Maddon sent the runners ... except Molina missed the squeeze sign and instead fouled off the pitch. Maddon, with the proverbial guts of a cat burglar, went right back to the squeeze, but Molina fouled it off for strike three. Robertson than fanned Matt Joyce to escape the jam.

Mariano Rivera entered to close out it out. Desmond Jennings singled to right-center and Ben Zobrist tripled to deeper right-center. Girardi -- remember, he loves the intentional walk -- gave free passes to Evan Longoria and Luke Scott to load the bases. Once again, Girardi left his pitcher with no margin for error. Rivera fell behind 3-1 to Rodriguez but came back to strike him out, bringing up Pena. He got the count to 1-2 and the strikeout-prone Pena looked like a dead duck. Instead, Rivera threw a meaty pitch over the middle of the plate and Pena lofted a deep fly off the base of the wall in left-center. Game over. His first hit ever off Rivera. "Oh, yeah. [I was] very aware of it," Pena said. "His ball moves so much that your eyes deceive you." But Pena's eyes mapped this Rivera cutter, giving him a three-hit, five-RBI day. And as Pena did a postgame on-field interview, B.J. Upton delivered a shaving cream pie in the face that tasted just right.
Follow David Schoenfield on Twitter @dschoenfield.
March, 16, 2012
3/16/12
9:30
PM ET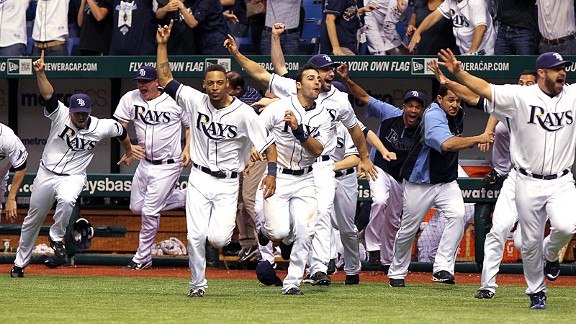 Kim Klement/US PresswireThe Rays made the playoffs for the third time in four seasons with a dramatic last-game comeback.
In 2011, the Tampa Bay Rays won 91 games, with that 91st win serving as one of the more memorable in baseball history.
They scored 707 runs and allowed 614, which projects to ... 91 wins. So they hit that win-loss record on the head. What can we project for 2012? Let's do a position-by-position analysis.
Catcher: Jose Molina
John Jaso, Kelly Shoppach and assorted backups hit .194/.274/.333 in 2011, so of course the Rays brought in Jose Molina -- for his defense. Molina turns 37 in June and has never batted 300 times in a season, so how much he actually ends up playing remains to be seen. Robinson Chirinos, Jose Labatan and Stephen Vogt are battling for the backup. Offensively, this crew may not be much of an improvement; I'll say an
additional seven runs
over the 45 runs created a year ago. More on Molina's defense later.
First base: Carlos Pena
Casey Kotchman didn't score or drive in many runs but did get on base (.378) so at least he wasn't a rally killer. Rays first basemen created about 83 runs. Carlos Pena takes over and even hitting .225 with the Cubs he created about 86 runs. Projection systems are calling for a slight decline for Pena as he moves to Tampa. Give him 75 runs plus a few more from his backups and I'll call
this one a wash
.
Second base: Ben Zobrist
In his three seasons as a regular, Zobrist has been all over the place: a .948 OPS in 2009, .699 in 2010, .822 in 2011. He created about 100 runs in 2011. With weight given to that 2010 performance he's projected to decline a bit.
Minus nine runs.
Third base: Evan Longoria
Longoria missed most of April with an oblique strain and then posted a career-low .850 OPS despite mashing 31 home runs in 483 at-bats. Rays third basemen created about 95 runs (85 by Longoria). With an expected spike in his BABIP (.239 in 2011), Longoria's numbers should improve across the board.
Plus 15 runs.
Shortstop: Sean Rodriguez/Reid Brignac/Elliot Johnson
Another position where the Rays received little production: A collective .193/.256/.282, good for 35 runs created. Amazing that Tampa made the playoffs with two positions hitting under .200. The production can only improve, although how much depends on who gets the playing time. Brignac has the best glove so will get another chance. ZiPS projects a .239/.281/.338 batting line. Not great, but still better. Overall, let's say
an improvement of 12 runs
.
Left field; Desmond Jennings
This was supposed to be Johnny Damon's position a year ago but he ended up as the DH after Manny Ramirez flunked out. Sam Fuld got most of the playing time early on before yielding to Jennings. Overall, the Rays got 85 runs from left field. ZiPS is pessimistic about Jennings, projecting a .259/.339/.392 line, which is about 83 runs over 670 plate appearances. Other systems project slightly better numbers. Let's give the Rays
five additional runs
.
Center field: B.J. Upton
He could improve, I suppose, but logic dictates more of the same.
No change
.
Right field: Matt Joyce
It will be interesting to see if Joe Maddon gives Joyce a chance to play full-time against left-handers this year or if he'll run Zobrist out to right field against southpaws. Joyce cooled off after his All-Star first half. He should put up similar overall numbers.
No change.
Designated hitter: Luke Scott
Damon and assorted friends produced about 87 runs. If Scott matches his 2010 numbers with the Orioles (.284/.368/.535) he'll be a big step up. But those were also his career-best numbers and he'll be 34 in June. I see only a slight improvement of
three runs
.
Let's compare the 2011 rotation to projected numbers for 2012, cribbed from various projection systems.
2011: 162 starts, 1058 innings, 438 runs
2012: 155 starts, 995 innings, 430 runs
We'll add in the seven missing starts at 42 innings and 20 runs allowed (4.3 per nine innings), bringing the 2012 totals to 1037 innings and 450 runs allowed. That's 20 runs
more
than 2011 in slightly fewer innings. Is that fair? The projection systems are understandably not completely bullish on James Shields. While he had a 2.82 ERA in 2011, he's also a pitcher with a 3.96 career ERA. His .258 BABIP (batting average on balls in play) was eighth-lowest among starters; and while Tampa's defense was arguably the best in baseball, they've had a good defense in previous seasons and Shields' BABIPs didn't approach .258. I'm a little surprised the systems don't foresee a better year from Price. In 2010, he had a 2.72 ERA and 3.42 FIP (fielding independent ERA); in 2011, a 3.49 ERA and 3.32 FIP, albeit with a much better SO/BB ratio. Bill Baer
wrote about Hellickson
and the reason he's projected to not match the sterling 2.95 ERA he posted as a rookie. As for Moore, the projection systems are conservative by nature so they're not going to match the lofty expectation fans have. It certainly wouldn't be shocking to see Moore post a sub-3.00 ERA over 30 starts. It's also not fair to expect that.
One other issue: Jeff Niemann is actually projected to be better than Wade Davis. I would suggest that if Davis does allow 4.7 runs per nine innings -- not awful, mind you -- Niemann will get a shot at some point. In other words, I think the Davis slot will be slightly better, either because he pitches better or Niemann gets some starts. So I do think it's fair to knock a few runs off the overall total. For now, let's say the rotation allows
15 more runs
than a year ago. But more on that in a minute.
The Tampa bullpen in 2011 only had to pitch 391 innings, fewest in the AL. It posted a 3.73 ERA ERA, sixth in the league, allowing 176 runs. I'm slightly skeptical the pen will be as good, but they do have a variety of options, including using Davis or Niemann in a prominent role. I'm going to say no change for the bullpen, other than adding an additional 21 innings and
nine additional runs allowed
.
So that brings the totals to:
Offense: +33 runs scored, for a new total of 740 runs scored
Pitching: +24 runs allowed, for a new total of 638 runs allowed
We mentioned Jose Molina's defense earlier. Overall, the 2011 Rays easily rated as baseball's best defensive squad, 25 runs better than the No. 2 team, according to Baseball Info Solutions' Defensive Runs Saved. The major changes are Pena for Kotchman at first (both rated about league average) and Molina at catcher. Molina's added value comes in
his ability to frame pitches
, which studies indicate he's one of the best in the majors at -- maybe as much as 15 to 20 runs over an average catcher. We'll be conservative and subtract 10 runs off the defensive ledger. The rest of the defense should be similar.
So we now get:
Offense: 740 runs scored
Defense: 628 runs allowed
That creates an expected winning percentage of .575 -- or 93 wins.
OK, back to the pitching for a final word. Let's be slightly more optimistic. Let's take 10 runs off the totals for Shields, Price, Hellickson and Moore -- an additional 40 fewer runs allowed. It's certainly a reasonable proposition. This now gives the Rays 588 runs allowed and .604 winning percentage.
Which translates to 98 wins.
Of course, it's not quite that simple. This little analysis doesn't factor in everything -- the change in the quality of divisional opponents, for example. But one reason I like the Rays to beat their Vegas over/under line of 87.5 wins is that as a young team they're a pretty safe team to project. Injuries shouldn't be a major factor. They have depth in the rotation if somebody does go down. Yes, there is a little uncertainty in the bullpen and catcher and shortstop could still end up as offensive black holes, but this looks like a playoff team to me.
Follow David Schoenfield on Twitter @dschoenfield.
June, 2, 2011
6/02/11
10:00
AM ET
By
Christina Kahrl
| ESPN.com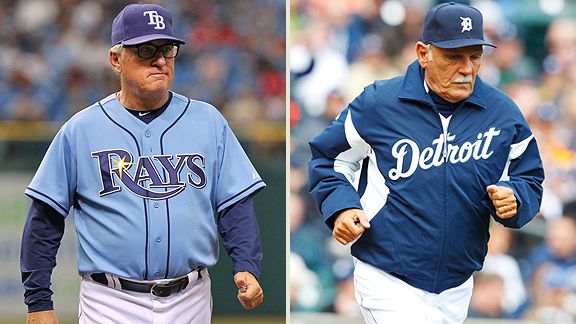 US PresswireJoe Maddon, left, and Jim Leyland utilize platooning as much as any team in the American League.
As much as some of us might grumble about the seeming decline of in-game tactics in recent seasons, one of the simplest yet most reliable gambits in any skipper's arsenal is platooning. If you lack a great everyday player at a position or in a particular lineup slot, you can always try to compensate for the limitations of the alternatives by mixing and matching.
With runs so scarce these days, you might expect to see some more of this. However, the major requirement for operating a platoon beyond mere willingness is roster space, no easy feat in the age of the seven-man bullpen (sometimes eight). With that limitation, which teams are making room to platoon these days? We'll start by looking at the American League today, and then get to the NL on Friday.
The AL's easy heroes in this department are the Rays, because they're the most ambitious platoon-minded team around. In doing so, though, they're reaping the benefit of employing multi-positional players like
Ben Zobrist
and
Sean Rodriguez
. Zobrist plays every day between second and right field, so that Rodriguez is actually somewhat loosely platooned with right fielder
Matt Joyce
. Between Joyce's career .552 SLG versus right-handers and Rodriguez's .789 OPS against lefties, it's not that unwieldy of an arrangement. Lately, they've had less space to keep that going during Reid Brignac's time on the Bereavement Leave list, and Brignac's bat is going to have to come around, but as tactical weapons go, you can still count this as a reliable standby in manager Joe Maddon's bandolier. They're also platooning
John Jaso
and
Kelly Shoppach
at catcher, another holdover arrangement from last year.
Beyond the Rays, nobody in the league is consistently running two platoons simultaneously, and what few platoons that exist generally fall into one of two groups -- platoons in an outfield corner or platoons behind the plate as a way of keeping catching workloads manageable.
In the outfield, the Yankees, Red Sox and A's are platooning with a particular hitter, while showing there are different ways to tailor the job. The Yanks are using
Andruw Jones
as the platoon Bomber he was signed to be, but not at any one teammate's expense, as he's spotting for
Brett Gardner
,
Nick Swisher
and
Jorge Posada
. That's less of a straightforward platoon than a case of making sure that Jones starts versus lefties, and using that commitment as a way to give everyone else a day off. The A's are using
Conor Jackson
in a similar way, spotting the ex-Snake for
David DeJesus
,
Daric Barton
and
Hideki Matsui
against lefties. The Red Sox are running a much more straightforward platoon in right field with
Mike Cameron
subbing for
J.D. Drew
, but we'll see how long it lasts, since Cameron isn't hitting anything against anybody.
After that, there's little that is set in stone. The Orioles
might
be ready to commit to a similar outfield arrangement once
Derrek Lee
comes back from the DL. Once that happens,
Luke Scott
will presumably move back out to left field, where
Nolan Reimold
has already clouted three bombs against southpaws in less than two weeks since his recall. The first-place Indians dabbled with a platoon in left field as Manny Acta compensated during
Grady Sizemore
's absences, but Sizemore's back, and once
Travis Hafner
gets reactivated the only lineup slot the Tribe might reliably platoon at is DH, with
Shelley Duncan
spotting for Pronk against southpaws.
Behind the plate beyond the Rays' tandem, the league has a pair of stable platoon arrangements, in Chicago and L.A. With a six-man rotation
and
a seven-man pen, Ozzie Guillen only has room for this one platoon for the White Sox, almost always giving
A.J. Pierzynski
his days off when a lefty is on the mound to let
Ramon Castro
mash a bit. In contrast, Mike Scioscia has created a true job-sharing arrangement behind the plate, splitting the starts fairly evenly between the switch-hitting
Hank Conger
and the non-hitting
Jeff Mathis
, keeping Mathis' bat from doing too much damage to his own offense while breaking in a rookie receiver.
Looking for AL platoons that don't just involve the five corners or the DH slot? The Royals and Mariners have second-base platoons going at the moment, although how long Ned Yost or Eric Wedge keep to these commitments remains to be seen. In K.C., Yost is using
Mike Aviles
as
Chris Getz
's platoon partner at second. However, Aviles is also getting semi-regular play as the team's utility infielder, so it isn't like he's been pigeon-holed as much as Yost is just benching Getz against lefties. Up in Seattle,
Adam Kennedy
's bat has won him a lion's share of second-base starts at
Jack Wilson
's expense -- perhaps a surprise to those convinced the Mariners' leather fetish was getting the better of them, but Kennedy's career record afield is far from terrible, and to Wedge's credit he was always willing to cobble together a platoon or two during his days in Cleveland.
Overall, this makes for fairly slim pickings, but is there potential for more than this? The Tigers might be the team with the most potential variations, to the point that Jim Leyland could flirt with multi-positional solutions every bit as creative as Maddon's. After all, the Tigers broke in
Ryan Raburn
in a multi-positional utility role with a lean toward starting him against lefties in the past, and using youngsters
Andy Dirks
and
Casper Wells
as platoon outfielders now. Raburn and
Brennan Boesch
have struggled to stick in regular roles, opening up a host of possibilities for Leyland to try to hide some of his players from the sources of some of their struggles.
Although Leyland's track record for building platoons at all five corners is fairly extensive, it's worth noting that he's also fairly adaptable; while
Victor Martinez
has started eight of his 12 games behind the plate with a lefty on the mound, the lefty-batting
Alex Avila
isn't getting hidden away from southpaws, having drawn eight starts of his own against them, while hitting better than well enough to beat a platoon label, a reminder that a platoon isn't automatically a positive end unto itself.
Christina Kahrl covers baseball for ESPN.com. You can follow her on Twitter.
May, 12, 2011
5/12/11
4:24
PM ET
Through their first nine games, the
Tampa Bay Rays
were 1-8, had scored 20 runs, were hitting .163, their best player was injured and their cleanup hitter had retired. Playing in the AL East is tough enough, but it appeared as if things were getting away in a hurry from Joe Maddon's club.
On April 11, they went to Boston. In the top of the second inning against
Daisuke Matsuzaka
,
Ben Zobrist
doubled,
B.J. Upton
walked,
Felipe Lopez
singled,
John Jaso
doubled,
Reid Brignac
singled and
Sam Fuld
smacked a two-run homer to finish off the six-run outburst. Just like that, the Rays were back.
After beating Cleveland 7-4 on Thursday afternoon
-- handing
Justin Masterson
his first defeat -- the Rays are 22-15, in first place by half a game over the Yankees, and it's been the offense that has led the 21-7 surge since those bleak days in early April.
They've averaged 5.2 runs per game over those 28 contests while hitting .276 with 27 home runs. In the 2011 version of offense, that's a veritable lineup of mashers. They are especially tough on right-handers. Platoon outfielder
Matt Joyce
is hitting .358/.410/.569, and you wonder if Maddon will start giving him more playing time against lefties. Ben Zobrist is back to crushing righties like he did in 2009 (seven of his eight homers have come from the left side of the plate). The big surprise has been first baseman
Casey Kotchman
, who joined the club only after
Manny Ramirez
called it a career, but is hitting .360/.435/.453 after getting two more hits Thursday. Sure, maybe he's been lucky on groundballs sneaking through the infield, but he also had
offseason eye surgery to clean up a bacterial infection
. After a disastrous .217 season in Seattle last year, he can actually see the ball. "It was kind of like looking through a dirty windshield wiper," he told the St. Petersburg Times.
Oh, the pitching and defense are still pretty good: The Rays have a 2.79 ERA over those past 28 games.
Follow David on Twitter: @dschoenfield. Follow the SweetSpot blog: @espn_sweet_spot.
June, 24, 2010
6/24/10
4:51
PM ET
Finally,
the inevitable
:

Outfielder Matt Joyce was called up from Triple-A Durham, after Thursday's game. Catcher Dioner Navarro was sent down.

Navarro was struggling at the plate, hitting only .210 this season. The Rays have been carrying 3 catchers on the roster, for the past 3 weeks.

Joyce was hitting .293 at Durham, with 3 home runs and 12 RBIs. Joyce was battling a shoulder injury earlier in the season, but apparently has recovered from that.

Is this the most obvious pair of roster moves we've seen this season?
The Rays have been using Navarro mostly as a defensive replacement; since his All-Star season (2008) he's got a .216/.268/.314 line in 151 games. I'm not convinced that he's really
this
bad ... but with
John Jaso
and
Kelly Shoppach
around, it really doesn't matter.
Meanwhile, though the Rays' DHs haven't been the worst in the league (or even close; there are some really lousy DH situations out there), nothing they've tried has really worked. Matt Joyce isn't great, but he's immediately one of the Rays' seven or eight best hitters and gives Joe Maddon a lot more flexibility than he's had (and there's little reason for
Gabe Kapler
to ever play again).
This is basically it, though. Aside from the occasional bullpen tinkering and the possible swapping out of
Wade Davis
for Jeremy Hellickson in the rotation, the Rays now have all their best troops in the front line, ready to fight the good fight. It might still not be enough, but at least now there won't be any excuses.
June, 12, 2009
6/12/09
12:29
PM ET
The Rays have the best run differential in the AL East but the fourth-best record, so they obviously still have some work to do. Fortunately (as Marc Lancaster reports),
help is on the way
:
With their disabled list threatening to hit double digits after a flurry of injuries the last few weeks, the Rays have waited patiently for reinforcements. The first will arrive tonight.

DH Pat Burrell (strained neck) is expected to be in the lineup as the Rays open a weekend series against the Washington Nationals after completing a three-game rehab assignment by going 0-for-4 with two strikeouts for Single-A Charlotte on Thursday night.

The Rays cleared a roster spot for Burrell following Thursday's game by optioning OF Matt Joyce to Durham.

Close behind Burrell is SS Jason Bartlett (sprained left ankle), who is set to begin a three-game stint with the Stone Crabs tonight. He'll DH in the first game then play in the field the next two days before joining the Rays on a late Monday flight to Colorado for a series that begins Tuesday.

Getting Bartlett back should boost the Rays in every aspect of the game, as his fielding is as valuable to them as his bat.
You know what's sort of amazing? The Rays lead the the American League in runs despite:
• Pat the Bat hitting one home run so far,
• Dioner Navarro batting .202 with three (!) walks, and
• Bossman Junior -- who as you might recall hit seven homers last October -- hitting only three homers while batting .212 and piling up huge strikeouts.
I'm sitting here looking at all the numbers and I still can't quite figure out how the Rays have done as well as they have, considering the failures of those three notables. Sure, Evan Longoria. But he was supposed to be great. The real keys have been Bartlett (before he hit the DL) and Ben Zobrist, who somehow have the highest OPS's on the club.
Bartlett's return is obviously a real plus, even if he obviously can't be expected to continue hitting like he was. Not close. I don't know what to make of Burrell, except to figure the neck must have really been bothering him before he went down. I do feel a little sorry for Matt Joyce, who has to deal with the twin burdens of 1) having been traded for Edwin Jackson, and 2) batting left-handed, which is usually a good thing but in this case isn't, because if he batted right-handed he might reasonably take Gabe Kapler's place on the roster, but ...
Wait. He should anyway. Kapler can't hit, and while he's supposedly a great guy, I don't know that a team trying to beat the Red Sox or the Yankees really can afford to carry a great guy who can't hit.
Kapler was a great story last year, hitting .301/.340/.498 as a part-timer with the Brewers after taking a year off to manage in the minors. Great story. But in the five previous seasons, Kapler hit .270/.318/.377, which I would suggest is a better barometer of his skills than last season's 245 (National League) plate appearances.
Meanwhile, Joyce has superior numbers as a major leaguer, he's significantly younger than Kapler, and he's now torn up Triple-A pitchers for two seasons running. I just don't get it. Joyce can hit. He runs OK. Statistically speaking, he's a pretty good outfielder. And you're going to send him to Durham so two guys named Gabe can play right field?
Good luck with that.