SweetSpot:

Matt Lindstrom
June, 17, 2012
6/17/12
1:30
AM ET
By
Christina Kahrl
| ESPN.com
Suffice to say that these days, Orioles starter
Jason Hammel
is making room for himself. Having shut down the Braves with
a one-hit shutout
Saturday, Hammel is redefining his career. The win was his first shutout, the first nine-inning complete game of his career. He posted the highest
Game Score
(91) of any turn in his career.
Hammel has had to come a long way to get to this point, though, because it wasn't so long ago that he was just an extra guy, a fringe guy, a fifth man. The sort of pitcher who has to hear that he'll have to pack his bags because there's no room for him. That's despite the big, 6-foot-6 frame scouts love in a right-hander and a fastball that sits around 93 mph. But Hammel's mixed fortune was that he began his pro career in the Rays' system, where if you weren't a blue-chipper with Cy Young potential, you were trade bait.
That effectively was Hammel's lot. As a pitching prospect in the Rays' system, being pretty good was nice, but it wasn't enough, certainly not with as many top pitching prospects as that system has been cranking out. When Hammel debuted for Tampa Bay in 2006, he was in the same cadre as
James Shields
and
Edwin Jackson
, not to mention
Andy Sonnanstine
and
J.P. Howell
, all useful guys to stock a rotation behind an already-there
Scott Kazmir
. Then the Rays brought in
Matt Garza
in 2008, with
Jeff Niemann
and
David Price
coming into the picture. Now there really wasn't much space for "pretty good" in Tampa Bay. Even after Jackson was dealt to the Tigers (for
Matt Joyce
), Hammel just wasn't going to stand out in this crowd, not even at 6-6. He didn't rate among the Rays' front five. Or six. Or seven.
So, as Opening Day 2009 approached, the Rays decided they needed Hammel's spot on the roster more than they needed Hammel's brand of pretty good. They gave him the most bittersweet of liberating opportunities to start every fifth day in the big leagues by sending him to Denver and baseball at altitude, perhaps with the standard expectation that the pitcher-munching environment would chew him up as it had so many other pretty good pitchers, going all the way back to David Nied. Who survives that long enough to make the team dealing a pretty good pitcher look bad?
But Hammel endured and survived and stayed pretty good, giving Colorado three years of useful mediocrity (including a definitively average 100 ERA+ and a 4.63 ERA). Perhaps that sort of damnable consistency can bore even the most pitching-hungry team, because the Rockies decided they needed more than pretty good this winter, flipping him (with the reliably disappointing
Matt Lindstrom
) to the Orioles for rotation workhorse
Jeremy Guthrie
.
Credit Rockies general manager Dan O'Dowd with this much: A front-of-the-rotation starter was getting moved in this deal. Unfortunately, his Rockies weren't the team getting one -- the Orioles were, and Saturday night's start merely represented the latest in kind as Hammel turns in a season that redefines his upside and his value.
Consider what he's throwing and the results he's generating. Despite moving into the vaunted American League East, he's striking out a career-high 22.7 percent of batters, a jump of roughly 40 percent over his career rate. He's generating 40 percent more ground balls, and his ratio of ground ball outs to flies has moved to a career-high 1.53. What's he doing differently? Ditching his changeup, for starters.
If you look at PitchF/X sites that try to break down fastball types into four-seam, two-seam and cut fastballs, you'll find Hammel seems to be throwing fewer four-seam fastballs, which might help explain the jump in ground ball outs. More simply, he's becoming a quality sinker-slider guy, and that reliance on a classic power assortment is paying off with a career-high clip for swinging strikes, 18 percent, the first truly above-average mark of his career.
As a result of all this good stuff, unlike so many first-half performers providing surprises, Hammel isn't being tagged with the dreaded "regression" label. His FIP isn't much different from his actual ERA, so analysts might have to accommodate themselves to the notion that Jason Hammel isn't just pretty good anymore -- perhaps he's flat-out good.
The timing of this turnaround couldn't come at a better time for Hammel; he's a viable All-Star starter on a contending team. Among the Orioles, only center fielder
Adam Jones
(2.6) and shortstop
J.J. Hardy
(2.1) had higher wins-above-replacement values than the 1.8 Hammel was sporting before his shutout. He might be a long-shot selection, but on a personal level, it would be icing on the offseason cake he's already baking as he heads toward a last spin with arbitration and a fine shot at leveraging that into multiyear money.
In the meantime, he is giving the Orioles a better season than Guthrie ever had and seems poised to deliver more of the same. At 29, he's proved to be durable, having never suffered a major arm injury as a pro -- his one career trip to the disabled list was caused by a strained groin in 2010.
Put all of that in one package, and you can still ask whether it adds up to an All-Star, a 10-figures-per-year pitcher or a reliable No. 2 in anybody's rotation. But the way Hammel is going, we won't have to ask much longer, because he's providing the answer one turn after another. How good is that? Pretty good.
PHOTO OF THE DAY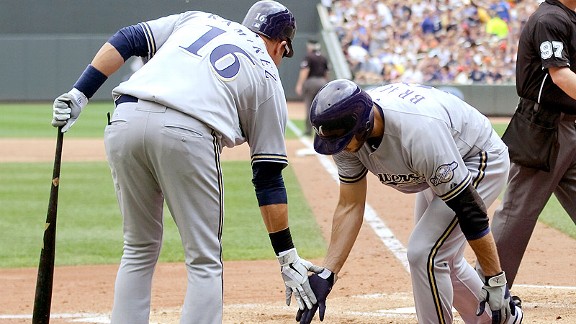 Hannah Foslien/Getty ImagesHigh or low, Ryan Braun's reliably able to celebrate another cheap-seat souvenir.
Christina Kahrl covers baseball for ESPN.com. You can follow her on Twitter.
February, 6, 2012
2/06/12
1:04
PM ET
Jeremy Guthrie
has pitched the past five seasons for the lowly
Baltimore Orioles
, facing the tough lineups of the
New York Yankees
and
Boston Red Sox
several times per season, pitching in a good home run park for hitters and throwing in front of generally mediocre-to-poor defenses.
His reward for finally getting traded out of Baltimore ... Coors Field!
Some guys never catch a break.
[+] Enlarge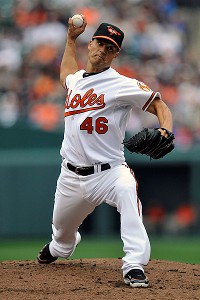 Joy R. Absalon/US PresswireStarting pitcher Jeremy Guthrie is headed to Colorado after starting his career in Baltimore's rotation.
With Guthrie facing free agency after the 2011 season, the
Orioles traded the veteran right-hander to the
Colorado Rockies
for starter
Jason Hammel
and reliever
Matt Lindstrom
. A quick look at the basic stats would suggest there isn't a lot of difference between Guthrie and Hammel:
Guthrie, 2007-2011: 2.6 BB/9, 5.5 SO/9, 1.2 HR/9, 1.27 WHIP
Hammel, 2009-2011: 2.7 BB/9, 6.3 SO/9, 1.0 HR/9, 1.40 WHIP
Despite the similar numbers, I like the deal from Colorado's perspective. Guthrie has performed in a tougher division, facing tougher lineups. He's pitched 200-plus innings each of the past three seasons while Hammel has averaged 175 in his three seasons as a starter, reaching the 170-180 range each year. Hammel has had to pitch in Coors Field and has compiled a better road ERA during his three years starting for the Rockies -- 4.30 versus 4.95. However, his strikeout rate took a big dip in 2011 from 7.1 strikeouts per nine innings to 5.0, so that's a red flag. I just don't see much upside for Hammel pitching in the AL East.
The Orioles do get two years of team control with Hammel plus a salary savings -- Guthrie signed for $8.2 million, while Hammel will make $4.75 million. Lindstrom still throws hard -- he averaged 96 mph on his fastball in 2011, although he still hasn't done much with that power heater. He did have his best season in 2011 despite a low K rate (6.0 K's per nine) because he threw more strikes. I don't see him as much more than a back-of-the-bullpen arm, but he'll likely serve in the late-innings mix with
Jim Johnson
and
Kevin Gregg
.
I do wonder whether the Orioles could have held Guthrie until the trade deadline and flipped him to a desperate contender for a couple of prospects. I would think a durable innings-eater like Guthrie would have been an attractive trade commodity.
Guthrie steps into the No. 2 spot in the Rockies' rotation behind
Jhoulys Chacin
. There is one cause for concern: Guthrie is an extreme fly-ball pitcher. Which means: (a) He can be prone to the home run (and this is Coors Field); (b) You need good outfield defense behind him.
The good news is Guthrie moves from a team that ranked last in the majors in outfield defense in 2011, according to Baseball Info Solutions' defensive runs saved (23 runs below average), to a team that ranked 12th (plus-18). However, the addition of
Michael Cuddyer
to the Colorado outfield is unlikely to improve that metric.
Guthrie should add stability to the Rockies' rotation. Now the club just needs to figure who the third, fourth and fifth starters are from a group including
Juan Nicasio
,
Drew Pomeranz
,
Jorge De La Rosa
(rehabbing from Tommy John surgery),
Tyler Chatwood
,
Josh Outman
,
Guillermo Moscoso
,
Alex White
and
Jamie Moyer
.
February, 12, 2011
2/12/11
11:10
AM ET
By
Drew Fairservice
| ESPN.com
Your view of
Colorado Rockies
GM Dan O'Dowd's offseason moves depends on your perspective. If you work in the Rockies' accounting department, you are acutely aware of the large trucks full of money delivered to both
Troy Tulowitzki
and
Carlos Gonzalez
; ensuring two core pieces will breathe mountain air for many years to come. The Rockies also re-signed free-agent rotation mainstay
Jorge De La Rosa
and bullpen anchors
Rafael Betancourt
and
Matt Lindstrom
.
The biggest splash the Rockies made on the open market this winter was a move that wasn't. The Rockies' long-rumored interest in Rangers third baseman
Michael Young
hit a fever pitch when the Rangers "slugger" announced his desire for a trade. The Rockies and Rangers couldn't get a deal together, and both sides stopped just short of pronouncing the deal dead this week. Instead, the Rockies opted for minor moves like acquiring
Jose Lopez
and
Ty Wigginton
. The important question remains: Are they any closer to challenging for the N.L. West crown?
In a word: Yes. The 2010 Rockies won 83 games, finishing 9 games behind the Giants after a wild month of September. Entering the month trailing the division leading Padres (!) by 7 games, the Rockies lost two one-run games to the Giants before rattling off 10 straight wins -- powered solely by Tulowitzki's
hair and good looks
. (Also his home runs: Tulo hit eight in that 10-game span.) Suddenly, the Rockies sat only 2.5 games out of the division lead. Unfortunately for Colorado, that was as close as it got. The Rockies slumped to the finish, eventually losing 15 of their 19 remaining games.
The Rockies proved they have the talent to take a run at the playoffs in 2010 and, by solidifying the core of their team, they're able to add fringe pieces with potential like Lopez and Wigginton. Lopez wore out his welcome in Seattle with a (perceived) bad work ethic and poor plate discipline. Lopez was terrible at the plate in 2010 but can supply some pop -- especially after moving from spacious, right-handed-hitter killing Safeco to Coors Field. Not to mention his excellent defense across nearly all advanced metrics in his first full season at third base.
Wigginton posted equally dire numbers to Lopez at the plate in 2010, without the benefit of superlative defense. Serving as a right-handed utility bat to spell creaky first basemen
Todd Helton
and
Jason Giambi
would be the best option for Wigginton.
Getting full seasons from both
Chris Iannetta
and
Jhoulys Chacin
should only prove the Rockies have one of the best young cores in all of baseball. Adding veteran pieces to address specific concerns is the mark of a good GM. O'Dowd's moves this winter might not be sexy, but his team is a solid pick to take down the Giants in 2011.
Drew Fairservice writes the Blue Jays blog Ghostrunner on First. Follow him on Twitter.