May, 16, 2012
5/16/12
12:30
PM ET
Jerry Crasnick
has a story
today on
Jose Altuve
, the exciting spark plug for the
Houston Astros
. Yes, I just wanted to write "spark plug." At 5-foot-5, Altuve looks like a player better suited to 1896 than 2012. But the dude can hit. Anyway, here's an all-time all-short team in honor of our new favorite second baseman.
C: Yogi Berra, 5-7 (1946 to 1965)
A Yankees scout who saw Berra when he was a teenager turned in this report: "He does everything wrong, but it comes out right." Berra refused to sign with his hometown Cardinals because they wouldn't give him the same bonus as his neighborhood pal Joe Garagiola. Berra knew he was better. He was right.
1B: Joe Judge, 5-8 (1915 to '34)
First basemen are supposed to be tall and powerful, and Judge is the only 5-8 or shorter one to have a lengthy career. He was a good player for the Washington Senators, although he didn't hit for much power (71 career home runs). He hit better than .300 nine times and finished with a .298 average and more than 2,300 hits. Judge broke Walter Johnson's ankle during spring training in 1927, essentially ending Johnson's career. Bill James wrote that when Johnson later managed the club and had to bench an aging Judge, the two men who had been best friends ended up in a nasty public feud.
[+] Enlarge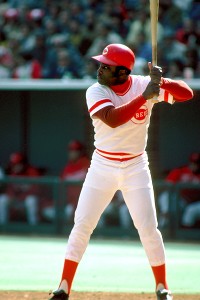 Malcolm Emmons/US PresswireThe 5-foot-7 Joe Morgan was inducted into the Hall of Fame in 1990.
2B: Joe Morgan, 5-7 (1963 to '84)
The two-time MVP and Hall of Famer was easily the best player in baseball during his 1972-1976 peak. When we did the all-time best season bracket, I wrote about
Morgan's remarkable 1975 season
, when he was five wins better than any other NL player. (Although Baseball-Reference.com has since modified its WAR calculations, and that margin is down to 3.4 wins.)
3B: John McGraw, 5-7 (1891 to 1906)
Although remembered as one of the greatest managers ever, McGraw was a valuable third baseman in the 1890s because of his on-base skills. In 1899, he hit .391 and drew 124 walks for a .547 OBP, the fourth-highest single-season mark. Back in McGraw's day, third base was actually more of a defensive position than second base because of the large number of bunts employed, so you see a lot of small, spry third basemen up until the 1920s. The only notable "modern" third basemen under 5-9 would be
Chone Figgins
and Grady Hatton, a good player with the Reds in the late '40s/early '50s.
SS: Freddie Patek, 5-5 (1968 to '81)
Listed at 5-5, Patek might have been an inch shorter. You could go Phil Rizzuto (5-6) or Rabbit Maranville (5-5) here, but we'll give Patek bonus points for being even shorter than those two guys. Nicknamed "The Flea," Patek was a three-time All-Star with the Royals and finished sixth in the 1971 AL MVP vote.
LF: Tim Raines, 5-8 (1979 to 2002)
Raines deserves to be in the Hall of Fame. He was an on-base machine and one of great base stealers ever. If we lower the bar to 5-7 (there haven't been many short left fielders), we'd go with George Burns, a Raines-type player with the Giants in the teens and early '20s who led the NL five times in runs scored.
CF: Hack Wilson, 5-6 (1923 to '34)
Built like Kirby Puckett except even shorter, stronger and more barrel-chested, a unique figure in baseball history. Wilson is rare among short players in that he had enormous power, leading the NL four times in home runs, including 1930 when he drove in an MLB-record 191 runs with the Cubs. His career fell apart after that because of heavy drinking and his Hall of Fame résumé is based on a scant five-year run, but you wonder whether such a player could even exist today.
RF: Willie Keeler, 5-4 (1892 to 1910)
Keeler arrived in the big leagues as a third baseman with the New York Giants, but the Giants sold him to Brooklyn for $800. He was later traded to the Baltimore Orioles, where he played with McGraw as the Orioles won three straight NL pennants from 1894 to 1896. A .341 career hitter and Hall of Famer, and Baseball-Reference.com lists Keeler as a left-handed thrower (he hit lefty), but that's a mistake. Here's a
picture of him
late in his career with the Giants, throwing right-handed.
DH: Matt Stairs, 5-9 (1992 to 2011)
He actually didn't DH all that much, but there haven't been many short guys to play more than a handful of games at DH. We'll put Stairs here, especially because he's generously listed at 5-9. Brian Downing, 5-10, became a regular DH the last few years of his career (1973 to 1992).
P: Dolf Luque, 5-7 (1914 to '35)
"The Pride of Havana" won 194 games, including 27 with the Reds in 1923. He had a good fastball and big curveball and from 1921 to 1928 averaged 262 innings per season. There were some excellent short pitchers in the 1800s, but of course we see very few short hurlers in modern baseball. Since 1950, the pitcher with the most wins who was 5-9 or shorter is Tom Gordon with 138, and only five have won 100. At 5-10 (listed heights), you get Whitey Ford and Billy Pierce.
RP: Roy Face, 5-8 (1953 to '69)
Credited with 193 saves, Face is famous for his 18-1 season with the Pirates in 1959. He also saved three games for Pittsburgh in the 1960 World Series.
August, 4, 2011
8/04/11
6:03
PM ET
By
Christina Kahrl
| ESPN.com
It's time to say good-bye to the Wonder Hamster once and for all, because Thursday
Matt Stairs
announced his retirement. The game's poorer for it, as baseball's all-time record-holder for pinch-hit home runs (with 23) shuffles off to card shows and perhaps coaching, memory and memorabilia.
The reasons
why
we'll remember Stairs are easy enough to identify, because Stairs was a favorite player for so many and for so many different reasons. First, there's just the simple image of seeing him step in to bat, because Stairs looks like somebody you know, whether it's the guy who's dating your cousin or one in a group of buddies at the bar. As a latter-day John Kruk, he was one of the guys on the diamond who didn't look like a professional athlete -- instead, he was simply a pro ballplayer.
[+] Enlarge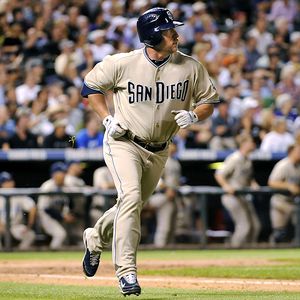 AP Photo/Jack DempseyMatt Stairs amassed 265 home runs, 899 RBI and a .262 batting average over an 18 year career.
Of course, the other easy reason was that the well-traveled Stairs probably played for your team at one point or another. Stairs played for 12 different teams -- 13 if you're given to separating the Expos franchise he debuted for from the Nationals team that he finished with. So you might have jumped on the Stairs bandwagon at any point during his career. The johnny-come-latelies noticed when he was the key pinch-hitter on the Phillies' pennant-winning teams of 2008 and 2009, but he'd already gotten an introduction to postseason play as far back as 1995 as a pinch hitter for the Red Sox.
Stairs was a great example of what a minor-league player, wearing the sometimes left-handed compliment that he's "a professional hitter," can achieve. Stairs started out as an infielder in the Expos' system in 1989. He lacked the arm for third or the range and footwork for second, occasionally putting up fielding percentages of Butch Hobson-level horror at the hot corner. But he hit for average, drew walks, and had better power and speed than you'd expect from his squat build -- ripping 53 extra-base hits, stealing 23 bases, and drawing 66 walks (against 47 strikeouts) in a full season for Double-A Harrisburg back in 1991. But breaking in with the Expos, creeping up on becoming one of baseball's best teams, wasn't easy, especially once he'd been necessarily moved to the outfield at a time when Montreal had
Marquis Grissom
,
Larry Walker
and
Moises Alou
starting, and pinch-hitter extraordinaire
John Vander Wal
behind them.
So Stairs wandered, getting initially sold to Japan and then to the Red Sox, and finally slipping away to the A's after the '95 season when Boston apparently decided they had other uses for his spot on the 40-man. It was in Oakland where Stairs' legend really began, as he stepped into playing time in '97 after
Mark McGwire
and Geronimo Berroa were dealt away, and once it had become obvious that
Jose Canseco
and
Jason Giambi
weren't much use planted in either outfield corner. Stairs made the most of the opportunity, becoming one of the signature "out of nowhere" no-cost or low-cost stars of the franchise subsequently glorified in Michael Lewis'
Moneyball
. In his way, he was just the latest variation on Berroa, a professional hitter finally given a chance by a talent-desperate organization. His walk-off, game-winner hammered off of the White Sox's
Keith Foulke
in the bottom of the ninth on
August 8, 1999
is still one of my single favorite ballgames, even if nobody's really sure if that obliterated changeup has re-entered orbit yet. It wasn't the first or last, but it was a signature moment for a man who hit when you handed him a bat.
Stairs was also one of those players who provides evidence against those of us who want to wail about the present, usually to point to a happier past when things were better when they were younger. Bill James' latest compilation,
Solid Fool's Gold
, is as thoughtful and interesting and worth owning as anything that springs from his keyboard. But his comments in the essay "The Minor League Pyramid" don't exactly ring true when he talks about how farm systems today cut off "the Enos Slaughter/Pete Rose type of player ... who really didn't seem to possess outstanding ability, and would never have been high draft picks or received large bonuses in the current system. What made these players stand out was not that they ran terribly fast or threw tremendously well or were big and strong, but that, when you put them in uniform and let them play, they succeeded."
Well, maybe things really were better back in the day, but maybe Stairs just happened to be a pretty good example of exactly that kind of ballplayer, and with his retirement, it's worth noting he wasn't all that alone in this regard. Isn't
Ben Zobrist
that kind of player right now? Or
Daniel Murphy
?
Michael Young
? Or even
Shane Victorino
? Heck, drawing from recent headlines
Casey McGehee
had been that kind of player before this season's collapse.
At any rate, Stairs is now retired, and he'll be missed. Given his remarkable career we certainly won't see somebody exactly like him on a diamond any time soon. But we will continue to see surprise stars spring up within the game, not because it fails in some new way, but because talent can, and does, create its own opportunities.
Christina Kahrl covers baseball for ESPN.com. You can follow her on Twitter.
February, 23, 2011
2/23/11
12:22
PM ET
By
Matt Philip
| ESPN.com
If it seems as if
Felipe Lopez
changes teams every year, well, it's because he very nearly does. Shortly before spring training began, the 30-year-old infielder signed a minor league contract with the Rays, who would be his eighth team, and that's not counting two tours with St. Louis. Plenty of players have
worn out their welcome
suited up for that many teams, of course. What makes Lopez particularly impressive (from a certain point of view, anyway), is that he has done it in only 10 seasons. That puts him seventh among active players in that most unheralded of sabermetric stats, teams per year:
Lopez, who shares an agent with Albert Pujols, still has time to also challenge the all-time record for most different teams, co-owned by the perennially packing 42-year-old Matt Stairs. That's not really far from the case, either: Stairs has worn the uniform of 12 teams -- tied with Ron Villone and Mike Morgan -- in a career spanning 18 seasons over 19 years. If Stairs makes the Washington Nationals (he signed a minor league deal this winter) it would be his 13th different team. (It should be noted that modern players have an advantage, insofar as they have more possible employers -- consider Waite Hoyt, who played for seven teams when baseball had only 16.)

So your trivia question of the day: How many of Stairs' employers can you name? Hint: Try listing the teams he hasn't played for.

Matt Philip writes Fungoes, a blog about the St. Louis Cardinals.

October, 3, 2010
10/03/10
9:35
PM ET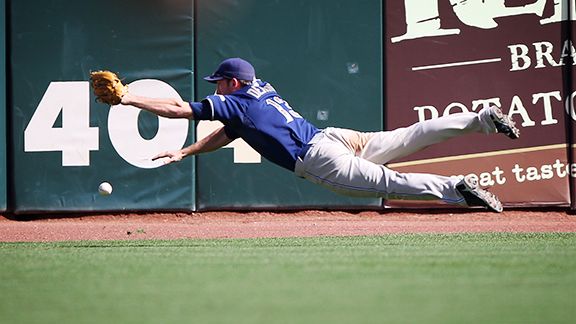 Jed Jacobsohn/MLB Photos/Getty ImagesOutfielder Chris Denorfia and the Padres fell just short on Sunday.
SAN FRANCISCO -- There are games you analyze, and there are games you watch.
The game that decided the National League West and
two
postseason berths was the sort of game you just watch.
After 161 games, what was Bud Black supposed to do? His team hasn't been scoring lately, but then his team really hasn't scored much all season (or last season, or the season before that). The front office worked hard all summer and did add
Ryan Ludwick
and
Miguel Tejada
to the lineup.
But Ludwick didn't hit much and Tejada won his MVP Award a long, long time ago. Black spent all season cobbling together lineups -- and especially outfields -- from a menagerie of spare parts and Triple-A guys and other teams' rejects. The Padres rarely scored, and when they did score without
Adrian Gonzalez
' help it was usually a minor miracle.
So they had to pitch. And when it came to the first through the sixth innings, they had to pitch mostly with guys you'd never heard of.
Jake Peavy
? Gone.
Chris Young
? Hurt. They pitched with guys named Latos and Richard and Stauffer and LeBlanc and Correia. Talented young men, to be sure. But nobody's idea, six months ago, of a pennant-winning rotation.
From the seventh through the ninth, it was quite a bit easier. Most games, Black literally had seven guys in the bullpen who were really, really, really good. It's actually sort of phenomenal, to have that many relief pitchers with strikeout-to-walk ratios so many pitchers would die for.
Edward Mujica
, who hit a little rough patch in September and didn't get to pitch against the Giants this weekend, struck out 72 hitters this season and walked
six
.
Ernesto Frieri
(who did pitch against the Giants, briefly) struck out 41 batters in 32 innings. And those were the relievers Bud Black did
not
particularly trust.
So they had to pitch, and they had to pray. When you're picked to finish in last place and you've got one of the lowest payrolls in the National League, you've got to pray a little.
For most of the season, that recipe -- Adrian Gonzalez, pitching, prayer -- worked really well.
Beginning on the 26th of August, it stopped working. The Padres lost 10 straight games, and their lead in the West went from six-and-a-half games to one game. They eventually lost their lead, but stayed exceptionally close to the Giants until losing three of four games to the Cubs last week, in San Diego. In the three losses, they scored two runs.
That left them needing a miracle this weekend.
They almost got it. They broke through with six runs Friday and four runs Saturday, a 10-run gusher that represented the most runs they'd scored in consecutive wins in nearly three weeks. The Braves lost two games against the Phillies, who weren't even really trying to win. Sunday, another Atlanta loss would guarantee the Padres at least one more game.
Granted, that wouldn't have been a miracle, exactly. What would have been a miracle, almost, was the Braves blowing a six-run lead against those non-trying Phillies ... and it very nearly happened.
Not quite, though.
They didn't need a
miracle
to beat the Giants, and play another day. But in the first inning, they did receive a minor miracle when third-base umpire Mike Everitt ruled that leadoff man
Andres Torres
' drive down the left-field line dropped foul when, as replays suggested, it probably hit the line. Everitt's call probably cost the Giants a run.
There wouldn't be any more minor miracles for the Padres, though. Let alone the full-blown, drop-to-your-knees-and-beg-for-salvation sort. They did get somewhat lucky, as starter
Mat Latos
gave up a bunch of rockets to the Giant hitters but most of them were caught.
If you want to do a little analyzing, you can analyze Bud Black's decision, on the 7th of September, to let Latos throw a season-high 113 pitches in a game against the Dodgers. Maybe if Latos had thrown 93 pitches, he wouldn't have 0-4 with a 10.13 ERA in his next four starts.
But that was a close game, and Latos had thrown
nearly
113 pitches a few times before, and maybe he would have been ineffective down the stretch regardless, considering that he'd never thrown even 125 innings before in one season. The Padres knew Latos might eventually tire, but given their situation they probably had to pitch him ... and pray.
And in Game No. 162, it really didn't matter how well Mat Latos pitched (and despite all those rockets, he gave up only two runs in six innings). Because the Padres didn't score.
Bud Black didn't use
Tony Gwynn
, Jr. He didn't use Jerry Hairston, Jr. He didn't use
Matt Stairs
, or
Oscar Salazar
, or
Aaron Cunningham
. He did (oddly) use
Luis Durango
. But I would challenge any of my brilliant friends to look at Bud Black's bench in Game 162 and come up with a combination of players that would have gotten him three or four runs against the Giants' bullpen.
You want to analyze the game? In the top of the seventh inning, Miguel Tejada batted against
Ramon Ramirez
, with two outs and two on base. Adrian Gonzalez lurked on deck. If Tejada could keep the rally alive, Gonzalez would have a chance to put a completely different spin on things.
Tejada struck out. Maybe Bud Black should have sent up a pinch-hitter for Tejada ... but you don't pinch-hit for your No. 3 hitter. Maybe you should, very occasionally. But you don't. Not in real baseball. Anyway, if Tejada had reached, Bruce Bochy would have gone to a left-hander to face Gonzalez. Which would have left the Padres hoping for another minor miracle.
The Padres just didn't play well enough to beat the Giants in this particular game, and it didn't have anything to do with the managers. The better team won the game, and the championship. In baseball, praying usually isn't enough.
October, 1, 2010
10/01/10
11:35
PM ET
SAN FRANCISCO --
Matt Stairs
' line-drive homer in the fourth inning -- it spent about 17 nanoseconds in the air before landing in the right-field stands -- must have felt especially good for both Stairs and his manager, Bud Black.
Stairs, as you might recall if you're old, is old.
Well, not
old
. By most standards (if not mine), Stairs is middle-aged. But 42-year-old baseball players who can't pitch usually can't play. Not in the National League, anyway. Especially if they can't really hit.
And as recently as a month ago, it looked like old Matt Stairs couldn't really hit. As September dawned, Stairs had a .211 batting average. He'd shown some power, but that was essentially wiped out by the batting average.
But the Padres kept him around for five months, and with the rosters expanding they might as well have kept him around for one more.
So they did. And since then, Stairs has seven hits in 23 at-bats. Even better, three of those seven hits have been home runs.
That
is why you keep Matt Stairs around, for just one more month. And that is why Bud Black, so desperate for something,
anything
from his lineup, has actually given old, slow, Matt Stairs four starts in left field in the last eight games.
Hey, if it really works? They'll rename the Manager of the Year Award after Bud Black. And 42 will be the new 30.
October, 20, 2009
10/20/09
4:01
PM ET
Boy, talk about your competing views about
Jonathan Broxton
's meltdown in Game 4. First, here's Los Angeles'
Bill Plaschke
:
The crack of Jimmy Rollins' line drive, the roar of a stunned crowd, the shaking of a chilled stadium will live forever in the minds of those who witnessed an incomparable Dodgers' heartbreak.But it is the soft shuffle of Matt Stairs jogging toward first base three batters earlier that will live forever with the man who caused it.

With two out in the ninth inning Monday, two strikes from a Dodgers victory that would even this National League Championship Series, Rollins hit a two-run double into the right-field gap against Broxton to give the Philadelphia Phillies a shocking 5-4 victory and probably insurmountable three games to one lead.

But the game wasn't lost then, Broxton fighting a fierce battle with a former league MVP.

The game was lost moments earlier, when Broxton folded in a timid battle with his ghost.

--snip--

Your closer cannot be spooked by a memory. Your closer cannot be crushed by his past.

But that is exactly what happened with one out and the bases empty in the ninth inning of Game 4 when pinch-hitter Stairs came to the plate.

Yep, the same Matt Stairs who faced Broxton in the eighth inning of Game 4 of last year's NLCS.

Yep, the same guy who rocked Broxton for a two-run homer deep into the Dodger Stadium right-field pavilion that gave the Phillies the victory in that game and eventually the series.

Some wondered how the kid reliever would ever recover from such a blow.

Now we know that he probably has not.
Meanwhile, in Philadelphia where everyone's supposedly so tough on the athletes, Marcus Hayes takes the opposite tack:
Broxton wasn't intimidated at all
:
Will Torre hesitate to let Broxton face Stairs again?"No," he said, firmly.

Expect a similar strategy if they meet again.

Broxton doesn't want his 99 mph fastballs coming anywhere near Stairs' lethal, 41-year-old bat, which managed just 20 hits (five homers) in 103 at-bats this season -- though he did walk 16 times, second most among major league pinch-hitters.

Walking to first, Broxton figured, was better than watching Stairs jog around all four bases again.

"I wasn't going to give him anything down the middle," said Broxton. "I was going to keep it down, and hope he'd chase ... You're not going to give it up to a guy coming off the bench and is a fastball hitter."

Broxton wasn't exactly scarred by Stairs' homer.

He enjoyed a spectacular season, the linchpin of a devastating bullpen, with 36 saves in 42 chances. He held opponents to a .165 average and struck out 114 hitters, both best among major-league relievers.

He has never watched Stairs' homer, he said.

It was put behind him, "the next day," he said.
My impression wasn't that Broxton was scared; my impression was that he was foolish. In that situation, you work extra carefully if the batter is Barry Bonds. Or Babe Ruth, or Ted Williams, or Mickey Mantle. But Matt Stairs, really? The same Matt Stairs who turned 41 last winter and has a sparkling .402 slugging percentage in his last two seasons? This is the player you're not even going to
try
to retire?
Maybe the scared and the foolishness go together. I suppose that Broxton's memory of last October did throw a little scare into him, which resulted in something foolish. But it seems to me a massive leap from "I don't want to throw a good fastball to Matt Stairs" to "The kid reliever still hasn't recovered." For all sorts of reasons, good pitchers sometimes make bad pitches, or good pitches that get hit hard anyway.
I link, you decide.