September, 18, 2012
9/18/12
1:10
AM ET
In their most important game of the season, the
Chicago White Sox
ran out a lineup that featured the following players:
That lineup helped
defeat the Tigers 5-4
on Monday afternoon, pushing the White Sox's lead in the AL Central to 3 games with 16 remaining. It's their division to lose.
Kenny Williams never seems to get the credit he deserves as White Sox general manager, but that's an impressive string of deals. Viciedo and Ramirez were sought-after Cubans, but the others show Williams' ingenuity in building a baseball team. He's the king of dumpster diving.
The players he acquired off the scrap heap doesn't stop with the above list.
Alejandro De Aza
, the team's starting center fielder most of the season before an injury (he recently returned), was claimed off waivers from the Marlins back in 2009.
Jake Peavy
was acquired in another salary dump in which Williams didn't have to give up any top prospects (not that the White Sox ever have any).
Francisco Liriano
came over from the Twins this year for next to nothing and has given the White Sox some good starts.
Philip Humber
hasn't been too effective since his perfect game back in April, but he was another waiver claim.
The White Sox are team of castoffs and the unwanted. Even the team's two longtime veterans,
Paul Konerko
and
A.J. Pierzynski
, could be classified in that category. Konerko had been a top prospect coming up through the Dodgers' system, but the Dodgers traded him to the Reds and the Reds traded him to the White Sox. Pierzynski had acquired a label as a malcontent and the Giants released him after the 2004 season. Williams took a chance.
That's what he does. The White Sox don't sign big-name free agents --
Adam Dunn
is the lone high-profile free agent on the roster. The White Sox don't draft well -- in part because owner Jerry Reinsdorf doesn't allow over-slot selections, in part because the White Sox rarely draft high (only one top-10 overall pick since 1991), in part because they just don't draft well -- and
Chris Sale
and
Gordon Beckham
are the only players the White Sox selected in the first round on the current roster.
Williams' pet move through the years is to take a risk on a veteran player with an undesirable contract. The Padres couldn't afford Peavy after signing him to a big deal and see him land on the disabled list. The trade didn't really pay dividends in 2010 and 2011 as Peavy battled more injuries, but he's been one of the AL's top starters. The Blue Jays signed Rios to a guaranteed $70 million deal in April of 2008, but a year later put him on waivers after a slight decline from his 2006-07 numbers, hoping another team would claim him. The White Sox. They got a solid 2010, a terrible 2011, and now an excellent 2012. Youkilis has provided a major upgrade at third base over what the White Sox had received there in recent seasons.
It's a market inefficiency of sorts that Williams has gambled on and that few GMs and owners are willing to take. But it's also a way of acquiring potentially premium talent without giving up top prospects. Maybe those guys aren't
quite
worth their salaries, but in 2012 they are solid contributors. Williams is willing to take the chance on those big salaries -- but not so big they cripple the team's payroll (the White Sox were 11th in the majors in Opening Day payroll).
Billy Beane is certainly the favorite for Executive of the Year, for his offseason wheeling and dealing that turned the A's into surprise contenders. (Yes, there is such an award, given out by The Sporting News, although oddly the last general manager who won the award
and
the World Series was Andy MacPhail of the Twins in 1991.) But Beane's deals weren't really constructed to build the A's into instant winners; it's been more a perfect storm of luck and unexpected performance. Give Beane the credit, of course, but acknowledge the residue of the unknown. Certainly Mike Rizzo of the Nationals and Dan Duquette of the Orioles will receive support.
But Williams is my choice. No, all those players weren't acquired in 2011-2012, so it's kind of a cumulative award. But teams aren't built in one offseason; the award should be based on a general manager's series of moves to build a winner. That's what Williams has done. It's what he usually does -- keeps the White Sox in contention, season after season.
Of course, let's not get ahead of ourselves just yet. As Tigers fans would like to point out, the season is not yet over.
PHOTO OF THE DAY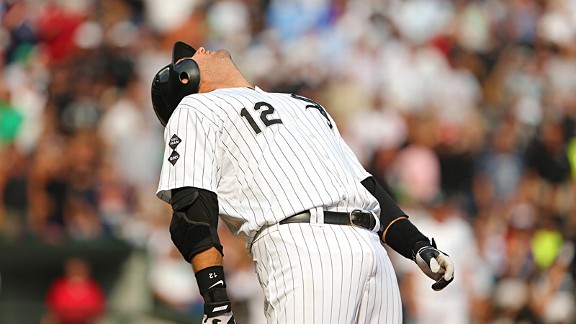 Nuccio DiNuzzo/Chicago Tribune/Getty ImagesWith a White Sox win like Monday's, A.J. Pierzynski might think they can aim for the heavens.
March, 15, 2012
3/15/12
11:03
AM ET
"I think we're going to be a lot better than some people think -- a lot better,"
Chicago White Sox
general manager Kenny Williams said Wednesday to CBSSports' Danny Knobler.

The White Sox won 79 games a year ago, a pretty remarkable achievement considering
Adam Dunn
hit .159 (lowest ever for a player with 450 plate appearances),
Alex Rios
had a .265 OBP (one of the 10 lowest figures ever for an outfielder with 500 PAs),
Gordon Beckham
hit .230 with a .296 OBP,
Brent Morel
posted a .287 OBP and
Juan Pierre
played 157 games.
That, my friends, is a lot of bad hitting.
The bad news is all those guys except Pierre are back. The good news is that they can't do any worse. The White Sox lost longtime starter
Mark Buehrle
and outfielder
Carlos Quentin
(second on the team in home runs and RBIs in 2011) via free agency. In their spots will be
Chris Sale
, moving from the bullpen, and prospect
Dayan Viciedo
. The rotation will count on better seasons from
John Danks
(4.37 ERA) and
Jake Peavy
(4.92 in 18 starts) and a repeat performance from 2011 surprise
Philip Humber
.
Gavin Floyd
fills out what could be a solid rotation, although one lacking a No. 1-type ace.
The bullpen is minus closer
Sergio Santos
, traded to the Blue Jays, but the White Sox believe they have depth with
Matt Thornton
,
Jesse Crain
, rookie
Addison Reed
and
Will Ohman
.
But it's the offense that will decide the fate of the 2012 White Sox. Do you believe in comebacks? If so, maybe you'll take the over on the betting line of 77.5 wins.
March, 4, 2012
3/04/12
11:00
AM ET
By
Diane Firstman
| ESPN.com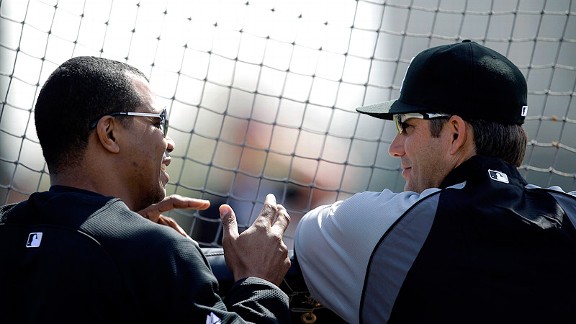 AP Photo/Jae C. HongThe team GM Kenny Williams, left, hired Robin Ventura to manage certainly has its share of holes.
Robin Ventura succeeds Ozzie Guillen as manager of the White Sox, having never managed (or coached) at any level in pro ball. Just what has he gotten himself into?
Distinguished Playing Career
Although he will be hard-pressed to make as vivid an impression as his predecessor, Ventura should be able to command the respect of his players on the basis of his own career as a player. Though he isn't a Hall of Famer, he has certainly had a career worthy of a Cooperstown exhibit. He was a three-time All-American at Oklahoma State University, where he set the NCAA consecutive game hitting streak record of 58 (he
still holds the Division I mark
). He was a first-round draft pick (10th overall) of the
Chicago White Sox
in 1988 and made his big-league debut a year later, after only 129 games in the minors.
While never a top-10 player, with few "black ink" stats on the back of his baseball cards, his career was notable for its consistency. Though he only surpassed 100 RBIs and 30 homers twice in his 16-year career, he was a six-time Gold Glover at third, and from 1991-2003 he compiled a 117 OPS+, with no season lower than 97. Whatever foot speed he had in his youth was erased in a horrific fractured/dislocated ankle injury suffered during a spring training game in 1997. He had compiled a line of .276/.367/.442 prior to 1997, but only .256/.357/.446 from 1997 onward.
Ventura had a knack for making history with the bases loaded. On September 4, 1995, he became only the eighth player to hit two grand slams in the same game. On May 20, 1999, he became the first and only player to hit a grand slam in both games of a doubleheader. During Game Five of the 1999 National League Championship Series, he hit a walkoff slam, which turned into a "Grand Slam Single" when his trip around the bases was interrupted by a celebrating teammate who hoisted Ventura up, preventing him from touching home plate. Another memorable moment came in a game against the Rangers in 1993, when he decided he didn't like getting hit by Nolan Ryan, and charged the mound, only to be "noogied to death" by the 46-year-old Texan.
Track record of neophyte managers
Of those who will be pacing a dugout in 2012, at least seven went into their first big-league stewardship like Ventura is now, a babe in the managerial woods. But unlike Ventura, they all had prior coaching experience. Let's examine how those seven did in their first two seasons:
Dusty Baker (1993 Giants): Baker inherited a team that won 72 games in 1992. Thanks in large part to the addition of free agent Barry Bonds (who compiled a 1.136 OPS), San Francisco improved to a 103-59 record in 1993, with Baker winning NL Manager of the Year. The '94 squad slumped to a 55-60 mark in the strike-curtailed season.

Bob Melvin (2003 Mariners): The 2002 squad went 93-69, only good enough for third place in the highly competitive American League West and six games out of the wild card. Melvin guided the M's to the exact same record in his first year. This time they nabbed second place in the West, but still missed the wild card by two games. Melvin's second year saw the Mariners fall from seventh to last in the AL in runs scored, and the team went 63-99. Melvin was fired after the season.

Ozzie Guillen (2004 White Sox): After the Sox went 86-76 in 2003, Guillen took over in 2004 and led the team to an 83-79 finish. His second season was when the magic happened: An AL-best 99-63 record and a 11-1 postseason record culminating in the franchise's first title since 1917.

Joe Girardi (2006 Marlins): The 2005 Florida squad went 83-79, and Girardi somehow guided the team with the lowest payroll in the majors in '06 to a very respectable 78-84 record. He was rewarded with the NL Manager-of-the-Year award, but not before getting fired by the Marlins due to some clashes with ownership.

Bud Black (2007 Padres): Black's fortunes were similar to Melvin's -- he barely changed the team's record in his first year (going from 88-74 to 89-74, with that 163rd game being a loss in the wild card tiebreaker), then saw the team totally collapse in his second season (63-99).

Kirk Gibson (2010 Diamondbacks): The D-backs had suffered through a 70-92 campaign in 2009, and were on the same path in the middle of 2010 at 31-48 when Gibson took over. He guided them to a slightly better 34-49 finish, then surprised most pundits with an NL West Division title in 2011, going 94-68 and earning the league's Manager-of-the-Year award.

John Farrell (2011 Blue Jays): After the Jays finished in fourth place in the AL East 2010 despite an 85-77 record, manager Cito Gaston retired, and Farrell was surprisingly given the reins. The Jays meandered to an 81-81 ledger in 2011, never more than four games over or five games under .500 at any point.

Don Mattingly (2011 Dodgers): Donnie Baseball took over for a retiring Joe Torre, who had gone 80-82 in 2010. Despite all the off-field distractions, and very little offense outside of Matt Kemp, Mattingly was able to guide the Dodgers to an 82-79 record in 2011.
Two of the most recent examples of managers being hired despite no prior managing
or
coaching experience have turned out poorly:
Buck Martinez (2001 Blue Jays): The 2000 season saw the Jim Fregosi-led Jays go 83-79. Martinez, who spent most of his post-playing career in the broadcast booth, led the '01 squad to a similar 80-82 record; after getting off to a 20-33 start in 2002, Martinez was fired.

A.J. Hinch (2009 Diamondbacks): The 2008 Diamondbacks went a disappointing 82-80, and when they started out 12-17 in '09, Hinch was given the job, at the tender age of 34. He led the team to a 58-75 finish to that season, and was 31-48 in the 2010 campaign when he was replaced by ... Kirk Gibson.
As you can see, most times there is little change in year one, but major upheaval (both good and bad) in year two.
The team he will manage
Since their splendid 99-63 regular season run to the 2005 World Series title, the record of the ChiSox has been neither wretched nor exemplary. With the exception of 2007 (a 72-win campaign), they've won between 79 and 90 games each year. They've compiled a .511 winning percentage and just one playoff appearance. They rank 13th in W-L percentage during that time.
[+] Enlarge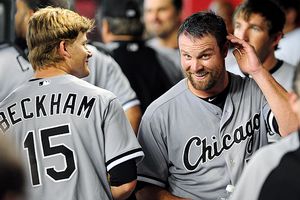 Jennifer Stewart/US PresswireHow John Danks, right, performs as No. 1 starter and whether Gordon Beckham can get his OPS back on track are key questions awaiting Ventura.
But last year's club showed some glaring weaknesses. On offense, the 2011 squad had only two regulars compile an OPS greater than .728 (the league OPS was .730) or over a 100 OPS+. There were 22 players with more than 400 plate appearances and a sub-.660 OPS during 2011, and the Sox had
five of them
. The team finished no higher than seventh in the AL in any offensive category. It were also the third-oldest offense in the league. On defense, committing the second-fewest errors in the AL couldn't mask the lack of range afield, as White Sox' Defensive Efficiency ranked third from bottom. If you reached first base against the Sox, you ran, as they threw out a league-low 22 percent of stolen-base attempts. The pitching helped keep some of the pressure off of the defense, as their 7.5 K/9 and 2.78 K/BB led the AL. But they still ended up with a league-average 4.10 ERA.
In 2012, the club will face some major hurdles if it wishes to improve on last season's performance or even just to keep pace with it. The starting rotation must replacing staff ace/workhorse
Mark Buehrle
's 200-plus innings. Buehrle's 2,425 frames since 2001 are
60 more than anyone else
.
John Danks
, who pitched better than his 4.33 ERA might suggest, assumes the No. 1 starter position, with 22-year-old
Chris Sale
stepping into the rotation.
Philip Humber
pitched more than 21 2/3 innings in the majors for the first time in 2011, by 141 innings; his BABIP was a low .276, and something may have to give in 2012. In the bullpen,
Matt Thornton
has been the ChiSox primary set-up man for six years, and had a shot to close last year but lost it; with the departure of
Sergio Santos
via trade, can the 35-year-old Thornton step up, despite a sharp drop in his K/9 rate last year (12.0 to 9.5)?
On offense, there is a growing concern over second baseman
Gordon Beckham
. The former first-round draft pick has seen his OPS slide from .807 to .695 to .633, though his defense has improved at second base. Third baseman
Brent Morel
may not be the answer at the hot corner, as his profile (a .250 doubles hitter with few walks and below-average range) is lacking for the position. Catcher
A.J. Pierzynski
is 35 and closing in on 1,500 games behind the plate. His 120 games at catcher last year were his lowest since 2004, and he threw out only 20 percent of runners attempting to steal, below his career mark of 24 percent. There have been only
30 player-seasons in the past 50 years
where a 35-or-older catcher has managed at least a .728 OPS (as Pierzynski did last year).
Then we come to the two biggest enigmas,
Adam Dunn
and
Alex Rios
. Everyone is well aware of Dunn's legendary collapse in 2011, including his .064 batting average versus lefties. With three years and $44 million to go, can new hitting coach Jeff Manto get "The Big Donkey" standing upright again? Also, while Rios will never truly be worth the $21 million he is drawing each year through 2014, the Sox hope for something closer to the .284/.334/.457 line of 2010, rather than the .227/.265/.328 slash of 2011. They're moving him to left field this season, where he has played one game his entire career.
Will Ventura exceed expectations?
So, Robin Ventura will certainly have his hands full (and tied) with a team that is, at best, in transition and, at worst, about to fall off a cliff. If he can move the White Sox in the right direction, it will be yet another extraordinary performance, as impressive as any of his grand slams. Given his history as a player, and the opportunity to establish a new atmosphere in the clubhouse, I think there is at least a chance he can pull it off.
Diane Firstman blogs about baseball at Value Over Replacement Grit, a SweetSpot network affiliate, and you can follow her on Twitter at @dianagram
January, 26, 2012
1/26/12
8:30
AM ET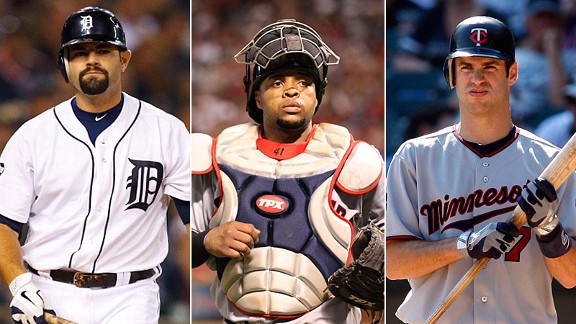 US PresswireWith Alex Avila, Carlos Santana and Joe Mauer, the AL Central is loaded at catcher.
We're back with more divisional position rankings for 2012. You can scream, you can holler, you can protest and call me names. But just because I rated your player lower than you think he deserves doesn't mean I hate your team.
(Here are the
NL East
and
NL West
rankings.)
Catcher
1.
Alex Avila
, Tigers
2.
Joe Mauer
, Twins
3.
Carlos Santana
, Indians
4.
Salvador Perez
, Royals
5.
A.J. Pierzynski
, White Sox
The AL Central might not be baseball's glamor division, but it may have three of the top five catchers in the game if Mauer bounces back from his injury-plagued campaign. Since we're not certain of his health, I'm going to give top billing to Avila, who had the best hitting numbers of any catcher outside of
Mike Napoli
and plays solid defense. I wouldn't be surprised if Santana explodes; with his power-and-walks combo, all he has to do is raise his average 30 points and he'll be one of the most valuable players in the game. Considering that his average on balls in play was .263, there is a good chance of that happening. Perez hit .331 in 39 games; OK, he won't do that again, but he doesn't turn 22 until May and puts the ball in play. There's no shame in being fifth in this group but that's where I have to place Pierzynski, who keeps rolling along and is now 36th on the all-time list for games caught.
First base
1.
Prince Fielder
, Tigers
2.
Paul Konerko
, White Sox
3.
Eric Hosmer
, Royals
4.
Justin Morneau
, Twins
5.
Matt LaPorta
, Indians
In 2009, when Morneau played 135 games, he hit .274 AVG/.363 OBP/.516 SLG. Even if he replicates that line, he may rank only fourth. Konerko has hit a combined .306 with 70 home runs the past two seasons. He's 104 home runs from 500 but turns 36 in March, so he's probably four seasons away; not sure he'll hang on that long, but who knew he'd be this good at this age. If Hosmer improves his walk rate and defense and Konerko declines, Hosmer could climb past him. If it doesn't happen this year, it will happen next. The most similar batter to him at age 21: Eddie Murray.
Second base
1.
Jason Kipnis
, Indians
2.
Gordon Beckham
, White Sox
3.
Johnny Giavotella
, Royals
4.
Alexi Casilla
, Twins
5.
Ramon Santiago
, Tigers
Well, this isn't exactly a
Robinson Cano
/
Dustin Pedroia
/
Ben Zobrist
debate, is it? Kipnis' bat is a sure thing, as evidenced by his excellent play after his call-up (.272 average and .507 slugging in 36 games). His glove was once a question mark but now appears solid enough that he looks like a future All-Star to me. Can anybody explain what has happened to Beckham? He's second mostly by default; he's gone downhill since his superb rookie season in 2009 but is only 25, so there's hope that he'll find those skills again. Giavotella has some potential with the bat (.338/.390/.481 at Triple-A), which is more than you can say for Casilla and Santiago.
Third base
1.
Miguel Cabrera
, Tigers
2.
Mike Moustakas
, Royals
3.
Lonnie Chisenhall
, Indians
4.
Danny Valencia
, Twins
5.
Brent Morel
, White Sox
We'll go with the idea that Cabrera is Detroit's starting third baseman, although I predict he'll end up starting more games at designated hitter. Manager Jim Leyland will end up doing a lot of mixing of his lineups, but for this little exercise we have to choose a starter. Moustakas didn't tear up the league as a rookie and I worry about his ability to hit lefties (.191, homerless in 89 at-bats), but he showed more than fellow rookies Chisenhall and Morel. Valencia doesn't get on base enough and he rated poorly on defense in 2011. I hope he's at least good in the clubhouse. Morel was terrible all season and then exploded for eight of his 10 home runs in September and drew 15 walks after drawing just seven the previous five months. Maybe something clicked.
Shortstop
1.
Asdrubal Cabrera
, Indians
2.
Alexei Ramirez
, White Sox
3.
Jhonny Peralta
, Tigers
4.
Alcides Escobar
, Royals
5.
Jamey Carroll
, Twins
Peralta had the best 2011 season, but he's a difficult guy to project. He had an .804 OPS in 2008 but dropped to .691 in 2009. He had a .703 OPS in 2010 and then .823 in 2011. I just don't see a repeat season, at the plate or in the field. Cabrera didn't rate well on the defensive metrics, and after a strong start he wore down in the second half. Ramirez has turned into a nice player, with a good glove and some power, and he even draws a few walks now. Escobar is a true magician with the glove. Carroll is actually a useful player who gets on base (.356 career OBP), but he's pushed as an everyday shortstop and he'll be 38. He'll be issued the honorary
Nick Punto
locker in the Twins' clubhouse.
Left field
1.
Alex Gordon
, Royals
2.
Alejandro De Aza
, White Sox
3.
Ben Revere
, Twins
4.
Michael Brantley
/
Shelley Duncan
, Indians
5.
Ryan Raburn
/
Don Kelly
, Tigers
I'm not sure what to do here. After Gordon, I just get a headache. We'll pretend to believe in De Aza after his impressive stint in the majors (171 plate appearances, .329/.400/.920). He's hit in Triple-A for three seasons now, and while he's not going to post a .400 OBP again, he should be adequate. Revere is one of the fastest players in the majors, but he's all speed and defense; he hopes to grow up to be
Brett Gardner
, which isn't a bad thing, but he'll have to learn to get on base at a better clip. Brantley doesn't have one outstanding skill so he'll have to hit better than .266 to be anything more than a fourth outfielder; Duncan provides some right-handed pop as a platoon guy. The Tigers have
Delmon Young
, but I'll slot him at DH. That leaves supposed lefty masher Raburn and utility man Kelly to soak up at-bats; both had an OBP below .300 in 2011, although Raburn has hit better in the past.
Center field
1.
Austin Jackson
, Tigers
2.
Denard Span
, Twins
3.
Grady Sizemore
, Indians
4.
Lorenzo Cain
, Royals
5.
Alex Rios
, White Sox
I can't rate Sizemore any higher since he's played just 104 games over the past two seasons, and he hasn't had a big year since 2008. Rios was terrible in '09, OK in '10 and worse than terrible in '11. I'm not betting on him.
Right field
1.
Shin-Soo Choo
, Indians
2.
Brennan Boesch
, Tigers
3.
Jeff Francoeur
, Royals
4.
Josh Willingham
, Twins
5.
Dayan Viciedo
, White Sox
Choo would like to forget 2011, but there's no reason he shouldn't bounce back and play like he did in 2009 and 2010, when he was one of the 10 best position players in the AL. I don't expect Francoeur to deliver 71 extra-base hits again, but maybe he'll surprise us. Viciedo is apparently nicknamed "The Tank," which makes me wonder how much ground he can cover. He did improve his walk rate last season in the minors and turns 23 in March, so there's still room for more growth.
Designated hitter
1.
Billy Butler
, Royals
2.
Travis Hafner
, Indians
3.
Ryan Doumit
, Twins
4. Delmon Young, Tigers
5.
Adam Dunn
, White Sox
Has there been a bigger prospect disappointment than Young in the past decade? I mean, yes, there were complete busts like
Brandon Wood
and
Andy Marte
, but those guys had obvious holes in their games, while Young was viewed as a
sure thing
, a consensus No. 1 overall prospect. But his bat has never lived up to its billing. Other than one decent year in Minnesota, he has low OBPs and he clearly lacked range in the outfield. His career WAR on Baseball-Reference is minus-0.2 (1.6 on FanGraphs), meaning he's been worse than replacement level. He's just not that good, Tigers fans.
No. 1 starter
1.
Justin Verlander
, Tigers
2.
John Danks
, White Sox
3.
Justin Masterson
, Indians
4.
Luke Hochevar
, Royals
5.
Carl Pavano
, Twins
Masterson was better than Danks in 2011, and I do believe his improvement was real. He absolutely crushes right-handers -- they slugged an anemic .259 off him. Danks had two bad months but has the longer track record of success. Even in his "off year" he had a higher strikeout rate and lower walk rate than Masterson. If you want to argue about Hochevar versus Pavano, be my guest.
No. 2 starter
1.
Doug Fister
, Tigers
2.
Ubaldo Jimenez
, Indians
3.
Gavin Floyd
, White Sox
4.
Francisco Liriano
, Twins
5.
Jonathan Sanchez
, Royals
Yes, sign me up for the Doug Fister bandwagon club. Jimenez's fastball velocity was down a couple miles per hour last season but the positives are that his strikeout and walk rates were identical to 2010; he'll be better. Floyd isn't flashy but he's now made 30-plus starts four years in a row, and he'll become a very rich man when he becomes a free agent after this season. Sanchez won't have the luxury of pitching in San Francisco (and to eight-man NL lineups).
No. 3 starter
1.
Max Scherzer
, Tigers
2.
Scott Baker
, Twins
3.
Philip Humber
, White Sox
4.
Bruce Chen
, Royals
5.
Josh Tomlin
, Indians
I could be underrating Baker, who was excellent last season, but only once in his career has he made 30 starts in a season. Tomlin's fans will disagree with this ranking, but he's a finesse guy who relies on the best control in baseball (21 walks in 26 starts). He's the kind of guy you root for, but the league seemed to figure him out as the season progressed.
No. 4 starter
1.
Felipe Paulino
, Royals
2.
Rick Porcello
, Tigers
3.
Jake Peavy
, White Sox
4.
Derek Lowe
, Indians
5.
Nick Blackburn
, Twins
Scouts still love Porcello's arm and I know he's just 23, but he's made 89 big league starts and shown no signs of getting better. His WHIP has increased each season and his strikeout rate remains one of the lowest in baseball. Paulino has an electric arm -- he averaged 95 mph on his fastball -- and
is
getting better. How could the Rockies give up on him after just 14 innings? How could the Astros trade him for
Clint Barmes
? Anyway, kudos to the Royals for buying low on the guy who may turn into their best starter. Peavy can't stay healthy. Lowe has led his league in starts three out of the past four seasons, but I'm not sure that's a good thing anymore. Blackburn is a poor man's Lowe, and I don't mean that in a good way.
No. 5 starter
1.
Chris Sale
, White Sox
2.
Jacob Turner
, Tigers
3.
Aaron Crow
/
Danny Duffy
, Royals
4.
Fausto Carmona
/
David Huff
/
Jeanmar Gomez
, Indians
5.
Brian Duensing
/
Jason Marquis
, Twins
Welcome to the AL Central crapshoot. Turner and Sale have the most upside, but one is a rookie and the other is converting from relief. Crow will also be given a shot at the rotation, but his difficulties against left-handed batters (.311 average allowed) don't bode well for that transition. Even if the artist formerly known as Carmona gets a visa, what do you have? A guy with a 5.01 ERA over the past four seasons. Duensing is another typical Twins pitcher, which means he at least throws strikes. His first full season in the rotation didn't go well, so of course the Twins brought in Marquis, yet another guy who doesn't strike anybody out.
Closer
1.
Jose Valverde
, Tigers
2.
Joakim Soria
, Royals
3.
Matt Thornton
, White Sox
4.
Chris Perez
, Indians
5.
Matt Capps
, Twins
Four good relievers plus Matt Capps. I do admit I'm a little perplexed by Perez, however. In 2009, he struck out 10.7 batters per nine innings. In 2010, that figure fell to 8.7 but he posted a pretty 1.71 ERA. In 2011, it was all the way down to 5.9, but without much improvement in his control. Perez blew only four saves but he did lose seven games. He survived thanks to a low .240 average on balls in play. He's an extreme fly-ball pitcher but didn't serve up many home runs. Bottom line: I'd be nervous.
Bullpen
1. Indians --
Vinnie Pestano
,
Rafael Perez
,
Tony Sipp
,
Joe Smith
,
Nick Hagadone
2. Royals --
Jonathan Broxton
,
Greg Holland
,
Louis Coleman
,
Tim Collins
,
Jose Mijares
3. Tigers --
Joaquin Benoit
,
Octavio Dotel
,
Phil Coke
,
Daniel Schlereth
,
Al Alburquerque
4. White Sox --
Jesse Crain
,
Jason Frasor
,
Will Ohman
,
Addison Reed
,
Dylan Axelrod
5. Twins --
Glen Perkins
,
Alex Burnett
,
Anthony Swarzak
,
Kyle Waldrop
,
Lester Oliveros
If you're starting to think I'm not high on the Twins for this season, you would be correct.
Intangibles
1. Royals
2. Indians
3. Tigers
4. White Sox
5. Twins
I like the youthful exuberance of the Royals, plus the likelihood of improvement from the young players and the possibility of some midseason reinforcements from the minors. The depth of the bullpen will help bolster a shaky rotation, and this just feels like an organization that is finally starting to believe in itself. The Indians are riding last year's positive results and enter the season knowing they might get better production from Choo and Sizemore and full seasons from Kipnis and Chisenhall. I'm not knocking the Tigers here, but they do lack depth in the pitching staff and the pressure is on them.
The final tally
1. Tigers, 65 points
2. Royals, 55 points
3. Indians, 54 points
4. White Sox, 46 points
5. Twins, 35 points
No surprise here: The Tigers will be heavy favorites to win the division with a lineup that should score a ton of runs. I don't think it's a lock that they'll win -- Verlander, Avila, Peralta and Valverde will all be hard-pressed to repeat their 2011 campaigns, for example. But the Royals and Indians appear to have too many questions in the rotations, the White Sox have serious lineup issues, and the Twins have a beautiful ballpark to play their games in.
April, 18, 2011
4/18/11
3:19
PM ET
Maybe we'll make this a regular Monday feature. I'll spend a few minutes and report back with some of the interesting nuggets that pop out to me.
I love looking at a hitter's walk-to-strikeout ratio early on because I think it's indicator on whether a player has had a good approach or is just on a hot streak. Matt Kemp is hitting .474/.545/.719 and has more walks (9) than strikeouts (8). That's a big change from a guy who had a 170/53 SO/BB ratio in 2010. Look, Kemp could go backwards the first week the hits don't start falling and start swinging at pitches out of the zone, but so far the improvement looks real.
Who is Jonathan Herrera and why is he hitting .400? Colorado's little second baseman (5-foot-9, 150 pounds) is winning the everyday job from Jose Lopez ... and deserves to. Lopez is a bad major league baseball player. Herrera has 11 walks against only three strikeouts and is 4-for-4 in stolen bases. Lopez played 150 games last year and drew 23 walks. Herrera never walked much in the minors, so I'm not sure if this is a new skill or a two-week fluke.
One last note here: Troy Tulowitzki is starting to receive a lot more respect from pitchers. He had a 48/78 BB/SO ratio in 2010, but is already at 14/5 this season. It's no surprise that the Rockies lead the NL in walks so far.
American League teams averaged 4.45 runs per game in 2010, the lowest average since 4.32 in 1992. So far, scoring is down again, to 4.33 runs per game. Home runs aren't down that much (and are higher than 1992), but the league average is just .247. The AL hasn't hit that low since a .239 mark in 1972 -- the last season before the designated hitter rule.
A lot of people pointed to a high BABIP (batting average on balls in play) as a reason Detroit's second-year center fielder Austin Jackson was unlikely to repeat his excellent rookie season (.293/.345/.400). So far they've been proved right, as Jackson continues to whiff at astronomical rates (19 K's in 65 PA's) and is hitting just .175. The Tigers don't really have another good center-field option, as Brennan Boesch and Ryan Raburn are best suited for left field.
Good news for the White Sox: Carlos Quentin is mashing again, with nine doubles and three homers through 15 games. If Quentin can approach his 2008 numbers, when he was an MVP candidate before getting injured early in September, that lineup looks even more dangerous.
Have pitchers figured out Brett Gardner? His basic plan last year was "don't swing." He worked that approach for 79 walks and a .383 OBP. This season, he's hitting .140/.213/.209 with four walks and 14 strikeouts. With no power, pitchers may as well throw him strikes.
Ryan Franklin and Matt Thornton each have four blown saves already. The single-season record is 14, shared by five pitchers -- Bruce Sutter, Bob Stanley, Gerry Staley, Rollie Fingers and Ron Davis. But those guys did that in a different time, when the closer often came in in the seventh or eighth inning. The most blown saves since 2000 is Ambiorix Burgos of the 2006 Royals. Wow, his numbers that year were pretty astonishing: 16 home runs allowed in 73 innings. Some of those blown saves came as a setup man. Brad Lidge had 11 blown saves in 2009 for the Phillies and Huston Street had 11 for the A's in 2006.
Follow David Schoenfield on Twitter at @dschoenfield. Follow the SweetSpot blog at @espn_sweet_spot.
April, 14, 2011
4/14/11
6:08
PM ET
By
Christina Kahrl
| ESPN.com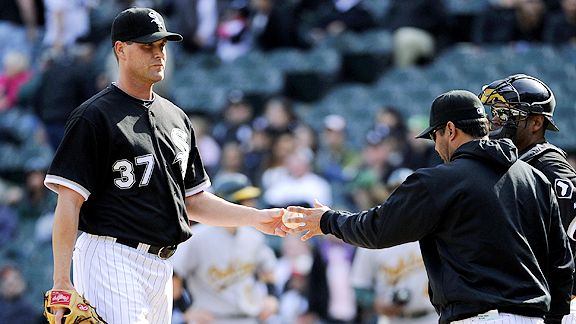 Ron Vesely/MLB Photos/Getty ImagesWhite Sox closer Matt Thornton has already racked up four blown saves in the young season.
The White Sox lost another squeaker Wednesday with
their second extra-inning loss
to the A's. It marked their fifth blown save in the bottom of the eighth inning or later, and the fourth blown save on the season for
Matt Thornton
, this time coming in relief of rookie
Chris Sale
. Sale failed to record an out after being handed a three-run lead in the ninth, so while the blown save gets put on Thornton, it was another bad day at the office for both of the Sox's should-be stoppers. After the game, manager Ozzie Guillen was every bit as combustible as his closers, exploding with an announcement of the obvious: "
I don't have any closer
."
Now, as much as you'll get an argument from those on the inside that pitching the ninth is different from any other, it's also true that closers can be conjured up from the least likely of sources. From last year's saves leaderboard, for example,
Kevin Gregg
(37 saves) was a former utility pitcher for the Angels, while the Mariners'
David Aardsma
(31 saves) was no stranger to the waiver wire. It isn't about the ability to generate saves -- give a lot of guys 30-40 opportunities in the ninth, and you'll get a save 75-80 percent of the time.
It isn't going to be Ozzie's job to pull a rabbit out of his hat, not by himself at any rate. In Sale and Thornton, he has two good lefties who can and will pitch effectively, but their rough starts mean it's going to take some time for trust in them to be rebuilt. Turning to Thornton early in the season and trusting that perhaps Sale would wind up earning the job in-season was a nice plan in the abstract, but in the big picture a pair of southpaws in the Cell doesn't exactly make for the best combination, not in a world full of right-handed hitters, and definitely not in a ballpark as righty pull-power-friendly as the Sox's home -- per Baseball Info Solutions' park factors, U.S. Cellular's 145 park factor for right-handed hitters' home runs is the single highest home-run factor in either league for every kind of hitter in any ballpark over 2008-10. In this kind of environment, there's a real need for a quality right-hander.
And simply put, Ozzie doesn't have that guy. Converted position player
Sergio Santos
has mid-90s heat and might be worth a peek, but like many conversion projects, the four-seamer could probably profit from more movement and less speed-gun heroics, and given his limited experience on the mound, his off-speed stuff understandably needs work: righties can kill his changeup when they aren't sitting dead-red, but his slider has promise. If that sort of sushi is a little too exciting for Ozzie,
Jesse Crain
might make for an adequate temporary solution, but he wasn't especially effective in high-leverage situations in 2008 or 2009, and his strikeout rate isn't all that much higher than average for relief help.
Enter Kenny Williams, who is as active a shopper as any GM in the game today. From Williams on down, the Sox believe in their ability to regild the lily, taking other teams' former top struggling prospects and getting them turned around. The rotation's stocked with them (
John Danks
and
Gavin Floyd
, for example), and it was their gamble on
Bobby Jenks
as a too-wild Rule 5 pick out of the Angels organization that helped propel the Sox to their 2005 title. The answer has to come from outside the organization, and it'll be Williams' crew who can find him. If it's a matter of taking a chance on a pitcher struggling with staying healthy, here again, the Sox can afford a bit of risk where other teams might shrink from it, because they have the benefit of Herm Schneider's matchless training staff.
The question is whether Williams can acquire someone this early in the season, when salary dumps generally aren't the order of the day, so it's likely to cost talent -- something Chicago's system isn't rich in. Making the call this early comes across as desperate, because it is. Even so, perhaps the best fit will involve the Sox living up to their season motto -- "All In" -- and making a deal for a short-time veteran who could use the change of scenery.
So the time is now for Williams to call Sandy Alderson, start talking about
Francisco Rodriguez
, and see how much money the Sox can get the Mets to eat while making it happen. K-Rod may not appear to be the same pitcher he was in his Angels' heyday, but his strikeout rate last season (28.4 percent) was his best since 2007. As much as "closer mystique" is overrated, the Sox probably can't afford to keep experimenting on into May; K-Rod's formerly famous enough to end the club's closer controversy, pushing Thornton back into his set-up job and letting the Sox re-evaluate what they want to do with Sale in the near term. Admittedly, the Sox would be risking K-Rod's 2012 option for $17.5 million vesting -- he needs to finish 55 games to get there, plus a clean bill of health -- but either you're all in, or you're not.
Christina Kahrl helped co-found Baseball Prospectus in 1996, is a member of the BBWAA, and covers baseball for ESPN.com. You can follow her on Twitter here.
April, 14, 2011
4/14/11
12:23
PM ET
Well, Mr.
Barry Bonds
was in the news. Eric and Keith discuss that and things that happened on the field in Thursday's
Baseball Today podcast.

March, 9, 2011
3/09/11
11:51
AM ET
By
Charlie Saponara
| ESPN.com
There was a buzz heading into spring training that reigning AL Rookie of the Year
Neftali Feliz
would be stretched out and given a chance to make the Rangers' starting rotation. After only a couple weeks of "stretching out" his arm, Feliz is ready to go back to the bullpen where he feels more comfortable. This is both good and bad for the Rangers. Good because Feliz is more likely to be effective in a short role and bad because their rotation has some major question marks.
Feliz showed us last season just how dominant he could be out of the pen. He posted a 2.73 ERA and a 2.96 FIP while striking out 71 batters in 69.1 innings and walking only 18. He held opposing hitters to a very low 15 percent line drive rate while inducing the opposition to pop-up weakly to the infield on almost 17 percent of his balls in play (seventh best IFFB percent by a reliever in baseball, minimum 50 innings pitched).
[+] Enlarge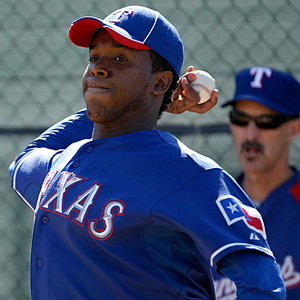 AP Photo/Charlie RiedelIt appears Neftali Feliz is going to stay in the Rangers' bullpen for the time being.
However, despite the 40 saves, the low ERA and the 71 strikeouts to 18 walks, Feliz produced only 1.7 fWAR. That fWAR was lower than those of
Sean Marshall
and
Matt Thornton
, who racked up nine saves between them in 2010. As you can see, saves themselves are really not that valuable. As a matter of fact, Feliz's own teammate,
Darren Oliver
, produced 1.5 fWAR in 7.2 fewer innings.
Clearly, if Feliz could translate his bullpen success into the starting rotation, his value would be much higher. That, however, was going to be a tall order.
We've already established that Feliz was dominant in a one (sometimes two) inning(s) role, but what would happen if he had to throw more innings and go through an entire lineup several times?
In 2009, Feliz was at Triple-A being groomed as a starting pitcher, but the need arose for some help in the Texas bullpen. Feliz was converted to a reliever, and by August he was in the big leagues. Feliz has always had electric stuff, however -- just as many see
Aroldis Chapman
now -- Feliz lacked the command and control of an ace-level starter. As he reached the upper levels of minor league ball, that lack of refinement began to show as he posted a combined 3.9 BB/9 in Double- and Triple-A between 2008 and 2009. His control improved in 2009, but in large part due to his move to the bullpen after 13 Triple-A starts.
As a starter, Feliz would likely see a rise in walk rate, but the real issue is how his changeup would play in that role.
Feliz threw 1,072 pitches last season, 34 of which were changeups (this varies a bit based on what pitch f/x you chose, but the point remains). His change was also the least effective of his pitches, generating swings and misses only 8 percent of the time compared to his fastball and slider/curve, which produced whiff rates of around or more than 13 percent. If Feliz cannot develop his change, he may struggle as he tries to go deeper into games. A two-pitch pitcher can work in one-inning efforts, but as pitchers tend to lose their velocity and bite in extended innings, their effectiveness wears off -- not to mention that opposing hitters will have many more looks at all of his pitches.
This is not to say that Neftali Feliz can't become a very valuable starting pitcher someday, but he clearly needs more work in that role before taking such a big step. The Rangers, however, want to contend once again in 2011 and feel that the pieces to their rotation are more than solid. I may have some disagreements there.
C.J. Wilson
, the Rangers' opening day starter, posted the 20th worst K/BB rate in baseball last season (minimum 150 IP) and his BABIP against was the 14th lowest in baseball. With a little less randomness (luck) in 2011, his results could very easily be a lot worse. And is no one concerned with the fact that he threw 131.1 more innings than his previous big-league career high (which was out of the pen in 2009)?
While I do like
Colby Lewis
to put up another solid season, it is going to be hard to count on
Tommy Hunter
and his K/9 of around five to win 13 games and post a sub 4.00 ERA again. Also, counting on a pitcher (
Brandon Webb
) who has missed almost two full seasons to come back and be his former self is hopeful at best. Derrek Holland has a chance to step up and be a big piece of the rotation, but overall there isn't as much depth as fans might think based on what happened in 2010.
Neftali Feliz has the stuff to be a shut-down pitcher in short-inning situations; there is little doubt about that. But apparently he doubts his role as a starter and rightfully so. However, by not at least trying to pitch in the rotation, he is ultimately less valuable to the Rangers in the long run. Bullpen arms come and go, but starting pitching can carry a team to glory. Just ask the Rangers themselves, who lost to the Giants and their shut-down starting rotation in the 2010 World Series.
Charlie Saponara writes for the SweetSpot Red Sox blog at Fire Brand of the American League as well as FantasyBaseball365.com and ProjectProspect.com. You can follow him on Twitter.