April, 6, 2011
4/06/11
8:54
PM ET
Typically, even at this early point in the season,
Kansas City Royals
fans are already getting sour looks on their faces: Picture Dennis Leonard after accidentally swallowing his chewing tobacco. The very best the Royals could do last season was three consecutive wins. Granted, Kansas City strung together that victory trifecta on six different occasions, but three straight was the point at which Royals momentum peaked on the way to a 67-95 finish. It was as if this payroll-challenged outfit had not a salary cap, but a consecutive wins cap.
This year's Royals, however, have changed their walk-up music.
[+] Enlarge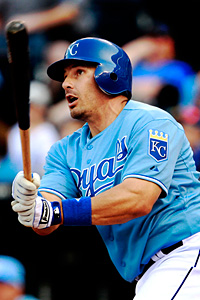 AP Photo/Orlin WagnerMatt Treanor's three-run homer in the 13th on Sunday gave the Royals a last at-bat victory.
It takes a Marty Pattin-bulldog mentality to begin a season like this. Tuesday's walk-off win over the White Sox made the Royals just the third team in the past 20 seasons to have its first four wins come in the last at-bat and the first AL team to do so since the 1989 Royals. That win, following Sunday's 12-9 win over the Angels that ended on
Matt Treanor
's three-run homer in the 13th inning, gave the Royals consecutive wins in games lasting longer than 11 innings for the first time since April of 1969.
Yes, K.C. blew a ninth-inning lead Wednesday afternoon against Chicago. But the Royals tied it in the bottom of the ninth and had the winning run on third base with one out in the 11th.
Jeff Francoeur
struck out and
Alcides Escobar
grounded out to strand that winning run. The result wasn't there but at this point it's more about the mentality -- the Royals were a base hit away from five straight last at-bat wins.
Joakim Soria
blew the save Wednesday, but he failed to convert only three save opportunities last season and is among the game's best closers. This season, for the first time in quite a while, there may be more in that Royals bullpen than just their All-Star closer. Kansas City's last three wins have all been recorded by rookie relief pitchers.
Saturday's victory went to
Aaron Crow
, the Royals' first-round draft pick in 2009, who signed with K.C. one year after the Nationals couldn't sign him after drafting him in the first round in 2008.
Tim Collins
, meanwhile, wasn't drafted at all. Collins is 5-foot-7 and perhaps 170 pounds. He can light up a radar gun near 97 mph and throw a curveball that buckles major league knees. He'd previously been with the Blue Jays and Braves and earned a place in the Royals bullpen this spring after arriving in camp as a non-roster invitee. Collins' path to the Kansas City bullpen could not have been more different than Crow's, but after three innings of two-hit relief Sunday, Collins had earned his first major league victory. Tuesday's rookie reliever winner was
Jeremy Jeffress
, who was the Brewers' first-round pick in 2006 and came to the Royals as part of the haul received from Milwaukee in the
Zack Greinke
trade.
The offense has been there, too.
Alex Gordon
, the University of Nebraska hero who hit just .232 and .215 the previous two seasons, may be one more slumping season away from officially becoming a hometown bust, but is 11-for-21 with five RBIs in his past four games. He's hitting .379 overall, with five doubles, a homer and a 1.075 OPS. Gordon,
Melky Cabrera
, Francoeur,
Billy Butler
and
Chris Getz
are all batting north of .290. Treanor's weekend included two brilliant defensive blocks of home plate for outs and the walk-off home run that beat the Angels.
From here the Royals play three games at Detroit and two at Minnesota. Then it's back home for eight games against the Mariners and Indians. There's a fair chance given their energetic start and remaining April schedule, that Kansas City could still be a first-place team entering May.
Steve Berthiaume is a SportsCenter anchor and host of Baseball Tonight. He'll be a regular contributor to the SweetSpot blog. Follow him on Twitter at @SBerthiaumeESPN.
October, 20, 2010
10/20/10
7:58
PM ET
I know I said I would lay off Ron Washington.
Really, though?
Washington's decision to start
Matt Treanor
in
Game 5
was ... questionable, at best. But we might at least understand
the rationale
: Treanor began serving as
C.J. Wilson
's personal catcher in early July and since then -- including Wilson's two postseason starts -- he was 10-5 with a 3.21 ERA. Now, some pundits have attributed Wilson's second half to the presence of
Cliff Lee
. But Washington seems to think Treanor had something to do with it.
We know, from countless studies, that it's
exceptionally
difficult to find a connection between a pitcher's performance and who's behind the plate. But again, at least you can see Washington's rationale, and maybe this just falls under the heading of things that pointy-headed figure filberts like me aren't smart enough to understand.
In the event, the move
didn't
look good when Wilson struggled, but
did
look good when Treanor got the Rangers on the scoreboard with a solo homer in the top of the fifth inning.
A home run off
CC Sabathia
leaves a powerful impression.
Still, Treanor had earlier, over the course of seven seasons in the major leagues, left a significantly more powerful impression. In 978 at-bats, Treanor had hit 13 home runs. At 34, he sports a .310 career slugging percentage. His home run off Sabathia probably qualifies as the second-biggest fluke of this postseason, just behind
Roy Halladay
's no-hitter (maybe).
When Treanor came up again in the sixth inning, he'd hit one home run in this game. In his previous 101 games, he'd hit five home runs. Which of those groups of games do you think told us more about Matt Treanor's ability to hit home runs? One, or 101?
So he comes up again in the sixth inning. A few details:
The Rangers trailed by five runs,
there was one out, but


the bases were loaded.
Also, CC Sabathia was still on the mound and right behind Treanor in the lineup was left-handed-hitting
Mitch Moreland
. Lurking in the bullpen:
Kerry Wood
and
Mariano Rivera
, both of them perfectly capable of pitching two full innings.
Which is to say, if the Rangers were going to have a real shot at getting back into the game, this was probably it.
And with his No. 8 and 9 hitters coming up -- a terribly weak right-handed hitter, and a left-handed hitter -- Ron Washington did absolutely nothing. Given a chance to improve his percentages, Washington sat on his hands.
C.J. Wilson was already out of the game. The sole reason for Treanor's presence had disappeared (
poof!
) into the Bronxian dusk. Which should have sent Treanor off into the good night, too. And signaled the entrance of
Bengie Molina
, who (for all his faults) has a career slugging percentage exactly 101 points higher than Treanor's.
Molina never got off the bench. Treanor drove in a run, with a weak grounder to third base, but the Rangers weren't really in a position to trade an out for a run.
The rally died when Moreland struck out. You might wonder why Moreland was allowed to hit while
Jorge Cantu
was on the bench. Or you might wonder why Cantu was on the bench, if Washington has no intention of using him. Good questions, both.
But the singular question is why Washington didn't use his power-hitting catcher at the exact moment that he needed, more than anything else, a power-hitting catcher.
Joe Sheehan refers to pixie dust that seems to protect some managers from themselves. If the Rangers wind up in the World Series, Ron Washington should send flowers to whichever pixie has been hovering over his shoulder.
The thing is, those pixies usually get bored and find someone else to favor. Washington might have to win the World Series without any help.