February, 8, 2013
2/08/13
8:00
AM ET
2012 in review
Record: 94-68 (92-70 Pythagorean)
713 runs scored (8th in American League)
614 runs allowed (2nd in AL)
Big Offseason Moves
Traded
Cliff Pennington
and Yordy Cabrera to Arizona for
Chris Young
. Re-signed free agent
Bartolo Colon
. Signed Japanese shortstop
Hiroyuki Nakajima
. Acquired
John Jaso
in three-way deal that sent A.J. Cole to Washington. Traded
Chris Carter
,
Brad Peacock
and Max Stassi to Houston for
Jed Lowrie
and
Fernando Rodriguez
. Lost free agents
Brandon McCarthy
,
Stephen Drew
and
Jonny Gomes
.
More than anything, Billy Beane improved Oakland's athleticism and versatility. He lost two designated-hitter types in Carter and Gomes, but acquired an elite defensive center fielder in Young and picked up two infielders to go along with the return of
Scott Sizemore
(the team's best hitter in 2011 who missed all of 2012). Nakajima was a star player in Japan and since Lowrie's range at short is limited, the A's are counting on Nakajima to live up to his defensive reputation. The loss of McCarthy will hurt, but re-signing Colon helps maintain their rotation depth. For the tight-budgeted A's, a solid offseason that gives manager Bob Melvin multiple options around the diamond.
Position Players
As you can see from the projected lineup, there is a lot of unsettled aspect to Oakland's starting nine, but in a good way. Melvin will be able to mix and match and the depth gives the A's injury insurance.
But how
good
is the lineup? The A's set an all-time strikeout record last season and hit just .238. They did hit better with runners in scoring position -- .265 -- which is one reason they ranked eighth in runs despite finishing 12th in on-base percentage and ninth in slugging percentage. Three reasons to like Oakland's chances to score more runs this year, however: The second basemen hit .228 with five home runs; the third basemen had a .280 OBP, lowest in the AL; and the shortstops had a .272 OBP, again lowest in the AL.
And a fourth reason:
Yoenis Cespedes
surprised everyone by hitting .292/.356/.505. Very nice numbers. Those could be big numbers this year.
Pitching Staff
Either you believe in Oakland's young starters or you don't. I'm a believer. Remember that the best of the group might be
Brett Anderson
, and he made just seven starts in 2012 after returning from Tommy John surgery.
Jarrod Parker
,
Tom Milone
and
A.J. Griffin
enter their second seasons with playoff experience under their belts and Colon returns after his suspension for using performance-enhancing drugs.
Dan Straily
and
Travis Blackley
provide depth.
If we're going to nitpick, it's that it's not a big strikeout rotation. The A's ranked 10th in the AL strikeout rate among starting pitchers at 16.6 percent -- more than 5 percent less than Tampa Bay's 21.9 mark. But guess which staff tied for the lowest walk rate? The A's won't beat themselves and they pitch to their big home ballpark -- where Young,
Coco Crisp
and
Josh Reddick
have the speed to run down a lot of flyballs.
If you watched the A's down the stretch, you saw the hard-throwing trio of
Grant Balfour
,
Ryan Cook
and
Sean Doolittle
dominate the late innings. Those three combined for a 2.49 ERA over 195 innings; not bad for a minor free-agent signing, a throw-in in the
Trevor Cahill
trade and a guy playing first base in the minors in 2011. All told, opponents hit .206 off the Oakland pen, second-lowest in the league to the Rays' .205 mark. There's depth behind those three guys as well.
Good rotation. Good pen. Some will predict regression from this group, but I expect another solid season in which the A's once again rank among the AL leaders in fewest runs allowed.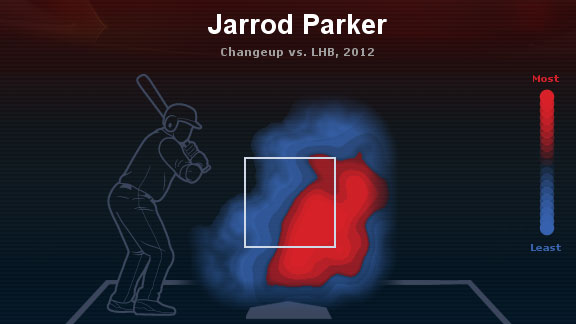 ESPN Stats & InformationJarrod Parker's 3.8 WAR ranked 10th among AL pitchers in 2012.
Heat Map to Watch
Beane acquired Parker from the Diamondbacks and the rookie right-hander showed why he was highly rated coming up through the Arizona system. His changeup made many left-handed hitters look foolish at the plate -- in 140 plate appearances ending with that pitch, they hit .163/.216/.194, with just three extra-base hits (two doubles, one triple). It's one of the best pitches in the game and the reason I expect Parker to have another solid season.
Overall Grade

Many won't believe in the A's simply because they were such a big surprise a year ago. But I'm trying to find reasons to expect a decline and am having trouble identifying them. OK, the offense was sort of one-dimensional last season; but the A's basically received nothing from three positions and they have likely upgrades at all three spots. I didn't even mention Jaso above; if he hits like he did with Seattle, he's another plus at the plate (though the Mariners clearly didn't like his defense behind the plate).
OK, maybe you don't believe in Reddick and Cespedes and
Brandon Moss
. I do. I think they return to the playoffs.
February, 4, 2013
2/04/13
7:36
PM ET
Jed Lowrie
, being a one-time hyped prospect for the Red Sox, is probably overrated, at least as far as his value-to-name recognition ratio, but he should be able to help the Oakland A's.
Billy Beane acquired the shortstop from the
Houston Astros
, along with pitcher
Fernando Rodriguez
, in exchange for
Chris Carter
and prospects
Brad Peacock
and Max Stassi. Oakland's depth chart at shortstop included Japanese import
Hiroyuki Nakajima
plus a collection of 4-A players in
Andy Parrino
,
Eric Sogard
and
Adam Rosales
.
Considering the failure of other Japanese shortstops to stick at the position in the majors -- Kaz Matsui and Tsuyoshi Nishioka -- Nakajima is a risky proposition, despite his reputation as a strong fielder (he has won the Gold Glove Award in Japan). Now the A's can hedge their bets: If Nishioka sticks at shortstop, Lowrie can play third base, where converted catcher
Josh Donaldson
is stretched defensively. Or Lowrie could play short, Nakajima can slide over to second if the bat plays (he hit .311/.382/.452 in Japan last season) and
Scott Sizemore
can battle Donaldson at third.
Lowrie's biggest issue has been staying healthy, so the A's will need all four infielders regardless of where he ends up. He's never played 100 games in a season in the majors, but has averaged 1.8 WAR over 500 plate appearances. Over his career, he's been about a league average hitter (98 wRC+), which works just fine for a middle infielder, making for a glove that is considered a little below average at shortstop. He was better than that last year with the Astros, putting up 2.1 WAR in just under 400 PAs, so the A's should be looking at a two-win player if he can stay on the field.
Rodriguez is your generic right-handed reliever with a decent arm but with command issues to make him a bottom-of-the-staff reliever at best.
I like the trade for the A's, but the deal makes sense for the Astros in that they pick up some inexpensive players with some interesting upside. Carter was an important part-timer for Oakland in 2012, finally getting regular at-bats in a platoon role against lefties and mashing to the tune of a .239/.350/.514 line, good for 137 wRC+. The Astros have nothing to lose in giving Carter 500 at-bats and see if he can hit right-handers. He's a threat to lead the league in strikeouts, but he also is a candidate to hit 30-plus home runs with his home games now at hitter-friendly Minute Maid Park.
Peacock was one of the key parts of the
Gio Gonzalez
trade last winter, after posting dominant numbers in Double-A for the Nationals. He had a shot to make the A's rotation in spring training but instead got sent down to Sacramento and never got called up, even as Oakland shuffled through multiple starters. A 6.01 ERA will do that, but he did strike out 139 in 134.2 innings. Maybe a move to the bullpen is needed.
Stassi was the A's fourth-round pick in 2009 out of a California high school and is regarded as one of the best defensive backstops in the minor leagues, although his bat lags behind (.261/.331/.468 in the California League).
Still, it's one of those deals that makes sense for both teams. The A's get infield depth and insurance for 2013 and the Astros pick up a potential 15 years of service time from Carter, Peacock and Stassi for an injury-prone veteran.