April, 19, 2013
4/19/13
9:00
AM ET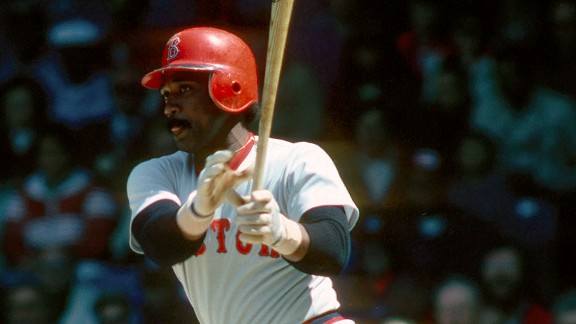 Malcolm Emmons/US PresswireJim Rice may not have made the Hall of Fame had he not played for 16 years in Fenway Park.
One of the first major impacts Bill James made as a sabermetrician was pointing out the huge effect that ballparks had on statistics. I mean, people always knew that Fenway Park and Wrigley Field were good hitting parks, or that the Astrodome was a lousy place to hit home runs, but that doesn't mean people in the game properly accounted for these factors. For decades, the Cubs always overrated their hitters and underrated their pitchers. That was one reason they were the Cubs.
Obvoiusly, a park can drastically effect our view of a player if we're not aware of the advantage he's receiving from his home park. Here are a few historical players who received a big boost from their home park or parks.
Jim Rice
When Jim Rice hit the Hall of Fame ballot after his 16-year career with the Red Sox, the debates got ugly. Rice was feared, argued his supporters; Rice was overrated, a beneficiary of Fenway Park, argued his detractors. During most of Rice's career in Boston, Fenway
was
a terrific hitter's park, the traditional Fenway of "no lead is safe" lore. Overall, Rice hit .320 with 208 home runs at Fenway but .277 with 174 home runs on the road. In his 1978 MVP season, Rice hit .361/.416/.690 with 28 home runs at home and .269/.325/.512 with 18 home runs on the road. The debates lasted until Rice's 15th and final year on the ballot when he made it in.
Sandy Koufax
Through 1961, Koufax was 54-53 in his career with a 3.94 ERA, a talented but erratic left-hander. Suddenly, in 1962, he put it all together, and over his final five seasons in the majors went 111-34 with a 1.95 ERA, leading the NL in ERA all five seasons. Koufax's control did improve dramatically, but something else happened in 1962: The Dodgers moved out of the L.A. Coliseum and into Dodger Stadium. In 1961, Koufax had a 2.77 ERA on the road … but 4.22 at home. In 1960, he had 3.00 ERA on the road … but 5.27 at home. In 1962, Koufax had a 3.53 ERA on the road … but 1.75 at home. In 1963, he was 2.31 on the road … and 1.38 at home. He had always been pretty good on the road, but the difference was he became unhittable at Dodger Stadium.
Nolan Ryan
Before finishing his legendary career with the Rangers, Ryan spent eight seasons with the Angels and nine with the Astros; that's 17 years in parks that heavily favored pitchers. Check out his career home/road splits, including his days with the Mets and Rangers: 189-136, 2.77 ERA at home; 135-156, 3.73 ERA on the road. Yes, Ryan had a career road record 21 games under .500.
Ryne Sandberg
Sandberg made the Hall of Fame in his third year on the ballot, with his reputation as an all-around player -- power, speed, defense -- overcoming some career counting stats that might be considered marginal for a Hall of Famer: 2,386 hits, 282 home runs, 1,061 RBI and a .285 average. But those totals would look even more marginal without a little help from Wrigley Field. Sandberg hit .300/.361/.491 with 164 home runs at home and .269/.326/.412 with 118 home runs on the road. (Ernie Banks, by the way, had a similar split: .290 at Wrigley and .259 on the road.)
Mel Ott
Ott hit 511 career home runs and led the NL in homers six times but took advantage of the short porch at the Polo Grounds to do so. He hit 323 home runs at home and 188 on the road. He was still a great hitter, however; on the road, he hit more doubles and triples and hit for a higher average, so his overall batting line was still an impressive .311/.408/.510 compared to .297/.422/.558 at home. But he wouldn't be a member of the 500-home run club if he'd played elsewhere.
Carl Yastrzemski
Fenway Park isn't the hitter's park it used to be. It's believed that renovations in 1988, which moved a new press box above the stadium club seats behind home plate, changed the air currents. It's also underrated as a good park for left-handed hitters, especially those who can go the opposite way and take advantage of the Green Monster. Yaz hit 237 home runs at home and 215 on the road, but he
loved
hitting at Fenway, with a .306 average there compared to .264 on the road. His OPS was 125 points higher at home than on the road. (Ted Williams hit .361 at Fenway and .328 on the road.)
Don Sutton
Like Koufax, Sutton enjoyed pitching at Dodger Stadium. He went 169-119, 2.81 at home in his career and 155-137, 3.77 on the road. Thirty-nine of his 58 shutouts came at home. Pulling out Dodger Stadium individually (which includes some road games when he pitched for the Astros), Sutton posted a 2.66 ERA there. Despite winning 300 games, he was a somewhat controversial Hall of Fame selection; he might have still won 300 games for another organization, but his ERA might have been a bit higher.
Would any of these guys
not
be a Hall of Famer without their home parks? It's difficult to say. Extreme talents can learn to take advantage of unique situations. But maybe Koufax's curveball was better because of the high mound at Dodger Stadium, or Ryan's fastball harder to pick up in the gloomy indoor lighting of the Astrodome. Rice, in particular, had a weak Hall of Fame case as-is; if he hadn't played for the Red Sox, I doubt he'd be in Cooperstown.
June, 11, 2012
6/11/12
3:29
PM ET
By
Hudson Belinsky
| ESPN.com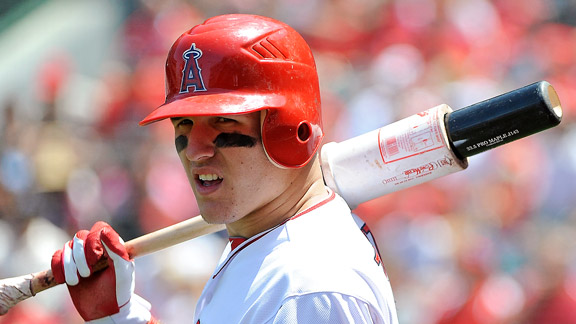 Lisa Blumenfeld/Getty ImagesMike Trout has revitalized the Angels' offense since being recalled in late April.
It's April 27. The
Cleveland Indians
are celebrating a walk-off victory, after getting to the Angels' bullpen, an occurrence that has become a fixture for the Halos in April. The Angels sit at 6-14, having lost five straight games and won only one series.
Albert Pujols
isn't hitting. In fact,
no one
is hitting. The bullpen can't get any one out. This team that was supposed to be magical instead is boring. If you want to see a magical team, look no further than the top of the American League West, where the
Texas Rangers
boast a 15-5 record and can do no wrong. The Angels sit nine games behind their rivals and there's no sign of things turning around any time soon.
Fast forward to June 11. The Angels are 32-29 and are 14-4 in their last 18 games. The starting pitching has been brilliant. The bullpen has turned things around. Even the offense is performing. What happened?
Mike Trout
happened. Since being recalled on April 28, Trout has raked, posting a .350/.407/.548 slash line along with five home runs, three triples and 10 doubles. He's also stolen 13 bases in 16 attempts. Over the weekend, he went 8-for-14 with eight runs scored in three games against the Rockies. Since May 26 he's batting .441.
Defensively, every metric loves him. He's been worth between 2.3 (Baseball-Reference, eighth among AL position players) to 2.9 (FanGraphs, third in AL) wins above replacement, depending upon which advanced metric you choose to subscribe to. That may not sound like much, but it's the difference between the Angels sitting five or six games behind Texas instead of their current three-game deficit.
Forget about what the numbers say for a second. Every baseball cliché you can think of applies to Trout. The 20-year-old is a "professional hitter" who "plays the game the right way" and is an absolute "gamer." This kid is arguably the best player on this team right now, and he's expected to get better and better. The swagger and attitude he's brought to the Angels aren't quantifiable, but have certainly helped this team turn things around.
So where would the Halos be without Trout? You could argue that the bullpen's success was inevitable, especially given what
Ernesto Frieri
has added. The starting rotation has always been solid, but the offense is where the Angels have seen the most improvement since Trout came up.
Trout turns 21 in August, but this is considered his age-20 season. Can he really contend for a batting title in his rookie season? His batting average on balls in play is .410, which is probably unsustainable (since 2000, only two hitters have hit .400 on balls in play over a full season --
Manny Ramirez
in 2000 and
Jose Hernandez
in 2002), but Trout is also improving rapidly. In his first 20 games this season, he struck out 20 times in 88 plate appearances; in his next 19 games, he struck out 13 times in 89 plate appearances. So while the average on balls in play may come down, he may put more balls
in
play as the season progresses.
Currently, Dan Szymborski's ZiPS system projects Trout to hit .301/.367/.467, worth about 5.8 wins above replacement. If we project his current Baseball-Reference WAR (2.3 in 39 games) over an additional 100 games (the Angels have 101 remaining), we get 8.2 WAR by season's end. Since 1901, Baseball-Reference lists only 10 20-year-old position players as recording 5.0 WAR or more:
Alex Rodriguez
, 1996 Mariners: 9.2
Al Kaline, 1955 Tigers: 8.0
Mel Ott, 1929 Giants: 7.3
Ted Williams, 1939 Red Sox: 6.6
Ty Cobb, 1906 Tigers: 6.6
Jason Heyward
, 2010 Braves: 6.3
Vada Pinson, 1959 Reds: 6.3
Mickey Mantle, 1952 Yankees: 6.3
Frank Robinson, 1956 Reds: 6.2
Ken Griffey Jr.
, 1990 Mariners: 5.0
OK, matching Alex Rodriguez's 1996 season will be next-to-impossible. But 5.0 WAR seems like a realistic expectation, which would make Trout one of the best 20-year-olds in baseball history.
Hudson Belinsky attends Cornell University, is the Owner/Editor of Halosdaily.com and an intern for Baseball Prospectus.
August, 3, 2010
8/03/10
12:09
PM ET
I don't know if I've mentioned this before ... Every year, I attend the annual convention hosted by the Society for American Baseball Research (SABR).*
* Well, almost every year. My first convention was in Cleveland, in 1990. I met Charles Alexander and Mike Sowell, two of my writing heroes. Since then, I've missed two conventions: San Diego in 1993 (when I was poor) and Washington, D.C., in 2009 (when I was sort of poor).
For a few years now, the convention has been part of what my friends Mark Armour and Jeff Bower dubbed "the Boondoggle" ... Every year, we turn what should be a four- or five-day trip into a seven- or eight-day trip, with a stop or two along the way to the convention city. When the convention was in St. Louis, we started in Kansas City. When it was in Cleveland, we started in New York, saw a couple of games there, then drove to Ohio by way of Cooperstown.
Trust me, it's all quite the gas.
[+] Enlarge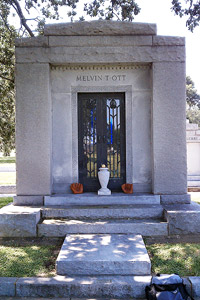 Rob Neyer/ESPN.comMel Ott's grave site at Metairie Cemetery in New Orleans.
This year: Atlanta, by way of New Orleans. And here's another of our little traditions: Every year we take our baseball gloves along and find somewhere historical for a catch. In Kansas City it was
Satchel Paige's gravesite
; in St. Louis it was the
site of old Sportsman's Park
.
As best we can tell, there's one Hall of Fame baseball player buried in New Orleans:
Melvin Thomas Ott
.
Actually, that's not quite right. If you've got any money, you don't get buried in New Orleans; you get placed in a personal mausoleum. So yesterday Jeff and Mark and I went hunting for Mel Ott's interment site in Metairie Cemetery. (These expeditions are possible only because of the research that's been done by (mostly) SABR members, particularly Stew Thornley, who got the ball rolling with his list of
Hall of Fame grave sites
.)
We found it, and pretty quickly (which is a good thing when it's 95 degrees and the sun is unmerciful). If you've ever been to New Orleans, you've probably found it, too. Though unwittingly. Ott's spot isn't more than 50 feet from I-10, easily visible from the highway, with a corner spot shaded by a large oak tree. If you're heading into the city from the airport, Ott's tomb is easily seen on your right, the first as you pass Metairie.
Mark and I had a catch -- Jeff left his mitt back home -- with our old-style gloves. Mark's got a vintage Joe Cronin model. I've got a reporoduction of Bob Feller's glove from the late 1940s. We might have left our baseball as a small offering, but there are more catches scheduled for the next couple of days as we wend our way through Alabama and Mississippi.*
* By the way, if you ever want to really appreciate what those old-timers were up against, try playing catch with the old-time gloves. In the heat of a mid-summer day. While wearing woolen jerseys and pants. Granted, we weren't wearing woolen uniforms. But the old gloves weren't much use and the heat has you sweating after a few minutes of walking slowly. Those old-timers didn't have things easy.
It's those gloves that you can see in the photo, along with a baseball that we might have left there, except there are more adventures as we work our way across Mississippi. Meanwhile, all the talk about Mel Ott raised the story of his premature death. In 1958, Ott was involved in an auto accident that left him mortally wounded and killed the other driver ... Who has always been accused of crossing the center line and causing the accident (perhaps while intoxicated).
Not long ago, though, the son of that driver contacted SABR -- which includes
an article about Ott
in its massive
BioProject
-- to suggest that it was
Ott
who caused the accident (and might himself have been intoxicated), and that his father has been unfairly held accountable for all these years. Whether because Ott was famous or because the other fellow was African-American in Louisiana in 1958 ... Well, it's been more than 50 years now, and a lot of things have changed in Louisiana. We'll probably never know what really happened that night.
February, 10, 2010
2/10/10
12:21
PM ET
There's a
new biography of Willie Mays
and it's getting rave reviews (including
here
,
here
and
here
).
Mays didn't write the book, but he "authorized" it and is getting half the proceeds, and that's brought him into the wonderful world of book promotion. In turn, that's led to a new round of appraisals, most of which are perfectly accurate -- since it's difficult to overstate Willie Mays' excellence -- but at least one of which ... well, let's just say I've tried to dispose of
one misconception
before, and clearly I failed.
[+] Enlarge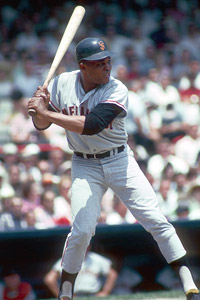 Malcolm Emmons/US PresswireWillie Mays finished his career with 660 home runs.
Outstanding as Mays was, his career was nagged by a huge "what if." Numerous observers believe that Mays, not Hank Aaron, would have been the first to surpass Babe Ruth's home run mark of 714 were it not for two factors. First, Mays spent part of the 1952 season and all of 1953 serving in the Army. Then, after the Giants moved to San Francisco in 1958, he played home games for 12 full seasons (1960-71) at Candlestick Park, where the incessant winds muted drives pulled to left field by right-handed-hitting sluggers such as him.

Asked if Candlestick denied Mays batches of homers, former Giants broadcaster Lon Simmons responded without hesitation.

"No doubt about it," said Simmons, who saw Mays' best years in San Francisco.

Right-hander Bob Bolin recalled watching the gusts stifle dozens of Mays' clouts when the Giants' bullpen was situated down the left-field line in Candlestick's early years.

"The ball would actually be out of the ballpark on those high drives, and the wind would push them back in," said Bolin, who pitched for the Giants from 1961 to 1969.

Undaunted, Mays learned to stroke pitches to right-center field, where the breezes carried batted balls toward the fence. But if Candlestick frustrated him, he wouldn't reveal it.

"It was miserable to play there, and he never, ever said how bad it was," said shortstop Chris Speier, who began his 19-year career with the Giants in 1971.

Indeed, when asked about Candlestick, Mays cast no aspersions other than to say, "We picked probably the coldest place in the city to put a ballpark."
It's odd to me that so many people aren't content with Willie Mays' career.
Considering, you know, that purely on the merits of the existing statistical record -- well, that and the firsthand accounts of his adventures in center field -- he's one of the three or four greatest players who ever played.
That said, I would be happy to give Mays extra credit for all those extra home runs he should have hit. The only problem is that I can't find them.
Ballpark-wise, we can divide Mays' career into five chapters. I know, I know ... only two chapters come easily to mind. Please bear with me for a moment.
Chapter 1 - The Polo Grounds:
Famously short down the lines, famously distant to deepest center field, the Polo Grounds was a lovely place for dead-pull hitters, not so much for gap hitters. Mel Ott was a pull hitter, and hit 323 of his 511 career home runs at the Polo Grounds. Mays not particularly pull-happy, or at least he didn't take particular advantage of those short porches in Harlem; in his Polo Grounds seasons, he hit 94 home runs there and 93 on the road.
Chapter 2 - Seals Stadium:
While the Giants waited for their new digs on Candlestick Point, they played in old Seals Stadium for two seasons, during which Mays hit 32 homers at home and 31 on the road.
Chapter 3 - Candlestick (I):
In 1960, the Giants moved into Candlestick, which was inhospitable to just about every sort of living creature, including right-handed power hitters. It was 335 feet down the left-field line, 397 feet to left-center, and 420 feet to straightaway center. By contrast, Seals Stadium had been roughly 30 feet closer in left-center, 20 feet closer in center. Willie Mays, the Giants' greatest player and the most famous player in the National League, hit only a dozen home runs in his new home (and 17 on the road). We'll never know how many home runs Mays "lost" to the wind and the spacious dimensions, but it might have been another dozen. It might have seemed twice that. And that's what everyone remembers happening, every year.
Chapter 4 - Candlestick (II):
But that isn't the way it was. After just one season, the Giants pulled the fences in. Most dramatically in left- and right-center fields, from 397 feet to 365 feet.
365 feet!
In 1960, there were only 80 home runs hit in Candlestick: 46 by the Giants and 34 by their opponents. In 1961, that number jumped more than 100 percent, to 174 home runs. Wind or no wind, Candlestick went from being one of the toughest home-run parks in the National League to one of the easiest, and it seems unlikely, on the face of it, that Willie Mays wouldn't have taken advantage.
He did. In the five seasons before 1961, Mays hit 163 home runs. From 1961 through 1965, Mays hit 226 home runs and led the league three times. He was
not
a creation of the suddenly cozy Candlestick; of those 226 homers, 108 came in road games. But after 1960 Candlestick sure doesn't seem to have hurt his power numbers.
Mays hit 37 homers in 1966, and wouldn't top 30 again in his career. In his remaining seasons as a Giant, he usually hit slightly more homers at home than on the road.
Chapter 5 - Shea Stadium:
Included only for the sake of completeness. Mays joined the Mets in 1972 and hit 14 home runs over two seasons: seven at Shea, seven on the road.
Mays did lose a significant number of home runs because of his military service in 1952 and '53. It's possible that if not for those missed seasons, he would have broken Ruth's record before Aaron did. When he did play, though, he hit 335 home runs in his home ballparks and 325 on the road. Most players probably do enjoy a slightly larger edge, but Mays played in a particularly tough place for power hitters in just one of his 22 seasons.
Those numbers that we see, unadjusted and unexaggerated, are a pretty fair representation of how good Willie Mays really was. And they're plenty good enough.