December, 21, 2011
12/21/11
6:05
PM ET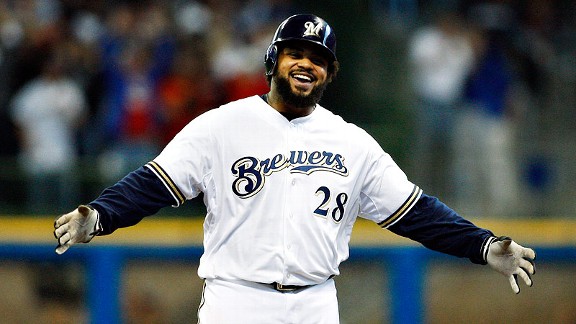 Jerry Lai/US PresswirePrince Fielder is the biggest catch remaining in baseball's pool of free agents.
There are still some good free agents out there, perhaps even a few bargains. What kind of team could you buy if you signed the best of these guys? Let's find out. Here's a 25-man roster of unsigned players, with estimated salaries and WAR (wins above replacement). Would it be a competitive team?
C: Chris Snyder
Snyder is coming off back surgery, but it's a thin lot of available catchers. He's been up and down in his career with his bat, but will draw some walks and has a little pop.
Projected salary: $2.5 million
Projected WAR: 1.0
C: Ramon Castro
The career backup never landed in the right place at the right time, but he can he hit left-handed pitching and provides a capable 200-plate appearance backup.
Projected salary: $1.2 million
Projected WAR: 0.6
1B: Prince Fielder
We're going to empty our pocketbooks and have the big guy anchor our lineup. We'll sign him to a seven-year, $165 million contract, but we'll backload the deal. That way, if we get fired, it screws the next GM.
Projected salary: $20 million
Projected WAR: 5.0
2B: Ryan Theriot
Honestly, he doesn't bring a whole lot to the table other than a proven ability not to be horrible. He'll hit an empty .270 or so and play capable defense.
Projected salary: $2 million
Projected WAR: 0.7
3B: Carlos Guillen
Third base is a bit of a problem so we'll have to gamble on Guillen. He's missed a lot of time the past three years, so we'll sign him to a low base salary with incentives if he remains healthy. Considering the production of third basemen in the majors in 2011, he could produce at a league-wide average for the position.
Projected salary: $1.5 million plus incentives
Projected WAR: 1.0
SS: Ronny Cedeno
No, a shortstop who hits .249/.297/.339 isn't ideal, but
Troy Tulowitzki
isn't available in this scenario. Still, Cedeno was a 1.5 WAR player in 2011 and there's no reason he can't duplicate that effort again.
Projected salary: $4 million
Projected WAR: 1.5
[+] Enlarge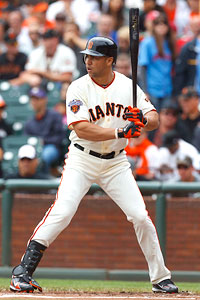 Jason O. Watson/US PresswireWhen healthy, veteran Carlos Beltran is still considered one of baseball's most feared hitters.
RF: Carlos Beltran
We need another big bat and Beltran is still out there. He's been compared to
Michael Cuddyer
, who signed a three-year, $31.5 million deal, so Beltran figures to go in a similar range. The good thing is he's better than Cuddyer. Even if he drops off a bit from his strong 2011, he'll be a productive player.
Projected salary: $12 million
Projected WAR: 3.5
LF: Luke Scott/Andruw Jones
We're going with a platoon here, hoping for Scott to bounce back but signing Jones to play against left-handers. Scott hit .264 and slugged .499 from 2007 to 2010, so we think he has something left in the tank. Jones had a .923 OPS against left-handers in 2011.
Scott's projected salary: $5 million
Scott's projected WAR: 1.9
Jones' projected salary: $3 million
Jones' projected WAR: 1.1
CF: Coco Crisp
We're going to want a good flychaser in center and Crisp is a solid defender who also led the AL with 49 stolen bases. His OBP fell to .314 in 2011, so we should be able to sign him for a decent salary.
Projected salary: $6.5 million
Projected WAR: 2.0
IF: Brooks Conrad
He's an insurance policy for Guillen as someone who could provide some pop off the bench and also play second base in a pinch.
Projected salary: $800,000
Projected WAR: 0.6
IF: Jack Wilson
Ugh. But considering Conrad isn't a glove guy (in fact, I'm not sure he even wears a glove in the field), we better sign Wilson as infield insurance. No, we don't like this move, especially considering Wilson's propensity to get injured while filing his fingernails.
Projected salary: $1.4 million
Projected WAR: 0.0
OF: Rick Ankiel
We wanted to sign
Cody Ross
here, but he's a little expensive for a fourth outfielder (although isn't that what he should be?). Ankiel can play center and provide a left-handed pinch-hitter off the bench.
Projected salary: $1.5 million
Projected WAR: 0.5
OK, now to the pitching staff, which will have to be the strength of our team.
SP: Roy Oswalt
For all the talk about his injury history, 2011 was his first season he didn't start 30 games since 2003. A bad back is always a concern but this was a guy who led the NL in WHIP in 2010. Jerry Crasnick recently reported that Oswalt wants to show he's healthy and is thus willing to take a one-year deal and aim for a bigger contract after 2012. Perfect.
Projected salary: $10 million
Projected WAR: 3.0
SP: Hiroki Kuroda
The Yankees reportedly offered Kuroda a one-year, $12 million deal. Sounds good to us.
Projected salary: $12 million
Projected WAR: 2.8
SP: Javier Vazquez
Yes, we are going to force Javy out of his rumored retirement. He had a 2.15 ERA in the second half last season, so he's far from finished.
Projected salary: $10 million
Projected WAR: 2.5
SP: Joe Saunders
The Diamondbacks declined to offer him a contract, making him a free agent. We're not in love with his soft-tossing style, but he's a solid innings eater for the back of the rotation.
Projected salary: $8 million
Projected WAR: 1.8
SP: Paul Maholm
He may be a little expensive for a No. 5 starter, but we like durability in our rotation. He was 6-14 with the Pirates in 2011, but that was a misleading record for a guy with a 3.66 ERA (4.36 career).
Projected salary: $6.25 million
Projected WAR: 1.5
[+] Enlarge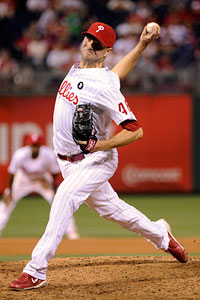 Howard Smith/US PresswireRyan Madson proved last season that he can be one of baseball's most dominant closers.
Closer: Ryan Madson
Baseball's most underrated reliever the past few seasons, Madson finally got a chance to close regularly in Philadelphia and did an outstanding job. His changeup is one of the best pitches in the game and we feel we can bring him in for slightly under his rumored asking price.
Projected salary: $9 million
Projected WAR: 1.7
RP: Hong-Chih Kuo
Kuo was unhittable in 2010, holding opponents to a .139 average and one home run in 60 innings, but developed his usual elbow problems in 2011 and had minor surgery after the season. He's a risky signing but with the potential of a big payoff.
Projected salary: $2.5 million
Projected WAR: 1.0
RP: Chad Qualls
A fungible middle reliever, the right-hander got pounded in 2010 but bounced back ... albeit in San Diego, so he's not necessarily a sure thing. But he's a veteran with a rubber arm. He's not as good as
Octavio Dotel
, who signed for $3.5 million, so we'll sign him for under that.
Projected salary: $2.3 million
Projected WAR: 0.8
RP: Darren Oliver
Doesn't every team need a veteran left-hander? Oliver has now had an ERA under 3.00 four straight seasons.
Projected salary: $2.7 million
Projected WAR: 1.1
RP: Micah Owings
He can be a long man, spot starter or even pinch-hitter!
Projected salary: $1 million
Projected WAR: 0.4
RP: Clay Hensley
After a strong 2010, his control deserted him in 2011 and he walked 30 batters in 67.2 innings and served up nine big ones. But we'll take a flyer to see if he can rediscover his 2010 groove.
Projected salary: $1 million
Projected WAR: 0.5
RP: Jamey Wright
Yes, we could sign
Francisco Cordero
, but bringing in two closers isn't realistic. Wright is cheap, mediocre and the perfect 11th or 12th guy on a staff.
Projected salary: $900,000
Projected WAR: 0.5
Total payroll:
$127.05 million
Projected WAR:
37.0
How good would this team be? A team of replacement-level players would be estimated to win about 48 games, so our team with +37 WAR would be estimated to win about 85 games. Obviously, there's a wide range in there; if everybody stayed healthy and we had some big years, maybe it could win 90. On the other hand, there are a lot of injury risks on this roster, so the downside could be pretty extreme. Plus, there's the simple fact that a $127 million payroll is high -- that's about what the White Sox's payroll was, which ranked fifth in the majors in 2011.
If only we had a few good rookies making the league minimum to supplement the free agents!
May, 3, 2011
5/03/11
10:35
AM ET
In 2007, just three seasons after losing 111 games, the
Arizona Diamondbacks
won 90 games and the NL West title and reached the NLCS. They were swept by red-hot division rival Colorado, but it was a terrific season for a young ballclub. The future looked bright for a team that started just one regular position player over 30 and had the youngest lineup in the National League.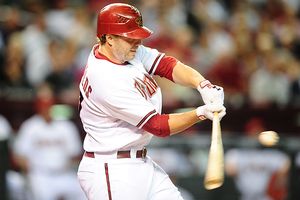 Mark J. Rebilas/US PresswireAfter striking out 638 times during the 2008-10 seasons, Mark Reynolds was traded to the Orioles.
Among the promising hitters: Rookie center fielder
Chris Young
hit 32 home runs and stole 27 bases; shortstop
Stephen Drew
, in his first full season, hit just .238 but played solid defense and had 44 extra-base hits; rookie third baseman
Mark Reynolds
hit .279 with 17 home runs in 111 games; second-year right fielder
Carlos Quentin
had struggled (.214/.298/.349), but the team had called
Justin Upton
, who was just 19 when he made his major league debut. Backup catcher
Miguel Montero
showed promise in his rookie season. Sitting in the farm system:
Carlos Gonzalez
,
Brett Anderson
,
Max Scherzer
and Jarrod Parker. With that base, the D-backs followed their 90-win season by winning 82, 70 and 65 games and the 2011 team is 12-15 with four starters owning ERAs on the wrong side of 5.00.
So, what went wrong?
1. The 2007 team wasn't that good. Despite winning 90 games it was actually outscored 732 to 712 and despite playing in a great hitter's park, ranked just 14th in the NL in runs and 16th in batting average and on-base percentage. In truth the Diamondbacks had a
bad
offense -- granted, one that could be expected to improve due to the young hitters ... but how much?
2. The
Eric Byrnes
contract. Late in the 2007, the team signed the scrappy Byrnes to a three-year, $30 million extension. Byrnes had a nice 2007, hitting 21 home runs and stealing 50 bases. But he was 31 years old and the contract proved a disaster as Byrnes hit .218 over two seasons before getting released.
3. Thinking they need to improve upon a rotation of
Brandon Webb
,
Livan Hernandez
,
Doug Davis
and
Micah Owings
, the team traded Gonzalez and Anderson to the A's for Dan Haren. Haren was traded last season to the Angels for a mediocre
Joe Saunders
and prospect Tyler Skaggs, who is several years from the majors. So, for Gonzalez and Anderson the team basically received two-plus years of Haren and a bottom-of-the-rotation starter.
4. Brandon Webb's injury. The team's ace and 2006 Cy Young winner, Webb won 22 games in 2008 before hurting his shoulder.
5. A related note has been Arizona's complete inability to develop starting pitchers. Once you get past Webb, the starting pitcher developed from within with the most victories in a D-backs uniform is Owings, who won just 14.
6. Strikeouts, strikeouts, strikeouts. The homer-happy approach of the lineup went too far. After striking out the 10th and 11th most times in history in 2008 and 2009, the team set the all-time record in 2010, whiffing an amazing 1,529 times, with five players striking out at least 145 times. The strikeouts became a major hindrance to the young hitters becoming bigger stars, most notably Upton, who followed an excellent 2009 with a disappointing 2010. Young has been inconsistent and the team finally gave up on 200-strikeout man Reynolds, trading him to the Orioles.
7. Too much lost talent: Quentin,
Alberto Callaspo
and
Jose Valverde
were all traded and
Orlando Hudson
left as a free agent. The Diamondbacks have nothing on the current roster to show for those guys.
8. Bullpen blues. The pen -- led by closer Valverde -- was excellent in 2007, but slowly deteriorated to the point that Baseball Prospectus analyzed the 2010 pen as the fourth-worst since 1950.
This much is clear: The days of
Randy Johnson
and
Curt Schilling
heating up the desert seem long ago.
Follow David Schoenfield on Twitter at @dschoenfield. Follow the SweetSpot blog at @espn_sweet_spot.
April, 20, 2009
4/20/09
3:29
PM ET
Today's links were discovered while wondering if Kyle Farnsworth has a shot at the record for most relief losses in one season.
• The news of Brad Wilkerson's retirement reminds me (again) that just a few years ago, I thought the Nationals got fleeced when they traded Wilkerson to the Rangers for Alfonso Soriano. Granted, Soriano cost the Nationals $10 million in his one season of helping them finish last. But still.
• In the wake of Mark Fidrych's passing, Jeff Pearlman checks in with Ron LeFlore, another of Detroit's media sensations in the mid-'70s.
• Rich Lederer learns a good lesson about young pitchers.
• Big League Stew enumerates recent National embarrassments, the latest of which is the discipline meted out to Elijah Dukes for being five minutes late to work. Which brings to mind a question: Is Dukes the new Gary Sheffield? I was watching the game Friday night, and after Dukes absolutely ripped a liner into the wall in left -- yes, the ball actually stuck in the wall -- broadcaster Bob Carpenter said, "You just don't see normal people hit a ball like that."
Like Sheffield, Dukes had some real personality issues when young. Like Sheffield, Dukes takes a vicious swing at the ball. But Dukes arrived in the majors when he was 22; Sheffield was 19. Dukes was good in the minors; Sheffield was great. Dukes might hit .300 a few times; Sheffield won a batting title, and upon reaching his late 20s routinely batted around .300.
So, no: I don't think Dukes is going to hit 500 home runs. But if you can hit, you'll get a great number of chances, and there will be a great number of people interested in keeping you on the field despite your personal failings. I expect Dukes to enjoy a long and productive career.
• Hal McCoy wonders if Micah Owings should be an outfielder, but Owings is having none of it (so far, at least).
• It's official: Ryan Zimmerman's got his big new deal. As I think I mentioned last week, I agree with David Pinto: Zimmerman's a good player, but I'd have liked to see one big season before committing $45 million.
• From S.L. Price, a disturbing primer on hard-hit baseballs and craniums.
• Emilio Bonifacio might not be a great hitter? As ShysterBall notes: shocking.
April, 9, 2009
4/09/09
11:15
AM ET
David Pinto on the game's
latest hitting sensation
:
| | |
| --- | --- |
| | |
| | Kyle Terada/US PRESSWIRE |
| | Yovani Gallardo watches his three-run homer off Randy Johnson Wednesday night. |
Yovani Gallardo hit a three-run homer off Randy Johnson Wednesday night, propelling the Brewers and Gallardo to a 4-2 victory. Both pitched well, Johnson showing his great control, striking out seven while walking one. He gave up two home runs, however, and that was the difference in the game. That's where Randy's game suffered the most as he's aged. Through 2004, his last year in Arizona [before joining the Yankees], Johnson allowed 17.9 home runs per 200 innings. Since, however, that's gone up to 27.5 per 200 innings.

Gallardo's home run was the third of his short career, and he's now slugging .490. He's the next Micah Owings.

Update: It turns out Gallardo was the first pitcher to homer off Johnson.
Pinto's right about the home runs. The interesting question, I think, is
why
he's giving up more home runs. Johnson's strikeout rate is slightly lower since 2004, and as a result he's given up more hits, and of course some of those hits have flown over the fence. So is he giving up more homers because he's striking out fewer hitters? Or is he giving up more homers because he's throwing more fat pitches?
Or maybe it's not so interesting at all ... maybe the results are what's interesting. Randy Johnson turned 45 last September, near the end of a season in which he won 11 games and posted an ERA significantly better than average. I suppose that's interesting enough, with the potential to get even more interesting this season.
As for Gallardo, I'm not completely sure that his hitting's a fluke. He didn't show a great deal of power in the minors, but he did bat .333/.373/.458 in 54 plate appearances. Throw in his (now) three home runs in 51 career at-bats in the majors -- not to mention his fantastic pitching equipment -- and Micah Owings would probably kill to be Yovani Gallardo right about now.