SweetSpot:

Michael Cuddyer
July, 8, 2013
7/08/13
6:22
PM ET
I have a 15-year-old nephew who loves the Home Run Derby but doesn't care all that much about the actual All-Star Game. That seems a little blasphemous to those of us of a certain age who grew up hating Pete Rose and Steve Garvey and all of those National League punks.
It's easy to be a little cynical about the Home Run Derby, but remember that the kids like it and in the end it's not all that different from the All-Star Game -- it's a vehicle to publicize the sport. (Except the Home Run Derby won't potentially be decided by
Brett Cecil
pitching to
Marco Scutaro
.)
This year's combatants --
Robinson Cano
, defending champ
Prince Fielder
,
Chris Davis
and a to-be-determined slugger in the American League;
David Wright
,
Carlos Gonzalez
,
Bryce Harper
and
Michael Cuddyer
in the National League -- is a pretty entertaining group.
I'm glad Davis and his MLB-leading 33 home runs and Harper are in it. They are the two guys on the All-Star rosters I'd most want to see in this event. You can argue that Harper doesn't even deserve to be in the game because he was out for several weeks on the disabled list with a knee injury, but don't tell me you're not more likely to watch it now -- especially if you're 15. (And with the right-field overhang at Citi Field, you can expect these two left-handed hitters to put a lot of balls in the upper deck out there.)
As for the final AL participant, team captain Cano says he is still working on it. I think
Miguel Cabrera
is the guy we all want to see, although
Jose Bautista
would be a solid alternative. Unfortunately, my dream of seeing
Ichiro Suzuki
in a Home Run Derby isn't going to happen.
The one odd choice is Cuddyer, who isn't a big name and not among the NL home run leaders. Plus, with Gonzalez, that's two Rockies, and you would think you'd want more teams represented. But as Wright, the NL captain, said on "SportsCenter," he grew up near Cuddyer in Chesapeake, Va., and admitted that this was a bit of a buddy pick.
MVP candidate
Paul Goldschmidt
would have been a better choice, or Phillies breakout outfielder
Domonic Brown
, but I would have gone with Pirates third baseman
Pedro Alvarez
, who has 22 home runs and as much raw power as anyone around. He would have been a fun guy to watch.
But the New York crowd will get to cheer on Wright and boo Cano, and the rest of us can enjoy Davis and Harper.
June, 30, 2013
6/30/13
11:52
PM ET
On the final day of June, on the final day of his first month in the major leagues, the 22-year-old Cuban named
Yasiel Puig
went 4-for-5 and Los Angeles Dodgers fans cried with joy and poets penned sonnets and the baseball gods shook hands and toasted their work with a cold beverage.
In truth, Puig was a
little lucky on this day
. Two hits were infield singles off the glove of Philadelphia Phillies third baseman
Michael Young
, plays that a better third baseman could have made. The triple was blooped to right field, a play that a more agile fielder than
Delmon Young
could have caught. Then he drilled a line drive between first and second and made it to second base as Young must have been stationed in San Bernadino.
But study those plays: That triple. Do most players make it to third base so easily? That double. The ball never reached the wall and Puig coasted into second like a passenger in a buffet line on a cruise. He added two steals on the day, and in case he hadn't yet fully showcased all his tools this day was a testament to his speed. Hit, hit for power, field, throw, run. The five tools. "He's something special," as my friend Eric e-mailed me Sunday night.
Thank you, baseball gods. We toast as well.
Puig earns our first grade of June, and
it's an A+
. Can we go higher? He has electrified not only Los Angeles, but baseball fans across the country. He ripped out 44 hits in June, the second-most for a rookie in his first month in the majors behind only Joe DiMaggio's 48 in May of 1936.
It's not that Puig's total of 44 hits in a month are all that unusual in itself --
Adrian Beltre
,
Manny Machado
and
Miguel Cabrera
each had 44 in May, for example -- but he also hit .436 and the only other players since 2010 to finish a month with at least 44 hits and a .425 average were
Josh Hamilton
in June of 2010, the aforementioned Young in July of 2010, and
Melky Cabrera
last May. But those three weren't rookies with essentially two months of minor league action and they didn't have the same out-of-nowhere exhilaration behind them. Puig was the story of June and what a story it was.
More grades for June efforts:
Miguel Cabrera, Tigers: A+.
He hit .378/.492/.704 in June with nine home runs and 21 RBIs. Cabrera's wRC+ -- an advanced hitting metric that compares him to a league average hitter of 100 (adjusted for home park) -- is 207. That currently ranks as the eighth-highest wRC+ since World War II ended, with three guys named Bonds, Williams and Mantle ahead of him. It's an all-time great season at the plate in progress, even better than his Triple Crown numbers of last year, and there's nothing unsustainable here going on. Cabrera, for example, had 31 "well-hit" balls in June compared to 19 for Puig.
Mike Trout, Angels: A.
Trout matched Cabrera's MLB-leading total of 31 well-hit balls and hit .358/.433/.541, just in case you were forgetting that he's still pretty good. Despite Trout's big month, the Angels still earn just a
C-
for going 14-13 in June, a record gained only by winning their final six games of the month. They're still nine games behind the division-leading Rangers (and 8.5 behind the A's) at 39-43, but if there's one hope for Angels fans it's that they still have 13 games left against both teams.
Jason Kipnis, Indians: A+.
After an eight-game losing streak early in June, the Indians went on a 14-5 run thanks in large part to Kipnis, who hit .419/.517/.699 for June -- with four home runs and 25 RBIs. As with Puig, the "well-hit" average suggests some luck involved but that luck may have earned Kipnis a trip to the All-Star Game.
[+] Enlarge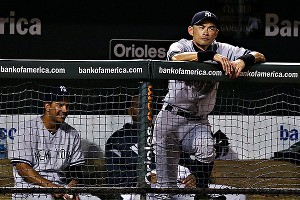 Patrick Smith/Getty ImagesAfter a hot start, the Yankees have cooled off and had one of the worst records in baseball during June.
New York Yankees: D-.
The Yankees went 11-16 -- only the White Sox and Giants had a worse record in June -- but that doesn't tell how poorly the Yankees played. Or shall we say how poorly the Yankees hit. At minus-34 runs, they had the worst run differential thanks to a .223 average (29th in the majors) and .330 slugging percentage (last). They hit three home runs against left-handed pitchers in 301 at-bats.
San Francisco Giants: F.
The Giants went 10-17 and scored the fewest runs in the National League. They hit 14 home runs, fewest in the majors, and drew 57 walks, 27th in the majors. No power and not getting on base via walks equals a bad combo. But in the NL West they're still just 3 games out.
Chase Headley, Padres: D-.
Last year's NL RBI leader continued to struggle, hitting .183/.270/.257 with one home run. The Padres have a shot in the wide-open NL West but need Headley to go on a second-half tear like he did a year ago.
Jeff Locke, Pirates: A-.
At 17-9, the Pirates tied the Blue Jays for the best record in June (including winning their ninth in a row on Sunday). Locke was just 2-0 but with a 1.67 ERA in five starts. He has been the stabilizing influence in the rotation as he has held opponents to a .199 average on the season. OK, his .228 BABIP is second-lowest among starters and maybe he'll regress, but he's proving to be a better pitcher than anyone projected, relying on a sinking fastball (he throws his fastball 67 percent of the time, ninth-most among starters).
Justin Verlander, Tigers: C.
A 3.92 ERA in June, following a 6.41 ERA in May. Over the past two months, batters are hitting .382 off his fastball and has 21 walks and just 15 strikeouts in plate appearances ending with the pitch. Last year, batters hit .253 off it and he had more than twice as many K's as walks.
Jose Fernandez, Marlins: A.
Shelby Miller
got the early hype for rookie pitchers, but Fernandez quietly posted a 1.67 in June -- tied with Locke for best in the majors. He allowed just two doubles and no home runs in the month. His team is going nowhere but he may end up as the best rookie pitcher in the majors this year.
Michael Cuddyer, Rockies: A-.
He played 23 games in June and hit in all 23, extending his hitting streak to 27 games.
Pedro Alvarez, Pirates: B+.
He hit .309 with 10 home runs and knocked in 24 runs and his defense is drawing improved reviews. The strikeouts are still extreme -- 35 in 26 games -- so I'm not saying he has turned a corner just yet. But when he goes on a streak he can help carry a team like he did in June. Plus, his home runs can go a long way, like
this one
from Saturday. (He leads the majors with nine "no doubt" home runs via the
ESPN Home Run Tracker
.)
Ian Kennedy, Diamondbacks: D.
Kennedy's 6.83 ERA was second-worst among starters and he continues to fall further away from the guy who won 21 games in 2011.
Jay Bruce, Reds: B+.
He got off to a slow start with one home run in April but hit seven in May and 10 in June, including this
472-foot blast
, the longest of the month. He's now sixth in the majors with 43 extra-base hits.
Andrelton Simmons, Braves: B.
OK, the bat is a work in progress, but the glove keeps making plays
like this
.
Chris Davis and Manny Machado, Orioles: A.
Thirty-one home runs. (Are you kidding me?) Thirty-eight doubles. (Are you kidding me?) Good stuff. Great month. Three more to go before the playoffs.
June, 28, 2013
6/28/13
11:15
AM ET
Quick! Name the best-hitting outfielder in baseball. No, not
Mike Trout
. Not
Carlos Gomez
, nor
Carlos Gonzalez
. Here's a hint: he's 34 years old and plays in the National League.
Carlos Beltran
is 36, so it's not him.
Still stumped? It's
Michael Cuddyer
. Yes, the oft-forgotten about outfielder in Colorado, playing alongside
Dexter Fowler
and Gonzalez, has been putting up monster offensive numbers. He set a Rockies club record on Thursday with a hit -- one of three -- in his 24th consecutive game. [Editor's note: He extended the streak to 25 games on Friday night.]
On Wednesday, he surpassed
Todd Helton
and Andres Galarraga's club record of 42 consecutive games reaching base. He has logged multiple hits in each of his last four games and is hitting .390/.421/.590 over the span of his hitting streak, and .351/.402/.597. Not bad for a guy who has never hit .300.
Overall, Cuddyer has a .424 weighted on-base average (wOBA), best among outfielders and fifth-best overall, behind
Miguel Cabrera
,
Chris Davis
,
Troy Tulowitzki
and
David Ortiz
. Going by weighted runs created (wRC+) which adjusts for league and park factors and sets the average at 100, Cuddyer sits at 161, well above his career average of 112 and his previous career high of 124 set in 2009 with the Twins.
The big question is, "Is it sustainable?" Detractors will rightfully point out that Cuddyer plays half his games at Coors Field, the consensus hitter-friendliest ballpark in baseball. He has a 1.103 OPS at home, but his .913 road OPS is nothing to sneeze at, and he's hit six of his 13 home runs on the road as well.
Cuddyer missed a month and a half at the end of the 2012 season due to an oblique strain in his first year with the Rockies. It may have affected his plate coverage as he posted a meager .324 wOBA on inside pitches. This year, he has a .448 wOBA on inside pitches. Perhaps most surprising, his wOBA on outside pitches has risen from .308 to .401. Comparatively, he hit .403 on pitches over the middle of the plate in 2012 and .413 in 2013.
His ability to handle fastballs hasn't really changed: .377 wOBA this year, .365 last year. However, he has become much more adept at handling "soft" stuff: .352 wOBA last year, .465 this year. Though a majority of the "soft" stuff is thrown away, Cuddyer has been pulling them in front of the left fielder and to left-center. On "soft" stuff put in play, Cuddyer has a .475 average.
That signals a large degree of unsustainability. Although hitters, to a much larger degree than pitchers, have their own natural BABIP (consider:
Mark Teixeira
has a .250 BABIP since 2010;
Austin Jackson
.369), they can still deviate wildly from season to season. Cuddyer has a career .309 BABIP and is at .391 overall for 2013. He isn't hitting for any more power, as his .247 isolated power (ISO, which is slugging percentage minus batting average) this season is only modestly better than last year's .229. On "soft" stuff, 21 of 40 hits (52.5 percent) went for extra bases last year compared to 14 of 34 (41 percent) so far this year.
The vast outfield at Coors Field is known for allowing cheap hits, since outfielders have to play deeper than they would normally. Cuddyer has a .370 BABIP on soft stuff at home, which is a bit high but within the range of normalcy. That pales in comparison to his .563 road BABIP on soft stuff.
Conversely, on fastballs, Cuddyer has a .412 BABIP at home (with a majority of hits going to right field) and .240 on the road.
There is no rhyme or reason to Cuddyer having success on fastballs at home and success on breaking balls on the road. It is just one of the many wacky things that happen with baseball stats throughout every season. Though luck has played a big factor in his success this year, that doesn't mean Cuddyer hasn't had a fantastic season, nor does it mean he won't continue to do so. As it stands, he should be a very deserving starter for the National League -- or at least earn a spot on squad -- in the upcoming All-Star Game in New York.
Bill Baer writes about the Phillies at Crashburn Alley and is a regular contributor to the SweetSpot blog.
May, 7, 2013
5/07/13
11:40
PM ET
I'm not a
Colorado Rockies
fan so I can't profess to know how they feel about
Todd Helton
returning from the disabled list and into the starting lineup a couple days ago. He's the greatest player in Rockies history, a guy who will have an interesting Hall of Fame case in a few years, a respected veteran who has played in nearly two-thirds of the games the franchise has ever contested.
He's also a first baseman who has been a below-average park-adjusted hitter in three of the past five seasons, a hitter whose injuries have sapped his power. He can't run and, while he's still regarded as a good fielder, he's not Keith Hernandez-in-his-prime good, and not many teams win pennants with a slick-fielding, bad-hitting first baseman anyway.
More importantly, the Rockies don't necessarily need him. His stint on the DL with a left forearm strain allowed the Rockies to give more playing time in the outfield to
Eric Young Jr.
, who has played well, and slide right fielder
Michael Cuddyer
to first base on occasion (or play
Jordan Pacheco
at first). Playing Young in the outfield instead of the slow-footed Cuddyer improves the defense, and playing Cuddyer over Helton likely improves the offense, even if Cuddyer cools down from his hot start.
It's the first big test of rookie manager Walt Weiss' season and it's not an easy decision, one perhaps clouded by the fact that Weiss and Helton were briefly teammates during Helton's call-up to the majors in 1997. It's never easy knowing what to do with a player of Helton's stature; they don't all go out on top like
Chipper Jones
did a year ago. It's also unclear whether Helton's offseason arrest for driving under the influence (he
pleaded guilty Tuesday
to driving while impaired) affected his standing in an organization that has made public overtures through the years about acquiring "good guys."
[+] Enlarge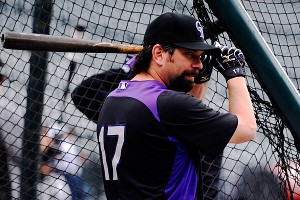 AP Photo/Jack DempseyFitting Todd Helton into a Rockies lineup that's gotten along OK without him presents a dilemma.
All this was on my mind as I watched the Yankees and Rockies face off in a rare Coors Field pitchers' duel.
Carlos Gonzalez
's two-run homer in the sixth off
Hiroki Kuroda
was it for the scoring as
Jorge De La Rosa
tossed six scoreless frames (the Yankees can't hit lefties at all, even in Coors Field) in a
2-0 Colorado victory
. Helton went 1-for-3, singling to right in the sixth.
"He has been driving us crazy," Weiss told MLB.com when Helton, who turns 40 in August, was activated. "At some point about halfway through his DL stint here in the dugout, I tried to get [head trainer Keith Dugger] to hit him with a tranquilizing dart. But it's good to have him back out there. It'll be nice watching him take [at-bats] again, doing his thing."
The Rockies don't need Helton's value -- if it even exists -- as the "face of the franchise." For one thing, he's not that guy anymore.
Troy Tulowitzki
, when healthy, is one of the 10 best players in baseball and right now he's healthy and mashing. Gonzalez is playing his best baseball since 2010 and
Dexter Fowler
may finally be developing into the star player

many once projected he would be. Second-year catcher
Wilin Rosario
looks like he'll improve on the 28 home runs he hit as a rookie. Plus, rookie third baseman
Nolan Arenado
has made a huge impact in just eight games in the majors.
In other words, this isn't a case of the 2009
Seattle Mariners
bringing back Ken Griffey Jr. in an attempt to draw a few extra fans to see a bad team (and then making the mistake of re-signing him for 2010). But Helton should have to
earn
his spot in the lineup. If he hits like he did in 2012 -- .238/.343/.400 -- it's hard to justify a regular spot. Maybe Weiss develops a Helton/Young platoon, with Helton sitting against left-handers and Cuddyer moving back and forth between right field and first base. Helton certainly deserves the leash to prove there's something left in the bat; knowing how long of a leash is what can turn competent managers into great ones.
I'm not quite sure what to make of the Rockies. They're probably better than I projected, and definitely
interesting
and exciting, especially with Tulo playing so well. Unlike pretty much every Rockies team ever, they're actually hitting well on the road (so far), as their .800 OPS led the National League entering Tuesday's action.
Arenado just adds another dimension. He was a highly rated prospect before 2012 after a big season in Class A, and nearly made the big league club out of spring training. Some of his shine was lost after a mediocre season at Double-A Tulsa (.285, 12 home runs), but a hot start at Triple-A and
Chris Nelson
's struggles led to Nelson getting traded to the Yankees and the quick call-up for Arenado.
He's a high-contact guy with power potential, and a contact hitter who can spray the ball around can do a lot of damage in Coors Field. He's just 22 but he doesn't have to be a star just yet; he just has to be a solid contributor.
That's also all the Rockies want from Helton at this point. Who knows, maybe his body will hold up and he can put together one last .300 season. That would be a nice way to head off into his retirement years -- with maybe a surprising playoff appearance to boot.
Speaking of: Now, about the pitching ...
March, 14, 2012
3/14/12
1:40
PM ET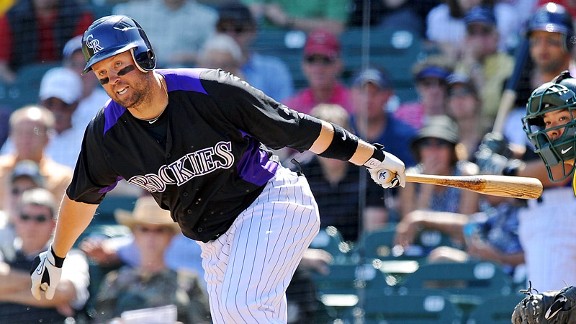 Norm Hall/Getty ImagesAt 33 years old, Michael Cuddyer will be one of the younger members of the Rockies lineup.
One of the most important things Bill James learned when he wrote his "Baseball Abstract" books back in the 1980s was that the aging curve for ballplayers was much different than commonly believed. A player's peak didn't run from 28 to 32, but more like 25 to 29, with 27 being the most typical peak season for ballplayers.
This doesn't mean old teams can't win. In fact, many of the best teams feature old lineups for fairly obvious reasons if you think about it: Old players are still around (for the most part) because they were good or great young players. Like a pitcher who throws in the upper 90s before losing velocity, great young players can lose a little value and still maintain success. The 2009 Yankees had five regulars who were at least 33 years old --
Alex Rodriguez
,
Derek Jeter
,
Johnny Damon
,
Hideki Matsui
and
Jorge Posada
-- and while none were at their peak level of ability they were still good enough to help that team win 103 games and the World Series.
But there's a fine line in the aging process. It's one thing to have A-Rod or
Albert Pujols
in their mid-30s; but what if your old players are, say,
Marco Scutaro
,
Casey Blake
and
Michael Cuddyer
?
Before we get to the
Colorado Rockies
, let's do a quick study. I looked at all playoff teams over the past five seasons to see how many plate appearances they received from players 32 or older (not including pitchers). By the way, when we refer to a player's age, it's his age as of June 30 of that season.
For those 40 playoff teams, the average number of plate appearances was 1,711. Here are the 10 oldest playoff teams by this method (remember, we're only looking at position players):
Some of these teams are warning signs about what can go wrong with an old team: the 2008 Cubs and White Sox haven't sniffed the playoffs since; the Giants brought back many of their veterans from their World Series champs and paid the price as
Aubrey Huff
,
Andres Torres
and
Freddy Sanchez
(plus new addition
Miguel Tejada
) all failed to replicate their performances; the 2009 Red Sox made the playoffs but fell off in 2010 as the lineup scored 54 fewer runs (the pitching allowed only eight more runs); the Angels scored 872 runs in 2009 but were down to 667 by 2011, in part because of the declines of
Torii Hunter
and
Bobby Abreu
and the addition of ineffective 32-year-old
Vernon Wells
.
Even the 2011 Phillies are an interesting example. The Phillies have won the past five NL East titles. Interestingly, that first team in their run in 2007 had the
fewest
plate appearances from players 32 or older of the 40 playoff teams:
That 2007 team scored 892 runs. As the Phillies stuck with that core group and the players started getting into their 30s, guess what happened -- their runs scored have dropped to 820 in 2009 to 772 in 2010 and to 713 in 2011. Of course, the Phillies have been able to balance that out by bringing in pitchers like
Roy Halladay
,
Cliff Lee
and
Roy Oswalt
. You can also now add
Ryan Howard
to the age-32 classification for 2012 and we already know he's going to miss a significant chunk of time. Will the Phillies score even 700 runs this season?

And that gets us back to the Rockies. In addition to the 38-year-old
Todd Helton
, they've added 38-year-old third baseman Blake, 36-year-old catcher
Ramon Hernandez
, 36-year-old second baseman Scutaro and 33-year-old outfielder Cuddyer. All of those guys have been good players, even as recently as last season. And while Helton was once a superstar, his back problems have helped limit him to an average of 11 home runs over the past four seasons. So my point: This group isn't exactly starting out from the same aging curve as Rodriguez and Jeter or
Chase Utley
and
Jimmy Rollins
or even Hunter or Bobby Abreu.
It's a potential recipe for disaster. The Rockies are expecting close to 3,000 plate appearances from those five guys. Maybe it will happen, but I don't see. There's no precedent over the past five seasons for a lineup with that construction making the playoffs.
And the Rockies don't have three guys named Halladay, Lee and Hamels in the rotation.
February, 10, 2012
2/10/12
1:00
PM ET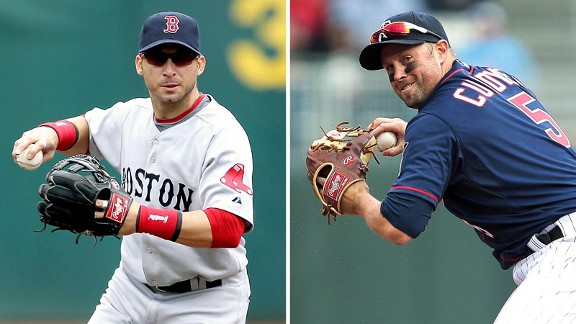 Getty Images/US PresswireAbove chemistry, Colorado needs big years from guys like Marco Scutaro, left, and Michael Cuddyer.
Colorado Rockies
general manager Dan O'Dowd has spent the offseason remaking the Rockies' lineup and rotation.
Wait, I take that back: He's spent the offseason remaking the Rockies' clubhouse culture.
"Changing the culture motivated the changes,"
O'Dowd told Troy Renck
of the Denver Post. "And one change led to another. There was a vision of what we wanted, but all the dots kind of connected on their own."
"We stunk and it was a bad clubhouse,"
O'Dowd told Sports Illustrated's Tom Verducci
. "Last year guys went their own way and didn't hold each other accountable. We pride ourselves on an 'all-for-one' mentality. And last year we didn't have that. It bugged everybody -- not just me."
"Quite honestly, I just feel like we needed to address our culture more than anything,"
O'Dowd told a Denver radio station
in January. "We certainly need to address our talent, but I think talent becomes secondary if your culture is not where it needs to be. I think we had too many players, not naming anybody, that were more worried about collecting service time than actually worried about winning and playing the game the right way."
So O'Dowd signed
Michael Cuddyer
and
Casey Blake
. He traded for
Marco Scutaro
, saying, "He fits in well. He's another guy with a slow heartbeat that is a winning player." He just traded for
Jeremy Guthrie
and invited
Jamie Moyer
to spring training. All veterans. All regarded as good clubhouse guys.
Now, I don't know what happened in the Rockies' clubhouse last season. But from the outside, it appears to me that O'Dowd is making excuses for the team's 73-89 record. He's not calling out himself for constructing a bad team, or manager Jim Tracy for not making sure the team played "the game the right way" or even veterans like
Todd Helton
or
Troy Tulowitzki
for failing, you know, to build a winning clubhouse atmosphere.
Look at some of his moves:
He signed Ty Wigginton, a player who had put up minus-1.7 WAR over the previous two seasons. The Rockies gave him 446 plate appearances and he predictably was terrible, putting up minus-1.1 WAR.

The team broke camp with Jose Lopez, coming off a season with a .270 OBP, as its starting second baseman. Predictably, he was terrible and the Rockies released him in June with a .233 OBP.

The team began the season with Esmil Rogers in the rotation. Rogers has a nice arm, but no secondary pitches, no idea of how to pitch, had pitched poorly with the Rockies in 2010, and didn't have much of a track record of success in the minors. Predictably, he was terrible, posting a 7.05 ERA.

He'd traded Clint Barmes in the offseason for strong-armed Felipe Paulino, but the Rockies gave up on Paulino after 14 innings and sold him to the Royals, where he pitched well. Paulino would certainly have been a better option than some of the other guys the Rockies tried in the rotation.

The team continued to count on the aging Helton to be a key part of the lineup. Helton hit .302 and gets on base; but while he's still a decent player, he doesn't provide the power you prefer from a first baseman, and he's going to miss time (38 games in 2011, 44 in 2010).
Yes, the Rockies suffered some injuries to the rotation --
Jorge De La Rosa
went down after 10 starts and
Juan Nicasio
after 13 starts, and then O'Dowd traded
Ubaldo Jimenez
. But no team makes it through the year with five starters. In the end, the Rockies just weren't a good team. O'Dowd's desire to seemingly blame the season on "clubhouse culture" is as embarrassing as Red Sox management blaming fried chicken for their collapse.
Of course, this is nothing new for the Rockies. Back in 2006, USA Today ran a story headlined
"Baseball's Rockies seek revival on two levels."
Bob Nightengale's story focused on how the Rockies had become an "organization guided by Christianity," as Nightengale wrote.
"We started to go after character six or seven years ago, but we didn't follow that like we should have," chairman and CEO Charlie Monfort says in the piece (he's now listed as owner/general partner). "I don't want to offend anyone, but I think character-wise we're stronger than anyone in baseball. Christians, and what they've endured, are some of the strongest people in baseball. I believe God sends signs, and we're seeing those."
Going after "character" guys didn't really work; the Rockies had losing seasons every year from 2001 through 2006. The club did finally break through in 2007, winning 90 games and reaching the World Series. Not coincidentally, Tulowitzki and Jimenez were rookies that year.
Matt Holliday
had his best season and finished second in the MVP vote.
Brad Hawpe
had his best season. Helton played in 154 games.
I'm reminded of a couple of quotes. Jim Leyland, while managing Barry Bonds in Pittsburgh, said something along the lines of, "Leadership? Leadership is 30 home runs, 30 steals and a .300 batting average." Billy Martin once said there are mules and there are racehorses, and no matter how much you kick the mule in the ass he's not going to become a racehorse.
Maybe O'Dowd's moves will work out. I have my doubts -- Helton and Blake will be 38 and Scutaro 36. In 2011, only three position players older than 35 had a Baseball-Reference WAR of 2.0 or higher --
Johnny Damon
,
Chipper Jones
and Helton. Cuddyer is 33 and coming off one of his best seasons, but his cumulative 2009-2010 WAR was just 2.2.
If the moves
do
work, I suspect it won't be because of some magic clubhouse elixir. It will be because Helton stays healthy, Cuddyer has a big year, Scutaro gives the team a good second baseman, and three guys in the rotation step up and pitch 200 innings. In the end, it's about the talent.
December, 16, 2011
12/16/11
3:56
PM ET
I pointed out on Twitter the other night that
Michael Cuddyer
has had just one season with a Baseball-Reference WAR over 2.1. A few angry Cuddyer fans jumped on my case.
Hey, it wasn't meant to insult the guy. He is a nice player, can play right field or first base or even second or third in a pinch, has some power and is
apparently a great guy
. He's a complementary player on a good team or, in the case of the 2011 Twins, the best player on a terrible team. He signed a
three-year, $31.5 million deal with the Rockies
, who presumably will put him in right field and trade
Seth Smith
.
So what the Rockies have essentially done is commit $30 million to a player who isn't all that much better than Smith (who will make $2 million in 2012) but gives them the flexibility to trade Smith for something else of value. Cuddyer also fits in nicely with the Rockies' desire to acquire good clubhouse guys. I won't dismiss that virtue completely, but it doesn't have much effect on the field or on ticket sales, no matter what Dan O'Dowd believes.
The bigger issues:
(1) What is the value of the positional flexibility? Cuddyer isn't a particularly adept fielder at any position. He hasn't played much third base since 2005 -- even though the Twins haven't had a good third baseman since. In other words, the Twins clearly didn't think he could play there. He played 17 games at second base in 2011, which I think is more symbolic of what happened to the Twins than a sign of positional flexibility. Really, Cuddyer is a right fielder with a good arm but limited range. He'll also be 33 ... which means that range isn't going to improve.
(2) He has a fairly sizable platoon split. His career OPS is 100 points higher against left-handers but even more pronounced the past three seasons: 210 points higher in 2009, 175 in 2010, 265 in 2011. Of course, his overall numbers should increase at Coors Field, but there's nothing special about a right fielder with a .343 career on-base percentage. And again, we'll see how he ages into his mid-30s.
I don't think it's a terrible signing, especially if the Rockies can flip Smith for some value. But it's hardly an impact move. The Rockies still are a team with holes at second base and third base, without a proven 200-inning starter (
Jhoulys Chacin
did throw 194 innings last season) and counting on a 38-year-old first baseman with a bad back to remain healthy.
As for the Twins, they effectively replaced Cuddyer's bat with
Josh Willingham
's, at $21 million over three years. The Twins get a similar hitter, save $10 million and get two compensatory draft picks for losing Cuddyer. Good job, Minnesota.
December, 1, 2011
12/01/11
9:35
AM ET

The American League Central may have a reputation as baseball's skinflint division, but such is not the case: The White Sox, Twins and Tigers each had payrolls over $100 million in 2011 and ranked in the top 10 of highest-salaried ballclubs.
The problem was that two of those three teams didn't get much for their money. Considering the issues in Chicago and Minnesota, and the youth and unwillingness to spend big in Cleveland and Kansas City, Detroit will enter 2012 as the heavy favorite to win the division -- no matter what happens in the offseason. But even the Tigers are far from a sure thing and if the Indians can get good health from
Shin-Soo Choo
and
Grady Sizemore
in 2012, plus strong seasons from youngsters
Jason Kipnis
and
Lonnie Chisenhall
, their offense could be dramatically improved.
But that's getting ahead of ourselves. Here's a quick look at some action plans and items of interest for the five teams.
Detroit Tigers
1. Third base (
Brandon Inge
)
With Inge plummeting to a .197 average, Detroit's third-base production was among the worst in the majors. The team has already been linked to free agent
Aramis Ramirez
and trade discussions with Angels on
Maicer Izturis
. Both would be big upgrades over Inge, who still has one year remaining on his contract. The dark horse possibility: With
Carlos Guillen
($13 million) and
Magglio Ordonez
($10 million) off the books, the Tigers pursue
Jose Reyes
to fill their leadoff void, moving
Jhonny Peralta
to third base.
Likely solution: As much I love the Reyes idea, Ramirez to Detroit seems like a logical fit. The negatives are Ramirez's lack of range and Detroit's need for a little more athleticism in the lineup.

2. Middle relief
By the postseason, Jim Leyland was down to two relievers he trusted:
Jose Valverde
and
Joaquin Benoit
.
Al Alburquerque
had a strong rookie season out of nowhere and
Phil Coke
and
Daniel Schlereth
provide rare power lefty arms, but Albuquerque and Schlereth still have trouble throwing strikes. The Tigers could go after a low-cost veteran like
LaTroy Hawkins
,
Mike Gonzalez
or
Darren Oliver
, or maybe make a trade pitch for White Sox lefty
Matt Thornton
, although it seems unlikely Chicago would trade Thornton to a division rival.
Likely solution: A veteran righty-hander, with the Tigers counting on improvement from Coke and Schlereth.
3. A left-handed bat.
The Tigers missed
Brennan Boesch
's stick in the playoffs, as
Victor Martinez
and the hobbled
Alex Avila
were the only threats from the left side (granted,
Don Kelly
hit a big home run). Boesch's return will help, but Detroit could use a lefty bat to help balance out the lineup.
Likely solution:
Andy Dirks
may given another shot at that third/fourth outfielder job after hitting .251/.296/.406 as a rookie. But what about Rockies left fielder
Seth Smith
, who is on the trade block? His career .518 slugging percentage against righties has been bolstered a bit by Coors Field, but he's a solid hitter who could platoon with
Ryan Raburn
in left, or allow Raburn to play some at second base.
Cleveland Indians

1. Find a left fielder who can hit.
Michael Brantley
is a decent asset -- but as a center fielder. The plan to use Brantley as an everyday left fielder was never a great one to begin with, as he's never going to pop many balls over the fence. Brantley,
Austin Kearns
,
Shelley Duncan
and
Travis Buck
all started at least 20 games in left; Jared Head started six games there. As a group, Cleveland's left fielders hit a miserable .233 with seven home runs; only Baltimore and Minnesota received a lower OPS from their left fielders.
Likely solution: Signing
Grady Sizemore
doesn't necessarily push Brantley back to a starting role in left field. He's best used as a fourth outfielder and Sizemore insurance.
Michael Cuddyer
may end up getting priced out of Cleveland's range, so how former Twins teammate
Jason Kubel
? He can play left and step in as designated hitter when
Travis Hafner
suffers his inevitable breakdown.
2. Find at least one more starter.
Right now, the Indians can only count on
Justin Masterson
and
Ubaldo Jimenez
for their rotation.
Carlos Carrasco
is out for the season following Tommy John surgery,
Fausto Carmona
was terrible and even
Josh Tomlin
is a question mark after the league caught up to him in the second half (5.26 ERA).
Likely solution:
Jeanmar Gomez
has been roughed up in two stints in the majors (146 hits in 116 innings), but his Triple-A numbers were solid, if unspectacular. He'll be given another chance in spring training to battle
David Huff
for a rotation spot.
3. If not
Matt LaPorta
, who plays first base?
The big prospect acquired in the
CC Sabathia
deal, LaPorta just hasn't hit as expected, posting a .299 on-base percentage in 2011. The Indians seem ready to punt on LaPorta, who turns 27 in January so isn't even that young.
Carlos Santana
ended up playing a lot of first base down the stretch, but let's hope he's kept behind the plate, where his hitting value would be maximized.
Likely solution: If free agent
Carlos Pena
lowers his price, he's a possibility, and the Indians reportedly talked with Houston about
Brett Wallace
. I'm not sure Wallace is much of an upgrade over LaPorta, but at least he's younger.
Casey Kotchman
could fit nicely here as lower-cost alternative after posting a .378 OBP with Tampa. And hey, he's only two years older than LaPorta.
Chicago White Sox

1. What do you do with
Adam Dunn
and
Alex Rios
?
Dunn hit .159 with a .569 OPS. Rios hit .227 with a .613 OPS. Dunn was the least-valuable position player in baseball, according to Baseball-Reference.com, while Rios was seventh-worst. They made $24 million in 2011 and will make a combined $26 million in 2012. Both are signed through 2014.
Likely solution: General manager Kenny Williams will be busy during the winter meetings, perhaps shopping around guys like
Gavin Floyd
,
John Danks
and Matt Thornton, looking for some sort of backup plan to these two pieces of junk. The 40-man roster currently includes
Alejandro De Aza
, who probably deserves a chance to play somewhere after a nice run (if over his head) last season. Let's put it this way: he can produce an OPS higher than .613.
2. Third base (
Brent Morel
)
After struggling all season, hitting .250 with just two home runs and seven walks in 328 at-bats through August, Morel suddenly changed his approach in September, got more patient and swung for the fences. He hit just .224 the final month, but with eight home runs and 15 walks. Was it a legitimate improvement, or merely feasting off September tired arms and rookie call-ups?
Likely solution: Morel's hot September earns him another shot.
3. The new manager
This isn't so much an action plan, as a big question mark. Robin Ventura has no previous managerial experience, but the good sign for the White Sox is that respected pitching coach Don Cooper is still around to handle the pitching staff.
Likely solution: If Dunn and Rios stink it up again, it won't matter how well Ventura transitions into the job -- he'll be doomed.
Kansas City Royals

1. Fix the rotation
The Royals had a 4.82 ERA from their starters; only Baltimore was worse in the American League.
Likely solution: The Royals already made a move here, trading
Melky Cabrera
to the Giants for
Jonathan Sanchez
. The club also re-signed
Bruce Chen
. With the signing of
Jonathan Broxton
, and the emergence of rookie relievers
Greg Holland
,
Louis Coleman
and
Tim Collins
in 2011, fellow 2011 rookie
Aaron Crow
will be given a shot at the rotation. I have my doubts it will work: Crow walked 31 in 62 innings out of the bullpen and left-handed hitters tagged him for a .311 average and .538 slugging percentage. There's a reason he struggled in the minors as a starter in 2010 (5.73 ERA). He has a great arm, but won't be able to rely on his fastball/slider combo as a starter.
2. Second base (
Chris Getz
)
Royals second basemen posted a .301 OBP and .636 OPS (26th in the majors) in 2011.
Likely solution: Rookie
Johnny Giavotella
played the final two months there and hit .247 with a .649 OPS. He'll head into spring training as the favorite to win the job. He hit .338/.390/.481 at Triple-A, so the batting potential is there: Bill James projects him to hit .295/.342/.419.
3. Center field (empty -- Cabrera traded)
The Royals were smart to deal Cabrera after his career season.
Likely solution:
Lorenzo Cain
, acquired from Milwaukee in the
Zack Greinke
trade, will finally get a chance to play after spending 2011 in Triple-A. Cain is old for a guy still considered a prospect -- he turns 26 in April -- so he should be a polished product by now. He showed some power for the first time in his career, hitting 16 home runs for Omaha while batting .312. He doesn't walk much, so won't be a star, but should come closing to matching Cabrera's 2011 production.
Minnesota Twins

1. The M & M boys
After 2011's train wreck -- the club's first 90-loss season since 2000 (and at 99 losses, the most the 1982 Twins lost 102) -- it seems pretty clear this team will be dead in the water again unless
Joe Mauer
and
Justin Morneau
get healthy and regain their All-Star status. But they also can't assume these guys are going to play 140-plus games.
Likely solution: Obviously, the Twins need a better backup plan for Mauer than giving .167-hitting
Drew Butera
250 plate appearances. They already accomplished with the smart signing of
Ryan Doumit
to a one-year deal for $3 million. Doumit can catch or play right field, but his bat is good enough to warrant a regular place in the lineup even when he's not behind the plate. Of course, he's also been injury-prone throughout his career. Prospect Chris Parmalee, who impressed in a September call-up, gives the team a potentially decent backup option for Morneau as well.
2. Right field: Empty (Michael Cuddyer, free agent)
For all the attention Cuddyer is getting, let's remember that he's really just a complementary bat on a good team. Unfortunately, considering some of the other outfielders the Twins tried last season --
Rene Tosoni
,
Jason Repko
,
Trevor Plouffe
-- you realize they had nobody in the upper levels of the system.
Likely solution: Doumit may factor into their plans here, but regardless, the Twins need another bat to play a corner or DH. Smith is a trade option and free agent
Josh Willingham
is another possibility.
3. Closer: Empty (
Matt Capps
and
Joe Nathan
, free agents)
Nathan signed with Texas while GM Terry Ryan recently told the St. Paul Pioneer Press that it's likely Capps could return.
Likely solution: Capps was terrible last year, allowing 10 home runs in 65.2 innings while striking out just 4.7 hitters per nine innings. Two years ago, he had a 5.80 ERA. I can't fathom why any team would want to make Capps its closer. Sadly, however, the rest of the Minnesota bullpen is nearly as uninspiring (as is the rotation, but I don't have room to get to them here), but Capps throws strikes and there's nothing the Twins love more than a pitcher who throws strikes (velocity are ability to miss bats don't seem to be a factor). There's no reason for this team to spend big money on one of the remaining free-agent closers, so it probably will be Capps or lefty
Glen Perkins
.
July, 26, 2011
7/26/11
12:32
AM ET
An impartial observer might take a snapshot of the American League Central and conclude that the race is an exercise in wheel-spinning. But that's not entirely correct: The four teams at the top just have no idea if they're coming or going.
The Twins were treated to a combination wedgie and noogie in a 20-6 loss to Texas on Monday and are now 47-55. But they seem strangely resistant to entertaining offers for free agent-to-be
Michael Cuddyer
, a solid righty bat, terrific clubhouse guy and crafty situational reliever in blowouts who might net them a decent prospect haul in return. It's nice to be loyal and cling to hope based on some recent fast finishes, but you have to wonder if Twins general manager Bill Smith is missing an opportunity to capitalize on a valuable asset here.
The Indians, who beat the Angels 3-2 on a walk-off single by rookie second baseman
Jason Kipnis
, have an AL Central-best run differential of plus-2. They began the season at 30-15, but injuries to
Shin-Soo Choo
and
Grady Sizemore
and an overall lack of lineup depth have stalled their momentum and left fans wondering when the magic ends and the reality check begins. Meanwhile, GM Chris Antonetti continues to look for a bat on a limited budget.
The White Sox, the American League's answer to the enigmatic Reds, are always a stinker away from an Ozzie Guillen expletive-fest. And general manager Kenny Williams, a guy who lives to make waves at the trade deadline, seems genuinely conflicted. Amid rumors that he's talking to St. Louis about a deal for young outfielder
Colby Rasmus
, Williams appeared on ESPN Radio in Chicago and said he might "turn over the entire roster'' if the White Sox don't make a move here shortly.
That leaves us with the division leaders in Detroit, where
Justin Verlander
might or might not have enough help in the rotation to get the Tigers to the postseason, and GM David Dombrowski and manager Jim Leyland might or might not be on the spot with owner Mike Illitch in the final year of their contracts.
It was only fitting that when the Tigers and White Sox met in a big AL Central showdown Monday night at U.S. Celluar Field, all the division's warts were on display. Between home runs by
Paul Konerko
and
A.J. Pierzynski
, the Chicago crowd was treated to botched pop flies, a muffed pickoff, a near-collision between
Juan Pierre
and
Alex Rios
in the outfield and a wild pitch that careened off Pierzynski's shinguard and was turned into an out at second base by reliever
Jesse Crain
.
The Tigers ran out four pitchers --
Duane Below
,
Chance Ruffin
,
Charlie Furbush
and
David Purcey
-- with a combined 215 2/3 innings in the big leagues. The vast majority of those belong to Purcey. And White Sox starter
Mark Buehrle
, miracle of miracles, actually issued a leadoff walk in the fifth inning.
Is this any way to run a pennant race?
Take an informal survey of people in baseball front offices, and their predictions for the division generally fall along the same lines. Just about everyone favors Chicago's pitching staff, but the White Sox are going to have a hard time winning if
Adam Dunn
(.159 batting average) and Rios (.301 slugging percentage, 23 RBIs) continue to look this pathetic at the plate. If Dunn plans to hit .200 this season, he better have some Ted Williams-caliber mashing in store for August and September.
Offensively, the Tigers win the Best in Show award. Detroit ranks fifth in the league in runs scored, and
Miguel Cabrera
,
Jhonny Peralta
,
Alex Avila
,
Brennan Boesch
and
Victor Martinez
all have an OPS north of .800.
The Tigers have been trolling for a front-end starter. But with
Ubaldo Jimenez
and
James Shields
pretty much un-acquirable, they might have to stand pat or settle for a back-end guy to complement their top four of Verlander,
Max Scherzer
,
Rick Porcello
and
Brad Penny
.
It could be worse: Scherzer, although up-and-down this season, has generated a swing-and-miss percentage of 9.3 -- better than
Matt Cain
,
Jered Weaver
and
David Price
. And Porcello has quietly gone 4-0 with a 3.33 ERA in July. He's still 22 years old, remember?
In a race this chaotic, the schedule can make a difference. While the Tigers are finished playing Boston and New York this season, the White Sox welcome the Red Sox and Yankees to Chicago for seven games starting Wednesday. As for the feisty Indians, they have 10 games against Boston, Texas and Detroit in early August. That's their sink-or-swim stretch.
"It's a weak division,'' said a National League personnel man, "but I've liked the Tigers all year. Never underestimate a team with a good offense and an ace [starter]. You just don't have long losing streaks.''
And who cares about labels? Dunn can't step to the plate these days without another out-of-town broadcaster referring to him as "the struggling Adam Dunn.'' But as he told Yahoo! Sports in a recent interview, he still enjoys playing, "Even though I suck.''
Say this for the Big Donkey: He's come to the right place.
PHOTO OF THE DAY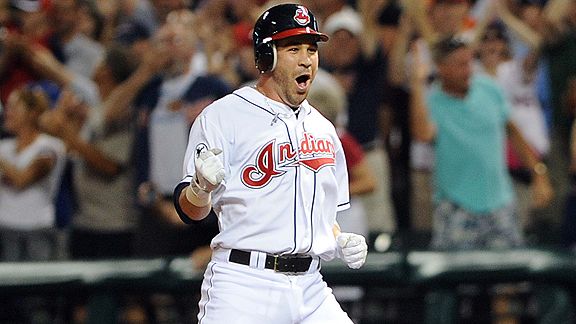 Eric P. Mull/US PresswireJason Kipnis celebrated his first hit. Why not? It was a based-loaded, two-out walk-off in the ninth.
July, 22, 2011
7/22/11
12:25
AM ET
April baseball is about hope and false optimism. May and June are about the grind, about staying in the race and avoiding injuries, praying the rookies are for real and the sophomores are slump-proof.
And July? If your team is still in the race, this is when the season starts to get stressful, when you sweat with every pitch. It's when you check the starting pitchers for tomorrow and the next day and the series after that. If your team is on the fringes of the pennant race, this is when you live and die with every game, and you don't want to hear anyone say, "It's not
really
a must-win game, you know." Because you know it is. You know that in baseball, every game can matter.
On Thursday night, Rays fans lived a little and Twins fans suffered a bit of death.
I spent the night watching two ballgames: the Yankees versus the Rays on TV and the Tigers taking on the Twins on the computer. The Rays and Twins faced tough assignments, going up against two guys you probably know a little about --
CC Sabathia
and
Justin Verlander
, respectively. But the Rays and Twins were starting their own hot pitchers,
James Shields
and
Carl Pavano
.
The Rays struck in the bottom of the first, with
Evan Longoria
swatting a long home run to left field. If you're a Rays fan, this is clearly a sign that Longoria will finally start mashing. This is what you believe. He'd go 2-for-2 with two walks Thursday -- a sign, a hot streak about to begin. You know he's due.
For Twins fans, you knew it was going to be a tough night against Verlander when
Michael Cuddyer
tripled leading off the bottom of the second, only to be stranded after the Tigers' ace fanned
Jim Thome
and
Danny Valencia
and got
Delmon Young
to ground out. Thome's first two at-bats showed Verlander's mastery in 2012. After Thome fouled off a 3-2 pitch in that first at-bat, Verlander blew him away with high-octane heat. In their next confrontation, Verlander threw Thome three straight breaking balls and then blew him away with a 99 mph fastball on the outside corner. Ted Williams couldn't have hit that pitch.
Shields has been brilliant all season and was again this night, scattering six hits and three walks while not allowing a run until Robinson Cano's two-out double in the eighth. The Rays won 2-1, sweet revenge for Shields, who lost 1-0 to Sabathia on July 10 at Yankee Stadium.
Dyin' and livin'. That's July baseball.
* * * *
The Rays split their hard-fought series with the Yankees, remaining 5 1/2 games behind them in the wild-card race. Three wins would have been better, maybe a necessity. The fact is, catching the Yankees will be difficult. The Yankees have a run differential of plus-117; the Rays are at plus-32. The Rays need better production at shortstop (their shortstops are hitting a combined .203 with a .249 on-base percentage) and catcher (hitting a combined .199 with a .287 OBP). Unfortunately, those are the two positions most difficult to upgrade at the trade deadline.
The Rays' bullpen, entirely rebuilt in the offseason, has been surprisingly solid, and
Kyle Farnsworth
picked up his 19th save in 22 opportunities Thursday. But it has been showing some cracks lately, and its 3.68 ERA is 10th best in the American League.
They have a difficult task, but don't count them out; 20 of their next 23 games are against the Royals, A's and Mariners. But they still have 19 games against the Yankees and Red Sox, including 10 of their final 13.
For the Twins, this week features eight games against the Indians and Tigers. They lost a doubleheader Monday to Cleveland but won the next two before dropping the series opener against Detroit. They're six games behind the Tigers, in fourth place. The division is weak. Can they do it?
Joe Mauer
is finally hitting, 16-for-31 since the All-Star break.
Jason Kubel
, out since May 30, returns from the DL on Friday.
Denard Span
is at Triple-A Rochester, rehabbing from his concussion.
Kevin Slowey
made a rehab start Sunday. The Twins are hopeful for
Justin Morneau
returning in mid-August.
Manager Ron Gardenhire will have interesting choices to make. If he wants to maximize the offense, he puts Kubel in right field, moving Michael Cuddyer to either first base (moving Joe Mauer to catcher on an everyday basis) or third base (in place of weak-hitting Danny Valencia). Or he uses Kubel as the DH, with Thome sliding to the bench.
The Twins still need Delmon Young and Tsuyoshi Nishioka to hit and the bullpen to avoid blowing late games. With a return to health of the lineup they expected back in April, the Twins have a chance to win the division. I still believe it's a long shot -- climbing over three teams is no easy task -- but it is, after all, the AL Central, where the living might be a little dirty, but at least you're alive and in the race and sweating every game.
As July baseball should make you do.
PHOTO OF THE DAY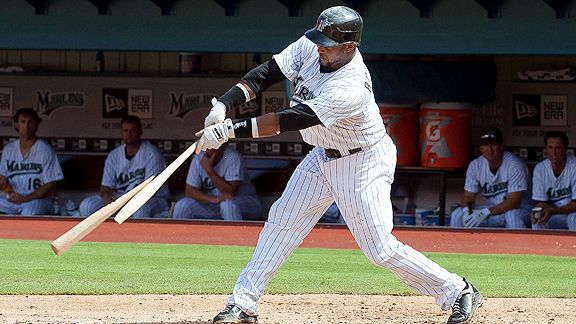 Steve Mitchell/US PresswireEmilio Bonifacio learns the crack of the bat can be a double entendre.
June, 23, 2011
6/23/11
11:43
AM ET
By
Christina Kahrl
| ESPN.com
Wednesday night, the
San Francisco Giants
finally brought the
Minnesota Twins
' winning ways to an end, stopping their streak at eight with a 5-1 setback. However, all that did was keep the Twins' record at a still-blistering 15-3 in their previous 18. One loss doesn't mean Minnesota's momentum over the season's long march has evaporated, and folks were, if anything, way too quick to count them out before this run.
[+] Enlarge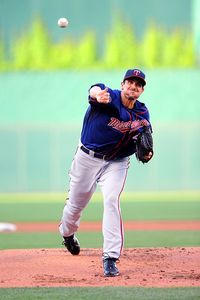 G. Newman Lowrance/Getty ImagesCarl Pavano has pitched two complete games and has four wins in his past four starts.
Naturally, a good part of that is what some statheads would refer to as "luck," or a matter of convenient timing. Sweeping the Royals and the Padres during their run isn't proof of this team's enduring dominance, but a reminder of Lou Boudreau's old observation that if you want to contend, you better beat up the bad teams. But the scheduling gods didn't answer any particular prayer, having long since charted the Twins' travel plans. More notably, the Twins are 6-1 in one-run games during their June run, with the lone loss a 1-0 shutout setback suffered at the hands of the Tribe's
Carlos Carrasco
. And in the middle of their just-ended win streak, they managed four one-run wins, two by 1-0 margins.
You can call that luck, but it also reflects the virtue of some simply tremendous pitching. During their 15-3 run, the Twins have allowed just less than 2.4 runs per nine (with a gaudier 1.88 ERA), the stuff that dreams of 1968 are made of. The pen is allowing just 1.8 runs per nine in June. The Twins have gotten 13 quality starts in 19 games this month, with
Carl Pavano
a perfect four-for-four in four Twins wins. Pitching this robust is part of the reason why the Twins have actually
outperformed
their expected record by a couple of wins.
The offense has been remarkably different as well, scoring 4.5 runs per game after eking out just 3.5 per in the first two months. To put the 3.5 runs per game in context, that would currently rank last in the league, underwhelming even the Mariners' tepid last-place attack. Switch to
equivalent average
on the full season, park- and league-adjusted, and the Twins are putting up a 12th-place .245 EqA in the AL, besting only the Athletics and Mariners.
What's impressive is that the Twins have lifted their offensive game
without
their MVP stalwarts, the M&M boys. They're also doing it without
Jim Thome
beating Father Time or
Denard Span
leading off or
Jason Kubel
finally proving whether he has another big 2009 season in him. It doesn't owe much to
Joe Mauer
now being back from the DL -- Twins catchers had a collective .497 OPS before Wednesday night's game, but Mauer managed to bring it
down
with an unproductive first week back.
It takes a lot of faith in protection or synergy to believe that Mauer's return is all that responsible for the lineup's overall improvement.
Justin Morneau
is still on the shelf and recovering from a wrist injury, but he still hasn't really demonstrated that he can come all the way back from the concussion he suffered a year ago -- that's something we can all just hope for, not count on.
Delmon Young
and
Tsuyoshi Nishioka
are both back from the DL, but neither is delivering what was expected, either in terms of last season's power from Young, or
Nishioka's OBP potential
.
Instead, the Twins' attack has had to depend almost entirely on
Michael Cuddyer
and
Alexi Casilla
. Cuddyer's 13 extra-base hits (five home runs) in June are hard to miss, to the point that his name can get bandied about as the token Twins All-Star if Mauer doesn't get voted in. Happily, Cuddyer's not alone -- Casilla's .329/.386/.474 while hitting in the second hole has given Cuddyer someone to drive in now and again. It makes for an odd pair of bats to carry a team, but beggars can't be choosers, and before June, beggary was Minnesota's lot.
Because of all these injuries and the expectation that the Twins will still get everyone back in something like full working order at some point during the summer, they're still in this thing. Per
Clay Davenport's projection-based Postseason Odds
, the Twins got their chances up to just over 12 percent before their Wednesday night loss to the Giants. That may not sound like much of a shot, but their streak put them back on the map. Admittedly, they're not alone as far as playing hare to the tortoises that the Tribe or Tigers might represent -- the White Sox are 26-17 after a start that put them 11 games below .500 a month into the season.
Minnesota's recent hot run brings to the forefront all sorts of hot-button issues. Take realignment: If the Twins were in any other setup than the uneven three-division, one wild-card setup, and in any other division other than the AL Central, they wouldn't be a phenomenon, they'd be zombies, just like the Orioles, dead in the daylight and looking for brains. But because they're in the Central, where the average projected win total to take the division title is an MLB-low 87 wins (again, per Davenport), all things remain possible.
As a result, if you want a division race for all the marbles, will anything beat the Central's four-team, winner-take-all brawl? A month out from deadline dealing, there's no telling which of the four might swing the swap that lets them loft a divisional flaglet. But just because the Indians invited themselves into what was expected to be a three-team race early on, the Twins have not yet excused themselves, which makes for one of the best races to watch with half a season yet to play.
Christina Kahrl covers baseball for ESPN.com. You can follow her on Twitter.
November, 7, 2009
11/07/09
2:16
PM ET
There's something to be said for
stability
, I suppose ...
The Minnesota Twins have picked up outfielder Michael Cuddyer's $10.5 million option for 2011.

--snip--

The option is part of a contract Cuddyer signed in 2008. He will make $8.5 million in 2010 and be paid $33.5 million over the life of the four-year deal. If the Twins had declined the option, they would have owed Cuddyer a $1 million buyout.
For a franchise that routinely cries poor, $10.5 million is a decent chunk of change.
Particularly for a player like Michael Cuddyer.
Cuddyer is a good hitter but a subpar outfielder, resulting in a player who is, at his best, worth less than $10 million. Granted, considering the $1 million buyout, the Twins essentially have committed to spending $9.5 million on Cuddyer in 2011. And $9.5 million isn't much more than what he was worth this year, and in 2007 (2008 was a disaster).
Of course the problem is that Cuddyer has entered his decline phase. He'll turn 31 next spring and (more to the point) 32 in 2011. He might be just as good in 2011 as he was in 2009 ... but we know that he probably won't be. We know that instead of being a (roughly) $9 million player, as he was this year, he's more likely to be an $8 million player or a $7 million player.
No, the difference between Cuddyer's salary and his value is not a great deal of money. But the Twins have a history of overspending on decent players while complaining about the high price of truly great players. Remember, it was just a year ago that they couldn't afford
Johan Santana
but quite happily blew $9 million on
Craig Monroe
and
Livan Hernandez
. And if they're not able to keep
Justin Morneau
and
Joe Mauer
in the long term, their money mismanagement is simply going to drop them from contention.
April, 15, 2009
4/15/09
11:21
AM ET
Not much blogging yesterday (or today) because I foolishly left my wireless card at home, which left me stuck on a train to Seattle for four hours with no Internet access (back to "normal" tonight). On a happier note, I spent some of those four hours (finally) reading Sports Illustrated's baseball preview, which includes a "modest proposal" for every club (all of which were "compiled" by Joe Sheehan, one of our friends over at
Baseball Prospectus
). Running through a few of the more interesting proposals:
•

Red Sox: Use Jed Lowrie as leadoff man rather than Jacoby Ellsbury.
I love the idea. Lowrie was pretty good last year despite a wrist injury that sapped his strength for much of the season. He played exceptionally well in spring training. And now his wrist is hurting again, so he's not going to be playing shortstop -- let alone leading off -- for quite some time, it seems. Julio Lugo's out, too. Nick Green played shortstop last night. And people wonder why it's hard to predict the standings.
•

Twins: Send Delmon Young back to the minors, where he might learn to hit.
Most of the preseason stuff I read suggested that Michael Cuddyer should have been the odd man out in the Twins' outfield, with Young joining Carlos Gomez and Denard Span as regulars. The assumption, as I recall, was that Young needs to play regularly if he's going to improve. But even just looking at performance, Young actually out-hit Cuddyer last season. And of course he's seven years younger. So unless someone can demonstrate that Young would develop significantly quicker in the minors, I think you leave him in the majors and let him take his lumps for 450-500 plate appearances this season.
•

Indians: Don't be shy about dumping Travis Hafner in favor of Matt LaPorta.
The Indians have to give Hafner one more shot, and by "shot" I mean at least a couple of months. If not a couple of years, since they still owe him $49 million and he was real good just two seasons ago. As usual, though, there's a lesson here: long-term commitments to sluggardly sluggers often bite you in the backside.
•

Phillies: Break up lefties in the lineup with Jayson Werth.
This one deserves a bit of extra credit for the author's prescience ...
Having replaced lumbering Pat Burrell in leftfield with lumbering Raul Ibanez, the Phillies find themselves with the 3-4-5 part of their lineup batting exclusively from the left side. That will be a major tactical issue late in games, when opposing managers bring in relief specialists to face Chase Utley, Ryan Howard and Ibanez in high-leverage situations. All lefthanded hitters struggle against such lefties as the Braves' Mike Gonzalez and the Mets' Pedro Feliciano. Sliding Jayson Werth (career .374 on-base percentage, .545 slugging versus lefthanders) into the fifth spot ahead of Ibanez would force managers to choose between making pitching change or taking a bad matchup, a decision that will come up repeatedly in the 36 games games Philadelphia plays against its top two division rivals.
Sure enough, that's exactly what happened in the Phillies' very first game, as Mike Gonzalez was able to escape a big ninth-inning jam by retiring a couple of those lefty hitters. I'll bet a silver dollar that Charlie Manuel does eventually break those guys up when a southpaw is starting.
•

Brewers: Trade Prince Fielder, play Mat Gamel instead.
This echoes a suggestion I made last year, I believe. My thought was that Ryan Braun should wind up at first base instead of Fielder, but Gamel -- who was 22 last season and tore up the Double-A Southern League -- would fit in nicely, too. Perhaps as soon as right now. Not that the Brewers should just give Fielder away; after all, he's a fine hitter and he's still cheap. But he doesn't figure to age particularly well, and low-revenue teams simply can't afford to let major league talent waste away in the minors. The Brewers need to either play Gamel or trade him (as they did with LaPorta last summer; you judge how well that worked out).
•

Diamondbacks: Even if he's healthy, Eric Byrnes should be a fourth outfielder.
Well, yeah. I'm mentioning this one only because I love this line: "Energy is good, left turns at first base are better; Byrnes and his .325 career OBP don't provide enough of the latter."
•

Giants: Trade Barry Zito.
As the argument goes, the Giants already have three young starters who are better than Zito (true), they've got Randy Johnson this season (also true), and they've got a couple of hot prospects in the minors who may well be ready in 2010. Well, OK. But what about 2009? And exactly what might the Giants expect in return for a pitcher -- for the sake of argument, we'll say Barry Zito -- who's a No. 5 starter for most clubs but is still owed a gazillion dollars? I say the Giants should keep Zito until the exact moment that they just can't stand to look at him for one more #@&%$ second. And then they release him.
•

Padres: Trade Brian Giles.
Boy, this is a tough one. The Padres have two good hitters and Giles is one of them and the fans probably wouldn't be real thrilled if he got sent along to a contender. On the other hand, Giles is 38 (38!) and the Padres' farm system isn't exactly loaded with prospects. So, yeah: they should trade him for prospects if they can. In fact, anything else should be considered malpractice.