SweetSpot:

Michael Weiner
July, 12, 2011
7/12/11
6:00
PM ET
By
Christina Kahrl
| ESPN.com
Today's BBWAA luncheon was a chance to listen in to what first Commissioner Bud Selig and then subsequently what MLBPA head Michael Weiner had to say on the subject of the state of negotiations on the current CBA, realignment, expanded playoffs, playoff scheduling, and more. Something of a tradition for Bud, this marked the second time in a row that the new union chief addressed the writers, where Weiner was repeating the exercise for the second time.
[+] Enlarge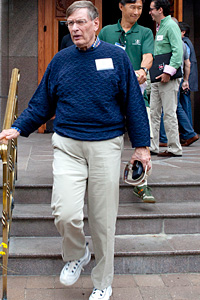 AP Photo/Julie JacobsonBaseball commissioner Bud Selig says fans wouldn't want the league to schedule more doubleheaders.
As it did last year, the exercise reflected something of the two men themselves. Selig was as avuncular as ever, a man with an obvious love of baseball, and a reasonable amount of pride in what has been achieved on his watch. As he tried to impress upon the writers, the game's gross revenues, attendance and ratings have been great, especially in historical terms. Weiner was thoughtful and precise, balancing on a fine line between lawyerly and conversational, but eliminating any possibility that you might misunderstand what the players are for and against.
The fact that the game has enjoyed an unprecedented era of labor peace since the horror of '94 is a credit to the abilities of both the owners and the players to resolve these issues in a way that doesn't take the product off the field. That reflects the virtue of the union's strength as well as Selig's cultivation of a group of owners he can get to act somewhat collectively -- the two sides engage each other as equals and have managed to achieve results that seem equitable. Serious labor issues demand serious negotiation.
Learning about
what
the sides agree and disagree about was the mission today, and several things stood out. First, on the subject of slotting as far as compensation for draft picks, Selig loves it, Weiner and the players, not so much. And internationalizing the draft? Same problem.
While obviously taking up a position that would save owners money, Selig points out his faith in both ideas is born of experience, noting, "I believe in the draft, and I believe in slotting. When (owners) went to the draft in 1965 (it) was to level the playing field. … It was fair. That's what I like about the international draft, to make it fair." Weiner prefaced his comments with noting, "We've agreed not to discuss the substance of the (new) CBA," but also pointedly noted that the union's reliably against restraints upon a player's freedom.
However, that idealistic position is balanced against a certain amount of pragmatism -- when asked if that meant he might seek to get back the year of Rule 5 eligibility surrendered in the last CBA, making more non-union minor leaguers eligible, he pointed out that surrender was coupled to gaining better compensation for minor leaguers on the 40-man roster, and that reflected the give and take of invariably complicated negotiations.
Beyond that, there were a few interesting points brought up:
Asked whether teams might play more double headers to create more off days and shorten the schedule, Bud's answer was an uncomplicated, "No. I'm telling you, fans don't want them."

Selig took up the cause of Derek Jeter and the other absent All-Stars, stating that the only completely absent players are Jeter, plus Alex Rodriguez and Chipper Jones -- the latter pair because both are in the hospital, recovering from surgeries. What I found interesting about this wasn't that Selig offered a great defense of what has happened -- he didn't really -- but that he's an ex-owner and the owners' commissioner, and rather than bang on players, he stood up for them. In baseball, that represents a form of progress.

The commissioner was as oblique as ever on the subject of the stadium situations in the Bay Area and Tampa/St. Pete. Regarding Oakland, he repeated his mantra, "I have a committee, it's a complicated situation," but adding, "I have my own thoughts, but it would be premature to air them." Regarding the Rays' lot and their plummeting attendance while contending, Selig asserted, "The demographics are good. They're a great organization. I agree with Stu Sternberg, we have to be concerned." In a constructive comparison, he noted that in Washington's case, "That took a long time, but it's worked out well. There were a lot of lessons learned."
That doesn't sound reassuring for A's or Rays fans, but Selig shot down any notion of contraction being on the table. And you can expect this to play out one way or another on Bud's watch, because there was almost no credulity lent to the commissioner's assertion that he'll be leaving office once his term runs out in 18 months.
On the All-Star Game and how it has been played since the embarrassing tie of 2002, Selig stated "I like the way the games have been played since 2003. … People do play hard."
July, 28, 2010
7/28/10
4:49
PM ET
As I've said many times -- well, on the rare occasions when it's come up -- when the commissioner does something unblemished by selfishness or commercialism or rank public relations, he deserves credit for it. Like
(via Bob Nightengale):
Major League Baseball, trying to avoid having long underwear as part of its players' postseason apparel, is planning to start the 2011 season in earnest on Friday, April 1 - three days earlier than the traditional Monday opener.
It would be the first time a majority of teams start the season on a Friday since 1905, according to the Elias Sports Bureau.
The regular season would end Wednesday, Sept. 28 with playoffs opening on Sept. 30 or Oct. 1. The World Series is to start Wednesday, Oct. 19, a week earlier than the past two years. It would virtually assure the World Series would not be played in November.
"Anything we could do to finish in October,'' commissioner Bud Selig told USA TODAY, "is what I wanted to do. It shows how serious we are in doing this. I feel very good about it, and am pleased at everybody's reaction.''
Says Michael Weiner, executive director of the Major League Players Association: "Starting the season midweek, as we understand it, will allow for a much better postseason schedule than if we had the season begin on a Sunday night. We think that's a positive step.''Is it unkind to wonder, if this is such an excellent idea -- which it is -- why it took them so long? Yes, it is. Not to mention pointless. At least until someone's able to get all the parties to explain themselves.
This is a good thing.
It's not a
great
thing. The difference between the weather on November 4 and the weather on October 27 is not, generally speaking, going to be a whole lot different, and there's a reasonable chance it will actually be
better
on the 4th.
It's not the
best
thing, either. Essentially, they're trading potentially lousy weather in a few postseason games for potentially lousy weather in a few dozen regular-season games. The measurable benefit of this trade is negligible and perhaps non-existent. The best thing would a shorter season, with fewer games or more doubleheaders or (ideally) both. But that's a non-starter because it means a significant loss of revenue. In case you haven't noticed, neither Major League Baseball nor the Major League Baseball Players Association is in the habit of voluntarily losing revenue.
It's a good thing, though. Baseball's not meant to played in November, in the snow and the sleet and everything else that letter carriers don't notice but baseball players do. Let's not let the perfect be the enemy of the good.