September, 16, 2014
Sep 16
1:03
PM ET
Via Lee Sinins of the
Complete Baseball Encyclopedia
,
Miguel Cabrera
moved into the top 10 for career home runs through his age-31 season.
[+] Enlarge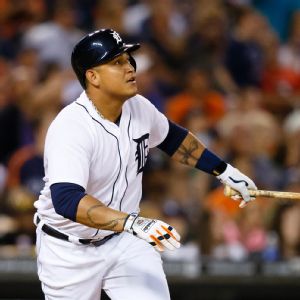 Rick Osentoski/USA TODAY SportsMiguel Cabrera, 31, has 388 career home runs, good for 60th on the all-time list.
The top 10:
1.
Alex Rodriguez
, 518
2. Jimmie Foxx, 464
3.
Ken Griffey Jr.
, 460
4.
Albert Pujols
, 445
5. Eddie Mathews, 422
6. Mickey Mantle, 419
7. Frank Robinson, 403
8. Henry Aaron, 398
9.
Juan Gonzalez
, 397
10. Miguel Cabrera and Mel Ott, 388
Here's how many home runs each of those players hit after age 31:
Rodriguez, 136
Foxx, 70
Griffey, 170
Pujols, 73 and counting (in age-34 season)
Mathews, 90
Mantle, 117
Robinson, 183
Aaron, 357
Gonzalez, 37
Ott, 123
You can see how Aaron became the all-time home run king: It was what he did in his 30s, not his 20s, that propelled him to 755 career home runs.
What does this mean for Cabrera? It's hard to say. We can draw comparisons between the two other first basemen on the list, Foxx and Pujols, but Foxx played way back in the 1930s, so I'm not sure that helps us out much. Pujols hit 40-plus home runs six times between the ages of 23 and 30, none since, but also went to a tougher home run park and his older years have come in a time of better pitching and expanded strike zones.
But it's also clear, with the exception of Aaron, that none of these players aged exceptionally well. Here's the list of most home runs from age 32 on:

1.
Barry Bonds
, 428
2. Babe Ruth, 358
3. Henry Aaron, 357
4.
Rafael Palmeiro
, 336
5.
Mark McGwire
, 306
6. Willie Mays, 292
7.
Andres Galarraga
, 283
8.
Jim Thome
, 278
9. Reggie Jackson, 250
10. Stan Musial, 248
11.
Edgar Martinez
, 247
11. Darrell Evans, 247
13. Hank Sauer, 246
14.
Raul Ibanez
, 236
15. Mike Schmidt, 234
I ran the list down to 15 to get Ibanez on there. Cabrera could match Ibanez's late-career production, right? What if Cabrera hit 234 more home runs? That's an average of 26 per season from ages 32 to 40. That may not seem like a lot for Cabrera, who hit 44 homers in each of the past two seasons, but he's at only 23 this year. He has played through a bad ankle, so it's possible that has affected his output. It's also likely that Cabrera won't be as durable in his 30s as he was in his 20s.
Anyway, 234 more home runs would get him to 622, plus whatever he does the rest of this season. To get to 700, he would have to hit 312, or 35 per season through age 40. That seems like a lot. Remember, as Aaron aged he moved into more favorable hitting conditions -- from Milwaukee to Atlanta -- and then the mound was lowered in 1969, when he was 35. He hit 44 home runs that year and then a career-high 47 at age 37. And let's just say a few of the other names in the top 10 should arguably come with a little asterisk next to their names.
So what do you think? I'd predict Cabrera ends up somewhere just over 600. Given his body type and athleticism, I'm not sure he's going to remain a premier slugger into his late 30s. But he should have enough big seasons left to get him to 600.