March, 1, 2014
3/01/14
3:32
PM ET
By
Christina Kahrl
| ESPN.com
This early, whatever team you're rooting for, the last thing you want is some major buzzkill to change how you feel about the season to come. So if you can spare a moment, give
Minnesota Twins
fans some pity, because the news that top third-base prospect Miguel Sano is
going to miss the season after Tommy John surgery on his elbow
just deleted one of the best reasons to look forward to the 2014 season from their picture.
Let's face it: Year round, everybody loves prospects. It's our anticipation of the new and unknown wrapped around the promise of something better, but in cleats. How good was the outlook? Insider's Dan Szymborski projected Sano as capable of pounding 30 home runs and slugging .471 as a 21-year-old rookie. Who wouldn't want a slice of that to spice up your season at Target Field?
[+] Enlarge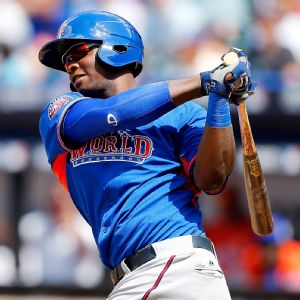 Jim McIsaac/Getty ImagesTop prospect Miguel Sano ripped 35 home runs between Class A and Double-A in 2013.
ESPN injury expert Stephania Bell offers some reassurance to Twins fans. "He should be able to recover fully from this," she stressed. "The return time varies, just as it does with pitchers, but it's typically shorter for a position player -- roughly 8-12 months, but, again, that can vary. For those wondering why he didn't have Tommy John right away when [he] first sprained his elbow last fall, this is consistent with how the injury is managed. Rehab is often the first course, especially since some players can play for a period of time with the injury. Also, the athlete has to buy into an extensive surgery/recovery process."
Anticipating Sano was
part of my own four pack of reasons Twins fans could look forward to this season
; now, that sort of expectation has to be ratcheted back down to waiting for catcher
Josmil Pinto
and hoping that center fielder
Aaron Hicks
recovers from a horrendous rookie season. That's still worth looking forward to, but Sano's power would have done much to make the Twins a much more dangerous lineup.
In the meantime, it isn't like the man Sano was expected to replace at some point this season is chopped liver.
Trevor Plouffe
isn't going to set the world on fire, but the wrist injury that hampered him last season has healed up, so his swing from an OPS around .700 back up towards .750 might seem relatively likely. The guy did belt 24 home runs in 2012 (albeit with an unlikely-to-be-repeated 14.5 percent clip of home runs on fly balls), and he's heading into his age-28 season, still well within a traditional player's peak, arcing from 25 to 29. Maybe the healed wrist helps keep him from being eaten up by fastballs up and in. Projected by Szymborski to deliver a .719 OPS, Plouffe is playable on offense -- the average OPS for third basemen last season was .735. But reports suggesting that Plouffe has bulked up enough to become an increasing defensive liability at the hot corner might send Twins fans on an unwanted return down memory lane with visions of infamously immobile
Ron Coomer
dancing in their head.
Now, sure, Sano will be back, and Twins fans can look forward to seeing him eventually take over at third base. But if spring is supposed to be a time of optimism and renewal, getting this sort of news this early on can only renew a sense that it'll be another case of "wait 'til next season" in the Twin Cities.
Christina Kahrl writes about MLB for ESPN; you can follow her on Twitter.
December, 29, 2013
12/29/13
3:00
PM ET
By
Christina Kahrl
| ESPN.com
It's been a rough three years in Minnesota, as the Twins have bounced around winning 63-66 games and flirting with their first 100-loss season since 1982. But reflecting on what Terry Ryan has been up to this winter, and thinking back on the way the Indians just showed us how a team in the AL Central can sneak up on people and put itself into the postseason picture, there are a few reasons I'm beginning to wonder if the Twins aren't a team that might not just get back into the 70s in wins, but might actually come a bit further than that. Here are my reasons:
Go, Joe!
First off, there's the question of what
Joe Mauer
might be capable of now that he doesn't have to deal with the physical toil of catching. This isn't like Jimmie Foxx or
Paul Konerko
moving out from behind the plate early in their careers. But can Mauer give the Twins, say, a Joe Torre '71-style MVP-caliber explosion at the plate? There's plenty to dream on given what Mauer has been capable of delivering despite catching.
In part because Mauer is heading into his age-31 season, I like to think of Brian Downing as a useful example of what
could
happen. That's because I'm an optimist and because Downing's commitment to his own conditioning was a big part of his ability to sustain his value in his 30s and 40s -- much like a lot of modern players. Downing had just one truly great season as a regular catcher (1979), posting a 142 OPS+ that sticks out in the 109 OPS+ career he posted through 1981. Finally ditching his catching gear for good in his age-31 season, Downing cranked out a 128 OPS+ during the next 11 years, a part of a career where a "normal" player is supposed to decline.
[+] Enlarge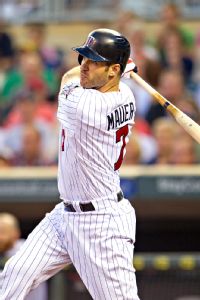 Brace Hemmelgarn/Minnesota Twins/Getty ImagesWill Joe Mauer bust out big at the plate now that he won't have to catch? Twins fans can hope.
Allowing for the fact we don't know the net effect of the physical toll catching has taken on Mauer -- he hasn't had to catch 100 games since 2010 -- his career 138 OPS+ has gone up the past two years (142 OPS+ in 2012-13 combined) as more and more of the backstop duties have been spread around. He may not have another 2009, when Mauer hit .365/.444/.587, in him, but I wouldn't bet against him having his best year since in 2014.
Add in that the Twins have
Josmil Pinto
in the wings after breaking out as an offensive force between Double- and Triple-A the past two years, and have
Kurt Suzuki
lined up to help out, as well, and it's clear that the Twins could net runs on offense on both sides of this transition.
The revamped rotation.
Admitting again to a bit of late-December optimism, I like the Twins going and getting both
Ricky Nolasco
and
Phil Hughes
. Hang the expense -- should anyone weep for Pohlad family money being released into the market? -- and focus on the fact the Twins just shunted aside a big chunk of the rotation that put up a league-low 62 quality starts last season. Coming to Target Field's tough environment for left-handed hitters should help both right-handers: Nolasco's career righty/lefty OPS+ split is 90-110, while Hughes' is 97-103 but was especially rough last year (90-108). Add in some hope that Hughes thrives outside of the media glare in the Big Apple, and you might wind up with a decent one-two punch.
Admittedly, there's no ace, no guy you put up against Verlander or Scherzer or Shields or Sale. And the rest of the rotation is cause for concern.
Kevin Correia
is a decent No. 4 on a mediocre team, and comeback from Tommy John or no, I'm not really sure
Mike Pelfrey
's ever going to be anything more than that himself. But there's a benefit to having a deeper collection of guys capable of keeping games within reach into the sixth inning, and if the competition for the one open slot brings out the best in
Samuel Deduno
or
Andrew Albers
or
Kyle Gibson
, so much the better. If they all rise to the challenge, better still, because if there's one guarantee with pitching, it's that someone's going to get hurt.
The new Twins towers?
OK, so the latter-day M&M boys didn't work so well after Mauer kept losing chunks of his career and
Justin Morneau
never regained his top form after his 2010 concussion. But the Twins have young talent on the way. With Pinto's ready to replace Mauer behind the dish after putting up an .882 OPS last year, the Twins should already have a short-list Rookie of the Year candidate stepping into their Opening Day lineup. But what if he's joined by third baseman Miguel Sano from the outset? After hitting a combined .280/.382/.610 between high Class-A and Double-A while thumping 35 homers, Sano shouldn't need much seasoning -- he's already the real tabasco.
The Twins may opt for a soft landing, introducing Sano and Pinto in late April or early May, after the build-up of expectations and Opening Day have already dissipated. They may even push Sano's arrival back to show that his strained elbow is 100 percent, or to manipulate his service time since he is not yet even on the 40-man roster. But if Sano's healthy, he'll be in the majors in 2014. And that rookie combination is more than just tantalizing for the present, they're two of the building blocks around Mauer primed to deliver contending Twins teams in the back half of this decade.
The old slugs getting slugly.
Josh Willingham
and
Jason Kubel
are both coming off terrible years. I'm not going to pretend there aren't concerns about both men's durability in their 30s, as it is open to question. But if Willingham can come back from his injury-marred 2013 and keeping in mind Kubel's just a year removed from a 30-homer season for the Diamondbacks, it isn't implausible that between the left field and DH slots the Twins might get 50 home runs. That'll make up a lot of ground for low-powered lineup that put up just a .138 Isolated Power number when the AL average was .149 last year.
That's not to say there aren't lingering issues, especially in center field. It takes a good measure of faith in the tarnished prospect status of
Aaron Hicks
to think the Twins are set in center field for the time being. Resorting to journeymen like
Clete Thomas
and
Alex Presley
in the season's final third wasn't how things were supposed to wind up, and Presley doesn't really have the glove to handle the job on an everyday basis.
So right now, the Twins are best off if Hicks comes to camp and quickly shows that he's ready to bounce back from the sub-.600 OPS he put up before a demotion and injuries helped end his season early. He shouldn't be discounted: A year ago Hicks was on top 100 prospect lists after putting up an .844 OPS in Double-A, he's only just turned 24, and he can handle center. He's going to be challenged to beat out Presley in camp, a classic case of putting a modest obstacle in front of a prospect with something to prove; ideally, Hicks will rise to the challenge.
Failing that, the field opens up for desperation moves, like resigning themselves to Presley, mulling the merits of someone available on the market (defensive whiz
Sam Fuld
is still out there), or maybe even giving a non-roster guy like former A's prospect Jermaine Mitchell a look. And if that doesn't work out? Twins fans are going to have to hope that blue-chipper Byron Buxton keeps making jumps up the farm system's ladder at least two rungs at a time after tearing his way up to high Class-A in his first full season last year. Which is another way of saying that Hicks has no time to waste getting back in gear, because by 2015 the future may no longer belong to him.
Now, I admit, that's a lot of ifs and maybes; it goes with the territory at this time of year. But a lineup that should have the benefit of adding Sano and Pinto and perhaps even a redeemed Hicks would be a radical change from the recent rut the Twins have been in.
Christina Kahrl covers baseball for ESPN.com. You can follow her on Twitter.
July, 14, 2013
7/14/13
5:02
PM ET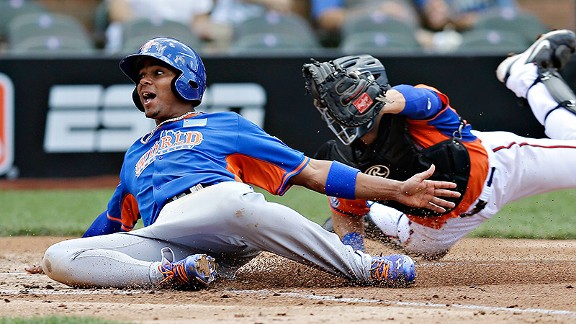 AP Photo/Kathy WillensXander Bogaerts scored the World's second run on a sacrifice fly in the fourth inning.
NEW YORK -- Quick thoughts on Sunday's Futures Game at Citi Field, where a good time was had by all, except those fans who missed three innings standing in line at the Shake Shack.
Xander Bogaerts had two hits -- a hard grounder up the middle and then a line drive to center -- and you wonder if he'll play his way onto the Red Sox roster before September. He's hitting .294/.390/.489 overall and .260/.353/.462 in 29 games in Triple-A. Considering Brock Holt is currently playing third base with Stephen Drew injured and Jose Iglesias playing shortstop, there is potentially room for him. He's just 20 and there's no need to rush him, but he possesses a mature approach at the plate. Before the game, he talked about how he tries to be patient in looking for his pitch to hit, and he's drawn 50 walks in the minors. The biggest question is about his defense: He's playing shortstop now at Pawtucket, but would most likely play third if called up and doesn't have much experience there (just two games in the minors). As he continues to fill out his 6-foot-3 frame, some believe he'll eventually have to move to third, although I think he'll have to play himself off shortstop. We've seen big shortstops remain there -- Cal Ripken, Derek Jeter, Alex Rodriguez, Jhonny Peralta -- so don't assume Bogaerts moves.
There was a consensus that Miguel Sano put on the most impressive display in batting practice as he showed off his raw power, but Astros shortstop Carlos Correa, last year's No. 1 overall pick over Byron Buxton, was also very impressive (Unfortunately, Correa didn't get an-bat and was left standing on deck to end the game.). Sano walked and got hit by a pitch in his four plate appearances, but seeing him and Buxton on the same field together (albeit for different teams) made it fun to project them hitting 3-4 for the Twins in a couple of years. Buxton struck out in both of his at-bats, but made a nice read on Sano's deep liner to center in the ninth, gliding back to make a somewhat difficult play look routine.
Padres catcher Austin Hedges gunned down Bogaerts trying to steal in the first inning, showcasing the arm that has him rated as the consensus best defensive catcher in the minors. Jim Bowden compared the arm strength and quick release to Johnny Bench and Pudge Rodriguez -- and obviously you can't get any higher praise than that.
As a Mariners fan, it was fun to watch Taijuan Walker in person for the first time: big frame, 97 mph fastball, nice, easy motion. As Jason Churchill has written, however, Walker noticeably slows down his arm and entire delivery when throwing his curveball, something he'll have to fix before he gets to the big leagues. He's not on the Mariners' 40-man roster right now, and I'd be surprised if he gets called up this year.
After seeing Red Sox pitcher Anthony Ranaudo struggle Wednesday in the Eastern League All-Star Game (walk, walk, home run, walk, to the first four batters he faced), he struggled again Sunday, giving up two runs in two-thirds of an inning. Not that you can draw any conclusions from two short outings in All-Star Games, but Ranaudo's fastball command doesn't look major league ready (he's walked 32 in 91 innings at Double-A Portland). The Red Sox may be looking for help in the rotation, but Ranaudo isn't the guy just yet.
Diamondbacks third-base prospect Matt Davidson lofted a two-run homer to left-center off A's pitcher Michael Ynoa in the fourth. Davidson, the 35th overall pick in 2009, has power potential (23 homers last year, 14 for Triple-A Reno), but the hit tool is the question. He's fanned 100 times (with 32 walks) in 90 games at Reno. And while his .291 average looks impressive, Reno is hitting .284 as a team, and Davidson is hitting .318 at home compared to .262 on the road. Davidson will need to cut down on the K's before he can be projected as a big league regular. Ynoa just recently got promoted to high A ball and struggled in his one inning, giving up three hits, two runs and a walk.
Joc Pederson, Dodgers outfielder, normally plays center, but was in left field and nearly threw Bogaerts out at home in the fourth inning with a strong throw from medium-deep left (albeit a little off line). With Yasiel Puig's emergence, Pederson is prime trade bait if the Dodgers look to make another move following the Ricky Nolasco trade.
Diamondbacks right-hander Archie Bradley looked impressive in an 1-2-3 inning and showcased a Nolan Ryan-like leg kick. There's an outside shot that Arizona will call him up in September, similar to what they did two years ago with Jarrod Parker.
It was a good day for the Mets as well, as Noah Syndergaard and Rafael Montero, both pitchers in their system, drew the starts and pitched scoreless innings. Syndergaard showed a 97 mph fastball that has made him one of the biggest risers among pitching prospects this season. Mets fans can dream ... Matt Harvey, Zack Wheeler, Syndergaard, Montero. Now, about their hitting ...
June, 4, 2013
6/04/13
3:00
PM ET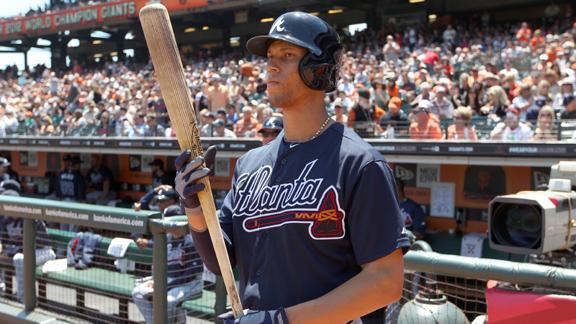 The
Franchise Player Draft has been completed
, so it's time for Eric Karabell and myself to continue our tradition of doing the second round. All picks were made by Eric and myself, not the franchise "owners," so yell at us, not them. Eric made all the odd-numbered picks and I made the even-numbered picks.
And, no, I did not draft
Eric Hosmer
.
31. Keith Law (David Price): Oscar Taveras.
KLaw knows a few things about prospects, and Taveras was his No. 2 guy entering the season, after the already chosen
Jurickson Profar
.
32. Manny Acta (Jose Bautista): Matt Moore.
Bautista is a win-now type of building block, but so is Moore, a 24-year-old with terrific stuff, hasn't been overworked and has as good a chance as anybody to be the best pitcher in baseball over the next five years.
33. Eric Karabell (Andrelton Simmons).
Carlos Gonzalez
. Defense in Round 1, offense in Round 2. And even if this mythical team doesn't play its home games at Coors Field, note that CarGo is hitting better on the road this season.
34. Jonah Keri (Joe Mauer): Madison Bumgarner.
Hard to believe that he doesn't turn 24 until August, but he already has two World Series rings and two 200-inning seasons. He's so efficient that he should be a 200-inning guy for years to come.
35. Scott Spratt (Felix Hernandez): Jean Segura.
I'll admit I considered Segura late in Round 1, but instead opted for the elite defense of Simmons. Segura won't hit .350 all year, but he's not a bad pick at this spot.
36. Jim Bowden (Stephen Strasburg): Jordan Zimmermann.
Hey, don't blame Strasburg and Zimmermann for the Nationals' problems this year! Jim was the Nationals' GM when the club selected him in the second round of the 2007, so he's happy to snag him again.
37. Paul Swydan (Jurickson Profar): Matt Wieters.
Build teams up the middle! Wieters remains a building-block player, despite a slow start to 2013.

38. Curt Schilling (Shelby Miller): Paul Goldschmidt.
Too early for a first baseman? Maybe, but Goldschmidt is more than just a slugger. He's an elite defender at first, swipes some bases, and at 25 is entering his prime years.
39. Mark Simon (David Wright): Zack Wheeler.
Well, Mark is, after all, a Mets fan. And pretty soon Wheeler will have many fans.
40. Justin Havens (Ryan Braun): Prince Fielder.
A relatively safe pick considering Fielder's durability and on-base skills. Plus, Justin can now watch that 2011 Brewers highlight DVD that has been collecting dust.
41. Orel Hershiser (Justin Upton): Adam Wainwright.
OK, so maybe the Cardinals right-hander has never tossed 59 consecutive scoreless innings, but he's pretty good.
42. David Schoenfield (Troy Tulowitzki): Miguel Sano.
Prospects are overrated! Plus, Sano is only in Class A ball, you say? Sure, but he'll be in Double-A soon, putting him on track for a midseason promotion to the Twins in 2014. And then my future third baseman will start winning home run titles.
43. Mike Greenberg (Matt Kemp): Chris Davis.
Well, at least one of these sluggers is healthy and producing. And Davis does look legit.
44. Mike Golic (Dustin Pedroia): Elvis Andrus.
With that double-play duo behind them, the pitchers on Golic's team will be very happy pitchers. Well, assuming the outfield doesn't consist of
Raul Ibanez
,
Lucas Duda
and
Mike Morse
.
45. Richard Durrett (Justin Verlander): Adam Jones.
This elite center fielder looks even better than his breakout 2012.
46. Christina Kahrl (Jason Heyward): Xander Bogaerts.
He probably doesn't stick at shortstop, but he's going to hit at whatever position he plays. Plus, his name starts with an X, and he'll be better than Xavier Nady.
47. Buster Olney (Robinson Cano): Clay Buchholz.
Olney got a close-up look at Buchholz on Sunday night at Yankee Stadium, and had to be impressed. Perhaps he can build an entire fake team with all Yankees and Red Sox.
48. Dan Szymborski (Yu Darvish): Carlos Santana.
We're not privy to the super secret ZiPS projection system that Dan keeps stored in a bank vault somewhere in Maryland, but we have to think it likes a catcher with power and on-base skills.
49. Jon Sciambi (Giancarlo Stanton): Yasiel Puig.
Could be 80 home runs from this duo in 2014. Or, we suppose, fewer.
50. Mike Petriello (Andrew McCutchen): Yadier Molina.
Talk about building up the middle. Molina turns 31 in July and caught a lot of games before turning 30, so there's risk that he won't hold up. But he's the kind of guy you take a risk on.
51. C.J. Nitkowski (Joey Votto): Austin Jackson.
Terrific center fielder and leadoff hitter could have gone in the first round. It's tougher to find an all-around center fielder than a first baseman.
52. Alex Cora (Miguel Cabrera): Chris Sale.
Some believe he's an arm injury waiting to happen, but there's no denying he's one of the best starters in the game.
53. Tim Kurkjian (Matt Harvey): Wil Myers.
One future Cy Young winner is set, and here comes the prototypical slugging right fielder to join him. If the Rays would just cooperate and promote him.
54. Jim Caple (Yoenis Cespedes): Matt Cain.
We know Caple loves those West Coast guys, so let's give him Cain, who is still just 28. Don't overreact to his current 5+ ERA. He'll be fine.
55. Dave Cameron (Evan Longoria): Mike Zunino.
Mariners fan gets the next great Mariner. Thought about giving him
Dustin Ackley
or
Jesus Montero
, picks from last season, but that seemed a bit unfair.
56. Molly Knight (Clayton Kershaw): Cole Hamels.
What's wrong with Hamels? As with Cain, let's not overreact to two subpar months. A rotation with these two lefties would look pretty sweet.
57. Jayson Stark (Buster Posey): Jose Fernandez.
Future ace has certainly impressed as a rushed rookie this season.
58. Aaron Boone (Manny Machado): Starling Marte.
He's playing left field for the Pirates, but could easily move to center, giving Aaron two elite young defenders who have some ability at the plate as well.
59. Doug Glanville (Bryce Harper): Starlin Castro.
What a fall from grace! A year ago the
Chicago Cubs
shortstop was the ninth overall selection in Round 1. Now he barely gets chosen at all. I have to admit, he doesn't seem to be growing at the plate or in the field, but Glanville probably has more patience.
60. Jerry Crasnick (Mike Trout): Mark Appel.
Jerry loves
Dylan Bundy
, but he was just recently cleared to start throwing for the first time since late March. So let's go off the board and give him a guy who hasn't even started his professional career yet. Thanks us later, Jerry.