January, 24, 2013
1/24/13
1:35
PM ET
Right now, the
New York Mets
' website lists their starting outfield as
Lucas Duda
in left field,
Kirk Nieuwenhuis
in center and
Mike Baxter
in right. Not exactly Mooke, Lenny and Darryl, let alone Upton, Upton and Heyward or Harper, Span and Werth. You can see why the Mets
may be interested
in
Michael Bourn
. The conflict there is the Mets own the 11th pick in the draft -- but only the top 10 are protected, so the Mets would lose that first-round pick if they sign Bourn.
Last year, the Mets' outfield accumulated 4.1 WAR via FanGraphs -- 29th in the majors, just ahead of the Astros. Now, some of that responsibility fell to
Jason Bay
(.165 in 215 plate appearances), but Duda was the biggest negative, primarily thanks to his terrible defense in right field. Duda is really a first baseman, except he doesn't really hit like a first baseman, not with a .239/.329/.389 line.
[+] Enlarge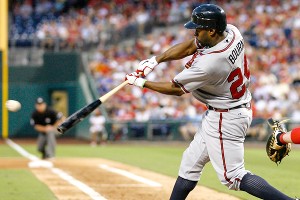 Brian Garfinkel/Getty ImagesUnlikely to be in contention for a few more seasons, it would not make sense for the Mets to sign Michael Bourn.
Niewenhuis flashed some potential but with 98 strikeouts in 314 plate appearances, he'll need to improve his contact rate to become anything more than a fourth outfielder. Baxter is a journeyman/4-A type of player and at 28 isn't going to get better. He'll take a few walks but won't give you the power you want from a right fielder.
Collin Cowgill
and
Jordany Valdespin
are also hanging around. As you can guess, there isn't a lot of upside here.
Even worse, the two most productive Mets' outfielders from 2012 are gone.
Scott Hairston
provided power in a part-time role and
Andres Torres
at least played decent defense in center. Could this end up being a historically awful outfield?
Over the last 10 seasons, FanGraphs rates the 2004 Royals as the worst, with a cumulative -2.2 WAR. That group featured
Carlos Beltran
for half a season and a rookie
David DeJesus
, who was about a league average hitter in 413 PAs.
Matt Stairs
played a lot out there and hit OK but killed them defensively and
Dee Brown
and
Abraham Nunez
each had more than 200 PAs with OBPs around .300.
Juan Gonzalez
even played a few games out there. That's past-his-prime Juan Gone. Certainly a pretty uninspiring group, especially after Beltran was jettisoned off to Houston.
The second-worst outfield is a bit of a surprise: The 2005 Yankees, with
Hideki Matsui
,
Bernie Williams
and
Gary Sheffield
, at -2.2 WAR. Bernie didn't hit but the other two did and collectively the Yankee outfield had a wRC+ of 101, so it was about a league average group offensively. But FanGraphs rates those three as -70 runs on defense and others who filled in (
Tony Womack
,
Bubba Crosby
,
Ruben Sierra
) as another -27. Defensive Runs Saved isn't quite as harsh with a collective -65 runs, but it was clearly one of the worst defensive outfields ever assembled. The Yankees managed to win 95 games anyway.
Third worst on the FanGraphs list is the 2007 White Sox, which ... well, it was a terrible group, with
Scott Podsednik
and
Rob Mackowiak
in left;
Jerry Owens
,
Darin Erstad
and
Luis Terrero
each starting at least 24 games in center; and
Jermaine Dye
(-27 Defensive Runs Saved) in right. Dye didn't even hit much that year, with a .317 OBP.
If we're talking strictly offense, the group with lowest wRC+ is the 2011 Mariners (the 2012 Astros being next-lowest), which no surprise to Mariners fans reading this. Mariners outfielders hit .235 with a .285 OBP. That's bad for a glove-first shortstop let alone an entire outfield.
The Mets' outfield won't be
that
bad. But I don't see the point in signing Bourn and losing that first-round pick. The Nationals and Braves have built powerhouse franchises for 2013 and beyond. The Mets aren't likely to sniff the playoffs this year, even the second wild card. Maybe by 2014 or 2015 they can contend around a great rotation as
Matt Harvey
and
Zack Wheeler
mature, but how productive will Bourn still be in two or three years? There's no doubt Bourn would help some of those young starters race down some mistakes in center, but at what cost? Considering his age, strikeout rate and a game built around speed, if Bourn loses a couple steps the decline could be rapid.
While I can understand the rationale in signing Bourn to improve the defense, unless you can get him at a steep discount (less than what the Braves paid
B.J. Upton
, for example), I say pass.
July, 30, 2012
7/30/12
1:52
PM ET
Wait, who let Karabell take a vacation during trade deadline week? Mark Simon and myself hosted Monday's
Baseball Today podcast
as we discussed Power Rankings, the trade deadline and more!
1. We review the
Zack Greinke
trade from Friday and his performance on Sunday. It was a good debut but it proved to be an even bigger weekend for the Rays.
2. We discuss the rumors with the Phillies and why
Hunter Pence
to the Giants may not make sense and why
Josh Johnson
to anywhere may not happen.
3. Everybody wants to trade Mike Olt, it seems. Except the Rangers. Maybe they should just call him up and put him in the lineup.
4. Power Rankings: We agree pretty much on the top five but then it gets messy. One of us believes more in the A's.
5. Emails include the biggest one-season increases and decreases in WAR, the Phillies' rotation and which major leaguers would make great Olympic athletes.
Plus we preview Monday's action. Check it all out on Monday's Baseball Today podcast.
April, 10, 2012
4/10/12
8:00
AM ET
News and notes from Monday's action that won't mention the Red Sox and Yankees showed great grit and determination by finally winning a game ...
First base: Barry good.
After an 0-3 start following three one-run losses to the Diamondbacks, the Giants turned to
Barry Zito
against the Rockies at Coors Field. Of course, he threw his first shutout since 2003 and became just the second left-hander to ever throw a shutout there --
Tom Glavine
having done it twice. Even more amazing may have been
this 11-pitch at-bat Zito mustered off Esmil Rogers
. With
Buster Posey
and
Brandon Belt
getting the day off the Giants fielded a lineup with
Aubrey Huff
batting cleanup,
Hector Sanchez
fifth and
Brandon Crawford
seventh. Don't worry, Giants fans: Bruce Bochy said Belt will be back in the lineup when the teams meet again on Wednesday.
Second base: Mets win as Nationals throw it away.
I wrote on Sunday about the Mets' patient approach at the plate. They drew six walks on Monday and
Mike Baxter
's pinch-hit leadoff walk off
Henry Rodriguez
in the bottom of the ninth led to the winning run.
Ruben Tejada
laid down a two-strike bunt that Rodriguez threw away to put runners at second and third.
Daniel Murphy
then singled in Baxter for a 4-3 win.
Jon Rauch
threw two hitless innings for the win and the Mets bullpen has allowed just one run in 13.1 innings so far.
Third base: Red-hot Fredi.
The curious lineup decision of the night belonged to Braves skipper Fredi Gonzalez. He benched
Jason Heyward
to get
Matt Diaz
into the lineup, since Diaz was 8-for-15 in his career against
J.A. Happ
. I suppose playing Diaz is reasonable. But he could have easily moved
Martin Prado
to third base and put Diaz in left field. Instead, he kept
Juan Francisco
-- like Heyward a lefty swinger -- in the lineup. Gonzalez's rationale? He wanted to see to how Francisco would fare against a left-handed pitcher in case he's needed later in the season if
Chipper Jones
can't go. Umm, OK. But why bench Heyward in the season's fourth game? He was 2-for-10 with two walks, a double and triple, hardly a reason to give him a day off. Heyward is still a 22-year-old with superstar potential. Those guys need to play every day. Anyway, the Braves lost 8-3 to the lowly Astros, committed four errors (three by Francisco, the guy Gonzalez
had
to get in the lineup), they're 0-4 and Gonzalez is undoubtedly the manager on the hottest seat in the bigs right now.
Home plate: Tweet of the day.
I hope Ozzie Guillen clears up His Castro comments. My dad took us away from Cuba for better life in USA.Glad he did.

— Jose Canseco (@JoseCanseco) April 10, 2012