September, 6, 2012
9/06/12
1:35
AM ET
By
Christina Kahrl
| ESPN.com
"That really pops" is usually a phrase you're more likely to see on Bravo than ESPN. But these days, it's what you can say about the Nationals' lineup, because for a second consecutive night, it put up another power display that might have made you wonder whether they'd really put away the batting cages.
There were six home runs hit off Nats bats Tuesday and then the six more they hit Wednesday. Checking with Baseball-Reference.com can tell you that a team has done that just twice before since 1918. The Dodgers did it June 29 and 30, 1996, in Denver, in Coors Field, pre-humidor -- although even that is not doing the trick at altitude so much anymore, a story for another night. And the other time? That was in 2003, by the Angels against the Expos in rinky-dink Hiram Bithorn Stadium in Puerto Rico. Two crazy parks where crazy stuff was supposed to happen.
The Nats have been their own kind of crazy, but it has had nothing to do with the dimensions of Nationals Park. Starting with the "now you see him, but soon you won't" saga of
Stephen Strasburg
, they've been nothing but fun from Opening Day on, to
Bryce Harper
's lauded arrival and beyond. Want some sour grapes? You can keep sniping about
Jayson Werth
's paydays, although with an on-base percentage better than .400, he's a 6-foot-6 leadoff man who delivers what's needed instead of being a tower of power. A pitching staff whiffing 22 percent of opposing hitters, third best in the league? A lineup that ranks third in homers hit?
Gio Gonzalez
notches his 18th win Wednesday to keep pace with
R.A. Dickey
for the league lead? Gotta squeeze that in there somewhere, too.
Put all of that together, and the Nats have been as action-packed as any team in the league. And if you need off-field drama, how about a war of words between general manager Mike Rizzo and manager Davey Johnson? That's the sort of thing that might make you wonder whether chemistry is just something you talk about when all the other stuff isn't happening.
But it's the power that deserves the headline right now. Perhaps the signature slugging feat in Wednesday's cornucopia of clouts was Harper's pair of home runs. Maybe that can help end worries that his second-half slump will be something he'll have to carry into October. After a low-wattage July (during which he powered just one homer and had a .313 slugging percentage), followed by a fading walk rate in August but better bopping (six homers), Harper seems to be slowly asserting his ability to dominate at the plate. Before Wednesday, he'd been OPS'ing at a .999 clip since Aug. 17. You can parse any hot streak to make a man a statistical hero, of course, but ESPN Stats & Information provides a peek at where he's been doing damage lately.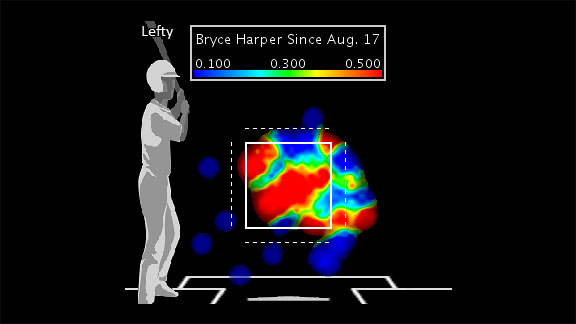 ESPN Stats & InformationBryce Harper's heat map during his recent hot streak.
That's a lot of red, of course, but it's also interesting that he's clobbering stuff on the outside corner as well. For more on that, check out
Stats & Info's blog post
from Wednesday night's action.
Harper hasn't been the only hero, however. First baseman
Adam LaRoche
, so long the target of derisive "he's so average" catcalls from the stathead community, combined for three across Tuesday and Wednesday nights. In a day and age when he was dismissed for not being
Albert Pujols
, he's leading National League first basemen in home runs with 28, his highest single-season tally since 2006, when he belted 32 bombs and slugged .561. That helped him catch the eye of the Pirates, who dealt him for
Mike Gonzalez
and
Brent Lillibridge
, a lose-lose move that might turn up only in a never-to-be-released Braves documentary, "John Schuerholz: The Blunder Years." As a Pirate, Red Sox, Brave and Diamondback through 2010, LaRoche slugged .478, with a mediocre isolated slugging number of .208. But this year, he's the resident steady Eddie in the Nats' lineup while coming back from an injury-ruined 2011. Even now, he's managing to be a background hero on a power-laden lineup, but that's a nice problem to have.
Now, admittedly, a good chunk of the Nats' feat is just the genuine pleasure big league hitters will get stepping in against these Cubs these days. They're on an 8-26 tumble since July 31, and this isn't Wrigleyville's midseason staff with
Ryan Dempster
and
Matt Garza
or even
Paul Maholm
out there. Instead, it's the legacy of former GM Jim Hendry's player development program on display, as Theo Epstein's management crew riffles through the farm system's upper-level options in a pitch-or-ditch test to see what the team has to work with. The Nats aren't going to be stepping in against
Blake Parker
or
Chris Rusin
or
Rafael Dolis
in October, after all.
Even so, the Nationals have a lineup packed with top-to-bottom power, and guess what? They get to face the Cubs again Thursday. Could a team hit six or more homers three nights in a row? As with so much else about this club, you can ask, "Why
not
the Nationals?" Look around and then look back, because on the baseball landscape, face it, the Nats just pop.
PHOTO OF THE DAY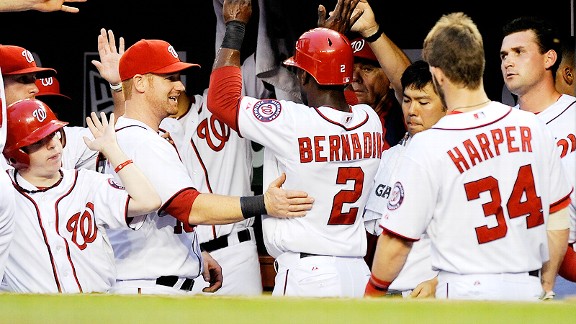 Patrick McDermott/Getty ImagesRoger Bernadina may well be coming back to the dugout asking who hasn't hit a home run lately.
Christina Kahrl covers baseball for ESPN.com. You can follow her on Twitter.
September, 1, 2011
9/01/11
2:23
PM ET
Things got a tad out of hand on Thursday's
Baseball Today podcast
with myself and Keith Law, but really, in a good and fun way. I think. Anyway, with apologies to Justin Timberlake -- don't ask -- here were some of the topics:
1. We took a closer look at some of the interesting Wednesday games, from the
Dan Haren
-
Felix Hernandez
duel to the NL West race, Yankees-Red Sox and
Ryan Braun
falling down.
2. Is
Conor Jackson
a good fit for the Red Sox? A few more veterans were sent to contenders late Wednesday, but a certain lefty reliever for the defending AL champs could really make a difference.
3. Today on "Cinema Today" we delve into why movies don't follow the exact facts. Hey, it bothers me!
Scott Hatteberg
better hit left-handed in the upcoming "Moneyball" movie.
4.
Craig Kimbrel
breaks the rookie save record! How awesome! But we manage to bypass that meaningless tidbit to discuss a bigger, more critical picture involving the right-hander and his pals.
5. Thursday's schedule is highlighted by the lure of young Tigers right-hander
Jacob Turner
and the potential ugliness of an
A.J. Burnett
disaster. Why not watch each?
Plus: Excellent emails, more about the runs scored statistic, building the perfect new stadium, video in the minor leagues and a whole lot more -- with cat noises -- on a packed Baseball Today for Thursday! Check in Friday as I'm joined by Mark Simon and send emails to baseballtoday@espnradio.com!
April, 15, 2011
4/15/11
12:59
AM ET
Hey, I love blaming the manager. You love blaming the manager. It's as much a part of baseball as peanuts, Cracker Jack and questioning every home run hit from 1993 to 2005, except those hit by
David Eckstein
.
So let's go around one night in baseball and play the newest SweetSpot game, coming soon to GSN, "I Could Do A Better Job, If Only I Weren't Sitting On My Couch Blogging Instead."
The move:
Marlins manager Edwin Rodriguez brings in
Leo Nunez
to close out a 6-5 lead against the Braves.
What happened:
Nunez got the job done, giving up a leadoff line-drive single to
Alex Gonzalez
, but escaping further damage.
My take:
Nunez is a mediocre reliever (4.37 career ERA) who lucked into the Marlins' closer role a couple seasons ago -- and held on to it despite allowing 13 home runs. I would have kept
Clay Hensley
in the game. Hensley, so dominant last season (2.16 ERA, 1.11 WHIP, only three home runs), threw five pitches in the eighth inning in recording the game's two biggest outs,
Dan Uggla
and
Jason Heyward
, leaving the bottom of the order for Nunez. Even then, Nunez was lucky to escape without a blown save. After Gonzalez's single,
Freddie Freeman
laced a liner into deep right-center that
Scott Cousins
made a nice running catch on. A couple more feet and it's a tie game.
The move:
Twins manager Ron Gardenhire takes out
Carl Pavano
after eight shutout innings, brings in
Joe Nathan
to protect a 2-0 lead against the Rays.
What happened:
Double, walk, two-run double, game tied. Twins lose in the bottom of the 10th when
Matt Capps
blows another lead.
My take:
Two years ago, before Nathan blew out his elbow, this move wouldn't have been questioned, of course, as Nathan was one of the most dominant closers around. But he's not Joe Nathan anymore. His fastball, 93-94 mph before the injury, has been averaging 91 this season. Pavano had thrown just 104 pitches and allowed four hits and two walks. He'd retired the side in order in the eighth, including a strikeout of
Johnny Damon
. He's a workhorse. Leave him in.
The move:
Buck Showalter has
Mike Gonzalez
pitch to
Nick Swisher
with runners at second and third and one out in the bottom of the 10th inning.
What happened:
Swisher hits a sac fly to give the Yankees a 6-5 win.
My take:
I wholeheartedly agree with this move. Not a big fan of the intentional walk to set up the double play, as it forces the pitcher to throw a strike -- and the hitter knows it. (Last season, batters hit for a higher average and more power with the bases loaded than with runners on second and third.) Plus, in this specific case you have a high strikeout batter (Swisher struck out 139 times in 2010) and a pretty good strikeout pitcher in Gonzalez. The argument for walking Swisher would be to set up a double play with
Jorge Posada
, but last season Posada grounded into a double play in only 7 percent of his possible opportunities (14 percent in 2009). And Gonzalez isn't a groundball pitcher, so a double play would have been unlikely. Sometimes the right move just doesn't work. (Now, if you want to argue whether
Kevin Gregg
should be Baltimore's closer. …)
The move:
Eric Wedge hits
Adam Kennedy
cleanup for the Mariners. Kennedy had started at cleanup once before in his career.
What happened:
Kennedy drives in Seattle's lone run in a 5-1 loss to Kansas City! Shockingly, a lineup with Adam Kennedy hitting cleanup struggled to score runs.
My take:
Look, I know why Eric Wedge did this: He doesn't want to bat
Justin Smoak
cleanup, presumably to take "pressure" off him. Hey, I don't know if Smoak is going to be any good. He's easily been Seattle's best hitter so far (cough) and whether he turns out to be a big-time hitter will have nothing to do with where he bats in the lineup. Either he can hit major league pitching or he can't. And I know this: the only way Seattle will ever be a good team again is if Justin Smoak develops into a cleanup hitter. At some point you have to take the training wheels off and let the kid ride or fall.
So there you go. One night in baseball. Sometimes the moves work, sometimes they don't, and sometimes they just confuse us. But in the end I tend to believe it's the ballplayers who win and lose the games.
It's just more fun to blame the manager.
PHOTO OF THE DAY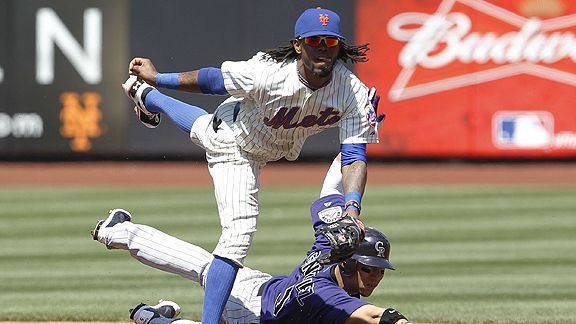 William Perlman/THE STAR-LEDGER/US PresswireJose Reyes was able to get out of the way of CarGo. The Mets couldn't avoid the Rockies, though.
April, 15, 2009
4/15/09
11:21
AM ET
Not much blogging yesterday (or today) because I foolishly left my wireless card at home, which left me stuck on a train to Seattle for four hours with no Internet access (back to "normal" tonight). On a happier note, I spent some of those four hours (finally) reading Sports Illustrated's baseball preview, which includes a "modest proposal" for every club (all of which were "compiled" by Joe Sheehan, one of our friends over at
Baseball Prospectus
). Running through a few of the more interesting proposals:
•

Red Sox: Use Jed Lowrie as leadoff man rather than Jacoby Ellsbury.
I love the idea. Lowrie was pretty good last year despite a wrist injury that sapped his strength for much of the season. He played exceptionally well in spring training. And now his wrist is hurting again, so he's not going to be playing shortstop -- let alone leading off -- for quite some time, it seems. Julio Lugo's out, too. Nick Green played shortstop last night. And people wonder why it's hard to predict the standings.
•

Twins: Send Delmon Young back to the minors, where he might learn to hit.
Most of the preseason stuff I read suggested that Michael Cuddyer should have been the odd man out in the Twins' outfield, with Young joining Carlos Gomez and Denard Span as regulars. The assumption, as I recall, was that Young needs to play regularly if he's going to improve. But even just looking at performance, Young actually out-hit Cuddyer last season. And of course he's seven years younger. So unless someone can demonstrate that Young would develop significantly quicker in the minors, I think you leave him in the majors and let him take his lumps for 450-500 plate appearances this season.
•

Indians: Don't be shy about dumping Travis Hafner in favor of Matt LaPorta.
The Indians have to give Hafner one more shot, and by "shot" I mean at least a couple of months. If not a couple of years, since they still owe him $49 million and he was real good just two seasons ago. As usual, though, there's a lesson here: long-term commitments to sluggardly sluggers often bite you in the backside.
•

Phillies: Break up lefties in the lineup with Jayson Werth.
This one deserves a bit of extra credit for the author's prescience ...
Having replaced lumbering Pat Burrell in leftfield with lumbering Raul Ibanez, the Phillies find themselves with the 3-4-5 part of their lineup batting exclusively from the left side. That will be a major tactical issue late in games, when opposing managers bring in relief specialists to face Chase Utley, Ryan Howard and Ibanez in high-leverage situations. All lefthanded hitters struggle against such lefties as the Braves' Mike Gonzalez and the Mets' Pedro Feliciano. Sliding Jayson Werth (career .374 on-base percentage, .545 slugging versus lefthanders) into the fifth spot ahead of Ibanez would force managers to choose between making pitching change or taking a bad matchup, a decision that will come up repeatedly in the 36 games games Philadelphia plays against its top two division rivals.
Sure enough, that's exactly what happened in the Phillies' very first game, as Mike Gonzalez was able to escape a big ninth-inning jam by retiring a couple of those lefty hitters. I'll bet a silver dollar that Charlie Manuel does eventually break those guys up when a southpaw is starting.
•

Brewers: Trade Prince Fielder, play Mat Gamel instead.
This echoes a suggestion I made last year, I believe. My thought was that Ryan Braun should wind up at first base instead of Fielder, but Gamel -- who was 22 last season and tore up the Double-A Southern League -- would fit in nicely, too. Perhaps as soon as right now. Not that the Brewers should just give Fielder away; after all, he's a fine hitter and he's still cheap. But he doesn't figure to age particularly well, and low-revenue teams simply can't afford to let major league talent waste away in the minors. The Brewers need to either play Gamel or trade him (as they did with LaPorta last summer; you judge how well that worked out).
•

Diamondbacks: Even if he's healthy, Eric Byrnes should be a fourth outfielder.
Well, yeah. I'm mentioning this one only because I love this line: "Energy is good, left turns at first base are better; Byrnes and his .325 career OBP don't provide enough of the latter."
•

Giants: Trade Barry Zito.
As the argument goes, the Giants already have three young starters who are better than Zito (true), they've got Randy Johnson this season (also true), and they've got a couple of hot prospects in the minors who may well be ready in 2010. Well, OK. But what about 2009? And exactly what might the Giants expect in return for a pitcher -- for the sake of argument, we'll say Barry Zito -- who's a No. 5 starter for most clubs but is still owed a gazillion dollars? I say the Giants should keep Zito until the exact moment that they just can't stand to look at him for one more #@&%$ second. And then they release him.
•

Padres: Trade Brian Giles.
Boy, this is a tough one. The Padres have two good hitters and Giles is one of them and the fans probably wouldn't be real thrilled if he got sent along to a contender. On the other hand, Giles is 38 (38!) and the Padres' farm system isn't exactly loaded with prospects. So, yeah: they should trade him for prospects if they can. In fact, anything else should be considered malpractice.