October, 24, 2012
10/24/12
1:17
AM ET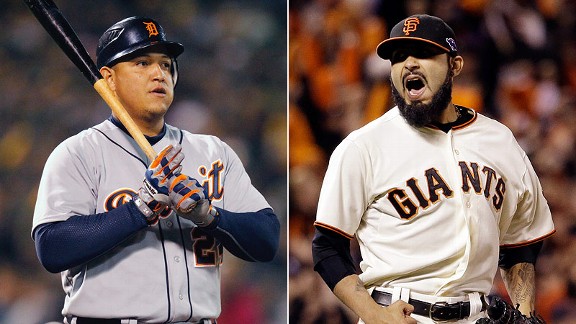 AP PhotosHow closer Sergio Romo, right, and the Giants staff deal with Miguel Cabrera could be a Series key.
It has been a long season. Remember when the Oakland A's and Seattle Mariners began in Japan way back in March? OK, you probably don't. But you've made it this far. Don't quit now. We have at least four more games left and hopefully seven. Here's why I'm watching what should be an exciting World Series between two of the game's storied franchises -- and even though this is the San Francisco Giants' 19th World Series trip and the Detroit Tigers' 11th, they've never met before.
1. Miguel Cabrera.
The best hitter on the planet on the game's biggest stage: Yeah, that's a pretty good place to start. I can't wait to see how the Giants attack him. He has been kept under wraps for the most part this postseason, hitting .278 with one home run in nine games, so he has to be careful not to press if the Giants don't give him much to hit. But I have the feeling Cabrera may show us why he won the Triple Crown.
2. Justin Verlander.
He might not win the AL Cy Young Award this season, but Verlander is the game's best starting pitcher with the game's most dominating stuff. After mediocre results in his first two postseasons in 2006 (his rookie season) and 2011, he has been lights-out so far, with three wins in three starts. No starting pitcher has ever won five games in a single postseason, but because he'll start Game 1, he could have the opportunity to start twice. One thing to watch: The A's led the league in strikeouts; the Yankees were clearly in an offensive slump of historic proportions. The Giants are a contact team against whom the strikeouts won't come quite so easily. That means more balls in play and more pressure on the Detroit's suspect defense. We'll see how Verlander responds to this tougher assignment.
3. Jim Leyland's and Bruce Bochy's place in history.
It's amazing to realize that when Leyland won the World Series with the Marlins in 1997 he was only 52 years old. Wasn't he kind of portrayed as the slightly cranky baseball lifer even then? He's now 67 and trying to win another title. He and Bochy are two of the best managers of the past quarter-century and both are going for their second championship. Neither has managed in the major media markets of New York, Chicago, Los Angeles or Boston, although Leyland has certainly received more media attention through the years than Bochy. The winner of this series may have something bigger at stake than media attention, however: a place in the Hall of Fame. Not every manager with two titles is in (Cito Gaston, Tom Kelly to name two), but Leyland is 15th on the all-time win list and Bochy is 23rd. This Series could cement their legacy.
4. Marco Scutaro.
One of the best things about the postseason is how a player like Scutaro -- a good player, although certainly more role player than star -- can become the most important guy for a team for a couple weeks. It doesn't have to be a team's No. 3 or 4 hitter who does all the damage, and Scutaro enters on a roll after knocking out 14 hits in the National League Championship Series. The Giants had an obvious parallel two years ago in
Cody Ross
, another late-season acquisition who came up big in October. Admire Scutaro for his old-school approach at the plate: He puts the ball in play with his superior contact skills, a trait lost amid this generation's incessant desire for power.
5. Matt Cain, Tim Lincecum and Madison Bumgarner.
They may not all get a World Series start -- Bumgarner's velocity and stuff have been down in recent starts -- but this trio has the chance to make its mark with a second World Series title. Think how difficult that is: Not even the Greg Maddux-Tom Glavine-John Smoltz trio was able to do that. Lincecum, of course, didn't have a good season, but that doesn't matter now. All the Giants need from him is one -- or maybe two -- good starts.
6. Intentional walks and sacrifice bunts.
Remember last year's World Series when Ron Washington and Tony La Russa went crazy with ill-advised free passes and odd bunts? It was a second-guesser's dream. I don't expect to see the same slew of erratic decisions from Leyland and Bochy, but the World Series can turn even the most level-headed of managers into chemists with a room full of potions. In the National League Championship Series, we saw how Mike Matheny's free pass to No. 8 hitter
Brandon Crawford
in Game 6 led to a big inning. Last year, Washington's intentional walk to
Albert Pujols
in Game 6 was a key decision in the Rangers' eventual defeat. In a tight series, managerial decisions can be a decisive factor.
7. Prince Fielder.
Many in the industry were not pleased when the Tigers coughed up $214 million to sign Fielder. Hey, imagine that: Tigers owner Mike Ilitch is 83 years old and wants to win a World Series. OK, so Fielder isn't riding the exercise bike after games. Despite his girth, Fielder is actually one of the most gifted hitters in the game. He seemed a little overanxious at times in the first two rounds, hitting .211 with two unintentional walks, but maybe he'll be more relaxed as he plays in his first World Series.
8. Sergio Romo.
Who says you need a closer who throws 98 mph? Romo is a guy who barely cracks 90 but has a deadly slider that hitters have trouble picking up. He's another great story, a guy the Giants never seemed to fully believe in until they were forced to use him as the closer after
Brian Wilson
was injured and
Santiago Casilla
struggled. Bochy had primarily used Romo as a right-handed relief specialist in recent seasons (last year he pitched just 48 innings in 65 appearances), but now he has earned Bochy's confidence to face all swingers -- as he should, after holding lefties to a .167 average this season. At some point, he'll probably need to protect a one-run lead against two guys named Cabrera and Fielder and that's going to be some kind of wonderful.
9. Cold weather.
Because it's always fun watch players wearing layers, ear muffs and hand warmers. Oh, wait, no it's not. The weather in Detroit this weekend may dip into the high 30s, so cold that Leyland might be given special dispensation to smoke in the dugout. But the dark, not-so-secret aspect of cold weather is the realization that the season's most important games can be played in weather more suitable for creating ice sculptures than baseball art. Let's hope foul weather isn't a factor.
10. Who will have Darrell Evans throw out the first pitch?
Yes, I've termed this the Darrell Evans World Series. You know, like if it had been the Reds versus the Tigers, we would have had the Sparky Anderson World Series. Or the Cardinals-Tigers would have been the Rematch of 1968 World Series, with highlight reels of Bob Gibson and Mickey Lolich. Instead, we get the Darrell Evans World Series, the underrated star of the '70s and '80s who played for both franchises (he was part of Detroit's 1984 World Series champs). Make it happen! We need a Darrell Evans sighting.
January, 24, 2012
1/24/12
7:41
PM ET
On the same day 82-year-old
Detroit Tigers
owner Mike Ilitch decided
to go all-in
on
Prince Fielder
and a World Series title chase, the
San Francisco Giants
showed some fiscal responsibility by reportedly
agreeing with two-time Cy Young winner
Tim Lincecum
on a two-year, $40.5 million contract. The deal means the two sides will avoid going to arbitration this year and next, his final season before hitting free agency.

This is absolutely the correct approach in handling Lincecum. There is no need to negotiate a long-term deal with a pitcher two years before he's a free agent. Pitchers are risky creatures as is, so why take the risk before you have to? This gives you two more seasons to chase your own World Series title with Lincecum,
Madison Bumgarner
and
Matt Cain
(if the Giants sign him past 2012).
There seems to be a mindset that teams need to "get something" for a player if they might not be able to sign him to a long-term deal when he becomes a free agent. But why does this make sense if you have a chance to win? The Brewers could have traded Fielder before last season, knowing he was unlikely to stay in Milwaukee, but instead went for it and actually strengthened the club instead by acquiring
Zack Greinke
and
Shaun Marcum
. They made the playoffs and gave themselves a shot at the World Series. It was the right call. The
Tampa Bay Rays
are taking a similar approach this season with
B.J. Upton
.
Compare that to the
Minnesota Twins
with
Johan Santana
in 2008. They traded Santana for a package of prospects that didn't turn out, but the biggest problem with that trade is that the Twins ended up missing the playoffs when they lost a tiebreaker game to the White Sox. With Santana, they win the division. And once you're in the playoffs, anything can happen; who knows, the Twins may have won the World Series with Santana.
I did a chat earlier on Tuesday in which somebody suggested since the Phillies might not be able to afford
Roy Halladay
,
Cliff Lee
and
Cole Hamels
in 2013 (Hamels will be a free agent) that maybe they should look to trade one of the three. What? Of course not. You go for it in 2012 behind those guys and if you lose Hamels, so be it.
Next season, you'll certainly hear cries that the Giants should look to trade Lincecum.
Get something for him while you can.
Or you can try and win another World Series title.
The Giants may decide that Lincecum won't be worth that $100 million investment in the future. Maybe they'll try to sign him and he'll bolt, like
Jose Reyes
with the Mets. But there's nothing wrong with trying to win now.
Especially when you don't have to spend $214 million to do it.
March, 3, 2011
3/03/11
12:00
PM ET
By
Bill
and
The Common Man
| ESPN.com
On Tuesday, Darryl Johnston caused a bit of a stir when he ranked the components of "organizational management" -- the owners, GMs and managers -- of
the five AL East teams
. Being Midwest guys, we thought we'd try the same thing with the AL Central; not as sexy, maybe, but fun nonetheless. We're using the same basic method Darryl did, with one point for a fifth-place ranking and five points for a first-place ranking.

Owner
: Jerry Reinsdorf |
AL Central rank
: 2nd |
Points
: 4
Reinsdorf generally stays out of the way and cuts checks these days. He's also succeeded at the unenviable job of maintaining détente between his manager and general manager. Which is good, because the two are both excellent in their roles, even if they don't always work well together. Reinsdorf gets a slight ding here because of his role as Bud Selig's chief supporter and his role in collusion in the late 1980s.
General manager
: Kenny Williams |
Rank
: 1st |
Points
: 5
Williams, who has held his job since 2000, excels at making trades, picking up guys like
John Danks
,
Gavin Floyd
,
Carlos Quentin
and
Jose Contreras
in very one-sided deals. He's reached into the Cuban market, generally hit on his free-agent acquisitions, and had decent farm systems that he's mostly leveraged to acquire more talent.
Manager
: Ozzie Guillen |
Rank
: 1st |
Points
: 5
Ozzie has made waves this offseason by not keeping his clubhouse's business in-house. But he's typically been quick to leap to his players' defense and take the blame himself for any failures. He also consistently provides the best quotes in the business.
White Sox's composite score: 14 points
---

Owner
: Larry Dolan |
Rank
: 4th |
Points
: 2
The Indians used to be the class of the American League Central. They had a beautiful ballpark, they sold out every single game (literally), and they finished 171 games over .500 from 1994-99. Working diligently, Dolan has managed to undo all of that hard work. The Indians sit at the bottom of the division, they drew under 1.4 million fans last year, and they've finished .500 or worse seven times in nine seasons.
General Manager
: Chris Antonetti |
Rank
: 4th |
Points
: 2
Antonetti's hard to figure, given that this is his first season at the helm and the club still has ties to former GM Mark Shapiro. It's also unclear how much of the Indians' performance these last several years are traceable back to Antonetti, Shapiro's right hand since 2007. His first offseason was not exactly inspiring.
Manager
: Manny Acta |
Rank
: 2nd |
Points
: 4
We like Acta. He earns high marks for his open-mindedness, willingness to experiment, demeanor and jaunty hat. His overall record, 227-345, is deceiving, since his owners and GMs steadfastly refuse to provide him with actual major league players.
Indians' composite score: 8 points
---

Owner
: Mike Ilitch |
Rank
: 1st |
Points
: 5
IIlitch and the Tigers spent a long time in baseball's wilderness. Now he's mostly content to hand out the checks and let Jim Leyland and Dave Dombrowkski run the show. This is a good thing. Pizza! Pizza!
General manager
: Dave Dombrowski |
Rank
: 2nd |
Points
: 4
When he's had a free hand, he's put winners on the field. He's occasionally played a little too fast-and-loose with Ilitch's money -- like this year, comically overpaying for a middle reliever and apparent DH in
Joaquin Benoit
and
Victor Martinez
.
Manager
: Jim Leyland |
Rank
: 4th |
Points
: 2
Leyland's still a good and popular manager when he's engaged and happy. As he gets older, there's additional risk that he'll burn out again or fall asleep in the dugout. We're probably starting to get into Casey Stengel-with-the-Mets territory here.
Tigers' composite score: 11 points
---

Owner
: David Glass |
Rank
: 5th |
Points
: 1
We'll never blame an owner for refusing to spend on a team that's going nowhere, but their continually going nowhere is in large part BECAUSE of Glass, who had a huge hand through the mid-90s in turning the team into the perpetual downer it's become.
General manager
: Dayton Moore |
Rank
: 5th |
Points
: 1
Yes, the farm system is excellent right now. Yes, GMDM remains the worst GM in all of baseball. Virtually every move he has made at the big league level has failed spectacularly and predictably. There's been no indication at all that, once those great kids are ready, he is capable of acquiring the pieces necessary to turn that core into a contender.
Manager
: Ned Yost |
Rank
: 5th |
Points
: 1
He's had only about three-fourths of a season in KC, but he has a rep among Brewers fans as a high-strung statistics-phobic dinosaur who used his bullpen in a bizarre and ineffective way. Yost probably isn't a terrible manager, but he's at the bottom of a strong stack.
Royals' composite score: 3 points
---

Owner
: Jim Pohlad |
Rank
: 3rd |
Points
: 3
Pohlad's father did basically what Glass did in the '90s, with the same results. The Twins are spending a lot more these days, but that's the park, not the owner. It's pretty hard to argue with the results under either Pohlad since 2002, though.
General manager
: Bill Smith |
Rank
: 3rd |
Points
: 3
Smith is an enigma. After starting his career with two disastrous trades and little else, Smith shockingly hit a home run with nearly every move a year ago. This offseason, he seems back to his old ways. Antonetti gets ranked behind him for now, but I have a suspicion that Smith might be pretty close to 29th out of 30.
Manager
: Ron Gardenhire |
Rank
: 3rd |
Points
: 3
The esteem in which one holds Ron Gardenhire seems to have an inverse relationship to how often you watch the Twins play. You love him at 30,000 feet, but if you're close enough to see his irrational love of "scrappy" players and his bullpen usage, the cracks start to show. But the players seem to love him and love playing for him, and I think that's the one aspect of managing that sometimes gets unfairly overlooked.
Twins' composite score: 9 points
---
Overall AL Central ranking
:
1. Chicago (14 points)
2. Detroit (11 points)
3. Minnesota (9 points)
4. Cleveland (8 points)
5. Kansas City (3 points)
This roughly approximates how you might expect the 2011 standings to look, at least with the group of three who will finish at the top and the two who are destined for the bottom. The all-around futility of the Royals kind of skews the rest of the results (making Cleveland and Minnesota appear closer than they probably are), but the general order is right.
The Common Man and Bill write obsessively on The Platoon Advantage and bicker incessantly on Twitter here and here.