October, 3, 2013
10/03/13
10:33
AM ET
By
Christina Kahrl
| ESPN.com
Baseball managers are never more scrutinized than they are right now. From the roster selections they help make -- selecting what options they want to have on hand -- to the way they use those players to the best advantage, the short series of the postseason tests a manager's abilities tactically within individual games and strategically over the course of a series. After witnessing the impact made by Bruce Bochy with the Giants in two of the past three years and Tony La Russa's quick hooks and pen-dependent victory with the Cardinals in 2011, it's clear they can and do make a difference.
With that in mind, let's take a look at the four chess matches in the division series, focusing on what sets these managers apart from the norm.
Pittsburgh Pirates versus St. Louis Cardinals
What Clint Hurdle likes to do:
He isn't afraid of using rookie pitchers in big situations. In Colorado, he won a pennant with rookies
Ubaldo Jimenez
and
Franklin Morales
in his second-half rotation, with rookie
Manny Corpas
closing. So
Gerrit Cole
in the rotation and
Justin Wilson
and
Bryan Morris
in the pen aren't going to be sheltered.
With his starting pitchers, Hurdle has the quickest hook in baseball. He's faster on the draw more often than even Joe Maddon. While some of that resulted from having a number of young starters plus
Jeff Locke
's second-half meltdown, it has been a consistent feature of his Pittsburgh tenure. All those short starts created opportunities for swingman
Jeanmar Gomez
to shine during the season. If a Pirates pitcher gets the hook early, Gomez could be a surprise hero.
On offense, Hurdle will platoon to cover a weaker slot in the order, which you would probably expect from a guy who played for Whitey Herzog. Hurdle has built and won with platoons in Colorado and Pittsburgh. Swapping in
Justin Morneau
for
Garrett Jones
as the lefty half of his first-base platoon with
Gaby Sanchez
suited him just fine. The Cardinals have an all-righty rotation, so Morneau will start, but let's see if Hurdle will hit for him if Mike Matheny goes to a lefty reliever.
Hurdle uses defensive replacements more than anyone in baseball; having
Clint Barmes
available at shortstop is one big reason why. While Hurdle is conventional in letting only the fast guys steal, the Pirates, according to Baseball Info Solutions, had runners moving on the pitch more times than any team in the league.
The Pirates embraced the shift this season (fourth-most in MLB), one reason they rated third in the majors in Defensive Runs Saved at plus-68 and had the fifth-lowest batting average on balls in play. But as Eno Sarris reported in his ESPN Insider
preview of the series
, the Cardinals are not a pull-happy team; they hit to the opposite field more often than any team in the postseason. With that in mind, it will be interesting to see who starts at shortstop, Barmes or the more offensive-minded Jordy Mercer. They shared time in September, with Barmes starting the wild-card game.
What Matheny likes to do:
Stay out of the way of his offense by avoiding little ball in almost any form. The Cardinals were last in the league in steals, and they got just 17 sacrifice bunts out of nonpitchers all year (nine by
Jon Jay
). That isn't to say Matheny's runners aren't aggressive; the Cards were among the best at having baserunners take an extra base on hits (43 percent, better than any other team in the postseason). He also doesn't mess around with his lineup card, turning in an MLB-low 89 different lineups.
After taking a lot of heat for his bullpen management last year and having to turn away from veteran temp
Edward Mujica
in the closer's slot late in September, Matheny has relied more heavily on a younger, more talented crew down the stretch (six rookies in the bullpen for Game 1, including starters
Shelby Miller
and
Michael Wacha
, one of whom will start Game 4 if necessary). Flamethrower
Trevor Rosenthal
gets the most attention now that he'll get the save opportunities, but groundballer
Seth Maness
and hard-throwing lefty
Kevin Siegrist
have been equally critical. The transition from the La Russa pen that relied on and won with a cast of veterans and situational journeyman types is almost complete in its shift to a pen stocked with better overall talent.
That echoes what's happened in the rotation, which gets more of the press. As good as Miller, Wacha and
Joe Kelly
have been, how could it not? But between that group, the new hands in the pen and
Lance Lynn
, Matheny and his staff deserve considerable credit.
Advantage:
If it comes down to in-game tactics, the advantage is Hurdle's to exploit.
June, 3, 2013
6/03/13
12:05
AM ET
First off, great play by
Brandon Crawford
with the
diving stop and throw from his knees
.
Still, it's hard to believe
Yadier Molina
couldn't beat the throw.
Rookie umpire Clint Fagan
did
get the call right. Molina was out.
Once Molina slammed his helmet down in anger -- he tried to argue he was mad at himself, not at the umpire -- Fagan was put in a difficult situation: Should he let the incident pass or eject Molina for unsportsmanlike behavior?
Fagan definitely should have kept his cool and not ejected Cardinals manager
Mike Matheny
.
So once again the umpires have found a way to inject themselves into the story, when the big story of the
Giants' 4-2 win
over the Cardinals
should
be
Chad Gaudin
's terrific outing in his first major league start since 2009. Desperate for a win after losing seven in a row on the road and getting swept by a combined score of 15-1 in Saturday's doubleheader, the Giants found an unlikely hero in Gaudin, but that's often been the case for the Giants over the past few seasons.
Giants skipper Bruce Bochy was hoping to get maybe four innings from Gaudin, filling in for the injured
Ryan Vogelsong
. Instead, Gaudin delivered six innings of four-hit, no-walk baseball, earning the win when
Brandon Belt
doubled in two runs in the seventh.
"I wanted to go out there and give the team a chance to win and also give them some innings," Gaudin said. "I thought I was throwing aggressively and pitching with what I had."
But instead of Gaudin, most fans will be talking about the controversial ejections in the third inning after Molina grounded out with two on and two out, the Cardinals down 2-0 at the time. "It was a big situation,"
Molina told MLB.com
. "I thought I got a base hit, and they made a play. I knew I was out. I wasn't upset that he made the call. I was upset with myself. I tried to hold my helmet."
That excuse seems a little dubious to me, as the helmet came flying out of Molina's hands about as rapidly as a
Shelby Miller
fastball. First-base coach Bengie Molina, Yadier's brother, said Fagan failed to understand the game situation. "The only thing I saw was that the umpire didn't have a feel for the game," he said. "I know most of them do, but the kid out there didn't have a feel for the game. And what I mean by that is Yadi was mad at himself for the guy making a good play. It was a big turnaround in the game. He was out. He slammed the helmet, wanted to go back to the dugout and he threw him out."
Rule 9.01 (d) reads, "Each umpire has authority to disqualify any player, coach, manager or substitute for objecting to decisions or for unsportsmanlike conduct or language, and to eject such disqualified person from the playing field." But the rulebook, under a section titled "General Instructions to Umpires," advises: "It is often a trying position which requires the exercise of much patience and good judgment, but do not forget that the first essential in working out of a bad situation is to keep your own temper and self-control."
Despite the protests of both Molinas, I think Fagan made the right call here. I don't think we want a sport wtih players throwing helmets every time they're upset or disagree with a call. Yes, in the heat of the moment players are going to lose their cool from to time to time. Molina's job is to
not
lose his cool in the heat of the moment -- especially when the call proved to be the correct one.
The bigger takeaway from the weekend: What to make of the Giants? They certainly can't count on Gaudin to right their starting pitching woes, considering his 5.16 ERA as a reliever from 2010-2012.
Matt Cain
had another blowup start on Saturday, allowing seven runs (all in the third inning) despite allowing no walks and no home runs with nine strikeouts over six frames. His peripherals suggest a pitcher better than a guy with a 5.45 ERA, but there's a tangible reason for that ERA: He's allowed a .166 average with the bases empty but .356 with runners on base.
Tim Lincecum
has a 5.12 ERA, with rate stats almost identical to last year, when he finished with a 5.18 ERA. His struggles have again raised the issue of him going to the bullpen, but Bochy says
Lincecum will remain in the rotation
for now.
Despite the win, the Giants are just 10-17 on the road, and while they are 30-27 overall, they've been outscored by 14 runs. They're going to have to start pitching better on the road, and soon; after two games at home against Toronto, they head on a nine-game road trip to Arizona, Pittsburgh and Atlanta, three teams with winning records.
May, 3, 2013
5/03/13
1:00
PM ET
By
Anna McDonald
| ESPN.com
ST. LOUIS -- For an iconic shift in the ideology of our culture all it takes is one voice. One voice to provoke people to rethink. One voice passionate enough to diffuse idle chatter into real change.
Mike Matheny
has a voice.
"I don't know how long I'll have this platform," said Matheny, the manager of the
St. Louis Cardinals
. "But I want to use this opportunity [for people] to not just hear from me but hear from these guys [on the team]."
Matheny started a blog this year where he hopes to give people a different option for how to go about coaching at the youth level. Anyone can start a blog these days, but the real story is that his blog posts are extremely popular. One of his recent posts,
"Are you really helping them by yelling?"
has over 5,000 Facebook shares. One excerpt:
"If you think that yelling (even encouraging words) and mechanical instructions are helping your child, the odds are that you are making it more difficult, and more stressful for them. They have the rest of their lives to learn about pressure and stress. Let them have fun."
Matheny was actually coaching youth baseball when the Cardinals reached out to him after Tony La Russa retired. "The site has really been an encouragement for me because I'm hearing responses from people saying, 'This made a difference,'" Matheny said. "I need to hear that. You know, I've got a job to do here. That's my first absolute priority, next to obviously my off-the-field family priorities, but after that this is a great opportunity to make a difference."
[+] Enlarge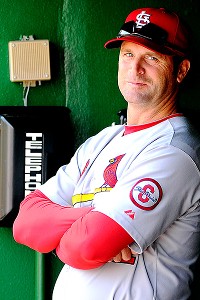 Brad Mills/USA TODAY SportsCardinals manager Mike Matheny often winds down by writing for his blog about Little League baseball.
There are a lot of different ways major league managers can spend the very little free time they have, but Matheny says he doesn't watch much TV -- he works on the blog.
"When I want to shut down my brain I usually grab a book and I'll read," Matheny said before a recent game against the Reds. "Or, I'll go home and my kids are still in school so my wife is on the school schedule. When I get home everyone's asleep. I need time to wind down. Usually I'll sit down and start knocking out some thoughts."
His thoughts, ranging from a call for parents to stop yelling at their kids when they are playing ball to encouraging families to go outside and play, have gone viral and are making a difference in the ideology of youth baseball.
"First of all I want to change [the parents'] mindset to bring them back to reality that the fact is that less than 1 percent of these kids are going to go play in college," Matheny said. "So, let's use baseball as an avenue to impact their lives. Let's talk about character and let's not just talk about it, let's implement it on the field."
Our children are our most precious gift, a marvel of blossoming uniqueness and individuality. Why do parents and coaches try to crush a child's spirit on the baseball field rather than build them up? This is the attitude Matheny wants people to rethink.
One of the main threads on Matheny's blog is how most of the guys who have a successful major league career had coaches and parents who made baseball fun. This is not a coincidence, he says.
Cardinals infielder
Matt Carpenter
said his experience in Little League was exactly as Matheny explains it should be on his blog.
"I had a really good Little League baseball coach," said Carpenter. "It was a guy that was great at what he did. Basically the same principles that Mike talks about are what this guy had."
While Carpenter never had a moment where he wanted to quit baseball because of screaming parents or adults, he said he knows guys who have walked away from baseball because of it.
"I know exactly what it's like. I've seen it," Carpenter said. "Parents can become a disaster when it comes to that. Really, I've seen it at the high school level too. My dad is a high school coach and parents can get in the way and down on their son. They put unneeded pressure on them. It's definitely an issue."
Matheny says when you talk to baseball players the people with the greatest impact on their lives are their families, followed by -- whether they are "good, bad, ugly or indifferent" -- their coaches.
He doesn't want kids to miss developing a love for baseball because of a bad coach.
"It's not baseball's fault," he passionately voiced. "I think it's a lack of education about how you go about teaching at the youth level. ... Let's change the whole thinking process to let's do something to impact these kids' lives on an individual basis. ... Let's teach them a passion for the game first, teach them a love for the game of baseball; and secondly, why not use the opportunity to teach them character?"
It is apparent Matheny has a gift. He has a remarkable ability to affect change in the lives of people with his voice. He says he wants to just inform parents through his website, but in reality he's helping people to rethink how they treat their kids. The comments section has parents saying they didn't realize what they were doing could harm their child.
"I feel blessed to be a part of it," he says.
One voice. It can change a coach. It can change a parent. And most importantly, it can change a child. Just imagine if kids stop feeling like they can never do anything right and develop into happy, confident kids who love to play baseball just because it's fun.
Anna McDonald is a regular contributor to the SweetSpot blog. Follow her on Twitter @Anna__McDonald.
October, 22, 2012
10/22/12
3:25
PM ET
The Cardinals and Giants haven't exactly played a series for the ages -- not with scores of 7-1, 8-3, 5-0 and 6-1 and no one-run games. We haven't had a tie score past three innings and every game ended up decided by the fourth. But we have a Game 7 and there's nothing in sports like the pressure and intensity of a Game 7.
If the trend of the first six games continues, the early innings will thus be important and the two managers can't let the game get away early.
Kyle Lohse
and
Matt Cain
are the starters and it's that rare Game 7 where each team's ace draws the start. Still, I expect Mike Matheny and Bruce Bochy to have a fairly early hook on their starters, although Matheny has a little deeper bullpen to employ.
Will we get a classic Game 7? Can the Giants become the seventh team to win a league championship series after trailing three games to one? Check out Buster Olney's
list of the 18 greatest Game 7s
(including World Series and LCS) and Mark Simon's piece on some of the
keys to the game
.
Meanwhile, here's a quick look back at the past 10 Game 7s.
[+] Enlarge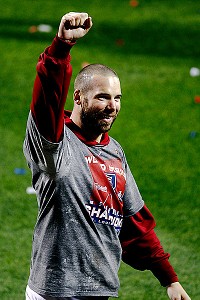 AP Photo/Jeff RobersonChris Carpenter and the Cardinals were all smiles after their last Game 7 performance.
2011 World Series: Cardinals 6, Rangers 2
Starters:
Chris Carpenter
versus
Matt Harrison
Key hit:
David Freese
two-run double in first to tie score.
Key move:
With the Cards up 3-2 in the fifth, Ron Washington intentionally walked Freese to load the bases with two outs.
Scott Feldman
walked
Yadier Molina
to force in one run and then
C.J. Wilson
hit
Rafael Furcal
to force in another. The Cardinals scored two runs -- without getting a hit.
Rating:
One star. Little drama and that ugly fifth inning that featured three walks and two hit batters.
2008 ALCS: Rays 3, Red Sox 1
Starters:
Matt Garza
versus
Jon Lester
Key hit:
Willy Aybar
's home run in the seventh gives Tampa a two-run cushion.
Key move:
Boston's roster construction left no good right-handed bat off the bench. Rookie
David Price
fanned
J.D. Drew
with the bases loaded and two outs in the eighth and
Mark Kotsay
struck out against Price in the ninth.
Rating:
Three stars. The Rays used five pitchers to get through the eighth inning, with Price eventually picking up his first major league save.
2007 ALCS: Red Sox 11, Indians 2
Starters:
Daisuke Matsuzaka
versus
Jake Westbrook
Key hit:
Dustin Pedroia
's two-run homer in seventh off
Rafael Betancourt
gives Red Sox a 5-2 lead. They add six more runs in the eighth.
Key move:
Terry Francona pulled Dice-K after five innings -- even though in atypical Dice-K fashion he hadn't walked a batter. Hideki Okajima and
Jonathan Papelbon
each threw two scoreless innings.
Rating:
Two stars. Close game until Red Sox blew it open late.
2006 NLCS: Cardinals 3, Mets 1
Starters:
Jeff Suppan
versus
Oliver Perez
Key hit:
Yadier Molina's two-run homer off
Aaron Heilman
in the ninth.
Key move:
Tied 1-1 in the sixth, the Mets put runners at second and third with one out after a walk and throwing error. Tony La Russa had Suppan intentionally walk Shawn Green. Jose Valentin struck out and
Endy Chavez
flied out.
Rating:
Four stars. From Perez as the unlikely Game 7 starter (he had a 6.55 ERA that year) to Chavez's all-time great catch to rob
Scott Rolen
of a home run to
Adam Wainwright
striking out
Carlos Beltran
with the bases loaded to end it, this game was full of suspense all the way.
2004 ALCS: Red Sox 10, Yankees 3
Starters:
Derek Lowe
versus Kevin Brown
Key hit:
Johnny Damon
's grand slam off Javier Vazquez in the second.
Key move:
After scrambling to win the three previous games to force a seventh game, Terry Francona has to start Lowe on two days' rest and he delivers six one-hit innings.
Rating:
Three stars. It wasn't a great game as the Sox blew out the Yanks early, but the history involved made it a dramatic finale.
2004 NLCS: Cardinals 5, Astros 2
Starters:
Jeff Suppan versus Roger Clemens
Key hit:
Scott Rolen's two-out, two-run homer in the sixth gave the Cardinals a 4-2 lead.
Key move:
Roger Cedeno pinch hits for Suppan leading off the sixth and starts a three-run rally.
Rating:
Three stars. All three runs in the sixth came with two outs as
Albert Pujols
hit an RBI double ahead of Rolen's homer.
2003 ALCS: Yankees 6, Red Sox 5 (11)
Starters:
Roger Clemens versus Pedro Martinez
Key hit:
Aaron Boone wins it with a home run off Tim Wakefield.
Key move:
Grady Little leaves in a tiring Martinez to throw 123 pitches as the Yankees tie it with three runs in the eighth.
Rating:
Five stars. On the short list of greatest games ever played. Who can forget the tears in Joe Torre's eyes as he huggged
Mariano Rivera
?
2003 NLCS: Marlins 9, Cubs 6
Starters:
Mark Redman versus Kerry Wood
Key hit:
Ivan Rodriguez doubles in a run to help set up a three-run inning as the Marlins take a 6-5 lead in the fifth.
Key move:
Jack McKeon brings in
Josh Beckett
, the Game 5 starter, and he pitches four innings of one-hit, one-run relief.
Rating:
Three stars. Everybody remembers Game 6, but few remember that the Cubs had a lead in this one as well.
2002 World Series: Angels 4, Giants 1
Starters:
John Lackey
versus
Livan Hernandez
Key hit:
Garret Anderson's bases-loaded double in the third plates three runs and gives Angels a 4-1 lead.
Key move:
Hernandez had been bombed in Game 3 and some felt Dusty Baker should have started Kirk Rueter (who would pitch four scoreless innings in relief).
Rating:
Two stars. Angels win only title but no runs are scored after the third inning.
2001 World Series: Diamondbacks 3, Yankees 2
Starters:
Curt Schilling versus Roger Clemens
Key hit:
Luis Gonzalez's blooper wins it but Tony Womack's double down the right-field line tied it up.
Key move:
After Mark Grace leads off the ninth with a single, Mariano Rivera fields a bunt and instead of taking the easy out at first base, tries for the out at second and throws the ball away. Rivera has made only six errors in the regular season in his career.
Rating:
Five stars. This game had it all -- two potential Hall of Fame starters, all the drama leading up to it and then the unlikely Game 7 comeback.
October, 18, 2012
10/18/12
3:15
PM ET
By
Anna McDonald
| ESPN.com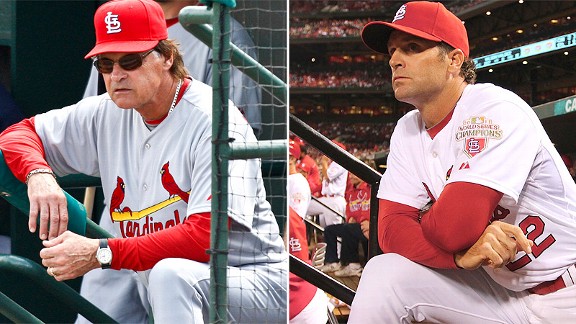 Getty ImagesThe Cards have not missed a beat under Mike Matheny, right, who replaced Tony La Russa.
If you watch enough baseball games during the season, pictures from the field begin to unconsciously embed in your mind. Maybe it's the pitching mechanics of the staff ace, maybe the batting stance of your favorite player, but baseball fans -- as opposed to NFL fans -- live and die with their team day in and day out all summer long. So it's not surprising we know the mannerisms of certain players. However, what is unique is when the ghosts of baseball's past hang around and make something special happen on the field.
There was one baseball game in July, back when it was 105 degrees in St. Louis and the fair-weather fans couldn't have cared less about the postseason, when Cardinals manager Mike Matheny was standing in the dugout with his right leg perched on the top step while his elbow rested on his leg. As he looked out to the field at Busch Stadium for a second he looked exactly like former manager Tony La Russa; the way he moved around in the dugout, the crane of his neck as he glanced down the right-field line, he looked so much like La Russa it was remarkable. But it's not
that
surprising, is it?
After all, Matheny played for La Russa from 2000 to 2004. As a catcher he had the opportunity to interact with his manager more than other position players, so perhaps it was inevitable he would display some similarities to the managers he knew best.
What
is
surprising is the relative ease Matheny, having managed only Little League baseball, has had in taking the defending world champions back to the National League Championship Series and two wins away from another World Series berth.
Matheny, never one to put the attention on himself, did not let the fact that he was coaching former teammates become an issue.
Chris Carpenter
and
Yadier Molina
(who took over Matheny's job in 2005) were both former teammates, as were hitting coaches Mark McGwire and John Mabry.
Besides losing face-of-the-franchise
Albert Pujols
, the Cardinals lost staff ace Carpenter for all but the last two weeks of the season.
Lance Berkman
, one of the core run producers in 2011, had only 81 at-bats all season.
Early in spring training I asked Yankees manager Joe Girardi (another former teammate of Matheny's; baseball is a small world, isn't it?) what he felt Matheny's greatest challenge would be in his first year. Girardi said dealing with the media. When I mentioned this to Matheny in spring training he wasn't worried about it, but like most first-year managers he's had to learn how to answer tough questions about his team. He has done so with little drama in the national spotlight, and has adjusted to the added media pressure the postseason brings.
And don't forget Matheny's personal story of perseverance. The first nine months after Matheny suffered a career-ending concussion in 2006 he was unable to speak correctly, put things together cognitively or get his heart rate up enough to play any outdoor games with his kids, including the family favorite -- Wiffle ball. The fact that Matheny is able to walk onto the field each day and pitch batting practice to the team is a great story in and of itself. It's not just a feel-good story, as Matheny's injury was one which helped influence Major League Baseball in instituting a seven-day DL for players who suffer concussions.
While many people around baseball might be surprised at Matheny's success, his accomplishments are not lost on one group of 14-year-olds in St. Louis. The kids Matheny once coached have paid close attention to their former coach. When Matheny told them he was going to manage their favorite MLB team, they were not surprised.
"We knew he was the perfect one for the job," said Josh, a 14-year-old who played for Matheny for four years. "He was better than all the other candidates. He told us he's going to be giving all the Cardinals everything he taught us, and we just knew. We knew life goes on and that he's going to go very far."
People can now see -- as Matheny's Little League knew all along -- why the Cardinals hired him to replace La Russa. Of course, there are some aspects to his managing style where he departs from La Russa; while Matheny would stick with his pitchers longer than La Russa during the regular season, in the postseason he is making adjustments each game and is managing every game as though it's the last -- similar to the style La Russa employed a year ago.
There's one aspect where Matheny has ended up being more similar to La Russa than anyone anticipated. La Russa had an amazing ability to utilize an entire team to somehow, magically and with history-defying fight, win games. General manager John Mozeliak deserves credit for seeing that Matheny could bring that same kind of fight -- and, perhaps, with a little thanks to the ghost of La Russa still hanging around.
October, 13, 2012
10/13/12
1:38
AM ET
We just witnessed one of the most amazing games in postseason history. Whether this game will eventually earn itself a place alongside other legendary games remains to be seen -- after all, Cardinals-Nationals doesn't quite have the same buzz to it as Red Sox-Yankees or Dodgers-Giants -- but I can assure you this: None of us has ever seen this before.
No team had ever rallied from more than four runs down to win a sudden-death postseason game, and only two teams had done that -- the
Pittsburgh Pirates
in Game 7 of the 1925 World Series against the, yes, Washington Senators, and the
New York Yankees
in Game 7 of the 2003 American League Championship Series.
The
St. Louis Cardinals
made history in remarkable fashion.
Of course, that means, with the
9-7 loss
, the
Washington Nationals
made history in the most heartbreaking fashion possible.
I had an entire post written, telling Nationals fans that winning in the postseason isn't easy, that even holding a six-run lead is never easy, that playoff baseball makes your stomach churn and all that.
I wrote that assuming they would hold on to the lead. Even after
Gio Gonzalez
once again lost the ability to throw a ball over home plate and the Cardinals scored three runs. Even after
Edwin Jackson
was for some reason summoned from the bullpen to pitch an inning and allowed a run. Even after
Daniel Descalso
homered in the eighth off
Tyler Clippard
to make the score 6-5. But when the Nationals added an insurance run in eighth, it felt like Nationals fans could finally breathe.
[+] Enlarge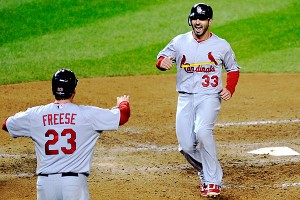 AP Photo/Nick WassDaniel Descalso, right, drove home the tying runs, then scored the final one of the Cards' comeback.
On the other hand, as Cardinals shortstop
Pete Kozma
-- a man apparently of few words -- said after delivering the go-ahead two-run single: "Never give up."
Damn.
* * * *
Friend of mine after the game, not a Cardinals fan or Nationals fan: "If the Mariners ever lost a game like this, I'd be in a hospital."
Postseason baseball is the most exhilarating ride in sports.
Postseason baseball is the cruelest of sports.
* * * *
Carlos Beltran
is awesome. He singled in the first, walked and scored in the fourth, walked in the fifth when the Cardinals scored twice off Gonzalez, doubled in the seventh to move
Jon Jay
to third (Jay would score), doubled to deep right-center off
Drew Storen
leading off the ninth. What a game. Five plate appearances, five times on base. One of the great sudden-death game performances a hitter has had.
* * * *
Calvin Schiraldi, Bill Buckner, Donnie Moore, Grady Little and company, Jose Mesa, the guy pitching in the Francisco Cabrera game (actually it was two, Doug Drabek and Stan Belinda), David Cone and Black Jack McDowell … and, yes, even
Mariano Rivera
. And now Drew Storen.
* * * *
Yadier Molina
had a terrific at-bat in the ninth inning with two outs and Beltran on second. He was 2-for-18 in the series when he stepped in and had left the bases loaded in the fifth, flying out to right field on a 2-0 fastball from Gonzalez. The pitch sequence:
Slider low.
Fastball fouled back. (Fans standing, cheering, mustering strength to wave their red towels, two strikes away!)
Fastball outside.
A 96-mph fastball fouled away. (One strike away!)
A slider that dipped low. I don't know how Molina held up. Tremendous pitch awareness and bat control.
Fastball high.
From the moment that
Allen Craig
struck out, Storen threw 12 pitches, any of which could have ended the game. Six pitches to Molina. Six more to
David Freese
, who also walked. The 13th pitch was a 94 mph fastball that Descalso ripped hard up the middle, off the glove of
Ian Desmond
, the ball bounding far enough into center field to easily score pinch runner
Adron Chambers
with the tying run.
* * * *
Kozma, a guy who hit .232 in Triple-A, playing only because of the September injury to starting shortstop
Rafael Furcal
, then lined a 2-2 fastball into right field to score two more runs. (Descalso had smartly stolen second base).
Washington manager Davey Johnson could have walked Kozma once Descalso stole second base. Cardinals closer
Jason Motte
, who had pitched the eighth inning, was due up next, although Cardinals manager Mike Matheny had sent backup catcher
Tony Cruz
, the last player left on the bench, to the on-deck circle as a decoy. He'd be entering the game anyway for Molina, who had been run for. Kozma has been pretty hot, hitting .333 for the Cardinals during his September call-up and homering earlier in this season.
Johnson could have put Kozma on and pitched to Cruz, which would have served two purposes: Force Matheny to bat Cruz, a guy who hit .254/.267/.365 in 126 at-bats, but also a guy without an at-bat in nine days. More importantly, it would have likely forced Matheny to pull Motte. Matheny already used
Joe Kelly
,
Trevor Rosenthal
,
Edward Mujica
and
Mitchell Boggs
, so that would have meant the Cardinals would be using, at best, their fifth-best reliever in the ninth.
Huge mistake by Johnson and I can only guess he was in such a state of shock he didn't have time to think the situation through properly.
* * * *
Yes, the Nationals could have used
Stephen Strasburg
. That's obvious. Whether that lost the series for them is debatable. But I'm pretty sure he would have helped somewhere along the line.
October, 7, 2012
10/07/12
8:24
PM ET
We'll be doing a lot of quick takes on managerial decisions in this space during the postseason. As always, ultimately it's the players who win and lose games, but it sure is fun to second-guess some of the key moves.
Mike Matheny perfectly executed the first major blunder of the postseason in the eighth inning on Sunday. The situation: The Cardinals leading the Nationals 2-1, two outs, runners on second and third, the pitcher's spot due up. With right-hander
Mitchell Boggs
pitching, Davey Johnson sent up lefty
Chad Tracy
to hit.
Matheny went to his lone lefty in the 'pen,
Marc Rzepczynski
.
Johnson countered with right-handed
Tyler Moore
, who flared a 2-2 fastball down the right-field line for a two-run, go-ahead single.
You can say it was bad luck for the Cardinals since the ball wasn't hit hard. But it was bad process. The main argument here is that Boggs is a better pitcher than Rzepczynski. The second argument is that it should have been obvious Johnson would hit for Tracy once Rzepczynski entered. The third argument is that Moore is a more dangerous hitter than Tracy. So there was really no reason for Matheny to bring in the reliever they call "Scrabble." Boggs versus Tracy or Rzepcynski versus Moore? Easy call. (And that's without even getting into the option of bringing in closer
Jason Motte
for a four-out save.)
Rzepczynski got some big outs in the postseason a year ago for the Cardinals, but wasn't as effective this season. Right-handers hit .259/.323/.459 against him; overall, he allowed seven home runs in just 46.2 innings. Moore hit .247 against left-handers but has big power, hitting 10 home runs on the season in just 156 at-bats. Tracy is a veteran pinch hitter who had only nine plate appearances all season against lefties; Johnson wasn't going to let him hit there.
Matheny's in-game strategy drew a lot of criticism from Cardinals fans this year: too many sacrifice bunts, ill-advised intentional walks and so on. This decision won't alleviate those concerns about the rookie manager.
Johnson, of course, was weaned in the '80s, managing against Hall of Fame skippers such as Whitey Herzog, Tommy Lasorda and Dick Williams. He played under Earl Weaver. Nobody is going to beat Johnson in a chess match. More importantly, the Nationals have multiple weapons off the bench. Like his Mets teams in the '80s, Johnson carries some guys who can hit in Tracy, Moore,
Roger Bernadina
and even Steve Lombardozzi. As I wrote earlier, the Nationals have a big advantage over their NL counterparts in bench strength.
There's a lot more we could write off this game. The Cardinals managed only two runs off
Gio Gonzalez
, despite Gonzalez walking seven in five innings. They later loaded the bases with no outs in the seventh, but the Nationals escaped with a force at home and double play.
The Cardinals will regret missing those scoring opportunities. But Matheny should regret the tactical error he made.
October, 5, 2012
10/05/12
9:19
PM ET
Well, that was insane.
Fans of the new system will say this is exactly the kind of excitement baseball needs.
Critics will suggest this game sums up everything that's wrong with a one-game playoff series. One bad throw (or three), one mental error, one ... umm, one bad umpiring call shouldn't knock you out of the postseason.
Did I say bad call? Atrocious? Abominable? Disgraceful? How do you properly sum up what happened in the bottom of the eighth inning when umpire Sam Holbrook raised his right arm and all hell broke loose?
If you watched the game, you know what happened: The Braves trailed the Cardinals 6-3 and had runners on first and second when
Andrelton Simmons
popped out to shallow left field. Shortstop
Pete Kozma
drifted about 70 feet beyond the infield dirt ... and suddenly peeled off, the ball plunking harmlessly onto the grass in front of
Matt Holliday
. The Braves had the bases loaded and the Ted was rocking with noise.
Except ... say it ain't so. Holbrook called an infield fly rule, raising his arm right about the time Kozma peeled off. That meant Simmons was out, and
Jason Motte
would eventually escape the inning when he blew a 98-mph fastball past
Michael Bourn
with the bases loaded. The Braves got two more runners on in the ninth but Motte retired
Dan Uggla
to finish off
the 6-3 victory
.
But the whole complexion of the game changes if the Braves have the bases loaded with one out and
Brian McCann
up. Maybe the whole complexion of the postseason changes. Braves manager Fredi Gonzalez protested the game, but the infield fly rule is a judgment call, even when the judgment is terrible.
Rule 2.00
refers to a ball that "could ordinarily have been handled by an infielder." It doesn't mean the ball has to be in the infield. The rule is in place so an infielder can't trick baserunners by purposely dropping a pop fly to turn a double play. In this case, Kozma was so far out in the outfield, a trick double play would have been an impossible and absurd feat to attempt.
[+] Enlarge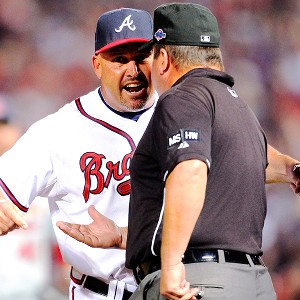 AP Photo/Todd KirklandFredi Gonzalez and the Braves played under protest after the infield-fly call by Sam Holbrook, right.
So Holbrook's name will now go down in history alongside Don Denkinger and Richie Garcia, the umps on the Jorge Orta play in the 1985 World Series and the Jeffrey Maier/
Derek Jeter
home run in the 1996 American League Championship Series, respectively.
That play will tarnish the result of this game. Braves fans tarnished the game by littering the field with garbage, forcing a long delay as the Cardinals had to temporarily leave the field. And the wild-card round began its history with a game that will be long remembered.
* * * *
Controversy aside, the Braves played about as bad a game of baseball as you can play: Physical errors, mental errors, terrible managerial decisions. It was typical Bad News Braves in the playoffs; the franchise is now 9-20 in the postseason going back to the 2001 National League Championship Series and losers of seven consecutive playoff series if you include this one-game affair.
Sadly, with the big "10" carved into the outfield grass and the thunderous ovations he received each time he came to bat,
Chipper Jones
' final game of his career will also be remembered for his crucial throwing error in the fourth inning.
Carlos Beltran
had singled to lead off the inning, the first hit off
Kris Medlen
(whose streak of the Braves winning 23 consecutive games he started would end). Holliday drilled a one-hopper that Chipper snared -- an easy double-play ball. Except Chipper chucked the ball into right field.
Allen Craig
followed with an RBI double over
Martin Prado
's head in left field. After an RBI groundout and sac fly, the Cardinals had three runs and a 3-2 lead instead of zero runs and a 2-0 deficit.
After a Holliday home run made it 4-2, the Braves fell apart again in the seventh inning. Uggla bobbled and then threw away
David Freese
's routine grounder, putting Freese on second base.
Mike Matheny
pinch-ran speedster
Adron Chambers
, a key maneuver that would pay dividends moments later. A sac bunt moved Chambers to third.
Now, consider the situation if you're the Braves: You're down 4-2, with a runner on third with one out.
Your season is on the line.
You can't afford to give up any more runs. What's the best way to escape the jam? You need a strikeout. Do the Braves have a reliever like that? Anybody you can think of? Anybody who struck out 50 percent of the batters he faced this season, the highest rate in the history of major league baseball?
Did Gonzalez call on
Craig Kimbrel
? Nope. He brought on
Chad Durbin
, a pitcher who struck out 19 percent of the batters he faced. Durbin did induce Kozma to hit a grounder to Simmons at shortstop, but the rookie bobbled the ball and rushed his throw home (with the speedy Chambers running, he didn't really have much of a chance once he bobbled the play), throwing wildly to let Kozma reach second. If Freese had been running, maybe Simmons doesn't hurry the throw. That made it 5-2 and
Matt Carpenter
's infield single scored Kozma. After committing the fewest errors in the league during the season, the Braves made three in this game.
Another head-scratching move came in the bottom of the fourth when the Braves had runners at the corners with one out and Simmons -- the No. 8 hitter -- up. Gonzalez apparently called a safety squeeze. Simmons bunted in front of the plate -- slow-footed
Freddie Freeman
either missed the play (which is what the TBS broadcasters said Gonzalez told them) or decided not to run since the bunt was too close to the plate. On the resulting throw to first, Simmons ran too far inside the baseline and was ruled out for interference when the throw bounced off his head (it was clearly the correct call). Medlen struck out to end the threat.
This game goes down as the Holbrook Affair. Braves fans will forever blame the umps. In truth, the Braves have nobody to blame but themselves.
October, 4, 2012
10/04/12
9:07
PM ET
With help from the blog network writers, here are reasons each team can win the World Series.
St. Louis Cardinals

1. A potent, balanced lineup. The Cardinals had the best on-base percentage in baseball, including four starters --
Matt Holliday
,
Jon Jay
,
David Freese
and
Yadier Molina
-- with a .370 OBP or better, and that doesn't even include two of their most dangerous sluggers,
Carlos Beltran
and
Allen Craig
.
2. Deep and solid starting rotation. Cardinals starters featured the second-best fielding-independent pitching in the majors, and
Chris Carpenter
has rejoined the staff just in time for the playoffs.
3. Playoff experience. If there's an advantage to be gained from experience, the Cardinals have it, with nearly three-quarters of their championship team returning to the tournament.
4. "The postseason is a crapshoot." As a wild-card team, the Cardinals proved this last year by beating a dominant regular-season team in the Phillies in a short series, then the powerful Rangers in the World Series.
5. They're saving their best ball for last -- again. As with the 2011 squad, the Cardinals are coming together at the right time. They won their last two series of the season against potential playoff foes Washington and Cincinnati and their regulars are generally healthy.
--Matt Philip, Fungoes.net
Atlanta Braves

The biggest thing the Braves need to do this postseason is hit left-handed pitching. For the year, they have an 85 wRC+ compared to the league average of 100 against left-handed pitching, the lowest of any of the playoff teams. If they win the play-in game against the Cardinals on Friday, they could face three left-handed starting pitchers in the first round in
Gio Gonzalez
,
Ross Detwiler
and
John Lannan
.
On the pitching front,
Kris Medlen
has taken the ace role of the staff, but the Braves will specifically need
Mike Minor
and
Tim Hudson
to perform at a high level to compete with the other National League teams. Defensively the Braves have been stellar, so the key for all of their starters will be to avoid free passes and long balls. They do not have an overpowering or star-filled staff as other rotations do, meaning their starters will need to rely on command and pitch sequencing to perform well against upper-tier offenses.
If the Braves get solid pitching performances from Medlen and Minor, and manage to scrape enough runs across against left-handed starters and relievers, they should be able to advance through the playoffs and potentially win their first World Series since 1995.
--Ben Duronio, Capitol Avenue Club
Cincinnati Reds

Here are five reasons that there will be a celebration in Fountain Square the first weekend in November:
1. The bullpen. This is the Reds' most obvious advantage. Their bullpen ERA ranks first in baseball at 2.65. How deep is this bullpen? One of these pitchers probably isn't going to make the postseason roster:
Logan Ondrusek
(3.46 ERA),
Alfredo Simon
(2.66) or
J.J. Hoover
(2.05).
2.
Jay Bruce
. The Reds' right fielder is one of the streakiest hitters in the game. If he gets hot, the Reds will be tough to beat. Bruce was twice named National League Player of the Week this year. In those two weeks, Bruce hit .488 AVG/.542 OBP/1.186 SLG (1.728 OPS). If Bruce gets on a hot streak like that, he could carry the Reds to the 11 wins they need.
3. The defense. Defensive metrics are flaky, but when you look at all of them, you start to learn something. The Reds rank near the top of almost every leaderboard. Seven of their eight starters are plus defenders, and three-quarters of the infielders have Gold Gloves on their shelves.
4.
Ryan Hanigan
. One of the things I'm most excited about this postseason is the broader baseball world discovering Ryan Hanigan. He does a lot well. His .365 OBP is better than any Red but
Joey Votto
. He walked more than he struck out. He threw out 48.5 percent of would-be base stealers -- the best in baseball -- and his handling of the pitching staff has the Reds' coaching staff speaking about him in hushed tones.
5. Luck, or something like it. The Reds outperformed their Pythagorean W-L by 7 games. Since Sept. 1, they have an 8-3 record in one-run games. This could mean they're due for a reversion to the mean. I like to think it means they're destined to win the Series.
--Chris Garber, Redleg Nation
Washington Nationals

1. The one-two punch of Gio Gonzalez and
Jordan Zimmermann
. Few teams could lose a starter like
Stephen Strasburg
and still claim that starting pitching is a strength, but the Nats can. Cy Young candidate Gonzalez leads the NL in strikeouts per 9 innings and is second in hits per 9. Zimmermann rarely allows a walk, and has an ERA under 3.00. I'd match Gonzalez and him up with any team's one-two.
2. The infield defense. Each position is manned by someone you could argue is one of the majors' top 10 fielders at his spot. The staff throws a lot of ground balls. Put them together and you get a lot of outs.
3. The re-emergence of
Drew Storen
.
Tyler Clippard
had been manning the closer role effectively but has recently looked very shaky. No matter. Storen returned to the 'pen and has been dominant, allowing just one run in his past 16 appearances. He'll be closing games going forward.
4. The offense with no holes. While there is no individual superstar, six of the Nats' eight regulars had an OPS+ between 112 and 128 for the season. A seventh,
Danny Espinosa
, would have been right there as well if not for a hideous April. The weak link is
Kurt Suzuki
-- and he hit over .300 in September.
5. Davey Johnson. Outside of
Jayson Werth
, this team has little postseason experience, but this is the fourth team Davey has led to the playoffs, and he's won five postseason series. You have to expect that he can guide this team through the highs and lows of October baseball.
--Harper Gordek, Nats Baseball
San Francisco Giants

1.
Buster Posey
. His second half was off-the-charts awesome, hitting .385/.456/.646. He was the best hitter in the majors after the All-Star break -- even better than
Miguel Cabrera
.
2. The rest of the Giants' offense. Even though they ranked last in the NL in home runs in the second half, they still managed to rank second in runs per game.
Marco Scutaro
proved to be a huge acquisition, hitting .362 with the Giants.
3.
Matt Cain
. Remember his dominant postseason performance in 2010? In three starts, he allowed just one unearned run. This time around he's the Giants' No. 1 guy.
4.
Sergio Romo
. The Giants rode
Brian Wilson
a lot in 2010, but this time they'll have Romo, who could be just as dominant closing games. He allowed just 37 hits and 10 walks in 55.1 innings while striking out 63. He was equally crushing against lefties (.491 OPS allowed) and righties (.537).
5. Bruce Bochy. He's considered by many to be the best manager in the game. If a series comes down to in-game tactics, most evaluators would rate Bochy superior to Dusty Baker, Fredi Gonzalez and Mike Matheny.
--David Schoenfield
Baltimore Orioles

1. No. 1 -- and, you could certainly argue Nos. 2-5 as well -- is the bullpen. The O's went 73-0 when leading after the seventh inning. As relievers,
Tommy Hunter
is touching 100 mph and
Brian Matusz
has struck out 19 batters in 13 innings. Then there's
Troy Patton
(2.43 ERA),
Pedro Strop
(2.44),
Darren O'Day
(2.28) and
Jim Johnson
(2.49, 51 saves) to finish things out. While it might not be the best bullpen ever -- or even the best bullpen in the league this year -- it may have been the most "effective" 'pen in history, as noted by its record-setting (record-obliterating, really) +14 win probability added. Maybe 16 consecutive extra-inning wins and a 29-9 record in one-run games (the best since the 1800s) is partially a fluke, but having a quality bullpen certainly doesn't hurt in keeping that going.
2. Buck Showalter. Aside from bullpen management that's been so effective, Buck seems to just make all the right moves, putting guys in positions to succeed and making in-game decisions that seem to work even when they probably shouldn't. Sac bunt? You get the run you need. Hit and run? Batted ball goes right to where the second baseman was. Bring in
Chris Davis
to pitch? Two shutout innings, a pair of strikeouts (including
Adrian Gonzalez
!), and a win. Judging managers is tricky, but it would be mighty hard to argue that Buck isn't a net plus.
3. A surging offense. Overall, the O's were a little below average, but since the beginning of September they've actually been one of the league's better hitting teams (with an AL-best 50 home runs). It's mostly been the Davis show recently (.320/.397/.660, 10 home runs), but
Matt Wieters
(.296/.389/.541),
Adam Jones
(.295/.343/.504) and
Nate McLouth
(!) (.280/.355/.456) haven't been slouches either.
4. An improved defense. The glove work was often sloppy early in the year, all around the diamond, but not so much lately (largely since
Manny Machado
was called up). Machado is a shortstop (with the range that implies) playing third base, and adjusting both well and quickly to it.
J.J. Hardy
is one of the game's better shortstops. Whoever is playing second is decent (
Robert Andino
or
Ryan Flaherty
).
Mark Reynolds
may have found a home at first base, even if he's not a Gold Glover there (yet). The O's fielding (via FanGraphs) for the first four months: -20 runs. Fielding since: +0.
5. Orioles magic. Even if you count the O's as underdogs in each playoff series -- and really, you probably should -- they still have a 3-5 percent chance of winning it all (those chances double if they knock off Texas, by the way).
--Daniel Moroz, Camden Depot
Texas Rangers

1. An obvious on-paper advantage in the wild-card game.
Yu Darvish
has been dominant down the stretch with a 2.13 ERA and just 10 walks over his final seven starts. He's a strikeout pitcher against a lineup that strikes out a lot. Meanwhile,
Joe Saunders
is 0-6 with a 9.38 ERA in six career starts in Arlington.
2. Big-game experience.
Matt Harrison
had a terrific season, and having started a Game 7 of the World Series won't be fazed by the postseason.
Derek Holland
has had an inconsistent season but, as he showed in the World Series last year, is certainly capable of huge performances.
Ryan Dempster
also has playoff experience with the Cubs.
3. Defense. The infield defense with
Adrian Beltre
,
Elvis Andrus
and
Ian Kinsler
is arguably the best in baseball and was a key component to the Rangers' World Series run a year ago.
4.
Josh Hamilton
. If these are his final days with the Rangers, you get the feeling he'll be focused to go out with a bang, especially after his disastrous game in the regular-season finale. After his hot start, Hamilton recovered from his slump in June and July to hit 14 home runs over the final two months.
5. One game equals momentum. OK, the series sweep in Oakland was a disaster, but all it takes is one win over Baltimore and the Rangers can forget what happened down the stretch. Do that and this team is still the scary opponent everyone figured it was a few days ago.
--David Schoenfield
Oakland Athletics

1. Sometimes a very good overall team matches up poorly against a playoff opponent. As far as lefty-righty goes, the A's won't have that issue. General manager Billy Beane gave manager Bob Melvin the pieces to construct platoons, including at first base (
Brandon Moss
/
Chris Carter
), designated hitter (
Seth Smith
/
Jonny Gomes
) and catcher (
Derek Norris
/
George Kottaras
). Further, the top two everyday hitters,
Josh Reddick
and
Yoenis Cespedes
, bat from opposite sides of the plate, and leadoff man
Coco Crisp
, a switch-hitter, has very similar career splits from both sides of the plate.
2. The top three relievers,
Grant Balfour
,
Ryan Cook
and
Sean Doolittle
, have pitched remarkably well. All three bring gas. Cook can struggle with his command and Doolittle might hit a rookie wall any minute, but Balfour's 3.01 FIP is the highest of the group.
3. The A's are third in baseball in runs scored after the All-Star break. Ahead of the Yankees. Ahead of the Rangers. Well ahead of the Tigers. The current roster has been legitimately excellent on offense.
4. Defensive efficiency is a very simple metric: It is the rate at which a team turns balls in play into outs. It doesn't account for everything, but it does measure the core skill of a team's run-prevention unit. The A's are third in baseball in this number. Either the pitching staff doesn't give up hard-hit balls, the defense catches everything in sight, or both. Regardless of the why, the what is indisputable: Hits don't happen against the A's.
5. By record, the Tigers are the worst squad in the playoffs, yet the A's, the No. 2 AL team, play them in the first round because of the structure of playoff seeding. It likely isn't a huge advantage (the A's did just sweep Texas, after all), but every little bit counts on the way to a trophy.
--Jason Wojciechowski, Beaneball
Detroit Tigers

1. Miguel Cabrera. MVP or not, the Triple Crown speaks for itself. He is the best pure hitter in baseball and, unlike last year, is healthy heading into the postseason.
2.
Prince Fielder
was the American League's only .300/.400/.500 hitter, and he's not even the best player on his own team. He isn't completely helpless against LOOGYs either, posting an OPS of .808 against left-handed pitchers this season.
3.
Justin Verlander
, who has been just as good as he was in 2011. If Mother Nature cooperates this year, he will put a serious dent in that career 5.57 postseason ERA.
4. The rest of the rotation. With
Doug Fister
finally healthy,
Max Scherzer
's breakout second half, and the acquisition of
Anibal Sanchez
, the Tigers have the best playoff rotation in the big leagues. The four starters (Verlander included) combined for a 2.27 ERA in September and October.
5. Jim Leyland. The Tigers' skipper has been ridiculed by the fan base for most of the year for the team's lackluster performance, most of which was a mirage created by its early struggles. He has had his finger on this team's pulse all season and deserves credit for managing the outrageous expectations for a team with more flaws than people realized. Now he has the Tigers playing their best baseball heading into October and is the biggest reason why they could be parading down Woodward Avenue in early November.
--Rob Rogacki, Walkoff Woodward
New York Yankees

1. The rotation. This looks like the strongest playoff rotation the Yankees have had in years, even better than 2009, when Joe Girardi rode three starters (
CC Sabathia
,
Andy Pettitte
,
A.J. Burnett
) to the World Series title. Sabathia has battled a sore elbow but looked good down the stretch, including eight-inning efforts in his final two starts. Pettitte is 40 years old but still looks like Andy Pettitte.
Hiroki Kuroda
had a quietly excellent season, finishing eighth in the AL in ERA and 10th in OBP allowed among starters.
Phil Hughes
is a solid No. 4.
2. Home-field advantage. While this generally isn't a big factor in baseball, the Yankees' power comes into play with the short porch at Yankee Stadium. Earning the No. 1 seed was probably more important to the Yankees than any other team.
3.
Robinson Cano
. He's locked in right now, going 24-for-39 in his final nine games, all multihit games. Don't be surprised if he has a monster postseason.
4. Lineup depth and versatility. In this age of bullpen matchups, the Yankees are difficult to match up with. They can run out a lineup that goes right-left-right-left-switch-switch-left-left/right-right. You'd better have a deep bullpen to beat this team in the late innings.
5. Health. While
Mark Teixeira
may not be 100 percent, at least he's back in the lineup, meaning the Yankees finally have all their position players available (even
Brett Gardner
may make the postseason roster as a pinch runner/defensive replacement). They've been dinged up all season, but Sabathia and Pettitte should be strong. The only question: The Yankees haven't won a World Series without
Mariano Rivera
since 1978.
--David Schoenfield
September, 16, 2012
9/16/12
1:26
AM ET
By
Christina Kahrl
| ESPN.com
If there's one takeaway where the defending world champs are concerned, it's this: Even wounded, these Cardinals could still fly. Most teams, you scratch a No. 1 starter, a leadoff man and a cleanup hitter, and you might expect them to be long since dead in the water. But even without
Chris Carpenter
, without
Rafael Furcal
, without
Lance Berkman
-- all of that in the post-Pujols era -- no matter how many blows the Cards take, they aren't dead, not by a long shot.
The big question, though, isn't why they're still going, but why they're not ahead just the same. With a record that is
games worse than expected
, they're supposed to be able to lose games like Saturday night's --
a 4-3 defeat
in Los Angeles -- and not break a sweat. But that's not where they are. Instead, they've fallen into a tie with the Dodgers for the National League's last slot.
It isn't supposed to have worked out this way.
Allen Craig
plated every run the Cardinals scored, a Pujolsian feat that also reflects a creeping problem for the Cards' offense: The league-leading attack that had been scoring 5 runs per game before the All-Star break has dropped off to score 4.4 runs per game since. They were allowing 4.2 runs before the break, and they're at 4.0 runs allowed per nine after, but because of the offense's drop-off, the margins they get to work with have narrowed.
The first-half question over why the Cardinals weren't doing as well as they should has become more persistent in the second half, and after a swing game like Saturday's, the uncomfortable questions are unavoidable.
Is it the manager? Rookie manager Mike Matheny's under fire, but he was tasked with the impossible task of following in Tony La Russa's footsteps as the old mast heads down the road to Cooperstown. It's easy to single out the Cardinals' record in one-run games -- now 18-25 -- and assert that some better manager to be named later would do better than that.
But that's looking for a fall guy, and Matheny may not really deserve that, save as a matter of expectations as the first-year skipper managing a defending world champ. Any suggestion that La Russa might be the Cardinals' missing man most missed might have needed one particular proof this night: Would the bullpen deliver? Love it or hate it, that's the gold standard by which most managers get judged by many commentators and fans, because 'pen management is the one task that's transparent to the public.
After getting a good game from
Jaime Garcia
, without getting too clever playing matchup games Matheny ran through his crew in straightforward style:
Edward Mujica
to
Mitchell Boggs
to
Jason Motte
... and Motte blew it, giving up a two-out double in the ninth to
Luis Cruz
for the tie, then gave up the game-losing single to
Juan Rivera
.
There was no special brand of genius involved, just a scripted set-up gone wrong: Closer tasked with closing, leaves the door open, then sees it blown off its hinges. If Matheny's to be judged, it's by exactly the same standard that Casey Stengel suggested back in the day, in happier circumstances after
winning the 1958 World Series
: "I couldna dunnit without the players."
To Matheny's credit, he managed other elective tasks just fine on Saturday night. Swapping around in the middle infield midgame is the Cardinals' lot. Early on they paid the penalty of making
Daniel Descalso
a shortstop as a matter of need: His first error in the first inning created the Dodgers' first score. With second baseman Descalso playing short and converted outfielder
Skip Schumaker
starting at second, the Cards have been sacrificing defense to put their best available players in the lineup. Is that on Matheny? No more than the subsequently regretted decision to dump key utilityman
Tyler Greene
on the Astros.
With a lead six frames into the game, out came Schumaker, in came good-glove
Pete Kozma
at shortstop, and Descalso slid back to his natural position. Lineup management isn't particle physics. Inveterate tinkerer La Russa may be history in every sense of the word, but this sort of lineup tinkering can still go on without him as Matheny tries to compensate for losing Furcal.
Given the Cardinals' increasingly narrow margins, watching every run, every opportunity, forces Matheny to make tough calls. You can't really blame him for the choices he made, given the options he had. No less than the bullpen blowing the game, you can't blame him too badly for having Descalso at short. The agony for the Cardinals right now is that it's adding up to just enough to lose.
PHOTO OF THE DAY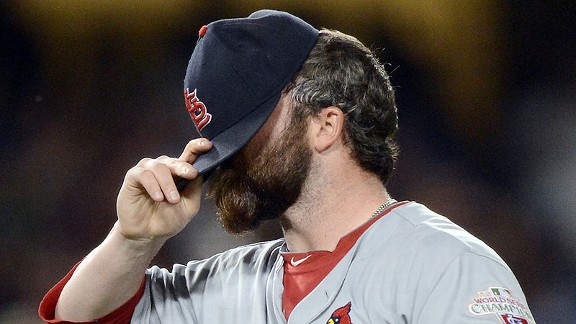 Harry How/Getty ImagesWell that Jason Motte might cover his face after blowing the save on Saturday night.
Christina Kahrl covers baseball for ESPN.com. You can follow her on Twitter.
March, 21, 2012
3/21/12
12:57
PM ET
A bit of sarcasm was on display for Wednesday's
Baseball Today podcast
, as Keith Law and I had a little fun talking about the great game of baseball!
1. KLaw discusses what he saw from
Texas Rangers
right-hander
Neftali Feliz
on Tuesday. Feliz lasted three innings before shoulder soreness forced his exit.
2. Meanwhile, I was able to observe
Boston Red Sox
right-hander
Daniel Bard
trying to avoid walks on Tuesday. Another converted reliever, KLaw shares thoughts on how this situation will end up.
3.
Ryan Braun
isn't hitting this spring, and obviously the rumor mongers can't get enough. Of course, Keith and I tell you the truth about Braun.
4. Big trade for the Royals! Big trade! OK, so acquiring
Humberto Quintero
and
Jason Bourgeois
doesn't guarantee the pennant, but we discuss their impact, and the Royals' closing situation.
5. Emails and tweets galore! Among the topics are Mike Matheny's living arrangements, the awful
Houston Astros
, sixth starters and Dusty versus Walt in Cincy.
So download and listen to Wednesday's Baseball Today podcast, which includes a funny rant by Mr. Law. Don't miss it.
December, 23, 2011
12/23/11
7:00
PM ET
By
Christina Kahrl
| ESPN.com
You might have thought we were about to run out of reasons to weep for the Cardinals, World Series win or no. After all, Jeff Luhnow scrammed to Houston to reboot the Astros after their latest failure to launch, and
Allen Craig
's going to miss the month of April. And worst of all,
Albert Pujols
is now an Angeleno of Anaheim, while manager Tony La Russa has left the dugout and let the world knows he's ready to make a trip to Cooperstown in 2014.
But general manager John Mozeliak decided to sign
Carlos Beltran
, and the expectation is that he'll bat second in the Cards' 2012 lineup. As much as the faces and names may have changed, one of the reliably cool features of La Russa's lineup construction on so many contenders seems likely to continue on new skipper
Mike Matheny
's watch.
Historically, you know what some managers will do in the number two slot in a lineup: Deposit some bat-control bunting fiend to give himself something to do if the leadoff man gets aboard. A guy like Ted Sizemore could be held up as a paragon of second-slot virtue for hitting .255/.320/.321 as an everyday player during the '70s.
But from early on, La Russa didn't stick with that kind of convention, even when he had light-hitting middle infielders you might typecast for this kind of offensive role. Just look at the most frequently used hitters in the second slot from his best teams in terms of season records:
1983 White Sox:
Carlton Fisk (.289/.355/.518). As a 35-year-old everyday catcher, Pudge was about as unconventional a selection to bat second as you could imagine, but this also marked the first time La Russa really went down this road on his lineup cards. Pudge tied a career high with 26 homers, a campaign that also kicked off his career's second wind, ultimately propelling him to the games-caught record (subsequently broken by
Ivan Rodriguez
in 2009).
1988-1990 Athletics:
In '88, La Russa used Dave Henderson almost half the time in the second slot, and Hendu broke through to enjoy the best year of his career, hitting .304/.363/.525. In '89, the A's won their World Series with Henderson splitting time batting second with Carney Lansford; while Lansford had become a singles hitter at that point in his career, he narrowly lost the '89 batting title to Kirby Puckett. In '90, La Russa simply favored Lansford.
2004-2006 Cardinals:
La Russa mixed and matched in all three years, but the three men he used the most frequently in the two-hole on the 2004-2005 teams were
Larry Walker
,
Edgar Renteria
and
Jim Edmonds
, or guys who could do real damage and were anything but slappy. On the still-stunning 2006 World Series winner, La Russa favored
Chris Duncan
and
John Rodriguez
more often than anyone, a pair of slow outfielders with power.
2011 Cardinals:
The men La Russa used most often were
Jon Jay
,
Colby Rasmus
, Craig and
David Freese
, all of whom bring some thunder in their lumber.
If you remember Matheny's playing days, you'll remember that he caught for one of those teams -- the 2004 Cardinals -- so as much as you might be mad over how he hasn't managed in the majors, you might be willing to concede that beyond seeing good things done in the dugout when he was an active player, he might have picked up on the advantages of not getting too cute with in-game tactics.
Now obviously, having Carlos Beltran is automatically a good thing. Getting him for two years at $26 million is perhaps even better, because paying a little bit more per season for fewer years spares the Cardinals from paying for an age-37 season or later player, when he may not play a key role on a contender. But having Beltran batting second, with
Rafael Furcal
in front of him and
Lance Berkman
and
Matt Holliday
due up? That's just plain fun, the stuff of La Russian dreams and NL Central nightmares.
Christina Kahrl covers baseball for ESPN.com. You can follow her on Twitter.