December, 22, 2012
12/22/12
8:00
AM ET
Last weekend, I presented the top 10 teams in my
personal power rankings
. That was before the Blue Jays officially acquired
R.A. Dickey
, so I updated my top 10 after that trade, and, to spur on more debate, now present the rest of my rankings. Agree or disagree, but I do think this is the most parity we've seen in a long time. It's why the Orioles and A's were able to surprise this past season and why we will undoubtedly see another surprise team in 2013. It's a great time to be a baseball fan.
1. Nationals
Most talented rotation in the majors, deep lineup, depth. Re-signing
Adam LaRoche
to add another lefty power bat will help.
2. Reds
Superb rotation could be better if the
Aroldis Chapman
transition works, bullpen is deep enough to absorb his loss and
Shin-Soo Choo
provides a needed leadoff hitter.
3. Yankees
I think they can stretch things out more season with a deep rotation, excellent bullpen and power. Remember, they had the largest run differential in the American League last season.
4. Tigers
Deep rotation, great 1-2 punch with Miggy and Prince, and
Torii Hunter
and
Victor Martinez
should improve the lineup.
5. Braves
Left-handed power, power bullpen and a young team that could improve from last year's 94 wins.
6. Blue Jays
Addition of Dickey adds a needed No. 1 to a rotation that could be dominant if
Josh Johnson
and
Brandon Morrow
remain healthy.
7. A's
Young teams that show big improvement are usually for real, and this team has a solid rotation, a strong outfield and power arms in the bullpen.
8. Dodgers
Have to love the
Clayton Kershaw
-
Zack Greinke
combo and an offense with big upside if
Matt Kemp
and
Adrian Gonzalez
come close to 2011 levels.
9. Rangers
I think the rotation is playoff-caliber with
Yu Darvish
,
Matt Harrison
,
Derek Holland
,
Alexi Ogando
,
Martin Perez
and
Colby Lewis
.

10. Cardinals
Have to replace
Kyle Lohse
, but they'll score plenty of runs as long as
Carlos Beltran
(36 years old in April) and
Matt Holliday
(33 in January) keep producing.
11. Rays
Still some holes in the lineup, and replacing
James Shields
' 220-plus innings won't be that easy, but underestimate the Rays at your own risk.
12. Angels
Oddsmaker Bovada.lv has the Angels with the second-best odds to win the World Series (behind the Blue Jays), but I see a rotation
with a lot of question marks
behind
Jered Weaver
, and
Josh Hamilton
only replaces Hunter, who was terrific in 2012.
13. Giants
I discussed
my issues with the Giants here
. I could be wrong, although our friends at Bovada only put the Giants tied for ninth in their World Series odds.
14. Diamondbacks
Their run differential wasn't much different than the Giants last year, and they've added
Brandon McCarthy
, infield depth and still have
Justin Upton
.
15. Phillies
I want to say we're all underestimating a team that includes
Cole Hamels
,
Cliff Lee
and
Roy Halladay
, but then I see an outfield of
Darin Ruf
,
Ben Revere
and
Domonic Brown
, and an infield defense that includes
Michael Young
and
Ryan Howard
and 30-somethings
Jimmy Rollins
and
Chase Utley
.
16. Brewers
They can score runs -- most in the National League last season -- and if the bullpen regroups after 2012's gruesome late-inning efforts, this team could surprise.
17. Red Sox
There will be no expectations after the disaster in 2012 (the franchise's worst record since 1965), but I see a big rebound coming.
18. Royals
I'll buy -- but I'm not buying a playoff spot.
Eric Hosmer
and
Mike Moustakas
have to take huge leaps forward ... or the Royals could be headed for another rebuild.
19. Orioles
Last season's 93-win playoff team provided a beautiful ride, but the Orioles haven't added that big bat they need.
20. Padres
Young team is moving in the right direction after winning 76 games in 2012. Can rotation improve to push Pads over .500?
21. Mariners
Mariners have pursued a big bat all offseason but were only able to pick up
Kendrys Morales
, and he cost them
Jason Vargas
, opening up a 200-inning hole in the rotation. Looks like 2014 before Mariners can make a push in the tough AL West.
22. Pirates
Still no No. 1 or even No. 2 starter (sorry,
A.J. Burnett
is a No. 3 at best) and not enough support for
Andrew McCutchen
. One of these years, Pirates fans, one of these years.
23. White Sox
No
A.J. Pierzynski
, a declining
Paul Konerko
, good year/off year
Alex Rios
due for an off year. Then again, White Sox had a bigger run differential in 2012 than the Tigers.
24. Cubs
Rotation of
Edwin Jackson
,
Jeff Samardzija
,
Travis Wood
,
Scott Baker
and
Scott Feldman
could be competitive, but offense won't be.
25. Mets
At least Mets fans can dream of a future rotation that includes
Matt Harvey
,
Zack Wheeler
,
Jonathon Niese
and Noah Syndergaard. Unfortunately, the 2013 version still includes
Frank Francisco
and a bunch of fourth outfielders.
26. Marlins
Giancarlo Stanton
still makes this team worth watching on a daily basis.
27. Indians
Getting
Trevor Bauer
in the Choo deal added a much-needed starting pitcher prospect. Unfortunately, much of the rest of rotation remains suspect.
28. Twins
Kevin Correia
,
Vance Worley
,
Mike Pelfrey
... what, Rich Robertson and Sean Bergman weren't available?
29. Rockies
At least the Twins have a direction as they wait for young position players to reach the majors. I have no clue what the Rockies are doing, intend to do, want to do, wish to do or hope to achieve.
30. Astros
Welcome to the AL West, boys.
December, 3, 2012
12/03/12
4:07
PM ET
NASHVILLE, Tenn. -- The
Minnesota Twins
made a splash last week when they traded center fielder
Denard Span
to the
Washington Nationals
for pitcher Alex Meyer, a 6-foot-9 former first-round draft pick with a 100 mph fastball. Meyer has the potential to be a front-of-the-rotation starter or, in an alternate scenario, a dominant closer. But he might not be ready to contribute to the big league club for a couple of years.
[+] Enlarge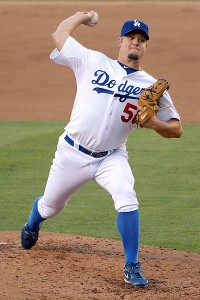 Kirby Lee/Image of Sport/USA TODAY SportsJoe Blanton was 10-13 with a 4.71 ERA in 30 starts combined for the Phillies and Dodgers last season.
With that deal complete, the Twins now turn their attention to acquiring some immediate help for a rotation that went 39-75 with a 5.40 ERA in 2012. It's not a reach to say they're pitching-obsessed.
Free agents
Zack Greinke
,
Anibal Sanchez
,
Ryan Dempster
and (maybe)
Edwin Jackson
might be beyond Minnesota's price range. But when you talk to people at the Gaylord Opryland hotel, they'll tell you the Twins are in on just about every other free agent with a résumé and pulse.
Joe Blanton
, a veteran innings-eater who spent last season with the Phillies and Dodgers, is a prime target for the Twins, sources said. Midrange starters
Kevin Correia
and
Brett Myers
are on general manager Terry Ryan's radar, and the Twins are taking a serious look at the group of non-tendered pitchers who recently became free agents. That list includes former Washington Nationals starter
John Lannan
and erstwhile New York Met
Mike Pelfrey
, who underwent Tommy John surgery in March.
The Twins are also kicking the tires on veteran
Vicente Padilla
. Although some people in the Minnesota organization have concerns about Padilla's makeup, the Twins are intrigued by his ability to both start and relieve.
Minnesota also has been more active than expected in trade talks. Other clubs with excess pitching have approached the Twins to talk about center fielder
Ben Revere
and left fielder
Josh Willingham
, who is a particularly attractive commodity because of his reasonable contract and excellent production.
Willingham hit 35 homers and ranked eighth in the American League with a .524 slugging percentage last season, and he's signed for two more years at a total of $14 million. But unless Ryan is blown away, it's tough to envision him moving an outfielder and putting a major crimp in his offense. In the Twins' quest to bolster their pitching, they would simply be weakening one facet of the team to strengthen another.
April, 25, 2012
4/25/12
8:00
AM ET
First base: Mr Enigmatic.
Is
Max Scherzer
a good pitcher? A mediocre pitcher? A potentially great pitcher? Last October, in Game 2 of the American League Division Series, we saw how good Scherzer can be when he pitched six scoreless innings, using an explosive, moving fastball to throttle the Yankees. And there he was two starts later in the American League Championship Series against the Rangers, getting knocked out in the third inning. One reason so many people predicted the Tigers to run away with the AL Central is they penciled in improvement for Scherzer and
Rick Porcello
. I wasn't quite so sure; both have maddeningly inconsistent in their young careers and it's been mostly bad Scherzer in 2012. The punchless Mariners roughed him up Tuesday for
10 hits and five runs in five innings
, bumping his ERA to 8.24. Frankly, I can't figure him out. He has a nice 23/6 strikeout-to-walk but has allowed 30 hits in 19.2 innings. Unlucky on balls in play? Sure, probably. Mix in a little
Miggy Cabrera
,
Prince Fielder
and
Jhonny Peralta
as well. But it was similar last season, when he posted a 4.43 ERA: Good ratios, but too many hits and too many home runs (29). Coming on the heels of Porcello's one-inning stinker, the Detroit rotation after
Justin Verlander
remains a work in progress.
Second base: Narveson out for season.
Tough day for pitchers, as
Michael Pineda
will get another opinion on his shoulder and
Mike Pelfrey
went on the disabled list with elbow inflammation and possibly worse. Brewers starter
Chris Narveson
, however, is done for the season after it was announced he'll undergo rotator cuff surgery. Narveson was a solid fifth last season, but
Marco Estrada
is a nice replacement -- maybe even a step up. A fastball/curve/changeup guy, the Nationals originally drafted Estrada but never quite believed in him since his fastball is 90-91, and the Brewers picked him up on waivers in 2010. He pitched well last season, including a 3.70 ERA in seven spot starts, and threw well last week with five innings of one-run ball, with nine strikeouts and no walks against the Rockies. He isn't flashy, but he throws strikes and should be solid. We talk a lot about the need for rotation depth. Estrada will end up being a key to the Brewers' season.
Third base: CarGo-es deep.
The Rockies
lost 5-4
to the Pirates as the bullpen blew a lead in the eighth inning but the good news was
Carlos Gonzalez
finally hit his first two home runs, improving his triple-slash line to .278/.328/.500 (he raised his average 38 points and his slugging percentage 140 points in one night). Nice, but the Rockies will need more ... like 2010 more, when Gonzalez led the National League with a .336 average, slugged .598 and finished third in the MVP vote. That season was built on a .384 average on balls in play, third-best in the majors. His BABIP returned to more normal levels last season and his numbers fell. Gonzalez did start out slow last April (.228, one homer) before heating up in May and June, only to come down with a wrist injury in July that he aggravated again in September. Hopefully this is a sign the wrist is completely healthy and he'll start heating up.
Tweet of the night.
A's rookie lefty
Tom Milone
improved to 3-1 with a 2.00 ERA with eight shutout innings against the White Sox.
His tweeting is boring as all get out but @tommymilone_57 is one hell of a pitcher. Outstanding.

— Brandon McCarthy (@BMcCarthy32) April 25, 2012
February, 18, 2012
2/18/12
11:00
AM ET
By
You Can't Predict Baseball
| ESPN.com
Last year, You Can't Predict Baseball came up with
bold predictions
for the year. We had a lot of fun coming up with them, and then laughing at how hilariously wrong they were
at the end of the year
. This year, we're bringing these predictions to SweetSpot, along with explanations for some of them. Keep in mind, these predictions are supposed to be bold, but not insane -- even we know the Orioles aren't going to the playoffs in 2012.
Los Angeles Angels:
Kendrys Morales
stays healthy all year.
Houston Astros:
Bud Norris
is top five in K/9 in the NL.
We figured something good had to happen to the Astros, right? Norris actually has a pretty nice career K/9.
Oakland Athletics:
Yoenis Cespedes is their starting center fielder by Memorial Day.
Toronto Blue Jays:
Brandon Morrow
makes the jump to elite starting pitcher.
He's struck out more than 10 batters per 9 innings two years running, though his ERAs have remained ugly. We think this is the year his results finally match the stuff, especially considering his declining walk rate.
Atlanta Braves:
Julio Teheran
has more wins than
Tim Hudson
.
[+] Enlarge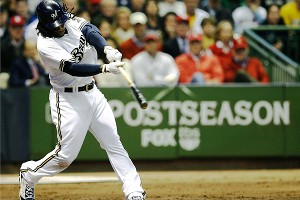 AP Photo/David J. PhillipWith Prince Fielder gone to Detroit and Ryan Braun facing possible disciplinary action, Rickie Weeks could lead the Milwaukee Brewers in home runs in 2012.
Milwaukee Brewers:
Rickie Weeks
leads the team in home runs.
He was fourth on the team last year, with 20. In front of him were Corey Hart with 26, Ryan Braun with 33, and Prince Fielder with 38. Fielder is gone, and for this prediction we'll assume Braun will miss a third of the year due to a suspension. It's not too bold to think Weeks could pass Hart in 2012.
St. Louis Cardinals:
Carlos Beltran
outproduces
Albert Pujols
from last year.
Albert Pujols was great last year, but not quite best-player-of-his-generation Albert Pujols. If healthy, it's not absurd to think of Beltran outproducing Pujols' 5.1 WAR in 2011.
Chicago Cubs:
Matt Garza
isn't their best pitcher.
It'll be Ryan Dempster, who had great peripherals but bad results last year.
Arizona Diamondbacks:
Aaron Hill
will be good again.
He was great with them in limited time, and Arizona's park is quite hitter-friendly.
Los Angeles Dodgers:
James Loney
will be a top-three first baseman in the National League.
Many thanks to Mike Scioscia's Tragic Illness for somewhat alerting us to this one. We just decided to take it semi-absurdly far.
San Francisco Giants:
Madison Bumgarner
is their best pitcher.
In terms of ERA, he already wasn't very far behind Matt Cain and Tim Lincecum, and his K/BB ratio eclipsed theirs by quite a bit.
Cleveland Indians:
They'll have the best pitching in the American League Central.
We're banking on Ubaldo Jimenez, making a major comeback to something closer to what he was in 2010, and the rest of the staff displaying the good that they did in 2011. We're also counting on the Tigers' starters not being very impressive behind Justin Verlander, which is bold but not quite insane, and the pitching of the White Sox, Twins and Royals not being able to keep up with Cleveland's.
Seattle Mariners:
Jesus Montero
catches 100-plus games.
The Mariners probably aren't going to compete, so why not try and play him where he'll accrue the most value?
Miami Marlins:
Despite all their new acquisitions and the hype, they still finish fourth in the NL East.
When you think about it, this one isn't so crazy. If Josh Johnson isn't healthy and maybe even if he is their pitching still trails that of Philadelphia, Washington, and Atlanta; even with Heath Bell, we don't think their bullpen is as good, either. Their offense might be better than some of those teams', but the Marlins were quite a bit below league average offensively last year and we're not sure how much Jose Reyes is going to make up for that.
New York Mets:
Mike Pelfrey
is the worst starter in the NL.
Pelfrey's been pretty terrible two of the past three years, and now they're moving the fences in at Citi Field. He was far better in his huge home stadium, but we're guessing with the moved-in walls he'll be significantly worse at Citi. Here at YCPB, we actually don't think the Mets are going to be quite as dire as many are saying, even if they do come in last place in the NL East - but Pelfrey won't be a bright spot.
Washington Nationals:
Stephen Strasburg
has a 17-strikeout game.
Baltimore Orioles:
Matt Wieters
is the best catcher in the AL.
A lot of people are so obsessed with Wieters not matching the hype that they didn't notice he became a plus offensive performer last year, to go along with very good defense. His taking the next step isn't that bold as predictions go, especially if Joe Mauer has to move off catcher.
San Diego Padres:
Luke Gregerson
is a top-three closer in the NL.
Philadelphia Phillies:
Cole Hamels
is their best starter.
And this isn't meant to be a slight to Roy Halladay or Cliff Lee, but considering their ages and the fact that Hamels is pretty darn good himself, plus a possible boost from a contract year...
Pittsburgh Pirates:
Charlie Morton
is their All-Star.
Texas Rangers:
Yu Darvish
isn't their best starter -- but he's still good.
And we think he'll be pretty good, we just think Derek Holland will become more consistently good, or Matt Harrison will put up numbers like his 2011.
Tampa Bay Rays:
James Shields
will have no complete games.
Predicting someone to have no complete games might not seem bold, but it is when it's a guy who was known as "Complete Game James" last season. Shields did have 11 complete games in 2011, an almost unheard-of number these days, but he had no complete games in 2009 or 2010.
[+] Enlarge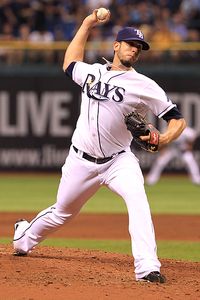 Kim Klement/US PresswireAfter none in either 2009 or 10, James Shields pitched 11 complete games for Tampa Bay in 2011.
Boston Red Sox:
No one hits 30 home runs.
This might seem crazy when you consider their great offensive numbers last year, but only one player on their team hit 30 home runs and it was Jacoby Ellsbury with 32.
Cincinnati Reds:
Brandon Phillips
is the best second baseman in the NL.
Colorado Rockies:
Jamie Moyer
will have the best HR/9 on the staff.
Kansas City Royals:
They reach .500.
While their pitching won't be great, their offense will take a big step forward this year. Combined with the rest of their division being the Tigers and some dumpster fires, it's not that difficult to see it happening.
Detroit Tigers:
They score fewer runs than they did in 2011.
Yes, that's even with Fielder. It's not improbable that Jhonny Peralta, Alex Avila and Delmon Young regress quite a bit from their numbers with Detroit last year, and that Prince Fielder's production "only" makes up for the offensive loss of Victor Martinez in 2012. They'll still have a very good offense, though.
Minnesota Twins:
Joe Mauer hits 15 home runs.
Chicago White Sox:
Robin Ventura gets ejected more times than Ozzie Guillen.
Look at the state of the White Sox. We'd get ejected too.
New York Yankees:
Hiroki Kuroda
leads the team in ERA.
You Can't Predict Baseball is an affiliate of the SweetSpot network.
February, 15, 2012
2/15/12
7:00
PM ET
Check out some of the great work from our blog network ...
April, 25, 2011
4/25/11
4:42
PM ET
We did it last week. We'll try it again ... a Monday stroll through the stats as we pass the time with no day baseball. (Seriously, Bud, forget worrying about things like expanded playoffs and labor deals ... just get us day baseball, every day, and we'll be much happier.)
Jose Bautista reached base 11 straight times before finally going hitless (with two walks) on Sunday. He has 19 walks in 18 games and a .506 on-base percentage. Yes, he's for real. By my count, the following players had more walks than games played in a season (minimum 100 games): Barry Bonds (five times), Ted Williams (five times), Babe Ruth (twice), Mark McGwire, Eddie Joost, Mickey Mantle and Jack Clark. Nice company if he can keep it up.
Is it me, or is Alex Rodriguez quietly having a monster April that seems to be getting little attention? I think I've read more about Bartolo Colon and Freddy Garcia. Meanwhile, A-Rod is hitting .354/.492/.792. He seems locked in at the plate and the scary thing for pitchers is that he has 14 walks and only six strikeouts. A-Rod's walk rate dropped to 9.9 percent last season, his lowest since 1999.
Matt Kemp and Andre Ethier have carried the Dodgers so far, but warning to Dodgers fans: The two also rank 1-2 in the majors in BABIP (batting average in balls in play) at .484 and .451, respectively.
Nice to see the early resurgence from Lance Berkman, leading the NL with a .725 slugging percentage. As bad as Berkman looked with the Yankees last season (one home run in 106 at-bats), it was easy to forget that this guy posted a .906 OPS in 2009 and finished fifth in the MVP vote in 2008.
Sam Fuld leads the majors with 10 steals, more proof of Joe Maddon installing an aggressive baserunning mentality with the Rays. Fuld had just 23 career steals in the minors. The team with the most steals in the majors, however, is Kansas City, with 30 -- and they've only been caught five times, for an 86 percent success rate. The Royals were eighth in the majors in steals in 2010, but just 20th in success rate at 70 percent.
Oakland's rotation leads the majors with a 2.20 ERA. The Cubs are last with a ghastly 6.03 mark. Showing how much teams have struggled to generate offense in the AL, the six worst rotation ERAs all belong to NL teams. The worst in the AL: the Yankees, with a 4.62 mark.
The Marlins lead in bullpen ERA (1.79), lowest batting average allowed (.189) and lowest OPS (.527). Philly's pen has allowed just one home run in 56 innings.
Alfonso Soriano has six home runs, Tyler Colvin two and nobody else has more than one for the Cubs.
The Padres are averaging 2.86 runs per game ... no team has averaged less than three runs per game since the '72 Rangers and Angels.
Pitchers I'm worried about: Madison Bumgarner (10 walks, only nine K's in 17.1 IP), Javier Vazquez (11/16 SO/BB ratio, fastball velocity same as last year, which means down from 2009), Mike Pelfrey (34 hits in 23.2 IP, 12/13 SO/BB ratio).
From FanGraphs: the Mariners have the worst UZR (Ultimate Zone Rating) in the majors at -16.6 runs. Jack Wilson, Brendan Ryan, Ichiro Suzuki, Milton Bradley and Ryan Langerhans all with bad ratings. So not only can four of those guys not hit, now they can't field either. Ladies and gentlemen, your 2011 Seattle Mariners!
April, 17, 2011
4/17/11
1:43
AM ET
The more things change for the Mets, the more they stay the same. After a complete overhaul of their front office, the hiring of a new manager and coaching staff, a rebuilt bullpen, two new additions to the starting rotation, and an Opening Day lineup that carried over only one player from the 2010 opener, the Mets continue to struggle.
Making sure things stayed familiar, on Saturday an old foe applied the damage to their dreams:
Chipper Jones
. Jones had 44 home runs and a .973 OPS in 215 career games versus the Mets coming into the game. He went 3-for-6 with two walks, two runs, and two RBIs, including his 45th career homer against the Mets, as the Braves took both games of Saturday's doubleheader.
It was only the latest development in a storyline that gets worse every day for the Flushing faithful. After losing seven straight games including two consecutive doubleheaders, the
New York Mets
have sunk to 4-11 overall. Do Mets fans have reason to be optimistic? Consider this: that 4-11 record is only one game ahead of the pace of the 1962 Mets, who began their year 3-12 en route to a 40-120 season. Losing two doubleheaders in a week was also historic. It has only happened five times since 2000 -- although the Mets did it once before, in June 2003.
To add injury to insult,
Jason Bay
lingers in Port St. Lucie with a ribcage strain, and their most effective starting pitcher --
Chris Young
-- has been placed on the DL with biceps tendonitis after only two starts. Opening Day starter
Mike Pelfrey
, the pitcher who is supposed to be their de facto ace, has completed only 16 innings in four starts, and sports a whopping 2.34 WHIP and 9.72 ERA. The bullpen has been similarly ineffective, with three blown saves, a 1.70 WHIP and 4.79 ERA through 47 innings.
Now the bad news: Pitching may be the Mets' strength.
Offensively, the Mets have scored 63 runs, which isn't awful -- it's good enough for sixth in the NL. But their .237 average and .661 OPS with runners in scoring position suggests they could have scored many more, and that they just aren't getting the big hits when they have the opposition on the ropes. Mets hitters managed only two hits in seven innings on Saturday against
Jair Jurrjens
, then struck out five times against the Braves bullpen. Their lone baserunner came with two outs in the ninth, when
Jose Reyes
struck out on a wild pitch and reached first base safely as the ball trickled away from catcher
David Ross
.
On defense, Mets outfielders have lost balls both in the sun and the lights, and haven't yet figured out the quirky confines of Citi Field. Second baseman
Brad Emaus
misplayed an easy double-play ball during a key moment in Thursday's loss against the Rockies, and has looked tentative -- which more or less describes the Mets defense in general. The catchers have allowed 16 stolen bases and have credit for only one caught stealing, which came on Saturday afternoon when the Braves'
Nate McLouth
beat the throw by a few feet, but was tagged out when his foot slipped off the base.
Perhaps most disappointing has been the Mets inability to execute "the little things" -- especially annoying since new manager Terry Collins made fundamentals a focus from the day he came on board. Failed sacrifice-bunt attempts, mysterious pitch selections, and bone-headed baserunning has marked the club's ineptitude. The players look nervous and confused, except when they try to do too much -- such as when
Daniel Murphy
channeled Marv Throneberry and inexplicably attempted to steal third base in the sixth inning of their most recent loss, with none out and down by three. Murphy was thrown out by 15 feet, killing the Mets' only potential of a rally in the ballgame. Collins subsequently described it as "an error of enthusiasm." Casey Stengel, manager of the original edition of the Mets back in 1962, might have a more scathing description of what's happening with the Mets right now by asking again, "Can't anybody here play this game?"
Despite his club's recent woes, Collins remains upbeat. Immediately after getting swept in the Atlanta doubleheader, he said, "We're gonna go get 'em tomorrow and then we're gonna go home and win six straight and this will all be forgotten."
Though Collins remains positive, his words fall on increasingly deaf ears among Mets fans. After all, when the Mets began the season 4-7, Collins' response was, "We're one pitch away, and we're one swing away, from being 9-2, and we're not. But the next 11, we need to be 9-2."
Collins is correct in the broad strokes: If the Mets rip off a six- or seven-game winning streak, this 4-11 start is likely to be forgotten. But that's a big "if," particularly when a team is struggling to pitch, hit, field,
and
run. What's more concerning is that if the Mets don't turn things around dramatically, and right away, the season likely will get even worse before it gets better. Why? Because if you put any stock into strength of schedule analysis, the Mets are currently in their easiest month, with two of their toughest two coming in May and June. In July, they play 13 games against 2010 playoff teams.
The best chance for optimism is the hope that maybe the Mets will play up to their competition as the schedule gets tougher. But if the first fifteen games are any indication, it's going to be a long, long, long season for Mets fans.
PHOTO OF THE DAY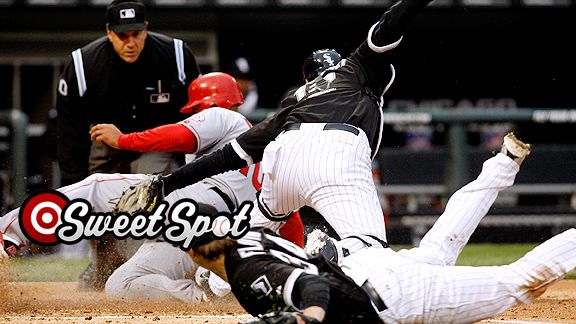 Jerry Lai/US PresswireA.J. Pierzynski's missed tag was just the beginning of a seven-run night for the Angels.
April, 7, 2011
4/07/11
12:05
AM ET
A few days before the season began I was out running with Matt, one of my editors. Matt is a Mets fan and I was having a good time threatening to write a "Why the Mets could be the worst team in the National League" post.
I never got around to writing it; I guess I didn't really believe in the premise. But we all know nobody thinks the Mets will do anything in 2011, except maybe Bernie Madoff; not one ESPN insider predicted the Mets to make the playoffs. Baseball Prospectus projected the Mets to win 80 games. The Vegas over/under was 77 wins.
So even though they lost Wednesday night to the Phillies to fall to 3-2, they showed some energy by rallying from a 7-0 deficit to tie it. I liked what I saw (other than
Mike Pelfrey
). In fact, I have 10 reasons the Mets may be better than we believe.
1.
David Wright
is still a really good player. He fell out of the "SportsCenter" highlights during that 10-homer season in 2009, but hit 29 last season. If he gets his OBP back in the .390 range, he's one of baseball's best third baseman, a step below the
Ryan Zimmerman
/
Evan Longoria
duo.
2.
Jose Reyes
in a contract year. All the skills are still there. He still has the speed and the rocket arm. He doesn't turn 28 until June. I feel a big year, back among the NL runs leaders … and a big contract in the offseason.
3.
Angel Pagan
is for real. He's a solid center fielder, a switch-hitter with speed and just enough extra-base power to be dangerous. You can win a division title with Pagan out there. For example, is
Shane Victorino
really any better than Pagan?
4. Depth in the lineup. As Baseball Prospectus pointed out in its annual, the Mets gave 40 percent of their plate appearances to hitters worse than league average. Among the culprits with at least 100 plate appearances:
Luis Castillo
,
Rod Barajas
,
Alex Cora
,
Henry Blanco
and somebody named
Jesus Feliciano
. This year, the Mets go eight deep in the lineup, with catcher
Josh Thole
hitting eighth. And Thole isn't that bad. Not much power, but a decent .357 OBP as a rookie in 2010.
5.
Brad Emaus
. My colleague Eric Karabell loves Emaus. Trust in Eric. Hey, he's gotta be better than Luis Castillo. Of course, my couch is better than Luis Castillo.
6. The bench.
Lucas Duda
has some good minor league hitting numbers,
Scott Hairston
can hit lefties,
Daniel Murphy
is back after being injured last season and he's a nice utility guy.
7. Potential in the rotation. I am worried about Mike Pelfrey after two bad starts, but the rotation could be solid with
R.A. Dickey
, a step forward from
Jonathon Niese
, a comeback from
Chris Young
and
Chris Capuano
. Yes, they lack an ace unless
Johan Santana
returns healthy, but all these guys could at least be decent. And if you have five decent starters, you have a chance.
8. The bullpen is sneaky good. Hard-throwing
Bobby Parnell
is ready to emerge in the setup role,
D.J. Carrasco
is a ground ball specialist with a rubber arm who won't give up many homers,
Taylor Buchholz
was really good with the Rockies before getting injured. I'm no fan of K-Rod, but he's better than a lot of closers. (But can we dump the nickname please? He really hasn't been K-Rod since about 2007.)
9. Terry Collins. Let's put it this way: BP reminded me of the incident last season when Jerry Manuel had Castillo bunt in extra innings against Cardinals
outfielder
Joe Mather
. Collins is worth a win or two from a strategic/lineup viewpoint. Or maybe three or four.
10.
Carlos Beltran
's knees. I've avoided mentioning them until now. The Mets are due a little luck in the health department, right?
Add it all up and the Mets could win 86-87 games, and in the National League that could make them wild-card contenders.
Photo Of The Day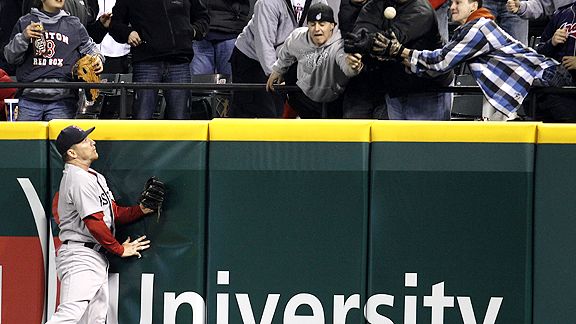 AP Photo/Tony DejakAs the Sox drop to 0-5, could Boston's J.D. Drew be singing "Come Sail Away" already?
April, 26, 2010
4/26/10
11:01
AM ET
Rob Neyer
shares his thoughts

on Mike Pelfrey's impressive start to the 2010 season.
April, 15, 2009
4/15/09
6:32
PM ET
Posted by ESPN's Claire Smith
NEW YORK -- Mike Pelfrey may miss a start Sunday after being diagnosed with tendinitis in his right forearm.
"We have to take our time with him and make sure we do the right thing by him," Mets manager Jerry Manuel said. "We'll do a whole thorough thing with him to see if it's worth him missing a start or not."

The tendinitis was discovered after Pelfrey underwent an MRI. Monday, Manuel expressed concern about the righthander after Pelfrey's pitches appeared to lack life in a five-inning, five-run start against the San Diego Padres at Citi Field.

"The good news is that there really wasn't anything structural," said Manuel.

Manuel on using Sheffield
Manuel had yet to hand in the first official lineup card listing Gary Sheffield in right field, yet he spent part of the afternoon explaining just what situations would lead him to remove the former Tigers designated hitter from games for defensive purposes.

Manuel, striking a serious note, said that it would certainly depend on game situations. Then, laughing, he said, "if it's 4-4 and he's driven in all four runs, he'll be in there."

LeFebvre grateful to Robinson
Padres hitting instructor Jim LeFebvre is one of the many second basemen to play the position for the Dodgers since Jackie Robinson. He may be one of the few who can claim to owe the Hall of Famer a heartfelt thank you for a personal gesture long gone by.

"I was a rookie in 1965 and I committed an error to cost us a game -- Koufax versus Tug McGraw, here at Shea Stadium," said LeFebvre. "It cost us the game and I felt terrible. I went back to the hotel as down as I could be and had a restless night.

"Then, at 10 in the morning, the phone rang. It was Jackie Robinson. I'd never met the man, but he wanted to call and tell me to hang in there. 'You're in the major leagues, you're a Dodger, you have the talent to be here, you're a good player,'" he said. "He told me he enjoyed watching me play, and not to get my head down.

"That was it. I never got to meet him, and never spoke with him again. But, boy, what class. I went to the ballpark with a little different attitude the next day. I never forgot what he did that day."
Claire Smith is a news editor at ESPN. She covered baseball for 27 years at the Hartford Courant, the New York Times and the Philadelphia Inquirer.
April, 8, 2009
4/08/09
10:41
AM ET
Tom Verducci on who should be worried this year about
this year's Year After Effect
:
Mike Pelfrey was ready for me in the Mets spring training clubhouse, as if he knew I was coming.

"Look at me," the Mets right-hander said one day last month. "I'm a pretty big guy." Yes, sir. Pelfrey is 6-foot-7. Thankfully, he is a rather pleasant, mild-mannered guy.

I didn't feel threatened, but my theory about young pitchers getting overworked was precisely in Pelfrey's crosshairs. Pelfrey was familiar with my rule of thumb that pitchers 25 and under are at risk of injury or significant regression in the year after their clubs boost their workload by 30 or more innings.

--snip--

So I agreed with some of what Pelfrey presented. He turned 25 in January and is a big guy, so maybe he withstands his 48-inning jump better than someone younger and smaller. That said, I'm still not taking him off my list of the most at-risk young pitchers of 2009 based on the Year After Effect. There is a reason why the Mets had an innings threshold in mind for Pelfrey, a reason why the Yankees have treated Joba Chamberlain with kid gloves and a reason, going further back, why Oakland was very careful to manage the innings growth of its young starters almost a decade ago when I first learned about this growing trend: Too much too soon is risky stuff.

This year I red-flagged 10 pitchers -- and the list includes some of the greatest young arms in the game. Here are those pitchers and the innings jumps that put them on the list ...
The list:
Jon Lester
,
Cole Hamels
,
Chad Billingsley
,
Tim Lincecum
,
Clayton Kershaw
,
Dana Eveland
, Mike Pelfrey,
John Danks
,
Jair Jurrjens
, Jon Niese.
Verducci:
How much should those guys be worried? Over the previous three years I red-flagged a total of 24 young pitchers at the start of those seasons. Of those 24 at-risk pitchers, 16 were hurt in that same season. Only one of the 24 pitchers managed to stay healthy and lower his ERA: Ubaldo Jimenez of Colorado, a guy I said would be less at risk because of his powerful body type.

In the early years of my tracking the Year After Effect, the Royals notoriously pushed young pitchers to awful results (Jose Rosado, Chris George, Runelvys Hernandez, Mac Suzuki, etc.). The Pirates have supplanted the Royals as the worst offenders (Zach Duke, Paul Maholm, Tom Gorzelanny). It's one thing for the Mets to push Pelfrey with a playoff spot at stake, but it's hard to explain why a rebuilding franchise would put young starters at risk in meaningless games in September.

Last year I red-flagged seven pitchers: Jimenez, Gorzelanny, Ian Kennedy (Yankees), Dustin McGowan (Blue Jays), Chad Gaudin (Cubs), Yovani Gallardo (Brewers) and Fausto Carmona (Indians). Except for Jimenez all of them broke down with injuries -- some of them serious, not all arm-related -- and combined to go 29-32. None won 10 games. Previous blowouts that were red-flagged included Francisco Liriano, Gustavo Chacin, Anibal Sanchez, Adam Loewen and Scott Mathieson.
I'm sure you see the gap in this analysis ... Where's the control group? We know -- we've known for a long, long time -- that young pitchers who pile up innings are susceptible to injuries. The Holy Grail of baseball is something that will keep young pitchers from ruining those oh-so-valuable gears and levers and pulleys that allow them to somehow perform their superhuman feats. But are young pitchers who boost their workload by 30 innings more injury-prone than pitchers who boost their workload by 20 innings? Is a 24-year-old pitcher who goes from 120 innings to 150 innings more likely to get hurt than a 22-year-old pitcher who goes from 175 innings to 190 innings? Do pitch counts matter, at all?
Verducci's method strikes me as terribly arbitrary. That doesn't mean it doesn't work. But without a control group -- without some basis for comparison -- we can't really know if pasting the photos of a bunch of young pitchers on the wall and throwing darts wouldn't work just about as well. And one thing I'm sure about: the Red Sox and Rays and Cardinals and Indians and Padres and another half-dozen (at least) teams aren't throwing darts.
Not exactly.