June, 14, 2011
6/14/11
12:41
AM ET
So Cubs general manager Jim Hendry says manager Mike Quade is
"certainly doing a fine job here."
According to registered sabermetricians, that proverbial kiss of death means Quade has a 96.7 percent chance of being fired by the end of the week.
Now, I don't know if Mike Quade is a good manager. Hard to say when he's running out a lineup on Monday that included
Darwin Barney
,
Jeff Baker
hitting third,
Luis Montanez
, somebody named
D.J. LeMahieu
and
Tony Campana
.
The point is: In modern baseball, the importance of a manager to an organization is way overstated. I'd arrange the pecking order like this:
1. The players. Obviously.
2. The general manager. He builds the team and acquires the players.
3. The scouting department. Responsible for drafting young talent.
4. Ownership. Approves budget and payroll for signing free agents and draft picks.
5. Minor league development people. Helps turn prospects into major leaguers.
6. Training staff. Must help keep multi-millionaire major leaguers healthy.
7. Manager. Meets with the media, discusses game strategy, tries not to screw up the bullpen.
8. Business and marketing operations. Help bring in more fans, which can lead to bigger payroll.
9. Local media. Can influence public opinion on team and players.
10. Mascots, vendors, concessions, scoreboard operators, guy who selects the at-bat music for each player, PA announcer. All part of the ballpark experience.
So to me, the question isn't if Mike Quade is doing a fine job, but rather: Is Jim Hendry doing a fine job?
Hendry became Cubs GM in July of 2002, making him one of the longest-tenured GMs in the game. His first full season, of course, was a success: Inheriting a pitching staff led by
Mark Prior
,
Kerry Wood
and a young
Carlos Zambrano
, the Cubs famously were five outs from reaching the World Series. The next year, the Cubs won 89 games giving them their first back-to-back winning seasons since 1971-72. They won NL Central division titles in 2007 and 2008, although they were swept in the playoffs both seasons.
Those are the positives. The negatives:
Since 2003, the Cubs are barely over .500 at 688-671, despite ranking in the top 10 in the majors in payroll each season except 2003 (when they were 11th).

Despite all those high payrolls, the Cubs have won 90-plus games just once in his tenure, in 2008.

Eight years, $136 million for Alfonso Soriano. Yes, there is still three years remaining at $18 million per year.

He once signed Neifi Perez to a multi-year contract.

Signed Carlos Zambrano to a $91.5 million extension in August of a season in which he posted a 3.95 ERA and led the NL in walks.

Signed Carlos Pena, a player who had just hit .196, to a $10 million deal for 2011.

He's paying John Grabow $4.8 million this season. JOHN GRABOW! For a reliever who's had an ERA under 3.30 ONCE in his career and a career WHIP of 1.46.

The team hasn't drafted well under him: Its first-round picks since 2003: OF Ryan Harvey (sixth overall, never reached majors); P Mark Pawelek (20th, never got past Class A); OF Tyler Colvin (13th, no plate discipline, currently hitting .105 for Cubs); C Josh Donaldson (48th, traded to A's); 3B Josh Vitters (3rd, hitting .289 in Double-A, but has just eight walks, drafted ahead of guys like Matt Wieters, Madison Bumgarner, Jason Heyward and Rick Porcello); we'll see what happens with the more recent draftees like Ryan Flaherty and Brett Jackson.
Here's an amazing stat: the Cubs rank last in the NL in walks drawn, even though Carlos Pena ranks second in the NL in walks and
Kosuke Fukudome
is 11th. Trouble is, those two guys have nearly half the team's total. That's been a repeated problem for the Cubs throughout Hendry's tenure, as exemplified by the signings of guys like Perez and the overpaying for a low OBP slugger like Soriano.
Are we getting to an answer yet? The Cubs' farm system isn't rated very high. The long-term outlook is bleak: The only decent players younger than 28 are pitcher
Matt Garza
and the middle-infield combo of
Starlin Castro
and Darwin Barney. The trouble with that combo is that Castro's fielding may turn him into a second baseman and Barney isn't really that good or even that young (25).
Sure, the team has had a few injuries this year. So have a lot of other teams. But a team with the sixth-highest payroll in the majors should have the depth to overcome injuries. Instead, the Cubs offer up
Doug Davis
and D.J. LeMahieu.
So the Cubs can fire Mike Quade if they want. But that's not going to fix things.
PHOTO OF THE DAY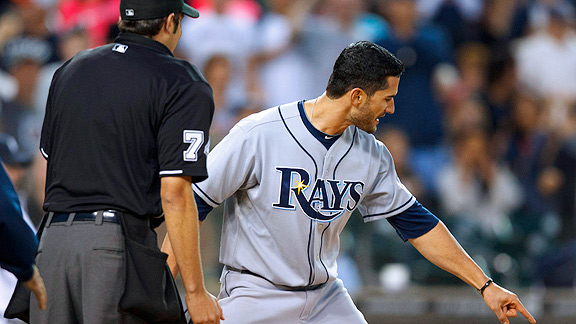 Rick Osentoski/US PresswireLook, now, what I am trying to tell you … hang on, what I am saying is … will you listen?
March, 27, 2011
3/27/11
9:14
PM ET
There are two reasons I enjoyed the little
Carlos Silva
/Mike Quade/Jim Hendry exchange of words after the Cubs released the veteran right-hander (I was going to say "portly," but "veteran" sounded more respectful):
1. Silva is a beefy (oops) right-hander without good stuff.
As Hendry said, Silva has had two good months over the past several seasons. He was awful with the Mariners in 2009, in a season cut short by a sore shoulder. In 2008, he had one of the worst years of the decade, going 4-15 with a 6.45 ERA and allowing a .331 opponents batting average. I think
Adrian Beltre
sprained his neck watching line drives scream past him. He was OK with the Twins in 2007 (prompting Seattle to give him that ridiculous contract in the first place), but awful in 2006. This guy is not a good major league pitcher and unlikely to be one in 2011.
2. More importantly, it hopefully shows that new manager Mike Quade -- who apparently made the decision to cut Silva loose -- is willing to give young players a chance. In this case, it's
Andrew Cashner
.
In recent years, the Cubs have been dragged down by a motley crew of "proven" veterans. Too late, the Cubs have realized some of those guys can't play. In 2010, they gave 400 plate appearances to the punchless
Ryan Theriot
.
Xavier Nady
had more than 300 plate appearances and produced a woeful .256/.306/.356 line. In 2009, it was
Kevin Gregg
blowing saves and
Mike Fontenot
posting a .301 OBP.
True, the Cubs' farm system hasn't been one of the most fruitful in recent seasons, but it has provided
Starlin Castro
,
Geovany Soto
,
Randy Wells
and
Tyler Colvin
over the past three years. That's more talent than many other teams have produced.
Quade still has to sort out second base. I'd like him to give
Blake DeWitt
a chance to play, but proven veteran
Jeff Baker
(career OPS+: 95) may instead eat up the at-bats. But maybe baby steps are all we can expect from the Cubs for now.
Follow David Schoenfield on Twitter at
@dschoenfield
. Follow the SweetSpot blog at
@espn_sweet_spot
.