May, 2, 2013
5/02/13
11:15
PM ET
I love a good cheating accusation. I mean -- peanuts, hot dogs, hating the Yankees, pitching inside and cheating: Aren't they all a fundamental part of the game we love?
Blue Jays broadcaster Jack Morris thinks Red Sox pitcher
Clay Buchholz
is throwing a spitball
, telling ESPNBoston's Gordon Edes:
"What do you think? Look at the pitches. Fastball at 94 that goes like that," Morris said, his hand darting swiftly down and away. "On a fastball?

"He's not the first guy to ever do it? You can get away with it. Gaylord [Perry] made a nice career out of it."
Blue Jays radio analyst Dirk Hayhurst, who pitched briefly in the majors, also said that Buchholz "absolutely" was cheating during Wednesday's start. First off, Morris has been around the block a few times, so I don't think we can simply dismiss the allegations as sour grapes from the Blue Jays' perspective. Does Morris strike you as the type who would crazily throw something like this out there? What does he have to gain by doing so?
Here are some
highlights of Buchholz pitching
from Wednesday's game. That's some mean stuff there. In particular, check out the fastball to
Jose Bautista
at the 1:00 mark. Ty Cobb couldn't hit that pitch.
You know what the pitch reminds of? Mike Scott in the 1986 playoffs, when the Astros right-hander blew away the Mets in two starts. If you're not familiar with Scott, he won the Cy Young Award that year using a high-powered fastball and lethal split-fingered pitch. A splitter that the Mets suggested was actually a scuffball.
Check out the pitch to Gary Carter at the 1:07 mark
. Don't show that video to Keith Hernandez.
[+] Enlarge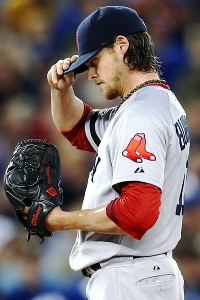 Tom Szczerbowski/Getty ImagesClay Buchholz struck out eight and allowed just two hits in Wednesday's victory in Toronto.
Looks kind of like the Buchholz pitch, doesn't it?
Buchholz, who is 6-0 with a 1.01 ERA, says he's the same pitcher he's always been. Which obviously isn't the case. He's striking out 27.8 percent of the batters he's faced, well above the 16.1 percent rate of last season and his 18 percent career rate. So, let's check into some of the detailed movement on his pitches.
Horizontal break on fastball, 2013: minus-4.7 inches
Vertical break on fastball, 2013: 9.9 inches
Horizontal break on fastball, 2012: minus-4.8 inches
Vertical break on fastball, 2012: 9.1 inches
Those are average totals, of course, suggesting he's getting a little more downward movement on his fastball, but overall, the movement is similar to last season. But his ball was really moving on Wednesday night, averaging minus-5.5 inches of horizontal break. His 16 fastballs thrown with two strikes averaged minus-6.5 inches of horizontal break (although 7.1 inches of vertical break). Some of that variance comes with the different types of fastballs thrown -- two-seamers versus four-seamers -- but that pitch to Bautista was 96 mph, as hard as any pitch Buchholz threw all night. Four-seam fastballs are thrown harder but are also usually straighter than two-seamers.
By the way, there's nothing unusual about Buchholz's average movement on his pitches. He ranks 33rd in average vertical break on his fastball among 110 starters (
Clayton Kershaw
is No. 1). Still, that pitch to Bautista seemed almost unnatural.
Aside from whatever Buchholz is doing, or not doing, cheating is part of the fabric of the game's history. Baseball players will always look for that extra edge. Sometimes, they go a little too far, of course, and start making a mockery of the game (we mean you, Barry Bonds). Or in the 1950s, when the spitball was apparently so prevalent that commissioner Ford Frick actually lobbied to have the pitch
re-legalized
. Whitey Ford was the most famous practitioner; according to "The Baseball Codes" by Jason Turbow and Michael Duca, Ford used a concoction of turpentine, baby oil and rosin that he stored on the dugout bench during games.
Pitchers from Don Sutton to Scott to Greg Maddux and Tom Glavine have been accused of throwing spitballs or scuffing the ball. Perry, of course, went through his famous
pre-pitch routine
in which he may or may not have been applying a foreign substance to the ball. (Once, when asked by a writer what pitch her daddy threw, his young daughter said, "It's a hard slider.")
Turbow writes that Ozzie Guillen said, "Everyone cheats. If you don't get caught, you're a smart player. If you get caught, you're a cheater. It's been part of the game for a long time."
Indeed it has. Morris has simply stirred up an age-old controversy. I have no idea if Buchholz is doing anything illegal. But I'm glad we have something fun to argue about.
August, 1, 2011
8/01/11
4:57
PM ET
I feel bad for Astros fans. They traded two of the four or five good players on the club. It will take two or three years before we can begin to assess the rebuilding project. In the the meantime, the Astros have a chance to join the 2004 Diamondbacks and 2003 Tigers as the only clubs in the past 40 years to lose at least 110 games. And they may not be much better in 2012.
So let's take a time out to remember a few good times from a franchise with a fun, interesting history full of great players and memorable moments.
Jimmy Wynn
One of the first stars in Astros history, Wynn is one of the most underrated players in baseball history. A small center fielder, Wynn was nicknamed "The Toy Cannon" -- c'mon, how is that not one of the greatest nicknames of all time? -- for his surprising power. He hit 20 or more home runs six times for Houston, when hitting 20 in the Astrodome was a big achievement. His ability to draw walks -- he drew 148 in 1969 -- made him a quality on-base guy even when his batting averages were mediocre.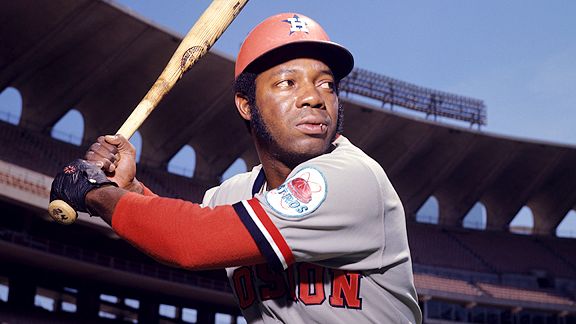 Diamond Images/Getty ImagesJimmy Wynn hit 223 home runs with the Astros, including 37 in 1967.
---
Cesar Cedeno
One of the best and most electrifying players in the National League in the early 1970s, Cedeno had a monster season at age 21 in 1973 when he hit .320 with 22 home runs, 55 stolen bases and a league-leading 39 doubles. In some regards, Cedeno spent much his career trying to match that early success -- manager Leo Durocher tagged him as the "next Willie Mays." Some say he was never the same after an accident in which his gun discharged, killing his girlfriend. But injuries and the distant fences of the Astrodome also worked against him.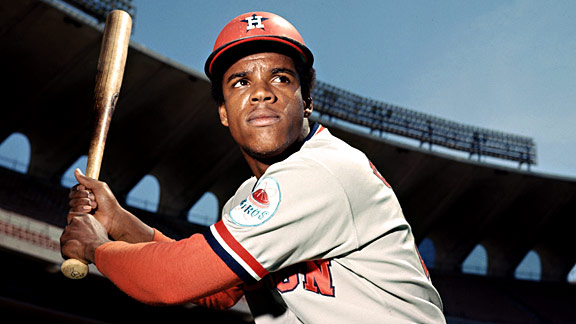 Malcolm Emmons/Getty ImagesCesar Cedeno played 11 seasons for the Astros, hitting 163 home runs stealing 487 bases.
---
Nolan Ryan
The Astros made a big splash when they signed the Texas native as a free agent for the 1980 season. The Ryan Express made immediate dividends, leading the Astros to their first playoff appearances that season. They met the Phillies in one of the most exciting playoff series ever (the last four games of the best-of-five series all went extra innings), but Ryan couldn't hold a 5-2 lead in the eighth inning of Game 5.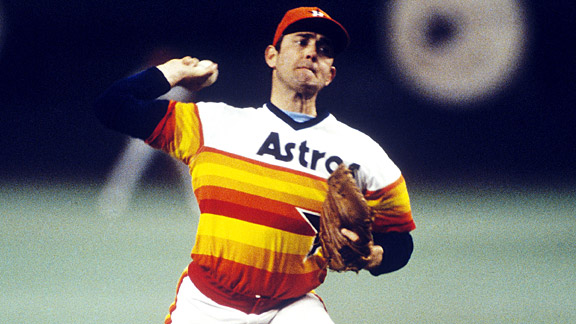 Getty ImagesNolan Ryan went 106-94 with a 3.13 ERA in nine seasons with Houston.
---
Jose Cruz
Cruz had never done much for the Cardinals when the Astros purchased him in November of 1974. What looked like the addition of a backup outfielder turned into the purchase of a late-developing star. Cruz hit .300 six different seasons with the Astros and finished in the top eight of the NL MVP voting three times, including third in 1980 when he hit .302 with 91 RBIs and 36 steals.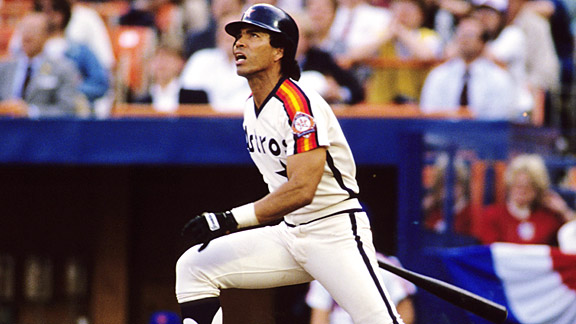 Ronald C. Modra/Getty ImagesJose Cruz hit .292 over his 13 seasons with the Astros.
---
Mike Scott
Scott delivered one of the greatest moments in Astros history when he pitched a no-hitter to clinch the NL West division title in 1986. Scott won the Cy Young Award that season and dominated the Mets with two wins in the NLCS. Alas, he never got to pitch Game 7 as the Mets won the series in six games.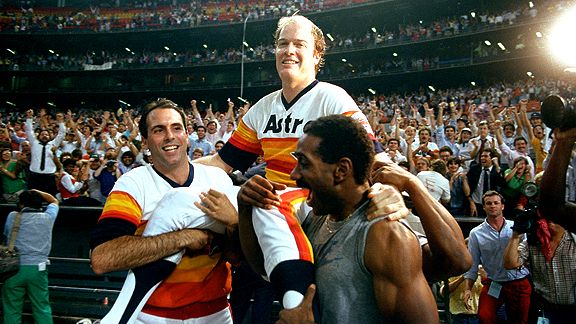 AP PhotoMike Scott won the NL Cy Young Award in 1986 when he went 18-10 with a 2.22 ERA.
---
Jeff Bagwell and Craig Biggio
They both played their entire careers with the Astros, Bagwell hitting 449 home runs, winning an MVP Award and once scoring an astonishing 152 runs in a season, and Biggio rapping out 3,060 hits and scoring over 1,800 runs. With those two leading the way, the Astros made the playoffs six times in nine season from 1997 to 2005.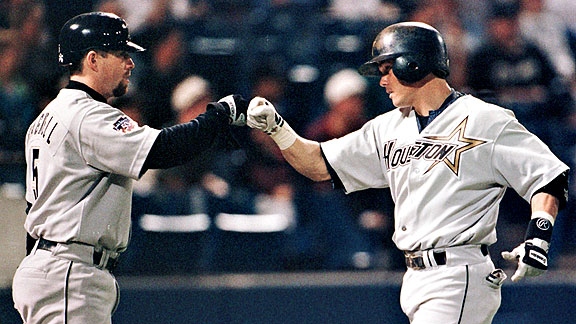 Vincent LaForet/AFP/Getty ImagesThe two greatest players in Astros history should both go into the Hall of Fame.
---
Chris Burke
Burke delivered perhaps the biggest home run in Astros history. His 18th-inning home run beat the Braves in Game 4 of the 2005 Division Series, giving the Astros a dramatic 7-6 victory in the longest postseason game ever played.
Roger Clemens
picked up the win with three scoreless innings of relief. The Astros would beat the Cardinals in the NLCS to reach their only World Series.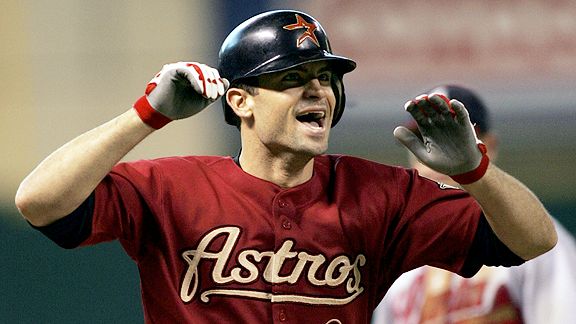 Doug Benc/Getty ImagesChris Burke celebrates the home run that won the 2005 Division Series.
---
So it might be dark days for the Astros right now. Let's just hope the rebuilding doesn't take too long.
Follow David Schoenfield on Twitter @dschoenfield.