April, 13, 2011
4/13/11
5:55
PM ET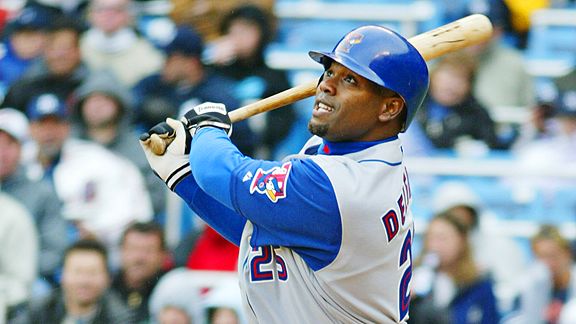 David Seelig/Icon SMICarlos Delgado hit 473 home runs and drove in more than 1,500 runs in his career.
Carlos Delgado
officially
announced his retirement
, in slightly less dramatic light than
Manny Ramirez
.
He was a great hitter, a player worthy of some random thoughts ...
1. Delgado came up through the minors as a catcher and everyone knew he could hit -- he ranked as Baseball America's No. 4 prospect in 1993 and No. 5 in 1994. He caught two games in the majors but the Blue Jays originally tried him in left field before he settled in at first base. The attempt to make him a catcher meant he spent two seasons in Triple-A when he was ready for the majors (and probably cost him 500 career home runs).
2. Long home runs. Outside of maybe
Mark McGwire
,
Barry Bonds
and
Sammy Sosa
(ahem), did anyone in the past 15 years hit longer home runs than Delgado? Loved that left-handed power stroke, like he was using a big sledgehammer.
3. The four-homer game against Tampa Bay in 2003. Delgado had taken antibiotics for a cold earlier in the day and homered in all four trips to the plate. His fourth homer was a mammoth blast to center field off
Lance Carter
.
4. His 99 extra-base hits in 2000 -- he had 57 doubles, a triple and 41 home runs -- tied for 16th-most in one season. Delgado hit .344/.470/.664 that season -- and finished fourth in the MVP voting. Yes, there was a lot of offense that year.
5. His one season with the Marlins. Actually, I don't remember this much at all.
6. Finally making a postseason appearance with the Mets in 2006 -- and raking. He hit .351/.442/.757 in 10 games, with four homers and 11 RBIs. In Game 7 of the NLCS, the Cardinals wanted nothing to do with him -- they walked him three times.
7. He only made two All-Star teams (2000 and 2003). What? The same number as Scott Cooper? How is this possible? Well, here are the first basemen who got selected in his prime years ...
1998:
Jim Thome
,
Rafael Palmeiro
,
Mo Vaughn
.
1999: Jim Thome, Rafael Palmeiro,
Ron Coomer
... yes, Ron Coomer! ... plus THREE DHs (
Harold Baines
,
John Jaha
and
Jose Canseco
).
2001:
John Olerud
,
Tony Clark
,
Jason Giambi
,
Mike Sweeney
.
2002: Jason Giambi,
Paul Konerko
, Mike Sweeney.
2004: Jason Giambi,
Ken Harvey
... yes, the immortal Ken Harvey.
2005:
Derrek Lee
,
Albert Pujols
. This one was weird. The NL selected only two first basemen, but Pujols started at DH. Third baseman
Morgan Ensberg
ended up playing first base. But
Cesar Izturis
and
Felipe Lopez
were All-Stars that year.
2006: Albert Pujols,
Lance Berkman
,
Ryan Howard
,
Nomar Garciaparra
. Nomar was hitting .358 at the break.
2007: Delgado had a bad year.
2008: Lance Berkman, Albert Pujols,
Adrian Gonzalez
. This was the year Delgado had a monster second half.
Anyway, I'm not saying he deserved to make it all those years, but it's surprising he was only a two-time All-Star. Heck, Bruce Benedict was a two-time All-Star.
8. His stance against the war in Iraq. Not an easy decision, but I applauded his courage to take a political stand
with thought and conviction
.
9. He finished with a career WAR of 49.1 via
FanGraphs
, 44.2 on
Baseball-Reference
. I'd thought it would be higher, but he's being compared against some great first basemen from his era. That places him about 26th among first basemen (minimum 50 percent of career games at first base) since 1901, similar in career value to guys like Orlando Cepeda, Gil Hodges, Don Mattingly and Boog Powell. He loses a lot of value for baserunning (terrible) and fielding (below average). Based on hitting value alone, he's about 13th to 15th among first basemen.
10. Hall of Famer? Not quite.
May, 12, 2010
5/12/10
4:40
PM ET
You have to enjoy these stories that
just keep on giving
. From the suddenly famous Larry LaRue:
After a players-only meeting to discuss the issue – and a pair of anonymous players who triggered the most controversial part of it – Seattle Mariners manager Don Wakamatsu said Ken Griffey Jr. was not asleep in the eighth inning of Saturday's game in Seattle.

One player said he'd seen Junior asleep at his locker in the seventh inning of that game, an inning before catcher Rob Johnson came to bat, and a second player confirmed the account.

--snip--

Since it was my blog that sparked all this, players approached me after their meeting to ask if I'd identify the two guys I'd interviewed. I wouldn't – if there's heat from all this, it's on me, not two guys who answered my questions.

I was also told a number of players were angry and hurt by the blog, and that it would be best not trying to talk to them for a few days. Given my job, that's not possible. I had to try and did, and many passed.

That's part of my job, and maybe part of theirs, too.
Look, the problem isn't that Griffey was taking a nap in the seventh inning. I mean, that's
a
problem; for me, anyway, it takes a few minutes to really wake up after a nap. So even if Junior was sitting next to his manager in the eighth inning, that doesn't necessarily mean he was as alert as you'd like your pinch-hitter to be.
But again, that's just a problem rather than
the
problem. Or rather, the problems. One problem is that this has become a huge story. The other problem is that two Mariners don't have Junior's back.
Oh, and there's a third problem: At the moment, the two dominant personalities on the roster, Sleepy Junior and Angry Sweeney,
can't hit
.
Mike Sweeney
's angry because there are a couple of snitches in the clubhouse. But you know, it's frustrating, when you're a young man and you're losing games because old men -- old men who shouldn't be on the roster at all -- are routinely failing.
Three problems, and two solutions: 1) Old guys start hitting, or 2) Old guys removed from roster.
Which of those do you find more likely?
March, 30, 2010
3/30/10
8:07
PM ET
Ah, another
late-March surprise
. From Pro Ball NW:
Mike Sweeney has made the team in favor of Ryan Garko, as expected. Unexpectedly, the Seattle Mariners look like they're opting to place Garko on waivers, rather than optioning him to AAA.

Argh.

The logic, as presented by Dave Cameron on Twitter, might be to let some other team claim Garko and his ~$500K contract to give the Mariners some more financial flexibility to go out and sign, say, Jarrod Washburn, who is apparently balking at Seattle's low offers after turning down a $5M offer from the Minnesota Twins earlier this offseason.

The move to put Garko on waivers could be to help Garko out, since he was basically guaranteed a job upon signing but was beat out by a guy who was offered a coaching position before signing.

--snip--

Don Wakamatsu has said that he wants Casey Kotchman as his everyday first baseman, and it looks like GM Jack Zduriencik has granted him his wish.
I probably don't like Garko as much as Jon does. But the projections for him are really consistent, right around a .340 wOBA (which is pretty good). Sweeney's projections are all over the place, but average around .320-.325. That's obviously not a great difference, but ...
Well, I'm just not as optimistic about the Mariners as I'm supposed to be. I don't think they're going to win 90 games. I think 85 is a more reasonable guess, which means they'll have some competition for the division title and every dozen or two runs might be important. Like Jon, I was sort of hoping for a Garko/Kotchman platoon at first base. Or a Garko/Griffey platoon at DH. A Garko
something
.
According to Geoff Baker's
primer
, the M's are dumping Garko because:
1. they believe (rightly) that he's a lousy first baseman,
2. which means they're better off with Kotchman playing first base every day, and
3. with
Jack Hannahan
healthy (enough) they don't have the roster space for both Garko and Sweeney.
Left unexplained is why the M's are so wild about Sweeney. Do they think Sweeney's a better fielder than Garko? I doubt it. Do they think Sweeney's a better hitter than Garko? I doubt it. Do they think Sweeney's a better chemistry guy than Garko? Bingo.
I won't argue that chemistry doesn't matter. I will argue that there's room for only so many chemistry-based decisions, and that the M's are either right at or just
over
the reasonable limit.