December, 5, 2011
12/05/11
8:30
PM ET
By
Christina Kahrl
| ESPN.com
While Chicagoans can celebrate Ron Santo finally getting his due from Cooperstown -- posthumously and several decades late -- it isn't like the outcome of the "Golden Era" election was a perfect bit of resolution for baseball fans in the Windy City. White Sox great Minnie Minoso is
still on the outside looking in
, and that's every bit as egregious an oversight.
Taken at face value, the big-league numbers for Minoso don't make an overwhelming case, not the way that Santo's did. Minoso led the league in steals three times in an era when people didn't steal a ton of bases. He led in triples three times and hits once and total bases in another -- that doesn't exactly get statheads fired up. Tallying up 1,963 hits, 186 home runs, 205 steals and a .298/.389/.459 batting line doesn't sound like much in isolation. Minoso did not win a major award, and he never played in the postseason. At first blush, it's a very good career, but perhaps not an all-time great one.
That would be a superficial response, however. You can't talk about Minnie Minoso's case for Cooperstown without getting into his history in other circuits, playing at a time when opportunity was not equal, thanks to matters of race and the reserve clause. His first three years as a pro were spent in his homeland in Cuba (1943-45), followed by three more years starring in the Negro Leagues for the New York Cubans (1946-1948). Minoso then had to spend 1949 and 1950 marking time in the PCL because the Indians felt they were already stocked up in the outfield.
Minoso would only get his real break in 1951 after getting sent to the White Sox in a three-way deal. When, at long last, he made it to the majors to stay in 1951, Minoso was already 28 years old. (He was born in 1922, not 1925 as had been initially thought.) As a result, Minoso was already well through the years that are supposed to be a player's peak seasons, years he hadn't gotten to spend in the majors thanks to institutionalized racism and then limited opportunities. We don't know, can't know, how much of his career was lost to those factors, just that it was.
However, despite this late start Minoso went on a 10-year run that marked him as one of the best players in the American League. Not broadly speaking, or generously: We're talking about Mickey Mantle, Ted Williams, and Minnie Minoso. Using Baseball-Reference's version of WAR, from 1951-60 Minoso is second in the AL behind only Mantle. If you harbor a reasonable suspicion of defensive value, using offense alone Minoso falls from second ... all the way to third, behind Mantle and Williams.
Going year to year and using WAR, in 1951 Minoso was one of the four best position players in the league; count offense alone in that season, and he's behind just Teddy Ballgame. Sticking with WAR, Minoso was one of the five best position players in the AL in 1951, 1953, 1954 (leading the league), 1956, 1957, 1958 and 1959 (tying with Nellie Fox for the lead). This isn't a Ralph Kiner-like brief run -- Minoso was simply a great ballplayer, and consistently one of the best of his era.
Minoso's career is often a case of just missing out, which is why his coming up short in this latest popularity contest can be especially exasperating. He just missed winning the 1951 AL Rookie of the Year, getting 11 first-place votes to the 13 given to Gil McDougald of the Yankees. In 1954, when Minoso was the best player in the league, he was one of five candidates to get an MVP vote in a fractured ballot; instead, the Yankees' Yogi Berra won his second of three MVP trophies. Minoso also just missed the postseason during this era of Yankees' dominance: he was on the White Sox in 1957 and in 1960, but because he'd been dealt to the Tribe (for Hall of Famer Early Wynn and outfielder/third baseman Al Smith), he missed being part of the 1959 pennant-winning team.
All of this neglects Minoso's importance as an example and as a trailblazer as baseball's first great black Latin player as well as the first black man to play for the White Sox. His popularity in Chicago was locked in from the get-go, as he was widely acknowledged as the reason why White Sox attendance crossed a million for the first time in franchise history in 1951, and then stayed there through the '50s. Remarkably, the rookie was rewarded with a Minnie Minoso Day at Comiskey Park at the end of that same season. Those aren't criteria, but a black Latin star becoming a big part of a franchise-wide turnaround is rightly remembered on the South Side as cause for pride.
This is not to trash the positive results of Monday's announcement. Santo's selection is the closing note of a long campaign to right a wrong, achieving what many already believed -- that Ron Santo was a Hall of Famer, and always had been. The chicanery of the process isn't suddenly validated because this latest mechanism belatedly achieved the right conclusion. In light of the continuing oversight of Minoso, a healthy dose of skepticism that we'll see the Hall eventually get it right in his case as well would be totally understandable. You can wonder if Minoso will be alive to enjoy the recognition that he too is due, should that day finally come. After what happened with Ron Santo, you have to hope not.
Christina Kahrl covers baseball for ESPN.com. You can follow her on Twitter.
November, 3, 2011
11/03/11
11:57
PM ET
This year's
Veterans Committee ballot
is called the "Golden Era" ballot, which will consider candidates from the 1947-1972 era. Now, I think "Golden Era" is a misleading label for an era that actually saw stagnant attendance -- in 1947, the average attendance per game was 15,989, while by 1972 it had dropped to 14,507 -- but that's another column.
The 16-member committee will vote on 10 candidates, with 12 votes needed for enshrinement. If you remember, last year's Veterans Committee elected only executive Pat Gillick from the post-1972 era, with union leader Marvin Miller falling one vote short of election,
I think the Golden Era ballot actually has a few stronger candidates, especially if you believe in a big Hall. I advocate the following two candidates for the Hall of Fame.
[+] Enlarge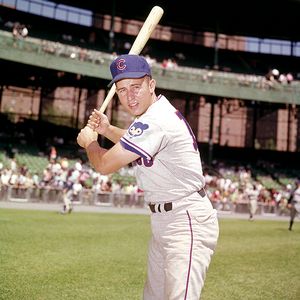 Louis Requena/MLB Photos via Getty ImagesYou could argue that Ron Santo, who was a nine-time All-Star, was the best third baseman of the 1960s and one of the best of all-time.
Ron Santo, 3B, 1960-1974
Stats:
.277/.362/.464, 342 HRs, 1,331 RBIs, 2,254 hits, 5 Gold Gloves, 9-time All-Star
Much has been written about Santo, whose vote total on the BBWAA ballot peaked at 43.1 percent in 1998, his final year of eligibility. The best way to assert his candidacy is perhaps just to list the greatest third basemen of all time. Here's the Baseball-Reference.com top 10, sorted by Wins Above Replacement:
Mike Schmidt: 108.3 WAR
Eddie Mathews: 98.3
Wade Boggs: 89.0
George Brett: 85.0
Chipper Jones: 83.0
Brooks Robinson: 69.1
Scott Rolen: 66.7
Ron Santo: 66.4
Home Run Baker: 63.7
Graig Nettles: 61.6
I'm picking and choosing here, but Santo has more hits than Schmidt, more home runs than Brett, Boggs or Robinson, more RBIs than Boggs, more walks than Brett, a higher batting average than Schmidt, Mathews or Robinson. He's clearly the best eligible third baseman
not
in the Hall of Fame, and there are several who rank below him in career WAR who
are
in the Hall, including Baker, Pie Traynor, George Kell, Freddie Lindstrom and Jimmy Collins.
I think one argument used against Santo is that he'd be the fourth Cubs player from his era to make the Hall, joining Ernie Banks, Billy Williams and Fergie Jenkins. How can a team have four Hall of Famers but never win anything? Well, quite easily when you have a lot of bad teammates. It's also important to note that the players' peaks didn't overlap. Banks was a phenomenal player when he won two MVP awards playing shortstop in the 1950s, but after he hurt his knee and moved to first base, he wasn't much of a player the second half of his career; from 1962 to 1971 he posted a .306 on-base percentage and just 8.7 WAR. He wasn't contributing much by the time Jenkins began peaking in 1967.
Plus, you have to ask yourself: Why the other three but not Santo? Here are the career WAR for the four:
Jenkins: 81.3 WAR (made it third year)
Santo: 66.4 WAR
Banks: 64.4 WAR (made it first year)
Williams: 57.2 WAR (made it sixth year)
OK, Jenkins and Banks make sense. But why Williams and not Santo? His career hitting stats are a little better, but he was a mediocre left fielder while Santo was a Gold Glove third baseman. Williams was certainly more liked than Santo and that eventually meant something to the voters. He hung on a few years longer to add to his counting totals. While Santo was the best third baseman in the National League in the 1960s, some of his skills weren't obvious -- he led the league four times in walks and was a solid defensive third baseman, things voters weren't necessarily factoring in while assessing his value. Baseball-Reference rates Santo as one of the top 10 position players in the NL seven times, including No. 1 in 1967 and No. 2 in 1965 and 1966.
[+] Enlarge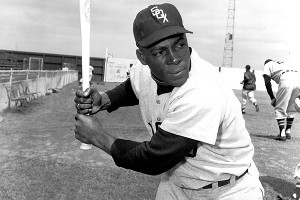 AP PhotoMinnie Minoso finished fourth in the MVP voting four times and didn't start until he was 25 because of the color barrier
I don't know if Santo will get in -- he wasn't particularly liked by his peers either, and some of them will be on the committee (including Williams, which could certainly help Santo). To me, the bottom line is Ron Santo won't be lowering the standards of the Hall of Fame, but raising them; he's the best player at his position not already in, and arguably the best eligible player at any position not already in. Sadly, he passed away last December, and won't get to enjoy the moment if he's finally elected.
Minnie Minoso, OF, 1949-1964
Stats:
.298/.389/.459, 186 HRs, 1,023 RBIs, 1,136 runs, 1,963 hits, 9-time All-Star
Minoso's first full season in the majors came in 1951, when he was 25 years old. He hit .326, scored 112 runs, led the league in triples and stolen bases and finished fourth in the MVP vote. From 1951 until 1962 (when he fractured his skull and wrist running into a wall, and later fractured his forearm when hit by a pitch) Minoso had the seventh-highest WAR among all major league position players, trailing only Mickey Mantle, Willie Mays, Eddie Mathews, Stan Musial, Hank Aaron and Ernie Banks. In other words, for an 11-year span, he was one of the best players in baseball.
Minoso did everything well: He hit for average, drew walks, had speed, hit for some power, was durable and was regarded as a good outfielder (the Gold Glove award wasn't created until he was 31, but he won three). The writers of his time knew he was an excellent player -- he finished fourth in the MVP voting four times, an impressive achievement considering he never played for a pennant winner.
Of course, his career numbers may not look impressive, but remember: His career didn't start until he was 25 because of the color barrier. He was the first black player for the White Sox. Considering he was already a star as a rookie, what if he had reached the majors when he was 21? Now you're adding another 700 hits or so, 400 runs and 350 RBIs to his career totals and 15 seasons as one of the best players in baseball. It seems to me more than unfair to discount Minoso's totals simply because he got a late start in the major leagues due to racial circumstances.
Minoso is 85 years old and still going strong. Put the man in Cooperstown. He deserves it.
Coming up on Saturday: I'll check out the other eight candidates on the ballot.