SweetSpot:

Mitch Moreland
June, 14, 2013
6/14/13
12:24
AM ET
Jesse Chavez
is essentially the 25th man on the Oakland A's roster. He started the year in Triple-A, got called up, got sent down, got called back up and is working as the low-leverage guy out of the bullpen. Before Thursday, he hadn't pitched since June 5, and the final scores of games he'd appeared in (without a decision) were 6-1, 10-2, 11-5, 6-2, 6-1, 6-3, 10-2, 9-6 and 8-1.
Chavez is the definition of a journeyman right-hander, having pitched for the Pirates, Braves, Royals and Blue Jays before the A's purchased him from Toronto last August. He was a typical Billy Beane acquisition: He has a pretty good arm, fastball in the low 90s, but what Chavez hadn't had was much success at the major league level, with a 5.74 ERA over 191 career innings.
But sometimes you need that 25th guy to come through, and Chavez's other asset is that he had started for Triple-A Sacramento. That ability to pitch multiple innings came into play in Thursday's 18-inning marathon in Oakland, the A's finally pushing across the winning run with a blooper and broken-bat flare off
Mariano Rivera
, winning
3-2
. Chavez was the big hero, however, pitching 5.2 innings of one-hit, scoreless relief. He has a starter's repertoire, with a cutter, curve and changeup. He got two big outs when he entered with two runners on in the 13th, striking out
Kevin Youkilis
and
Vernon Wells
on curveballs.
In the 14th, A's manager Bob Melvin had the guts to intentionally walk
Robinson Cano
with runners on first and second;
Mark Teixeira
popped out to shortstop, missing a hittable fastball. From there it was smooth sailing, as Chavez retired the side in order in the 15th, 16th, 17th and 18th innings. Not bad for your garbage-time reliever.
[+] Enlarge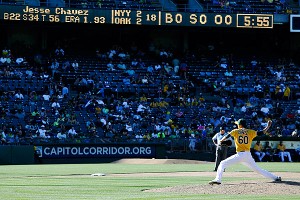 AP Photo/Eric RisbergJesse Chavez got the win for the A's in 5.2 innings of scoreless relief, with one hit and seven strikeouts.
"The last guy they threw was the best guy we faced all day," Teixeira told MLB.com. "That guy is nasty."
It's one of those games that will be remembered if the A's end up winning the American League West. It's that kind of bullpen depth that fueled their second-half surge last season and has fueled their strong start this season. The A's are 33-0 when leading heading into the ninth inning. They're 6-2 in extra innings. When tied through seven innings they're 8-1. This is a tough team to beat late in a game.
The A's have won 11 consecutive games at home and 21 of their past 26, and while they were 7 games behind the Rangers in mid-May, they now lead the division by two games, after the Blue Jays beat
Yu Darvish
and the Rangers
3-1
, dropping the Rangers to 4-8 in June. Injuries to
Ian Kinsler
and
Mitch Moreland
have hurt, but that gets us back to roster depth.
Who is the favorite to win the West? Here's a quick rundown comparing the two teams.
Lineups
Oakland: .246/.328/.397
Texas: .264/.327/.436
Entering Thursday's games, the Rangers had the higher wOBA, but the A's had the slightly better park-adjusted offense. The A's have gotten huge performances from
Josh Donaldson
and
Coco Crisp
, and while some regression might be in order, Donaldson also looks like a much-improved hitter from last season,
as Jerry Crasnick wrote
. On the other hand,
Josh Reddick
(.187) and
Chris Young
(.169) should improve.
For the Rangers, the offense is trending downward. In 2011, they averaged 5.3 runs per game; in 2012, 5.0; this year, 4.4.
Adrian Beltre
and
Nelson Cruz
are doing Adrian Beltre- and Nelson Cruz-type things, but
Elvis Andrus
and
David Murphy
are struggling right now. If Murphy doesn't pick it up, the Rangers might look to add an outfielder.
Advantage: A's.
Starting pitching
Oakland: 29-24, 4.01 ERA; .249/.298/.398; 6.1 innings per start
Texas: 25-21, 3.77 ERA; .251/.311/.391; 5.9 innings per start
The rotations have posted similar numbers, but once you adjust for ballpark, the Rangers' staff has performed better, led by Darvish and
Derek Holland
. FanGraphs WAR rates the Rangers' starters at 8.6 Wins Above Replacement, third-best in the majors, and the A's 12th-best at 5.0.
The good news for the A's is that
Jarrod Parker
pitched well again Thursday. After posting a 7.34 ERA through his first seven starts, he's gone 4-1 with a 2.40 ERA over his past seven, with a .183 average allowed and WHIP under 1.00. His changeup is back to the deadly weapon it was last year, as batters have hit .118 against it in those most recent seven games.

The Rangers have succeeded even though
Matt Harrison
has spent most of the season and the disabled list and
Colby Lewis
all of it.
Alexi Ogando
is also
out again with shoulder inflammation
. The Rangers received some solid work from
Nick Tepesch
and
Justin Grimm
early on, but those two haven't been quite as strong lately, and you have to wonder if the injuries won't catch up to the rotation at some point, at least until Lewis and Harrison return.
Edge: Even. The Rangers have been better so far, but moving forward I think the A's close the gap.
Bullpen
Oakland: 12-3, 2.89 ERA; .227/.289/.358
Texas: 13-7, 3.29 ERA; .240/.313/.368
The Texas bullpen has also been outstanding, especially the back three of
Joe Nathan
,
Tanner Scheppers
and
Robbie Ross
.
Neal Cotts
has added some depth as well. Scheppers has been the big surprise, with a fastball that sits at 94-96 mph and touches 98; he's always had a good arm but might finally be putting it together. He doesn't have a big strikeout rate (21 in 32.1 innings), and I do wonder if he keeps pitching this well. Batters are hitting just .170 off his fastball even though Scheppers' strikeout/walk ratio with the pitch is just 10.9.
Edge: A's. The Rangers have a good pen, but once you get into the fifth, sixth and seventh guys, I think the A's have the advantage.
Defense
Oakland: minus-20 Defensive Runs Saved
Texas: plus-8 Defensive Runs Saved
Ultimate Zone Rating has the clubs essentially even -- Texas at minus-0.3, Oakland at minus-1.3. The big problem area for the A's has been shortstop
Jed Lowrie
at minus-8 DRS. Chris Young, who usually rates very well in the outfield, has also rated poorly at minus-5 DRS. Of course, if he doesn't start hitting, he's not going to get much playing anyway behind Crisp, Reddick and
Yoenis Cespedes
.
Edge: Rangers.
The A's were my preseason pick to win the division, and they look like the better team right now. What do you think?
May, 30, 2013
5/30/13
9:17
PM ET
Texas Rangers
first baseman
Mitch Moreland
did this today
off
Brandon McCarthy
, although I'd like a new measurement on the reported 391 feet.
Moreland
That was Moreland's 11th home run and he's hitting .286/.333/.555. Not bad for a guy many suggested before the season should be benched to find room in the lineup for
Jurickson Profar
, with the popular idea being to play Profar at second base and move
Ian Kinsler
to first.
The sentiment to replace Moreland wasn't without merit. His Baseball-Reference WAR last season of 0.3 suggests a replacement-level first baseman. While he hit .275/.321/.468, those are Arlington-inflated numbers, and he didn't do much damage against left-handers. Overall, for a first baseman, his season wasn't anything special.
On the other hand, his OPS was still higher than Kinsler's, and moving Kinsler to first wouldn't necessarily have been a defensive upgrade. And while there's no doubting Profar's potential, we were still talking about a 20-year-old kid who hit .281 in Double-A. Profar is a switch-hitter, but sitting Moreland would have meant losing one of the few power lefty bats in the Texas lineup -- not a good idea with the departure of
Josh Hamilton
.
Anyway, the Rangers and manager Ron Washington have always liked Moreland more than the scouts and analysts, even giving him a regular spot against lefties -- 10 of his 11 home runs have come off right-handers, but nine doubles against lefties have helped him to a respectable .268/.312/.437 line against southpaws. I still think the Rangers would be better off platooning him -- finding a right-handed batter who can mash against lefties and play first base is a pretty easy roster spot to fill if you so choose -- but playing him every day has worked so far.
I'm not trying to portray Moreland as some kind of future star here. He's already 27 years old and could just be riding a hot streak right now. But so far he's proving that you don't get rid of a guy unless you know you have a better option available.
As for Profar, with Kinsler currently on the disabled list he will get a few weeks of action in the big leagues. After a three-hit day in the
Rangers' 9-5 victory
over the Diamondbacks on Thursday, he's hit .370 in seven games. Hey, there's nothing wrong with having depth.
May, 15, 2013
5/15/13
11:03
AM ET
Quick reactions off Tuesday's games ...
January, 28, 2012
1/28/12
9:00
AM ET
By
Christina Kahrl
| ESPN.com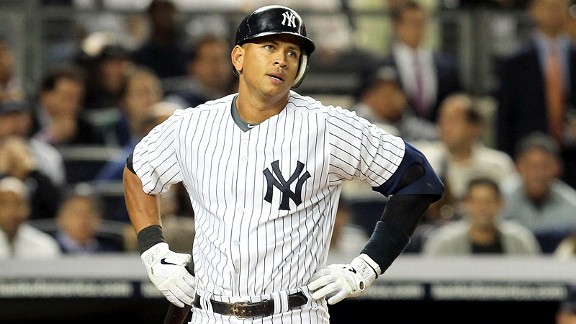 Jim McIsaac/Getty ImagesAlex Rodriguez's injury-marred year contributed to a weak group of third basemen in 2011.
Are first basemen doing more to put runs on the board today than they did 10 years ago? How about 25 years ago? How do you make broad comparisons like this?
With any question like this you can get hung up on the differences between eras. Run-scoring environments are going to bounce around as a matter of course, and that's before you get into the bump of the so-called "Steroids Era." If you were a fan just getting started in the late '90s, chances are you might wind up with an inflated sense of what player performance is supposed to look like.
Happily, you can compare player performance within the context of their own season. Clay Davenport, an old colleague from Baseball Prospectus,
cranks this data for every season
. We can get a snapshot of where performance has gone at each position by using his Equivalent Average, or EqA. Equivalent Average isn't the only stat you can employ; Clay scales production to batting average, with .260 defined as average.
With that in mind, let's take a look at performances from the eight major positions over the past 25 years. We'll start with the premium offensive positions, the four corners, from 1987 to the present: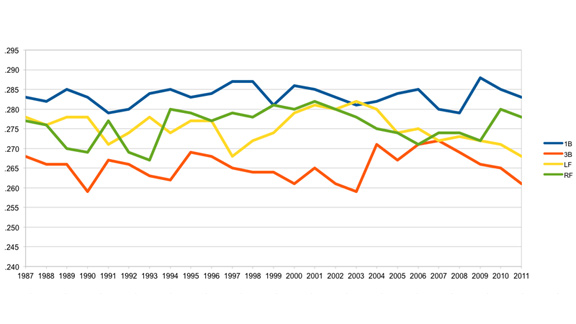 ESPN.comFour-corner EqA performance at the plate, 1987-2011
Keep in mind, .260 is average for every season, so the year-to-year variations are going to refer back to that baseline. We can already draw a few broad conclusions -- some of which are pretty much accepted wisdom, but some prove slightly surprising.
Runs come from first base.
This might seem obvious, but that's especially the case now. It hasn't always been that way. As you can see from the chart, left and right fielders have sometimes approached the first basemen, but that usually coincides with bad years for first basemen. But these days, first base is the game's premium offense position.
If you look back further, that picture gets a lot more complicated. During the '70s, first, right and left were equally important offensive positions, and in 1982 the four corners and center field were separated by just eight points. That changed in the late '80s, as the standard for production at first base now winds up north of a .280 EqA year after year.
This higher standard has survived two expansions and the steroid era. This year
Mark Teixeira
was
below
average despite hitting 39 homers. Admittedly, it was a down year for him: he posted a .281 EqA compared to an MLB average of .283. In contrast, in 1991 Carlos Quintana defined adequacy at first -- if you're from outside Boston and have forgotten him entirely, it's probably just as well, but he was a nice OBP guy without much power.
What does that mean today? Well, this goes a little bit towards what Dave Schoenfield was writing about as far as
Albert Pujols
ranking as the top player in the game for so long. It also means that while teams like the Rangers have been leaving runs on the table by playing
Mitch Moreland
, you can understand why the Red Sox traded for
Adrian Gonzalez
while the Angels landed Pujols. Credit the Rays for keeping up with the other big-money contenders by bringing
Carlos Pena
back (.292 last year).
Right field is where outfield stars play.
This might take us back to the days of Babe Ruth or Hank Aaron as opposed to Ted Williams or
Barry Bonds
. While the averages for the two positions have balanced out over time, right field is the much stronger position these days. Some of that has is because of a matter of preference:
Lance Berkman
played right for the Cardinals not because he's a good right fielder, but because he'd help them score a ton of runs.
Jose Bautista
might be a fantasy league's perfect third baseman, but the Blue Jays keep bumping him back to the outfield. Add in breakthrough seasons for
Mike Stanton
and
Matt Joyce
and even nice bounce-backs from
Justin Upton
and
Jeff Francoeur
, and you wind up with the game's reigning premium outfield slot.
Left field is down. Way down.
As you can see, the last 25 years have been pretty up and down for the left-side corners. The average for left fielders in the era of division play is .277, but they haven't reached that mark since 2004.
The sad state of left-field offensive production has already been debated plenty among statheads. Is it an affordable risk on offense at a time when teams are more defense-conscious than ever before? Or is it a case of reaping what you sow when you make a point putting guys like
Juan Pierre
in your everyday lineup? It
might
reflect an industry-wide choice to employ better defenders at the position, sacrificing some offense. But in other ways it might also reflect how left field has become almost a garbage-time position for teams that stow their backup center fielder or a sputtering veteran holdover. Teams now lack the roster space to platoon or mix and match on offense the way that they could before the seven-man bullpen became fashionable.
Whatever your take, offensive production from left fielders is down at its lowest point in 25 years, matching 1997 for punchlessness with a .268 EqA. That isn't a coincidence; much like the present, 1997 featured a lot of transition in left fields around the majors, with guys like Gregg Jefferies,
Wil Cordero
and
B.J. Surhoff
playing their first full seasons in the outfield.
Moises Alou
got hurt (again), Bernard Gilkey's career started imploding, and
Greg Vaughn
and
Ron Gant
had the worst years of their careers.
Fast-forward to the present, and you find your share of setback seasons (
Carl Crawford
and
Delmon Young
). You also see a lot of flat-out awful from self-inflicted bad ideas, like
Raul Ibanez
in the last year of his contract while
Vernon Wells
,
Carlos Lee
and
Alfonso Soriano
marked time on huge deals that won't go away soon enough.
Against that, you've got the guys we might call sops to the speed-and-defense crowd, or what I think of as the next-gen Dave Collins solutions:
Brett Gardner
,
Jose Tabata
,
Michael Brantley
,
Sam Fuld
, Pierre and more. They range from useful OBP sources to significantly less so, but not one of them is going to be Tim Raines, let alone Crawford. Last year
Gerardo Parra
had the best season among this group (.280 EqA); he also stands to lose playing time in 2012 to
Jason Kubel
, a guy who's a much more conventional corner-outfield selection.
Third Base is hurting.
If you're a student of baseball history, you already know that back in the Deadball Era second base was more of a high-offense position than the hot corner. That changed in the 1920s with the introduction of the livelier ball, but every once in a while you get a year where you've got a great group of second baseman and a weak crew of third-base vets. That was very much the case in the late '80 and early '90s (thanks in part to guys like
Roberto Alomar
, Ryne Sandberg, Robby Thompson, Lou Whitaker and
Julio Franco
), but after the Marlins-Rockies expansion in '93 second base fell back again. But now we're at this same point again, where third base has slipped behind second base, if only barely (.262 EqA to .261).
With the declining standards reflected by
Scott Rolen
getting named to an All-Star team despite a lousy season, finding merely competent options for third base isn't as easy as it sounds.
Alex Rodriguez
and
Chipper Jones
certainly aren't getting any younger.
You can hope this will change for the better with the arrivals of touted prospects like
Brett Lawrie
,
Mike Moustakas
and
Lonnie Chisenhall
, but we've also seen a few major third-base prospect flops:
Pedro Alvarez
or
Andy LaRoche
, anyone? That's why journeymen like
Casey Blake
,
Ryan Roberts
or
Jack Hannahan
get opportunities to stick around.
If anything, the state of third base these days speaks volumes about the Tigers' decision to move
Miguel Cabrera
across to the diamond after signing
Prince Fielder
. As Mark Simon notes,
the defensive penalty might be steep
, but reviewing this data suggests that there's a major competitive advantage to be gained relative to the competition, because they're making room for two superstar bats in the lineup: Cabrera with his career .315 EqA, and Fielder with his .313. The Cardinals just ran up a flag after risking their defense at the corners with Berkman in right, so you can't blame the Tigers for trying to do likewise.
Tomorrow, we'll look at the up-the-middle positions. If you're one of those people who think finding good help at shortstop or catcher is hard to find these days, you might have a surprise to look forward to.
Christina Kahrl covers baseball for ESPN.com. You can follow her on Twitter.
December, 4, 2011
12/04/11
11:48
AM ET
By
Christina Kahrl
| ESPN.com

Now in its last year of existence, baseball's short stack will get rounded out to five teams when the Astros enter the American League in 2013. But in the meantime, it's another four-way wrestling match. However, it's also a starkly segregated division. On one side, you've got the defending pennant-winning Rangers (twice over) and their chief rivals, the Angels. On the other side, the Athletics have won 74-76 games in four of the last five years, while the Mariners have been stuck in the 60s for wins in three of the last four.
Texas Rangers
1.
Rotation: Add a veteran? Or re-sign C.J. Wilson?
It isn't that what the Rangers have right now isn't good -- most teams would love to have a young quartet as talented as
Neftali Feliz
,
Derek Holland
,
Alexi Ogando
and
Matt Harrison
lined up with
Colby Lewis
. They could probably win the division with that. But is any one of them that stopper you expect to beat a playoff team with? Holland or Feliz might grow into it, or Ogando, but do the Rangers want to count on the Madduxes and the talent, or will they hedge their bets by bringing Wilson back or going after someone like
Roy Oswalt
?
Likely solution
: If they don't bring Wilson back or win the bidding on a high-profile vet with playoff experience like Oswalt, they'll opt out and not buy a veteran guaranteed rotation slot just for the sake of it. It'll be either a significant upgrade or some retread for organizational depth, with nothing in between.

2.
First base -- Settle or shop?
Last season, it might have seemed like they did quite nicely without having an everyday answer, rotating
Mitch Moreland
,
Mike Napoli
and
Michael Young
through the slot. However, Young isn't much of a first baseman, Moreland failed to develop at the plate and Napoli spends a good chunk of his time catching. Rangers first basemen rated a whopping 12th in the American League in OPS, beating out only the A's grab bag of prospects and the Rays rentals. While they're not likely to get in on
Prince Fielder
or
Albert Pujols
, is there anyone else worth chasing?
Likely solution
: Unless the Rangers want to revisit last winter's drama of shopping Michael Young, it doesn't seem likely that they'll end up spending serious money at first base. Seeing if Moreland develops at age 26 while they settle for good defenders in center wouldn't be the end of the world, but this is the team that might get the biggest benefit from sneaking in on
Carlos Pena
.
3.
Center field -- Settle or shop?
The Rangers will need to sort out whether or not they want to add someone new to the mix.
Josh Hamilton
made only a month's worth of starts in the middle pasture, and the Rangers spent much of the season with
Endy Chavez
and Gary Gentry batting ninth and splitting time in center while Julio Borbon's season was lost to injuries. Will they settle for Gentry and Borbon in 2012, and take their blend of defense and OBP? The market isn't exactly rich in alternatives.
Likely solution
: Here, they can let it ride or go cheap on another defensive specialist, say,
Rick Ankiel
, with the hope that he rebounds in the Ballpark's friendly confines. There's not a lot of point in overpaying the likes of
Coco Crisp
to be just slightly better.
Los Angeles Angels of Anaheim
The biggest issue was finding a solution to the
Jeff Mathis
fetish, but they've addressed that with their pickup of
Chris Iannetta
. Even if Iannetta's .707 OPS outside of Coors Field might be a splash of cold water for folks expecting the second coming of
Mike Piazza
, he's still a bigger slice of that pie at the plate than Mathis will ever be.
1.
A premium bat.
You'd think that with Albert Pujols, Prince Fielder and
Carlos Beltran
on the market this would be easy, but the Angels are stacked with bodies (if not bats) at the corners. Figuring where to go for a premium hitter is the real trick, because the Angels have stuck themselves with so many ex-famous people, and that's without getting into what they need to do with
Mark Trumbo
if Kendrys Morales' comeback works out. The rumors of interest in the Mets'
David Wright
to play third base makes some sense as a deal from depth, but acquiring Wright for
Peter Bourjos
-- which is really only a good idea if they know they can work out an extension with Wright -- wouldn't erase their overlapping issues at first base, DH and the outfield corners.
Aramis Ramirez
is notionally the same sort of fix, except his play at third base leaves a lot to be desired; it wouldn't be long before he wound up playing a lot of DH or first base.
Likely solution
: It won't be easy to work something out, but third base is a good place to go. But they can't settle for getting one year of Wright before free agency for five of Bourjos and call it a day. Ideally, Jerry Dipoto needs to swap out one of the aging stiffs
and
bring in a real thumper, no easy feat. If he manages it, he might automatically win the label for Hot Stove MVP. If he also gets Morales back and bopping in 2012, the offense will be better still.

2.
Starting pitcher (Joel Pineiro, free agent, plus Tyler Chatwood was dealt)
Even if
Garrett Richards
is almost ready and regardless of whether or not you want to believe
Jerome Williams
is an answer, they're best left to fight it out for the last slot. Because of the mess on offense, one way to compensate would be to add a premium starter to help keep more games in reach. Unfortunately, the market isn't stocked with quality options, but chasing after C.J. Wilson is an obvious avenue to pursue, giving the rotation a quality lefty to balance their reliance on
Jered Weaver
,
Dan Haren
and
Ervin Santana
up front.
Likely solution
: Signing Wilson would be the easy solution. They hold 2013 options on Haren and Santana, but beyond that, it's Weaver and nobody in terms of commitments. Signing Wilson would address that while providing balance.
3.
Making room for Mike Trout.
The ex-famous people problem is the real issue here.
Torii Hunter
will be turning 32 next summer; he isn't going to get any better. Trumbo's just the new Dave Kingman
if
he builds on his rookie season. Bobby Abreu's power is a distant memory, and Vernon Wells' dead-cat bounce in 2011 only went so high. These are the guys in Trout's way to everyday play, not Bourjos.
Likely solution
: It's easy to say these things will sort themselves out, but by July, it's doubtful that Trout will be any more ready than he already is. Eating the $63 million it'll cost to employ Wells the next three years might be more affordable because Trout's under contractual control for the next six years.
Oakland Athletics
1.
Bodies to play in the outfield. (David DeJesus signed with the Cubs, and Coco Crisp and Josh Willingham are free agents.)
If you're an outfielder, the A's need you, because all three regulars are outbound.
Ryan Sweeney
might get to man one corner, and you might hope that Jermaine Mitchell mounts a bid on the job in center. But the A's really need to sign an outfielder or two, ideally one who can play center. Re-signing Crisp as a placeholder seems to be getting a lot of consideration, which would be a return to the lamentable legacy of Willie Wilson serving time in this outfield in the '90s, and cause for joy for nobody. After a .960 OPS between Double- and Triple-A, Mitchell's interesting as an athletic, late-developing farmhand, but he'll be 27 next year. There's also
Michael Taylor
, once considered one of the top prospects in baseball, and currently more of a source of frustration after two mediocre seasons at Sacramento.
Likely solution
: The only likelihood is that the fixes will be cheap. Whether it's a matter of absorbing the tail end of other people's bad-news deals if they're footing the bill, renting hitters a year removed from free agency like DeJesus and Willingham, or sifting through the bargain bin, get ready for a new temp crew.

2.
Power: 12th in the AL and 24th in MLB in Isolated Power (ISO)
Even if they wind up with outfielders like the ones we've noted, it isn't like Crisp or Mitchell or Sweeney provide any power, which the A's will sorely need with Willingham's departure. Between
Brandon Allen
,
Chris Carter
,
Daric Barton
and Kila Ka'aihue, they might have in-house answers for first base and DH, but a multitude of options is not the same thing as having answers.
Likely solution
: Ditching
Hideki Matsui
has helped open room for the crowd of first base/DH options, and a full season from Scott Sizemore at third base should help, but don't be surprised if the A's spring for one slugger to man first, DH or one of the outfield corners. It might help them remain 12th in the league.
3.
San Jose or bust
.
This is really the most important issue for the franchise this and every winter until it's resolved, but team owner Lewis Wolff is slowly wading through
lawsuits by proxy
and MLB's indecision over territorial rights to Santa Clara County to complete a ponderously slow attempt to move south within the East Bay region. The mayor of San Jose asked for this to be fixed two years ago; he was politely ignored. The city's now trying to sell land to Wolff for the express purpose of building a ballpark, but it's unclear if he'll be allowed to move his team to the city out of an exaggerated consideration for the Giants' claim. If the A's were generous in ceding rights to San Jose when the Giants were moving into their new digs (away from San Jose), the Giants have been selfish in subsequently asserting their claims.
Likely solution
: There isn't one. The A's and their fans as well as the cities of San Jose and Oakland remain hostage to the original sin of Bud Selig and company for sloppily and generously granting the Giants these rights in the first place. It's up to the industry to fix that error, but so far there's been an abdication of authority from MLB in the face of noisy assertiveness from the Giants. The Giants are well within their rights and understandably acting out of self-interest -- either to try and force the A's out of the market, or extort an ill-gotten payday -- but this needs fixing. With the CBA and Astros' sale done, this should be the top item of business for the commissioner. Let's see if he treats it that way.
Seattle Mariners
1.
A middle-of-the order thumper. (.115 ISO, 28th in MLB)
You can blame playing in Safeco, but that goes only so far, as the Mariners' .658 OPS on the road was only slightly better than their awful .623 OPS in home games. Much of the problem is self-inflicted -- they're the team that values punchless shortstop
Brendan Ryan
for his virtues afield more highly than any other, after all. While the holdovers in the outfield almost all endured horrific 2011 seasons, a group that includes
Ichiro Suzuki
,
Franklin Gutierrez
,
Trayvon Robinson
,
Mike Carp
and
Michael Saunders
is capable of doing better. Which really leaves third base, DH and possibly first as the places where GM Jack Zduriencik might add an impact bat. This has fed into a lot of speculation over Zduriencik's former Milwaukee connection to Prince Fielder.
Likely solution
: Landing Fielder would be a major coup, but it would be a fairly extreme act of faith by Fielder that Zduriencik's going to get this thing turned around during the life of his contract, assuming Seattle even has the money for that kind of offer. It's more likely that the Mariners will have to settle. A right-handed bat would be great for their lineup's balance, but Safeco is death on right-hander power, suggesting that someone like Aramis Ramirez wouldn't be a good fit. Guys like
Casey Blake
and
Ryan Ludwick
are familiar to manager Eric Wedge from their days in Cleveland; they're also not really answers. Moving Carp to DH and looking at
J.D. Drew
or
Jason Kubel
would be a little more interesting.

2.
A veteran starter. (Traded Erik Bedard and Doug Fister away.)
This is really about making sure they get innings until a few more of the kids are ready for call-ups. Ideally, any veteran would also be someone they could flip at the deadline. Top prospects like Danny Hultzen and James Paxton might earn September call-ups, but the Mariners need someone to take the ball in the meantime. Because they have a great venue for pitchers and a strong defense to offer as inducements beyond cash, they should be able to find someone interested.
Likely outcome
: They'll get the inning guys like
Aaron Harang
,
Paul Maholm
and
Jon Garland
should be calling the Mariners rather than the other way around; finding somebody will be more a matter of finding someone willing to sign for what they're willing to offer. It would be interesting to see if the M's could induce
Hiroki Kuroda
to sign on rather than return to Japan now that the Dodgers are out of the picture.
3.
Third base: Open
.
Prospects
Alex Liddi
, Francisco Martinez and Vinnie Catricala are all a bit rough at the hot corner, and the Mariners probably have zero interest in giving Figgins another crack at the job after witnessing his .595 OPS in two seasons in Seattle.
Kyle Seager
might get the lion's share of playing time by default if the Mariners don't add a vet for temp duty. It won't cost them the pennant.
Likely solution
: Third base is an area of need for a lot of teams, and if the Mariners are willing to eat most of the $18 million they still owe Figgins, they'd almost certainly find an interested party. They shouldn't waste the roster spot indefinitely if they're not going to play him. A veteran placeholder like Blake might fit here on a one-year deal, assuming Zduriencik doesn't conjure up a better solution with some wheeling and dealing.
Christina Kahrl covers baseball for ESPN.com. You can follow her on Twitter.
October, 23, 2011
10/23/11
5:13
PM ET
A day after
Mike Napoli
's throwing error led to two unearned runs,
Mitch Moreland
is back at first base for the
Texas Rangers
, making his first postseason start since Game 5 of the ALCS and only his second since Game 2 of the ALCS.
Moreland is considered a better defensive first baseman than either Napoli or
Michael Young
, who will DH in Game 4 with Napoli moving back behind the plate. Moreland's playing time decreased after a slow start to his postseason; he's hitting 2-for-19. Ron Washington said before Game 4 that Moreland had lost his stroke a bit, but has been working with hitting coach Scott Coolbaugh. "Coolbaugh is letting me know now, everybody else that's been working with him is letting me know that he feels like he's found it back, so I'm giving him a shot tonight."
The Rangers will also move
David Murphy
up to seventh in the lineup, with Napoli hitting eighth and Moreland ninth. Washington wanted to break up the left-handed bats of Murphy and Moreland.
Seems like all the moves make sense. Washington (A) improves his defense at first base; (B) gets another left-handed bat in the lineup against
Edwin Jackson
; and (C) makes it a little more difficult for Tony La Russa to match up lefties
Marc Rzepczynski
or
Arthur Rhodes
against the Murphy/Moreland combo, neither hits lefties well.
Washington also said he spoke with
Alexi Ogando
before the game and said, "Mentally, he's fine." As for his availability after throwing 34 pitches in Game 3, Washington said they would see how he feels after the usual pregame long toss. He said every other reliever is available.
May, 12, 2011
5/12/11
3:54
PM ET
Top five reasons why Thursday's
Baseball Today podcast

, hosted by myself and the energetic Mark Simon, is a can't-miss:
1. The played some of a baseball game in Arlington, Texas, Wednesday, but it didn't count. But stuff did happen! Which players should be happy ... and sad?
2. Not a bad season debut for
Chicago White Sox
right-hander
Jake Peavy
. We discuss some of the players we're rooting for, including Peavy.
3. Which current pitcher would be the best at darts? OK, I'm serious. Simon's got the answer.
4. Eric Hosmer wasn't the only impressive Kansas City Royals player at Yankee Stadium Wednesday, and the Yankees did something they had never done in their history in that game.
5. Who are the best hitters on fastballs of varying speeds ... some interesting names top the list.
Also: Excellent emails, discussing sample sizes and closers getting wins; Simon says Bill Gallo impacted his youth; we discuss shortstop defense, a very famous Yankee turns 86 and the immortal Kenny Greer, all on Thursday's Baseball Today!
April, 28, 2011
4/28/11
1:41
PM ET
If you didn't see
Brent Lillibridge's game-saving catches
in right field in the bottom of the ninth against the Yankees on Tuesday, you missed two gems by the White Sox's utility player. The second catch -- and final out of the game to preserve Chicago's 3-2 victory -- was a diving catch of a low screaming liner by Robinson Cano. When it was hit, I thought there was
no chance
the ball would be caught. And, in fact, that was assumption was basically true. Mark Simon has a
great post on our Stats & Info blog
that reports Cano's liner stayed in the air for 2.5 seconds. Of the 61 balls with that hang time and hit to the area where Cano hit his liner, Lillibridge was one of only three to make the catch.
Other links to check out
April, 12, 2011
4/12/11
9:40
PM ET
One of the mantras you'll see repeatedly in this space is that in baseball no one injury usually derails a team. The average fan still overrates the value of a star player. There are no Kobes or LeBrons in this sport.

Hamilton
Yes, losing an ace like
Adam Wainwright
for the entire season is a major blow; losing
Josh Hamilton
for two months with a broken arm is more like a bump in the road for the Rangers -- bigger than a pothole, but one that can be navigated.
Earlier today, Dan Szymborski
wrote on ESPN Insider
that the Rangers -- after starting 9-1 -- were now projected to win the AL West by eight games. Last season, FanGraphs had Josh Hamilton with a WAR of 8.0 -- eight wins better than a Triple-A level replacement. His projected WAR for 2011 wasn't that high -- after all, 2010 was a career year and he's battled injuries in the past. Projection systems, by nature, are conservative. Baseball Prospectus' version of WAR had Hamilton as a 3.8-win player in 2011. Even if we're more generous and say Hamilton would have been a 6-win player in 2011 that would still give the Rangers cushion for a long-term Hamilton injury.
Except the Rangers won't be replacing Hamilton with a replacement-level player.
David Murphy
, one of the best fourth outfielders in baseball, takes over the starting position. He hit .291/.358/.449 in 2010. He isn't that great against lefties (.692 career OPS), but not a complete disaster. The team could also move
Mitch Moreland
to right field (where he played a lot in the minors), move
Nelson Cruz
to left and insert
Michael Young
or
Mike Napoli
at first base. That weakens the defense, but it still leaves Ron Washington with some lineup flexibility.
Anyway, it all adds to a small hurdle for the Rangers, maybe two wins. They're still the heavy favorites in the West. It's just a shame it happened when this team was running on all cylinders, playing quality defense, the front office and Washington looking like forward-thinking risk-takers with the
Alexi Ogando
-to-the-rotation move, and winning despite a mediocre start from Hamilton.
The bigger issue: Hamilton is signed through 2012, when he becomes a free agent. What kind of offer do you make to a 31-year-old outfielder who will have missed significant time with injuries in 2009, 2010 and 2011?
October, 22, 2010
10/22/10
11:29
PM ET
I will probably go to my grave believing that the
New York Yankees
were better than the
Texas Rangers
in 2010.
I believe, right now, that the difference between them probably wasn't as large as most of us thought, a few weeks ago.
The Yankees outscored their opponents by 166 runs this season; the Rangers outscored theirs by 100 on the nose.
[+] Enlarge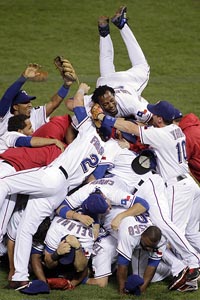 AP Photo/Paul SancyaThe New York Yankees outscored their opponents by 66 more runs than the Texas Rangers outscored their opponents this season. But the Rangers are the ones celebrating a pennant.
That is a large difference, typically the difference between winning 97 games and winning 91 (which was roughly how many games the Yankees and the Rangers actually won).
Looking just at the players who were actually on the field in the American League Championship Series, the difference was not as large.
Mitch Moreland
is now the Rangers' first baseman; he's better than the players who manned first base for most of the season.
Ian Kinsler
missed nearly two months of the season. So did
Nelson Cruz
. Five Yankees played at least 150 games; only three Rangers did the same.
Perhaps most strikingly,
Cliff Lee
started only 15 games for the Rangers.
I think it's safe to assume that if the Rangers had Cliff Lee all season
and
their hitters had been exactly as healthy as the Yankees' hitters, the Rangers would have won nearly as many games as the Yankees.
Which is, for six months, utterly irrelevant. Staying healthy isn't just a matter of luck, and the ability to stay healthy (or not) should be factored into our evaluations of a team's true quality.
In October, we toss all that stuff out the window. In October, all that matters is who gets the breaks, and who can put the most talent on the field over the course of one measly week.
Having said all that, I still think the Yankees might have put
slightly
more talent on the field in this series, if only because Cliff Lee pitched just once. But in a series that is closely matched -- as this one was closer than most thought -- catching the breaks is a lot more important than having slightly more talent.
Postscript:
Just to underscore, consider:
What does all this mean for the World Series?
I don't have the foggiest idea. I can't predict the breaks, and we don't yet know who the Rangers will have to play. I suppose they'll be slight favorites if they have to play the Giants, and slight underdogs if they have to play the Phillies. Their fans will look at what they've done and figure their hearts are too big to lose; the fans of whoever they play will figure the same thing.
Go figure. We'll have three or four days with nothing to do but figure. Right now isn't the time for figuring. If you love the Rangers, it's a time for pondering the once impossible. If you love the Yankees, it's a time for pondering the once inevitable. And if you love the Giants or the Phillies ... all you can do is hang on and try to enjoy the ride. Right now, the figures won't tell you anything worth knowing.
October, 12, 2010
10/12/10
4:22
PM ET
From Marc Topkin, news about
tonight's lineups
:
Manager Joe Maddon went mostly right-handed in his lineup tonight, but did opt for lefty Dan Johnson at DH over Willy Aybar. Kelly Shoppach will be the catcher.

Maddon had said on Monday that he likely would go back to his righthanders, such as Shoppach and 2B Sean Rodriguez, but hadn't decided on the DH. Part of that was Johnson's ability to work tough at-bats even against lefty pitchers, such as Texas' Cliff Lee. And also that Maddon likes the flexibility of having the switch-hitting Aybar on the bench for a pinch-hit opportunity. In Game 1, the Rays used Rocco Baldelli, but he is no longer on the active roster.
As I've written, Maddon's cupboard is utterly bare when it comes to a DH who can hit lefties (which was true even before Baldelli went down). I don't know that Johnson is the best choice among bad choices, but I don't know that he's not.
Coincidentally, Ron Washington has almost exactly the same problem at first base. Rookie
Mitch Moreland
, a left-handed hitter, gives the Rangers decent production against right-handed pitching, but righty-hitting
Jorge Cantu
hasn't done anything against anybody this season. And like Maddon, Washington is foregoing the platoon advantage in favor of the guy who's actually hit some this season.
I just hope nobody lets Washington get away with claiming that he's saving Cantu as a pinch-hitter for a key moment in the most important game in franchise history.