September, 14, 2011
9/14/11
8:56
PM ET
"Moneyball" doesn't hit theaters nationwide until Sept. 23, but reviews are streaming in from those who have seen early previews. Almost everyone I've talked to who has seen the movie has given it a thumbs. Rolling Stone movie critic Peter Travers called it one of the best movies of the year, although Travers pretty much likes everything he sees. But here are two reviews to check out:
Jon Weisman of the Dodger Thoughts blog called it a possible Oscar contender, writing, "In the end, I think 'Moneyball' is an important film for baseball fans. Whether you bought into the book or ignored it, 'Moneyball' was (next to angst over performance-enhancing drugs) the central conflict of baseball in the past decade. The film puts forth this debate in a richly entertaining way, making it clear why it was such a big deal without falsely overstating its legacy."
Keith Law, over on his personal blog, had the opposite reaction, with a succinct opinion that 'Moneyball' "is an absolute mess of a film, the type of muddled end product you'd expect from a project that took several years and went through multiple writers and directors. Even good performances by a cast of big names and some clever makeup work couldn't save this movie, and if I hadn't been planning to review it, I would have walked out."
I look forward to seeing it. Even my wife says she can't wait for the OPS monologue (as long as it's delivered by Brad Pitt and not Jonah Hill). More on "Moneyball" -- the movie, the book, Billy Beane -- next week ...
Other stuff
September, 14, 2011
9/14/11
4:28
PM ET
A movie review became the focus of the Wednesday edition of the
Baseball Today podcast
with me and Keith Law, but there were myriad topics discussed, including:
1. Did KLaw like "Moneyball"? Let's just say you don't want to miss his comments.
2. The
New York Yankees
,
Detroit Tigers
and
Boston Red Sox
win and the
Tampa Bay Rays
do not, which is a bit more important than the numbers 600, 23 and 200. But we discuss them along with the recent exploits of wild
A.J. Burnett
anyway!
3. A
Cleveland Indians
fan makes us laugh, and laugh a lot. Find out what he wrote in his meow-inducing email.
4. What does it really mean to have a good or bad minor league system?
5. Two games on ESPN highlights Wednesday's schedule, but we've also got our collective eyes on other pitchers and matchups.
It's a packed Wednesday Baseball Today podcast, from Brad Pitt to Pod Troopers to Peacock, so please tune in and download!
February, 8, 2011
2/08/11
2:30
PM ET
What do this month's Oscars have to do with a baseball movie that is months away from even hitting theaters? Let's answer by first taking a short trip back in time.
We all remember the reaction when we first heard about the "Moneyball" movie. Near-universal cries of "Are you kidding me?" And that was from people who liked Michael Lewis' bestselling book, let alone those who panned it.
There were exceptions to the catcalls — namely, me. As I wrote
nearly two years ago
, assuming the movie would be a disaster was exactly the kind of knee-jerk rush to judgment that "Moneyball" itself rallied against. At the time, the film had an Oscar-winning pedigree in director Steven Soderbergh ("Traffic") and writer Steven Zallian ("Schindler's List"), not to mention twice-nominated Brad Pitt in the lead role of Billy Beane. Sure, maybe the movie wouldn't work, but it was kind of preposterous to rule out its potential with these and other talented creatives behind it.
[+] Enlarge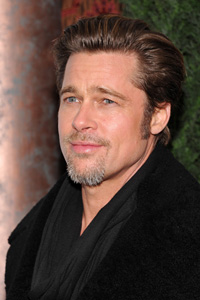 AP Photo/Evan AgostiniBrad Pitt played the role of A's GM Billy Beane in "Moneyball."
Lots has happened since then. The project nearly died at Sony after producers gave Soderbergh's near-documentary approach the cold shoulder. Then, like the reborn Phoenix that the spring training site of the Oakland A's is named after, the cinematic "Moneyball" rose again, with a new director (Oscar-nominated Bennett Miller of "Capote") and a polish of Zallian's script by Aaron Sorkin.
Which brings me to the thrust of this post ...
There was another film that inspired derision similar to "Moneyball" when it was first announced to the public. It had potentially esoteric (not to mention divisive) subject matter, and it had a lead character who seemed mostly unsympathetic, uninteresting or unknown. It didn't, at first glance, lend itself to the big screen at all.
That movie was "The Social Network," which stands as one of two front-runners for this month's best picture Oscar and a virtual lock to win the best adapted screenplay award -- in addition to, as a small aside, grossing nearly $100 million at the United States box office and more than $200 million worldwide.
"Moneyball," scheduled to be released in September, almost exactly a year to the day after the 2010 launch of "The Social Network," comes from the same studio, with two of the same producers (Scott Rudin and Michael De Luca) and now, of course, Sorkin, whose credits from "A Few Good Men" to "The West Wing," long established him as one of Hollywood's most talented writers. And as for his appreciation of the games people play, look no further than "Sports Night," his half-hour ABC dramedy that is among the most underrated pieces of sports-hued entertainment ever created -- all of it focused on what goes on behind-the-scenes.
There are several keys to the critical success of "Moneyball." For baseball fans, it will be how well it toes the alienating line of its central thesis as well as how real the depiction of the game is. And for movie fans in general, it will be how well it transcends its subject matter and becomes a story that a wide swath of people can truly care about, the way "Social Network" did. There are indications from insiders that, despite the laborious, sometimes clumsy process of getting the film off the ground -- perhaps best defined by the perplexing casting of Jonah Hill as the character formerly known as Paul DePodesta -- the final shooting script will balance entertainment with an adherence to the book and the facts. But of course, we won't know until we know.
As for the commercial prospects, well, baseball obviously isn't everybody's cup of tea, here in the States let alone overseas. On the other hand, the movie does star Pitt, who brings a bit more box office pull to the universe than Jesse Eisenberg of "Social." Further, though few had high expectations for another recent adaptation of a Michael Lewis book, "The Blind Side" earned more than $250 million in the U.S. along with its best picture nomination. If word of mouth is positive, "Moneyball" would almost certainly be a success on two fronts.
No one's saying that "Moneyball" is any kind of lock to mimic the critical or commercial glory of "Social Network." For all their similarities, they're different animals. Baseball and Facebook are not the same thing, just for starters. I have no investment in its success other than my preference for good movies over bad (especially on subjects near and dear to my heart), but the bottom line remains that there's simply too much behind this movie to dismiss it out of hand. It might not succeed, but at this point, there's no way anyone can say it won't.
-- Jon Weisman writes about the Dodgers at Dodger Thoughts for ESPNLosAngeles.com.
November, 11, 2009
11/11/09
10:59
AM ET
Today's links would undoubtedly rank No. 1 on the
New York Times bestseller list
, if only they were a book ...
*
The 2010 edition of The Bill James Handbook is out (yes, already), and I'm sure I'll have more to say about that in the coming weeks. In the meantime,
this
and
this
should hold you pretty well.
*
You already know what I think about
Franklin Gutierrez
getting robbed of the Gold Glove he so richly deserves. Here's what
Joe Posnanski thinks
(hint: it's about the same but quite a bit more colorful).
*
Have you ever wanted to know what the
real
strike zone looks like? Well, here you go:
it's elliptical
. My only quibble is with the argument that the umpires' individual zones "should be investigated, but not for evaluating the umpires." Say what?
*
I keep hearing about "the death of Moneyball" ... and then I read something with, you know, actual facts and it seems that
just the opposite has happened
.
*
Yes,
Adrian Gonzalez
is an excellent hitter. But for any general manager who thinks that Gonzalez is going to walk 100 times again with a new team, Dave Cameron has
some cautionary words
.
*
The last time most of us saw Indianapolis's Bush Stadium, she was standing in for Comiskey Park and Crosley Field in
Eight Men Out
. But the old yard has fallen on
hard times
since the Triple-A Indians moved out in 1996. And now? Bush is
literally a junkyard
.
*
I mentioned this morning that I'm
still an agnostic
regarding Whitey Herzog's Hall of Fame candidacy. I suppose I'm also agnostic about Marvin Miller. Before you tear my head off, let me ask you one question: If you believe that Marvin Miller belongs, would you be comfortable with Scott Boras someday joining Miller? Because Boras, too, has been historically significant and reaped untold millions of dollars for the players.
*
Speaking of Boras, it says
here
that
Johnny Damon
won't be giving the Yankees a "hometown discount." To which I respond, "Why on earth would he?" For one thing, New York is not Johnny Damon's hometown. And for another,
it's the Yankees
. With their cash, rather than getting discounts they should be giving "Yankee bonuses" when they sign free agents. Which, come to think of it, they usually do.
May, 1, 2009
5/01/09
6:04
PM ET
Steven Soderbergh on what must might be
the next great baseball movie
:
"We have the dramatic building blocks, so the question is how real can we make the world?" the director asked while promoting his feature about a high-class escort, "The Girlfriend Experience." "My clearly stated goal is to set a new standard for realism in that [sports] world."

To that end, he'll be recreating the bowels of Oakland Coliseum - where the A's play - on a soundstage and filming at actual American League stadiums around the country. And since he has the cooperation of the MLB, "Moneyball" will also be able to use actual game footage from the 2002 season.

Soderbergh is also shooting for realism in his cast, which will be made up of both actors and the real-life participants. "Anybody who is not actively playing who was on the 2002 team has been approached," he said. "We've got about 60 percent of them. We have [manager] Art Howe, we've got Rick Peterson, the pitching coach. We've got three-quarters of the scouts who were there. ... The guys on the team we can't get - we're casting real people who can play and perform. We'll have the real footage and then we'll go to the close-up with our guy in it, and it should be seamless," the director explained.

Baseball has always been a rich subject for filmmakers, but Soderbergh holds one movie in particularly high esteem. " 'Bull Durham' is the model for most baseball fans in terms of behavior and storytelling," he said. "It seems the most lifelike. But I want to do something that's even more immersive. I'm standing on the shoulders of [director] Ron Shelton. That was his contribution to the genre. Now it's my turn."

Filming begins in about six weeks, and the Oscar-winning director is not shy when it comes to his expectation for the finished product. "I hope it sets a new standard," Soderbergh said. "Hopefully, anybody who makes a sports movie from now on is going to have to grapple with this."
Wow.
Yes, we're all wondering how the book works as a movie.
But just -- wow. Can you imagine anything you would rather a director say about this project?
April, 21, 2009
4/21/09
2:45
PM ET
Finally,
it's really happening this time
:
Columbia Pictures and director Steven Soderbergh have set Demetri Martin to star alongside Brad Pitt in "Moneyball," the adaptation of the Michael Lewis book about ballplayer-turned-Oakland Athletics g.m. Billy Beane and his attempt to field a competitive team on a slim payroll.

Also joining the roster is a group of actual baseball players: former Oakland A's team members David Justice and Scott Hatteberg have signed on to play themselves in the picture, while Daryl Strawberry and Lenny Dykstra are among those who will be seen on camera being interviewed about their experiences with Beane when he was a phenom drafted by the New York Mets before flaming out and becoming a baseball scout. Shooting begins in June.

Martin will play Paul De Podesta, a Harvard grad who turned down Wall Street jobs to use his statistical skills to change baseball scouting tactics. His system, known as "Earned Run Value," allowed Beane to evaluate valuable players he could hire at low cost.

Beane was a bright student himself who passed up a chance to attend Stanford and instead took the money to turn pro as a ballplayer. He always regretted a money-motivated decision and found a new purpose in putting together championship-caliber teams without a lot of money. Pitt plays Beane.

Steve Zaillian is doing a polish on a script originated by Stan Chervin, and Rachael Horovitz, Michael De Luca and Greg Jacobs are producing.
No, Brad Pitt doesn't look anything like Billy Beane, nor does Demetri Martin look anything like Paul DePodesta. But it's a
movie
, you know? And say what you like about Pitt and Martin, but neither of them is exactly short in the talent department. Neither is Steven Soderbergh, who may not hit every time out but is practically incapable of making an uninteresting movie. Zaillian's been nominated for three Oscars (and won one). It's hard for me to imagine how you make a real movie out of
Moneyball
... but I'm sure looking forward to seeing them try.