SweetSpot:

Nate Schierholtz
July, 31, 2013
7/31/13
12:46
AM ET
There's never a better time to overreact than on the eve of the trade deadline! General managers, their assistants, their scouts, their special advisors and their stat geeks in the front office have spent weeks assessing their own talent and that of other organizations. But one night can change everything.
Some thoughts on Tuesday's news, rumors and game results ...
Who needs Jake Peavy when you have Brandon Workman!
The Red Sox have won the
Peavy Sweepstakes
, although I don't know if that means winning the lottery or cashing in your $10 prize at 7-Eleven. Peavy's injury history (long) and home run issues (14 in 80 innings) make him a wild card acquisition; this isn't the same thing as trading for
Cliff Lee
, or even close to trading for Cliff Lee.
Peavy, however, comes a lot cheaper. The Red Sox got to keep all their top prospects and surrendered only slick-fielding
Jose Iglesias
, who has a superficially good .330/.376/.406 batting line with the Red Sox in 215 at-bats. He's not close to a .300 hitter, let alone a .330 hitter. A few weeks ago I looked at all his hits and they featured an unsustainable number of infield singles, five-hoppers that sneaked through and bloopers just over the heads of infielders. In July, he's hitting .205 with one extra-base hit in 83 at-bats and he's a career .244/.296/.292 hitter in Triple-A in nearly 1,000 plate appearances. But he can pick it at shortstop (or third base, where he's been playing a lot for the Red Sox) and I suppose there's a small chance that he could improve at the plate, a la
Omar Vizquel
.
So good job by Red Sox GM Ben Cherington to sell high on Iglesias, even if Peavy is more of a No. 3-4 starter than a 1 or 2. But acquiring Iglesias makes sense for the Tigers, who will likely see shortstop
Jhonny Peralta
get suspended any day now in the fallout from the Biogenesis investigation. Iglesias will be an improvement over Peralta on defense -- although Peralta's minus-3 Defensive Runs Saved haven't hurt the team as much
Miguel Cabrera
and
Prince Fielder
, both rated at minus-10 at the corner infield spots.
The White Sox get
Avisail Garcia
in the deal, a player scouts like a lot but sabermetric types are skeptical about, due to a low walk rate in the minors. Still, if he puts it together, there's a lot of upside there. Put me in the skeptical category; probably a big league regular, but I don't foresee a star player.
The Braves can stand pat.
When Detroit's
Alex Avila
hit that grand slam off
Stephen Strasburg
as the Braves were crushing the Rockies, it seems a symbolic moment of the Nationals' 2013 season to me. They're now 10 games behind the Braves and the Braves only have seven games left against teams currently over .500. At least the Nationals won't have to worry about Strasburg's innings in October.
So the Braves don't have to make a deal, plus
Alex Wood
's strong outing against the Rockies means he should get a few more turns through the rotation. With Peavy off the market, there isn't really a starter who is a guaranteed upgrade anyway, other than Cliff Lee and he'll cost a fortune.
You don't win division titles on paper.
Ignore the run differentials. Ignore the recent histories. The Pirates now have the best record in baseball after sweeping Tuesday's doubleheader and lead the NL Central. Not that the Cardinals organization ever panics or overreacts, but Cardinals fans are certainly tired of seeing
Matt Holliday
ground into double plays (he's done that 24 times, giving him a chance to catch Jim Rice's single-season record of 36) and some dude named
Brandon Cumpton
shut them down in the second game. Maybe the Cardinals
do
make a move.
The Pirates should still get a bat.
This is one reason we love the trade deadline: When the Cubs signed
Nate Schierholtz
in the offseason for $2.25 million -- $29.75 million less than
Josh Hamilton
will make in 2016 and again in 2017 -- it wasn't exactly headline news. Now he's viewed as a must-have acquisition for the Pirates because he's slugging over .500 and Pirates right fielders have the lowest OPS in the majors.
The Orioles should get a bat as well.
Chris Davis
did hit a big home run a 4-3 win over the Astros, but he and
Manny Machado
haven't matched their first-half exploits. The bottom four hitters in Tuesday's lineup had on-base percentages of .302, .295, .273 and .293. Their DHs are hitting .200. They should be able to find an upgrade. Getting a pitcher would be sexier -- well, if that pitcher were Cliff Lee -- but a hitter would add more depth to an already solid lineup.
Michael Young is great!
Hey, forget that he has -0.6 WAR this season, he went 2-for-4 with a home run on Tuesday. His trade value just shot up. Plus he's a veteran presence in the clubhouse! Warning: Has the range of a flower vase at third base. Beware of defensive risks if employing full time at the hot corner. The Rangers need a hitter, but at least in their case it would be to use Young at DH or first base.
Who needs a third baseman when you have Juan Uribe!
Uribe hit a 441-foot home run off
Andy Pettitte
and is hitting a respectable .263/.335/.406. The Dodgers may do just as well playing Uribe as acquiring some of the lackluster options for third (Young,
Aramis Ramirez
) or acquiring a shortstop and moving
Hanley Ramirez
to third (he's hitting so well, don't mess with him right now).
The Indians have momentum (if momentum existed in baseball).
They started nine guys on Tuesday and the guy batting ninth had the highest slugging percentage in the lineup. (That's
Yan Gomes
, hitting .291 and slugging .520.) They've won six in row after rallying from a 3-0 deficit to beat the White Sox. They acquired
Marc Rzepczynski
from the Cardinals to add a second lefty to the bullpen but acquiring another starter or reliever would help.
Zack Wheeler is the second coming of Matt Harvey.
This is one reason we love the trade deadline, part 2: The hope that the prospect your team acquires can turn into Zack Wheeler and flash the no-hit stuff like Wheeler did against the Marlins. Two years ago, the Mets got Wheeler from the Giants for
Carlos Beltran
. There may not be a Wheeler in this year's crop of trades -- there rarely are -- but you never know.
Cameron Diaz fed popcorn to Alex Rodriguez.
Wait ... that didn't happen on Tuesday? Ahh, those were simpler times.
December, 6, 2012
12/06/12
1:36
PM ET
December, 1, 2012
12/01/12
12:30
PM ET
By
Chris Quick
| ESPN.com
This time of year baseball news is very sluggish. Scratch that -- extremely sluggish. Outside of a few early signings, there isn't much happening in the game. However, with the non-tender deadline passing on Friday night, baseball gets a brief jolt of activity before we head to the winter meetings.
Non-tender means just that -- a team chooses not to tender a player a contract and, in turn, the player becomes a free agent, able to sign with any team. Teams will non-tender players for a multitude of reasons -- injury, cost, and roster crunches are among the most popular -- but savvy teams will be able to cruise this new pool of free agents to find value. And make no mistake, there is value to be had among the recent crop of non-tendered players.
Let's take a look:
[+] Enlarge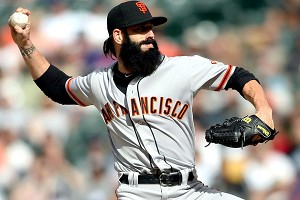 Chris Humphreys/US PresswireIf Brian Wilson wants to close again, it likely won't be in San Francisco.
Brian Wilson, P --
Probably the biggest and most widely recognized non-tender, Wilson's days as a Giant appear to be all but over. The team can still negotiate a contract with the bearded Wilson, but most reports indicate that Wilson is unlikely to remain. Wilson -- rehabbing from his second Tommy John surgery -- looks to find a new team to call home. As a two-time TJ survivor, Wilson carries significant risk, but if there was anyone who could overcome those odds, it would be Wilson. From 2009-2011, Wilson ranked as the fourth-best reliever in the majors by FanGraphs' WAR (5.6), throwing 202 innings with a 2.50 ERA. He'll most likely have to settle for a lower base salary with performance incentives. The talent is there. The big question is: Is the health?
Mark Reynolds, 1B/DH --
Rather than paying him about $9 million through arbitration, the Orioles decided to let the home run masher and strikeout accumulator walk. Over the past three years, Reynolds ranks 14th in the majors in home runs at 92. (That's more than
Matt Kemp
,
Robinson Cano
or
David Ortiz
.) But while Reynolds' power is prodigious, it comes at a great cost: strikeouts. Piles and piles of strikeouts. Only
Adam Dunn
has whiffed more over the past three seasons, and while Reynolds is still an asset with the bat, he's a complete liability at third base (although he was acceptable at first when the Orioles moved him there). He'll find work -- guys that can launch 30 home runs annually almost always do -- but he should stick in the American League where his defensive issues can be minimized.
Nate Schierholtz, RF --
This might seem to be Giants-centric, but Schierholtz, another ex-Giant, profiles as a fringe starter on lower-tiered teams and a fine fourth outfielder on higher-tiered teams. You can boil Schierholtz down to the following: slightly below average bat, great glove, good baserunner. Schierholtz owns a career batting line of .270/.319/.409 while playing half his games in a park (AT&T Park) that's mighty tough on left-handed batters. The advanced fielding metrics, such as Ultimate Zone Rating, peg him as about a half-win net on defense each year, and it's hard to imagine anyone playing a better right field. And he's shown himself to be an adept baserunner. When you add everything up, it's a nice package that will attract a few teams needing outfield depth.
Tom Gorzelanny, P --
Pitching his first year as purely a reliever, Gorzelanny found success in Washington in 2012. Gorzelanny tossed 72 innings with adequate peripherals (20.1 percent strikeout rate; 9.8 walk rate) to pair with a 2.88 ERA. Being a left-handed pitcher, he's naturally been tough on left-handed batters, holding them to a career line of .227/.295/.367. He profiles as a middle reliever, or lefty specialist. It's possible that a team hurting for starting depth might take a look at him as a starter.
Jeff Karstens, P --
Jeff Karstens was limited to just 15 starts in 2012 because of shoulder inflammation. He doesn't throw exceptionally hard, strike out scads of batters, or look like an ace pitcher. What he does, however, is throw strikes (career 6.1 walk percentage). He'd be great filler for a rotation that might need a little extra time for prospects to develop, or for a rotation (or bullpen) that needs more depth. Over the past two seasons, Karstens has posted the following numbers: 3.59 ERA, 253 IP, 252 H, 101 ER, 48 BB, 162 SO. That's pretty much the definition of a fungible starter.
Andres Torres, OF --
Torres is clearly no longer the batter that he was with the Giants from 2009-2010 when he hit .269/.343/.492 over 740 plate appearances; since then, Torres has batted a meager .226/.320/.334 in 832 PAs. The decline in Torres' bat moves him from a starting role to a bench role. The good news for Torres is that despite some health issues, he still profiles as an above-average defender in center field and an above-average baserunner. Every team needs a guy like Torres on its bench.
None of the players listed above -- outside of Brian Wilson, maybe -- will draw the sort of attention that the marquee free agents will receive. And rightfully so. However, teams looking to fill certain needs would be smart to check in on some of the recently non-tendered players. If used properly, there's value to be had in this year's crop of non-tendered players.
August, 21, 2012
8/21/12
1:49
AM ET
By
Christina Kahrl
| ESPN.com
Yes, you can never have enough pitching. You win with it, you lose to it, you can't live without it and, if the margins are narrow enough, you live and die with every pitch. Welcome to Bruce Bochy's world in a Melky-free world. And welcome to the reason why he can thank his lucky stars that he's the man managing a rotation with
Matt Cain
,
Ryan Vogelsong
and Monday night's starter against the Dodgers,
Madison Bumgarner
.
Bumgarner was in perfect command against the evil SoCal boys in blue, mowing them down through eight scoreless frames while whiffing 10
in San Francisco's 2-1 victory
. Just another day at the office for one of the Giants' rotation horses, his 18th quality start on the season, and a reminder that this club is far from done where the National League West race is concerned.
But there's more to it than that. This summer, with all the talk of extending or overextending young superstar prospects on the mound during a pennant race, Bumgarner is a great example of the wisdom of not letting expectations set your timetable where young pitching is concerned. Coming into 2010, Bumgarner was supposed to be all that, flame-throwing southpaw'd greatness in cleats at the tender age of 20. And then he wasn't -- he wasn't throwing hard, having lost five miles per hour off his heat from his minor league days. He wasn't mowing people down. He wasn't greatness in cleats, or street shoes or flip-flops.
He also wasn't hurt, although preseason conditioning turned out to be an issue. But from that seeming disappointment, Bumgarner has significantly changed his repertoire from what he was when he was a top prospect. His velocity has remained in low-90s territory, but he has come to rely more and more on a devastating slider that has helped him boost his swings-and-misses to a 16 percent clip despite whatever it was he lost on his fastball. He's arguably a better pitcher as a result. He's also only just turned 23, and more than a year younger than
Stephen Strasburg
.
That deafening silence you hear over Bumgarner's birth certificate is the concern over his workload. Because without starting pitching, the Giants could be done. But if
Tim Lincecum
really does get his kinks ironed out, they may have four horses to ride all the way to the end.
If we can credit Bochy for helping keep Bumgarner saddled up and delivering, we might also credit Bochy for always being willing to wangle some extra way to score to make good on the slender margins his pitchers provide. Whatever the talent Bochy is working with, and even whatever the defensive sacrifices he might have to make behind that starting staff.
Picking between
Justin Christian
and
Gregor Blanco
to start in
Melky Cabrera
's place in the outfield is sure to make you ask where
Nate Schierholtz
got to (Philadelphia), and what's behind Door No. 3, but we'll see what Bochy's willing to risk in the weeks to come. If general manager Brian Sabean swings a waiver deal for a veteran bat, don't be surprised -- it's the sort of move he has been able to pull off in the past, and again, with this kind of pitching, a little bit of offense goes a long way.
Bochy is so hungry for runs, he's even platooning at shortstop lately, spotting
Joaquin Arias
' single-riffic plinky-ness for
Brandon Crawford
against the league's lefties. Platooning at a key up-the-middle position like short? That might work considering Arias' .818 OPS against lefties in about 200 big-league plate appearances, but it's also slightly more risky this season than in years past, because the Giants are no longer leading the league in strikeout rate, instead whiffing opponents a very league-average 20 percent of the time. That means more balls in play, and more chances the defense could cost you. The Giants are a little above-average in defensive efficiency (.696, vs. the NL-standard .690), but it's still a risk.
Then again, this is the manager who helped the Giants win it all in 2010 by coming up with one of the craziest platoons of recent memory: Splitting at-bats between first baseman
Travis Ishikawa
and center fielder
Aaron Rowand
in the lineup across first base and the outfield in July through Aug. 14, while moving
Andres Torres
and
Aubrey Huff
around to accommodate them. Rotating in Ishikawa helped launch a 27-13 Giants run that preceded their deals for
Jose Guillen
and
Cody Ross
. It had less to do with Ishikawa's greatness than it did with working with what Bochy had at his disposal and getting enough runs to win with an incredible pitching staff.
In short, Bochy has got a well-earned rep as a lineup MacGyver: Give the man some used gum, a pencil and a Topps card to be named later, and he might just give you an edge, part of the reason why Chris Jaffe's excellent book "Evaluating Baseball's Managers" described him as one of the most underrated skippers in baseball history.
One of the things Jaffe suggested in his book was the Achilles' heel that Bochy's teams had back in San Diego when he managed the Padres was that they tended to be short on pitching. Happily for him and for the Giants, thanks to Madison Bumgarner & Co. that's one problem this year's Giants don't have.
PHOTO OF THE DAY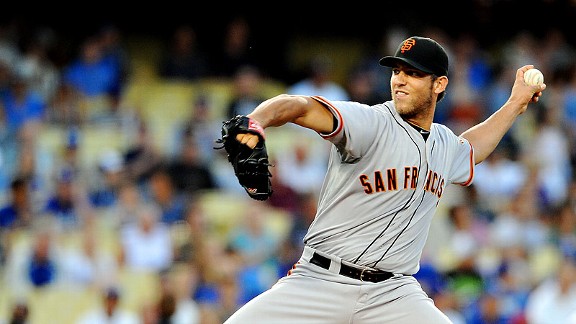 Jayne Kamin-Oncea/US PresswireOn nights like Madison Bumgarner had on Monday against the Dodgers, two runs will do.
Christina Kahrl covers baseball for ESPN.com. You can follow her on Twitter.
June, 9, 2012
6/09/12
8:01
PM ET
By
Christina Kahrl
| ESPN.com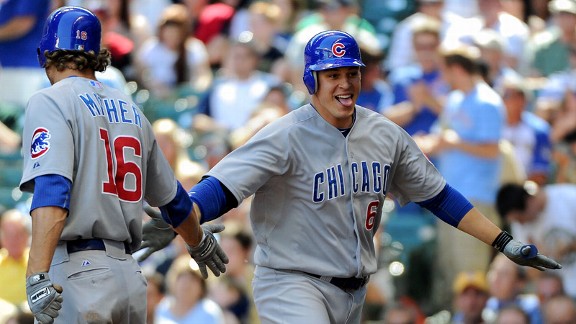 Benny Sieu/US PresswireBryan LaHair, 29, is in the top five in the National League in slugging, OBP and OPS.
At 28 years old and after spending much of the previous five seasons in Triple-A,
Bryan LaHair
was a purportedly "known" quantity -- Quadruple-A bat, perhaps a fill-in first baseman. In his one brief shot at The Show in Seattle in 2008, he split time at first base with utilityman
Miguel Cairo
and
Jose Lopez
. He didn't shine, and it was back to Tacoma the next year. In short, he seemed a man doomed to a dim star on an obscure walk of fame to be named later, perhaps in Tacoma, maybe in Iowa.
He changed that in his sixth campaign in the Pacific Coast League, changing the minds of scouts and analysts alike with 28 homers and a 1.070 OPS. And this year, taken seriously for the first time, he's a 29-year-old getting his first real shot at everyday play in the major leagues ... and blowing the league away. He's third in the National League in slugging, fourth in OBP, and fourth in OPS. And all it took to bring him to Wrigleyville was a minor-league contract, after the Mariners let him slip away as a minor league free agent.
By simultaneously shredding expectations and opposing pitchers, LaHair is providing a fine example that players' career paths aren't simply a matter of forecasting off past performance. That works on the macro level, for most players. But whether as a matter of changing their game or finally getting opportunities they'd long deserved, a few past-prime players are making the most of their opportunities this season.
You can't quite come up with a full lineup's worth of these guys, but beyond LaHair, here's my off-the-cuff list of this season's other "surprise stars," some of whom will belong in Kansas City as full-fledged All-Stars in a month's time.
C A.J. Ellis, Dodgers:
Say what you will about catching always being in short supply -- and it isn't -- Ellis had to wait until this year to get a clean shot at a catching job. Now 31, he's pretty much the perfect example of an organizational soldier: He spent his first two full seasons after getting picked in the 18th round out of Austin Peay as a backup at High-A, caddying for
Russell Martin
and then
Edwin Bellorin
(once upon a time a well-regarded Venezuelan prospect).
Ellis finally became a regular in Double-A in 2006. From the start, he showed tremendous ability to get on base, but the Dodgers kept him at the same slow pace, as he spent two years in the Southern League and two years in the PCL before graduating to two years as a big-league backup. That sort of long-form apprenticeship that seemed certain to lock him into little more than membership in the International Brotherhood of Backup Backstops.
Perhaps only taken seriously as a starter as a matter of grudging last resort this past winter, when the market offered slim pickings as far as catching help, Ellis is second only to
Yadier Molina
among NL catchers in his production at the plate while throwing out 41 percent of opponents' steal attempts. Ellis might be this group's best bet beyond LaHair to be headed to Kansas City for the All-Star Game.
SS Mike Aviles, Red Sox:
It has been a bumpy road for Aviles since his old-rookie debut as a 27-year-old with the Royals in 2008. In K.C., he had to contend with injuries and the idea that he wasn't really a shortstop. This year, shortstops are putting up the collectively lowest OPS (.678) or OPS+ (88), so Aviles' .711 OPS/90 OPS+ clip is just a wee bit above average, not shabby considering he's also doing fine at short, according to advanced fielding metrics. Beyond buying time for
Jose Iglesias
, this has proven a relatively high-yield, low-expense gamble for the Sox: League-average shortstops usually cost millions on the market, but Boston got him for an organizational arm (Kendal Volz) and
Yamaico Navarro
, a utility player so interesting that K.C. flipped him to the Pirates, who have already ditched him in Indianapolis.
[+] Enlarge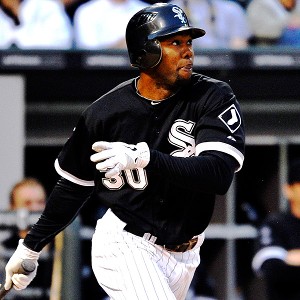 AP Photo/Brian KerseyCenter fielder Alejandro De Aza is making the most of his chance to play every day at age 28.
CF Alejandro De Aza, White Sox:
If LaHair is the slugging surprise of the season, De Aza is the out-of-nowhere leadoff solution most teams need. Back in 2007, he got an opportunity with the Marlins, leading off on Opening Day, but injuries to first one ankle and then the other derailed that season and the next. In 2009, he gave the first indication that he wasn't just going to be a speed guy, slugging .506 for New Orleans; the Marlins were so impressed they let him slip away on a waiver claim by the White Sox. Finally getting a shot at everyday play as a 28-year-old in the one-hole, he's hitting .299/.381/.425 and he's holding his own in center.
Juan Pierre
never looked this good, but a crowd of quality center fielders in the American League will keep De Aza from All-Star status.
OF Gregor Blanco, Giants:
Melky Cabrera
isn't the only Giants outfielder having a season well beyond anything he's done before. A Braves prospect they lost interest in, he was dealt to the Royals, who dealt him to D.C. before the Nationals ditched him. All he's ever done is get on base; he just needed an opportunity. He got one when general manager Brian Sabean fished him off the discard pile this past winter. Pushing his way past
Nate Schierholtz
, Blanco has hit his way into everyday play in right field and the leadoff job with a .387 OBP as a 28-year-old journeyman. Blanco may rival Sabean's "discovery" of
Andres Torres
in 2009 before all's said and done.
RF Justin Maxwell, Astros:
Nobody has doubted Maxwell's power or talent, but his ability to stay healthy has been an annual concern. The Nats decided they had better uses for his spot on the 40-man and traded him to the Yankees, but he spent more time on the disabled list in 2011 with a bum shoulder than he did in pinstripes. The talent-hungry Astros snagged the 28-year-old off waivers this spring, and he's been a free-talent find as a fourth outfielder, providing power against lefties and strong-armed defense.
SP Jerome Williams, Angels:
Back in the day, Williams was a top prospect in the Giants' organization, ranking in Baseball America's top 20 for all baseball. That all seemed merited after a fine 2003 rookie season in which he drew an NL Division Series start for them against the Marlins. It was almost unrelentingly downhill from there; he needed elbow surgery in 2004, got dealt to the Cubs in 2005, and then bouncing through the Nationals, Twins, A's (twice) and Dodgers organizations, as well as a stint in the independent leagues. After making a nice impression on the Angels down the stretch last season, the 30-year-old Williams is getting regular rotation work in the majors for the first time in seven years as their fifth starter. More of a finesse righty these days, he's been an exceptional salvage-project success, putting up eight quality starts in 10 turns, far better work than most teams reasonably expect from a No. 5.
Quite simply, what these guys reflect is that not all replacements are "replacement level." Just when you think you know what a player is capable of, a happy few beyond their expected peak age of 27 have demonstrated the delightful capacity to surprise and exceed the modest expectations even their fans harbored for them. I don't know about you, but I like these kinds of surprises -- here's hoping we see more of the same from all of them.
Christina Kahrl covers baseball for ESPN.com. You can follow her on Twitter.
April, 24, 2012
4/24/12
8:00
AM ET
First base: Nate the great.
Giants outfielder
Nate Schierholtz
had a day to remember as the Giants swept a doubleheader from the Mets. In the opener, he went 3-for-5 with a triple and home run. In the nightcap (do they call it a nightcap?), he went 3-for-5 with another triple. His six hits is as many (or more) as the Pirates have gotten in eight of their 15 games.
Tim Lincecum
won his first game, but he scuffled through five innings, throwing 108 pitches and walking five batters. He escaped with just one run allowed, but it was hardly the effort to suggest he's back on track. By the way,
Pablo Sandoval
's home run in the nightcap (sticking with it) was a mammoth blast high into the second deck at Citi Field.
Second base: A's are Peaved.
Fact I did not know until tonight:
Jake Peavy
did not throw a complete game when he won the National League Cy Young Award in 2007. He threw just the 10th one of his career on Monday night, beating the A's
4-0
with a 107-pitch, three-hit gem. He's now 3-0 with a 1.88 ERA and all his peripherals are outstanding: .172 average allowed, 26/4 strikeout/walk ratio, one home run in 28.2 innings. His other three starts came against Texas, Detroit and Baltimore, so this all positive for Peavy. He hasn't made 20 starts in a season since 2008 but if he stays healthy, suddenly the White Sox look five-deep in their rotation -- and never count out a team with a deep rotation. The Sox are tied with the Tigers at 10-6 and have a +18 run differential compared to Detroit's +5. As White Sox utilityman
Brent Lillibridge
tweeted after the game, "Hop on #WhiteSox fans. It's starting to get fun around here. @JakePeavy_44 outstanding tonight, commanded from the 1st pitch."
Third base: Thanks, Pudge.
Ivan Rodriguez
officially retired on Monday and threw out the first pitch at the Rangers' game.
But he added a cool twist
to the usual ceremonial throw.
Home plate: Tweet of the day.
ESPN play-by-play announcer Dan Shulman with a novel suggestion that we should all rally behind ...
I vote that this year they decide home field in the World Series by having Matt Kemp and Josh Hamilton square off in a home run derby #mlb

— Dan Shulman (@DShulman_ESPN) April 24, 2012
June, 4, 2011
6/04/11
12:00
PM ET
By
Christina Kahrl
| ESPN.com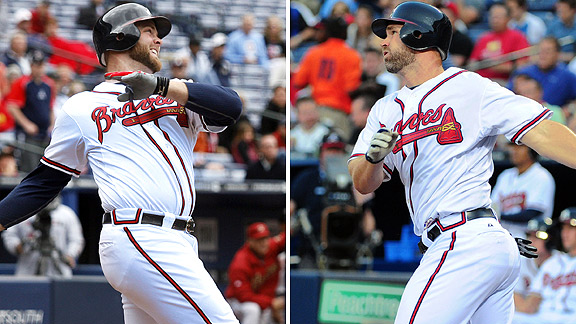 US Presswire/Getty ImagesThe lefty/righty catching platoon of Brian McCann and David Ross has been the NL's best this season.
If the American League has very few stable platoons but a few identifiable platoon players getting work, is the National League any better off? Even with today's bigger bullpens, the absence of a DH gives NL skippers and GMs a little more freedom to carry a player whose primary value is to platoon, since they have five reserves, so even if one is a catcher and another is someone who can play short, that still leaves space for the odd guy. Say, that journeyman who can knock a situational lefty right out of the box, or who can help put up a crooked number against that tiring right-handed starter in the fifth or sixth inning. And it doesn't hurt that these kinds of guys are handy for double-switches.
As in the American League, you find a few catching platoons of convenience, in which the backup backstop bats from the other side and conveniently gets his starts on the days the starter needs a rest. The Braves' setup with
Brian McCann
and
David Ross
is the best of the lot, but when Atlanta afforded itself Ross, it did so knowing it was getting more than a platoon player. The Mets' young/old and lefty/righty combo of
Josh Thole
and
Ronny Paulino
has its virtues. Charlie Manuel has the benefit of a slight inversion of the paradigm when
Brian Schneider
is healthy -- a lefty-batting backup is a lot easier to spot when
Carlos Ruiz
really does need a rest, since most pitching is right-handed -- but he's on the DL.
Stable platoons beyond those behind home plate are surprisingly limited in the Senior Circuit. I'd divide the current group of platoons in the league into three groups: committed, accidental and diffident, reflecting the level of planning and commitment that went into constructing them, and whether or not they're going to last more than a couple weeks.
Among the few we'd call committed, Clint Hurdle's stolidly running out his right-field combo of
Garrett Jones
and
Matt Diaz
. It isn't hitting all that well, but that was the plan, and so far, they're sticking with it. The Phillies anticipated a right-field platoon before the season, but
Domonic Brown
's injury kept that from becoming a reliable feature of Manuel's lineup cards until recently, pressing
Ben Francisco
back into an everyday role he handed back.
[+] Enlarge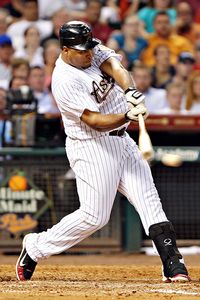 Troy Taormina/US PresswireThe Astros are 10-8 against lefties this season, which could be partly because that matchup allows them to move Carlos Lee out of left field.
In the infield, San Diego manager Bud Black has been reliably sticking with
Brad Hawpe
and
Jorge Cantu
as his first-base arrangement, but there's only so much Can'tu at the plate that even the Padres can endure. The rare multi-position platoon that's a matter of design, but also a certain diffidence is found in Houston, where Brad Mills is moving
Carlos Lee
between left and first base, but not every time out.
Brett Wallace
sits against a few lefties,
Jason Michaels
plays left and Lee moves to first and keeps getting to play every day. The 'Stros might have a 10-8 record vs. lefties, but getting Michaels into the lineup isn't the reason why. But re-potting the increasingly immobile Lee someplace other than left field might be a contributing factor.
Alone among their NL brethren, the Marlins have stuck with an infield platoon someplace other than first base, and they platoon at third without actually finding a set right-handed half of the platoon. Edwin Rodriguez has damned the defensive torpedoes to run
Greg Dobbs
out there every day against right-handers, while leaving his partner du jour as a matter of mystery -- sometimes it's
Wes Helms
, sometimes it was
Donnie Murphy
, and now sometimes it's the roving
Emilio Bonifacio
. Those happy few who root for the Teal Deal are no doubt on their seat's edge when their Fish face a lefty.
Among the accidental platoons, three NL West teams have setups they didn't necessarily expect. To the credit of both Bruce Bochy and Black, they've proven reliably willing to platoon, and they're assembling new ones on the fly after their initial designs broke down. Black got plenty of mileage out of his outfield platooning last year, but
Will Venable
flopped this spring, handing back his half of the right-field job. In his desperation, Black is pairing
Eric Patterson
with
Chris Denorfia
, which isn't helping matters.
While Bochy isn't trying anything quite as inspired as last year's mid-season lineup platoon between
Travis Ishikawa
and
Aaron Rowand
-- with
Aubrey Huff
moving to the outfield against righties and returning to first base against lefties -- he has been aggressive in getting
Nate Schierholtz
into the lineup against right-handers while playing
Cody Ross
daily. Rowand is getting platoon time with
Andres Torres
in center, but
Pat Burrell
hasn't been entirely reduced to Schierholtz's platoon partner.
Then their is the Dodgers' Don Mattingly. Some combination involving
Jay Gibbons
in left field was probably going to be part of the program at the outset, but Gibbons' spotty health, a passing interest in
Tony Gwynn
's speed, and
Marcus Thames
' breakdown opened up an opportunity for first baseman
Jerry Sands
to win the job. But like so many other thundersticks from Albuquerque in Dodgers history, his stick fell still in Chavez Ravine, and now Sands is in an accidental platoon with Gibbons until they decide there's a better alternative.
Injury created the Braves' temporary replacement platoon setup for
Jason Heyward
, as the
Eric Hinske
/
Joe Mather
platoon is working out nicely -- but it's also clear that pair will head back to pine time as soon as Heyward's healthy. In contrast, some managers look like they'd like to platoon more, but injuries have gotten in the way. The Brewers' Ron Roenicke appears committed to a
Nyjer Morgan
/
Carlos Gomez
platoon in center because of the speed 'n defense combo it provides, but Morgan's injury got in the way at the outset. If it sticks, that's the circuit's lone platoon arrangement up the middle someplace other than catcher.
The Pirates' loose platoon at the infield corners reflect what I mean by "diffident platooning." In contrast with his greater faith in his right field platoon, at the infield corners Clint Hurdle's sort of futzing around with
Steven Pearce
at both first and third vs. lefties to give him something to do, and sometimes
Brandon Wood
gets time at third. But it isn't an everyday sort of devotion, and has as much to do with
Pedro Alvarez
's career-stunting slow start and
Lyle Overbay
's offensive indifference than any abiding faith in Pearce or Wood.
I'd also chuck Kirk Gibson's first-base set-up into this category as well --
Xavier Nady
and
Juan Miranda
are platooning, sort of, but Gibson isn't exactly being a stickler about it. Since neither are hitting the people they're supposed to, and since neither plays first base all that well, it's more first base by coin toss at gunpoint than a straight platoon.
Platooning isn't automatically a good idea, after all, and if as Casey Stengel put it, "I could'na dunnit widdout the players," that's just as true today -- skippers can only use what they've got, no matter how clever they might be in how they employ it.
Christina Kahrl covers baseball for ESPN.com. You can follow her on Twitter.
June, 2, 2011
6/02/11
1:29
AM ET
By
Christina Kahrl
| ESPN.com
This early, it might seem strange to talk about a second-place club whose season has been defined by setbacks, but a World Series win does that to a team, and the Giants are beset by daily questions of what they're going to do and what they can do. After losing
Buster Posey
last week, what seemed like a reasonable bid for a successful title defense has become a question of whether or not this old team still has win-now value, and their 2-4 record since losing their starting catcher going into Wednesday night only exacerbated the issue.
However, losing Posey for the rest of 2011 was merely the exclamation point to a litany of injuries that includes
Pablo Sandoval
being absent for more than a month. Perhaps the Giants will be best served by using what they got out of calling up Posey last year as an example of what they can keep doing, even in his absence: Help themselves by turning to better, younger players, all the better to exploit the opportunities to win already being created by a top-shelf pitching staff. Do that, and perhaps they can win on the nights when they don't get their best games from their pitching -- as they did last night, even after
Tim Lincecum
allowed five runs and 10 hits.
The Giants won last year with a number of things going for them: a rotation arguably second to none, a great bullpen fronted by a closer capable of coming into games earlier than most relief aces and an offense good enough to rate in the middle of the pack. This year's Giants' pitching staff still has most of that going for it, even repeating its major league-leading strikeout rate, getting 21.4 percent of all batters to whiff after leading with 21.6 percent in 2010.
Heading into a Lincecum-pitched game on Wednesday, the Giants had cranked out quality starts in 63 percent of their contests this season -- third in the league -- with Lincecum and
Matt Cain
responsible for eight apiece in their first 11 starts. That combination has helped the Giants to an MLB-leading 15 one-run wins, and has helped them win 12 games while scoring three runs or less.
But when they've scored more than three runs, the Giants were 17-6 -- now 18-6 after coming out ahead of the Cardinals in 11 innings on Wednesday in St. Louis. If Wednesday night's game was troubling because the Giants got more than those three runs and looked like losers after Lincecum got lit up in the seventh, the fact that they muddled through to win should be some solace. There's no reason to second-guess Bochy's willingness to trust his ace in the seventh, even against the league's best offense. The Cards had manufactured only their first run, and scraped the next two out of defensive miscues in the fourth. They just flat-out hammered Lincecum in the seventh, a reminder that it happens to the best of them, but they tied the game in the top of the ninth, and the Giants got away with their extra-inning win against the ill-starred
Ryan Franklin
.
The seven-run explosion can be a reason to hope that the Giants are getting over their real problem early on: offense. The Giants rated 15th in the National League in runs scored before the night, and 28th in the major leagues in true average. That isn't enough to make their good starts stand up, let alone the bad ones. Sandoval's return later this month will help, but to help compensate in the meantime, the Giants can invest some hope that a couple of next-gen Giants can make a difference.
First, there's the hope that
Brandon Belt
could help, even after his early-season flop, because with Aubrey Huff,
Pat Burrell
and
Cody Ross
all unlikely to repeat last season's exploits, adding a bat projected to produce an OPS north of .810 should improve matters. Their increasing willingness to work
Nate Schierholtz
's good glove and modest power into their lineup reflects an open-mindedness toward getting better benefits on defense as well as offense.
That isn't the only multi-benefit move the Giants are making of late, however. Instead of trying to become the first team to win a pennant with a 37-year-old shortstop since the 1956 Dodgers, the Giants have long since moved their old man,
Miguel Tejada
, to third base, making room for a fine shortstop prospect in
Brandon Crawford
.
Maybe "the book" says that you're not supposed to win with a rookie shortstop, but the Giants did already win everything with a rookie catcher last year, breaking another no-no. Crawford should be hard-pressed to underperform Tejada's .520 OPS, meaning the Giants won't merely gain Sandoval's bat once he returns, they can net the benefit of Crawford's better all-around play as well. Crawford showed excellent range afield, but also rapped out the hit that gave San Francisco a two-run lead in the 12th, after Schierholtz had already broken the tie in the 12th (and delivering the tie on his base hit in the ninth). If these are to be the heroes of the Giants' present, the good news is that they can't hit worse than the old men, while adding something in the field.
PHOTO OF THE DAY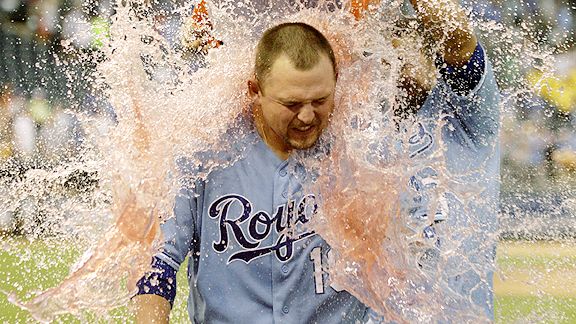 AP Photo/Ed ZurgaBilly Butler got the kind of bath every player loves, because it usually means they did something good.