September, 28, 2013
9/28/13
11:40
AM ET
Here are my choices for the 2013 American League All-Star team:
Catcher: Joe Mauer, Twins
(.324/.404/.476, 11 HRs, 47 RBIs, 5.2 WAR)
There's not a real clear choice, as Mauer played just 75 of his 113 games behind the plate, but he's the best hitter among the catchers and threw out a league-leading 43 percent of base stealers.
Carlos Santana
has good offensive numbers, but he played a lot of first base and DH and struggled defensively.
Jason Castro
's fine season was buried in the Astros' awfulness, and
Jarrod Saltalamacchia
has hit .272, raising his average 50 points from last year, while bashing 40 doubles and 14 home runs. If he had played a little more behind the plate -- he started 95 games -- he might have been my choice.
First base: Chris Davis, Orioles
(.287/.370/.637, 53 HRs, 138 RBIs, 6.7 WAR)
Davis is the easy choice in a weak year at first base in the AL. The only other two first basemen to slug .500 were
Edwin Encarnacion
, who spent a large chunk of his time at DH, and
Brandon Moss
, a platoon player. Davis joined Babe Ruth and Albert Belle as the only players with 50 home runs and 40 doubles in a season.
Second base: Robinson Cano, Yankees
(.313/.383/.514, 27 HRs, 106 RBIs, 7.6 WAR)
In a year when so much went wrong with the Yankees, Cano was the one constant, missing just one game and putting up his usual excellent numbers. Now the Yankees have to decide exactly how much they're willing to pay for those numbers. Teams like the Dodgers and Nationals could pursue the free agent this winter.
Third base: Miguel Cabrera, Tigers
(.347/.441/.637, 44 HRs, 137 RBIs, 7.1 WAR)
Despite the injury issues that have slowed him in September (.265, just two extra-base hits and seven RBIs), Cabrera remains the likely MVP winner, thanks in part to a .397/.529/.782 mark with runners in scoring position. It's a deep position with
Josh Donaldson
having his own MVP-caliber season,
Manny Machado
catching everything at the hot corner and
Evan Longoria
and
Adrian Beltre
once again doing everything, but it's hard to deny Miggy's dominance with the bat.
Shortstop: J.J. Hardy, Orioles
(.262/.305/.432, 25 HRs, 74 RBIs, 3.6 WAR)
There's not an obvious guy at the position. Hardy is good defensively and has power, but that .305 OBP lowers his offensive value.
Yunel Escobar
may have had the best year on defense, but a slow start dragged down his offense.
Elvis Andrus
plays great defense and has 41 steals but doesn't give you much at the plate.
Jed Lowrie
stayed healthy and hit but lacks range. In the end, I went with Hardy, who has played 157 games and gives you a little on both sides of the ball.
Left field: Mike Trout, Angels
(.323/.431/.554, 26 HRs, 94 RBIs, 9.1 WAR)
OK, I cheated a little bit since Trout actually started more games in center than left. But the state of left field in the AL is pretty pathetic, with
Alex Gordon
and
Michael Brantley
the only other two rated as even 2.0 WAR players.
Center field: Jacoby Ellsbury, Red Sox
(.297/.355/.421, 8 HRs, 52 RBIs, 5.7 WAR)
Ellsbury also stole 52 bases in 56 attempts, the second-best percentage ever for a player with at least 50 steals. Orioles fans will argue for
Adam Jones
, who has 33 home runs and 108 RBIs, but he's drawn just 25 walks so his OBP is a mediocre .318 and his defense doesn't match Ellsbury's.
Right field: Shane Victorino, Red Sox
(.297/.354/.456, 15 HRs, 61 RBIs, 6.2 WAR)
He's been solid offensively -- including hitting .303 and slugging .515 while having to bat right-handed against right-handed pitchers after a hamstring injury prevented him from batting left-handed. He has been terrific defensively with 24 Defensive Runs Saved, the sixth-best total in the majors at any position. Again, nobody with big numbers here on offense, especially with
Jose Bautista
's season-ending injury, but Victorino is a worthy selection.
Designated hitter: David Ortiz, Red Sox
(.308/.395/.565, 30 HRs, 103 RBIs, 4.3 WAR)
At 37, he's still going strong with his seventh 30-homer, 100-RBI season. Hall of Famer? He's up to 431 career home runs and 1,429 RBIs.
Starting pitchers: Max Scherzer, Tigers (21-3, 2.90 ERA, 6.6 WAR); Hisashi Iwakuma, Mariners (14-6, 2.66 ERA, 7.0 WAR); Chris Sale, White Sox (11-14, 3.07 ERA, 7.0 WAR); Yu Darvish, Rangers (13-9, 2.82 ERA, 5.7 WAR); Anibal Sanchez, Tigers (14-8, 2.64 ERA, 6.0 WAR)
Apologies to Bartolo Colon and
Felix Hernandez
, and even
Clay Buchholz
, who went 12-1 with a 1.74 ERA in 16 starts.
Left-handed setup guy: Neal Cotts, Rangers
(7-3, 1.13 ERA)
Cotts was one of the great stories of the season. He hadn't pitched in the majors since 2009, having Tommy John and four hip surgeries in the intervening years. He pitched in 25 games for the Rangers in Triple-A last year and started there again this season before getting recalled. In 55 2/3 innings, he's allowed just eight runs and 35 hits while striking out 63.
Right-handed setup guy: David Robertson, Yankees
(5-1, 2.07 ERA)
For those worried about replacing
Mariano Rivera
as Yankees closer, the bigger question may actually be: Who replaces Robertson as the eighth-inning guy?
Closer: Koji Uehara, Red Sox
(4-1, 21 saves, 1.10 ERA)
Apologies to Kansas City's
Greg Holland
, who has a 1.23 ERA and 46 saves, and Texas'
Joe Nathan
, who has a 1.41 ERA and 43 saves. But Uehara, who began the year in middle relief, has put up one of the most dominant relief seasons ever, limiting batters to a .129 average with a strikeout-to-walk ratio of 100-to-9.
September, 22, 2013
9/22/13
11:37
PM ET
Remember back in February when
Josh Hamilton
said,
"There are true baseball fans in Texas, but it's not a true baseball town."
Maybe that stung a little at the time, but things
really
sting now. If pain, suffering and agony are requirements needed to fulfill True Baseball Town status, Dallas-Fort Worth is now eligible to apply. After all, I'm not sure fans of
any
team have suffered a four-year span like the Rangers have:
--A World Series loss in 2010.
--A crushing World Series loss in 2011.
--An epic final-week collapse in 2012 that cost them the division title.
--A loss to the Orioles in the wild-card game. A game that
Joe Saunders
started.
--An impending epic September collapse in 2013.
Sorry, Red Sox and Cubs fans, but you have
never
gone through a four-year stretch like that.
[+] Enlarge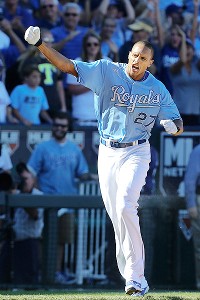 Ed Zurga/Getty ImagesJustin Maxwell can celebrate his slam, but it came at the Rangers' expense.
The
Texas Rangers
suffered another devastating September loss on a sunny Sunday afternoon in Kansas City,
losing 4-0
in 10 innings when
Justin Maxwell
hit a two-out, walk-off grand slam on a 3-2 pitch from
Joakim Soria
. Combined with the Indians' 9-2 win over the Astros the Rangers are now 1.5 games behind Cleveland for the second wild card.
To be fair, the Rangers haven't yet completed this collapse. Yes, they're 5-15 in September -- they began the month two games up on the A's -- but they do have three games against the Astros and four against the Angels to close out their season. The Indians just swept the Astros (who have now lost nine in a row), so if the Rangers can pull of a sweep they'll at least head into the final series against the Angels with a chance. The Indians finish up with two against the White Sox and four against the Twins, a soft schedule that should essentially eliminate the Royals, Yankees and Orioles.
As I watched Sunday's 10th inning unfold, as I watched Maxwell flip his bat and raise his arms in triumph, my immediate thoughts:
1. What a great moment for Royals fans to cherish, even if their playoff chances remain minuscule.
2. How did Ron Washington screw it up again?
3. Doesn't Washington have to be fired?
Let's go through Sunday's game.
Alexi Ogando
had pitched seven scoreless innings.
Tanner Scheppers
had retired the next four batters, throwing just 15 pitches. With one out in the ninth, Washington replaced Scheppers with lefty
Neal Cotts
to face
Alex Gordon
. You can't argue that move too much, although (A) Scheppers has no platoon split; (B) Gordon has hit .306 against lefties and .245 against righties with more power against left-handers. And Cotts has actually been tougher on right-handed batters (.165, no home runs) than lefties (.202, two home runs). Still, lefty against lefty, and Gordon has historically been much better against right-handers. Still, there wasn't really much of a statistical reason to make the move, however, and you start running the risk of burning through your bullpen too quickly in an extra-inning game and having to use
Joe Ortiz
at some point (umm, see Wednesday).
Anyway, Cotts got out of the inning and was left in to face
Eric Hosmer
in the 10th. No issue there. Hosmer punched a ground-ball double over the third-base bag: Good pitch, bad result.
Billy Butler
and
Salvador Perez
were the next two hitters, two right-handed batters, Butler without a platoon split, Perez better versus left-handers. You could do two things here: (A) Leave in Cotts (who, mind you, has been as dominant as just about any reliever in baseball this year with a 1.04 ERA and, as mentioned, great platoon splits) or (B) go to the bullpen and bring in
Joe Nathan
even though it wasn't a save situation. After all, if you don't escape this inning, you won't have a game to save.
[+] Enlarge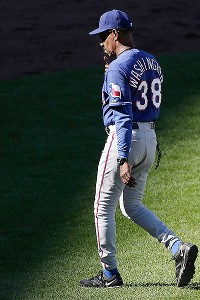 AP Photo/Charlie RiedelThe shadows over Ron Washington's future with the Rangers are getting longer with every loss.
Washington, of course, chose option C: Bring in your fourth-best reliever, Joakim Soria.
Washington immediately made Soria's job a little more difficult by deciding to intentionally walk Butler, setting up a potential double play with Perez, but also making it more imperative that Soria throw strikes since you can't afford to load the bases. Also of note, Soria had walked 10 batters unintentionally in just 20 1/3 innings pitched. Soria almost got his double play, but the ball popped out of the glove of a diving
Elvis Andrus
and he failed to get pinch-runner
Chris Getz
at second. Soria almost got out of the inning with a pop out and force at home, but Maxwell worked the count to 3-2 and was sitting dead red -- Soria in a situation where he had to throw a strike or risk walking in the winning run.
Look, you can't blame Washington for the offense's failure to score a run, but it capped a miserable week of decisions for a manager whose in-game strategies have been questioned in the past, particularly in the 2011 World Series. On Thursday, he used Nathan to close out an 8-2 victory -- even though Nathan had pitched the previous two days, including a 29-pitch effort on Wednesday (his second-highest pitch count of the season). That presumably left Nathan unavailable for Friday, when
Jason Frasor
and
Neftali Feliz
-- something like his fifth- and sixth-best relievers -- let the go-ahead score in the eighth. In that contest, he brought in Feliz after Frasor had loaded the bases. Feliz had pitched just five games all season since coming back from Tommy John surgery. Even when Feliz was good he always had trouble throwing strikes, walking more than four men per nine innings in 2011 and 2012. Why would you bring him in with the bases loaded? Brutal.
The Rangers lost two games this week in part because of Washington's inability to be flexible and realize you don't manage games in late September with your season on the line the same way you do in May and June. He lost games by pulling his best set-up guy, Cotts, while leaving his closer, Nathan, on the bench.
It's amazing how far the Rangers have fallen in just 12 months. One year ago they were about to win their third straight AL West title and were praised as perhaps the best organization in baseball, right up there with the Cardinals. They had a young and successful general manager in Jon Daniels, they appeared to have a stacked major league roster with a deep farm system. Hey, some things went wrong this year --
Matt Harrison
made just two starts,
Colby Lewis
never returned, Alexi Ogando missed about half the season -- but this was also a team counting on
Lance Berkman
to remain healthy and
David Murphy
and
Mitch Moreland
to be the big left-handed bats.
It was a team with flaws. And a team with flaws can't win if its manager is making decisions that hurt its chances of winning. The Rangers have seven games remaining. I suspect they'll be the final seven games Washington manages for the Rangers.
June, 14, 2013
6/14/13
12:24
AM ET
Jesse Chavez
is essentially the 25th man on the Oakland A's roster. He started the year in Triple-A, got called up, got sent down, got called back up and is working as the low-leverage guy out of the bullpen. Before Thursday, he hadn't pitched since June 5, and the final scores of games he'd appeared in (without a decision) were 6-1, 10-2, 11-5, 6-2, 6-1, 6-3, 10-2, 9-6 and 8-1.
Chavez is the definition of a journeyman right-hander, having pitched for the Pirates, Braves, Royals and Blue Jays before the A's purchased him from Toronto last August. He was a typical Billy Beane acquisition: He has a pretty good arm, fastball in the low 90s, but what Chavez hadn't had was much success at the major league level, with a 5.74 ERA over 191 career innings.
But sometimes you need that 25th guy to come through, and Chavez's other asset is that he had started for Triple-A Sacramento. That ability to pitch multiple innings came into play in Thursday's 18-inning marathon in Oakland, the A's finally pushing across the winning run with a blooper and broken-bat flare off
Mariano Rivera
, winning
3-2
. Chavez was the big hero, however, pitching 5.2 innings of one-hit, scoreless relief. He has a starter's repertoire, with a cutter, curve and changeup. He got two big outs when he entered with two runners on in the 13th, striking out
Kevin Youkilis
and
Vernon Wells
on curveballs.
In the 14th, A's manager Bob Melvin had the guts to intentionally walk
Robinson Cano
with runners on first and second;
Mark Teixeira
popped out to shortstop, missing a hittable fastball. From there it was smooth sailing, as Chavez retired the side in order in the 15th, 16th, 17th and 18th innings. Not bad for your garbage-time reliever.
[+] Enlarge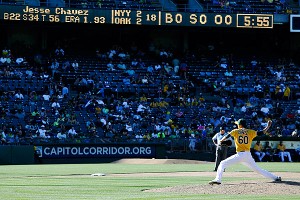 AP Photo/Eric RisbergJesse Chavez got the win for the A's in 5.2 innings of scoreless relief, with one hit and seven strikeouts.
"The last guy they threw was the best guy we faced all day," Teixeira told MLB.com. "That guy is nasty."
It's one of those games that will be remembered if the A's end up winning the American League West. It's that kind of bullpen depth that fueled their second-half surge last season and has fueled their strong start this season. The A's are 33-0 when leading heading into the ninth inning. They're 6-2 in extra innings. When tied through seven innings they're 8-1. This is a tough team to beat late in a game.
The A's have won 11 consecutive games at home and 21 of their past 26, and while they were 7 games behind the Rangers in mid-May, they now lead the division by two games, after the Blue Jays beat
Yu Darvish
and the Rangers
3-1
, dropping the Rangers to 4-8 in June. Injuries to
Ian Kinsler
and
Mitch Moreland
have hurt, but that gets us back to roster depth.
Who is the favorite to win the West? Here's a quick rundown comparing the two teams.
Lineups
Oakland: .246/.328/.397
Texas: .264/.327/.436
Entering Thursday's games, the Rangers had the higher wOBA, but the A's had the slightly better park-adjusted offense. The A's have gotten huge performances from
Josh Donaldson
and
Coco Crisp
, and while some regression might be in order, Donaldson also looks like a much-improved hitter from last season,
as Jerry Crasnick wrote
. On the other hand,
Josh Reddick
(.187) and
Chris Young
(.169) should improve.
For the Rangers, the offense is trending downward. In 2011, they averaged 5.3 runs per game; in 2012, 5.0; this year, 4.4.
Adrian Beltre
and
Nelson Cruz
are doing Adrian Beltre- and Nelson Cruz-type things, but
Elvis Andrus
and
David Murphy
are struggling right now. If Murphy doesn't pick it up, the Rangers might look to add an outfielder.
Advantage: A's.
Starting pitching
Oakland: 29-24, 4.01 ERA; .249/.298/.398; 6.1 innings per start
Texas: 25-21, 3.77 ERA; .251/.311/.391; 5.9 innings per start
The rotations have posted similar numbers, but once you adjust for ballpark, the Rangers' staff has performed better, led by Darvish and
Derek Holland
. FanGraphs WAR rates the Rangers' starters at 8.6 Wins Above Replacement, third-best in the majors, and the A's 12th-best at 5.0.
The good news for the A's is that
Jarrod Parker
pitched well again Thursday. After posting a 7.34 ERA through his first seven starts, he's gone 4-1 with a 2.40 ERA over his past seven, with a .183 average allowed and WHIP under 1.00. His changeup is back to the deadly weapon it was last year, as batters have hit .118 against it in those most recent seven games.

The Rangers have succeeded even though
Matt Harrison
has spent most of the season and the disabled list and
Colby Lewis
all of it.
Alexi Ogando
is also
out again with shoulder inflammation
. The Rangers received some solid work from
Nick Tepesch
and
Justin Grimm
early on, but those two haven't been quite as strong lately, and you have to wonder if the injuries won't catch up to the rotation at some point, at least until Lewis and Harrison return.
Edge: Even. The Rangers have been better so far, but moving forward I think the A's close the gap.
Bullpen
Oakland: 12-3, 2.89 ERA; .227/.289/.358
Texas: 13-7, 3.29 ERA; .240/.313/.368
The Texas bullpen has also been outstanding, especially the back three of
Joe Nathan
,
Tanner Scheppers
and
Robbie Ross
.
Neal Cotts
has added some depth as well. Scheppers has been the big surprise, with a fastball that sits at 94-96 mph and touches 98; he's always had a good arm but might finally be putting it together. He doesn't have a big strikeout rate (21 in 32.1 innings), and I do wonder if he keeps pitching this well. Batters are hitting just .170 off his fastball even though Scheppers' strikeout/walk ratio with the pitch is just 10.9.
Edge: A's. The Rangers have a good pen, but once you get into the fifth, sixth and seventh guys, I think the A's have the advantage.
Defense
Oakland: minus-20 Defensive Runs Saved
Texas: plus-8 Defensive Runs Saved
Ultimate Zone Rating has the clubs essentially even -- Texas at minus-0.3, Oakland at minus-1.3. The big problem area for the A's has been shortstop
Jed Lowrie
at minus-8 DRS. Chris Young, who usually rates very well in the outfield, has also rated poorly at minus-5 DRS. Of course, if he doesn't start hitting, he's not going to get much playing anyway behind Crisp, Reddick and
Yoenis Cespedes
.
Edge: Rangers.
The A's were my preseason pick to win the division, and they look like the better team right now. What do you think?