September, 20, 2012
9/20/12
1:23
AM ET

"I mean, guys, I know how to hit. I promise you, I know how to hit. It's just right now, it's been pretty tough."
-- Matt Kemp to reporters a few days ago
Kemp has not had a good September. He's been mired in such a terrible slump that Cardinals manager Mike Matheny intentionally walked
Andre Ethier
the other day with runners at second and third and two out in the bottom of the 10th inning. And it worked. Kemp flied out, and the Cardinals eventually won the game in 12 innings.
The 2011 MVP runner-up entered Wednesday's doubleheader in Washington hitting .122 in September, with one walk and 14 strikeouts, an approach conjuring up memories of Kemp's lackluster 2010 season. Going back to Aug. 10, he had one home run and 12 RBIs in 31 games. "The Bison"? This was more like "T-Bone" Shelby.
Kemp went 1-for-4 in the first game as the
Nationals won 3-1
, dropping the Dodgers to 9-17 since an Aug. 19 victory had left them a half-game up on the Giants in the National League West. They were now two games behind the Cardinals in the crawl to the second wild-card spot. I wouldn't quite label the nightcap a must-win game, but there was at least a certain urgency.
How did this happen? How did the Dodgers get here? On Aug. 20, they lost to the Giants, when
Madison Bumgarner
outdueled
Clayton Kershaw
2-1 (both starters went eight innings, and combined for 20 strikeouts and no walks). The Giants won the next day and the next. A sweep at Dodger Stadium. The Dodgers then had an off day, and general manager Ned Colletti spent it finalizing the blockbuster deal to acquire
Adrian Gonzalez
and
Josh Beckett
. This would right the ship. It would be a battle to the end against their hated rivals, and in a perfect alignment of the schedule, the teams would finish the season against each other at Dodger Stadium.
Instead, the blockbuster became blockbusted. Gonzalez has been awful since joining the Dodgers, and his batting line stood at .233/.286/.378 (BA/OBP/SLG). Those would be described in the greater L.A. area as "
James Loney
numbers." Beckett had been inconsistent in four starts with the Dodgers, posting a 3.38 ERA but allowing 27 hits in 24 innings. He'd start the second game.
* * * *
The Dodgers scored three runs in the third inning. Kemp and Gonzalez drew key walks, and
Hanley Ramirez
and Ethier knocked in runs. They scored three more in the fourth. Kemp had an RBI single. He later scored a controversial run (replays showed he hadn't crossed the plate before a tag was made on Gonzalez). It was just the second time the Dodgers had scored at least six runs in 18 games. They'd scored two or fewer in nine of those games.
* * * *
The Nationals scored six runs in the bottom of the eighth. The home crowd went crazy.
* * * *
The Dodgers were staring down the barrel of one of the season's most bitter defeats that any team had suffered, an absolutely crushing blow considering the timing and circumstances.
Kemp led off the ninth against Nationals closer
Tyler Clippard
, and fell behind on a called strike for a cutter and two foul balls on a changeup and fastball. Kemp had entered the day hitting .200 on 0-2 counts, with 32 strikeouts in 63 plate appearances. Over the past three seasons, batters were hitting .128 off Clippard when he reached an 0-2 count.
Clippard wanted to elevate a fastball; he didn't elevate enough. Kemp belted a towering fly ball to center field that reached the third row of bleachers.
Brandon League
had an easy, 12-pitch bottom of the ninth, and the Dodgers had the win
7-6
. If the Dodgers somehow find a way to gather up some steam and catch the Cardinals to make the postseason, this will be the game Dodgers fans remember. From nearly falling off the edge of the cliff to catching a branch on the way down. Still hanging in there.
* * * *
This isn't a good team right now, not with Kemp and Gonzalez struggling at the plate. Not with Kershaw indefinitely sidelined -- maybe for the rest of the season -- with his sore hip. The Dodgers haven't been good since that amazing 30-13 start. In truth, the Dodgers' season peaked May 22, when
Ivan DeJesus Jr.
doubled in two runs in the ninth inning to give the Dodgers an 8-7 victory over the Diamondbacks. They seemed unstoppable at that time, a miracle season in the works. Cue highlights of Orel Hershiser and Kirk Gibson on the big screen.
The Gonzalez trade was a sign of desperation, a sign of a new ownership group with deep pockets being played the fool. Take on our fading stars! Take on these mammoth contracts! Win back your fans! It will work out for you, trust us!
You know, the funny thing about the Frank McCourt era is that the Dodgers made the playoffs four times in his eight seasons as owner. They even won their first two playoff series since 1988.
I have a feeling they will be 0-for-1 in the Magic Johnson era.
PHOTO OF THE DAY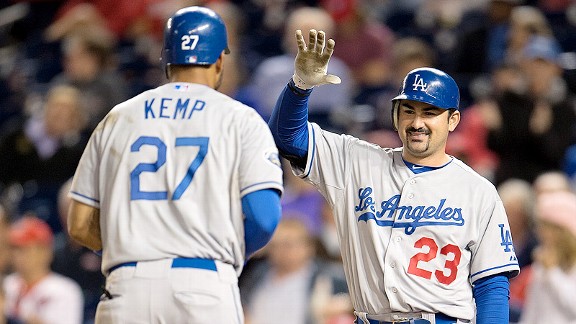 Harry E. Walker/Getty ImagesMatt Kemp gets his due for taking the pressure off everyone else with his winning homer in the nightcap.
August, 14, 2012
8/14/12
1:00
AM ET
By
Christina Kahrl
| ESPN.com
Matt Kemp
didn't go yard. He didn't need to. And
Andre Ethier
? He didn't put the lineup on his back either. What of Mattingly's mighty mites, the guys who were the toast of Los Angeles back in May? They were there, sure, but they essentially clocked in and clocked out, proverbial lunch pails in hand.
And the
Los Angeles Dodgers beat the Pittsburgh Pirates
just the same on Monday night, because the team that made people wonder how general manager Ned Colletti had done it three months ago doesn't really exist anymore. Kemp had a good night, and journeyman
Aaron Harang
tossed his 14th quality start -- a reasonable stand-in definition for "winnable game" -- of the season. This could be the second year in Harang's career that he tosses a quality start 60 percent of the time, the sort of serviceability that recommended him to the Dodgers in the first place, just as it did
Chris Capuano
and now
Joe Blanton
. Rounding out a rotation after you have an ace in place isn't sexy but it's necessary, and perhaps that's the word that will define what Colletti's done this summer: the necessary things.
That's because Colletti didn't stand still any more than circumstances did. When forced to do something necessary, he has done it. He has adapted and overcome, and that, as much as anything, might be what puts the Dodgers into the postseason. Colletti never made the mistake of settling, not for the team he built over the winter on back-loaded deals to an odd collection of journeymen, and not when that team started the season 30-13 behind Kemp's brief triple-crown bid. After a 6-19 swoon through July 17 helped kill any complacency over their brittle early-season achievements, Colletti acted, armed with the newly added largesse of his team's new owners. Trading for
Hanley Ramirez
and
Shane Victorino
and Blanton represents a facelift significant enough to elicit professional respect among cosmetic surgeons.
As a result, the new-look Dodgers might resemble that surprise hot-start team you remember from April, but only in the broadest particulars. Kemp and Ethier you remember. But the undercard? Let's just say the Dodgers aren't going to try getting to the dance with everyone they initially invited. Transient heroes such as
Bobby Abreu
,
Elian Herrera
and
Dee Gordon
have had their moments, but Colletti was as married to any of them as Kris Humphries was to Kim Kardashian -- give me a good month, maybe two, and then, see ya! As brutally unfair as that might seem, that's life in baseball's middle class.
Let's not forget Don Mattingly's part in also doing a few necessary things. The skipper didn't settle on
Javy Guerra
as his closer, last year's 21 saves or no. Faced with a necessary choice after Guerra pitched poorly, Mattingly let performance be his guide, and
Kenley Jansen
nailed down Monday's game. Confronted by
James Loney
's consistently crummy production, the Dodgers have turned more and more to
Juan Rivera
at first base -- Rivera has started 16 of their past 30 games. Giving Ramirez a test-drive at short to see if he can still swing it sets up a later necessary decision about what Gordon's role might be down the stretch. Gordon might be the franchise's long-term future at shortstop, but there's a right-now future to honor as well, and you can bet Mattingly will make a necessary choice with that in mind.
If you want to speculate about anything with this club, though, don't think about the warm fuzzies of the Dodgers' new age of Magic (Johnson) or what might have been if Kemp had stayed healthy. That way lies madness -- with Kemp around, perhaps the Dodgers' needs might not have seemed so dire, and maybe then Colletti doesn't bring in HanRam and the Flyin' Hawaiian and rent Joe Blanton. Follow that thread of possibilities and you're probably left with a nice little team, an 85-win team that gets remembered fondly as a symbol of the Dodgers' return to respectability, if mildly disappointing for its late fade.
But perhaps because the Dodgers did start strong and Kemp did get hurt, Colletti did those subsequently necessary things to make something more of his team's circumstance. As a result, the Dodgers are turning into something more than just a rival with those Angels
arrivistes
from Anaheim for Angeleno affections, they're turning into the sort of team you can see going toe-to-toe with anybody in a postseason series. Outside of the non-
Clayton Kershaw
nights, they can now beat you with the sort of depth in talent that is usually associated with the Yankees or Red Sox or last year's Cardinals (or the Phillies, up until this year).
They're stronger now because they were weak in June, possibly as strong as any team in the league. Think on that: Do you really want to run into a team that can lead off a postseason series with Kershaw? If you're a gambling man, here's hoping you don't find that necessary.
PHOTO OF THE DAY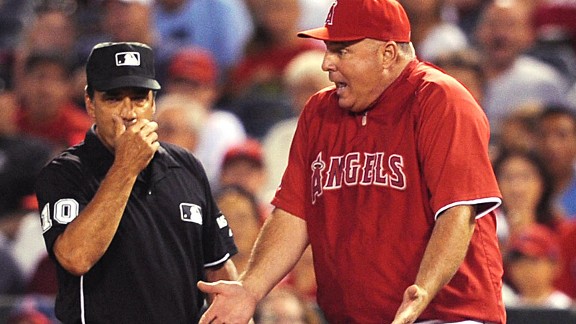 Kelvin Kuo/US PresswireIf Mike Scioscia wants to make a federal case out of it, there's always the Ninth Circuit.
Christina Kahrl covers baseball for ESPN.com. You can follow her on Twitter.
May, 2, 2011
5/02/11
1:16
AM ET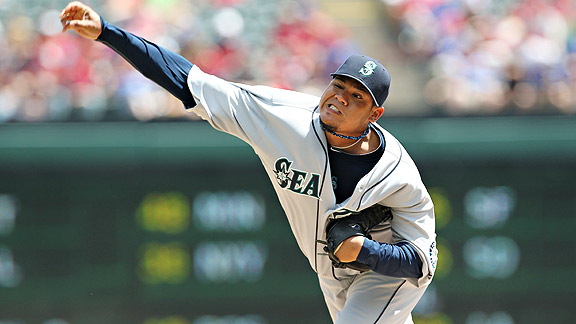 Matthew Emmons/US PresswireLooking for a reason for the offensive decline? Look at the young arms, led by Felix Hernandez.
One of the big stories of April was the continued decline in offense across the majors. Scoring last season was at its lowest level since 1992 and the major league batting average in the opening month of this season was .251, the lowest April average since the .249 mark of 1992. Teams scored an average of 4.29 runs per game, lower than 2010's season average of 4.38.
The common refrain heard last season was: See? Testing for steroids and other PEDs works.
To which I say: Not so fast, my friends.
For example, in 2006 (the fourth season of drug testing) the major league average was 4.86 runs per game and 1.11 home runs per game -- totals higher than many seasons of the so-called steroid era, including the final pre-testing year of 2002 when teams averaged 4.62 runs per game and 1.04 home runs per game. In 2009, scoring was still 4.61 runs per game and home runs at 1.04 per game.
There are many possible reasons that go into the declining offensive levels, including -- but not limited to -- reduced PED usage; better defense; new pitching friendly ballparks since 2008 for the Twins (Target Field), Mets (Citi Field) and Nationals (Nationals Park); cold weather (this April); poor quality of wood; and more consistent strike zones from umpires.
If you ask me the other explanation is rather simple: We have lots of good young pitching. The past few seasons have seen an extraordinary number of hard-throwing, polished young pitchers reach the majors and dominate.
The following starters are currently 25 or younger:
Felix Hernandez
,
David Price
,
Brett Anderson
,
Trevor Cahill
,
Clayton Kershaw
,
Yovani Gallardo
,
Tommy Hanson
,
Jhoulys Chacin
,
Wade Davis
,
Jeremy Hellickson
,
Zach Britton
,
Michael Pineda
,
Jaime Garcia
,
Daniel Hudson
,
Rick Porcello
,
Brian Matusz
,
Mat Latos
and
Johnny Cueto
.
Other starters whose rookie seasons were 2006 or later include:
Tim Lincecum
,
Matt Cain
,
Justin Verlander
,
John Danks
,
Chad Billingsley
,
Cole Hamels
,
Ubaldo Jimenez
,
Matt Garza
,
Max Scherzer
,
Jered Weaver
,
Josh Johnson
,
Ricky Romero
and
Adam Wainwright
.
Crediting decline in offense solely to a decline in PED usage dismisses the talent of those names.
Compare those guys to the top 15 starting pitchers in 1996 who were 25 or younger (based on
Baseball-Reference
's WAR stats):
Andy Pettitte
,
Ismael Valdez
,
Brad Radke
, Jose Rosado,
Pedro Martinez
,
Steve Trachsel
,
Felipe Lira
,
James Baldwin
, Scott Karl,
Darren Oliver
,
Joey Hamilton
, Chad Ogea, Willie Adams,
Frankie Rodriguez
, Mark Thompson.
These were -- in theory -- the best young pitchers in 1996. No offense to Felipe Lira or Scott or Frankie Rodriguez, but they obviously didn't exactly have the ability of Felix Hernandez or David Price or Clayton Kershaw. It's a simple snapshot example of one reason why offensive levels remained high through the late 1990s and into the early 2000s -- there just wasn't much good young pitching reaching the majors. And, again, before saying it's easier to pitch in the post-PED era, the offensive of levels in 2006 -- when today's current young pitchers were reaching the majors or climbing their way up through the minors, weren't so different from 1996:
1996: 5.04 runs per game, 1.09 HRs per game, .270/.340/.427
2006: 4.86 runs per game, 1.11 HRs per game, .269/.337/.432
A bit startling, isn't it? It should make you rethink the impact PEDs had on the game. I'm not saying they didn't have an affect, but I believe their impact is wildly overstated and misbelieved.
As a final note, a key reason we have so many good young pitchers right now is that organizations do a much better job of keeping young pitchers healthy, both in the minors and at the major league level. Here's one simple example, looking at the number of games of 120-plus pitchers by starters 25 or younger:
2010: 30
1996: 96
1991: 163
Old-schoolers may not like these pitch counts, but it's a big reason we can hope all these exciting young pitchers will have long, successful careers. Not that today's hitters want to hear that.
SERIES OF THE WEEK
Atlanta at Philadelphia
Friday:
Derek Lowe
vs.
Cliff Lee
Saturday:
Jair Jurrjens
vs.
Roy Oswalt
Sunday: Tommy Hanson vs. Cole Hamels
The Braves have outscored their opponents by 20 runs, but have just a 14-15 record to show for it. The offense continues to struggle, ranking 14th in batting average and 15th in on-base percentage in the NL entering Sunday.
Brian McCann
leads the club with a .299 average but has just three extra-base hits and
Alex Gonzalez
,
Freddie Freeman
and
Dan Uggla
are all hitting less than .235. They already digging a hole against the Phillies and Marlins. It won't get any easier this week, with the three games against Lee, Oswalt and Hamels, not to mention Yovani Gallardo,
Zack Greinke
and
Shaun Marcum
of the Brewers.
PITCHING MATCHUP OF THE WEEK
Wednesday: Zack Greinke (first start) vs.
Tim Hudson
(3-2, 3.48), Brewers at Braves
Greinke makes his Brewers debut in Atlanta against the veteran ground ball specialist. If Marcum's first six NL starts are any indication, look for Greinke to post some big numbers. Marcum's ERA is 2.21, his hits per nine has dropped from 8.3 with Toronto in 2010 to 6.9 and his strikeouts per nine has risen from 7.6 to 8.3. Hudson has the fourth-best ground ball percentage among starters so far and has allowed just one home run in 41 1/3 innings.
THREE SWINGS
1.
Carl Crawford
drove in the winning run for the Red Sox, singling in
Jed Lowrie
with two outs in the bottom of the ninth to beat Seattle 3-2 and avoid a sweep.
Dustin Pedroia
led the charge out of the Boston dugout to mob Crawford, with Red Sox players celebrating like he'd just won them the pennant. As Peter Gammons said on NESN, Crawford is one of the most respected and well-liked players on the team and you know his teammates felt extra joyous it was Crawford delivering the hit. He had a bloop single earlier in the game, improving his season line to a still-woeful .168/.215/.238 … but maybe this will get him going.
2.
Andre Ethier
extended his hit streak to 27 games, another reminder of one of Billy Beane's ill-fated decisions, when he traded Ethier to the Dodgers after the 2005 season for
Milton Bradley
and
Antonio Perez
. Bradley did help the A's win the AL West title in 2006, although he played only 96 games that season. Ethier, a second-round pick by Oakland out of Arizona State, had hit .319/.385/.497 at Double-A Midland, but had suffered a stress fracture in his back in 2004 and some scouts doubted his power potential. Kudos to Ned Colletti, in one of his first deals as Dodgers GM.
3.
Alfonso Soriano
leads the majors with 10 home runs after hitting four in his past four games. His all-or-nothing approach, however, is symbolic of the problems with the Cubs' offense. Soriano is hitting .258 with a poor 24/3 SO/BB ratio, his on-base percentage is a dreadful .277. Only the Giants and Astros have drawn fewer walks than the Cubs. Soriano, once a 40-steal guy, doesn't have a single stolen base. Only the Braves have fewer steals than the Cubs' six. And while Soriano has 10 homers, no other Cub has more than two.
RANT OF THE WEEK
My rant is against the baseball gods. What do they have against third basemen?
Ryan Zimmerman
, the heart of a Nationals team that is only one game under .500, is out another six weeks or so with his torn abdominal muscle.
Pablo Sandoval
, off to a terrific start for the Giants, broke the hamate bone in his hand and will be out 4-6 week.
David Freese
of the Cardinals, hitting .356, broke his hand on Sunday.
Kevin Youkilis
is battling a hip problem.
Alex Rodriguez
was hitting .370 eight days ago but is now down to .274. This is on top of
Evan Longoria
missing most of the season. So, I implore the baseball gods, you've made a point: Leave the hot corner alone.
PHOTO OF THE DAY
February, 11, 2011
2/11/11
2:00
PM ET
By
Jason Rosenberg
| ESPN.com
This is normally something the fine guys at
The Platoon Advantage
do every day during the season (and twice a week in the offseason), but I wanted to co-opt their idea to bring you some of the best, recent work from around the SweetSpot Network. I asked
Bill
and
TCM
if it was OK for me to borrow their feature and they were thrilled to have the day off.
Jason Rosenberg is the founder and lead writer of "It's About The Money, Stupid," a SweetSpot Network member. IIATMS can be found on Facebook and on Twitter.
April, 29, 2010
4/29/10
6:24
PM ET
More on the
Colletti/Kemp Affair
, and Memories of Kevin Malone's takes have been both
on-point
and
delicious
.
But what started all this? In
the ol' mailbag
I found this, from the estimable Gabriel Schechter:
After watching the Dodgers against the Mets on Tuesday, I was appalled by Kemp's outfielding, but not as measured by putouts and errors. The appalling thing was his lack of effort. Two balls in the gap that should've been doubles went for triples because Kemp didn't run hard to retrieve them. Kemp even allowed Henry Blanco to go from first to third on a routine single. Blanco looked at Kemp and saw that he was loafing to the ball, and took an extra base on him that helped set up a key four-run rally.

So I think the issue is not whether Kemp has talent or is capable of playing well, but whether the things that aren't measured in the box score (or even in SABRmetrics) are the true measure of the man. For my money, he's loafing. I have no idea whether it's because he's sitting on his salary, because he was tired in the second game of a doubleheader the Dodgers were destined to lose, or because he didn't think the Mets were going to take advantage of it. But it was plain as day. He didn't hustle, and it costs his team several runs if not outright defeat.
I went back and looked at the three plays in question, the two triples and Blanco's first-to-third dash:
In the bottom of the first, Jason Bay drove a hanging knuckleball over Kemp, a little toward left field. After Bay slid safely into third, Keith Hernandez said, "And Kemp, look at this! Kind of loafing after it! He loafed from the beginning, and that's the reason Bay got the triple." Hernandez was right. Kemp never did break into a full sprint to retrieve the baseball. If he had, Bay presumably pulls up at second base.
Henry Blanco led off the bottom of the sixth with a single. One batter later, Angel Pagan singled up the middle, just a little toward right field. With the play in front of him, Blanco motored around for third base. Kemp had to collect the ball, then turn his body for the throw to third base, where the play wasn't close. Could Kemp have charged harder? Yeah, maybe. But I would rate this one 15 percent Kemp's loafing, 85 percent Blanco's hard-and-smart baserunning.
Also in the sixth, David Wright slammed one into the gap in right-center. Kemp didn't get a good read on the ball, but once he realized where the ball was going he went after it. This ball was hit to a triples spot and Wright's a lot faster than Jason Bay. No play at third base, triple all the way.
I see three possibilities here:
One, we're imagining things.
Two, we're not imagining things but Kemp was fatigued, or nursing an injury.
Three, we're not imagining things and Kemp simply wasn't giving his best effort.
It's Ned Colletti's job to know which of these is right. I don't know that it's Colletti's job to express his opinion on the radio. Sure, maybe Kemp could use some motivation. But is Colletti the man for that job? Joe Torre's a future Hall of Fame manager who makes roughly $4 million per season to do things
exactly
like motivating young players who occasionally forget to run hard.
Hey, I could be completely wrong about this. Maybe Colletti has some real insights into human nature and knows exactly what he's doing. Just seems to me like a strange way to run the store.
April, 28, 2010
4/28/10
1:53
PM ET
Hey, here's a good idea! Give a guy a new contract, then rip him when he makes a few mistakes in April! Hey, it could work, right? From
the L.A. Times
:
Matt Kemp is off to a terrific start at the plate but has misplayed numerous balls in the outfield, and Tuesday reverted back to his earlier baserunning problems -- running from second to third on a ball hit to short with no one on first and less than two outs.

Said Colletti to KABC radio's Peter Tilden: "Some guys, I guess, think that they're better than they are. They think the opposition's just going to roll over and get beat by them. That obviously doesn't happen.

"The baserunning's below average. The defense is below average. Why is it? Because he got a new deal? I can't tell you."

Kemp responded with more grace than you might expect:
Wednesday, before the Dodgers' afternoon game against the Mets, Kemp was irritated and would not respond to criticism of his defense and baserunning, but denied his two-year, $10.95-million contract was impacting his effort.

"The new deal, that has nothing to do with anything," Kemp said. "Of course it's good to make money, but that's not why I started playing this game. I started playing this game because I love the game, and I'm going to continue to love this game."

Kemp said his work ethic remains strong and Manager Joe Torre said Kemp often beats him to the ballpark.

"People don't know what goes on," Kemp said. "People don't know what time I show up to the stadium. I'm here, I'm here working, I'm here trying to get ready for the game.

I absolutely believe that Kemp is working hard. Most players do work hard. This is their
profession
and most of them wouldn't be in the majors without excellent professional habits.
Here's the Dirty Little Secret about Matt Kemp, though ...
He's not a great outfielder.
In 2008, he was slightly below average in center field. In 2009, he was slightly better than average in center field. Yes, he won a Gold Glove but you know how diligent Gold Glove voters are. In the
Fielding Bible
balloting, he finished just 14th among major league center fielders. That Gold Glove, so foolishly awarded, shouldn't be held
against
Kemp, who will probably be a left fielder before too much longer.
Baserunning? Yes, there was a glitch Tuesday night. Generally speaking, though, Kemp is an excellent runner.
Colletti's comments were cries of desperation. A long time ago, Bill James observed that lousy organizations tend to blame their best players when things aren't going well. I don't mean to suggest that the Dodgers are a lousy organization, or that Ned Colletti is a lousy general manager. Still, you'd think that when the GM is looking for a scapegoat for the Dodgers' disappointing record, he could find better candidates than the guy who leads the National League in runs scored, RBI and home runs.
April, 17, 2009
4/17/09
11:38
AM ET
This morning, I dreamed that this season was almost finished, after what seemed like six weeks rather than six months. That made me sad. I'm awake now, and happy.
• I'm sorry, but Louis beating Schmeling did not add to the Yankees' home-field advantage.
• Someday, my grandkids will tell your grandkids about the epic battle between an Astro and a Pirate.
• Is Kyle Davies for real? John Sickels says yeah, he might be. If Davies is for real, suddenly the Royals look sort of like contenders.
• No, the history of pitchers drafted with the first overall pick is not encouraging. I'm just not sure if that history is anything like convincing enough to dissuade a rational actor from drafting Stephen Strasburg. Actually, I'm pretty sure it's not.
• UmpBump.com looks at players Ned Colletti has given up on during his tenure as Dodgers GM. Colletti doesn't come off looking real good, but we really need to see the same analysis for every team before passing any sort of judgment.
• How hard is it to come up with truly accurate park factors. I'm not sure you want to know. But if you do, Eric Walker's primer is essential reading.
• Jeff Francoeur has a "blog" and ShysterBall couldn't be more "thrilled".
• During yesterday's game, Michael Kay said that Cary Grant "was kind of the Tom Hanks of his generation." I'm just saying.
• And finally, let's all wish a happy birthday to one of my all-time intellectual heroes.