SweetSpot:

Nelson Figueroa
February, 2, 2012
2/02/12
11:00
AM ET
By
Javier Maymí, ESPNdeportes.com
| ESPN.com
Note: You can watch all the action from the Caribbean Series on ESPN3.com. Thursday's games: Venezuela versus Puerto Rico at 1:45 p.m. ET and Mexico versus Dominican Republic at 5:55 p.m. ET.
SANTO DOMINGO, Dominican Republic -- The Caribbean Series is a showcase for the best winter league talent, in part so scouts can have a firsthand look at the developing talent and their progress. This Series is no exception as many teams get ready to open spring training and search for solutions that may come at a reasonable price tag.
Here's a look at 10 players who may be on the bubble for a major league roster spot.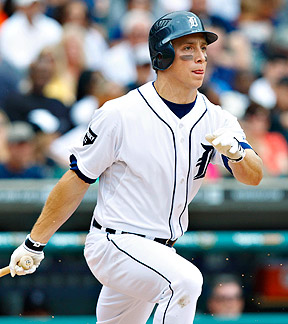 Rick Osentoski/US PresswireThe Tigers hope Andy Dirks displays the same clutch-hitting this spring that he's shown in the Dominican winter league.
1. Andy Dirks (Leones del Escogido)
-- Dirks is 2-for-2 when it comes to winter ball. Last year he won a Dominican League championship with the Toros del Este and this year was picked up by Escogido after the Toros were eliminated in the regular season. At age 26, Dirks is perfectly positioned to make the Detroit Tigers' roster now that
Magglio Ordonez
is gone and
Delmon Young
could see time at DH. Dirks had a solid winter, especially in the Dominican postseason as it was his game-winning single which clinched the title for Escogido in an exciting best-of-nine series over the Aguilas Cibaeñas.
2. Barbaro Canizares (Yaquis de Ciudad Obregón
) -- With all the talk about Yoenis Cespedes, Canizares played this winter as if he had something to prove. Canizares, a former member of the Cuban national team, left Cuba in 2004. He established residency in Nicaragua and eventually signed with the
Atlanta Braves
, but after five games in the big leagues in 2009 was discarded by the organization. Canizares toiled last summer in the Mexican League, batting .312 with 20 home runs and 55 RBIs with a 1.032 OPS in 65 games with the Mexican Pacific League champion Yaquis. He's hoping that performance can earn him a ticket back to get on track to a major league gig.
3. Luis Hernandez (Tigres de Aragua)
-- Aragua's shortstop has the inside track to claim the utility infielder role with the
Texas Rangers
. At 27, Hernandez has a privileged glove and 120 games of major league experience under his belt with the
Baltimore Orioles
,
Kansas City Royals
and
New York Mets
. The Rangers are taking a long look at Hernandez, who would join fellow countryman
Elvis Andrus
should he make the big club.
4. Yohan Pino (Tigres de Aragua)
-- This right-handed pitcher had a strong 2011 Double-A season in the
Toronto Blue Jays
system as he struck out 104 in 95 innings, with just 14 walks. During the Venezuelan League's regular season he posted a 1.97 ERA over 45.2 innings. Pino just turned 28 and many believe he is heading toward his prime and ready for the bigger stage.
5. Nelson Figueroa (Indios de Mayagüez)
-- At 37, Figueroa did some of the best pitching of his career this winter. After spending 2011 with the
Pittsburgh Pirates
and
Houston Astros
in Triple-A, Figueroa earned a minor league deal with the Blue Jays, who seem to be looking at every option out there to strengthen their rotation and bullpen.
6. Julio Borbon (Leones del Escogido)
-- Borbón is on the outside looking in for the Rangers' backup outfielder job, but has raised eyebrows recently with a burst of power in his stroke, which saw him bat .355 in the Dominican League final. The Rangers' outfield is basically set with
Josh Hamilton
,
David Murphy
and
Nelson Cruz
(plus prospect
Leonys Martin
), but Borbon's speed and bat could help the Dominican's case for a big league roster spot over
Craig Gentry
. At the very least, Borbon, who is only 25, could be a trade acquisition for a team looking for a center fielder.
7. Jesus Feliciano (Indios de Mayagüez)
-- After 13 years in professional baseball, Feliciano only has 53 big league games, all with the New York Mets. The left-handed hitting Feliciano had a particularly good winter, however, which earned him a minor league deal with the
Tampa Bay Rays
with an invite to spring training. The Rays are projecting an outfield with
Matt Joyce
,
B.J. Upton
and
Desmond Jennings
with
Sam Fuld
or
Brandon Guyer
as the backup. Feliciano could have the spring of his life and make some heads turn.
8. Raul Valdes (Leones del Escogido)
-- Valdes posted a 1.27 ERA in three outings in the Dominican League finals, pitching Game 9 on two days rest, which has led to the Dominican press to dub him the "Dominican Cy Young." The left-hander is headed to camp with the
Philadelphia Phillies
after splitting 2011 with the
St. Louis Cardinals
and
New York Yankees
and while he has no shot at a starting job in Philly, some scouts here feel he could contend for a lefty reliever role since the Phillies currently only have three lefties in their 40-man roster in
Joe Savery
,
Dontrelle Willis
and
Antonio Bastardo
(who coincidentally will also be active in Santo Domingo with Aragua).
9. Luis Ayala (Yaquis de Ciudad Obregón)
-- For two weeks now it has been rumored that Ayala is weighing offers from the
Los Angeles Angels
and Baltimore Orioles, but has given no hint as to where he's leaning. Ayala had a consistent season in the Mexican Pacific League as he reached the 60-save milestone to become only the seventh MPL pitcher to reach that mark. After going 5-0 with the Yankees in 2011, his stock as a set-up man has risen sharply.
10. Irving Falu (Indios de Mayagüez)
-- Falu had a surprising 2011 batting .301 for Triple-A Omaha and is in a group of six infielders battling for three roster spots on the Royals' roster. A natural shortstop, Falu is unlikely to beat out
Yuniesky Betancourt
, the Royals' offseason acquisition, but could very well be in play for a utility role with a strong spring if
Johnny Giavotella
falters and Betancourt wins the second-base job.
April, 7, 2010
4/07/10
3:12
PM ET
And the Mets-Phillies rivalry becomes just
a tiny bit more delicious
:
Nelson Figueroa, who was designated for assignment by the Mets when Sean Green beat him out for the final bullpen spot, has been claimed off waivers by the Philadelphia Phillies.

Figueroa pitched for the Phillies in 2001, going 4-5 with a 3.94 ERA in 19 appearances (13 starts).

A Brooklyn native and Brandeis University alum, Figueroa had a strong spring training for the Mets, despite one poor outing skewing his numbers and leading to a 4.61 Grapefruit League ERA.

--snip--

Figueroa, 35, was mulling going to Japan for a payday rather than join the Mets in the minors had he gone unclaimed off waivers. He recalled clearing waivers six other times in his career.

It's been an odd career. Figueroa's spent all or part of 11 seasons in Triple-A -- including last season, during which he turned 35 -- and his 81 Triple-A wins must rank at or near the top of the list among active players.
Essentially, he's one of those 4-A starters you're always hearing about. His ERA in Triple-A (largely as a starter) is 3.53; as a starter in the majors he's got a 4.96 ERA. Sure, that's only 49 starts in the majors and a conscientious sabermetrician would regress all those numbers. But fair or not, that's the take on Figueroa.
Meanwhile, he's been slightly better as a reliever, with a slightly lower walk rate and a significantly lower home run rate. That's just 105 innings, but of course we expect pitchers to look better when relieving than starting, simply because (frankly) it's an easier job.
The nice thing about Figueroa is that you know what you're getting. When he relieves, he'll be decent. When he starts, he'll essentially give you the typical performance of a NO. 4 or 5 starter. There's something to be said for reliability. As
Joe Janish points out
, Figueroa "had a spectacular spring, he had a great winter campaign, [and] an outstanding year at AAA in 2009..."
Further,

The irony is that three of the pitchers who will be in the rotation -- Mike Pelfrey, John Maine, and Oliver Perez -- have much more talent, yet they don't always pitch to their potential because they are often lacking in the "4 C's" that Figgy depends on: craftiness, composure, consistency, and competitiveness. I would've kept Figgy around for no reason other than to hope that those traits would somehow rub off on the Mets' youngsters and eternal enigmas -- or at least, to be an inspiration of sorts. Unfortunately, it's hard to win the #5 spot in the rotation when it is held by someone due $24M over the next two years. How Figueroa didn't at least earn a job as a long man in the bullpen, though, is mind-boggling.

I don't know if I'd go
quite
that far. After all, we're talking about a 35-year-old pitcher with 13 wins and 0 saves as a major leaguer. But considering that the Phillies usually are smarter than the Mets, one does wonder ...