SweetSpot:

Nick Castellanos
September, 24, 2014
9/24/14
1:00
PM ET
With the news that
Jacob deGrom
has been shut down by the
New York Mets
and after watching
Yordano Ventura
deliver another impressive performance Tuesday night for the
Kansas City Royals
, it seems like a good time to review the 2014 rookie class. Here's my all-rookie team, based on 2014 performance, not future value.
Catcher: Travis d'Arnaud, Mets (.242/.302/.416, 0.4 WAR)
His overall batting numbers aren't great, but he flashed some of the potential prospect analysts had long seen at the plate, including a .265/.313/.474 line in the second half. More importantly, he stayed relatively healthy, always a problem for him in the minors. The defense is still an issue: His 19 percent caught stealing rate is well below league average -- teammate
Anthony Recker
was at 41 percent -- and he allowed 12 passed balls and 39 wild pitches, also well above Recker's rates. D'Arnaud is 25, so I'm not sure how much growth there is in him, but if he can match his second-half production over a full season and clean up the defense, he is going to be a solid role player.
Others:
Caleb Joseph
, Orioles;
Christian Vazquez
, Red Sox;
Christian Bethancourt
, Braves;
Josmil Pinto
, Twins. Joseph has been a huge bonus for the Orioles, filling in for
Matt Wieters
. Vazquez and Bethancourt are defense-first guys with questionable bats. Pinto allowed 19 steals in 19 attempts and ended up going back to Triple-A for a couple months.
First base: Jose Abreu, White Sox (.316/.382/.582, 5.3 WAR)
Yeah, he can hit big league pitching. Abreu is leading the American League in slugging percentage and ranks sixth in on-base percentage. He's not the MVP of the league -- that's
Mike Trout
-- but he should finish high in the voting even though he doesn't have much value on defense. Here's one thing I love most about his season: In the first half, Abreu hit .292 with 29 home runs but had an 82-22 strikeout-walk ratio. In the second half, he has hit .352 with six home runs and has a 45-27 strikeout-walk ratio. Should we be concerned about the drop in power? I don't think so. His fly ball rate has dropped about 5 percent from the first half, which could be some fatigue or pitchers just working him a little more carefully, but I like that he has improved his control of the strike zone, showing he's a hitter and not just a slugger.
Others:
Jonathan Singleton
of the Astros has hit .168 in 356 plate appearances with 133 strikeouts. He walks, has shown power and just turned 23, but .168 is .168.

Second base: Kolten Wong, Cardinals (.252/.295/.396, 2.1 WAR)
The most impressive season, however, may be from
Rougned Odor
of the Rangers, who has essentially the same batting line as Wong but is three years younger. Wong rates higher due to better defense and baserunning, but Odor is the guy I'd take for the future.
Others:
Javier Baez
, Cubs;
Jonathan Schoop
, Orioles;
Joe Panik
, Giants;
Tommy La Stella
, Braves. Would you rather have Baez or Odor? Baez is a year older and has hit .164. Odor was rushed to the majors due to all the injuries in Texas with just 62 games above Class A, whereas Baez had 158 games above Class A. Like Baez, Odor is an aggressive swinger at the plate, although with better contact skills. It will be interesting to see how these two develop.
Third base: Nick Castellanos, Tigers (.264/.310/.397, -1.5 WAR)
Wait, negative WAR? That's because he has rated as the worst defensive player in the majors via defensive runs saved, with minus-31. In looking at the numbers from Baseball Info Solutions, Castellanos has been credited with 30 good fielding plays and 37 defensive misplays and errors. The misplays and errors aren't out of line with the best defenders, but the good plays are near the bottom of the list.
Josh Donaldson
, for example, leads with 75. Castellanos' raw range factor is half a play per game lower than league average. It just looks a guy who doesn't have the range and reaction time to be a good defensive third baseman (not that he can't improve). Anyway, the bat hasn't been anything special, but he's just 22 and has popped 45 extra-base hits.
Others:
Yangervis Solarte
, Padres;
Jake Lamb
, Diamondbacks. Lamb should retain rookie eligibility for next season if he sits a couple more games this final week.
Shortstop: Xander Bogaerts, Red Sox (.237/.297/.362, 0.3 WAR)
He didn't have the year everyone expected, but he's going to be an excellent player.
Outfield: Billy Hamilton, Reds (.251/.293/.357, 2.5 WAR); George Springer, Astros (.231/.336/,468, 2.0 WAR); Danny Santana, Twins (.314/.351/.469, 3.5 WAR)
Hamilton has plummeted to a .202/.256/.259 line in the second half after showing some surprising pop in the first half. His base stealing hasn't been that electric as he has 56 stolen bases but has a league-leading 23 caught stealings. There have been reports he has had some leg issues, but regardless, he is going to have to improve that percentage and get stronger to get through an entire season. Springer's season was cut short by injury while Santana has been the big surprise as he never hit like this in the minors.
Others:
Gregory Polanco
, Pirates;
Oscar Taveras
, Cardinals;
Mookie Betts
, Red Sox;
Arismendy Alcantara
, Cubs;
Ender Inciarte
, Diamondbacks;
Kevin Kiermaier
, Rays. Those players all used up their rookie eligibility, with mixed results. Inciarte has the highest WAR of any rookie outfielder at 3.6 thanks to a terrific defensive rating.
SP: Collin McHugh, Astros (11-9, 2.73 ERA, 4.3 WAR); Masahiro Tanaka, Yankees (13-4, 2.47 ERA, 4.0 WAR); Yordano Ventura, Royals (14-10, 3.07 ERA, 3.5 WAR); Jacob deGrom, Mets (9-6, 2.63 ERA, 3.0 WAR); Matt Shoemaker, Angels (16-4, 3.04 ERA, 2.3 WAR)
It's an interesting group. McHugh was plucked off waivers from the Rockies; Shoemaker was basically a nonprospect who got a chance due to injuries in the Angels' rotation; deGrom was a second-tier prospect, but nobody expected
this
; Ventura was a highly rated prospect due to that explosive fastball; and Tanaka, of course, was the prized free agent from Japan. Lesson: Good pitchers can come from anywhere.
Others:
Kyle Hendricks
, Cubs;
Marcus Stroman
, Blue Jays;
Jake Odorizzi
, Rays;
Tyler Matzek
, Rockies;
James Paxton
, Mariners;
Trevor Bauer
, Indians;
Shane Greene
, Yankees;
Roenis Elias
, Mariners;
Kevin Gausman
, Orioles. Many others, of course, but those are some I like.
Reliever: Dellin Betances, Yankees (5-0, 1.40 ERA, 3.7 WAR)
With 135 strikeouts and just 46 hits allowed in 90 innings, he's had maybe the best relief season of any pitcher in the majors -- tied with
Wade Davis
of the Royals in WAR. With
David Robertson
a free agent, it will be interesting to see what the Yankees do. Betances is probably more valuable as a 90-inning setup guy than a 70-inning closer.
Overall, I'd rate this rookie class as average in production -- good on the pitching side, weak on the hitting side once you get past Abreu -- but with the potential to be better over the long haul with guys like Bogaerts, Polanco, Taveras, Baez, Odor and Springer having star potential.
My rookies of the year: Jose Abreu and Jacob deGrom.
September, 9, 2014
9/09/14
12:24
AM ET
By
Christina Kahrl
| ESPN.com
We've all heard this one before, right?
Justin Verlander
wins a big game against AL Central challenger in September. It's like the Detroit Tigers have a script to follow: Come into the season the overwhelming favorite to win the AL Central, something everyone has expected of them every season for at least the past four years. Head into September worried about fighting off a frightening underdog challenger, whether that was the White Sox (2012), the Indians (2013) or now the Royals. And then set things right in the last month. If they do put the Royals away this month after pulling even with them in the win column on Monday night, maybe that means it'll be the Twins' turn again in 2015.*
But this year might be the most interesting of them all, because the free-spending Tigers haven't seen money buy them happiness. Joe Nathan has been a bit of a big-budget bust as closer, after all, and Anibal Sanchez's latest injury perhaps forced GM Dave Dombrowski's hand to get
David Price
and make sure he still has the league's best four-man postseason rotation. Instead, what's making this year's Tigers team interesting is how much it owes to how well it has lined up supporting talent beyond the famous people.
[+] Enlarge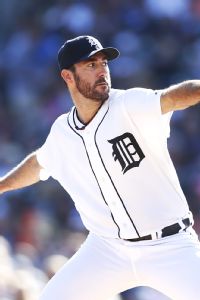 Joe Robbins/Getty ImagesIt's easier for Justin Verlander to be a winner again with the run support their deep lineup is cranking out.
Take the lineup. The thing to relish about the Tigers' win as they pulled even in the win column wasn't Verlander delivering a serviceable start. What won this one game was their lineup's ability to deliver on the old Bill James observation that a winning team will outscore its opponents in the entire game if it breaks out a big crooked number in one big inning. Sure enough, that six-spot that the Kitties busted out in the third provided the winning margin.
What's important about that is how much any inning like that can owe to lineup depth. Nobody hit a grand slam; the well-remunerated stars such as
Miguel Cabrera
,
Torii Hunter
or
Victor Martinez
didn't make this inning happen, certainly not by their lonesomes. Instead, the Tigers knocked the Royals'
Jeremy Guthrie
out of the box thanks to three straight RBI doubles hit by farmhands old and new in
Nick Castellanos
,
Don Kelly
and
Alex Avila
. Avila and Castellanos were both drafted on Dombrowski's watch in the front office, but even noting that Kelly was a 2001 pick who washed out and back in with the transactional tide of minor league free agency brings up another point: This team, as it comes together, is not merely an assemblage of big-money pickups.
That's worth noting because the Tigers certainly resemble a fairly extreme interpretation of the stars-and-scrubs approach to team-building. After the acquisition of Price, they have eight guys on the roster making eight figures. On the other hand, counting Kelly you find that seven of their position players are making a million bucks or less.
Having a farm system that can crank out playable talent is what lets you afford the big boppers in the first place. The Tigers' talents may not have gotten the touts of the Royals' oft-touted stack of blue-chip prospects who have come of age, but having Castellanos at third on Opening Day and then
Eugenio Suarez
ready to take over at shortstop two months into the season reflects organizational strength. If the worst player in the Tigers' everyday lineup is Suarez, a 22-year-old shortstop with upside at the plate, or if it's Avila's lefty bat providing a strong Isolated Power number versus right-handers (.168 before Monday), that's a lineup that goes much, much deeper than a caricature as Miggy and Miggettes. To that scorecard you can add in the scouting moxie that led the Tigers to trade for Rule 5 pick
Kyle Lobstein
from the Mets to keep him from being returned to the Rays back in spring 2013, and they had the depth this year to survive the combination of two August doubleheaders at the same time they're waiting on Verlander to be Verlander after already losing Sanchez.
Another thing that needs to be credited? The Tigers' patience, especially with their big investments. More than a few of my fellow statheads were calling for Victor Martinez
to be benched last year after his stone-cold start
(.693 OPS) as V-Mart worked his way back from a 2012 season lost to tearing up his left knee. Giving up was the easy, if expensive choice; letting it ride, not so much. But Dombrowski's Tigers stuck with a 34-year-old DH who wasn't hitting and reaped a big second half last year (.913 OPS) and an even bigger year in 2014 (a career-best .982) now that he's 35. Good luck summoning that out of nowhere.

On the other hand, the Tigers had
exactly
that kind of good fortune too, because how else do you explain where they got J.D. Martinez from? In an age when the number of waiver-combing GMs smart enough to be hunting for free talent is legion, and when there isn't an active executive who wouldn't sell his soul for a corner outfielder with an OPS north of .850, Dombrowski didn't have to sacrifice so much as a bed bug to snag Martinez and reap (or luck into) a hitter who had, as
Ryan Parker pointed out at Baseball Prospectus a few weeks back
, substantially remade his swing and his hitting approach, and was ready to become
a massively improved hitter generating a significantly larger number of line drives
.
So what is it that's going to push the Tigers past the Royals, this week or next, at season's end? Not just the guys making the big bucks, and not just the big-money decisions. This year's Tigers team might be the most interesting because of how they've adapted in-season and created answers for their problems. At least one of those was self-inflicted -- imagine the irony if they have to face
Doug Fister
in the World Series -- but this particular team might be a testament to the in-season problem-solving skills of the organization. But right now? They're scoring 4.6 runs per game in the second half, and even with the injuries they have a front four nobody should want to face come October. If they're ready to romp in October, nobody's going to remember that they once again had to fend off the AL Central's latest underdog du jour.
*: Because let's not forget, the Twins did pull off the come-from-behind stretch win in 2009, taking down the Tigers in a 163rd game that year.
Christina Kahrl writes about MLB for ESPN. You can follow her on Twitter.
June, 29, 2014
6/29/14
12:50
AM ET
By
Richard Bergstrom
| ESPN.com
With the season nearly half over, the
Detroit Tigers
have stumbled to first place in the AL Central. And yes, I said "stumbled." As you might recall, the Tigers were the ESPN Forecast preseason prediction to be the American League representative in the World Series. Yet so far they have the second-best record and worst run differential of the three AL division leaders.
As bland as leading a division by 4.5 games can be (which can make all the difference in sudden-death wild-card formats), the 2014 Tigers could have been even worse. I wouldn't call it karma, but trading
Prince Fielder
seemed fortunate, especially after he stuck his neck out with some rather nonchalant comments about last year's playoffs but before he had the season-ending neck injury. Throw in slow starts from
Austin Jackson
,
Torii Hunter
and
Miguel Cabrera
, a false start from
Joe Nathan
, and no start at all from their original starting shortstop,
Jose Iglesias
, and even the
Cleveland Indians
(briefly) looked competitive.
That phase has passed. After
Saturday's come-from-behind victory
over the
Houston Astros
, the Tigers are 8-2 in their past 10 games while other teams in the AL Central have wilted. Cabrera, their reigning Triple Crown winner, has a .994 OPS over the past week. To complement Cabrera,
Victor Martinez
hasn't exactly been roster filler either, nesting himself among the league leaders in hitters. And the guy they acquired for Fielder?
Ian Kinsler
's got a higher WAR than Martinez and Cabrera. While you might be dazzled by the offense, don't forget that the Tigers have two Cy Young award winners,
Max Scherzer
and
Justin Verlander
, on their staff which can make all the difference in a short series playoff format. Furthermore, they have remaining upside on both sides of the ball if Jackson returns to form and Nathan returns to relevance.
[+] Enlarge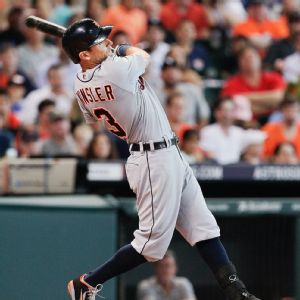 Bob Levey/Getty ImagesIan Kinsler for Prince Fielder? The Tigers have certainly gotten the better end of that deal so far.
But what if Jackson falters or Nathan remains, um, not good? What separates the Tigers from the other AL division leaders and wild-card wannabes is that they have much more flexibility to make moves at the trade deadline, getting the players needed to win in 2014. It is no secret that Mike Ilitch, the elder Tigers' owner, badly wants to win a World Series. Ilitch has thrown, wisely, his support (and let's not forget the money) to a front office headed by GM Dave Dombrowski, who has provided Detroit with one of baseball's rarities, a team that perpetually wins.
We've seen evidence of Dombrowski's handiwork beyond the Fielder trade. Before the season, he signed
J.D. Martinez
to a minor league contract and called him up near the end of April to avert an offensive outfield offense. While Martinez has been used sparingly and is highly unlikely to continue to post an elite OPS of .957, he's bought time for the rest of the offense to find its wheels. Meanwhile, though Rookie of the Year candidate
Nick Castellanos
has been serviceable at third base, Dombrowski's early promotion of
Eugenio Suarez
to plug the shortstop hole is paying off offensively, if not defensively, so far.
Furthermore, there's little that blocks Dombrowski from making a future move. Though the Tigers' farm system isn't the richest in the world, there is still some talent that can be used to snatch players from "rebuilding" teams. Meanwhile, they can still take on more money despite having a payroll in excess of $161M. Comparatively, the Blue Jays and A's are both near their limit payroll-wise. Sure, they can acquire players for prospects (which would be a break for the norm for both of them), but the Tigers can swim in both ends of the pool.
If Hunter continues to look better smiling than he does hitting, he can ride the bench and be sent on his merry way while a star player (and their ensuing salary) is brought on. Ilitch has the finances to absorb a Nathan demoted to middle reliever status if it means bringing on a still-working closer. If Castellanos (or some other Tiger) goes into a horrible slump, the Tigers can make a move. Those are worst case scenarios from a front office that wants to win. If Castellanos achieves his upside, pure gravy cometh.
The AL East and AL West are still tight races, meaning that even the Oakland A's, with their lofty run differential, could get bumped out early in either a wild-card game or short series. We also know that there are teams "in the hunt" such as the
Los Angeles Angels
or (gasp) the
New York Yankees
that will spend. While the Tigers, at present, have neither the best record nor the best run differential, they have an outstanding group of core talent, they are in the best position to win their division and have the kind of roster that can go far in the playoffs. Furthermore, they have a front office empowered to make moves that their rivals just can't or won't make.
Richard Bergstrom writes for Rockies Zingers, a SweetSpot network blog on the Colorado Rockies.
April, 5, 2014
4/05/14
11:56
AM ET
By
Christina Kahrl
| ESPN.com
When the Tigers take the field Saturday, it might provide a fascinating test case for a couple of the propositions that -- if not as important as Miggy being Miggy or the front three in the rotation
doing their thing
-- could be the difference between their winning the AL Central going away, or whether they'll slip back down below 90 wins and bring the race back within reach of the Royals and Indians.
That's because we're going to get to see the first real test of whether or not ground-baller
Rick Porcello
and the left side of the Tigers' reconfabulated infield are going to work out very well together. Rookie third baseman
Nick Castellanos
may not be that much of an improvement on
Miguel Cabrera
-- he was moved to the outfield corners when he moved up to Double-A in 2012, and the scouting reports on his work at the hot corner have involved terms such as "timid" and "stiff." As a result, it shouldn't surprise people to hear that Miguel Cabrera's days at third base aren't over, and that he'll apparently play there some this season (also getting
Victor Martinez
some reps at first base). I guess if the standard is, "We can survive with Cabrera, so…" then Castellanos will be fine by the Tigers' standards, but we'll see if Porcello continues to be the ground-ball guy who pays a particular penalty as a result.
At shortstop, the Tigers are choosing between 37-year-old shortstop
Alex Gonzalez
-- who hasn't played the position regularly or well in the majors since 2011 -- and former Angels utilityman
Andrew Romine
, and you can understand how this might turn out badly. It'll be interesting to see how manager
Brad Ausmus
leans on this; if Romine is considered the better defender, will he draw more Porcello game-day starts, considering Porcello's career 1.7 ground ball/fly ball ratio? Not that I think we could call a Gonzalez-Romine platoon an offense-defense combo -- Gonzalez's OPS the last five years is .679, which would be hard for him to reach, let alone top -- but we've seen other clubs be adaptable with shortstop tandems, particularly the Pirates last season in how they employed defensive specialist
Clint Barmes
.
Now, I admit, I've already made my arguments for
why I don't think Porcello will break out big
, but you can understand why folks think he will: his youth and his spiking strikeout rate. We'll see if Saturday's start gives us much to mull over on whether Porcello's finally going to blossom into the quality starter people have expected him to be since he was taken with the 27th overall pick in 2007.
Another fun thing we learned about the Tigers? MLive Tigers reporter James Schmehl
confirmed
that skipper Brad Ausmus is going to let Victor Martinez catch in a few interleague games this season. For myself, I love it, even if V-Mart doesn't do well behind the backstop, because a skill unused often becomes a skill lost. If you're going to employ a full-time DH on your roster, with today's roster crunch, it's a lot more useful if he can also pick you up as your backup first baseman and third catcher.
The less-happy takeaway? That Alex Avila's wonderful 2011 season might sadly go down in history as an echo of Cubs catcher Rick Wilkins' 1993 breakout, a great year that won't be repeated.
Christina Kahrl writes about MLB for ESPN. You can follow her on Twitter.
February, 12, 2014
2/12/14
12:31
PM ET


ESPN Insider Jim Bowden makes a special guest appearance to discuss five rookies he can't wait to see in spring training.
December, 29, 2013
12/29/13
9:30
AM ET
Today, Buster Olney
rated the top defensive teams in the majors
. We thought we'd take the time to look at the offseasons for each team from a defensive perspective. Here's our American League look.
AL East
Blue Jays:
The transition from
J.P. Arencibia
to
Dioner Navarro
behind the plate is likely a wash and there hasn't been much of an overhaul to this team other than the departure of
Rajai Davis
(who did have
a decent amount of defensive value
).
Goins
The most interesting thing for the Jays will be how
Ryan Goins
fares as a regular second baseman. Goins racked up a hard-to-believe 12 Defensive Runs Saved (backed up on video review by 21 Good Fielding Plays and only a pair of Defensive Misplays & Errors) in a 32-game stint last season.
Orioles:
The biggest issue on defense for the Orioles will be dealing with the loss of
Manny Machado
's major-league leading Runs Saved, at least until he returns from injury. Baltimore did make one positive move that should upgrade its outfield defense, getting
David Lough
from the Royals for utilityman
Danny Valencia
.
Rays:
The Rays made a long-term commitment to
James Loney
, which bodes well from a defensive perspective, and also made one to catcher
Ryan Hanigan
, who is considered one of
the best base-stealing deterrents and pitch-framers
in the sport. He'll give them a solid alternative to
Jose Molina
.
Red Sox:
Jackie Bradley Jr
. and
Xander Bogaerts
will likely step into everyday roles and fill the shoes of
Jacoby Ellsbury
and
Stephen Drew
. The Red Sox will also have a new catcher, though there isn't much of a defensive difference between
A.J. Pierzynski
and
Jarrod Saltalamacchia
. Both rate below-average statistically.
Yankees:
There have been some pretty notable changes on the defensive side.
Brian McCann
's pitch-framing rates well, but he's not the baserunning deterrent that
Chris Stewart
was.
Kelly Johnson
and
Brian Roberts
could split time at second base but neither is the Gold-Glove-caliber glove that
Robinson Cano
was. Johnson could also wind up full-time at third base, a position at which he's barely played more than 100 innings, if
Alex Rodriguez
gets suspended.
The Yankees should be great in center and left with an Ellsbury/
Brett Gardner
combo.
Carlos Beltran
has
less ground to cover in the Bronx than he did in Busch
. That could benefit his achy knees and help his defensive rating.
One smart thing the Yankees did: Hire
Brendan Ryan
to be their "shortstop closer" for the next two seasons and as much as it will pain
Derek Jeter
to leave games, it will be for the good of the team to let Ryan finish close games.
AL Central
Indians:
The Indians tried to make a right fielder out of center fielder
Drew Stubbs
in 2013 and it didn't work. They got themselves an upgrade in free agent
David Murphy
who rates adequate enough (5 Runs Saved in about a season's worth of innings in right field) that his D could be a one-win upgrade by itself.
Royals:
The best team in baseball, as it comes to Defensive Runs Saved, tinkered a little bit, swapping out Lough for
Norichika Aoki
in the outfield, which probably rates as a push (they're both good … fair warning to Royals fans, Aoki likes to play a deep right field), and making an offensive upgrade by getting
Omar Infante
to fill the hole that was second base.
The one thing the Royals got from their second basemen last season was good defense (18 Runs Saved from the collection of
Elliot Johnson
,
Chris Getz
and others). Infante isn't at that level, but he rates above average more often than not (he did by UZR, but not Runs Saved in 2013) and his offensive work should make up for any drop-off.
Tigers:
The Tigers' defensive overhaul has been the biggest of the offseason as the team's opening-day infield will be entirely different from 2013.
Ian Kinsler
is a definite upgrade at second base and we'll see if
Jose Iglesias
' wow plays add up over a full season (he has seven Runs Saved in just under 800 career innings at short).
Going from
Prince Fielder
back to
Miguel Cabrera
should actually be a slight upgrade.
The big question will be third base where the scouting reports on
Nick Castellanos
' defense
don't inspire confidence
. But even so, conservatively, the Tigers should be about 25 Runs Saved better in 2014, which takes them from being a lousy defensive infield to an average one.
Twins:
The Twins made the career-preserving move of shifting
Joe Mauer
from behind the plate to first base and signed
Kurt Suzuki
, who has a good statistical history at the position. Suzuki has rated better than Mauer over the course of his career in Runs Saved, though he's not as good at throwing out basestealers.
I asked
Doug Glanville
to assess what Mauer's challenge will be in making the move to first:
"He is a super athlete and I am sure he will be fine. It will be tough to not be as involved with the game in every single moment. No one can compete with catchers in the leadership it requires to play that position and the need for constant vigilance. He has to sharpen his focus to deal with new lulls in time. I am sure he will."
White Sox:
The White Sox had the third-worst Defensive Runs Saved total in the majors in 2013 and they've been overhauled all over the place. Their worst position last season was center field (-19 Defensive Runs Saved in 2013) and they'll have a new look there with
Adam Eaton
.
They'll also be much different at first base with
Jose Abreu
,
whose hitting
has been compared to
Ryan Howard
's (but if his defense is, that's not good) and third base with
adequately-rated
Matt Davidson
, whom they got for
Addison Reed
. Will different equal better? They better hope so.
Al West
Angels:
The aging of
Albert Pujols
will continue to be an issue both on offense and defense. Last season broke a run of eight straight seasons in which Pujols ranked in the top five among first basemen in Runs Saved.
Pujols will have a familiar teammate working at the opposite corner with the addition of third baseman
David Freese
, who had a dreadful season in 2013 per both Runs Saved and UZR, ranking third-worst in the former and second-worst in the latter. That's something that will need to be dealt with.
Astros:
The Astros traded away their second-best defender stats-wise from 2013 in
Brandon Barnes
to get
Dexter Fowler
from the
Colorado Rockies
. Fowler has less ground to cover in the gaps of Minute Maid Park, but has a deeper center field (and Tal's Hill) to worry about. Fowler has posted a negative Runs Saved rating in four of his six seasons, but has fared well at handling balls hit to the deepest parts of the park.
Athletics:
The Athletics made two moves that should definitely help their defense in 2014.
Gentry
By adding
Craig Gentry
in a trade from the Rangers, they've obtained one of the game's premier outfield defenders and one who could fit in well both in left field (to make
Yoenis Cespedes
a DH) and center (to give
Coco Crisp
a breather) very well.
The Athletics also added a valuable utility piece in
Nick Punto
, who could start at second base (ahead of
Eric Sogard
) or close games at shortstop (replacing
Jed Lowrie
, who rates as a poor defender). Either way, he's a big upgrade over what they had.
Mariners:
The Mariners now have a Gold Glove-caliber defender at second in Cano. He'll need to cover more ground to his left than he did in New York, because the Mariners' first-base options (
Justin Smoak
,
Logan Morrison
and
Corey Hart
) do not rate well. Morrison is going to present an issue wherever they put him. He's not quite at the level of
Michael Morse
, but his ratings historically have been poor.
Rangers:
The difference between
Prince Fielder
and
Mitch Moreland
at first base is a sizable one, potentially 15 runs over the course of a season, so if the Rangers do decide to hang on to Moreland, they'd be best off playing him at first base and having Fielder DH. The Rangers could use a good defender at first, since
Jurickson Profar
is basically going to learn on the job at second base. Texas will also have some outfield concerns with
Shin-Soo Choo
having limited experience in left field and the team no longer having the security blanket of Gentry (traded to Athletics).
July, 8, 2012
7/08/12
8:35
PM ET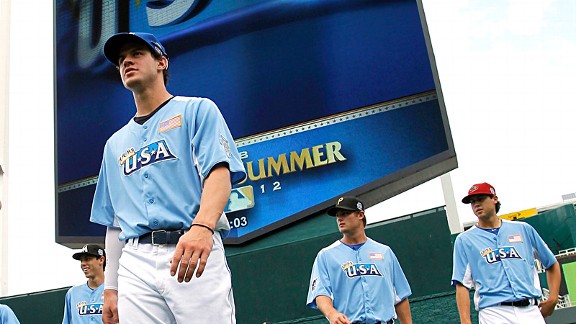 John Sleezer/Kansas City Star/MCTWil Myers and the U.S. team trounced the World team 17-5 in the Futures Game.
KANSAS CITY, Mo. -- In 13 previous Futures Game matchups before Sunday the USA team had scored 51 runs, the World team 46, so let's just say games didn't play like they had been held regularly at Coors Field. On Sunday, however, the USA team had little trouble setting records as they exploded for a lopsided 17-5 victory in front of a loud, sellout crowd of 40,095 at steamy Kauffman Stadium.
Offensive heroics clearly weren't hard to find, as hometown hero Wil Myers of the
Kansas City Royals
knocked in three runs and played the entire game. (Can you imagine that Tuesday night in the All-Star game?)
Detroit Tigers
third base prospect Nick Castellanos launched a majestic three-run homer to center field to cap a nine-run sixth inning and Billy Hamilton, perhaps the fastest player in organized baseball today, tripled in one of his at-bats, though fans were deprived the opportunity to see a record-breaking base stealer do just that.
Of course, few might remember early on the story was the U.S. pitchers struggling to keep the World hitters off the board. Royals prospect Jake Odorizzi, likely an upgrade on anyone the big league team has in its current rotation, started and allowed a home run to Jurickson Profar, the
Texas Rangers'
exciting shortstop prospect. In the second inning
Pittsburgh Pirates
flamethrower Gerrit Cole entered and lit up the radar gun, but also permitted a long two-run blast to
Chicago Cubs
outfield prospect Jae-Hoon Ha. Polished
Seattle Mariners
lefty Danny Hultzen allowed a run on three hits in his inning, and then
Baltimore Orioles
right-hander Dylan Bundy threw a scoreless fourth inning, but allowed three more hits.
Ultimately the USA team had little trouble making up the 4-0 deficit in easily the highest-scoring game in Futures history. (The previous high for
combined
runs scored was 13). And this was fun, too. In general Futures Game crowds are small and disinterested, the first event of a three-day stretch that gets overlooked by the prime-time Home Run Derby and Tuesday's All-Star game. But fans filled the Kansas City stadium and flocked to see Myers, Odorizzi, as well as World team starting pitcher Yordano Ventura, who tossed a scoreless inning. Congrats to the crowd for showing up, mostly staying until the end and making a lot of noise despite triple-digit temperatures. And you bet they want to chance to keep on cheering on Myers, he of the 27 home runs at two minor league levels already, when he finally gets the call to the Royals. It's coming, definitely.
As for Hamilton, the
Cincinnati Reds
shortstop that has famously registered 104 stolen bases in 82 games so far, and is scheduled to make his Double-A Pensacola debut this coming week, it would have been nice to see him attempt to steal a base against strong-armed
Atlanta Braves
catching prospect Christian Bethancourt. Hamilton grounded out in the first inning to second base -- though he nearly beat it out -- and then launched a two-run triple over the center fielder in the third. In his final at-bat he grounded into a double play. It's hard to believe that happened because Hamilton is so fast, like
really, really fast.
By the way, current Reds leadoff men, mostly shortstop
Zack Cozart
, entered Sunday hitting .201 with a .246 on-base percentage.
Quite a few players made an impression in this game on the offensive side, but the same cannot be said about the young arms. Perhaps the relative struggles of the more notable U.S. pitchers -- the team did win by 12, after all -- is a gentle reminder that there are no sure things with minor league hurlers, even the top prospects with the highest pedigree.
Arizona Diamondbacks
right-hander
Trevor Bauer
is an example. He would have been in this game, perhaps in a leading role, had he not been called up to the majors a few weeks ago. Bauer's first two big league starts featured 11 hits, eight runs and seven walks in only 7 1/3 innings, but Sunday went a lot better for Bauer against a Double-A caliber
Los Angeles Dodgers
lineup with six shutout innings of two-hit ball. Odorizzi, Cole and Hultzen are likely to see big league time in 2012, but initial domination is far from assured.
As for what else was notable from this game, the future of the left side of the Texas Rangers infield appears to be in good hands. Profar homered to right field to lead off the game, and then, against the lefty Hultzen, turned to bat right-handed and lined a single to right field. Third base prospect Mike Olt has 22 home runs in the minors, and he contributed a mammoth double off the center-field wall in five at-bats. There's no room currently in the Texas infield, but Profar has a better long-term prognosis than
Elvis Andrus
and it's certainly possible Olt is called up soon to handle first base, with
Adrian Beltre
entrenched at the hot corner.
Castellanos was awarded the MVP award for his home run and two singles, plus he scored three runs. Tigers fans can't complain about current third baseman
Miguel Cabrera
-- well, they can
defensively
-- but Castellanos is 20 years old and not close to the big leagues, not like Myers and some of the U.S. pitchers.