December, 6, 2013
12/06/13
11:57
AM ET
Well, they did it. The
Seattle Mariners
have reportedly
agreed to a 10-year, $240 million deal
with
Robinson Cano
, the first big-time free agent the Mariners have signed since snagging
Adrian Beltre
after his 48-homer season in 2004. (Sorry.
Chone Figgins
and
Carlos Silva
don't count.)
I'll write this as a Mariners fan, albeit one who hasn't lived in Seattle since 1999. I've suffered through these miserable seasons of late only via television and depressing emails with friends.
The Mariners needed talent. They had to spend to get it. They likely overspent to acquire one of the best players in the game. Yes, we all know the history of these types of contracts -- I'm pretty sure Angels fans were pumped when their team signed
Albert Pujols
. Yes, Cano may only have two or three years left at his peak ability, and the final years of the contract could be a financial disaster. But talent. Talent is a precious thing to have.
You can argue the Mariners would have been wiser to spend that money on three players rather than one. But there also was no guarantee the Mariners would be able to convince
Shin-Soo Choo
or
Ubaldo Jimenez
or whomever to come to Seattle, anyway. At some point, you have to strike, and the Mariners did it in the biggest way possible.
So I'm pumped about having a legit middle-of-the-order bat in the lineup for the first time since ... well, Cano posted an .899 OPS last year and has averaged a .906 OPS over the past four seasons and the last Mariners hitter to post an .899 OPS was
Richie Sexson
way back in 2005. So, since Richie Sexson. And Mariners fans hated that guy. That was in a different offensive era as well, making Cano even more impressive compared to league average totals. So he becomes the best Mariners hitter since
Bret Boone
and
Edgar Martinez
on the 2001 club that won 116 games. Or that other guy we won't name.
It's just one piece, of course. Mariners fans have to hope more moves will follow because Cano alone won't turn a 71-win team into anything close to a playoff contender. It does make a potential
David Price
trade more likely, although most Mariners fans I heard from on Twitter are hoping and praying that top prospect
Taijuan Walker
wouldn't be included in such a deal. Last offseason, the Rays acquired a top-10 overall prospect in
Wil Myers
for
James Shields
from the Royals, and Price is better than Shields, so everyone seems to think the Rays can do that again; but the Myers-Shields trade (which included other parts) was arguably an aberration. Just because the Royals paid a hefty price for two years of Shields doesn't mean another team will pay that to acquire Price.
Still, with Cano on board, that makes second-year second baseman
Nick Franklin
available. You could certainly see general manager Jack Zduriencik dealing Walker and Franklin for Price, although trading 12 years of team control for those two players for two years of Price has the potential to morph into an
Adam Jones
-
Erik Bedard
deal (or Choo for
Ben Broussard
... or
Asdrubal Cabrera
for
Eduardo Perez
... or
David Ortiz
for
Dave Hollins
... stop me before I poke my eyes out with a fork).
Like most Mariners fans, I'd prefer them to keep Walker and see if they could do another package for Price. (Good luck with that, however.) Better yet, just spend more money. Maybe signing Cano will convince Choo and Jimenez that Seattle is the place to be. Really, signing those two on top of Cano wouldn't even break the payroll considering only
Felix Hernandez
is also signed long-term.
Sign those two and you could roll out this lineup:
LF Shin-Soo Choo
SS
Brad Miller
2B Robinson Cano
3B
Kyle Seager
1B
Justin Smoak
C
Mike Zunino
RF
Michael Saunders
DH
Jesus Montero
CF
Dustin Ackley
/
Abraham Almonte
It's too left-handed (the top four guys all bat lefty), so you would want to sign a right-handed outfielder/DH or trade Franklin for somebody to fill one of those slots. (Franklin to the Royals for
Billy Butler
, so the Royals can sign
Carlos Beltran
to DH?)
The rotation would look like this:
Felix Hernandez
Hisashi Iwakuma
Ubaldo Jimenez
Taijuan Walker
James Paxton
That's two rookies, but two rookies with big upside.
Erasmo Ramirez
and Brandon Maurer are around to provide depth. The bullpen would need to improve.
With Russell Wilson and the Seahawks sapping up all the sports interest in Seattle, and with the Sounders hugely popular, the Mariners needed to do something to stir up interest in the club. The Mariners led the majors in attendance in 2001 and 2002 but fell to 25th last year. That's what happens after years of losing, boring baseball.
For the first time since the club made the big
Cliff Lee
trade, it feels good to be a Mariners fan. Cano is not a fix or a solution all by himself; we realize that. Hopefully he's the first move of several more.
Seattle fans are dying for a winning baseball team. Build one and the fans will return.
July, 29, 2013
7/29/13
12:40
AM ET
Albert Pujols
was placed on the disabled list on Sunday, sort of the exclamation point to the Los Angeles Angels' debacle of a season. Sunday was
Hall of Fame induction day
-- you may have missed it, considering the lone player elected played his final game in 1890 -- and Pujols' injury and the ceremony in Cooperstown got me wondering: Which of today's players will be future Hall of Famers?
There are probably more than you realize. Pujols, of course, is a slam-dunk Hall of Famer, even factoring in the somewhat disappointing results of his first two seasons with the Angels. With three MVP Awards, 492 home runs, 1,491 RBIs, a .321 average and a career WAR of 92.9 (27th all time among position players) his legacy is ensured, even if his Angels career never lives up to the expectations of his contract.
Based on historical trends, I estimate about 40 current players are future Hall of Famers -- possibly more, although Hall of Fame standards have been growing tougher in recent years, both by the Baseball Writers Association, which pitched a shutout this year, and the Veterans Committee, which has voted in just one post-1950 player since 2001. The steroids era fallout is also affecting voting results.
Anyway, if we look back at 10-year increments we can see how many Hall of Famers were active that season:
1953: 28 players
1963: 36 players
1973: 37 players
1983: 34 players
1993: 19 players
There are fewer players in 1953 because there were fewer teams, just 16 compared to 30 now. Compared to 1983, when there were 26 teams, 1953 still has a higher percentage of players inducted (1.75 per team versus 1.30). Still, 1983 already has 34 players who active that season already in the Hall of Fame, plus potential enshrinees like Jack Morris, Tim Raines, Alan Trammell, Lee Smith, Dale Murphy, Lou Whitaker, Keith Hernandez, Ted Simmons and others (some of whom are off the BBWAA ballot but could be Veterans Committee selections).
OK, to our little list. Here are 40 active players who will be Hall of Famers -- listed in order of most likely to make it. We're at a moment when there are very few sure-thing Hall of Famers -- I count only five -- so the list thus involves a lot speculation. I considered only players who have played in the majors this year, so no Andruw Jones, Manny Ramirez or Scott Rolen.
1. Derek Jeter:
Would anyone find reason
not
to vote for Jeter? Well, he did date Mariah Carey. Jeter may seem like a lock as a unanimous selection, but keep in mind that eight voters somehow found reason not to vote for
Cal Ripken Jr
.
2. Mariano Rivera:
No matter what you think of closers, Rivera will be a slam-dunk selection, with his "greatest closer ever" label, World Series rings, universal respect among opponents and writers, and 0.70 postseason ERA in 141 innings. While writers have generally become very generous to relievers -- Dennis Eckersley made it in his first year on the ballot -- I suspect a few won't vote for Rivera out of an anti-reliever stand.
3. Albert Pujols:
If his career continues to peter out, that more recent perception may cast a shadow over his dominant run from 2001 to 2010, when he averaged 8.1 WAR per season. Many Hall of Famers never achieved that in one season.
4. Miguel Cabrera:
Cabrera is now in his age-30 season, with 53.2 WAR. Through age 30, Pujols had 81.1 WAR. That's how good Pujols was -- nearly 30 wins better than a sure Hall of Famer who arrived in the majors at a younger age. Much of that advantage comes on defense and the basepaths, but Baseball-Reference estimates Pujols created 590 runs more than the average batter through 30, with Cabrera at 447 (and counting).
5. Ichiro Suzuki
: He may not get to 3,000 hits in the majors -- he's at 2,706 after Sunday's four-hit game -- but with 1,278 hits in Japan, voters should factor that he didn't arrive in Seattle until he was 27. With his all-around brilliance, he should sail in on the first ballot.
6. Robinson Cano:
He has done a lot of things MVP voters like -- hit for average, drive in runs, win a World Series -- and done it with exceptional durability. He's already at 42.4 WAR and needs three to four more peak seasons to ensure lock status, but he's just 30 and still at the top of his game. Considering his durability and age, 3,000 hits isn't out of the question either.
7. Clayton Kershaw:
Obviously, he could get hurt, and a lot of pitchers who were dominant through age 25 couldn't carry that success into their 30s. But Kershaw has been handled carefully, is on his way to a third straight ERA title and second Cy Young Award. He's the Koufax of this decade … minus the World Series heroics. But maybe he'll get that shot this year.
8. Felix Hernandez:
He's 27 and has won 109 games, despite playing for some of the worst offenses in the history of the game. He has earned 38.8 WAR, which puts him about halfway to Hall of Fame lock status. As with Kershaw, barring injury he'll get there.
9. Roy Halladay:
He leads all active pitchers with 65.6 WAR, a total higher than Hall of Famers Bob Feller (65.2), Eckersley (62.5), Juan Marichal (61.9), Don Drysdale (61.2) and Whitey Ford (53.2), to name a few. But what if he never pitches again? Is he in? He has 201 wins and voters still fixate on wins for pitchers. To Halladay's advantage is the general consensus that he was the best pitcher in baseball at his peak, his two Cy Young Awards and two runner-up finishes, three 20-win seasons and the second no-hitter in postseason history.
10. Adrian Beltre:
Voters have never been kind to the good-glove third basemen -- excepting Brooks Robinson -- so I may be overrating Beltre's chances. But he also has the chance to reach 500 home runs and 3,000 hits. If he gets to those milestones, that combined with his defensive reputation should get him in.
11. CC Sabathia:
He has 200 wins and looked like a possible 300-game winner entering this season, but that 4.65 ERA has everyone wondering how much he has left in the tank at age 33.
12. David Wright:
Similar in a lot of ways to Cano -- same age, similar career WAR (Wright is actually a little higher at 45.9) -- so if he plays well into his 30s like Beltre has, he'll get in. But a lot of players have looked like Hall of Famers at 30.
13. Justin Verlander
: He still has a lot of work to do, with 134 career wins and just two seasons with an ERA under 3.00.
14. Carlos Beltran:
I suspect he'll have a long, slow trek to Hall of Fame status, as his all-around game may be difficult for voters to properly assess. His having just two top-10 MVP finishes will work against him, but he has eight 100-RBI seasons, should reach 400 home runs, is one of the great percentage basestealers of all time and should reach 1,500 runs and 1,500 RBIs.
15. Mike Trout:
Well, of course this is premature; he's only 21. He could be Willie Mays, he could be Cesar Cedeno. I'm betting on Mays.
16. Evan Longoria"
Beloved in sabermetric circles, he could use that one monster MVP season to create more of a Hall of Fame aura around him.
17. Joey Votto:
Will voters appreciate the on-base percentage in 20 years?
18. Joe Mauer:
Like Votto, Mauer has an MVP award that helps his case; any time you can argue "he was the best player in the game" about a guy, his candidacy shoots up in the minds of voters. He's not going to end up with the big home run and RBI totals but his .323 career average, .405 OBP and solid defense (three Gold Gloves) will garner support. He has to stay healthy and probably needs to stay behind the plate a few more years.
19. Andy Pettitte:
See Jack Morris. Probably a slow crawl on the BBWAA ballot, perhaps hurt by admitting he tried PEDs (although he seems to have escaped the stain), with eventual election by the Veterans Committee. With 252 wins, five World Series rings and 19 postseason wins, it's difficult to ignore his fame and constant presence in October.
20. Bryce Harper:
Most home runs before turning 21: Mel Ott 61, Tony Conigliaro 56,
Ken Griffey Jr
. 38, Harper 37, Mickey Mantle 36, Frank Robinson 34.
21. Buster Posey:
Yadier Molina
may be the most valuable catcher right now, but Posey is the better Hall of Fame candidate.
22. David Price:
Pitchers become Hall of Famers in their 30s, not their 20s, but Price is already 66-36 with a Cy Young award.
23. Dustin Pedroia:
I'm a little skeptical how he'll age into 30s, but Pedroia seems like the kind of player voters would love to put in if he becomes a borderline candidate. He does have an MVP award and recognition for his all-around play, but since he's not a big home run or RBI guy, he'll have to remain durability and approach 3,000 career hits.
24. Manny Machado:
He's in a big slump right now but we have to remember he's still just 20 years old. But few players have shown this kind of ability at his age and his defense -- Jim Palmer said recently he makes plays at third base that Brooks Robinson could not have made -- is already Hall-of-Fame caliber.
25. Todd Helton:
We can just about close the book on him. The .318/.417/.541 career line is impressive, although voters will have to adjust for Coors Field. The 361 home runs and 1,378 RBIs are short of Hall of Fame standards for recent first base inductees. Considering
Larry Walker
's poor support so far, Helton will probably have to get in through the back door.
26. Andrew McCutchen:
How about an MVP Award for 2013?
27. Giancarlo Stanton:
Injuries are an issue, but I'm still betting on him (or Harper) to be the premier power hitter of his generation.
28. Troy Tulowitzki:
He has to stay healthy, of course, but he has 30.5 WAR so far, in his age-28 season. Jeter had 36.8 and Ripken 50.1 through age 28, but you don't have to be Derek Jeter or Cal Ripken to make the Hall of Fame. Recent inductee
Barry Larkin
had 30.9 WAR through age 28 and only played 140 games three seasons after that (although did play until he was 40).
29. Miguel Tejada:
Tough one here. He has the PED rumors, but he also has six 100-RBI seasons as a shortstop, an MVP award, more than 300 home runs and he will top 2,400 hits. Perhaps a Veterans Committee choice?
30. Prince Fielder:
He hasn't hit 40 home runs since 2009 and is going through the worst season of his career. Still, he's just 29 and has 277 home runs and 838 RBIs. He has been the most durable player in the game since his rookie season, but his body type certainly raises questions about how he'll do as he gets into his mid-30s. If he does remain healthy and reaches some of the big milestones he's going to be a Morris-like controversial candidate, because his career WAR (currently 22.4) isn't going to reach Hall of Fame standards.
31. Madison Bumgarner:
He turns 24 on Aug. 1 and already has 46 career wins, two World Series rings and is in the midst of his best season. Check back in 10 years.
32. Yasiel Puig:
Is he not in already?
33. Andrelton Simmons:
We're starting to get into the area of crazy projections. Hey, a lot of Hall of Famers didn't look like Hall of Famers their first few seasons in the league. Anyway, the Braves have four young players you could reasonably project long-shot HOF status onto -- Simmons,
Jason Heyward
,
Freddie Freeman
and
Craig Kimbrel
. I like Simmons; he'll have to have an
Omar Vizquel
-type career with most of his value coming from his glove, but what a glove it is.
34. Chase Utley:
He basically has no chance to get in via the BBWAA because his career counting totals will be well short of Hall standards. His five-year peak from 2005 to 2009 was among the best ever for a second baseman -- in fact, since 1950, from ages 26 to 30, the only players with a higher WAR were seven guys named Mays, Pujols, Yastrzemski, Aaron, Bonds, Boggs and Schmidt. If he can stay healthy for a few more years -- a bit of a dubious proposition -- he enters Veterans Committee territory.
35. Jose Fernandez:
This could be
Chris Sale
or
Stephen Strasburg
or some other hotshot young pitcher.
36. Tim Hudson:
I believe pitching standards will have to change, as the idea that you need 300 wins eventually subsides in this day where starters just don't as many decisions as they once did. Hudson is out for the year after breaking his ankle and, at the age of 38, you have to worry about his future. But he does have 205 wins and one of the best winning percentages of all time at .649. He sounds like a Veterans Committee choice in 2044.
37. Nick Franklin:
The point isn't that I think Franklin is a Hall of Fame player, but that somebody
like
Franklin will turn into a Hall of Famer. It could BE Franklin, it could be
Wil Myers
, it could be
Marcell Ozuna
, it could be
Jurickson Profar
. As for Franklin, he has reached the majors at 22, has flashed power (10 home runs and 12 doubles in 52 games) and shown a good approach at the plate. You never know.
38. September call-up to be named:
Xander Bogaerts? Oscar Taveras? Miguel Sano?
39. David Ortiz:
There's no denying the fame and the peak value -- he finished in the top five in MVP voting five consecutive seasons -- but he has several strikes against him, notably the PED allegations (Ortiz was mentioned in the Mitchell report) and the fact that he may not be the best DH eligible (that would be
Edgar Martinez
, with a career WAR of 68.3 to Ortiz's 42.7). Papi is at 420 home runs; if he gets to 500 (round number!), his chances go up, but like all the guys tied to steroids, he'll be a controversial candidate.
40. Alex Rodriguez:
He hasn't actually suited up in the majors yet this season, but let's assume he does to be eligible for this list. I also assume, at some point in the future -- 20 years? 25 years? 75 years? -- the moral outrage against the steroids users eventually subsides. Maybe, like Deacon White, A-Rod makes it some 130 years after he plays his final game.
June, 2, 2013
6/02/13
12:40
AM ET
By
Christina Kahrl
| ESPN.com
When it comes to this year's rookies, as fans I think we sort of came into this season like the kid at Christmas the year after you got the bike
and
the pony, or the new car
and
the Red Ryder BB gun. Because, let's face it, the year after
Mike Trout
and
Bryce Harper
arrived on the scene had to be something of a letdown, right?
Turns out, not so much, at least not in the National League. The difference is that this year the kids are all right on the mound.
Hyun-Jin Ryu
has been one of the few bright spots on a Dodgers team desperate for something worth bragging about beyond its price tag. But the Cardinals'
Shelby Miller
just got his ERA down to 1.82, almost a full run lower than Ryu's, while catching the Korean southpaw in the win column for at least a day, what with Ryu set to take the mound Sunday.
It's a showdown between a pair of outstanding candidates who press many of the hot-button issues about Rookie of the Year voting every season. Some fans -- and perhaps more than a few voters -- might favor the future value they anticipate when they see Miller. Some might have qualms about voting for a foreign leagues veteran, MLB-rookie status or no. But as long as Miller keeps pitching like a man who belongs with teammate
Adam Wainwright
in the conversation on who the best pitcher in the league might be, two months into the season it's Miller's race to win -- if he pitches all year.
[+] Enlarge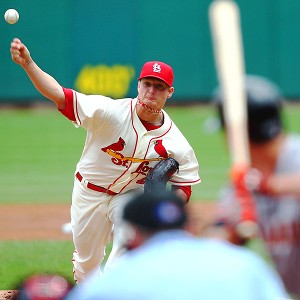 Dilip Vishwanat/Getty ImagesShelby Miller improved to 6-3, and lowered his ERA to 1.82, in the Cardinals' win over the Giants.
That said, it
is
a long season, and as the Nationals' decision to shut down
Stephen Strasburg
in 2012 reflected, pitchers might be excused for factors that have nothing to do with performance.
Happily, the NL field for first-year talent is wider than that tandem, even as Miller and Ryu contend for headlines. Just from among the hurlers,
Jose Fernandez
might have to labor in relative obscurity with the Marlins, marooned in the depths of a new-park hangover that has many Miami fans and voters asking themselves the coyote-ugly question about their franchise a year or two too late. But that has nothing to do with Fernandez's talent, on full display as he mowed down Mets on Saturday. Like Miller, he's striking out more than a man per inning, good enough to put him in the top 10 among NL starters in K/9. If it weren't for Ryu
and
Miller, even in the spring of
Matt Harvey
, we'd be talking about Fernandez a lot more. So you can imagine how
Julio Teheran
, doing well as a rotation regular on a first-place Braves team, feels.
This year, you can really only say one NL rookie position player is generating anything like the same buzz. Atlanta's
Evan Gattis
deserves the love he's getting, not for the backstory but for the production. This is not
Chris Coste
2.0 -- not that a guy like Coste wasn't as easy to root for as Gattis, but when you're slugging north of .600 two months into the season, you're not a passing fancy, you're somebody hitting so well that demoting an eight-figure salary becomes
something more than merely speculative
.
Gattis is doing for position players what Miller and Ryu have done for the pitchers in terms of sucking all the oxygen out of the room. As a result,
Jedd Gyorko
of the Padres might not merit more than a courtesy mention now, but I wouldn't count him out over the next four months. Gyorko has the power to slug .450 or better despite having to call Petco Park home as a rookie; if he cranks 60 extra-base hits while helping the Padres finish around .500, that's an amazing season.
You could say much the same for the pair of rookies starting up the middle for the Diamondbacks. However overmuch attention has been given to Kirk Gibson's clubhouse makeover or the likely big-picture penalties for trading away
Justin Upton
, the work Arizona is getting from
Didi Gregorius
at shortstop (and
A.J. Pollock
in center field) has helped propel the Snakes to first place in the NL West. As easy as it might be to say Gregorius has been helped by the D-backs' bandbox ballpark, three of his four homers have come on the road. If he starts slugging at home, too, how do you count out a slick-fielding shortstop with power on a first-place team?
Even with their delayed call-ups, by this time last year Trout and Harper had already been strutting their stuff. Trout was putting up an .887 OPS for an Angels lineup that needed all the help it could get overcoming
Albert Pujols
' slow start. Harper was hitting .274/.357/.504 in a little more than a month. They might not have been brought up until the end of April, but you already knew we were in for something special. But this year's class? Its players might not compare directly, but they're doing more than enough to pay attention to, now and down the stretch.
The American League, on the other hand ... well, you have to give the Rangers some unexpected due. I don't know if anyone really expects
Justin Grimm
or
Nick Tepesch
to still be in this conversation at the end of June, let alone September, but their contributions have clearly helped keep the Rangers' riding to the league's best record. But
Conor Gillaspie
?
Yan Gomes
? That they're among the top WAR-generating rookies in the AL so far just means that nobody has shown enough, for long enough, with the expectation that he'll still have a job at the All-Star break. I wouldn't rule out
Nick Franklin
or
Jurickson Profar
in partial seasons. I also wouldn't rule out that the eventual AL Rookie of the Year hasn't been called up yet. Or possibly even drafted yet -- who said Christmas comes just once per year?
Christina Kahrl covers baseball for ESPN.com. You can follow her on Twitter.
May, 28, 2013
5/28/13
7:22
PM ET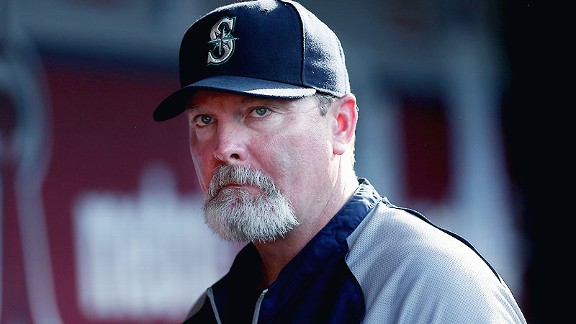 Jeff Gross/Getty ImagesSeattle's failure to consistently develop prospects could soon cost manager Eric Wedge his job.
No, I'm not writing about
Dustin Ackley
again because I'm a Mariners fan. I'm writing about him because he was the second overall pick in the 2009 draft and got sent down to the minors over the weekend, the exclamation point on his quick demise from promising rookie in 2011 to .205-hitting replacement-level second baseman in 2013.
Actually, I'll save myself the pain and link to
Dave Cameron's take
over at the U.S.S. Mariner blog, including his reference to Mariners manager Eric Wedge's quote that blamed Ackley's struggles on sabermetrics. No, really. Here's what he said: "It's the new generation. It's all this sabermetrics stuff, for lack of a better term, you know what I mean? People who haven't played since they were 9 years old think they have it figured out. It gets in these kids' heads."
Read Dave's piece as he breaks down Wedge's quote with the lethal result of a
Felix Hernandez
changeup. He wraps up by saying that Wedge will probably be fired soon, which is probably true:
Everyone knows that the only people capable of offering any kind of intelligent analysis of baseball players are those who have Major League experience. You know, like Eric Wedge. That's what's made him such a successful Major League manager, with his career record of 725 wins and 784 losses. And, you know, clearly Wedge knows how to develop young talent, since he helped all those young players turn into superstars in Cleveland.

Oh, wait, Cleveland's young players didn't develop as well as they were expected, and Wedge has had two winning seasons in 10 years as a big league manager. Hmm. Maybe experience isn't the only thing that matters after all?

Eric Wedge is going to be fired in the not too distant future. That move, in and of itself, won't turn around the Mariners franchise. But it won't hurt.
There's another piece on the U.S.S. Mariner site by Jeff Sullivan which
compares Ackley
to another former Mariner who was supposed to hit,
Jeremy Reed
. This points to the larger issue within the Mariners organization going back more than 10 years and three different front-office regimes: The complete inability to develop hitters (
Kyle Seager
, who was never a top prospect, being the exception).
Actually, they've developed three other real good ones in the past decade. Trouble is, they traded away
Adam Jones
,
Shin-Soo Choo
and
Asdrubal Cabrera
. But the list of Mariners position players besides Jones and Choo once rated in Baseball America's top 100 prospects is a sad list:
Dustin Ackley: Second overall pick in the 2009 draft. Was Baseball America's 11th and then 12th-best prospect. Truth is, he didn't tear apart the minor leagues (.280), but did draw more walks than strikeouts, and his decent rookie performance (.273/.348/.417) suggested he'd develop into a decent hitter. Definitely the most difficult one here to explain.

Justin Smoak: No. 13 prospect in 2010. His 24 home runs in 702 minor league at-bats suggests his power potential was always overrated anyway. Maybe remaking himself as well ... he's drawing walks now but a .698 OPS from a first baseman isn't exactly middle-of-the-order material.

Jesus Montero: Minor league numbers were impressive for his age, but the fact that he hit worse his second year in Triple-A was probably a bad sign in retrospect. Remember, this guy was BA's No. 4, No. 3 and No. 6 prospect three years running based on his sure thing as a hitter.

Michael Saunders: A May 13 headline in the Seattle Times reads, "Michael Saunders has gone from flop to force at the plate." Since then he's hit .109 (5-for-46) and is down to .217 with a sub-.300 OBP. Was BA's No. 30 prospect heading into 2010. He now has over 1,300 major league PAs and owns a career .219/.283/.366 line. I thought he had a breakthrough last year but now all bets are off.

Carlos Triunfel: BA's No. 62 prospect after debuting in the States at age 17. Remained in the top 100 the next year. Power never developed, undoubtedly aided by his poor plate discipline (35 SO, 7 BB in Triple-A this year).

Adam Moore: No. 83 before 2010, his minor league numbers were good, not great, but he was a catcher. Hit .195 as a rookie. Then came a bunch of injuries.

Jeff Clement: Drafted third overall in the loaded 2005 draft, peaked at No. 33 on the BA prospect lists. Just a misfire. A costly one.

Jose Lopez: Peaked as Baseball America's No. 38 prospect and reached the majors at age 20 and even made the All-Star team his first full season. But his willingness to swing at pretty much anything (never walked 30 times in a season) ruined his career.

Jeremy Reed: Acquired from the White Sox in the Freddy Garcia trade, he had hit .373 with 70 walks and 36 strikeouts in 2003 between A and Double-A. But a .289 average in Triple-A in 2004, the year the Mariners acquired him, suggests a guy who was probably overrated as the No. 25 prospect.

Chris Snelling: Three-time top-100 prospect, as high as No. 39. Couldn't stay healthy. The one guy here who I'm convinced would have hit.
How does this happen? How can one organization fail so miserably? Certainly, there's been a system-wide failure -- again, through different regimes and thus different major and minor league coaches and instructors -- to develop hitters with the ability to control the strike zone. Is that just bad luck? Bad coaching? Bad Safeco Field karma?
I don't really know. A friend of mine posits that the Mariners continually emphasize how much pressure they're under in the major leagues, instead of just letting them hit instead of talking about their struggles all the time. Maybe bad hitting and bad approaches just feed off itself like the Ebola virus. Losing is a disease, right?
There is no answer here other than that there is no magic wand you can wave, no secret sauce, no hitting coach that can flip the switch. The new guys are arriving --
Nick Franklin
is here to replace Ackley and Mike Zunino will be up soon.
They better be good.
May, 14, 2013
5/14/13
11:50
PM ET
The
Seattle Mariners
are in that frustrating purgatory of baseball existence: Not good enough to contend, not bad enough to formulate a rebuilding strategy that makes sense.
Where are they? What is the master plan? Is there life after Felix?
There wasn't Tuesday night at Yankee Stadium, when
Felix Hernandez
dueled
CC Sabathia
in a battle of aces. Hernandez outpitched Sabathia, but a collision at first base in the fifth inning might have shaken him up a bit. He labored through the sixth, allowing his only run and leaving after 97 pitches with a 3-1 lead.
The Mariners bullpen, stellar for most of the season, couldn't hold the lead; the Yankees received some good luck from the baseball gods and then
Mariano Rivera
closed out the
4-3 victory
. The Mariners can cry about the 3-2 pitch to
Brett Gardner
in the seventh that looked like strike three, or moan about
Justin Smoak
's liner in the eighth with two on that doubled
Dustin Ackley
off second base. But they also failed to capitalize on 10 hits off Sabathia, and
Michael Saunders
couldn't get a bunt down in the eighth. These are the games that good teams pull out and mediocre teams don't pull out often enough.
[+] Enlarge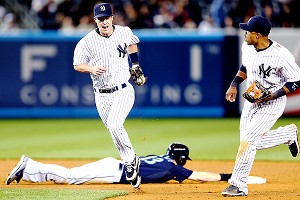 Photo by Elsa/Getty ImagesGetting doubled off second to end a late Mariners threat was just the latest lowlight for Dustin Ackley.
The Mariners aren't a terrible team -- they're 18-21, they have a terrific 1-2 pitching combo in Hernandez and
Hisashi Iwakuma
, they have some good arms in the bullpen and the offense, while still bad, is at least not historically bad anymore.
But ... where are they? That's harder to peg. They're not the Astros or Cubs. They're kind of in that Pirates/Royals territory of maybe if everything breaks right, except those two clubs are playing better right now. Their offseason moves -- signing veterans
Raul Ibanez
and
Jason Bay
and trading for
Mike Morse
and
Kendrys Morales
-- suggested a "win now" strategy. Those guys are short-term investments, with Ibanez and Bay simply one-year placeholders and part-time players, and Morse and Morales both free agents after the season.
Essentially, those guys were just roster filler anyway, and for all the angst among Mariners fans over Ibanez or Bay stealing a job from
Casper Wells
, the Mariners' present and future didn't rest in the bat of Casper Wells. No, it rested in the continued improvement of
Kyle Seager
and Saunders, plus the hopeful development of one-time top prospects Ackley, Smoak and
Jesus Montero
.
That takes us to mid-May, and it's time for Mariners management to make some difficult decisions. Seager and Saunders, building upon last season's success, have been fine; they're good players, guys who can be key components of a playoff team. But it's the other three -- all once rated as top-20 prospects in the game -- that have again disappointed.
Ackley is hitting .231/.273/.281, and as Jeff Sullivan of the U.S.S. Mariner blog pointed out, his
walk rate has plummeted
to
Miguel Olivo
levels. That's not good, in case you're wondering. Smoak is drawing walks but not doing much of anything else, hitting .235/.355/.311 with one home run. Montero is hitting .200/.250/.341 and the catching experiment is working out as well as anything labeled "experiment" usually does.
As I said, it's only mid-May, and you never want to jump to snap conclusions. But smart organizations do make conclusions. Back in the day, a manager like Whitey Herzog might look at a player for two weeks and determine if he's a major league player. Maybe he wasn't always right, but he believed in his convictions.
Do the Mariners still believe in these three? Ackley is now 25 years old and getting worse, much worse than he was as a rookie in 2011. Smoak is 26 and has a career .225 average. Montero is only 23 but is looking like a bat-only player who doesn't have enough of a bat.

Manager Eric Wedge hasn't exactly proven himself to be a great judge of talent -- not playing
John Jaso
and Iwakuma early on last season, for example -- but he certainly made
his
convictions clear with Tuesday's lineup: Ackley, Smoak and Montero all started the game on the bench. In their places were
Robert Andino
, Ibanez and
Kelly Shoppach
. Ackley, the can't-miss second pick in the draft, is now being benched against left-handers for a guy hitting .169. Smoak sat for a guy who has hit .207 against left-handers since 2011. Montero sat because he isn't good.
Smart organizations properly evaluate their own talent. They know when not to re-sign
Josh Hamilton
, know which prospects to hold and know when to walk away. It's time for general manager Jack Zduriencik to make some calls. If the Mariners think Ackley can play
then play him
, even against Sabathia, and certainly don't bench him for Robert Freakin' Andino. If Smoak can play, then play him. If Montero can't catch, then send him down to Triple-A to see if he can actually develop an idea of how to approach an at-bat.
Because even if those guys play a little better the rest of the season, what have you learned? You'd be back in the same position next year, counting on them simply because they were once highly-rated minor leaguers.
I think the Mariners are close to knowing some answers. They're not contenders. Nick Franklin and Mike Zunino are down in Triple-A, perhaps ready to replace Ackley and Montero, the new new things to get excited about.
It's time to Whitey Herzog it and man up. It's judgment day in Seattle.
January, 11, 2013
1/11/13
11:02
AM ET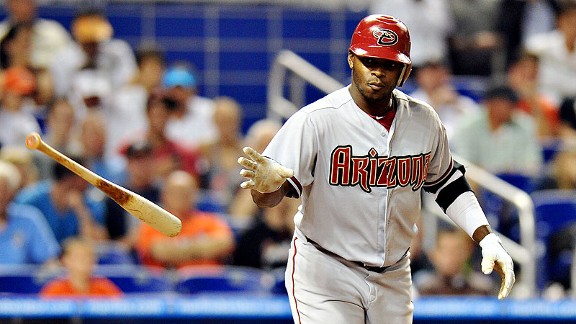 Steve Mitchell/US PresswireIs Justin Upton really the answer for Seattle? Is the 25-year-old hitter worth a young top prospect?
Sources say
Justin Upton
rejected a trade
to the
Seattle Mariners
-- one of four such designated teams in his contract, along with the
Boston Red Sox
,
Toronto Blue Jays
and
Chicago Cubs
.
As Dave Cameron
pointed out
on the U.S.S. Mariner blog, this doesn't necessarily mean an Upton-to-Seattle deal is dead. Agents request no-trade clauses (or partial no-trade clauses) in order to give the player more leverage. Last season, Upton's no-trade teams included the Cubs,
New York Yankees
, Red Sox and
Cleveland Indians
, so this isn't necessarily a situation where Upton just doesn't want to play in Seattle. Basically, Upton's agent did an excellent job of predicting a likely trade target in the Mariners:
So, if the Mariners want to continue pursuing Upton, they have to decide how much more they want to give up to get him. They've already settled on the players going to Arizona -- now the question is how much cash will change Upton's mind. That could be in the form of a contract extension, but for a player in Upton's situation, he might not want to sign a long term commitment before getting a chance to play in his new home, especially since he's on track to hit free agency after his age 27 season. Instead of an extension, perhaps the Mariners' best bait is to either shorten the commitment, or to give him a player option.
Cameron is suggesting the Mariners could rewrite the deal to give Upton the option to bolt after two seasons rather than three. That dramatically changes the dynamics of Upton's value, especially since the Mariners are unlikely contenders in 2013 anyway.
Who are the players the Mariners would be giving up? Fox Sports
reported
the deal involved Taijuan Walker or
Danny Hultzen
plus Nick Franklin,
Charlie Furbush
and
Stephen Pryor
or another reliever.
Jerry Crasnick tweeted this:
One executive says #mariners were "clearly overpaying'' for Upton and are "fortunate'' trade with #dbacks fell through.

— Jerry Crasnick (@jcrasnick) January 11, 2013
Jason Churchill of
Prospect Insider writes
, "The information I am getting varies, so I can't divulge, and just prior to publishing this I was told the M's 'may have been getting two players back, not just Upton.'"
Churchill believes Walker -- who pitched in Double-A last season at age 19 -- had to have been part of the deal: "Walker is where I have drawn the line for months. If it were a straight-up 1-for-1, I'd consider it strongly. Walker plus others for three years of Upton? No thanks."
What makes Upton difficult to evaluate are his home/road splits. Arizona is a good place to hit, and over his career, Upton has hit .307/.389/.548 at home and .250/.325/.406 on the road. In other words, he hits like
Robinson Cano
at home and
Coco Crisp
on the road. His road slugging percentages since 2009: .521, .449, .439 and .344.
Of course, it's not as simple as saying Upton won't hit as well in a different park. Most players, given equal environments, will hit better at home. And Upton played a lot of his road games in San Francisco, San Diego and Los Angeles. Cameron also addressed
Upton's home/road splits
last week on FanGraphs:
Regression is just a fact of life when it comes to split data, and if you're not heavily regressing splits, you're probably using them incorrectly. ...

This is noise. This is why you regress, even large samples. And this is why you're better off using something like wRC+, which takes known park factors into account, then you are using a player's individual home/road splits. Or, better yet, use a projection system that also accounts for aging curves and park adjustments.

Whatever you do, though, don't just look at a player's road stats and assume that it's a window into his real talent level, with the difference between his home and road stats being a mirage of the park he played in. That's simply not how home/road splits work.
Since 2009, among those with at least 1,500 plate appearances, Upton ranks 46th in wRC+ -- below
Torii Hunter
and
Ryan Howard
but just ahead of
Curtis Granderson
and
Hunter Pence
. Depending on how deep your list of "elite" hitters goes, Upton is either at the bottom of the elite group or somewhere below it.
My biggest issue with Upton is that even though he just turned 25 in August, he appears to have stalled out as a hitter. As Matthew
points out
at Lookout Landing, Upton's profile has been pretty consistent the past years (other than a slight improvement in his strikeout rate):
But his park-adjusted isolated slugging has gone from .223 to .162 to .227 to .142 over the past four years. It's probably not a coincidence that Upton's rate of pulling fly balls mirrors the changes in slugging, going from 40 percent to 29 percent to 48 percent to 33 percent.

The 2010 and 2012 seasons are concerning, but 2009 and 2011 show that Upton can post All-Star level numbers. In Upton's case, with his stable approach, skills and young age, I can't find a reason why he will deviate from his performance when it comes to projecting his next three seasons combined.
Is that worth Walker, Franklin and a couple of good relief pitchers? It really comes down to why Jack Zduriencik gets paid the big bucks: You have to properly evaluate your own talent. Is Walker a future ace? Is Franklin the heir apparent to
Brendan Ryan
at shortstop or a second baseman who won't have a job with
Dustin Ackley
around? Is Pryor a mediocre middle guy or a future closer?
You saw the quote given to Crasnick. Churchill believes Walker + Franklin + more is too much. Would Upton even change his mind given different incentives? Why are the Diamondbacks so eager to trade a young All-Star signed to a good contract anyway?
I don't think I'd do the deal with Walker, and I usually take a "prospects are overrated" position. The Mariners need to see how the new Safeco dimensions play out. It could be that their offense will be better than they realize and that a year from now they'll be looking for help in the rotation rather than a middle-of-the-order bat.
June, 21, 2012
6/21/12
2:24
PM ET
I had an excellent time talking baseball with Keith Law on Thursday's
Baseball Today podcast

. (What, you wanted us to break down LeBron James and Kevin Durant?) The show may have run a little long, but trust me, it's worth the listen!
1. With
Troy Tulowitzki
undergoing groin surgery and another tough loss, we couldn't avoid the train wreck that is the
Colorado Rockies
. Can we just put Jim Tracy out of his misery already?
2.
Mike Trout
is awesome, but so is
Stephen Strasburg
. We talk about Strasburg's workload and how to keep him fresh for ... October. Yes, we said October.
3. I was at the Orioles-Mets game so we talk some Orioles and Mets, and dig into
Ike Davis
' continued struggles at the plate.
4. A user email prompts a discussion about which pitchers from the 1990s and 2000s are Hall of Famers. And, yes, Mike Mussina was better than Jack Morris.
5. We talk about some prospects -- Billy Hamilton of the Reds, Danny Hultzen and Nick Franklin of the Mariners and, of course, #freetrevorbauer.
All that, plus
Jacob Turner
makes his debut on Thursday,
Matt Moore
versus
Gio Gonzalez
and much more!
February, 15, 2012
2/15/12
12:20
AM ET
Take a break from Jeremy Lin. Here are some links worth checking out from outside the SweetSpot network. Check back later Wednesday for more links from our list of bloggers.