June, 30, 2012
6/30/12
9:29
PM ET
By
Christina Kahrl
| ESPN.com
Jim Thome
's right back where he needs to be, and if you're an Orioles fan, you might think
the trade that moves him down I-95
has come not a moment too soon. The Orioles really needed to do something to shore up their offense, and perhaps more than anything, they've needed to find an outfield bat or two. Averaging just 4.2 runs per game, they're ninth in the American League in offense, and a major part of the problem is the lack of good wood they've gotten from their left fielders (.642 collective OPS) and right fielders (.703).
The funny thing is that the Orioles' designated hitters weren't a problem, not in the aggregate, with a .787 OPS. Their in-season problem was that the absence of a reliable performer had helped suck
Chris Davis
out of the infield and into their DH mix. With their gaping holes in the outfield corners, they really do need something that would stick at DH, freeing manager Buck Showalter to reemploy Davis in the field and spare the club from reverting to the DH-du-jour non-answers Baltimore's weakly stocked bench provides.
Which brings me to the other major implication of this move -- what this deal does
not
mean: Thome isn't replacing
Wilson Betemit
or Davis in the lineup in a bit of incremental improvement. Instead, he's the answer to a crying need in Showalter's offense, which was the absence of a regular DH who could deliver on the hitting half of being designated to hit. The Orioles' current scoring clip is not going to get it done in the AL East, even with the expanded postseason.
But the market didn't really have much to offer as far as outfield thumpers, so general manager Dan Duquette did the next-best thing: He traded for a cheaply available bat in Thome, figuring that adding a bat lets Showalter reemploy the day-to-day rovers he's used to plug lineup holes all season to man one fewer position, and perhaps more precisely help fix the club's problems in the non-
Nick Markakis
outfield corner. Markakis is due back soon, so the Orioles are already going to have one outfield answer. Trading for Thome is going to help them fix the other corner.
Adding Thome to the roster helps because it frees up the bats the Orioles were using at DH to help fix the other slots in the lineup. Showalter has utilized Davis in particular as one of those rovers, and he'll no doubt continue to use Betemit as his infield Mr. Fix-It. With Thome in the fold, Davis might very well be the Orioles' left fielder of the immediate future, a patch they desperately need.
With Markakis looking like a lock to return from the disabled list after the All-Star break, the Orioles' lineup should be in significantly better shape shortly, with Markakis in right field, Davis in left and Thome at DH.
Where roster management is concerned, it's understandably fashionable in the age of the seven-man bullpen to laud the virtues of doing without an everyday DH, and to instead use the slot as a chance to spread at-bats around to the three non-catchers most AL teams get by with on their benches. There's a certain kind of wisdom to it when you have bench bats worth playing, but that was not this Orioles team, not when it's been picking from among the likes of infrequently healthy
Nick Johnson
, minor league veteran
Steve Pearce
, Rule 5 pick
Ryan Flaherty
or career fifth outfielder
Endy Chavez
. Or what might be more simply referred to as "bad choices."
The Orioles' getting away from their initial team-DH solution and instead placing their faith in one of the last few true designated mashers left is what both Thome and they deserve. Just as he can be an instrument of their second-half success, so too can Thome show off that he's still got plenty left in the tank.
Over the past two seasons, as a 40- and 41-year-old, Thome has hit .254/.357/.484 for the Twins, Indians and Phillies. This year, DHs around Major League Baseball have put together a .257/.331/.435 line -- which might not sound great, but it's a better line than what MLB teams are getting from their first basemen or left fielders. But Thome's been better still, despite the rust that started forming in his infrequent DH role until interleague play helped get him back in action.
The 27 innings that Thome played in the field for the Phillies were more than some thought he could handle, and it was more playing time with a fielding glove than he's put in since 2005. They might also be the last, because after the misery of less-than-part-time play, Thome may elect to never return to the National League. If he keeps hitting this way, he shouldn't need to.
PHOTO OF THE DAY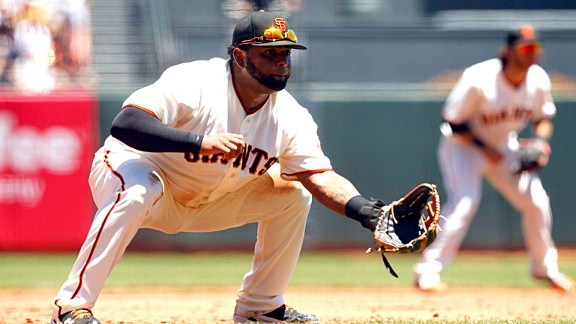 Cary Edmondson-US PresswireA Kung-Fu Panda has a natural advantage: A low center of gravity.
Christina Kahrl covers baseball for ESPN.com. You can follow her on Twitter.
August, 9, 2010
8/09/10
2:01
PM ET
Just another thing that's
gone wrong for the Angels
this season. Bill Plunkett:
Angels manager Mike Scioscia's defense of Hideki Matsui has been far more consistent this season than Matsui's production.
With Matsui in the depths of yet another slump (1 for his past 14), Scioscia benched Matsui for the third time in the past seven games, the first time against a right-handed starter. But Scioscia continued to express confidence that Matsui's next good streak is just around the corner.
--snip--
Scioscia insists he has seen no loss of bat speed with Matsui, a sure sign of aging in a hitter. While the legion of reporters who document Matsui's every move – even on a day spent on the Angels' bench – worry that the Angels might release him (signed to a one-year, $6 million contract), Scioscia assured them Sunday was not a signal that his confidence in Matsui had evaporated and the veteran's playing time would disappear in the final third of the season.And the point is what, exactly?
None of this matters to anyone except Matsui and those Angels fans who live and die with every pitch.
In less than two months, Matsui's contract and the Angels' season will expire.
Matsui doesn't make a great deal of money. They have to pay him whether he's on the roster or not, and anyway it's not like he's blocking some hot prospect. Matsui's got the sixth-highest OPS among Angels with at least a dozen plate appearances this season. All the guys ahead of him are already playing.
Well, sort of.
Mark Trumbo
, 24, has been tearing up the Pacific Coast League pretty good this season. He's probably a future DH, and might even take his place in the lineup next spring. But there's little difference between promoting him tomorrow and promoting him on the 1st of September when the active rosters are expanded.
Little difference, because [Hank] Conger's not great and because the Angels' fate has been determined already. They're nine games out of first place and a dozen games behind Tampa Bay.
Yes, it's time to start thinking about the future. But that can wait for another week or three while management comes to terms with reality.
**********
I suppose there's a larger point to be made here, about spending real money on non-elite older players. I'll bet you can find columns last winter complaining that the Yankees should have kept Matsui and
Johnny Damon
, because by golly they were still pretty good hitters and what's a few more million dollars to the Yankees, anyway?
It was never about the money. It was about getting younger and (perhaps) better. Granted, Damon's and Matsui's replacements --
Curtis Granderson
and
Nick Johnson
-- haven't exactly hit their projections, and the Yankees might have won about as many games if they
had
kept the older guys. But the get-younger impulse will serve the organization well in coming years.
December, 21, 2009
12/21/09
11:37
AM ET
The Giants didn't get
Nick Johnson
, and the Oakland Tribune's Gary Peterson
knows why
:
Finally, we know this: The Giants are now reconsidering their options where prospective first basemen are concerned. From here they appear to be a) Adam LaRoche, who may want more money than they're comfortable spending, b) Mark DeRosa, a better fit at third base, which would mean moving Pablo Sandoval to first, c) convincing Matt Cain to play first base when he isn't pitching, and d) coaxing J.R. Phillips out of retirement.

But this is less about the Giants' attempt to upgrade their lackluster lineup than it is baseball's economic stratification, which has never been more pronounced. Take Johnson, for example. Instead of becoming a prized piece of the Giants' would-be offensive makeover, he becomes an oh-by-the-way transaction during a quiet offseason by Steinbrenner standards.

The price tag — $5.5 million for one year - is about what CC Sabathia earns for lacing his shoes before each game. But it's not just the money; it's what the money represents. Once Yankees GM Brian Cashman batted his eyes at Johnson, the Giants never had a chance.

It's not that the Giants are destitute. Their opening day payroll last season was $82 million, which ranked 14th among 30 teams. The Yankees' payroll was $201 million. You'd need blasting caps and earth-movers to level that playing field — same as it ever was.

-- snip --

Weird, isn't it? The Pirates just set an MLB record with their 17th consecutive losing season. The Royals have finished an average of 21?1/2 games out of first place in the 24 years since their last playoff appearance. The Twins have replaced the A's as poster children for brains over purchasing power; since 2000 the two Little Franchises That Could have played a combined 12 playoff series, winning only two — one when the Twins beat the A's, and the other when the A's beat the Twins.

That sound you hear: crickets chirping.
But it's not just the A's and the Twins, right? The Brewers were in the playoffs last year ago. The Rockies -- with a $75 million payroll -- were in the playoffs this year, and they were in the World Series just a couple of years ago.
This is just stale soup. We know it's easier to win with money. We also know that with a bit of luck and intelligence, you can win without a lot of money. The Giants, as Peterson notes, can afford a middle-of-the-road payroll. Further, if Nick Johnson's really what they need to get over the top, then overpaying by a million bucks shouldn't be all that hard to justify.
Not that I'm telling the Giants how to spend their money. But I'm not sure that first base should be one of their top priorities. At least
Travis Ishikawa
might
be good enough, eventually (particularly if he's got a decent platoon partner). The last time I checked, the Giants don't have even one outfielder who's going to put up National League-average numbers. I know there aren't many outfielders available this winter. But there aren't many first basemen, either. I would rather have
Johnny Damon
than Adam LaRoche.