September, 12, 2014
9/12/14
2:17
PM ET
By
Matt Philip
| ESPN.com
For an aspiring major leaguer, the first milestone is reaching the big leagues. Once he's played his first game, another goal -- playing in the postseason -- can be just as long and arduous. Just ask Adam Dunn.
Dunn had played 1985 major-league games over 14 seasons and none of them in the playoffs, the most among active players. The wait to make the playoffs has made his wait to reach the big show -- a relatively short four years and 343 games in the minors -- seem like a flash. So the potential to finally play baseball rather than golf in October was one of the reasons why the big slugger, who announced recently that he
plans to retire
after the season, approved his trade from the White Sox to the A's on Aug 31. Despite the A's recent swoon, they still have a 92 percent chance of making it into baseball's postseason tournament, according to coolstandings.com (which we use on ESPN).
But Dunn's not the only veteran with a decent chance of fulfilling a playoff dream. Several seasoned players stand a better than even chance of seeing October action for the first time: The Royals' Scott Downs and Josh Willingham, the Orioles' Nick Markakis, the Mariners' Felix Hernandez, the Dodgers' Kevin Correia and Paul Maholm and the Nationals' Scott Hairston.
Some of those players have come close. Dunn's best previous opportunity came after the Reds traded him to the Diamondbacks in August of 2008 to help them chase the Dodgers. But the 44-game rental wasn't enough as Arizona fell two games short of the NL West title. Four years later, Dunn's White Sox led the AL Central for most of the second half of 2012 but faltered in the season's final week and finished out of the money by three games.
Markakis, on the other hand, has actually played for a team that made the playoffs. It's just that injury prevented him from playing during the postseason. With less than a month remaining in the Orioles' wild-card season of 2012 season, C.C. Sabathia broke Markakis' left thumb with a pitch, sidelining the right fielder for the team's wild-card game and five Division Series games.
Willingham is a different story. Despite playing for five different clubs in his 11-year career, he hasn't come close to the playoffs. Heading into this season, Willingham's teams have languished with a .438 winning percentage and finished an average of 20 games back of their division leader. So when he came over from the last-place Twins to the first-place Royals on Aug. 11, he was in unfamiliar territory. If the Royals do hold on and win the Central, though, Willingham isn't a sure thing for the playoffs: He only recently returned to the lineup after having been out since Aug. 29 with a sore back.
Willingham's Kansas City teammate Bruce Chen broke in with the Braves when fall ball was as much of a certainly on their schedule as spring training. Chen was part of the NL East title-winning clubs in 1998 and 1999, but didn't make the playoff roster. He played most of the 2014 season with the playoff-hunting Royals, but found out last week that the Royals designated him for assignment, shelving his playoff dream after 16 seasons.
Players can use their beleaguered teammates' pursuit of the playoffs as motivation. Markakis' outfield mate Adam Jones claims the team is "still [angry] about" Sabathia's pitch. And Orioles manager Buck Showalter is no stranger to teams rallying around long-suffering stars: He managed the Yankees in 1995 when the team won their final 11 of 12 games and 26 of 33 to at last take Don Mattingly to the playoffs in his final season. And this year, Mattingly's Dodgers team includes pitcher Jamey Wright, who is in his 19th season but only last year saw the the playoffs (with Tampa Bay).
But if the A's plan to use Dunn's quest as a rallying cry for their own, the Cardinals and Pirates will have to look to motivators other than helping forbearing teammates realize a dream. That's because those NL Central contenders simply don't have many veterans who haven't played October baseball. Their longest-tenured players without playoff experience are Peter Bourjos and Ike Davis, respectively, each 27 years old and in only his fifth major-league season.
Given a reprieve from a playoff-less career, Donnie Baseball went out with a .440 OBP and .708 SLG in the Bombers' five-game 1995 ALDS loss to the Mariners. As Mattingly later said, "I would have been disappointed had I not gotten at least that one chance to play in the postseason, because you really wanna see how you handle it. And I did get that chance."
It's a swan song that Adam Dunn would like to emulate this year. Will he -- and others -- get the chance?
Longest-tenured vets who have never appeared in postseason for playoff contenders
Athletics -- Adam Dunn, 14 seasons in majors
Royals -- Scott Downs, 13 seasons
Braves -- Aaron Harang, 13 seasons
Dodgers -- Kevin Correia, 12
Blue Jays -- R.A. Dickey, 12
Nationals -- Scott Hairston, 11
Mariners -- Felix Hernandez, 10
Brewers -- Zach Duke, 10
Orioles -- Nick Markakis, 9
Tigers -- Rajai Davis, 9
Angels -- Chris Iannetta, 9
Yankees -- Brandon McCarthy, 9
Indians -- Scott Atchison, 8
Giants -- Yusmeiro Petit, 7
Cardinals -- Peter Bourjos, 5
Pirates -- Ike Davis, 5
Matt Philip writes about the Cardinals at Fungoes.net.
August, 26, 2014
8/26/14
12:12
AM ET
The first time I saw
Adam Jones
play was in August 2007 at Camden Yards, but he was with the
Seattle Mariners
then and had recently been called up from the minor leagues for his second stint in the majors. I was there with my wife's family and told them to watch out for this kid -- he's a highly rated prospect who has a great arm. I looked pretty smart when Jones, playing left field, caught a line drive in the first inning and doubled
Brian Roberts
off first base. He'd go 3-for-4 at the plate and score four runs in a 13-5 Mariners' victory.
Seattle would win 88 games that year, and with a young
Felix Hernandez
on the rise and Jones' arrival, you could envision a bright future for the Mariners … and then, that offseason, Mariners general manager Bill Bavasi traded Jones,
Chris Tillman
, George Sherrill and two other minor leaguers to the Orioles for
Erik Bedard
.
My friend Ted the Mariners fan sent me an email Monday night: "Watching Adam Jones is very depressing. Just robbed a home run, then gunned a runner trying to tag up for a double play."
Ted's sadness, however, is balanced by the joy of Orioles fans, who have enjoyed Jones' hustle, enthusiasm, consistency and greatness over the past seven years.
I'll admit: Despite my enthusiasm back on that cloudy August night years ago, I was slow to come around in appreciating Jones. I focused too much on his major weakness -- he rarely walks, which leads to league average-ish (or slightly below) on-base percentages -- and groused the defensive metrics didn't agree with the Gold Gloves he was winning.
The sad thing about focusing too deeply or too much on the numbers is you can fail to fully appreciate a player. Jones is the kind of player any team would want, the kind of player baseball should do a better job of promoting: He's charismatic, he plays with flair, he plays hard, he's durable, and he's good. He's the kind of player every fan should love -- even Mariners fans.
The numbers say he isn't quite a superstar; maybe not. He does make a lot of outs, and many Orioles fans I've conversed with in recent years have agreed with the defensive metrics that suggest Jones might be overrated in center field. OK, so maybe he's not perfect. But there he was Monday, with the Orioles leading 9-1 in the sixth inning, tracing a fly ball to that short fence in Camden Yards, robbing
Evan Longoria
of a home run and throwing out
Matt Joyce
as he tried to tag from first base; he still has that arm I saw seven years ago.
Maybe the most underrated aspects of Jones' game are his durability and consistency. After missing zero games in 2012 and just two last year, he's played every game this season. When he got off to a slow start -- just one home run in his first 30 games -- it looked like he'd have a bad year, at least in the power department. Instead, here he is: Hitting in the .280s like he has the past four years and up to 24 home runs. In this day of carrying just 12 or 13 position players on a roster, having a guy who plays every day is more important than ever.
Jones isn't unappreciated; he has started the past two All-Star Games, for example. But I'm here to finally say I'm on board.
* * * *
At the age of 23 in 2007,
Nick Markakis
hit .300 with 23 home runs, 43 doubles and 112 RBIs. The next year, he hit .306/.406/.491 with 20 home runs, 48 doubles and 99 walks and led American League position players in WAR (he was rewarded with not even one 10th-place vote in the MVP voting). He was kind of the opposite of Jones: A player statheads loved with all those walks, that doubles power, the cannon arm and the good defense in right field.
[+] Enlarge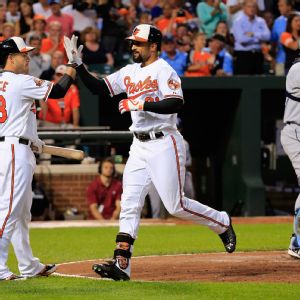 Rob Carr/Getty ImagesNick Markakis may not be a prototypical speedy leadoff man, but he provides the Orioles with plenty of value.
He was just 24, and everyone wondered how good he'd be if he ramped up that home run output just a bit.
Then a funny thing happened. In 2009, tight as Markakis was entering what should have been his peak years, the game started changing: Offense declined across the league and pitchers began dominating, and as Markakis failed to replicate those numbers from his early seasons, he began to be viewed as a disappointment. Where was the power? Where were the 100-RBI seasons? He was no longer underrated but forgotten.
But here's the thing: He has remained a good player, an above-average offensive performer other than in 2013. He still has a strong arm (he leads the AL in assists from right field), and while he no longer fits the conventional mold of a 25- or 30-homer right fielder, he has provided the Orioles good production from the leadoff spot with a .348 OBP and his 12th home run Monday.
A lot of teams might have given up on Markakis at some point and traded him for some pimply-faced kid in A-ball who throws 96, after viewing him through the lens of what they thought he'd be, as opposed to what he is.
Buck Showalter had some issues figuring out what Markakis had become as well. In 2012, he batted Markakis third the first part of the season, then moved him into the leadoff spot. He was having a solid season with a .293 average and .363 OBP when he got injured in September and missed the Orioles' postseason appearance. Despite that success in the leadoff spot, Markakis hit all over the place in 2013 -- he started in six different spots in the lineup. This year, like Jones, he has played every game while starting in the leadoff spot.
Like Jones, that durability is a hidden asset. Other than in 2012, Markakis has been out there almost day, having played 160-plus games in five of his other six full seasons and 157 in the other. Think of all the time lost to injuries this season by star players across the league and remember that durability is as much a skill as hitting, running or throwing. The Orioles have two guys they know they can count on every game.
So maybe Markakis didn't develop into a superstar hitter. You can debate why -- the pitching, decreased bat speed, something else -- but appreciate him for what he is: A solid player on a division-leading team. The Orioles have a $17.5 million team option for him next year; that might seem a lot for a guy who has never made an All-Star team, but you know what? I'd pick it up.
May, 29, 2014
5/29/14
3:36
PM ET
September, 9, 2012
9/09/12
10:40
PM ET
Somehow, it seems the American League playoff race got even crazier over the weekend. Let's recap with winners and losers.
Winner: Tampa Bay Rays' pitching staff
The Rays completed a vital six-game homestand against the Yankees and Rangers by taking two of three from each team. Against the Rangers, the Rays held the majors' highest-scoring offense to five runs in 30 innings and a .141 average over three games.
James Shields
threw the two-hit shutout gem in Sunday's
6-0 victory
, walking nobody and striking out eight. When Shields is on, he can be as tough as any pitcher in the game. His outing works out to a Game Score of 91, just the 16th start of 2012 of 90-plus, and Shields owns two of those 16 starts.
"Obviously, September baseball is huge, and getting any kind of win is big,"
Shields told MLB.com
. "But against that lineup, as far as I'm concerned, that's the best hitting lineup in the big leagues, one through nine. Not to mention they have a lot of guys on the bench who can swing it, too. That's a good hitting team over there. They can do some damage any time."
Winner: B.J. Upton
[+] Enlarge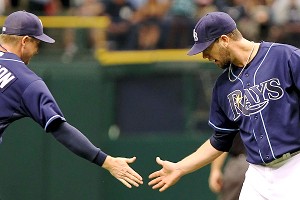 Kim Klement/US PresswireJames Shields and the Tampa Bay Rays are now just two games back from the AL East lead.
After hitting .194 with one home in June, Upton has been a key to the Rays' second-half playoff surge and delivered the third three-homer game in Rays history on Sunday, hitting solo shots off
Roy Oswalt
in the first inning and
Martin Perez
in the fourth and sixth innings. Since the All-Star break, he's hitting .266 with 14 home runs, 12 doubles, 14 steals and 37 RBIs in 53 games. While Joe Maddon would undoubtedly like to see Upton's on-base percentage to be higher than .308, he and
Desmond Jennings
(who had the day off on Sunday) are starting to click a little better as a 1-2 punch at the top of the order, combining for 70 runs in the second half.
The Rays did receive a scare when
David Price
missed Saturday's start because of shoulder stiffness, but he's expected to throw a bullpen session on Tuesday and start Friday or Saturday against the Yankees. Rookie
Chris Archer
replaced Price and looked awesome, striking out 11 and allowing two runs in seven innings, flashing a 97-mph fastball and deadly slider. He had some command issues at times at Triple-A, but in three major league starts he has 25 strikeouts and four walks.
"We're just trying to keep that momentum going, trying to feed off of each other," Shields said. "It was nice to give that bullpen a little breather today after a couple of extra-inning games. This is what we're here to do -- pitch well and win ballgames."
The Rays remain one game behind Baltimore and Oakland in the wild-card race and two games behind the Yankees in the AL East. All games are big this time of year, but the Rays have six huge ones this week: three at Baltimore and three at New York.
Winner: Los Angeles Angels
We'd been waiting all season for the Angels to kick it into an extra gear, but other than an eight-game winning streak in late May, the Angels had mostly plodded along at .500. But a perfect 6-0 week against the A's and Tigers (making the Angels 11-1 over the past 12) propelled the Angels right back into the wild-card race, where they are tied with the Rays, one game out.
The Angels haven't allowed more than three runs in a game since in their past 11 games, posting a 1.65 ERA and allowing just 71 hits in 98 innings. The weekend's big win came in Saturday's 6-1 over
Justin Verlander
--
Mike Trout
homered to lead off the bottom of the first -- and
Zack Greinke
delivered his fourth straight strong start in Sunday's
3-2 victory
. Trout homered again in the first. Did we mention that he also robbed
Prince Fielder
of a home run to end Saturday's game, his fourth robbery of the season?
Loser: Detroit Tigers
Getting swept by the Angels essentially wipes out Detroit from the wild-card race. The Tigers are only 4.5 out, but four teams are ahead of them, meaning they'd have to pass three, an unlikely scenario. It's looking like the AL Central title will be Detroit's only path to the postseason.
Loser: Chicago White Sox
A 3-3 week at home against the Twins and Royals is not the way to go about winning a division title. The White Sox are 4-9 over their past 13 games but still hold a 2-game lead over Detroit. It's still Chicago's division to lose, but maybe not for long: They host the Tigers for four games beginning Monday. Pay attention to Thursday's marquee matchup: Verlander versus
Chris Sale
. The Sox appear to be straggling to the finish line, but if they can win three out of four, they may be able to put away the Tigers.
Winner: Oakland A's rookie pitchers
[+] Enlarge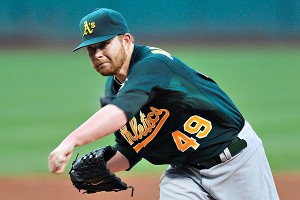 David Richard/US PresswireBrett Anderson has been a boost to Oakland's rotation after coming off the disabled list.
After getting swept by the Angels earlier in the week (and outscored 21 to 5), you heard the whispers: This is the beginning of the end for the miracle A's. Instead, the A's went into Seattle and swept the Mariners. Rookie
A.J. Griffin
beat
Felix Hernandez
on Friday and rookie
Tommy Milone
won on Sunday. In between,
Brett Anderson
pitched his fourth straight gem since coming off the disabled list. He has allowed three runs in four starts and while the A's have relied on rookies all season, Anderson is stepping up as an ace, a late-season addition better than any trade acquisition. Don't give up on the A's but they have another test against the Angels: Four games in Anaheim, with rookies
Jarrod Parker
,
Dan Straily
and Griffin starting the first three games.
Loser: Jerry Meals
With runners at first and third and the Orioles leading the Yankees 5-4 on Saturday,
Mark Teixeira
grounded into a 4-6-3 double play, although replays showed he beat the throw with a head-first slide. Meals -- you may remember him from last year's Braves-Pirates game -- called him out. "It was not a bang-bang play. He was safe. He was clearly safe," Yankees manager Joe Girardi said. "You hate to lose a game that way, but he missed it." Catcher
Russell Martin
added, "I didn't really feel like we lost the game. I feel like we got cheated out of it."
To make matters worse, it was Teixeira's first game back since injuring his calf on Aug. 27 and he reinjured it on the play and sat out Sunday's game.
Loser: Nick Swisher
While the Yankees did pound the Orioles 13-3 on Sunday to salvage a split of the four-game series and maintain their one-game lead over Baltimore, Swisher went 0-for-4 and is in a 2-for-43 slump. The good news for the Yankees:
Curtis Granderson
, mired in his own 5-for-43 slump, came off the bench on Sunday and hit a pinch-hit home run followed by a two-run single and two-run double.
Loser: Orioles depth
Baltimore suffered a huge blow when right fielder and
Nick Markakis
broke his thumb when hit by
CC Sabathia
pitch on Saturday. He'll have surgery on Tuesday and may miss the rest of the regular season. Markakis had hit .335 with a .390 OBP since moved into the leadoff spot after the All-Star break. "September is not an option [for Markakis], so we've got to hopefully play good baseball and make October an option," O's skipper Buck Showalter said.
Winner: Baseball fans
With so many teams in it, nearly every game in the American League has playoff implications. Best yet: There remains hope for a seven-way tie with the Yankees, Orioles, Rays, White Sox, Tigers, A's and Angels. OK, so maybe the two AL Central teams are falling a bit of the pace, but that still leaves the other five teams separated by two games, with three playoff spots on the line.
Yes, it's getting good.
September, 4, 2012
9/04/12
11:51
PM ET
On July 18, the
New York Yankees
blanked the
Toronto Blue Jays
6-0 in a rain-shortened game.
Hiroki Kuroda
pitched the seven-inning shutout,
Mark Teixeira
homered and the Yankees ripped 12 hits off
Ricky Romero
. The Yankees were cruising, having won nine of 11 and 16 of 22 games, and were leading the American League East by 10 games, on pace for 95 wins.
The hated rivals up in Boston already were turning into a bad joke, barely a rival anymore after the Yankees had taken three of four a few days before. The upstart
Baltimore Orioles
had won that day but had lost 13 of their pevious 19, slowly drifting into their usual pathetic irrelevance. The
Tampa Bay Rays
? Hey, never discount them -- they'd made a big comeback in 2011, after all -- but this wasn't their year, the lineup wasn't any good and the rotation wasn't as dominant as expected.
Yes, the Yankees were going to cruise to another division title. Print the playoff tickets.
* * * *
Perhaps the most impressive aspect of the modern Yankees dynasty is their numbing consistency. Sixteen playoff appearances in 17 years. Twelve division titles. Twelve 95-win seasons in the past 15. Yes, they have more money than Zeus, but money is no guaranteed road to success.
Just look at their neighbors to the north, who are going to miss their third postseason in a row and have won just one division title in 16 years. Look at the
Philadelphia Phillies
, the team with the second-highest opening-day payroll. The Phillies had a nice run, five National League East titles in a row, but age and injuries caught up to them this season, and they're struggling to finish .500. The Angels will have spent more than $300 million the past two seasons and another $104 million in 2010, and might have no playoff appearances to show for that.
The Yankees have kept their dynasty going, defying age and bad luck. They did miss the playoffs in 2008, a season in which they won 89 games. Yes, that was the season they gave 20 starts to
Darrell Rasner
and 15 to
Sidney Ponson
. That offseason, they reloaded with Teixeira,
CC Sabathia
and
A.J. Burnett
, and then they won the World Series.
Still, this can't go on forever, can it?
* * * *
The
Yankees lost 5-2 to the Rays
on Tuesday as Tampa slugged three home runs off
Freddy Garcia
, and a lineup that featured
Raul Ibanez
,
Jayson Nix
,
Chris Dickerson
and
Chris Stewart
failed to do much against
Alex Cobb
. The
Orioles pounded the Blue Jays 12-0
on Tuesday as
Zach Britton
pitched seven scoreless innings and
Mark Reynolds
belted his fifth home run in five games.
The Orioles are now tied with the Yankees for first place.
"We're just having a good time and we're not putting pressure on ourselves," Reynolds said after the game. "Everybody knows the situation we're in but we're just taking it day by day and having fun."
Something tells me the Yankees aren't having a lot of fun right now.
Here's some data from Katie Sharp of ESPN Stats & Information:
Since July 19:
Yankees: 19-25, run differential of plus-3
Orioles: 29-15, run differential of plus-37
Rays: 28-16, run differential of plus-84
As Katie points out,
Nick Markakis
returned from an injury after the All-Star break and the Orioles' offense has been vastly improved since. The O's hit .240/.302/.402 (BA/OBP/SLG) in the first half and .253/.322/.423 in the second (entering Tuesday's game). Markakis' .343 average and .902 OPS in the second half rank fifth and 13th, respectively, among AL hitters (before he went 3-for-5 on Tuesday). In their past 11 games, Orioles starters have nine quality starts and a 2.22 ERA.
Why not Baltimore?
* * * *
If the Orioles and A's are this year's miracle teams, that means we now have to consider the Rays grizzled vets, even if their $64 million payroll is higher than that of just five other teams. The Rays were a miracle in 2008 and a mini-miracle in 2011. We are no longer surprised.
Since the All-Star break, the Rays have a 2.45 staff ERA, which would be the second-lowest second-half ERA by an AL team since the first All-Star Game in 1933 (the 1972 Angels had a 2.37 ERA).
Pitching, my friends, pitching. The Yankees are relying on Sabathia's elbow to hold up, and the retread Garcia, and the inconsistent
Phil Hughes
, all the while hoping 40-year-old
Andy Pettitte
will return to offer a lifeline.
The Yankees look old, mediocre and beaten up.
Why not Tampa Bay?
* * * *
From 10 games ahead to pure panic. Yankees fans
should
be worried. Right now, they're the third-best team in the AL East. They're even with the Orioles, and the Rays are 1.5 games back, with a chance to cut the deficit to a half-game with a win Wednesday.
Sure, injuries. Sure,
Alex Rodriguez
just returned and
Robinson Cano
didn't play Tuesday and Teixeira is out. But that's what happens when you get old. Ibanez is old.
Ichiro Suzuki
is old.
Andruw Jones
is old.
Curtis Granderson
isn't old but has morphed into Dave Kingman in the past couple of months, a guy who hits home runs and strikes out.
The Yankees are struggling. The Yankees are not going to win the AL East.
The playoffs? Hey, it's still the Yankees; you never want to count them out. They have four games left with Tampa Bay and a four-game series this weekend in Baltimore, but the rest of the schedule is soft other than one series with Oakland -- six games against the sinking Red Sox, seven against the banged-up Blue Jays, three against the Twins. Even if the Orioles and Rays rise past the Yankees, New York can make the wild card if it can hold off the Tigers/White Sox loser and the A's and Angels.
I want to say the Yankees won't make it, that they're too old, overpaid and overrated. People in baseball often talk about digging deep. It's just something they like to say.
But I'll say this: Get out your shovels, Yankees.
PHOTO OF THE DAY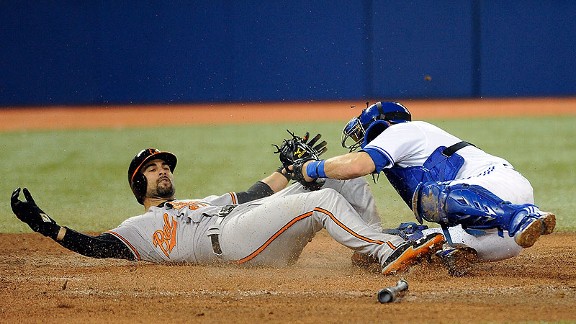 Brad White/Getty ImagesNick Markakis slips in the same way the Orioles tied for first: Stealthily and safely.
June, 30, 2012
6/30/12
9:29
PM ET
By
Christina Kahrl
| ESPN.com
Jim Thome
's right back where he needs to be, and if you're an Orioles fan, you might think
the trade that moves him down I-95
has come not a moment too soon. The Orioles really needed to do something to shore up their offense, and perhaps more than anything, they've needed to find an outfield bat or two. Averaging just 4.2 runs per game, they're ninth in the American League in offense, and a major part of the problem is the lack of good wood they've gotten from their left fielders (.642 collective OPS) and right fielders (.703).
The funny thing is that the Orioles' designated hitters weren't a problem, not in the aggregate, with a .787 OPS. Their in-season problem was that the absence of a reliable performer had helped suck
Chris Davis
out of the infield and into their DH mix. With their gaping holes in the outfield corners, they really do need something that would stick at DH, freeing manager Buck Showalter to reemploy Davis in the field and spare the club from reverting to the DH-du-jour non-answers Baltimore's weakly stocked bench provides.
Which brings me to the other major implication of this move -- what this deal does
not
mean: Thome isn't replacing
Wilson Betemit
or Davis in the lineup in a bit of incremental improvement. Instead, he's the answer to a crying need in Showalter's offense, which was the absence of a regular DH who could deliver on the hitting half of being designated to hit. The Orioles' current scoring clip is not going to get it done in the AL East, even with the expanded postseason.
But the market didn't really have much to offer as far as outfield thumpers, so general manager Dan Duquette did the next-best thing: He traded for a cheaply available bat in Thome, figuring that adding a bat lets Showalter reemploy the day-to-day rovers he's used to plug lineup holes all season to man one fewer position, and perhaps more precisely help fix the club's problems in the non-
Nick Markakis
outfield corner. Markakis is due back soon, so the Orioles are already going to have one outfield answer. Trading for Thome is going to help them fix the other corner.
Adding Thome to the roster helps because it frees up the bats the Orioles were using at DH to help fix the other slots in the lineup. Showalter has utilized Davis in particular as one of those rovers, and he'll no doubt continue to use Betemit as his infield Mr. Fix-It. With Thome in the fold, Davis might very well be the Orioles' left fielder of the immediate future, a patch they desperately need.
With Markakis looking like a lock to return from the disabled list after the All-Star break, the Orioles' lineup should be in significantly better shape shortly, with Markakis in right field, Davis in left and Thome at DH.
Where roster management is concerned, it's understandably fashionable in the age of the seven-man bullpen to laud the virtues of doing without an everyday DH, and to instead use the slot as a chance to spread at-bats around to the three non-catchers most AL teams get by with on their benches. There's a certain kind of wisdom to it when you have bench bats worth playing, but that was not this Orioles team, not when it's been picking from among the likes of infrequently healthy
Nick Johnson
, minor league veteran
Steve Pearce
, Rule 5 pick
Ryan Flaherty
or career fifth outfielder
Endy Chavez
. Or what might be more simply referred to as "bad choices."
The Orioles' getting away from their initial team-DH solution and instead placing their faith in one of the last few true designated mashers left is what both Thome and they deserve. Just as he can be an instrument of their second-half success, so too can Thome show off that he's still got plenty left in the tank.
Over the past two seasons, as a 40- and 41-year-old, Thome has hit .254/.357/.484 for the Twins, Indians and Phillies. This year, DHs around Major League Baseball have put together a .257/.331/.435 line -- which might not sound great, but it's a better line than what MLB teams are getting from their first basemen or left fielders. But Thome's been better still, despite the rust that started forming in his infrequent DH role until interleague play helped get him back in action.
The 27 innings that Thome played in the field for the Phillies were more than some thought he could handle, and it was more playing time with a fielding glove than he's put in since 2005. They might also be the last, because after the misery of less-than-part-time play, Thome may elect to never return to the National League. If he keeps hitting this way, he shouldn't need to.
PHOTO OF THE DAY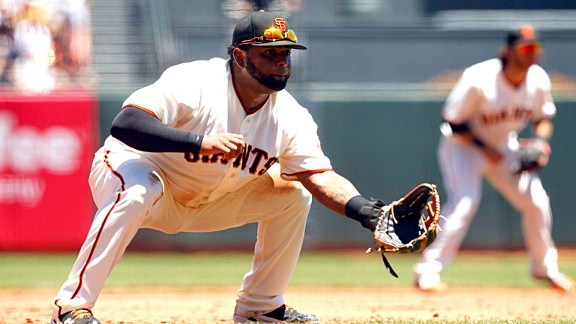 Cary Edmondson-US PresswireA Kung-Fu Panda has a natural advantage: A low center of gravity.
Christina Kahrl covers baseball for ESPN.com. You can follow her on Twitter.
June, 7, 2012
6/07/12
12:56
AM ET
"Show us some respect," yell Baltimore Orioles fans. Or maybe they're politely demanding. But I've seen the complaints in the Power Rankings comments, read the emails sent to "Baseball Today," been asked the question in my chats: Why doesn't anyone believe in the Orioles?
The Orioles traveled to Fenway Park this week in a precarious situation. They've lost two of three in Tampa. They've been swept in Toronto. They've lost two of three at home to Kansas City. They've lost two of three at home to Boston. They haven't won a series since the big weekend showdown in Washington from May 18-20.
So, yes, the concerns all of us "experts" had been raising -- it's a long season, let's see what happens to the rotation, let's find out if some of the hitters can keep up their hot starts, the bullpen can't keep its ERA under 2.00 all season -- were proving true. The O's were 27-14 after winning the second against the Nationals but had gone 3-10 since, with the staff posting a 4.95 ERA while the offense scored 3.5 runs per game.
These were the Orioles we all expected. And then they beat the Red Sox in extra innings on Tuesday. And then they
beat the Red Sox 2-1
on Wednesday behind a solid effort from
Wei-Yin Chen
and scoreless innings from
Pedro Strop
and
Jim Johnson
. They're 5-0 at Fenway in 2012 and Chen is now 5-2 with a 3.49 ERA. The key moments came in the seventh inning after the Red Sox threatened with a pair of singles to start the frame. But after a sacrifice bunt, Chen struck out
Marlon Byrd
and induced
Mike Aviles
to pop out to first base.
Normally, Buck Showalter might have turned to his stellar bullpen, but after Tuesday's victory, in which the bullpen threw five innings, he left Chen to escape the jam. He set up Byrd with three fastballs and then got him swinging on a beautiful changeup. He threw three more fastballs to Aviles that he couldn't get around on. Don't underestimate Chen. His stuff plays up big, with his four-seamer reaching 94 mph. His last pitch to Aviles was clocked at 93. In 11 starts, he allowed two or fewer runs seven times and I think this outing will give Showalter more confidence to stretch Chen a little deeper into games.
So the Orioles remain in first place for another day, half a game ahead of the Yankees. Is it time to show them a little respect, to give Orioles fans what they crave? Let's do some position-by-position rankings to help sort out this tightly packed division. Rankings are simply listed in order of who I would want the rest of the season.
(Season-to-date Wins Above Replacement from Baseball-Reference.com, before Wednesday's games, listed in parenthesis.)
Catcher
1.
Matt Wieters
, Orioles (1.6 WAR)
2.
Jarrod Saltalamacchia
/
Kelly Shoppach
, Red Sox (1.6)
3.
Russell Martin
, Yankees (0.7)
4.
J.P. Arencibia
, Blue Jays (0.2)
5.
Jose Molina
, Rays (0.1)
There is a case to be made that Boston's duo is more valuable since they've combined for 14 home runs and an OPS over .900. But Wieters brings elite defensive skills and I also don't believe Salty is going to slug .583 all season. For the second consecutive season, the Rays are essentially punting offense at catcher. Rays catchers have the worst OPS in the majors.
First base
1.
Adrian Gonzalez
, Red Sox (0.8)
2.
Mark Teixeira
, Yankees (0.6)
3.
Mark Reynolds
, Orioles (-0.6)
4.
Carlos Pena
, Rays (0.4)
5.
David Cooper
/others, Blue Jays (incomplete)
Gonzalez is still struggling to get his stroke going, but he's the best of a weak group. Yes, I just called Mark Teixeira weak, but at this point he's a low-average guy who pops a few long balls, doesn't draw as many walks as he once did and isn't as great on defense as Yankee fans believe. But in this group that's good enough to rank second. Reynolds has a low WAR but he's missed time and that includes his bad defense at third base, a position we've hopefully seen the last of him playing. The Jays, meanwhile, need to quit fooling around at first base and find a legitimate hitter, or move
Edwin Encarnacion
there and find a designated hitter. You hate to waste a potential playoff season because you can't find a first baseman who can hit. (No, David Cooper is not the answer, although he's hit well so far in 11 games.)
Second base
1.
Robinson Cano
, Yankees (2.1)
2.
Dustin Pedroia
, Red Sox (1.8)
3.
Kelly Johnson
, Blue Jays (2.1)
4.
Ben Zobrist
, Rays (0.7)
5.
Robert Andino
, Orioles (0.6)
I love Ben Zobrist almost as much as two scoops of Vanilla Heath Bar Crunch from Ben & Jerry's, but a .199 average isn't going to cut it in this group, even if you are on pace to draw 100-plus walks. Zobrist has actually play more right field so far, but should be back at second on a regular basis with
Desmond Jennings
back.
Third base
1.
Evan Longoria
, Rays (1.4)
2.
Brett Lawrie
, Blue Jays (3.1)
3.
Alex Rodriguez
, Yankees (1.2)
4.
Kevin Youkilis
/
Will Middlebrooks
, Red Sox (0.5)
5.
Wilson Betemit
/
Steve Tolleson
, Orioles (-0.1)
Lawrie's WAR is boosted by defensive metrics that treat him like he's the second coming of Brooks Robinson. He's a good player but don't I think he's been the second-best position player in the American League. Longoria hopes to
return at the end of the Rays' current road trip
. As for A-Rod, his health is always a question at this stage of his career, but Youkilis has health questions and I'm not a believer in Middlebrooks' ability to hit .321 with power all season. His 29/4 strikeout/walk ratio is something pitchers should learn to exploit. As for the Orioles ... third base is an obvious concern. But don't expect a rare intra-division trade to acquire Youkilis.
Shortstop
1.
J.J. Hardy
, Orioles (2.1)
2. Mike Aviles, Red Sox (2.2)
3.
Derek Jeter
, Yankees (0.9)
4.
Yunel Escobar
, Blue Jays (1.9)
5.
Sean Rodriguez
, Rays (1.9)
Wait ... Jeter has been the
least
valuable of this group so far? The other four all rate as excellent fielders -- in fact, Baseball-Reference rates them all in the top 13 fielders in the AL. Jeter, meanwhile, ranks 310th in the AL on defense -- out of 313 players.
Left field
1. Desmond Jennings, Rays (1.2)
2.
Daniel Nava
/
Carl Crawford
, Red Sox (1.7)
3.
Brett Gardner
/
Raul Ibanez
, Yankees (0.3)
4.
Eric Thames
/
Rajai Davis
, Blue Jays (-0.1)
5.
Endy Chavez
/
Xavier Avery
/
Nolan Reimold
, Orioles (-0.3)
Not to keep picking on the Orioles, but this is another problem position, especially if Reimold's disc problems lingers all season. Nava has quietly been a huge savior for the Red Sox, batting .305 with a .438 OBP. He's drawing walks at a crazy rate. He should slide some but he's provided the kind of depth the Orioles don't have.
Center field
1.
Adam Jones
, Orioles (2.5)
2.
Curtis Granderson
, Yankees (1.3)
3.
B.J. Upton
Rays (0.9)
4.
Jacoby Ellsbury
/
Scott Podsednik
/Marlon Byrd, Red Sox (0.5)
5.
Colby Rasmus
, Blue Jays (1.3)
Ellsbury might be the biggest wild card in this race, because the Red Sox can't survive much longer with the Podsednik/Byrd platoon. When will he return? How will he hit? He just started throwing and could
return by the end of the month
. I've conservatively put him fourth, which seems fair considering the unknown. And please note, Orioles fans, that I believe in Mr. Jones.
Right field
1.
Jose Bautista
, Blue Jays (0.9)
2.
Matt Joyce
, Rays (2.2)
3.
Nick Swisher
, Yankees (-0.1)
4.
Cody Ross
/
Ryan Sweeney
, Red Sox (1.6)
5.
Nick Markakis
/others, Orioles (0.3)
Markakis is out three to four weeks with a broken bone in his wrist, an injury that once again reflects Baltimore's lack of depth. But all five teams are solid in right field. Ross is about to return from his broken foot; we'll see if he pounds the ball like he was before the injury (.534 slugging).
Designated hitter
1.
David Ortiz
, Red Sox (1.4)
2. Edwin Encarnacion, Blue Jays (1.6)
3. Revolving Door, Yankees
4.
Chris Davis
, Orioles (0.3)
5.
Luke Scott
, Rays (0.0)
No respect for Davis? OK, he's hitting .295/.333/.494. And he has 53 strikeouts and eight walks. Sorry, call me skeptical, O's fans. Yankee designated hitters have actually fared well, hitting a combined .279/.354/.467 with 10 home runs.
No. 1 starter
1.
David Price
, Rays (2.2)
2.
CC Sabathia
, Yankees (1.9)
3.
Ricky Romero
, Blue Jays (0.3)
4.
Josh Beckett
, Red Sox (0.5)
5.
Jason Hammel
, Orioles (1.9)
Look, Hammel has been terrific so far thanks to a career-high strikeout rate
and
a career-high ground-ball rate. But this is tough group and the question is who is going to be best moving forward? My biggest concern is that Hammel has never pitched 180 innings in a season. Can he pitched the 210 to 220 that you need from a No. 1?
No. 2 starter
1.
Brandon Morrow
, Blue Jays (1.1)
2.
James Shields
, Rays (-0.4)
3.
Andy Pettitte
, Yankees (1.5)
4. Wei-Yin Chen, Orioles (0.7)
5.
Jon Lester
, Red Sox (-0.4)
I like Chen. Heck, right now I like him better than Jon Lester, which tells you how much I like him. But he averaged just 172 innings in Japan over the past three seasons. Can he hold up over 32 starts?
No. 3 starter
1.
Jeremy Hellickson
, Rays (1.0)
2.
Hiroki Kuroda
, Yankees (1.4)
3.
Felix Doubront
, Red Sox (0.4)
4.
Brian Matusz
, Orioles (0.2)
5.
Henderson Alvarez
, Blue Jays (0.4)
Matusz is holding his own at 5-5, 4.41, but he's still walking a few too many, allowing a few too many hits, a few too many home runs. The velocity is solid, averaging 91 on his fastball. We're talking minor upgrades needed in his command, getting the ball down in the zone more often to get more groundballs. If the Orioles are to have any chance, Matusz's improvement may be the single most important aspect.
No. 4 starter
1.
Matt Moore
, Rays (-0.6)
2.
Ivan Nova
, Yankees (0.3)
3.
Jake Arrieta
, Orioles (-0.4)
4.
Clay Buchholz
, Red Sox (-1.2)
5.
Kyle Drabek
, Blue Jays (-0.1)
Five pitchers who have struggled, but Arrieta's peripheral numbers are actually pretty solid. Like Matusz, there is hope for improvement. On the other hand, he's been awful since pitching eight scoreless innings against the Yankees on May 2, giving up 29 runs in 31.2 innings. His BABIP was .243 through May 2; it's .361 since. The truth is probably right in the middle, leaving Arrieta third on our list of fourth starters.
No. 5 starter
1.
Alex Cobb
/
Jeff Niemann
, Rays (0.3)
2.
Drew Hutchison
, Blue Jays (0.1)
3.
Phil Hughes
, Yankees (0.2)
4.
Daisuke Matsuzaka
/
Aaron Cook
/
Daniel Bard
, Red Sox (-0.3)
5.
Tommy Hunter
, Orioles (-0.5)
Hunter isn't really a major league starter, but I'm not sure
Jamie Moyer
-- just signed to a minor league contract -- is exactly a solution. The Orioles need to upgrade here.
Bullpen
1. Yankees (2.76 ERA)
2. Orioles (2.48 ERA)
3. Red Sox (3.66 ERA)
4. Rays (3.43 ERA)
5. Blue Jays (4.39 ERA)
If you watched Pedro Strop and Jim Johnson close out Wednesday's win, you'll realize the back of the Orioles' end has two guys with filthy stuff.
Darren O'Day
and
Luis Ayala
are strike-throwing machines and
Troy Patton
is a lefty who isn't a LOOGY. It's a good pen and it's deep. But the reliability of the pen ties into the rotation's inability to pitch deep into games -- Orioles relievers have already thrown 39 more innings than Yankees relievers, for example.
OK, let's add it up … one point for ranking first, five points for ranking fifth. Hey, this isn't meant to be scientific, so don't overanalyze this too much. The totals:
Yankees: 36 points
Rays: 40 points
Red Sox: 45 points
Blue Jays: 51 points
Orioles: 53 points
Not the respect Orioles fans are seeking. Sorry about that; it's nothing personal. Look, I don't think the Orioles are going to fade away anytime soon. I worry about the rotation's ability to hold up all summer and the bullpen's workload. They lack depth on offense and have a couple of obvious holes. Hey, you never know, and the Orioles are certainly due for a winning season. I would love to see it happen.
PHOTO OF THE DAY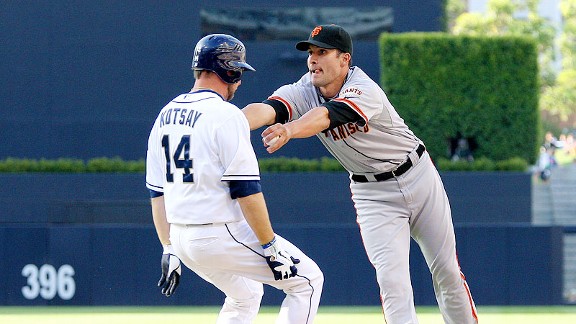 Jake Roth/US PresswireJavier Lopez is sending a message to Mark Kotsay: Tag, you're out!
May, 13, 2012
5/13/12
12:39
AM ET
By
Christina Kahrl
| ESPN.com
What do we know? Let's face it, six weeks ago, if you'd said that
Brian Matusz
would outpitch the Rays'
Matt Moore
for an
Orioles win
, you might chalk it up to one of those things, lightning in a bottle, a random outcome, the baseball gods acting in all of their capriciousness. Or you might be willing to read into it a transient lesson, that sometimes expectations get the best of all of us, because where Moore is now, with a 5.31 ERA (and allowing 6.2 runs per 9), Matusz has been in an even deeper hole.
Maybe you'd take this one ballgame as a necessary curb to the perhaps-exaggerated enthusiasm for Moore before the season. Not to knock the young power lefty's upside and long-term future with the Rays, but let's remember that
Clayton Kershaw
didn't become Clayton Kershaw overnight. Heck, Sandy Koufax didn't become Sandy Koufax overnight. The hysteria that gets associated with whatever is new and exciting, the desire to see today's prospect become tomorrow's star can lead you to too-soon enthusiasm for a top prospect. Any top prospect.
Which is why it's worth remembering that Brian Matusz has been here. Little more than a year ago, Matusz was considered a top pitching prospect, not just in the Orioles organization, but anywhere, in baseball, on the planet. Heck, the entire baseball-related universe. After a nice season-ending spin in 2009 to make his debut (5-2, 4.63 ERA and 7.7 K/9), Baseball America rated him the fifth-best prospect in baseball,
period
. After a solid first full season in 2010 (4.30 ERA with 7.3 K/9), the former fourth overall pick of the 2008 draft looked like he would be a key contributor to any impending baseball renaissance in Baltimore.
In the virtual world, Moore topped that this past winter by being the No. 2 prospect in all of baseball, per Baseball America. But Matusz's tale of intervening woe should provide an important cautionary note about getting too wrapped up in any young pitching prospect. In 2011, Matusz got lit up, posting a 10.69 ERA.
During and after Matusz's 2011 implosion, the explanations offered up as his potential became so much street pizza were legion: Maybe it was because he wasn't throwing enough sinkers, maybe because his changeup flattened out and maybe it was because his work ethic wasn't perfect. After all, these days a little dose of PitchF/X analysis can make everybody an expert in what you oughta do. And maybe it was easy to get down as a young guy on a bad Baltimore ballclub -- say what you will about talent always shining through, but as Kevin Goldstein always likes to say, players aren't Strat cards. The Orioles have been D.O.A. on so many Opening Days that you can understand how anybody banished to Baltimore by the Rule IV draft might mull the point of it all.
This year, Matusz is better, but far from good: A WHIP of 1.7 to 1.8 reflects a guy who's getting hit, and the batting average on balls in play that he's allowing (.349 before Saturday's start) reiterates that bit of obviousness. You can't just say that "regression" is going to bring that down -- the Orioles' defense rates as one of the best in baseball. This year's strikeout rate of 6.2 K/9 may sound nice, but it's headed in the wrong direction as strikeout rates keep getting higher every year, which is why he's below average at fooling some of the people some of the time, for his career as well as this year.
Which goes a long way toward saying that Matt Moore's latest loss is a great reminder that it's a rare top prospect who becomes truly great overnight. Good as he might be, whoever he may be, perhaps nobody out on the mound is as good as you wishcast for him. As Tom Hanks' fictional Jimmy Dugan exclaimed in
A League of Their Own
, "It's supposed to be hard! If it wasn't hard, everyone would do it. The hard is what makes it great."
Moore had his moment in the sun last October, beating the Rangers in the American League Division Series, and there's nothing you should knock about that -- it was a great game pitched by a tremendous young talent. But it's worth remembering that Bob Wolcott had that sort of introduction to baseball when he was a rookie, spinning a win for the Mariners in the 1995 American League Championship Series against the Indians with fewer than 40 big-league innings to his credit. When you're good enough to get the opportunity, you're good enough to do something magical, something people will remember you by.
Going up against Moore, Saturday night belonged to Matusz, as far as that goes, and his importance to the Orioles going forward, even as their fourth or fifth starter du jour, reflects how tentative and potential-laden are their possibilities if the AL East no longer belongs to the Yankees or Red Sox, or even the Rays. If Matusz lives up to the billing that was once automatically his, he'll join
Adam Jones
and
Matt Wieters
and
Chris Davis
and
Nick Markakis
in the ranks of young Orioles who are finally living up to the expectations that we -- meaning you and me, and not just prospect mavens and experts -- larded up on top of the difficulties that every player has to deal with when it comes to breaking through. If Matusz breaks through now, at the same time as so many other young O's, it'll be a bit of redemption for a prospect many folks may have forgotten deserved it. Points to him for providing the reminder.
PHOTO OF THE DAY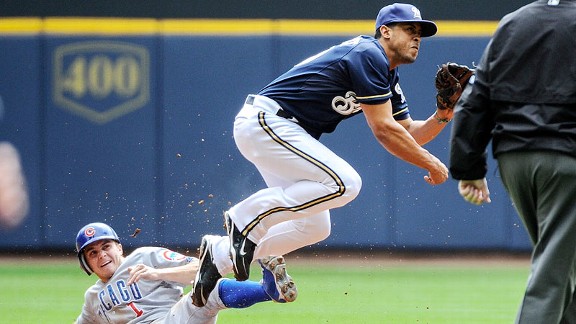 Benny Sieu/US PresswireTony Campana takes a tumble as Cesar Izturis fires to first to turn the deuce.
Christina Kahrl covers baseball for ESPN.com. You can follow her on Twitter.
February, 2, 2012
2/02/12
8:15
AM ET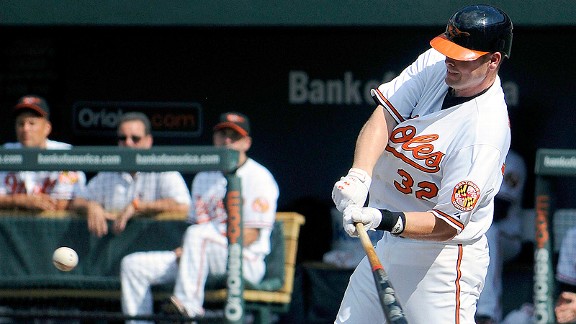 Jor R. Absalon/US PresswireMatt Wieters made his first All-Star appearance in 2011. Now, about the rest of the O's ...
Back in 1997, the
Baltimore Orioles
made the playoffs for the second straight season, winning 98 games and the AL East title. They led the American League in attendance and outdrew the Yankees -- who were coming off their first World Series title since 1978 -- by more than 1.1 million fans.
It was an old team. But they re-signed
Brady Anderson
and
Harold Baines
as free agents. They signed Joe Carter and Doug Drabek. The '98 Orioles had the highest payroll in the majors, the last team before the Yankees to hold that honor. Every regular in the starting nine was 30 or older. Predictably, things fell apart. Anderson hit .236. Carter was awful.
Cal Ripken
was old. Drabek went 6-11 with a 7.29 ERA. The Orioles plunged to 79-83, the farm system was essentially in shambles and they haven't been over .500 since.
In recent seasons, the Orioles were finally starting to develop some young players.
Nick Markakis
reached the majors in 2006 and hit .291 as a rookie. The next season, he hit .300 with 23 home runs and 112 RBIs as a 23-year-old. Before the 2008 season, the Orioles acquired center fielder
Adam Jones
and pitching prospect
Chris Tillman
from the Mariners for
Erik Bedard
. Meanwhile, that summer 2007 No. 1 pick
Matt Wieters
was tearing up the minors, hitting .355 with power and walks. In June,
Brian Matusz
was the fourth overall selection in the draft. He'd reach the majors a year later.
That was going to be the foundation: Markakis, Jones, Wieters, Tillman and Matusz. Throw in veterans like
Brian Roberts
and
Jeremy Guthrie
and the Orioles looked strong up the middle with a potentially solid rotation. Instead, the team has now lost 90-plus games six seasons in a row. Managers have come and gone. Attendance ranked 11th in the AL in 2011. New general manager Dan Duquette must rebuild in a lethal AL East.
But does he even have core to build around? Let's take a quick look at those five guys.
Nick Markakis:
After his strong age-23 showing, he looked like a future star. His OPS+ was 121. Since 1980, other age-23 outfielders who posted an OPS+ in the range of 115 to 130 include Tim Raines,
Rickey Henderson
, Harold Baines,
Rafael Palmeiro
,
Andruw Jones
and
Carl Crawford
, to name a few. But Markakis didn't improve much. In 2009, his walk rate plummeted from 14.2 percent to 7.9 percent. One blog did a
five-part series
trying to analyze what happened. In 2011, at age 27, often a player's peak season, Markakis slugged a career-low .406. In January, he underwent surgery to repair abdominal muscles. He's still a good player who never misses a game; he just didn't turn into that 30-homer, 100-walk monster to anchor a lineup.
Matt Wieters:
After tearing up the minors, Wieters was everyone's No. 1 prospect for 2009, a cross between Johnny Bench and
Joe Mauer
. Wieters
has
developed into one of the better catchers in the game and at 26 may yet improve with the bat. But based on his .262/.328/.450 line of 2011, Wieters appears to be more of a complementary hitter on a playoff team (albeit very valuable production for a catcher).
Chris Tillman:
A tall, projectable Class A pitcher when the Orioles acquired him, he shot onto the prospect radar after a strong showing in Double-A in 2008 (154 strikeouts in 135.2 innings). But it hasn't clicked at the major league level (5.58 ERA in 36 starts). He's not 24 until April and still on the 40-man roster, but running out of chances.
Brian Matusz:
He looked like a rotation after a strong rookie season in 2010 that included a 2.18 ERA over his final 11 starts. He had a nightmarish season in 2011, so awful I don't even want to print the numbers for fear of giving you night sweats. He had a strained intercostal muscle in spring training and his velocity was down after returning. Maybe it was the injury, maybe it was an odd mental block.
Roy Halladay
had such a season early in his career and turned out pretty good. But we have no idea what to expect from Matusz moving forward.
Adam Jones:
In his
ESPN Insider piece

comparing Yoenis Cespedes to other young center fielders, Kevin Goldstein wrote, "Jones' 2011 campaign generated considerable buzz in the industry. 'He's just starting to take steps forward,' said an American League scout.'" Really? He posted a .785 OPS; in 2009, he posted a .792 OPS. His walk rate was 4.5 percent as a rookie in 2008; it was 4.7 percent last year. His extra-base hit percentage was basically the same as its always been. Defensively, he rates from subjective "highlight-reel spectacular" to more objective "the defensive metrics don't think he's all that." I'm not a scout, but statistically, he's been the same player for three years. Regardless, here's the bottom line: A guy with a .319 on-base percentage cannot be the centerpiece of your lineup.
So where does all leave this Duquette?
Maybe I've been a little cruel to the guys above; don't get me wrong, there are a lot of positives in that group. I just don't think Wieters, Jones and Markakis are going to be the three best players on Baltimore's next playoff team. Jones, in particular, is a risky bet: He has two years left until free agency, so Duquette will have to make a decision on signing him to a long-term contract. (
Read more about Jones' future here
from Camden Depot's Jon Shepherd.) The Orioles aren't saddled with too many bad contracts, so that's another positive: Markakis is signed through 2014 for $43 million -- not a bargain but not a team-killer; Roberts still has two years at $10 million per year; shortstop
J.J. Hardy
is signed for three more years at a reasonable $7.4 million per season.
While Duquette will place a bigger emphasis on international scouting (where the Orioles have lagged behind for years), they do have two prime prospects already in pitcher Dylan Bundy and shortstop Manny Machado, two of the top 10 or 15 prospects in baseball. I suspect that on the next Orioles playoff team those two will have to be the best players. A top three of Bundy, Machado and Wieters with second-line players like Markakis, Jones, Matusz and
Zach Britton
is a good starting point.
Now Duquette just has to figure out the rest.
June, 23, 2011
6/23/11
3:05
PM ET
On Thursday's
Baseball Today podcast

, Keith Law explains his problems with North Carolina barbeque. But there is plenty of excellent baseball talk as well, including:
1. How good is
Chris Heisey
and should Dusty Baker be playing him every day? Plus, the moves the Reds should be looking to make.
2.
Shaun Marcum
leaves another start early... and other issues with the Brewers.
3.
Is Bryce Harper's strikeout a problem
?
4. Are the Orioles underachieving? Some talk about the O's and the disappointing years from
Matt Wieters
and
Nick Markakis
.
5. Should the Mariners be careful with how many innings they give
Michael Pineda
?
Plus: Emails,
Ricky Romero
, College World Series talk and more! Check it all our podcasts at the
Baseball Today podcast page
.
May, 27, 2011
5/27/11
1:59
PM ET
Here are five reasons to listen to Friday's packed -- and I mean
packed
--
Baseball Today podcast

with myself and partner in statistical crime Mark Simon:
1. Mark interviews former pitcher/idol
David Cone
, who not only played baseball at a high level, but understands the game better now than one might think: He's a fan of the new stats like WAR.
2. More on the unfortunate
Buster Posey
injury, focusing on the good
Brandon Belt
can bring to the champs, more debate on what catchers go through and Mark compares backstops to a football position.
3. Do you have Baseball ESP? No, not ESPN, but ESP? Do you call out what the next hitter will do before it happens? We do!
4. Mark tells the story of something Rocky Colavito did when he wasn't smacking home runs at the plate, and its significance in the wake of Wilson Valdez's feat.
5. Memorial Day weekend starts off the summer, but when it ends it's time to take a closer look at the standings. We explain while discussing the most critical matchups of the weekend.
Plus: Excellent emails, extra innings in the minor leagues, how
R.A. Dickey
can blame his injury on
Daniel Murphy
,
Micah Owings
comes up big, a
Nick Markakis
record that might not be a record, the most letters from pitcher to hitter in one at-bat, who is Harry Danning and why I will never forget Steve Jeltz. Have a safe, healthy and happy Memorial Day weekend, and we'll be back talking baseball on Tuesday!
April, 3, 2011
4/03/11
12:56
AM ET
The day began with bad news for the Orioles, as
Brian Matusz
was officially placed on the disabled list with a strained intercostal muscle and could miss three-to-six weeks.
It shifted to optimism as the club announced that prized left-hander
Zach Britton
would be called up from Triple-A to make his major league debut on Sunday.
It ended in joy, as former prized prospect
Chris Tillman
pitched six no-hit innings and
Nick Markakis
made a spectacular game-saving catch to preserve a 3-1 victory over Tampa Bay.
The Orioles haven't finished above .500 since 1997, and unlike the Pirates and Royals, haven't been able to use financial impoverishment as a complete excuse, as they mostly drafted poorly and invested unwisely. The years of losing sapped the baseball energy in Baltimore, as attendance at once-packed Camden Yards declined from leading the American League four consecutive years in the '90s to ranking 10th in the league in 2010.
There is a good chance that will climb this season. The team went 34-23 after Buck Showalter took over last season, with the improvement coming in two areas: the team played better defense and the pitchers threw more strikes.
That mandate was on display Saturday night. Markakis made two superb plays in right field, including the final out when he ranged back to the wall and robbed
Ben Zobrist
of a potential game-tying double. Earlier, left fielder
Felix Pie
(in the game only because
Luke Scott
had strained a groin in the top of the inning) threw a strike to home to nail the speedy
B.J. Upton
in the seventh to keep the game tied 0-0.
But the big story was Tillman, a tall right-hander who originally came from Seattle in the
Erik Bedard
trade. He's been a strike-thrower in the minors, but in 23 career major league starts has been tentative, nibbling at the corners like many young pitchers, an approach that has led to 4.2 walks per nine innings, include 5.2 last season.
He was ticketed for more time in Triple-A, but a hip injury to
Justin Duchscherer
opened a rotation slot and then he was pushed up a day in place of Matusz. Against a Tampa lineup known for working the count and taking walks (the Rays led the AL in 2010), Tillman did issue three free passes in six innings, pushing his pitch count to 101 and an early dismissal, but challenged hitters more than I've seen him in the past. I'm hesitant to read too much into this outing, as only four of his 13 in-play outs were ground balls. Still, you never know when an outing look this can be the confidence-builder a young pitcher needs.
On Sunday, Britton starts. He's a lefty with a power sinker/slider combo who generated a lot of ground balls and ranked No. 11 on
Keith Law's top 100 prospects list
. He was the team's best pitcher in spring training and the only reason he didn't make the squad was an attempt to protect his service time.
If the Orioles can hold the rotation together until Matusz returns, this team could be a big surprise. The lineup will be relying on the aging bats of
Derrek Lee
and
Vladimir Guerrero
, hopeful improvement from
Matt Wieters
, and the unknown productivity of whiff king
Mark Reynolds
. If those guys hit, this could be a fun team worthy of bringing the fans back to Camden Yards.
NEWS, NOTES AND OTHER THOUGHTS WHILE WATCHING MLB.TV
The Tampa Bay bullpen is one of the key storylines of the 2011 season and it failed to do the job on Saturday. James Shields pitched a gem for the Rays but left in the eighth after allowing a single and walk. Rookie lefty Jake McGee -- who many think should be the team's closer -- entered to face switch-hitting Brian Roberts. It was the right move by Joe Maddon, as Roberts is better from the left side, but McGee grooved a 92-mph fastball right down the middle and Roberts crushed it to left-center.

Matt Cain picked up where he left off (one unearned run in three postseason starts), with six scoreless innings to give the Giants their first win. For those who followed the Cain ERA/FIP debate this offseason, Cain had just three K's but allowed only five hits. He's usually a fly ball pitcher but nine of his 15 in-play outs were grounders.

Watched the end of the Mets-Marlins game and Francisco Rodriguez came on for the save with a 3-2 lead. He struck out Logan Morrison and Scott Cousins on nasty changeups, but was otherwise shaky, allowing Greg Dobbs to tie it with a pinch-hit single off a first-pitch meaty fastball. (Don't pinch-hitters always come off the bench looking for a first-pitch fastball?) The Mets rallied in the 10th off Ryan Webb and the best part for them was K-Rod didn't get credit for a game finished. He has a clause that if he finishes 55 games, a $17 million option automatically kicks in for 2012. I think the Wilpons would turn the franchise over to a collection agency if that happens.

Oakland's bullpen fell apart again in the late innings. Brian Fuentes threw one wild pitch about 10 feet outside, following a couple of Brad Ziegler doozies from Friday. But the A's did cut their errors from five to one, so that's progress.

Ichiro Suzuki had two hits to pass Edgar Martinez as the team's all-time hits. He did it in typical Ichiro fashion: with two infield singles. Love it.

And, yes, Red Sox Nation is in a panic.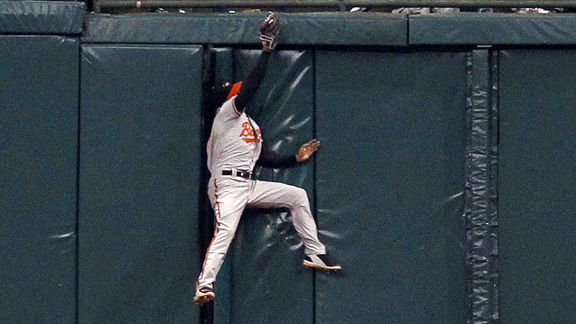 AP Photo/Mike CarlsonNick Markakis makes his game-saving catch for the Orioles.
Follow David Schoenfield on Twitter at @dschoenfield. Follow the SweetSpot blog at @espn_sweet_spot.
March, 25, 2011
3/25/11
7:03
AM ET
No introduction needed. Here's my AL East preseason All-Star team for 2011. If I do well, I'll be sure to revisit at the end of the season.
Catcher -- Matt Wieters, Orioles.
This is the best division in baseball, but the catching position is surprisingly weak, with the Yankees banking on Dodgers castoff
Russell Martin
, the Red Sox counting on ex-prospect
Jarrod Saltalamacchia
, the Rays going with a
John Jaso
/
Kelly Shoppach
platoon and the Blue Jays starting power-hitting rookie
J.P. Arencibia
. Jaso was productive in 2011 (.372 OBP), but if Wieters can match his Baseball Prospectus projection -- .268/.339/.417 with 16 home runs -- he gets the nod when factoring in his excellent defense.
First base -- Adrian Gonzalez, Red Sox.
Gonzalez may not be the best all-around player in the AL, but he's the best bet to capture the MVP Award. He'll probably bat cleanup, with
Jacoby Ellsbury
,
Dustin Pedroia
and
Carl Crawford
hitting in front of him and providing a ton of RBI opportunities. And MVP voters still swoon over RBI guys.
Mark Teixeira
is a player in decline. His OPS+ totals since 2007: 161, 152, 141, 125.
Second base -- Robinson Cano, Yankees.
Tough call over Pedroia, but Cano's 2010 exceeded Pedroia's 2008 MVP campaign. And Cano's big season wasn't the result of a hitter-friendly Yankee Stadium; he actually hit 43 points higher on the road, with similar power numbers.
Third base -- Evan Longoria, Rays.
A loaded position, especially with
Jose Bautista
playing here. But nobody matches Longoria's combination of hitting and fielding prowess. If the Rays can stay close, Longoria is an excellent MVP candidate.
Shortstop -- Derek Jeter, Yankees.
Really, any of the five guys --
Marco Scutaro
,
Reid Brignac
,
J.J. Hardy
,
Yunel Escobar
-- could end up being the top guy. Scutaro's season with the bat was very similar to Jeter's and he's a better fielder, but Jeter's durability is better and
Jed Lowrie
will take some of Scutaro's playing time. The sleeper is Escobar, if he regains his 2009 stroke (.299/.377/.436 with Atlanta).
Left field -- Carl Crawford, Red Sox.
You know who finished
14th in the majors in OPS
last season? That's right ...
Luke Scott
. Even adjusting for Camden Yards, he was one of baseball's best hitters. He is, however, not one of baseball's best fielders and baserunners, and Carl Crawford is.
Center field -- B.J. Upton, Rays.
This is the year. No, really. Hits .275, 25 home runs, 40 steals, Gold Glove. I feel it ... maybe.
Right field -- Nick Markakis, Orioles.
His homers have dropped from 23 in 2007 to 12 last season, but he still hits doubles (40-plus four years in a row), gets on base (.370 OBP) and plays a solid right field. Big breakout potential from Toronto's
Travis Snider
, however. Small regression predicted from
Nick Swisher
.
Designated hitter -- David Ortiz, Red Sox.
Does he have any kind of Hall of Fame shot? He's sitting on 349 home runs, 1,170 RBIs, five top-five MVP finishes. Throw in some postseason heroics. If he pounds out three more 30-HR, 100-RBI seasons, he enters the conversation, but he's 35 now.
Right-handed starter -- Clay Buchholz, Red Sox.
Nasty, nasty stuff. He may not match last year's 2.27 ERA, but I look for him to increase his strikeout rate and top 200 innings for the first time.
Left-handed starter -- CC Sabathia, Yankees.
Until
David Price
and
Jon Lester
prove they can pitch 235 innings in a season, the big man still rates as the best lefty in the division by a pinstripe.
Closer -- Mariano Rivera, Yankees.
I think he only has about 10 more good seasons left in him.
Follow David Schoenfield on Twitter at @dschoenfield. Follow the SweetSpot blog at @espn_sweet_spot.