SweetSpot:

Noah Syndergaard
July, 14, 2013
7/14/13
5:02
PM ET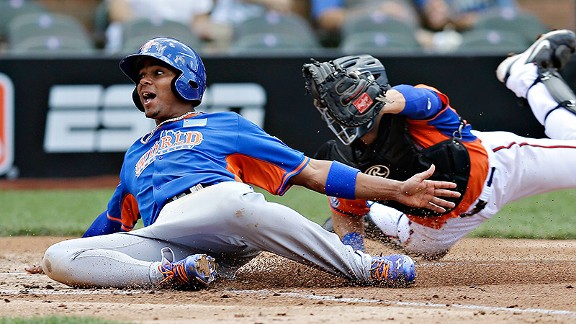 AP Photo/Kathy WillensXander Bogaerts scored the World's second run on a sacrifice fly in the fourth inning.
NEW YORK -- Quick thoughts on Sunday's Futures Game at Citi Field, where a good time was had by all, except those fans who missed three innings standing in line at the Shake Shack.
Xander Bogaerts had two hits -- a hard grounder up the middle and then a line drive to center -- and you wonder if he'll play his way onto the Red Sox roster before September. He's hitting .294/.390/.489 overall and .260/.353/.462 in 29 games in Triple-A. Considering Brock Holt is currently playing third base with Stephen Drew injured and Jose Iglesias playing shortstop, there is potentially room for him. He's just 20 and there's no need to rush him, but he possesses a mature approach at the plate. Before the game, he talked about how he tries to be patient in looking for his pitch to hit, and he's drawn 50 walks in the minors. The biggest question is about his defense: He's playing shortstop now at Pawtucket, but would most likely play third if called up and doesn't have much experience there (just two games in the minors). As he continues to fill out his 6-foot-3 frame, some believe he'll eventually have to move to third, although I think he'll have to play himself off shortstop. We've seen big shortstops remain there -- Cal Ripken, Derek Jeter, Alex Rodriguez, Jhonny Peralta -- so don't assume Bogaerts moves.

There was a consensus that Miguel Sano put on the most impressive display in batting practice as he showed off his raw power, but Astros shortstop Carlos Correa, last year's No. 1 overall pick over Byron Buxton, was also very impressive (Unfortunately, Correa didn't get an-bat and was left standing on deck to end the game.). Sano walked and got hit by a pitch in his four plate appearances, but seeing him and Buxton on the same field together (albeit for different teams) made it fun to project them hitting 3-4 for the Twins in a couple of years. Buxton struck out in both of his at-bats, but made a nice read on Sano's deep liner to center in the ninth, gliding back to make a somewhat difficult play look routine.

Padres catcher Austin Hedges gunned down Bogaerts trying to steal in the first inning, showcasing the arm that has him rated as the consensus best defensive catcher in the minors. Jim Bowden compared the arm strength and quick release to Johnny Bench and Pudge Rodriguez -- and obviously you can't get any higher praise than that.

As a Mariners fan, it was fun to watch Taijuan Walker in person for the first time: big frame, 97 mph fastball, nice, easy motion. As Jason Churchill has written, however, Walker noticeably slows down his arm and entire delivery when throwing his curveball, something he'll have to fix before he gets to the big leagues. He's not on the Mariners' 40-man roster right now, and I'd be surprised if he gets called up this year.

After seeing Red Sox pitcher Anthony Ranaudo struggle Wednesday in the Eastern League All-Star Game (walk, walk, home run, walk, to the first four batters he faced), he struggled again Sunday, giving up two runs in two-thirds of an inning. Not that you can draw any conclusions from two short outings in All-Star Games, but Ranaudo's fastball command doesn't look major league ready (he's walked 32 in 91 innings at Double-A Portland). The Red Sox may be looking for help in the rotation, but Ranaudo isn't the guy just yet.

Diamondbacks third-base prospect Matt Davidson lofted a two-run homer to left-center off A's pitcher Michael Ynoa in the fourth. Davidson, the 35th overall pick in 2009, has power potential (23 homers last year, 14 for Triple-A Reno), but the hit tool is the question. He's fanned 100 times (with 32 walks) in 90 games at Reno. And while his .291 average looks impressive, Reno is hitting .284 as a team, and Davidson is hitting .318 at home compared to .262 on the road. Davidson will need to cut down on the K's before he can be projected as a big league regular. Ynoa just recently got promoted to high A ball and struggled in his one inning, giving up three hits, two runs and a walk.

Joc Pederson, Dodgers outfielder, normally plays center, but was in left field and nearly threw Bogaerts out at home in the fourth inning with a strong throw from medium-deep left (albeit a little off line). With Yasiel Puig's emergence, Pederson is prime trade bait if the Dodgers look to make another move following the Ricky Nolasco trade.
Diamondbacks right-hander Archie Bradley looked impressive in an 1-2-3 inning and showcased a Nolan Ryan-like leg kick. There's an outside shot that Arizona will call him up in September, similar to what they did two years ago with Jarrod Parker.

It was a good day for the Mets as well, as Noah Syndergaard and Rafael Montero, both pitchers in their system, drew the starts and pitched scoreless innings. Syndergaard showed a 97 mph fastball that has made him one of the biggest risers among pitching prospects this season. Mets fans can dream ... Matt Harvey, Zack Wheeler, Syndergaard, Montero. Now, about their hitting ...
December, 22, 2012
12/22/12
8:00
AM ET
Last weekend, I presented the top 10 teams in my
personal power rankings
. That was before the Blue Jays officially acquired
R.A. Dickey
, so I updated my top 10 after that trade, and, to spur on more debate, now present the rest of my rankings. Agree or disagree, but I do think this is the most parity we've seen in a long time. It's why the Orioles and A's were able to surprise this past season and why we will undoubtedly see another surprise team in 2013. It's a great time to be a baseball fan.
1. Nationals
Most talented rotation in the majors, deep lineup, depth. Re-signing
Adam LaRoche
to add another lefty power bat will help.
2. Reds
Superb rotation could be better if the
Aroldis Chapman
transition works, bullpen is deep enough to absorb his loss and
Shin-Soo Choo
provides a needed leadoff hitter.
3. Yankees
I think they can stretch things out more season with a deep rotation, excellent bullpen and power. Remember, they had the largest run differential in the American League last season.
4. Tigers
Deep rotation, great 1-2 punch with Miggy and Prince, and
Torii Hunter
and
Victor Martinez
should improve the lineup.
5. Braves
Left-handed power, power bullpen and a young team that could improve from last year's 94 wins.
6. Blue Jays
Addition of Dickey adds a needed No. 1 to a rotation that could be dominant if
Josh Johnson
and
Brandon Morrow
remain healthy.
7. A's
Young teams that show big improvement are usually for real, and this team has a solid rotation, a strong outfield and power arms in the bullpen.
8. Dodgers
Have to love the
Clayton Kershaw
-
Zack Greinke
combo and an offense with big upside if
Matt Kemp
and
Adrian Gonzalez
come close to 2011 levels.
9. Rangers
I think the rotation is playoff-caliber with
Yu Darvish
,
Matt Harrison
,
Derek Holland
,
Alexi Ogando
,
Martin Perez
and
Colby Lewis
.

10. Cardinals
Have to replace
Kyle Lohse
, but they'll score plenty of runs as long as
Carlos Beltran
(36 years old in April) and
Matt Holliday
(33 in January) keep producing.
11. Rays
Still some holes in the lineup, and replacing
James Shields
' 220-plus innings won't be that easy, but underestimate the Rays at your own risk.
12. Angels
Oddsmaker Bovada.lv has the Angels with the second-best odds to win the World Series (behind the Blue Jays), but I see a rotation
with a lot of question marks
behind
Jered Weaver
, and
Josh Hamilton
only replaces Hunter, who was terrific in 2012.
13. Giants
I discussed
my issues with the Giants here
. I could be wrong, although our friends at Bovada only put the Giants tied for ninth in their World Series odds.
14. Diamondbacks
Their run differential wasn't much different than the Giants last year, and they've added
Brandon McCarthy
, infield depth and still have
Justin Upton
.
15. Phillies
I want to say we're all underestimating a team that includes
Cole Hamels
,
Cliff Lee
and
Roy Halladay
, but then I see an outfield of
Darin Ruf
,
Ben Revere
and
Domonic Brown
, and an infield defense that includes
Michael Young
and
Ryan Howard
and 30-somethings
Jimmy Rollins
and
Chase Utley
.
16. Brewers
They can score runs -- most in the National League last season -- and if the bullpen regroups after 2012's gruesome late-inning efforts, this team could surprise.
17. Red Sox
There will be no expectations after the disaster in 2012 (the franchise's worst record since 1965), but I see a big rebound coming.
18. Royals
I'll buy -- but I'm not buying a playoff spot.
Eric Hosmer
and
Mike Moustakas
have to take huge leaps forward ... or the Royals could be headed for another rebuild.
19. Orioles
Last season's 93-win playoff team provided a beautiful ride, but the Orioles haven't added that big bat they need.
20. Padres
Young team is moving in the right direction after winning 76 games in 2012. Can rotation improve to push Pads over .500?
21. Mariners
Mariners have pursued a big bat all offseason but were only able to pick up
Kendrys Morales
, and he cost them
Jason Vargas
, opening up a 200-inning hole in the rotation. Looks like 2014 before Mariners can make a push in the tough AL West.
22. Pirates
Still no No. 1 or even No. 2 starter (sorry,
A.J. Burnett
is a No. 3 at best) and not enough support for
Andrew McCutchen
. One of these years, Pirates fans, one of these years.
23. White Sox
No
A.J. Pierzynski
, a declining
Paul Konerko
, good year/off year
Alex Rios
due for an off year. Then again, White Sox had a bigger run differential in 2012 than the Tigers.
24. Cubs
Rotation of
Edwin Jackson
,
Jeff Samardzija
,
Travis Wood
,
Scott Baker
and
Scott Feldman
could be competitive, but offense won't be.
25. Mets
At least Mets fans can dream of a future rotation that includes
Matt Harvey
,
Zack Wheeler
,
Jonathon Niese
and Noah Syndergaard. Unfortunately, the 2013 version still includes
Frank Francisco
and a bunch of fourth outfielders.
26. Marlins
Giancarlo Stanton
still makes this team worth watching on a daily basis.
27. Indians
Getting
Trevor Bauer
in the Choo deal added a much-needed starting pitcher prospect. Unfortunately, much of the rest of rotation remains suspect.
28. Twins
Kevin Correia
,
Vance Worley
,
Mike Pelfrey
... what, Rich Robertson and Sean Bergman weren't available?
29. Rockies
At least the Twins have a direction as they wait for young position players to reach the majors. I have no clue what the Rockies are doing, intend to do, want to do, wish to do or hope to achieve.
30. Astros
Welcome to the AL West, boys.