SweetSpot:

Norichika Aoki
December, 29, 2013
12/29/13
9:30
AM ET
Today, Buster Olney
rated the top defensive teams in the majors
. We thought we'd take the time to look at the offseasons for each team from a defensive perspective. Here's our American League look.
AL East
Blue Jays:
The transition from
J.P. Arencibia
to
Dioner Navarro
behind the plate is likely a wash and there hasn't been much of an overhaul to this team other than the departure of
Rajai Davis
(who did have
a decent amount of defensive value
).
Goins
The most interesting thing for the Jays will be how
Ryan Goins
fares as a regular second baseman. Goins racked up a hard-to-believe 12 Defensive Runs Saved (backed up on video review by 21 Good Fielding Plays and only a pair of Defensive Misplays & Errors) in a 32-game stint last season.
Orioles:
The biggest issue on defense for the Orioles will be dealing with the loss of
Manny Machado
's major-league leading Runs Saved, at least until he returns from injury. Baltimore did make one positive move that should upgrade its outfield defense, getting
David Lough
from the Royals for utilityman
Danny Valencia
.
Rays:
The Rays made a long-term commitment to
James Loney
, which bodes well from a defensive perspective, and also made one to catcher
Ryan Hanigan
, who is considered one of
the best base-stealing deterrents and pitch-framers
in the sport. He'll give them a solid alternative to
Jose Molina
.
Red Sox:
Jackie Bradley Jr
. and
Xander Bogaerts
will likely step into everyday roles and fill the shoes of
Jacoby Ellsbury
and
Stephen Drew
. The Red Sox will also have a new catcher, though there isn't much of a defensive difference between
A.J. Pierzynski
and
Jarrod Saltalamacchia
. Both rate below-average statistically.
Yankees:
There have been some pretty notable changes on the defensive side.
Brian McCann
's pitch-framing rates well, but he's not the baserunning deterrent that
Chris Stewart
was.
Kelly Johnson
and
Brian Roberts
could split time at second base but neither is the Gold-Glove-caliber glove that
Robinson Cano
was. Johnson could also wind up full-time at third base, a position at which he's barely played more than 100 innings, if
Alex Rodriguez
gets suspended.
The Yankees should be great in center and left with an Ellsbury/
Brett Gardner
combo.
Carlos Beltran
has
less ground to cover in the Bronx than he did in Busch
. That could benefit his achy knees and help his defensive rating.
One smart thing the Yankees did: Hire
Brendan Ryan
to be their "shortstop closer" for the next two seasons and as much as it will pain
Derek Jeter
to leave games, it will be for the good of the team to let Ryan finish close games.
AL Central
Indians:
The Indians tried to make a right fielder out of center fielder
Drew Stubbs
in 2013 and it didn't work. They got themselves an upgrade in free agent
David Murphy
who rates adequate enough (5 Runs Saved in about a season's worth of innings in right field) that his D could be a one-win upgrade by itself.
Royals:
The best team in baseball, as it comes to Defensive Runs Saved, tinkered a little bit, swapping out Lough for
Norichika Aoki
in the outfield, which probably rates as a push (they're both good … fair warning to Royals fans, Aoki likes to play a deep right field), and making an offensive upgrade by getting
Omar Infante
to fill the hole that was second base.
The one thing the Royals got from their second basemen last season was good defense (18 Runs Saved from the collection of
Elliot Johnson
,
Chris Getz
and others). Infante isn't at that level, but he rates above average more often than not (he did by UZR, but not Runs Saved in 2013) and his offensive work should make up for any drop-off.
Tigers:
The Tigers' defensive overhaul has been the biggest of the offseason as the team's opening-day infield will be entirely different from 2013.
Ian Kinsler
is a definite upgrade at second base and we'll see if
Jose Iglesias
' wow plays add up over a full season (he has seven Runs Saved in just under 800 career innings at short).
Going from
Prince Fielder
back to
Miguel Cabrera
should actually be a slight upgrade.
The big question will be third base where the scouting reports on
Nick Castellanos
' defense
don't inspire confidence
. But even so, conservatively, the Tigers should be about 25 Runs Saved better in 2014, which takes them from being a lousy defensive infield to an average one.
Twins:
The Twins made the career-preserving move of shifting
Joe Mauer
from behind the plate to first base and signed
Kurt Suzuki
, who has a good statistical history at the position. Suzuki has rated better than Mauer over the course of his career in Runs Saved, though he's not as good at throwing out basestealers.
I asked
Doug Glanville
to assess what Mauer's challenge will be in making the move to first:
"He is a super athlete and I am sure he will be fine. It will be tough to not be as involved with the game in every single moment. No one can compete with catchers in the leadership it requires to play that position and the need for constant vigilance. He has to sharpen his focus to deal with new lulls in time. I am sure he will."
White Sox:
The White Sox had the third-worst Defensive Runs Saved total in the majors in 2013 and they've been overhauled all over the place. Their worst position last season was center field (-19 Defensive Runs Saved in 2013) and they'll have a new look there with
Adam Eaton
.
They'll also be much different at first base with
Jose Abreu
,
whose hitting
has been compared to
Ryan Howard
's (but if his defense is, that's not good) and third base with
adequately-rated
Matt Davidson
, whom they got for
Addison Reed
. Will different equal better? They better hope so.
Al West
Angels:
The aging of
Albert Pujols
will continue to be an issue both on offense and defense. Last season broke a run of eight straight seasons in which Pujols ranked in the top five among first basemen in Runs Saved.
Pujols will have a familiar teammate working at the opposite corner with the addition of third baseman
David Freese
, who had a dreadful season in 2013 per both Runs Saved and UZR, ranking third-worst in the former and second-worst in the latter. That's something that will need to be dealt with.
Astros:
The Astros traded away their second-best defender stats-wise from 2013 in
Brandon Barnes
to get
Dexter Fowler
from the
Colorado Rockies
. Fowler has less ground to cover in the gaps of Minute Maid Park, but has a deeper center field (and Tal's Hill) to worry about. Fowler has posted a negative Runs Saved rating in four of his six seasons, but has fared well at handling balls hit to the deepest parts of the park.
Athletics:
The Athletics made two moves that should definitely help their defense in 2014.
Gentry
By adding
Craig Gentry
in a trade from the Rangers, they've obtained one of the game's premier outfield defenders and one who could fit in well both in left field (to make
Yoenis Cespedes
a DH) and center (to give
Coco Crisp
a breather) very well.
The Athletics also added a valuable utility piece in
Nick Punto
, who could start at second base (ahead of
Eric Sogard
) or close games at shortstop (replacing
Jed Lowrie
, who rates as a poor defender). Either way, he's a big upgrade over what they had.
Mariners:
The Mariners now have a Gold Glove-caliber defender at second in Cano. He'll need to cover more ground to his left than he did in New York, because the Mariners' first-base options (
Justin Smoak
,
Logan Morrison
and
Corey Hart
) do not rate well. Morrison is going to present an issue wherever they put him. He's not quite at the level of
Michael Morse
, but his ratings historically have been poor.
Rangers:
The difference between
Prince Fielder
and
Mitch Moreland
at first base is a sizable one, potentially 15 runs over the course of a season, so if the Rangers do decide to hang on to Moreland, they'd be best off playing him at first base and having Fielder DH. The Rangers could use a good defender at first, since
Jurickson Profar
is basically going to learn on the job at second base. Texas will also have some outfield concerns with
Shin-Soo Choo
having limited experience in left field and the team no longer having the security blanket of Gentry (traded to Athletics).
May, 7, 2013
5/07/13
12:30
PM ET
"I don't think I ever got proper credit about being smart about the game." -- Rickey Henderson
When was the golden age for leadoff hitters?
Well, 1965 was pretty good. Joe Morgan was a rookie that year and hit his way into the leadoff spot, where he posted a .943 OPS. Felipe Alou started 108 games in the leadoff position and hit .303 with 20 home runs. Zoilo Versalles was the American League MVP, started 155 games there for the Twins and led the league in runs, doubles, triples and total bases. Pete Rose and Lou Brock started large chunks of games there. Maury Wills stole 92 bases.
How about 1975? Rose, Ken Singleton and Bobby Bonds each had more than 400 plate appearances from the top spot and on-base percentages over .400. Davey Lopes stole 72 bases, and Brock swiped 56. Guys such as Bernie Carbo, Roy White, Don Money and Al Bumbry were productive when hitting there.
There was 1987, with Henderson, Tim Raines, Paul Molitor, a second-year kid named Barry Bonds, Brett Butler, Brian Downing and Lou Whitaker. Remember Kal Daniels? He started 74 games for the Reds as the leadoff hitter that year and hit .337 with 22 home runs.
And 2004 seems like a good season.
Ichiro Suzuki
hit .377 with 251 hits as a leadoff guy. Johnny Damon scored 123 runs and drove in 94. Other leadoff success stories were Ray Durham,
Jimmy Rollins
, some
Derek Jeter
, .336-hitting
Juan Pierre
and
Rafael Furcal
. Craig Biggio hit .281 with 23 home runs and 46 doubles leading off. Pretty stellar group.
Good years all. Maybe you grew up in the '80s, when it seems half the teams had leadoff hitters who could swipe 50-plus bases -- Vince Coleman, Juan Samuel, Willie Wilson, Omar Moreno. Maybe that feels like the best era for leadoff hitters.
It isn't. The golden age is now.
I checked every season since 1950 and compared the production of leadoff hitters to the overall major league batting totals. Granted, it's only early May, but at their current rate, leadoff hitters have never hit better when compared to their peers. Here's a table listing the top 10 seasons by leadoff hitters (since 1950), using OPS compared to league OPS. Also included are the league-average runs per game and the number of stolen bases and runs scored per 650 PAs.
Using OPS is an imperfect method, because it doesn't factor in speed and stealing bases. That's why I included the totals for steals and runs per 650 PAs. Stolen bases don't really have a large effect on run scoring. Compare 2013 to 1990; the run-scoring environments were essentially the same (4.3 runs per game), and while the 1990 guys swiped 10 more bases per 650 PAs, they scored fewer runs. Stolen bases are down a bit in 2013, and certainly injuries to big stolen-base guys such as
Jose Reyes
and
Michael Bourn
have dragged down those steal totals a bit.
If there was a golden era before 2013, it looks like that 1990-1992 period, which featured leadoff hitters such as Henderson, Molitor, Lenny Dykstra, Wade Boggs, Tony Phillips, Bip Roberts, Butler, Delino DeShields, Raines, Biggio, Brady Anderson and Devon White.
But never before have we seen the depth in quality leadoff hitters that we're seeing this year. Yes, some of this is a result of the readjustment of offensive levels in recent years. From 1993 to 2006, leadoff hitters never posted OPS totals above the MLB average; as offensive totals boomed, leadoff hitters looked worse compared to their peers. The decline in offensive numbers has brought the rest of the pack back closer to leadoff hitters, but even the raw OPS total for 2013 of .759 is tied for the fourth highest behind 1987 (.764), 2006 (.762) and 2007 (.760).
Look at the best leadoff hitters in the game right now -- a group that doesn't even include
Mike Trout
, who has started only eight games in the leadoff spot, or the injured Reyes:
Shin-Soo Choo
(leading the majors in OBP),
Austin Jackson
(31 runs in 31 games), the underrated
Alex Gordon
,
Ian Kinsler
off to big start,
Carl Crawford
looking healthy and good again,
Jacoby Ellsbury
, the emerging
Dexter Fowler
, unsung
Norichika Aoki
and
Starling Marte
, perhaps a star in the making in Pittsburgh. Baltimore's
Nate McLouth
is a platoon player but has a .423 OBP hitting leadoff.
But what really makes 2013 a golden age is the quality behind those players. Others who have hit regularly there include
Coco Crisp
,
Jose Altuve
,
Denard Span
,
Angel Pagan
,
Gerardo Parra
,
Michael Brantley
,
David DeJesus
and
Brett Gardner
, all of whom have provided solid production.
One thing managers have wised up on -- for the most part -- is that batting a speedy guy leadoff isn't worth it if his OBP is under .300. Coleman had 670 PAs and stole 107 bases with the Cardinals in 1986 but still scored only 94 runs. The days of guys like Brian Hunter (.282 OBP in 1999 while starting 102 games with the Mariners in the leadoff position) burning up 500 PAs are gone. Managers won't stick with a guy that long anymore. (Well, Dusty Baker might, but Walt Jocketty acquired Choo for him this year.)
So, no, maybe there isn't one player the equal of a Henderson (of course not, that's like saying there's nobody who can hit like Babe Ruth) or Raines, or a 1993 Dykstra or in-his-prime Ichiro, but appreciate the guys out there: There's a lot of quality.
May, 7, 2013
5/07/13
11:00
AM ET
By
Christina Kahrl
| ESPN.com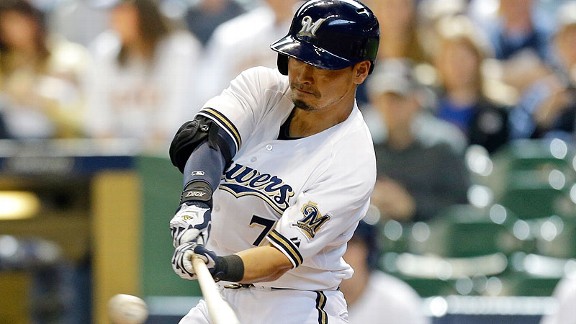 AP Photo/Jeffrey PhelpsNorichika Aoki has been everything the Milwaukee Brewers hoped he would be when he came into the league in 2012.
Say you have a guy who clouted more than 50 extra-base hits as a rookie and stole 30 bases. Among batters with 450 or more at-bats leading off, this guy finished fifth in the majors in OBP, getting aboard at a .355 clip.
You see a guy do all of that as a rookie and you might expect that he's going to take home some hardware. Guys have gotten trophies from the BBWAA for less. But not last year. A funny thing happened to
Norichika Aoki
of the Brewers on the way to history's podium:
Bryce Harper
, specifically, in a talent-packed field that led the electorate to rank Aoki fifth on the ballot for 2012's NL Rookie of the Year.
None of which changes the fact that Aoki was exactly what the Brewers needed when they signed him away from the Japanese leagues. He's providing them with some security in a lineup trying to get by with three potential power sources on the DL:
Aramis Ramirez
for a stretch,
Corey Hart
for the time being and
Mat Gamel
for the season.
From the moment he was named the Central League Rookie of the Year in Japan (2005), Aoki inspired comparisons to
Ichiro Suzuki
while
enjoying immense popularity in his home country
. He was a seven-time All-Star, a six-time Gold Glover. But what did that get him? A two-year, $2.25 million deal with a cheap $1.5 million club option or $250,000 buyout for 2014. For a star player who stated as early as 2006 that he expected to go to MLB someday, it had to be a little humbling; a decade ago, a third-rate import like
Tsuyoshi Shinjo
was getting that kind of money from the Mets. So much for being the next Ichiro.
Aoki wasn't even initially guaranteed an everyday job when he came stateside, or even the same opportunity that Shinjo got. General manager Doug Melvin seemed genuinely surprised that he had the winning bid after the Yakult Swallows posted him. Expectations were initially modest -- maybe Aoki would be a good fourth outfielder? He got only four starts in all of April last year, and it was almost June before the Brewers finally opened up the right field job for him by moving Hart to first base to replace the reliably injured Gamel.
The Brewers should be glad they finally gave Aoki a shot, because as a result they found the leadoff man perfectly suited to manager Ron Roenicke's aggressive in-game tactics, not to mention one who cost them far less than his value on the open market.
It's even more surprising when you consider that he posted a weak .718 OPS for Yakult in his last season there, and then a .787 OPS as a MLB rookie. Generally, numbers for players coming to the states are supposed to go down, not up, but Aoki's walk rate stayed close to flat, going from 7.8 percent to 7.3 in the U.S., while he doubled his Isolated Power between 2011 to 2012. Given the small size of most Japanese parks, you can't put all of that on Miller Park's hitter-happy dimensions. Of course, his 2011 season in Japan was uncharacteristically poor -- he'd posted OPS marks in the .940s in three of the previous four years -- setting himself up for bargain-basement pricing once he came to the U.S.
After this year's initial hot start, Aoki wasn't getting too worked up when asked about it as the Brewers swung through Chicago to play the Cubs. "I feel good that I've been on a hot streak, but I also know that the season is going to be a long season," Aoki said. "I'm going to have my ups and downs, the same as anyone else."
He was equally at ease with the possibilities of a slump to come. "It's just a matter of maintaining what I'm capable of doing and being consistent."
That might sound like Aoki has simply mastered his clichés in just a single stateside season -- even through a translator, no less. But for a Japanese player, MLB's longer season forces even a Japanese league veteran to re-think his day-to-day approach to his craft.
"Basically, in terms of preparation, I started doing fewer workouts -- the season here is a lot longer. I had to change that up just to adjust for the fatigue that comes with that. That was so I could maintain my conditioning during the full season," Aoki said.
Aoki might be the ideal incarnation of what Roenicke wants to do in all phases of the game: Not a bopper, but a ballplayer who adds runs and wins on the margins, in the field and on the bases, when he isn't creating scoring opportunities for the heart of the order. Last year, Aoki was third among NL right-fielders in runs saved with plus-8 per Baseball Info Solutions' Plus-Minus despite starting only 99 games. He netted another six runs on the bases -- most of those on steals -- costing the Brewers some benefit of his speed by running into four outs -- but that's a risk that comes with Roenicke's willingness to run.
Earlier this season, during the first series between the Cubs and Brewers, fellow Japanese league vet
Kyuji Fujikawa
of the Cubs noted that Aoki isn't the same hitter that he used to face when both starred in the Central League. Aoki was a Yakult Swallow while Fujikawa closed for the Hanshin Tigers.
"He's taken it up a notch to another level of hitting. He's improved," Fujikawa observed. This is probably the last thing any pitcher wants to hear, because stateside Aoki is in a lineup with
Ryan Braun
,
Rickie Weeks
, Ramirez and eventually Hart.
Mulling that challenge, Fujikawa said, "It's kind of different, looking at it from the lineup standpoint. [Aoki] was one of the best hitters in Japan, so it was more about just trying to get him out, but here, you've got a lot of good hitters behind him. Now you can't just focus on that one guy."
That sort of baseball intelligence can play out in other ways, naturally. Should Fujikawa resume the responsibilities of closing for the Cubs, he doesn't expect to have any advantage facing the Brewers. "As much as I know him, he knows what kind of pitcher that I am and gives that information to his teammates," Fujikawa said. "I think I have to show him a new version of myself."
Grinning after getting the translation that Fujikawa had been asked about whether Aoki had changed as a hitter since their days as rivals in the NPB, Aoki was diplomatic about his once and future rival, here as he was on the home islands.
"I'm really excited about facing him again now that he's on one of our division rivals," said the happy Brewer, looking forward to the future. Can you blame him?
Christina Kahrl covers baseball for ESPN.com. You can follow her on Twitter.
May, 2, 2013
5/02/13
12:30
PM ET
By
Mark Simon
| ESPN Stats & Information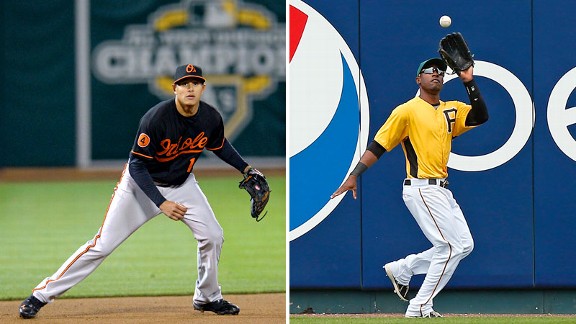 Getty ImagesThe glovework of Manny Machado and Starling Marte helped the O's and Pirates to winning Aprils.
We've brought back the Defensive Player of the Month Award for the 2013 season, and our choice for April, Orioles third baseman
Manny Machado
, was in the ESPN spotlight with a pair of stories on Tuesday.
The Stats & Info Blog ran through Machado's defensive credentials since his recall. Breaking those down into those accumulated in the season's first month, they are:
--5 defensive runs saved, tied with Evan Longoria and Matt Dominguez for the most in the majors at third base.
--13 "Out of Zone" plays (in other words, plays made outside the zones in which third basemen most often turn batted balls into outs), tied for the most with Dominguez.
--6 Web Gems, the most of any player in baseball, and twice as many as any of the eight other nominees we considered combined.
The voting was handled by ESPN.com writers, baseball analysts and researchers from ESPN and Baseball Info Solutions (BIS), and includes Doug Glanville, Jayson Stark, Jonah Keri and Eric Karabell. Each voted for a first-, second- and third-place finisher, with points awarded on a 5-3-1 basis
Machado was a well-deserved winner, earning seven of the 10 first-place votes, but also getting defensive props for the month were:
Starling Marte, Pirates LF
Marte was the runner-up to Machado in our voting. He led major league left fielders with seven defensive runs saved, three more than any other player at that position.
One of the reasons that Marte rates so highly statistically is because he had two home run-robbing catches during the month -- in other words, plays that directly saved runs. They weren't your classic
Mike Trout
, scale-the-wall leaping grabs. In each instance, Marte raced back to a low left-field fence and made a reaching grab to snag a would-be home run.
For more on Marte's impact this month, check out the ESPN Insider piece from Scott Spratt on the significant
improvements to the Pirates' defense
.
Evan Longoria, Rays/Matt Dominguez, Astros
This was a good month for third basemen. We mentioned that Longoria and Dominguez finished tied with Machado in runs saved at the position.
Longoria had three Web Gems, second most among our nominees, and was slightly better than Dominguez in terms of good play/misplay & error ratio (documented by Baseball Info Solutions' video tracking).
Norichika Aoki/Carlos Gomez, Brewers
Aoki and Gomez both had great months from a statistical perspective. Aoki led right fielders with nine defensive runs saved. Gomez had the most among center fielders with seven.
It seemed odd to us that
both
had such high ratings, and in surveying Brewers fans on Twitter, we got a partial explanation why. The Brewers' coaching staff has been playing their outfielders, particularly Aoki, very deep. That's allowed them to take away a few potential extra-base hits, with a limited cost thus far.
That's reflected in both their numbers. BIS' range rating (a "plus-minus system") has Aoki taking away 17 bases above what the average fielder would take away on balls hit to the deepest parts of the park (in other words, a bunch of extra-base hits) and being five bases below average on balls hit to the shallowest parts of the outfield. Gomez has taken away 10 bases on deep balls, and one on the shallow balls.
It's an interesting strategic decision, and one that bears watching throughout the regular season to see if the numbers hold up.
Andrelton Simmons, Braves
This isn't the first time we've
talked about Simmons' defense
and it certainly won't be the last. Simmons led shortstops with six defensive runs saved for the month. He converted 92 percent of the balls hit into shortstop "zones" (the areas in which a shortstop gets outs more than half the time) into outs, second best in the majors to
Cliff Pennington
.
Simmons had an outstanding month. Machado just happened to be a little bit better.
April, 23, 2013
4/23/13
11:30
AM ET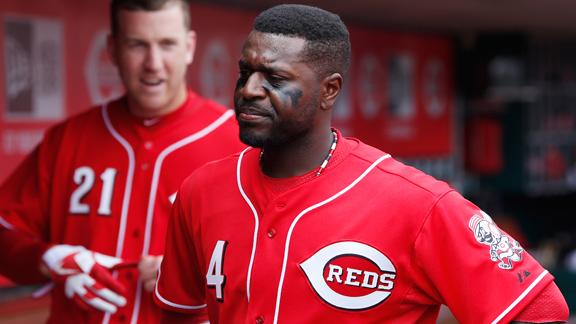 There is no scientific way to pick an all-underrated team. Well, I suppose there is
some
formula we could come up with, but that would be about as much fun as watching
Brendan Ryan
take batting practice. So let's go with an unscientific approach: my gut instinct. Plus how many times Eric Karabell and I talk about these guys being underrated at dinner. (He's sick of me bringing up
Kyle Seager
every Monday night. I remind him he's the only good position player right now on the Mariners.)
So here we go: The 2013 SweetSpot All-Underrated team, guys who don't seem to receive as much national acclaim as they deserve. Note: It's hard to be underrated if you play for an East Coast team, especially ones named "Yankees" or "Red Sox."
C -- Jonathan Lucroy, Brewers
Had a breakout season with the bat last year, hitting .320 with 12 home runs in between a stint on the DL for breaking his hand when a suitcase fell on it. Aside from his offense, statheads know Lucroy as one of the best pitch-framers in the business. Assuming he stays away from suitcases, the Brewers will reap benefits from his team-friendly contract: He'll make $15 million through 2017.
1B -- Allen Craig, Cardinals
Craig is still looking for his first home run of 2013, but a year ago he replaced
Albert Pujols
and hit .307/.354/.522 -- that's a higher on-base and slugging percentage than Pujols had with the Angels. Craig hit over .300 in the minors but his lack of a defensive home kept him off prospect lists and he didn't play 100 games in a major league season until last year, when he was already 27. He's a late bloomer but that doesn't mean he can't rake.
2B -- Neil Walker, Pirates
Unlike Craig, Walker seemed to spend forever on prospect lists, first as a catcher, then as a third baseman. He's settled in at second base, but playing for Pittsburgh his solid ability at the bat goes unnnoticed. He's not a star, but a solid contributor who should hit .280 with 12-15 home runs and adequate defense.
3B -- Kyle Seager, Mariners
Seager got off to a bad start and Karabell told me ESPN fantasy owners were dropping him like
Raul Ibanez
drops flies. Oh, the rash judgments of April. After a two-hit night Monday, Seager is up to .276/.337/.487. Unheralded coming up through the Seattle system, he has proved to be a better hitter than his North Carolina teammate,
Dustin Ackley
.
SS -- Brandon Crawford, Giants
OK, OK ... do I think his hot start with the bat is for real? No. Crawford has never really hit. But he's kind of a poor man's
Andrelton Simmons
, and while everyone raves about Simmons' ability in the field, nobody talks much about Crawford's. Just show them your ring, Brandon.
LF -- Josh Willingham, Twins
Willingham has put up good numbers at the plate for years -- including a monster 35-homer, 110-RBI season last season -- but he has played for the Marlins, Nationals, A's and Twins when they all had bad seasons and has never appeared in a postseason game. He may get that chance this year if the Twins trade him to a contender. (Not that the Twins can't contend! You never know!)
CF -- Shin-Soo Choo, Reds
He's finally getting some recognition thanks to his hot start (.366 average, better-than-Votto .521 OBP), but even then some people just want to talk about his shaky defense in center. He was a good player for the Indians for several years before coming to Cincy and I see his first All-Star Game in his future.
RF -- Norichika Aoki, Brewers
He came over from Japan last year and quietly hit .288/.355/433, lashed out 51 extra-base his, stole 30 bases and played a very good right field. He also made appearances as Bernie Brewer and at least four times raced as the Italian sausage.
SP -- Hisashi Iwakuma, Mariners
Quick: Which starting pitcher has led the AL in ERA since last July 1? I hope you guessed Iwakuma. In 20 games, he has a 2.44 ERA, edging out
Justin Verlander
's 2.51 mark, and held batters to a .225 average. He's off to a great start in 2013, with a 1.69 ERA through four starts and just 12 hits in 26.2 innings. His fastball isn't overpowering, but he gets away with throwing 90 mph fastballs up in the zone and mixing a good splitter.
SP -- Mike Minor, Braves
I'll break my East Coast rule to include Minor, who also has been dominant since last July 1, with a 2.00 ERA that is second in the majors only to teammate
Kris Medlen
. I believe he's for real.
What do you think? Whom would you put on your All-Underrated Team?
By the way, check out the video. Who do I think is
overrated
? You may be surprised.
January, 18, 2013
1/18/13
7:00
PM ET
By
Christina Kahrl
| ESPN.com
The news that
Corey Hart
is
going to miss the first six weeks or so of the season
might seem like a huge setback for a
Milwaukee Brewers
team that
hasn't achieved much this winter
. Hart is a free agent after the 2013 season. If the Brewers aren't contending in the NL Central by the season's midpoint, the time in which GM Doug Melvin has to show off and shop him by the trade deadline will be tightly compressed.
However, the silver lining is that the Brewers have an alternative who is as ready as he's ever going to be: Former top prospect
Mat Gamel
. Already out of options, Gamel's time is now. More properly, it was last year, but tearing up his ACL in May ended his season early, and delayed his long-anticipated breakthrough as the designated replacement for
Prince Fielder
. With a career .301/.374/.512 line in Triple-A across parts of four different seasons with the Sounds, Gamel has nothing left to prove in the minors. And heading into his age-27 season, in the middle of that 25-to-29 sweet spot most players peak, Gamel may be perfectly positioned to finally break through.
Before the news that Hart would be out, Gamel's role was ambiguous at best. He wouldn't clear waivers if exposed. With Hart at first base,
Ryan Braun
in left field and leadoff man
Norichika Aoki
manning right, there's no open regular slot for Gamel in the corners where he might play passably. (In the minors, Gamel spent most of his time trying and failing to hack it at third base, producing a Butch Hobson-esque .886 career fielding percentage.) With Hart out of the way in the early going, this will be Gamel's best, and perhaps last, shot to break through and stick as a Brewer.
The question is whether all of the scouting touts will add up to a hitter whose bat plays at first base. This winter's "Bill James Handbook" projects him to hit .287/.351/.473, not the worst fallback bat to plug in for Hart after his .270/334/.507 season in 2012. If Gamel breaks through, it creates one of those nice problems for the Brewers. Gamel could rotate through first and the outfield corners as the primary reserve. Melvin could then wait and see if he has a contender on his hands, or if Hart's return to action is impressive enough to draw a worthwhile trade offer from someone else who does.
And of course, if Gamel gets hurt -- again, because he lost a big chunk of 2010 to a strained shoulder on top of losing 2012 to that knee surgery -- then we could always start talking about the Brewers' next corner prodigy, first base prospect Hunter Morris. Where Gamel's eventual position has always been in doubt, Morris is a highly regarded defender at first base, and Morris' credentials as a hitter are already impressive after a .303/.357/.563 season for Double-A Huntsville, with 28 homers.
Christina Kahrl covers baseball for ESPN.com. You can follow her on Twitter.
November, 18, 2012
11/18/12
10:30
AM ET
By
Christina Kahrl
| ESPN.com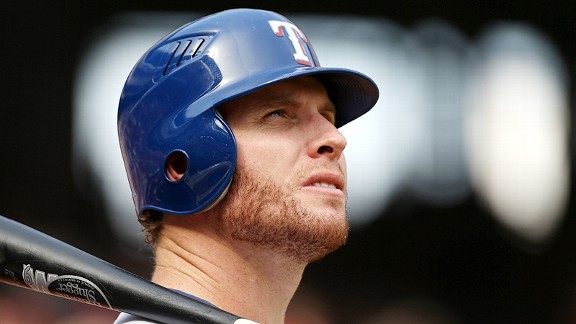 Matthew Emmons/US PresswireJosh Hamilton would provide Milwaukee with a much-needed left-handed power hitter.
It's the big question of the winter: Where will outfielder
Josh Hamilton
go? How much and for how long is sure to elicit squeals of outrage and satisfaction, of course. Rather than root for somebody's checkbook, I'm here to say why the winter's biggest free agent should head for baseball's smallest market in Milwaukee, with the hope that Brewers general manager Doug Melvin acts on it.
Point 1: Milwaukee is a place where Hamilton could thrive.
Face it, Hamilton is going to get his share of media attention just because we vultures in the Fourth Estate know he's news. If he breathes, opines, succeeds or fails, he's going to get attention. And given his past issues with addiction, he isn't exactly going to be every team's idea of a hero in cleats.
But in Milwaukee, the focus will be on baseball while playing in front of a friendly fan base, and he'll get the benefit of playing in a media market where the ink-stained lifers tend to be supportive. And he'll be joining a team where he won't be the primary focus of attention --
Ryan Braun
already owns that job.
Most importantly, the Brewers are an organization with plenty of experience in dealing with players who need a bit of extra consideration. Hitting coach Johnny Narron was Hamilton's off-field "accountability partner" for five years before taking his job with the Brewers in 2012. They don't just have somebody to help Hamilton on and off the field, they have perhaps
the guy
. And when it comes to handling media access for a player who might need special attention, the Brewers have their recent work with
Zack Greinke
to lean on.
So the environment in Milwaukee could be a great match for Hamilton, but what about what he'd do for them? Voila,
Point 2: The Brewers' lineup needs a lefty thumper.
[+] Enlarge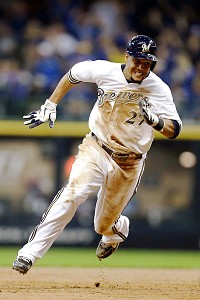 Mike McGinnis/Getty ImagesBy signing Josh Hamilton, the Brewers could trade Carlos Gomez for starting pitching.
Why? Well, ponder this: Braun,
Aramis Ramirez
,
Corey Hart
and
Rickie Weeks
, what do they have in common? They're all right-handed power hitters, and in the season after
Prince Fielder
left Brew City, the Brewers saw their homers hit by righties and lefties get to a huge 175-27 split. Isolated power (SLG minus batting average) just echoes the issue: Milwaukee's right-handed batters had a collective .194 ISO, against .127 for their lefties.
Now, look ahead to a 2013 season, when the Brewers will be competing against a Cardinals team fronting power righties
Adam Wainwright
and
Chris Carpenter
at the same time for the first time since 2010, while the Reds start an all-righty rotation that has
Johnny Cueto
and
Homer Bailey
coming into their own. To compete, the Brewers will need some balance against that stack of right-handed power hitters, and perhaps nobody in baseball could be a single-source solution as readily as Hamilton would be.
Beyond offense, there's the question of where Hamilton would play. As it stands, you'd expect him to play a lot of center or a lot of right field, pushing either
Carlos Gomez
or
Norichika Aoki
to the bench. That's not as bad as it sounds -- sitting Aoki against some lefties and Gomez against some righties already makes sense as is. But Hamilton's litany of nagging hurts suggests he might be good for 120 starts per year. Add in another 10 days off for Braun in left field, and you wind up with about 210 starts to hand out to Aoki and Gomez, plenty of regular playing time without also using them as pinch-hitters and double-switches.
Looking at that outfield and the rest of the organization brings us to the next reason why Hamilton works for them.
Point 3: Adding Hamilton gives Melvin players to trade to fix other problems.
Look at the talent they've got lying around at positions where they won't get to play:
Mat Gamel
is already blocked out by Hart at first base and is heading into his age-27 season. (Not to mention the Brewers also have Hunter Morris coming up behind him.) Third baseman
Taylor Green
is 26, and might have to wait another three years before Ramirez leaves. Gomez is sure to be in demand for his combo of glove work in center and power at the plate, even if he's just a year removed from free agency. That's a lot of ready-now talent with power at positions where this winter's market is weak and other teams have needs.
If the Brewers are going to acquire the help on the pitching staff that they need, their best bet at helping themselves is shopping this surplus of ready-now, cheap hitters with years of club control ahead of them. They can use it to acquire a starting pitcher (or two) and a couple of relievers that would be better than those available in this winter's market. Perhaps ideally, they'd hold on to Gomez and get what they need shopping Green and Gamel, but for the right starting pitcher, Melvin should be willing to talk about their center fielder.
The 2012 Brewers' lineup, weighted by playing time, was already the fourth-oldest in the league at 29.1 years old. Even with
Jean Segura
at shortstop, that number isn't going to go down. Which is brings me to my last point for why Hamilton in Milwaukee works:
Point 4: They should fully invest in winning now.
Considering their collective age, the Brewers' clock is ticking. Stars like Braun (29) and Rickie Weeks (30) are already at the tail end of a normal "peak" performance arc. Weeks and A-Ram could be here through 2015, Braun for another six years beyond that. In light of those kinds of commitments, the Brewers should be in the business not just of contending, but trying to win it all.
Add it up, and however much Hamilton might be a risky, high-stakes addition, because of the mutual potential, his decision to go to Milwaukee could be a win-win for ballplayer and ballclub alike.
Christina Kahrl covers baseball for ESPN.com. You can follow her on Twitter.
September, 26, 2012
9/26/12
11:40
AM ET
From ESPN Stats & Information, the longest average home run distance in the National League (minimum 15 home runs):
Bryce Harper
, Nationals: 414.1 feet
Justin Upton
, Diamondbacks: 413.8 feet
Carlos Gonzalez
, Rockies: 413.7 feet
Wilin Rosario
, Rockies: 413.3 feet
Harper
Harper's raw power isn't a surprise, of course, although it's still impressive that he edges out guys who play in Arizona and Colorado. D.C. might have plenty of hot air, but not the thin air of those places.
As for the NL Rookie of the Year, I think Harper is now the clear leader, and not just based on his publicity advantage over other top candidates. Since Aug. 17 he's hit .301/.358/.596, with nine home runs and 19 extra-base hits in 136 at-bats, raising his season OPS by 63 points. Reds fans will advocate for
Todd Frazier
, who does have a higher OPS on the season, but the comparison between the two isn't that close. Frazier has been a platoon guy at times, and while Frazier was superb filling in on a regular basis for
Joey Votto
, Harper has scored 92 runs while playing very well in center field on an everyday basis.
My No. 2 guy is actually Diamondbacks left-hander
Wade Miley
, 16-10 with a 3.25 ERA, pitching in a tough home park.
NL rookie WAR leaders (via Baseball-Reference):
Harper: 4.0
Miley: 3.4
Norichika Aoki
, Brewers: 3.0
Zack Cozart
, Reds: 2.7
Lucas Harrell
, Astros: 2.6
Andrelton Simmons
, Braves: 2.5
Frazier: 1.9
Rosario: 1.9
Mike Fiers
, Brewers: 1.9
Aoki's solid season has gone unnoticed, but he was a big reason the Brewers clawed back into the wild-card race. Miley has been terrific. But Harper is the Rookie of the Year in the NL.
September, 19, 2012
9/19/12
12:11
AM ET
The
Milwaukee Brewers beat the Pittsburgh Pirates 6-0
in a crucial game for positioning in the race for the second wild-card spot in the National League. Random thoughts follow.
1. To be fair, the
Pirates
played until 1:28 a.m. on Tuesday in Chicago, flew back to Pittsburgh, drove to their homes, maybe saw the kids off to school, maybe caught a few hours of sleep and then headed to the ballpark, where all they had to do was face one of the hottest pitchers in baseball,
Yovani Gallardo
. You can argue that it was unfair to make the Pirates sit through that long rain delay at Wrigley Field, but there was little choice as the Pirates didn't have any more open dates on the schedule and no more games against the Cubs.
2. Gallardo entered with a 7-0 record and 2.98 ERA over his past nine starts, all Brewers' victories. The Pirates had a chance to get to him in the second inning when he walked two and gave up a single with two outs, but
A.J. Burnett
was batting. He grounded out and Gallardo settled down, retiring 13 in a row at one point. Gallardo's curveball has been a key pitch during this stretch as he'd thrown it 187 times during those nine starts and batters were 7-for-42 against it, with 16 strikeouts and no walks in at-bats ending with the pitch. He didn't use his curve early in the game, relying mostly on his fastball and slider, then turned to the curve more in the middle innings. He also retired
Andrew McCutchen
all three times he faced him -- twice on sliders that resulted in ground outs and a first-pitch fastball that McCutchen lined back to Gallardo.
3.
Ryan Braun
. OK, let's talk about Ryan Braun. Two more hits, a run, an RBI, three of the Brewers' seven stolen bases. (Did I mention the Pirates looked listless?) Look, you may dislike him because of the positive PED test that was overturned. You may believe the dagger of doubt cancels out any appreciation of his skills. Pirates fans were booing him on Tuesday night, pretty precious from people who will cheer Ben Roethlisberger. Fact is the dude can absolutely rake and absolutely is an MVP candidate.
As Jayson Stark outlined on Friday
, the odds against Braun winning are slim, more so for what happened last winter than for any holes in his game. Because if you can find a hole, let me know. And remember, he's doing this without
Prince Fielder
batting behind him.
4. I think the Pirates are done. Great story. We rooted for them. I think I speak for most fans without a dog in the fight in saying we wanted the Pirates to make the playoffs. The depth just isn't there yet. With
James McDonald
struggling, the Pirates will give rookie
Kyle McPherson
his first major league start on Wednesday. I can't say Clint Hurdle is making the wrong decision considering McDonald's recent performances, but it's a sign of desperation. And desperation rarely works in a playoff race.
5. Unsung hero of the Brewers: Their catchers. Led by
Jonathan Lucroy
's .324 average, they were hitting a combined .292/.364/.451 with 18 home runs before Tuesday's game. Lucroy had three of Milwaukee's 13 hits.
6.
Jeff Clement
pinch-hit for the Pirates. The Mariners once drafted Clement third overall in the 2005 draft. Two picks ahead of a guy named Braun.
7. Can the Brewers really do this? The Cardinals' win over the Astros means the Brewers remain 2.5 games behind St. Louis. But they've passed the Pirates and passed the Phillies, so only the Dodgers and Cardinals stand between them and the second wild card. Since losing on Aug. 19, they're now 21-6 and have gone 11-2 against the Pirates, Cardinals and Braves. Over those 27 games they've outscored their opponents 161-99, averaging 6.0 runs per game.
8. Late in the game, the Pirates' announcers were talking about the batting title race in the National League, basically suggesting it would be a farce if
Melky Cabrera
wins it. He's hitting .346 to McCutchen's .339. I understand promoting your guy, but what is baseball supposed to do? Pretend Cabrera's 2012 season never existed? You can't do that, just like you can't take away home runs from
Barry Bonds
or
Mark McGwire
. McCutchen went 0-for-4, although he has played well in September (.293, four home runs). Sure, we'd like to see McCutchen catch Cabrera, but baseball has a long history of controversial batting titles. You could just add this one to the list.
9.
Norichika Aoki
has been quietly productive: .291/.361/.431, 27 steals, 2.7 WAR, solid defense in right field. The Brewers have him signed for 2 years, $2.5 million, with a $1.5 million team option for 2014. Great signing by Doug Melvin.
10. If you're the Brewers, do you second-guess trading
Zack Greinke
? Considering where they were, I don't think you can. The guys who replaced Greinke -- essentially
Mark Rogers
and now
Wily Peralta
-- have pitched well, so I'm not sure the Brewers would have a better record with Greinke. Now, having him around to pitch a potential tiebreaker game or wild-card game would be a nice option.
11. I think the Brewers need to win these next two games in Pittsburgh, take advantage of a reeling Pirates team. You don't want to head into Washington and Cincinnati
having
to go 6-1. As is, if we say 86 wins is needed to make the second wild, the Brewers have to go 11-4 over their final 15. I still think the Cards' schedule is a huge advantage -- they have eight more games against Astros and Cubs while the Brewers have just three against the Astros. In the end, I think the Brewers fall a game short. But wouldn't a three-way tie with Cardinals, Brewers and Dodgers be fun?
PHOTO OF THE DAY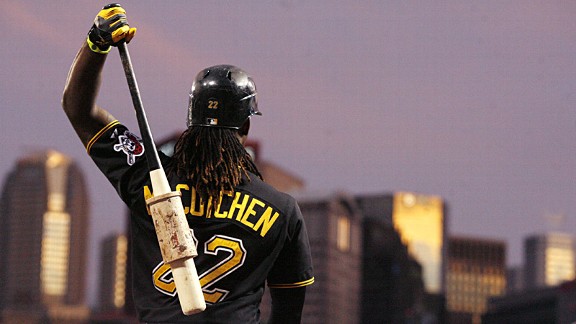 Charles LeClaire/US PresswireAndrew McCutchen can only do so much as the Pirates slip behind the Brewers in the standings.
September, 13, 2012
9/13/12
12:55
AM ET
The second wild card is a goofy, ridiculous idea that goes against everything baseball history stands for: That the regular season is the ultimate test of a team's ability, strength and toughness. To get to the playoffs, you have to prove yourself over 162 games; and to get there, baseball requires a higher standard of excellence than other sports.
Which is one reason I didn't like the second wild card; it lowers that bar. And once you're there after playing 162 games, you get one game, do-or-die, to remain alive?
I still have my doubts, but in 2012, I'll admit: The second wild card has added an extra layer of fun.
I'm pretty sure the
Milwaukee Brewers
would agree. I'm not exactly sure when the Brewers hit their low point. Maybe it was when
Rickie Weeks
swung at this pitch
, but more likely it was July 23, 24 and 25, when they lost three games in Philadelphia by identical 7-6 scores, all in the late innings. In the first game,
Francisco Rodriguez
allowed four runs in the bottom of the ninth. The next day, the Phillies scored six runs in the eighth inning. The day after that, the Brewers scored a run in the 10th but gave up two in the bottom of the inning. Two days later,
Zack Greinke
was traded.
And why not? The Brewers were 45-54, 10 games out of the second wild card, the magic of 2011's playoff run a distant memory.
Yet here we are, 44 games later, and the Brewers are three games behind the suddenly plummeting
St. Louis Cardinals
for that suddenly enticing second wild card. On Wednesday, the Brewers completed a three-game sweep of the
Atlanta Braves
thanks to an eight-run explosion in the fifth inning, all the runs in
Milwaukee's 8-2 victory
. The Brewers are 18-5 over their past 23 games, hitting .289 with 36 home runs and 32 stolen bases while averaging 6.1 runs per game. The pitching has been impressive, of course, with a 3.33 ERA and 220 strikeouts in 208 innings.
The fifth inning came from nowhere.
Paul Maholm
, who has been so solid for Atlanta since coming over from the Cubs, was sailing along with just three hits allowed through four innings. The inning began with a
Chipper Jones
fielding error,
Yovani Gallardo
's sacrifice and
Norichika Aoki
's infield single that Jones made a diving stop on but couldn't make a throw. Up stepped Weeks, the 2011 All-Star whose averaged had sunk to .158 on June 10 and remained under .200 through July 24. Since then, however, he's hit .308, slugged over .500 and he hit a 2-1 fastball from Maholm into the bullpen in right-center for his sixth home run of September.
The Brewers weren't done.
Ryan Braun
-- can we finally start talking about him as an MVP candidate? -- singled.
Aramis Ramirez
reached on another infield single that Jones couldn't handle,
Jonathan Lucroy
singled just past a diving
Paul Janish
at shortstop,
Logan Schafer
walked and
Travis Ishikawa
cleared the bases with a double over the head of
Jason Heyward
on a pretty good low-and-away slider from Maholm. That brought in
Cristhian Martinez
and Gallardo finished off the inning with an RBI double.
Hey, it was one of those innings -- two infield hits, a single just past Janish, a double just out of Heyward's reach. It's one of those innings that when they happen in September you start believing in things like luck, karma and chasing down the Cardinals.
Gallardo, in the absence of Greinke, has stepped up since that trade. Other than one bad seven-run outing against the Pirates, he's been terrific over nine starts, giving up two runs or fewer in seven of those starts and three in the eighth. The Brewers have won all nine of those games. And here's a stat that may surprise: Gallardo leads the majors with 24 quality starts, one more than
R.A. Dickey
and
Clayton Kershaw
. Does that make him a Cy Young candidate? No, but he's provided that one consistent presence from an Opening Day rotation that saw
Chris Narveson
go down after two starts,
Randy Wolf
pitch his way out of town with a 5.69 ERA,
Shaun Marcum
miss time and Greinke get traded. The Brewers even had their own less-publicized Operation Shutdown when rookie
Mark Rogers
, who went 3-1 with a 3.92 in seven starts after his recall from the minors, was shut down after his Aug. 31 start.
* * * *
OK, maybe this is where I admit I picked the Brewers to reach the World Series. It was an admittedly left-field prediction, but going out on a limb with at least one pick is part of the fun of spring-training prognosticating. But one reason I believed in them was I did think their offense would be fine, even minus
Prince Fielder
. Indeed, the Brewers have scored the most runs in the National League and one big reason has been Ramirez, who essentially replaced Fielder in the lineup. Compare their numbers:
Fielder, 2011: .299/.415/.566, 38 home runs, 36 doubles
Ramirez, 2012: .296/.361/.529, 23 home runs, 44 doubles
Pretty close, and considering Ramirez plays third base, you can actually argue that Ramirez has been
more
valuable than Fielder (Baseball-Reference Wins Above Replacement: Fielder 4.3 in 2011, Ramirez 4.7 so far.)
What I didn't account for was Wolf pitching so poorly and the bullpen duo of Rodriguez and
John Axford
developing severe cases of pyromania. The Brewers have blown 10 games they led entering the ninth inning. That's terrible beyond words: Entering Wednesday's games, all 30 MLB teams were a collective 1842-91 when leading after nine innings. That's an average of three such losses per team; the Brewers had 10 percent of those defeats all by themselves.
So the Brewers can score. They have an ace. Axford has shaved off his 1890s 'stache, reclaimed his closer role and allowed one hit over his past nine appearances that resulted in eight saves and a win.
Are the Brewers a great team? No, they're 72-71. But this goofy race for the second wild card makes them playoff contenders. Their next six games are against the Mets and slumping Pirates.
Like I said: I dislike the second wild card. And yet I love it.
Now, about those Phillies ...
PHOTO OF THE DAY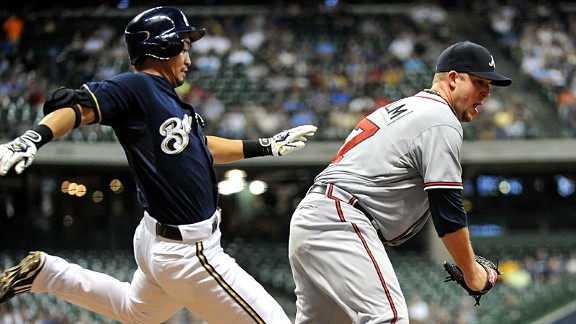 Benny Sieu/US PresswireNori Aoki's legging out an infield hit is the Brewers' case in point: They're not out yet.
December, 19, 2011
12/19/11
8:40
PM ET
By
Christina Kahrl
| ESPN.com
The Brewers already have all sorts of trouble to sort through. Prince Fielder left town to entertain offers involving oodles of cash, and
Ryan Braun
is looking at a 50-game suspension for allegedly possessing more testosterone than even Dos Equis' Most Interesting Man in the World.
Aramis Ramirez
provides
at least one new answer for their need for power
. But there's more work to be done if the Brewers are going to have any shot at defending their NL Central title.
To their credit, they're being a bit creative. Having
Alex Gonzalez
at shortstop
might
compensate for A-Ram's disappearing range on the left side of the infield. Having first base open creates the opportunity
Mat Gamel
spent the last four years at either Huntsville or Nashville waiting for.
[+] Enlarge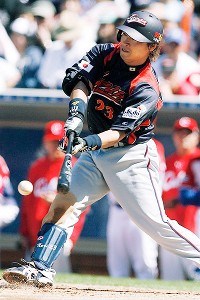 Robert Benson/US PresswireWill Norichika Aoki make this kind of contact for the Brewers?
But to stretch their limited dollars just a wee bit further, the Brewers expanded their personal pool of free agents by paying the posting fee to negotiate with outfielder Norichika Aoki of the Yakult Swallows. Aoki, now coming up on his 30th birthday,
was gushingly compared
to
Ichiro Suzuki
back in the day. He bats lefty, runs well, played center and seemed like a leadoff terror every team would be falling all over to get back in 2007.
But that was five years ago, when he was a career .330/.390/.425 hitter. From 2007-2010 Aoki
would bounce around a .350 batting average, .430 OBP while slugging .500
. In 2007 he scored 114 runs while drawing 80 walks; in 2008, he stole 31 bases in 40 attempts. (Praise be to the always indispensable Baseball-Reference.com for releasing their new tranche of Japanese leagues data today.)
Then came 2011, when Japan adopted a baseball more like the American ball, which radically changed the Japanese leagues. Per a thought-provoking post from
earlier today from Tim Ednoff of Baseball American
, both circuits saw their runs scored per game drop by more than a full run in 2011 -- the Central League's ERA dropped from 4.13 to 3.06, and the Pacific League's -- which uses the DH -- went from 3.94 to 2.94. Good-bye Randy Bass, and hello Deadball Era.
Where this matters is when it comes to interpreting the performance not just of the highest high-profile guys like Yu Darvish, but also a hitter like Aoki. Last year, the second coming of Ichiro saw his performance drop to .292/.358/.360 while stealing just eight bases in 11 attempts. He's also years past his days as an everyday center fielder. I asked Dan Szymborski of
ESPN Insider

if he'd forecasted Aoki yet, and he had -- to to hit .289/.338/.393 in Milwaukee. (
Note: Not a neutral park, as stated earlier.
) Miller Park isn't a launching pad, so that'll do for a place-holding expectation for what Aoki might be able to do in Milwaukee. Good-bye Ichiro, hello Tony Plush.
Which is perhaps exactly why he's the sort of guy the Brewers can afford. A posting fee of $2.5 million isn't much to start out with, and Aoki's 2011 plummet at the plate conveniently gives the Brewers a better sense of what he might do. And assuming that Braun is missing from left field for the first 50 games, there's already a spot open in the Brewers' lineup.
Aoki would presumably be a Ron Roenicke kind of player, presumably running and bunting on command, and complementing the other small-ball gambits that the Brewers' skipper likes to employ now and again.
What about after those first 50 games, when Braun comes back in late May or early June? That's certainly going to be interesting. If Gamel is holding down the job, the Brewers have a nice problem on their hands. But if Gamel isn't earning his keep at the plate at that point, it's worth remembering that
Corey Hart
has played 179 games in the minors at first base, and he rarely charms observers with his ungainly brand of right-field defense.
Whether or not the Brewers wind up actually signing Aoki is another thing altogether, so let's not put too many horses before this particular cart. As the Oakland A's found out in their negotiations with Rakuten Eagles ace Hisashi Iwakuma last year, there's no guarantee that a player will take just any offer from the only team he's allowed to negotiate with. And since the posting fee is refundable, if the Brewers decide that Aoki won't sign for their best offer, they can always just wish him well and leave him on the other side of the Pacific.
Christina Kahrl covers baseball for ESPN.com. You can follow her on Twitter.