November, 2, 2012
11/02/12
5:17
PM ET
As we wait for free agency to officially begin, a few Friday afternoon links to check out.
June, 7, 2012
6/07/12
1:33
AM ET
By
Justin Havens, ESPN Stats & Information
| ESPN.com
The Pirates have won eight of their past 11 overall and sit just three games out of first place in the National League Central. While it was just last year that we were talking about the "surprising" Pirates before a remarkable second-half collapse, 2012 might be different. Below is a look at what's fueling the Pirates' run this season, how we got to this point and how much of it we can expect to last.
Pitching fueling the Pirates
The Pirates are posting one of their best pitching seasons in the last 30 years. In fact, it's the best since 1984 and eerily similar to 1992 -- the last season they had a winning record.
Pirates' lowest team ERA since 1980:
1984: 3.11
2012: 3.30
1971: 3.31
1992: 3.35
1976: 3.36
The Pirates have seen their overall ERA drop each season since 2010, which is also true for the team's starting pitching ERA. However, the relief pitching has experienced an improvement going all the way back to 2008. In fact, the Pirates' bullpen ERA is its lowest since 1975.
2012: 2.58 (third in the majors)
2011: 3.73
2010: 4.55
2009: 4.59
2008: 4.66
How did we get here?
What makes the Pirates' pitching success even more remarkable is how these pitchers were acquired -- largely, off the scrap heap. Here's a look at how general manager Neal Huntington and his team procured the notable top-performing pitchers on his roster.
Brad Lincoln
(2.40 ERA in 30 IP) -- Drafted by Pirates in first round of 2006 MLB draft.
Jason Grilli
(1.71 ERA in 21 IP, 35 SO) -- Signed as free agent, July 21, 2011.
James McDonald
(5-2, 2.14 ERA, 71 K in 71.1 IP) -- Acquired from Dodgers for
Octavio Dotel
, July 31, 2010.
Juan Cruz
(2.18 ERA, 20 K in 20.2 IP) -- Signed as free agent, Feb. 1, 2012.
Joel Hanrahan
(15 saves, 2.57 ERA -- Acquired from Nationals for
Sean Burnett
and
Nyjer Morgan
, July 30, 2009.
Erik Bedard
(3.72 ERA, 56 K in 55.2 IP) -- Signed as free agent, Dec. 7, 2011.
A.J. Burnett
(5-2, 3.76 ERA) -- Acquired from Yankees for two minor leaguers, Feb. 19, 2012.
Kevin Correia
(4.19 ERA in 58 IP) -- Signed as free agent, Dec. 17, 2010.
As you can see, most of the rotation members were acquired for very little cost; Burnett is making $5 million this season, Bedard $4.5 million, Correia $3 million and McDonald a crisp $502,500. This entire group is making less than $20 million. That's for 80 percent of a rotation and three key bullpen arms.
Can this be sustained?
Fielding Independent Pitching, or FIP, looks at the things a pitcher can control: strikeouts, walks, hit by pitches and home runs allowed. FIP is an effective statistic at predicting future performance -- i.e., a pitcher's FIP number is usually a better indication of his true skill, good or bad, than his present-day ERA. So while the Pirates starters can expect some regression (do we really think McDonald will keep his ERA barely above 2.00 all season?), FIP provides a great deal of optimism regarding the ability to sustain solid performance.
As you can see, 60 percent of the team's starting rotation (though Charlie Morton is currently on the disabled list) can actually be expected to improve moving forward based on their FIP. The only pitcher "predicted" for a significant dropoff is Correia.
Improvements worth noting
What has been the key to Burnett's turnaround this season? While some of it can anecdotally be attributed to the move to the National League, it's much more about increased effectiveness with his fastball.
McDonald's breaking stuff, meanwhile, has been outstanding, among the most effective in all of baseball. Here's a list of highest strikeout rates with curveballs and/or sliders among starting pitchers:
Edwin Jackson
, Washington -- 53.6%
Chris Sale
, White Sox -- 53.0%
Stephen Strasburg
, Washington -- 51.7%
A.J. Burnett, Pittsburgh -- 50.8%
James McDonald, Pittsburgh -- 48.5%<< >>44.1% strikeout rate last season
(Minimum 200 curveballs/sliders thrown)
Specifically, McDonald has become much better at using his breaking pitches against left-handed batters:
Bedard's out pitch has always been his curve, and that is no exception once again. However, he's been markedly more effective with the pitch.
Justin Havens is a researcher for "Baseball Tonight." Follow him on Twitter @jayhaykid.
October, 16, 2011
10/16/11
11:56
PM ET
I'm not going to suggest it was the single worst play in postseason history. Babe Ruth, for instance, once got caught stealing for the final out in Game 7 of the World Series, trailing by one run with the Yankees' cleanup hitter at the plate. Dropped fly balls and dropped pop-ups have led to winning runs in Game 7 of the World Series.
But when
Milwaukee Brewers
third baseman Jerry Hairston Jr. tried to field a ground ball with his knee, then flip the bouncing baseball to second baseman
Rickie Weeks
with his glove, only to have the ball bounce in front of Weeks, and then to have Weeks see the ball go through his legs, with the runners moving up a base ... well, it was atrocious baseball at its worst. Two physical errors by Hairston, one mental error on Hairston for attempting the trick play in the first place when he had no shot to get the runner at second, and one mental error by Weeks for pulling up on the ball like a fourth grader taking infield practice.
So, no, I won't say it was the worst postseason play we've ever seen; that would be exaggeration just for effect. Plus, that play alone did not lose Game 6 of the National League Championship Series for the Brewers and prevent them from reaching the second World Series in franchise history. But, as the
St. Louis Cardinals
beat up Milwaukee
12-6
to win their 18th NL pennant, it symbolized a night that saw:
While Milwaukee's defense was questioned all season, it was also a questionable decision to stick with Marcum, who had been blistered in his two previous postseason starts and five of his past six starts going back to September. It's certainly understandable
why
Roenicke would believe in Marcum, who went 13-7 with a 3.54 ERA during the regular season. But Marcum clearly tired down the stretch, wasn't getting strikeouts and you had to question his mental state going back to the division series when he threw his glove up in the air after surrendering a home run to
Paul Goldschmidt
.
Sadly for the Brewers, his first inning was all too predictable: Four runs, capped by
David Freese
's three-run bomb to left on a first-pitch curveball (making Freese 7-for-9 with 10 RBIs in the series when swinging at the first pitch). For the Cardinals, it was another game in which they scored first, making them the first team to score first in all six games of a six-game series. Overall, St. Louis scored 11 runs in the first inning and four in the second.
There was a glimmer of hope for the Brewers in the bottom of the third when
Jonathan Lucroy
absolutely destroyed an
Edwin Jackson
fastball way over the fence in left-center to cut the lead to 5-4. But the Cardinals -- as they did all series -- just kept hitting and scored four in the top of third, as Albert Pujols lined a high fastball out to left off
Chris Narveson
, followed by the sac fly/missed cutoff man/two-run single string of events. Craig, hitting for Jackson, fought off a 94-mph fastball from
LaTroy Hawkins
, bouncing it over Hawkins' head and into center.
Yuniesky Betancourt
, shifted over in the hole toward third, had no shot at it; then again, it's Yuniesky Betancourt, and we saw balls all series going
just
out of his range.
But that pinch-hit was the finishing touch on a magical series for Tony La Russa. He saw the chance to score runs and took it, even if it meant removing Jackson from the game and using his bullpen for seven innings. Cardinals starters pitched just 24.2 innings in the series and allowed 19 runs. The bullpen, of course, was brilliant, pitching 28.2 innings and allowing seven runs. Three of those relievers were picked up during the season:
Octavio Dotel
and
Marc Rzepczynski
in the
Colby Rasmus
trade, and
Arthur Rhodes
off waivers after he was released by the Rangers.
The St. Louis pen, of course, had been maligned for much of the season, although it pitched much better after several early-season blown saves by former closer
Ryan Franklin
. But give La Russa credit for his willingness to adjust:
Fernando Salas
became the closer after Franklin, pitched well and saved 24 games. As
Jason Motte
got on a roll late in the season with his high-90s heat, La Russa made him the ninth-inning guy. Salas became a setup guy and then, as he did in this game, has become the team's long reliever of choice. So while most managers resort to using the back end of the bullpen early in games, even in loser-out games -- see Roenicke in this game, or Detroit's Jim Leyland in Game 6 of the ALCS -- La Russa can turn to a good pitcher who closed games earlier in the season.
Of course, the team the Cardinals will be facing in the World Series have a similar approach. Ron Washington has managed his
Texas Rangers
pitching staff in the postseason like La Russa: Turn over the game to the bullpen as soon as reasonably possible.
It should make for a fun World Series of tactical moves and decisions. Both teams have deep benches. The Cardinals have the red-hot Freese (12-for-22 with nine RBIs in the NLCS) and the Rangers have the red-hot
Nelson Cruz
(six home runs, 13 RBIs in the ALCS). What's perhaps most amazing of all: After losing on Aug. 24, the Cardinals were just 67-63. They were 11.5 games behind the Braves in the wild-card race.
Their season was over.
Almost over. They went 23-9 to make the playoffs on the final day as the Braves fell apart, a minor miracle essentially lost in all the attention given to the collapse of the
Boston Red Sox
.
Almost over. And now they're four wins away from a World Series title.
A great bullpen. David Freese delivering huge hits. Who saw this happening back in August?
October, 12, 2011
10/12/11
11:40
PM ET
By
Christina Kahrl
| ESPN.com
With
Chris Carpenter
looking to provide an encore after his masterpiece in Game 5 of the National League Division Series and
Yovani Gallardo
coming into the game with a career 1-7 record against the St. Louis Cardinals while allowing 6.5 runs per nine,
Wednesday's Game 3
of the National League Championship Series was already one with all sorts of foreboding for the Milwaukee Brewers despite being an ace-on-ace matchup. In 11 starts against St. Louis, Gallardo has managed just four quality starts.
But Carpenter didn't channel his inner Bob Gibson. Instead, he was the first starter hooked on Wednesday night, after just five innings. And that suited the Cardinals just fine, because with Tony La Russa's team-pitching approach, he needed only five and a lead before turning to the revolving door from his bullpen. Just four would have to troop in to seal St. Louis' 4-3 victory, because even while he's willing to go batter to batter with an alacrity unlike that of any other manager in history, La Russa let both
Lance Lynn
and
Jason Motte
pitch in multiple innings.
With this game on the line, it wasn't the ageless geezers like
Arthur Rhodes
and
Octavio Dotel
who were pitching. La Russa's love of veterans might be well-known, but he loves winning more. It was the younger guns he trusted with the one-run lead: rookies
Fernando Salas
and Lynn, then
Marc Rzepczynski
for Prince-erasure as the situational lefty, and finally Motte to cook with gas and put the game away. It might not sound like the Nasty Boys, but the Cardinals' pen will settle for being merely nasty.
Thanks to some wildness and some dubious defense -- more on that in a second -- the Cardinals busted out for four runs in the first, which might have triggered your expectation that they were going to repeat Game 2's ugliness and blow the Brewers back to Milwaukee before they might ever sniff a Game 6. Gallardo wound up having about the strangest game you might imagine -- seemingly on the ropes from the outset en route to putting 13 of the 26 batters he faced on base. But the Cardinals simply couldn't deliver the knockout blow, even doing Gallardo the characteristic favor of grounding into a couple of double plays.
Despite all that, Brewers skipper Ron Roenicke stuck with Gallardo, barely bothering to ring the pen until he finally hooked his starter after five innings and 95 pitches, down by just a run. If you expected Roenicke to play Captain Hook at any point, guess again. If Gallardo isn't the Brewers' ace, they have no ace, and with
Randy Wolf
starting Game 4, the last thing he could afford was a quick hook.
Given the desperate straits he was in on paper going into this game, Roenicke took a big risk at the outset -- on the lineup card. Roenicke's willingness to take a few risks on offense is one of his key features as a manager, and with the series tied and going up against Carpenter, he elected to sit
Nyjer Morgan
vs. a right-handed pitcher and start
Mark Kotsay
in center in his place. This had a lot to do with the two hitters' track records against Carpenter -- Morgan had a .469 OPS in 25 career PAs, while Kotsay had an .871 in 12. Carping about small sample sizes is the lazy thing to complain about, but that's what managers have to work with, and with Morgan swinging out of his shoes in the postseason, Roenicke made a tough call. If you want to be generous, call it situational awareness.
Both the benefits and the hazards couldn't have become transparent any more quickly than they did in this game. Swapping Kotsay in to play center field was obviously a risk: Kotsay is 35 years old, and it's been years since he was an adequate center fielder, let alone a good one. And starting wound up being a key to the game's outcome. After a four-run first inning during which Kotsay's limited range was responsible for a couple of the runs, it didn't look so good.
Maybe having Gallardo on the mound made this seem worth trying; Gallardo got 36 percent of his outs on strikeouts this season, so he's much less defense-dependent than most starting pitchers. With two walks and a home run, Kotsay delivered on the offensive side of the equation, and his homer pulled the Brewers to within a run.
If the game swung on La Russa's aggressiveness in going to his bullpen, Roenicke's adaptive decision on his lineup card wound up being decisive for the Brewers. The Cardinals can take some satisfaction in the fact that they didn't win in a walkover or via another tremendous Carpenter start -- but thanks to their pen, they didn't need one. Now down two games to one with Wolf due, the Brewers' situation is fairly desperate, with Wolf's start in Game 4 already a cause for fear.
Christina Kahrl covers baseball for ESPN.com. You can follow her on Twitter.
September, 15, 2011
9/15/11
12:58
AM ET
By
Christina Kahrl
| ESPN.com
MILWAUKEE -- Tony Plush's tweet war! K-Rod crabs about role! Prince says this is
probably final year in Milwaukee
! National League Central lead shrinks by five games in eight days! With headlines like these, you'd think everyone's hair was on fire. Is this the Bronx Zoo or the Brewers?
Fielder
Following a sloppy 6-2 loss to the Rockies on Wednesday that, combined with the Cardinals' recent hot streak, has at least made things interesting again down the stretch, the Brewers' players were fairly copacetic.
After helping stir this particular pot with his comments before the game about his time in Milwaukee perhaps being in its final days,
Prince Fielder
was fairly even-keeled about the club's recent slump, observing, "It just is how it is. Unfortunately we hit a little bump."
Nyjer Morgan
reassured everybody with a ready smile and an equally ready comment, that now was, "No time to panic, just something we have to overcome."
Rickie Weeks
added the observation that there's, "No panic, no concern. Just come back ready to play."
So much for player panic in front of the media. Asked about the mood in the clubhouse and whether manager Ron Roenicke had anything to say afterward, Fielder chuckled and noted, "There isn't nothing really to say. This isn't 'Hoosiers.' Just to try to go out and win games."
Pressed about his pregame comments to TBS about his imminent departure as a free agent this offseason, Fielder was frank about how this didn't really seem like a current events revelation to him: "You guys said it last year. It is what it is. It's the same thing I've been saying."
That much is true, and where the bidding goes on Fielder and the Cardinals'
Albert Pujols
this winter figures to make first-base spending the fulcrum around which the entire free-agent market will revolve. It's almost certainly better that Fielder has been reliably frank about it, rather than suddenly playing coy and pretending it's ever been any other way. It's easy to see how, if he said anything else, it might create false hope and subsequent acrimony among fans in Milwaukee.
It's just the timing of all this that might seem strange -- heck, it
is
strange. After last week's Morgan mayhem, followed by the anticlimax of the Brewers' "showdown series" with the Phillies -- Philadelphia won the first three of four games -- and then Wednesday's comments from Fielder and K-Rod, you almost wonder whether the Brewers aren't just trying to get all this stuff said and out of the way before October comes around. But if you thought there wasn't going to be any more drama in the NL Central, you guessed wrong.
Christina Kahrl covers baseball for ESPN.com. You can follow her on Twitter.
September, 9, 2011
9/09/11
12:27
AM ET
Milwaukee's image as a "Little Baseball Burgh that Could" doesn't quite jibe with the attendance figures. Consider: The Brewers rank ninth in the majors with an average of 37,219 fans per game, and they're about to pass the 3 million mark for the third time in four seasons. That's an awful lot of bratwursts, pork sliders and chili cheese fries flying out from beneath the heat lamps at Miller Park.
The turnstile count also places the Brewers right in the middle of more-hyped franchises in bigger metropolitan markets. The
Los Angeles Angels
,
St. Louis Cardinals
,
Boston Red Sox
and
Chicago Cubs
rank directly in front of Milwaukee in attendance in the fifth through eighth spots. And the Dodgers, Colorado, Texas, Detroit, the Mets and Atlanta fall in line behind Milwaukee at 10-15.
Busch Stadium may get all the love as baseball heaven, but with numbers like these, it's clear that Wisconsinites sure are partial to their Brew Crew. The combination of ardent fan support and owner Mark Attanasio's competitive nature makes you wonder about the common assumption that All-Star first baseman
Prince Fielder
is destined to leave the city once he files for free agency. Yes, Fielder is having a productive walk year and will probably find more lucrative opportunities beyond Milwaukee. But if the Brewers make a deep postseason run and Fielder feels a few pangs of sentimentality and decides to convey them to agent Scott Boras, there's at least reason to hope for some productive dialogue. Does the name "Jered Weaver" ring a bell?
At the moment the
Philadelphia Phillies
are Major League Baseball's best team, and the Brewers rank near the top of a Power Rankings list near you. And the two clubs are taking part in a strangely surreal September event -- a marquee series with nothing tangible at stake. Their game highlighted Thursday night's action, even though not a whole lot was riding on the outcome. The Phils are now a mind-boggling 44 games over .500 at 92-48, and lead the Braves by 10 games in the National League East. The Brewers have been so-so of late, but they're 85-60 and lead the Cardinals by eight games in the Central.
Even before the Phillies beat up on Milwaukee starter
Chris Narveson
en route to a 7-2 victory behind
Cole Hamels
, it was so quiet that you could hear the Chorizo grunting during the between-innings Sausage Race. What else do you expect on the night of the NFL opener at Lambeau Field? Fans normally cheering for the Brewers were quietly monitoring Aaron Rodgers and the Green Bay Packers on their mobile devices and iPod apps while the Super Bowl champs were beating New Orleans.
It's easy to see the Phillies and Brewers butting heads in a classic postseason series because they're well-balanced clubs with an abundance of pitching. The Phillies lead the majors with a 3.05 team ERA, and Milwaukee is eighth at 3.64. Meanwhile, Atlanta's starting pitching is now sketchy because of injuries to
Tommy Hanson
and
Jair Jurrjens
, and the Diamondbacks are still encountering some skepticism after blowing past San Francisco.
Milwaukee's Ron Roenicke and Philadelphia's Charlie Manuel, who are probably jockeying for position behind Arizona's Kirk Gibson in the NL Manager of the Year race, must strike a balance between keeping their players rested yet sharp down the stretch. Phillies shortstop
Jimmy Rollins
just returned from a groin injury,
Chase Utley
is out with a concussion and
Ryan Howard
is dealing with bursitis in his left heel. Meanwhile, Milwaukee second baseman
Rickie Weeks
continues to progress in his return from an ankle injury. He'll add a welcome mix of thump and on-base ability to the Brewers' lineup.
Questions? We have a few. While the Phillies plan to rely on
Ryan Madson
,
Antonio Bastardo
and
Brad Lidge
at the back end of the bullpen, the Brewers could use more production from the left side of their infield. Shortstop
Yuniesky Betancourt
and third baseman
Casey McGehee
have picked up the pace since the All-Star break, but they still have OPS marks in the .650 to .660 range. While Manuel tries to decide between
Roy Oswalt
and 11-1 rookie
Vance Worley
as his fourth postseason starter, the Brewers can only wonder how the ultratalented
Zack Greinke
will handle the media attention he so loathes on a national stage in October.
At least the Phillies can catch the ball. The Brewers rank seventh in the majors in Baseball Prospectus' defensive efficiency rankings, but
Corey Hart
committed the team's 97th error on Thursday, and center fielder
Carlos Gomez
didn't exactly inspire confidence when he circled a
Hunter Pence
line drive in the gap by way of Kenosha and turned a possible double into a stand-up triple.
The more Plush-damentally sound if occasionally combative
Nyjer Morgan
plays center field against right-handers. On a positive note, Morgan enjoyed an uneventful, Twitterless,
Albert Pujols
-insult-free night in the Milwaukee dugout before entering the game on a double switch in the sixth inning.
Both teams have some principals involved in the big award races.
Roy Halladay
and
Cliff Lee
are duking it out with the Dodgers'
Clayton Kershaw
for the NL Cy Young Award, and Fielder and left fielder
Ryan Braun
are prime MVP candidates.
If the Phillies and Brewers do meet in the postseason, feel free to file away these matchups for future reference: Braun is a career 9-for-17 against Roy Oswalt. As for Fielder, he's a career 6-for-10 with a 1.700 OPS against Roy Halladay, and 5-for-6 with a 2.333 OPS versus Cliff Lee. We know that's an exceedingly small sample size, but it still merits a "what the heck?''
The atmosphere in the teams' series this weekend will feature a mix of intrigue and fun. If they pass each other's way in October, it just might be electric.
PHOTO OF THE DAY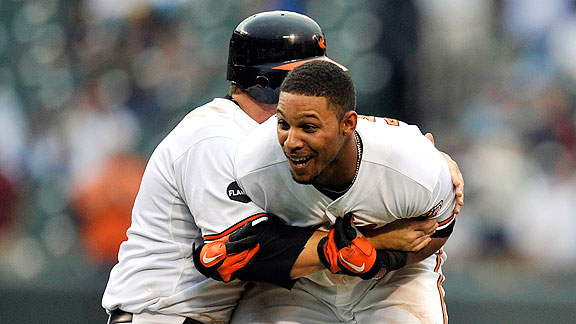 Joy R. Absalon/US PresswireAfter a game-winning hit, Robert Andino learns not every tackle comes on the gridiron.
September, 8, 2011
9/08/11
1:56
PM ET
A good ol' time was had by all on
Thursday's Baseball Today podcast
, as Keith Law and I went into extra innings on many subjects, including these:
1.
Milwaukee Brewers
outfielder
Nyjer Morgan
made news Wednesday night for some interesting reasons. Is he justified or is he the next
Milton Bradley
?
2. In the last relevant race, the
Los Angeles Angels
win and the
Texas Rangers
lose, and former prospect
Jerome Williams
played a big role. We reminisce on the right-hander.
3. Similarly, good for
Oakland Athletics
right-hander
Guillermo Moscoso
, who was nearly perfect against the
Kansas City Royals
. Who is this guy?
4. Let's talk Tigers!
Justin Verlander
and the many wins,
Jose Valverde
and the many saves … what does it all mean?
5. The
Philadelphia Phillies
and the Brewers begin a big series Thursday, but is it really big at all? Do you believe in October calling cards?
Plus: Excellent e-mails, Chase Utley's head, identifying bat speed, Davey Johnson in D.C. long term and so much more on
a packed Thursday Baseball Today podcast
. Download now!
June, 4, 2011
6/04/11
12:00
PM ET
By
Christina Kahrl
| ESPN.com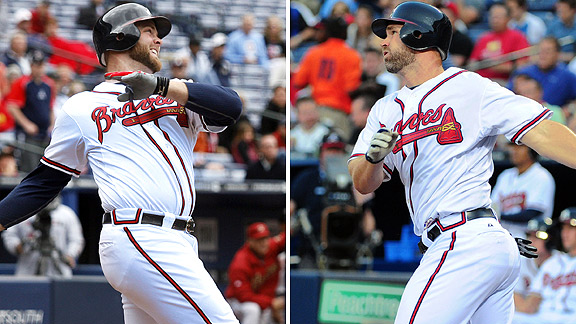 US Presswire/Getty ImagesThe lefty/righty catching platoon of Brian McCann and David Ross has been the NL's best this season.
If the American League has very few stable platoons but a few identifiable platoon players getting work, is the National League any better off? Even with today's bigger bullpens, the absence of a DH gives NL skippers and GMs a little more freedom to carry a player whose primary value is to platoon, since they have five reserves, so even if one is a catcher and another is someone who can play short, that still leaves space for the odd guy. Say, that journeyman who can knock a situational lefty right out of the box, or who can help put up a crooked number against that tiring right-handed starter in the fifth or sixth inning. And it doesn't hurt that these kinds of guys are handy for double-switches.
As in the American League, you find a few catching platoons of convenience, in which the backup backstop bats from the other side and conveniently gets his starts on the days the starter needs a rest. The Braves' setup with
Brian McCann
and
David Ross
is the best of the lot, but when Atlanta afforded itself Ross, it did so knowing it was getting more than a platoon player. The Mets' young/old and lefty/righty combo of
Josh Thole
and
Ronny Paulino
has its virtues. Charlie Manuel has the benefit of a slight inversion of the paradigm when
Brian Schneider
is healthy -- a lefty-batting backup is a lot easier to spot when
Carlos Ruiz
really does need a rest, since most pitching is right-handed -- but he's on the DL.
Stable platoons beyond those behind home plate are surprisingly limited in the Senior Circuit. I'd divide the current group of platoons in the league into three groups: committed, accidental and diffident, reflecting the level of planning and commitment that went into constructing them, and whether or not they're going to last more than a couple weeks.
Among the few we'd call committed, Clint Hurdle's stolidly running out his right-field combo of
Garrett Jones
and
Matt Diaz
. It isn't hitting all that well, but that was the plan, and so far, they're sticking with it. The Phillies anticipated a right-field platoon before the season, but
Domonic Brown
's injury kept that from becoming a reliable feature of Manuel's lineup cards until recently, pressing
Ben Francisco
back into an everyday role he handed back.
[+] Enlarge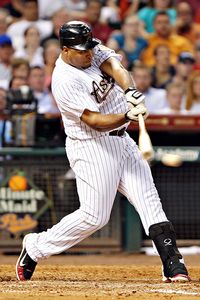 Troy Taormina/US PresswireThe Astros are 10-8 against lefties this season, which could be partly because that matchup allows them to move Carlos Lee out of left field.
In the infield, San Diego manager Bud Black has been reliably sticking with
Brad Hawpe
and
Jorge Cantu
as his first-base arrangement, but there's only so much Can'tu at the plate that even the Padres can endure. The rare multi-position platoon that's a matter of design, but also a certain diffidence is found in Houston, where Brad Mills is moving
Carlos Lee
between left and first base, but not every time out.
Brett Wallace
sits against a few lefties,
Jason Michaels
plays left and Lee moves to first and keeps getting to play every day. The 'Stros might have a 10-8 record vs. lefties, but getting Michaels into the lineup isn't the reason why. But re-potting the increasingly immobile Lee someplace other than left field might be a contributing factor.
Alone among their NL brethren, the Marlins have stuck with an infield platoon someplace other than first base, and they platoon at third without actually finding a set right-handed half of the platoon. Edwin Rodriguez has damned the defensive torpedoes to run
Greg Dobbs
out there every day against right-handers, while leaving his partner du jour as a matter of mystery -- sometimes it's
Wes Helms
, sometimes it was
Donnie Murphy
, and now sometimes it's the roving
Emilio Bonifacio
. Those happy few who root for the Teal Deal are no doubt on their seat's edge when their Fish face a lefty.
Among the accidental platoons, three NL West teams have setups they didn't necessarily expect. To the credit of both Bruce Bochy and Black, they've proven reliably willing to platoon, and they're assembling new ones on the fly after their initial designs broke down. Black got plenty of mileage out of his outfield platooning last year, but
Will Venable
flopped this spring, handing back his half of the right-field job. In his desperation, Black is pairing
Eric Patterson
with
Chris Denorfia
, which isn't helping matters.
While Bochy isn't trying anything quite as inspired as last year's mid-season lineup platoon between
Travis Ishikawa
and
Aaron Rowand
-- with
Aubrey Huff
moving to the outfield against righties and returning to first base against lefties -- he has been aggressive in getting
Nate Schierholtz
into the lineup against right-handers while playing
Cody Ross
daily. Rowand is getting platoon time with
Andres Torres
in center, but
Pat Burrell
hasn't been entirely reduced to Schierholtz's platoon partner.
Then their is the Dodgers' Don Mattingly. Some combination involving
Jay Gibbons
in left field was probably going to be part of the program at the outset, but Gibbons' spotty health, a passing interest in
Tony Gwynn
's speed, and
Marcus Thames
' breakdown opened up an opportunity for first baseman
Jerry Sands
to win the job. But like so many other thundersticks from Albuquerque in Dodgers history, his stick fell still in Chavez Ravine, and now Sands is in an accidental platoon with Gibbons until they decide there's a better alternative.
Injury created the Braves' temporary replacement platoon setup for
Jason Heyward
, as the
Eric Hinske
/
Joe Mather
platoon is working out nicely -- but it's also clear that pair will head back to pine time as soon as Heyward's healthy. In contrast, some managers look like they'd like to platoon more, but injuries have gotten in the way. The Brewers' Ron Roenicke appears committed to a
Nyjer Morgan
/
Carlos Gomez
platoon in center because of the speed 'n defense combo it provides, but Morgan's injury got in the way at the outset. If it sticks, that's the circuit's lone platoon arrangement up the middle someplace other than catcher.
The Pirates' loose platoon at the infield corners reflect what I mean by "diffident platooning." In contrast with his greater faith in his right field platoon, at the infield corners Clint Hurdle's sort of futzing around with
Steven Pearce
at both first and third vs. lefties to give him something to do, and sometimes
Brandon Wood
gets time at third. But it isn't an everyday sort of devotion, and has as much to do with
Pedro Alvarez
's career-stunting slow start and
Lyle Overbay
's offensive indifference than any abiding faith in Pearce or Wood.
I'd also chuck Kirk Gibson's first-base set-up into this category as well --
Xavier Nady
and
Juan Miranda
are platooning, sort of, but Gibson isn't exactly being a stickler about it. Since neither are hitting the people they're supposed to, and since neither plays first base all that well, it's more first base by coin toss at gunpoint than a straight platoon.
Platooning isn't automatically a good idea, after all, and if as Casey Stengel put it, "I could'na dunnit widdout the players," that's just as true today -- skippers can only use what they've got, no matter how clever they might be in how they employ it.
Christina Kahrl covers baseball for ESPN.com. You can follow her on Twitter.
March, 27, 2011
3/27/11
2:02
PM ET
Some quick takes at news items from around the majors:
1. Yankees start with Freddy Garcia and Ivan Nova in the rotation, put Bartolo Colon in the bullpen.
Take:
Thumbs up. Garcia has had a poor spring, but deserves the initial chance over Colon based on his OK season with the White Sox in 2010 (28 starts, 4.64 ERA). Since winning the 2005 AL Cy Young Award, Colon has made just 47 starts, including none in 2010, with a 5.18 ERA. For all the consternation about the Yankees' rotation, they won 95 games last year with
A.J. Burnett
and
Javier Vazquez
posting ERAs over 5. It's About The Money
wonders if the Colon snub is an outrage
.

Silva
2. Cubs release Carlos Silva, eat $8 million, give fifth rotation slot to Andrew Cashner.
Take:
Thumbs up. Silva has been pounded this spring, just another indicator that his decent 2010 season was a fluke. And remember that his good first half was really just a good two months. Cashner pitched in relief as a rookie in 2010, but has a live arm and some upside if he can throw strikes.
3. Nationals trade Nyjer Morgan to Brewers for Cutter Dykstra, son of Lenny.

Morgan
Take:
Thumbs sideways. For both teams. The Brewers already have Nyjer Morgan and his name is
Carlos Gomez
. Milwaukee needed a backup outfielder after trading
Chris Dickerson
to the Yankees for
Sergio Mitre
. The Nationals officially hand over their starting center field job to
Rick Ankiel
, but I suspect
Roger Bernadina
will get a fair share of time out there as Ankiel has issues staying healthy. As for Dykstra the Younger, he hit .312 with a .416 OBP in the Midwest League, but (A) lacks power; and (B) needs to find a position (fielded .894 at third base). But anything that keeps a Dykstra in the news is a good thing.
4. A's name Brandon McCarthy their fifth starter.
Take:
Thumbs down. The odds of this working seem pretty slim. McCarthy, of course, has always had issues staying healthy. He's been about a league-average pitcher with marginal peripherals when he does pitch, and his major problem (home runs) should be lessened a bit pitching in Oakland. That said, I would have gone with
Tyson Ross
or even
Bobby Cramer
. But these issues usually end up resolving themselves on their own and if the A's actually get 20 starts out of McCarthy, kudos to them.
5. Mike Hampton retires.

Hampton
Take:
Thumbs up. It would be easy to make a crack about the excellent schools in Denver, but you have to give Hampton credit for persevering and trying various comebacks when he could have hung up the spikes years ago. As a Mariners fan, it still irritates that he was traded to the Astros for Eric Anthony. Hampton had pitched poorly in a few innings as a 20-year-old rookie in 1993, Lou Piniella for whatever reason wasn't a fan, and the Mariners traded him that offseason for Anthony, a left fielder who wasn't any good and lasted just one season in Seattle. Just one of many terrible trades Seattle made around that time. The Mariners could have had a great rotation in the mid-'90s with
Randy Johnson
,
Jamie Moyer
,
Jeff Fassero
and Hampton. Instead, that club never reached a World Series.
Anyway, Hampton might not have lived up to the huge contract he signed with the Rockies, but he had an excellent career with 148 wins. He was one of the best-hitting pitchers of the past 25 years with 16 home runs, including seven in 2001. Or more than Nyjer Morgan will probably hit in his career.
July, 1, 2009
7/01/09
6:24
PM ET
How good is
Nyjer Morgan
? Dave Cameron thinks
you might be really surprised
...
When the Nationals signed Adam Dunn over the winter to a 2 year, $20 million contract, the reaction from the sabermetric community was almost unanimously positive towards the move for Washington. For a fraction of his original asking price, they got the guy who had become something of a poster boy for the kind of player that statistical analysts have been claiming is undervalued for years. The walks and power skillset produces a lot of runs, and Dunn has a master's degree in the walks and power skillset.

When the Nationals acquired Nyjer Morgan yesterday, the reaction from the sabermetric community was almost unanimously negative towards the move for Washington. He was routinely called a no-power fourth outfielder, easily replaceable, and a 29-year-old with no upside. The Nationals were destroyed for giving up on a "talent" like Lastings Milledge to acquire Morgan. Analysts I have quite a bit of respect for, like Keith Law, Dan Szymborski, and our own R.J. Anderson, hailed this as an easy win for the Pirates, as none of them see much value in Morgan.

Here's the problem. Nyjer Morgan and Adam Dunn are nearly equals in value, and the polar reactions from the sabermetric crowd puts the blindspots that have been developed over the last 10-15 years on full display.
Since I know you're all pressed for time, I'll summarize the next few grafs, thusly: 1) Dunn is 45 runs better with the bat; Morgan is 5 runs better on the bases; and Morgan is 35 runs better with the glove. Ergo, Dunn is a whole five runs better than Morgan. Or roughly speaking, one-half of one win. For this, Dunn is paid $10 million and Morgan $411,500.
Cameron's big finish:
There's just no way around the real conclusion -- the sabermetric community, for the most part, has a blindspot when it comes to players with defensive skills at the extremes of the spectrum. Given the cost differences, Morgan is clearly a more valuable asset than Dunn, yet his acquisition is mocked while Dunn's is celebrated.

Baseball is not just about who can hit the ball further. It's time we stopped evaluating players on their offensive worth alone.
Cameron's done as much as anyone in recent years to awaken the sabermetric community -- and by extension, anyone else who's interesting in being awake -- to the relative values of hitting and defense. We all owe him our gratitude for his hard work and unflagging enthusiasm. But I think he's firing his barbs at a straw man here. Was he not around last winter when everyone was explaining why Adam Dunn and
Pat Burrell
and
Bobby Abreu
were forced to take pay cuts?
OK, so we may have given short shrift to Morgan yesterday, but that's not because we don't understand that a run saved is just as valuable as a run scored. It's because Morgan's never been a regular before this season, so it's not easy to get a handle on just how great he is, defensively. Certainly, Morgan doesn't have any sort of reputation yet. Also, it's because Morgan's just about as good as he's ever going to be, while Lastings Milledge -- who, after all, was actually a part of the trade; Dunn was not -- is still considered by some to have a legitimate shot at becoming a super player.
I'm not particularly optimistic about Milledge. It's true that members of the "sabermetric community" -- which I suppose might include me -- can become a tad overenthusiastic about young players. But that's a whole different blindspot. Maybe we don't completely get the value of defense yet. But trust me, Dave Cameron: we're getting there, and we're getting there quickly.
June, 30, 2009
6/30/09
4:14
PM ET
From the indefatigable
Dejan Kovacevic
:
This deal is widely going to be hailed as a win for the Pirates, and I suppose that it probably is. After all, Nyjer Morgan's never going to be anything more than a fourth outfielder (on a good team, anyway), while Lastings Milledge still has a chance to be a first or second outfielder.
I wonder, though. When you're trying build an organization, shouldn't character be a significant consideration? I know I've basically dismissed such things for some years now, because I believe in writing about things I can quantify, and I don't have the first idea about how to quantify character and chemistry and all those wonderful things. Still, a lot of baseball executives with a lot of wins under their belts do talk about those things with great passion, and I would be foolish to summarily dismiss that passion.
There's another little issue, which is that Milledge has been terrible this season. You probably recall his struggles with the Nationals, which got him sent back to the minors. In 22 Triple-A games, he's done practically nothing. A meaningful sample size? No. But at some point you actually have to produce. Milledge is now 24, and he's got an OPS almost exactly the same as Nyjer Morgan's. Milledge might yet become a star. He'd better hurry, though.