March, 21, 2011
3/21/11
7:36
PM ET
By
Chad Dotson
| ESPN.com
The
New York Mets
finally, mercifully,
released lefty
Oliver Perez
today. That's not so surprising. What's almost shocking is that the Mets, clearly one of the worst-run franchises in recent years, for the second time in a week have demonstrated a firm understanding of the concept of sunk costs.
[+] Enlarge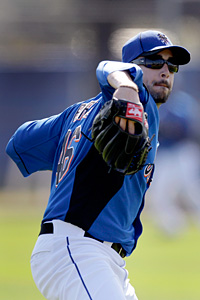 AP Photo/Jeff RobersonOliver Perez says the Mets gave him a chance to establish himself this spring before releasing him.
After releasing second baseman
Luis Castillo
(and eating the $6 million Castillo is due for 2011), the Mets let Perez go, despite owing the 29-year-old pitcher $12 million on the last year of his contract. The new regime, led by GM Sandy Alderson, is clearly committed to moving forward despite being saddled with some very poor decisions made by previous GM Omar Minaya. If you are a Mets fan (and for the sake of your mental health, I hope you are not), it's an encouraging sign.
That $12 million was (and is) going to have to be paid to Perez whether he pitched to a single batter in 2011. It's the very definition of a sunk cost, a cost that has already been incurred and, importantly, cannot be recovered and should not influence future decisions. The question is only whether Perez can help the Mets this year. Alderson made the judgment -- a wise decision, by all accounts -- that Perez was washed up, so he cut bait. More teams should follow that example.
A sidenote: Adam Rubin
has a nice list
of some other absurd New York contracts that the club has been forced to swallow in years past. (You Mets fans might want to avoid looking at that list).
We can close the door on the Perez era in New York, but what to make of his tenure in the Big Apple? Let's start here:
despite garnering a somewhat poor reputation ("
He's not a team player!
" -- whatever that means), Perez said all the right things upon his release today:
"When they told me, I almost knew what they were going to tell me," Perez said inside the clubhouse at the team's spring training complex after shaking hands with teammates. "It's one of those times you don't feel great, but I don't want to quit."

Perez indicated he believed he got a fair shot from the Mets' new regime.

"I think they gave me an opportunity," he said. "They were fair with me when I came here. 'We're going to give you an opportunity to be a starter.' I didn't do anything great. They moved me to the bullpen trying to be a lefty specialist. And the last game, that was a real horrible job."
For some time now, Perez has been an enigma, and that's only magnified by the unique pressures of playing in New York. He's a conundrum, wrapped in a riddle, smothered in secret sauce. Perez has shown signs of brilliance, and he has shown signs that the strike zone is only a vague concept to him.
As a 22 year-old with the Pirates in 2004, Perez looked like a star on the rise. He posted a 12-10 record with a 2.98 ERA in 30 starts (196 innings); his ERA+ was 145 and he was a 4.5 WAR player. Importantly, Perez led the league in K/9 percentage (remember that). There isn't a team in the league that wouldn't want a player who could put up that line.
The next two seasons were ... well, they were just bad, but the Mets acquired Perez at the 2006 trade deadline (along with
Roberto Hernandez
, in exchange for
Xavier Nady
). Perez's first full season in New York, 2007, gave many hope that the left-hander was ready to emerge as a 25 year-old. Ollie went 15-10 with a 3.56 ERA and a 121 ERA+. After a so-so 2008, and despite serious warning signs (Perez led the league in walks issued), Minaya signed Perez to a lucrative three-year, $36 million deal, hoping that Perez would be able to get a handle on his much-documented control problems.
Yeah, that didn't happen. Over the first two years of that contract, Perez was nothing short of awful. He went 3-9 with a 6.81 ERA and his control cratered, walking nearly 8 batters per nine innings. Combine that with the fact that Perez has never again approached strikeout numbers like he had shown as a 22 year-old wunderkind, and you have a recipe for disaster.
Perez will likely catch on somewhere; you can't get rid of a left-handed pitcher that easily. If he can't figure out some way to get a ball in the vicinity of the strike zone, however, we might have seen the last of him in the big leagues.
Chad Dotson writes Redleg Nation, a blog about the Cincinnati Reds. Follow him on Twitter.
February, 15, 2010
2/15/10
3:54
PM ET
Omar Minaya couldn't let all the warm, fuzzy feelings about
Jose Reyes
and
Johan Santana
percolate for just a few more days? Brian Costa with
the weird news
:
Three days before Mets pitchers and catchers report to camp, Omar Minaya is already settled into his office in Port St. Lucie, Fla. And the GM is looking forward to several position battles this spring, including one that seemed unlikely just a week ago: first base.

Minaya told me first base will be "an open competition" between Daniel Murphy and Mike Jacobs, who signed a minor-league deal with the Mets last week. Murphy is still the pre-camp favorite to win the job, but if he struggles over the next seven weeks and Jacobs impresses, the Mets could alter their thinking.

"He'll compete for the job," Minaya said of Jacobs. "I think it's fair to say that Murphy has proven himself worthy of being considered, but he's going to have to continue. It's an open competition."

--snip--

Whether it's Murphy or Jacobs, the Mets' starting first baseman in 2010 may just be keeping the spot warm for prospect Ike Davis, anyway. Davis, 22, will be in camp as a non-roster invitee.
Davis is probably going to win the job, eventually. But with only 55 games above Class A, that eventually is late this summer at the earliest, and probably sometime in 2011. So, considering that the Mets will have a large payroll in 2010, but will enter the season picked to finish second or third in their division, they can hardly afford to just punt a position.
But that's what they're doing. When you see the names "Daniel Murphy" and "Mike Jacobs," you might say to yourself, "Self, neither of those guys are good enough to play every day, but what about a platoon? After all, the Mets are set with every-day players for every other position, so they should have the roster space to carry two first basemen."
Ah, that's what I thought, too. But then, a nagging little suspicion: Aren't Murphy and Jacobs both left-handed hitters?
They are.
That's right, friends. Even though he already had Murphy, Minaya chose -- from among all the sluggardly sluggers looking for an invitation to spring training -- another left-handed hitter to compete with Murphy.
Against left-handed pitchers in his career, Jacobs has been utterly useless: .221/.269/.374.
Against left-handed pitchers in his career, Murphy has been slightly better: .240/.289/.442.
Granted, neither of them have been crackerjacks against right-handed pitchers, either. Jacobs hasn't reached base often enough and Murphy hasn't hit for enough power. But each might be
useful
against right-handers.
Maybe Minaya's not finished yet. Maybe he's going to trade Murphy for a righty-hitting first baseman. Maybe he's bringing Jacobs to camp just to give Murphy some competition. Maybe he's going to sign
Mike Sweeney
to platoon with the winner of the Murphy/Jacobs smackdown.
Maybe. But until something else happens, we'll have to go with this as the No. 1 early contender for 2010's Worst Plan of Spring Training Award.
December, 3, 2009
12/03/09
7:14
PM ET
Uh-oh.
This would scare me a little
, were I a Mets fan. From LoHud:
According to NPBtracker's twitter, the Mets have asked to see the results of a Hideki Matsui physical. That could be Omar Minaya simply kicking the tires and turning over every rock, or it could be legitimate interest in putting Matsui in the outfield.In a lot of ways, Matsui would make sense for the Mets. They certainly need a bat, especially in the outfield and especially one that hits for power. If Matsui can legitimately play left field, he could give that lineup a boost, and Matsui wouldn't have to leave New York, which might be appealing to him and make him more likely to sign.

It makes no sense in one very obvious way. Matsui has played a total of 23 games in the outfield the past two seasons. Using a medical report to decide he can play there again would be a giant leap of faith.

That said, when MLB.com's depth chart lists your starting left fielder as Angel Pagan, I guess any and every option is on the table.
What do you think, Mets fans? Would you like to see the club take a flyer on a 36-year-old outfielder with bum knees? Or should the Mets spend the next year or so trying to get their house in order for a run at perennial success?
Signing Matsui to anything more than a one-year contract would be a pitiful cry for a help from a franchise that has no excuse for not winning 85-95 games almost every year. Then again, when you're
supposed
to win 85-95 games every year, you can wind up doing some pretty silly things.
July, 27, 2009
7/27/09
6:58
PM ET
The Mets have fired Tony Bernazard, which they had to do. Leave it to Omar Minaya, though,
to screw this up, too
. Courtesy of Ben Shpigel in The New York Times:
The news conference took a strange twist when Minaya said he "scuffled" with the first published reports, by Adam Rubin, the beat writer for The Daily News, because, he said, Rubin had lobbied him and others in the Mets organization for a job in player development.

Rubin said later that he was flabbergasted by the remark, saying he thought Minaya was accusing him of "taking down" Bernazard because he wanted his job. "I asked, How do you go about getting a job in baseball? That's the extent of it," Rubin said in a televised interview after the news conference.

"I don't know how I can cover the team now," he added.

Minaya said the team's inquiry into Bernazard began even before the first report was published Wednesday by The Daily News. He said that the published reports expedited the investigation and that the franchise's human resources department presented him with a report Sunday. He said the two men met later Sunday to talk about what the investigation found.

"I was surprised by some of the things that were in the report - how could I not be?" Minaya said.
Boy, that sure is some fine damage control.
We can't look inside the minds of the Mets' owners, but there's an excellent chance that Minaya's position has simply become untenable. It's one thing to lose, especially when you've got a halfway-decent excuse (all the injuries). It's one thing for one of your highest-ranking employees to be out of control, and not know about it before the newspapers.
Both, though? I just don't see how Minaya can survive these twin messes. Nor can I see how he should.
May, 27, 2009
5/27/09
5:03
AM ET
Today's links come to you in the wake of
yet another brilliant performance
by
Zack Greinke
.
You've probably seen most of the cool Greinke stats. After Tuesday night, here's a new one: Greinke became just the fifth pitcher in the last 15 years to throw five complete games in his first 10 starts of the season. That strikes me as sort of a freak stat, though. I prefer this one: Greinke hasn't allowed a home run this season, and, in fact, he hasn't allowed a home run since the fifth inning of a 5-2 victory last Sept. 2. That's 103 straight innings without giving up a single homer.
Greinke's been lucky. You have to be to give up eight runs in 75 innings. But Greinke strikes out lots of hitters, walks few of them and doesn't give up many big flies. The things a pitcher can control, he controls. Which is what's made him great since last summer.
• Justin Verlander's been pretty great lately, too.
• The Mets keep winning. But as Ken Davidoff writes, Omar Minaya doesn't get credit for good injury management (but at least Jerry Manuel's taking good notes).
• I admire Scott Miller for not pulling his punches just because someone, you know, died.
• Sports are recession-proof? As Ken Belson writes in the Times, not if you're just out of college and looking for a job.
• Also in the Times, a nice interview with Sports Illustrated's S.L. Price about his new book.
• On the off-chance you haven't seen (and heard!) it already, SweetSpot presents Laurence Tureaud at his best.