SweetSpot:

Orel Hershiser
December, 5, 2013
12/05/13
2:30
PM ET
A follow-up to yesterday's post titled
"One thing Hall of Fame voters get wrong."
The premise of that piece was that voters haven't properly adjusted for the increasing number of teams since expansion first began in 1961 -- from 16 teams to the 30 we have now. I pointed out that the 1950s and '60s have a combined 39 Hall of Famers (for an average of 36 teams) while the 1970s and '80s have just 36 Hall of Famers for 50 teams.
Personally, I think the one-to-one ratio of Hall of Famer per team sounds about right. It's fewer than the overrepresented 1920s and 1930s, about what we have for the '50s and '60s but fewer than what we have for the '70s and '80s.
So, who is missing from the '70s and '80s? Here are 10 guys I would put in. WAR totals and rankings from Baseball-Reference.com.
Tim Raines (69.1 WAR, 105th all time)
Ballot history: After starting out with just 24 percent of the vote in 2008 he's started climbing in recent years and was up to 52 percent last year.
This will be Raines' seventh year on the ballot, and while he'll probably stagnate in the next couple years with some big names on the ballot, he looks like he'll eventually get in before his 15 years is up.
Alan Trammell (70.4 WAR, 94th)
Ballot history: After 12 years on the ballot, he was at 33 percent last year. He won't get elected via the BBWAA.
I've never understood why Trammell was never able to build a case. His career numbers are very similar to Barry Larkin's, minus a few steals, and Larkin made it in on his third year. Even if you think Larkin was a
little
better, if Larkin's case is 100 percent then Trammell's should be about 98 percent. Two differences: Larkin won an MVP and Trammell finished second when he should have won; Larkin didn't have Cal Ripken in his league.
Lou Whitaker (74.8, 77th)
Ballot history: Got 3 percent his first year and fell off.
Whitaker's career numbers are pretty similar to Roberto Alomar's: .276/.363/.426 with a 117 OPS+ versus .300/.371/.443 with a 116 OPS+. Alomar had more steals and the better defensive reputation although Whitaker was very good and won three Gold Gloves. It's not necessarily that Whitaker was as good as Alomar but that he compares very favorably. The case against him is that his peak wasn't as high -- his five best seasons were worth 28.9 WAR compared to Alomar's five best at 33.0 -- but he was very good even up to his final season. You know what hurt him? He hit the ballot in 2001, when even middle infielders were putting up huge offensive numbers. Whitaker's good seasons looked less impressive at the time.
Dwight Evans (66.7, 125th)
Ballot history: First came on in 1997, lasted three years before getting booted.
Evans had received 10 percent his second year, which while not great at least gave him some momentum from his first year. Maybe his case would have exploded like Bert Blyleven's. But the 1999 ballot added Nolan Ryan, George Brett and Robin Yount and everybody else suffered as a result. Evans, of course, is a sabermetric darling. He did things well that Jim Rice, his Hall of Fame teammate on the Red Sox, didn't: draw walks, play superb defense. The walks meant that Evans posted a higher on-base percentage even though Rice had the higher average. You'd think a guy who won eight Gold Gloves, hit 385 home runs in the pre-steroid era, drove in 1384 runs and scored 1470 would have been more appreciated. Part of his problem was that he was better in his 30s than his 20s. He wasn't a Hall of Famer for the first half his career so not enough people thought of him as one.
Bobby Grich (71.0, 90th)
Ballot history: One and done.
Yes, another sabermetric favorite. He had good power for a second baseman for his era, drew a ton of walks and won four Gold Gloves. An enormously valuable player in his time -- Baseball-Reference ranks him as one of the top seven position players in the AL in seven different seasons, including first in 1973.
Orel Hershiser (56.8, 209th)
Ballot history: Received 11 percent his first year and then fell off in his second. Odd.
Hershiser won "only" 204 games and thus his early exit from the ballot. I'm not saying he's a lock candidate, but why has Jack Morris' case taken off while Hershiser was dumped so quickly? At his peak, Hershiser was more dominant and his 1988 postseason heroics certainly are the equal of Morris' Game 7. OK, Morris won more games. Maybe a better comparison is another former Dodgers pitcher, Don Drysdale, who made it in with 209 career wins. Hershiser's career ERA isn't as good but he also had to pitch in the high-scoring late '90s during the decline phase of his career. Like Drysdale, he was famous during his peak (not mention Hershiser broke Drysdale's scoreless-inning record). Postseason career: 8-3, 2.59 ERA in 22 games (18 starts).
Keith Hernandez (60.1, 177th)
Ballot history: Stayed on for nine years, peaking at 11 percent.
As a first baseman, you make the Hall of Fame for your bat, thus Hernandez never drew much support. Still, he was a .296 career hitter, drew walks, played on two World Series champs and is regarded as maybe the best defensive first baseman ever. His career WAR is Hall of Fame borderline but Hernandez was also one of the most iconic players of the '80s, if you want to put stock into that. (And, yes, Hernandez over Don Mattingly, who simply had too short of a peak.)
Luis Tiant (66.7, 125th)
Ballot history: Stayed on for 15 years.
Here's what's interesting about Tiant: He received 30 percent of the vote his first year on the ballot, 1988. People have been elected with worse starting positions -- Rice, Blyleven, Bruce Sutter. Drysdale received just 21 percent his first year. So initially there was a strong belief in Tiant as a possible Hall of Famer, with his 229 career wins and popular personality. He to fell 11 percent his second year. What happened? Gaylord Perry and Fergie Jenkins entered the ballot in 1989. Then Jim Palmer. Then Tom Seaver in 1992, Phil Niekro in 1993, Steve Carlton in 1994. He wasn't as good as those guys so everyone forgot about him.
Ted Simmons (50.2, 289th)
Ballot history: One and done. He's on the Veterans Committee ballot this year.
I'm on the fence with Simmons, but he does rank 10th all time in catcher WAR and I'd argue that the top 10 at each position are strong Hall of Fame candidates. He wasn't Johnny Bench, but who was? From 1971 to 1980 he hit .301 and averaged 90 RBIs per season.
And ...
Pete Rose (79.4, 64th)
Ballot history: Actually received 9.5 percent of the vote in 1992.
OK, maybe including Rose is cheating a bit.
* * * *
So that's 10 players. Others you could argue for: Jack Morris, Dale Murphy, Willie Randolph; Graig Nettles isn't that dissimilar from Brooks Robinson; Rick Reuschel's career WAR is higher than Palmer, Drysdale, Sutton or Juan Marichal; Lee Smith has done pretty well in the BBWAA voting and is still on the ballot. Tommy John, Dave Concepcion, Dave Parker, Steve Garvey and Dan Quisenberry are on the Veterans Committee ballot this year, which makes them all candidates, although I think only John has a strong case. (Quisenberry is no different from Sutter, however, so there's that.) Dave Stieb was dominant in the '80s; with a little more luck he could have won three Cy Young Awards and been a stronger choice.
Part of the problem voters face is that as the quality of talent improves over time it becomes harder for the great players to separate themselves. So Stieb looks like Hershiser who looks like Bret Saberhagen who looks like Dwight Gooden and none of them were Tom Seaver so nobody gets in.
I know many (most?) of you believe electing guys like those above would weaken the Hall of Fame. That's sort of my ultimate point; if your Hall of Fame is Willie Mays and Hank Aaron and Cal Ripken, then your bar is way above the established level of actual Hall of Famers. Let's just give guys from recent decades their fair due.
October, 20, 2013
10/20/13
3:15
PM ET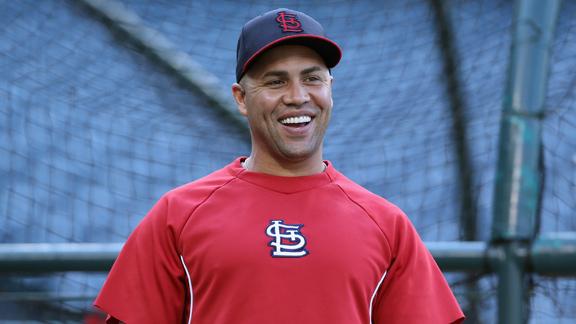 As
Carlos Beltran
delivers more big postseason hits this October for the St. Louis Cardinals, talk about him as a potential Hall of Famer has increased, carrying over from discussions that began in the regular season. ESPN.com's Jerry Crasnick wrote about
Beltran's Hall of Fame case
back in August, while Dave Cameron of FanGraphs
wrote about Beltran and
David Ortiz
the other day.
Basically, Beltran's case goes something like this: He kind of snuck up on everyone as a Hall of Fame candidate, he fares very well in advanced metrics, such as WAR, but not quite as well in more conventional measurements, such as counting stats and MVP voting results. Certainly, two more strong seasons will help his case.
Comparisons have been made to Andre Dawson, another guy who did a little of everything. In terms of career WAR, they're similar: Beltran 67.5, Dawson 64.4. One major difference: There was a time when Dawson was considered maybe the best player in the game, something that has never been said of Beltran. Dawson also won an MVP Award (though ridiculously undeserved), and that undoubtedly helped get him elected to Cooperstown.
It all means Beltran is a borderline candidate. Which gets us to this: How much should his great postseason numbers (.337 BA, 16 HR, 37 RBIs, 1.173 OPS) factor in?
Case study: Jim Rice versus Bernie Williams
Rice: 382 HR, 1451 RBIs, .298/.352/.502, 47.2 WAR
Williams: 287 HR, 1257 RBIs, .297/.381/.477, 49.5 WAR
[+] Enlarge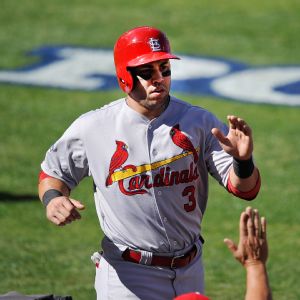 Robert Hanashiro/USA TODAY SportsCarlos Beltran's exceptional postseason numbers could bolster his Hall of Fame case.
After a long and heated debate, Rice finally made it on his 15th and final year on the ballot. Despite similar career value, Williams fell off the ballot after one year. Williams was a key performer on four World Series champions, hitting .275/.371/.480 in his postseason career, with 22 home runs and 80 RBIs in 122 games (he's the all-time postseason leader in RBIs). To be fair, neither are strong Hall of Fame candidates, but in Williams' case his postseason numbers clearly had no effect on the voters.
Verdict:
Postseason doesn't help.
Case study: Curt Schilling versus Kevin Brown
Schilling: 216-146, 3.46 ERA, 127 ERA+, 80.7 WAR
Brown: 211-144, 3.28 ERA, 127 ERA+, 68.5 WAR
In their raw stats, these two are nearly identical, right down to innings pitched (Schilling had five more in his career). Neither won a Cy Young Award, although Brown should have won in 1996 when he had a 1.89 ERA for the Marlins and arguably for the Padres in 1998, when he led the National League in WAR. Schilling finished second in the voting three times, twice to teammate
Randy Johnson
, once to
Johan Santana
. They're not exactly the same: Schilling does have the edge in career WAR (he spent more time in good hitter's park) and strikeouts.
The difference, of course, is Schilling was one of the great postseason pitchers ever, going 11-2 with a 2.23 ERA in 19 career starts, winning three rings. Brown went 5-5 with a 4.19 ERA in 13 starts and one ring. Brown fell off the ballot after one; Schilling received 39 percent of the vote last year on his first year on the ballot, actually a pretty good starting point to eventual election.
Verdict:
Postseason helps.
Case study: Jack Morris versus Dennis Martinez
Morris: 254-186, 3.90 ERA, 105 ERA+, 43.8 WAR
Martinez: 245-193, 3.70 ERA, 106 ERA+, 49.5 WAR
Pretty similar numbers. Morris' win-loss record is slightly better, but he also generally pitched on much better teams. Martinez's best years came in relative obscurity with the Expos, with whom he went 100-72 with a 3.06 ERA in eight seasons. This is more like the Rice-Williams case, in that neither really has a strong Hall of Fame case.
Except that Morris has those World Series rings. Martinez pitched in two World Series, but his teams lost both times. Morris' career in the playoffs: 7-4, 3.80 ERA (13 starts). Martinez: 2-2, 3.32 ERA (seven starts). Martinez received 16 votes and was knocked off the ballot. Morris received 68 percent last year and has one year left on the ballot with a good chance of getting the final-year push like Rice did.
It should pointed out that Morris' overall postseason record isn't that special. He did win two games in the 1984 World Series, but other pitchers have had spectacular World Series and didn't get in to the Hall of Fame (Lew Burdette, Mickey Lolich). For Morris, his candidacy really comes down to voters putting a huge value on his Game 7 performance in 1991.
Verdict:
Postseason helps.
Case study: Kirby Puckett versus Larry Walker
Puckett: 207 HR, 1085 RBIs, .318/.360/.477, 50.8 WAR
Walker: 383 HR, 1311 RBIs, .313/.400/.565, 72.6 WAR
This one is a little more complicated. Puckett's career was ended early by the eye injury, although an injury is an injury, no matter how freakish (voters seemed to give him a pass on his shortened career, however). Walker's numbers were inflated some by Coors Field. Still, Puckett was a Gold Glove center fielder; Walker was a Gold Glove right fielder. Puckett had some power and rarely walked; Walker had power and walked much more often. Walker won an MVP Award, Puckett didn't. Career WAR? Not close.
Puckett sailed in on the first ballot. Walker has been right around 22 percent his three years on the ballot. Puckett played in two World Series and won both; he hit .309/.361/.536 in 24 career playoff games, and had that memorable walk-off home run in Game 6 of the 1991 World Series. Walker played in one World Series and lost. Puckett was lovable, Walker injury-prone. That certainly influenced voters, but Puckett's postseason heroics must have helped get him elected.
Verdict:
Postseason helps.
Case study: Tony Perez versus Keith Hernandez
Perez: 379 HR, 1652 RBIs, .279/.341/.463, 53.9 WAR
Hernandez: 162 HR, 1071 RBIs, .296/.384/.436, 60.1 WAR
Another interesting one in that they were completely different types of players. Perez was a power-hitting first baseman who drove in a ton of runs (it helped having Pete Rose and Joe Morgan hitting in front of him). Hernandez didn't have the same power but hit for a higher average, got on base more and is regarded as maybe the best fielding first baseman of all time.
Perez had the reputation of being a clutch hitter, and the Reds won two World Series titles with him. But Hernandez also won two titles, with the Cardinals and Mets. Here's the kicker, though: Perez was a terrible postseason player, hitting .238/.291/.378 with six home runs and 25 RBIs in 47 games. Hernandez hit .265/.370/.359 but with 21 RBIs in 30 games and was also terrific in two Game 7s (2-for-3, two walks, two RBIs in 1982; three RBIs in 1986).
Of course, in this case, voters probably didn't get past the career RBI totals.
Verdict
Postseason doesn't help, unless you're part of a famous team (unless you're Bernie Williams).
OK, one more. These are kind of fun.
Catfish Hunter versus Orel Hershiser
Hunter: 224-166, 3.26 ERA, 104 ERA+, 36.6 WAR
Hershiser: 204-150, 3.48 ERA, 112 ERA+, 51.7 WAR

Hunter basically got in because he was a famous anchor of Oakland's three straight World Series champions (and a lesser part of two Yankees World Series winners). Hunter went 9-6, 3.26 in his postseason career. His regular-season numbers aren't all that impressive, especially when looking at the advanced metrics such as ERA+ and WAR. Hershiser went 8-3, 2.59 ERA in his postseason career, carried the Dodgers almost single-handedly to the 1988 World Series title (unlike Morris, his team won in five instead of seven). Hershiser fell off the ballot after two years. If only one of his Indians teams had won a championship.
Verdict:
Postseason helps only if the voters want it to.
In the end, you've seen what I've done: compared some of the more marginal Hall of Famers or Hall of Fame candidates to similar players. There is certainly inconsistency from the voters, except perhaps in one main narrative: fame. Rice was
famous
as an active player, while Williams was always overshadowed by other teammates. Schilling's fame rose with the bloody-sock game and titles in Boston. Morris was certainly more famous than Martinez, Puckett more so than Walker, Hunter probably more than Hershiser, Perez maybe more than Hernandez (although that one is more debatable).
As for Beltran, that's what will probably ultimately make his Hall of Fame case an uphill climb: He comes up a little short on the "fame" side of things (unlike, say, David Ortiz). Plus: He's about to just play in his first World Series.
August, 30, 2013
8/30/13
1:45
PM ET
On this date 25 years ago, Orel Hershiser began his streak of 59 consecutive scoreless innings pitched, breaking the mark of 58 that Don Drysdale had set in 1968.
Mark Simon has a great look back at
Hershiser's amazing stretch
-- which included two 1-0 shutouts and 10 scoreless innings in his final start to break the record.
"There was never a time early in the streak where I considered it a streak," Hershiser told Simon. "We were in a pennant race and just trying to win ballgames.
"One of the things that helped me get the streak was that the offense wasn't scoring many runs. When your team is winning big, you trade outs for runs a lot, but early in the streak, I couldn't, because not giving up runs was part of winning games."
The neat thing about Hershiser's record is that, like Joe DiMaggio's hit streak, it
is
seemingly breakable, not a record that will simply stand the test of time because the game has changed, like Cy Young's 511 victories or Jack Taylor's 185 consecutive complete games.
Since Hershiser, Arizona's
Brandon Webb
has the longest scoreless streak at 42 innings. Mark reports that Dan Szymborski estimates a league-average pitcher has a 1-in-71-million chance of breaking Hershiser's record. Of course, it will take a better-than-league-average pitcher to do it.
Besides his talent on the mound, Hershiser had favorable conditions in 1988, as it was a low-scoring season and he pitched his home games in Dodger Stadium, a pretty good pitcher's park. National League teams averaged 3.88 runs per game (tied with 1992 as the lowest since 1968, and 0.66 home runs per game, compared to 0.90 in 2013). That's the biggest obstacle now -- more home runs. One mistake, and the streak is over.
So who could break Hershiser's record? Certainly
Clayton Kershaw
would be the obvious choice. He's dominant, he pitches in Dodger Stadium and he doesn't give up many home runs (just nine this season). He's had eight scoreless starts so far in 2013, so all he needs to do is string those together.
Kershaw, however, wouldn't be my top choice to surpass Hershiser. My guy would be Braves reliever
Craig Kimbrel
, who has allowed just six runs in 55 2/3 innings a year after allowing seven in 62.2. He's allowed one run in his past 42 1/3 innings.
Of course, a reliever doing it isn't quite the same as a starter. And considering Kimbrel barely tops 59 innings in a season, he'd have to go essentially an entire season without allowing a run (or carry it over between seasons, which creates another argument). Still, as unhittable as Kimbrel is -- batters are hitting .161 against him -- he's the guy who could do it.
August, 26, 2011
8/26/11
11:15
AM ET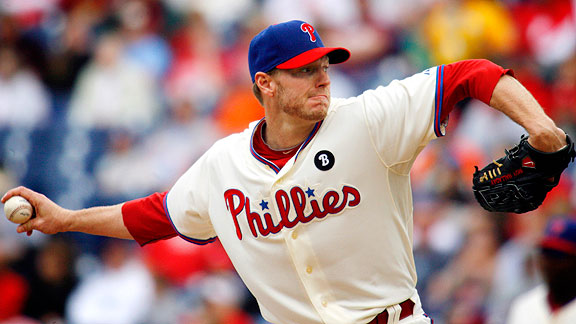 AP Photo/H. Rumph JrRoy Halladay has been at his best when pitching at Citizens Bank Park.
One of the neat things about this being such a fine season for pitching is that there are some great examples of incredible home-field dominance by moundsmen.
Angels starter
Jered Weaver
continued his remarkable season pitching in spacious Anaheim, lowering his ERA there to 1.38 after a win on Wednesday. (Good luck guessing who the last pitcher was to finish a season with at least 70 innings and a home ERA that low.) And Brewers ace
Zack Greinke
has not disappointed at Miller Park this season, where he puts a perfect 9-0 mark on the line on Sunday against the Cubs.
Those are impressive numbers for the statistical traditionalists, but it is Roy Halladay's performance at Citizens Bank Park that may rank among the most amazing in the history of the sport. He'll be pitching there again against the Marlins on Saturday.
Why is Doc's performance so remarkable? Because of these three numbers in his 104 2/3 innings pitched: 102 strikeouts, eight walks and two home runs allowed. In the world of Fielding Independent Pitching (FIP), a statistic that estimates ERA based on strikeouts, walks and home runs allowed, this translates to a 1.56 FIP. That's stratospherically good.
Granted, the 2011 version of Citizen's Bank Park is not playing as the hitter's ballpark that it's usually made out to be (check out ESPN.com's
Ballpark Factor page
for more), but that troika of dominance still strikes us as a remarkable combination of numbers.
It got us to thinking about other sorts of home-field domination by pitchers. We circled back to the first full season after World War II ended (1946) and with the help of a few resources (including avid Baseball Today podcast listener Naveen) we came up with a few other examples.
How do you think Halladay, Greinke and Weaver compares to these?
Satchel Paige, 1952 St. Louis Browns
Paige had among the most divergent home-road splits of any pitcher ever. He pitched 70 1/3 innings at home, 67 1/3 on the road, and this is what he netted:
Home: 9-0, 1.27 ERA, 8 saves (though saves weren't "official" stats then)
Road: 3-10, 4.95 ERA, 2 saves
These issues mirrored those of his Browns teammates. The team finished 42-35 at home, 22-55 on the road.
George "Red" Witt, 1958 Pirates
There have only been two seasons since World War II in which a pitcher threw at least 75 innings at home and posted a home ERA below 1.00. Witt's 1958 season is one of them. It remains as a statistical memory of one of baseball's forgotten all-time great prospects.
In 1958, Witt was recalled from the minors and was awesome, 9-2 in 18 games (15 starts) with a 1.61 ERA. He put on an amazing show in 10 appearances at Forbes Field, allowing seven runs (five earned) in 75 2/3 innings pitched (an 0.59 ERA), not allowing a home run.
Witt hurt his arm the next spring and the injury proved to be a career-wrecker. He went 2-13 with a 6.29 ERA over the next four seasons, though he did earn a World Series ring with the 1960 Pirates.
Sandy Koufax, 1964 Dodgers
We didn't want to make this a list of pitchers who were overwhelmingly dominant regardless of venue, but felt we had to include Koufax. He's the
other
of the two pitchers to post a sub-1.00 ERA at home, finishing 1964 at 0.85.
There's a good debate over which Koufax home season was better. This one, or 1965. Here are the numbers; you be the judge:
1964: 12-2, 0.85 ERA, 0.78 WHIP, 8.7 K per 9, 6.9 K per BB
1965: 14-3, 1.38 ERA, 0.71 WHIP, 11.0 K per 9, 6.7 K per BB
Roger Nelson, 1972 Royals
Four of the five best seasons for home-ballpark WHIP since World War II were thrown by Sandy Koufax and Juan Marichal. The fifth was by Nelson (nickname "Spider") who allowed just 45 hits and 15 walks in 76 2/3 innings pitched in at Royals Stadium in 1972.
Nelson appears to have been the beneficiary of the ballpark's spacious outfield. He allowed just three home runs (one every 25 innings) in Kansas City, yielding 10 (one every 9.6 innings) in other venues.
Nolan Ryan, 1972 Angels
There has been talk about how no one benefits more from his home ballpark than Weaver. But Weaver's home-road statistical differentials pale in comparison to those for Ryan in Anaheim in 1972:
Home: 13-8, 1.07 ERA, .438 opp OPS, 220 K, 89 BB, 22 starts
Away: 6-8, 4.26 ERA, .694 opp OPS, 109 K, 68 BB, 17 starts
These splits raise about 15 different questions, most notably: How the heck do you lose eight games at home, pitching to a 1.07 ERA? Easy, actually, because he lost 1-0 twice, 2-0 twice, and 2-1 twice (his other losses were 3-0 and 4-3).
One last Ryan note from that season: From July 5 to August 9, Ryan made five home starts. In 42 innings, he allowed two runs (one earned) and 11(!) hits, striking out 58 and walking 21. He went 3-2 in those five starts, as this stretch included both of his 1-0 losses.
Steve Stone, 1979 Orioles
The Elias Sports Bureau directed us Stone's way because of the odd form of his home dominance and a disparity in home-road split for which there may be no equal. Stone was 8-1 with a 1.97 ERA at Memorial Stadium, averaging just 4.6 K/9. Stone paid the price for the inability to overpower on the road, where he had a 6.66 ERA in the same number of starts he made at home (16).
Dwight Gooden, 1984 Mets
That's not a typo. We're listing the 1984 version of Gooden and not the 1985 version, partly at Naveen's suggestion, because Gooden was amazing wherever he was pitching in 1985. In 1984, Gooden was a baseball phenomenon, akin to Fernando Valenzuela three years prior. He built a home-field advantage in the form of the K Corner fan base in Shea Stadium's upper deck.
"It helped because if I got two strikes, on anything close, the hitter was going to swing, or the umpire was going to ring him up," said Gooden, who averaged nearly 12 strikeouts-per-nine innings at home (and gave up only three home runs in 118 1/3 innings pitched) during an appearance at ESPN Thursday.
Orel Hershiser, 1985 Dodgers
Few outside Los Angeles may remember that Hershiser was 19-3 with a 2.03 ERA in 1985, partly because of Gooden's 24-4, 1.53 ERA and partly because of what Hershiser did three seasons later. But Hershiser had one heck of a home run that 1985 season. He was 11-0 with a 1.08 ERA, allowing 16 earned runs and just four home runs in 133 1/3 innings pitched. That included one-hit shutouts of both the Padres and Pirates.
And yes, we're listing a bunch of Dodger Stadium examples. Because we want to spread the wealth, we limited it to those two, which means omitting the great Valenzuela season in 1981.
Johan Santana, 2006 Twins
Santana was basically perfect in his home ballpark. He finished with a 12-0 mark and a 2.19 ERA. Santana was the first pitcher to finish a season 12-0 or better at home since Billy Pierce went 12-0 at Candlestick Park for the 1962 Giants, the first AL pitcher to do so since Boo Ferriss was 13-0 (with a 3.85 ERA) for the 1946 Red Sox.
Santana's home winning streak ended up at 17 games, but it is not the longest in modern major league history. Ray Kremer won 23 in a row for the Pirates in 1926-1927.
Josh Johnson, 2010 Marlins
To find a pitcher with comparable home ballpark dominance to Halladay, you have to go back to … last season. In 103 1/3 innings at Sun Life Stadium, Johnson struck out 127, walked 21, and yielded just two home runs. At 1.54, his FIP actually comes out slightly better than Halladay's. But there's a big difference between doing that sort of thing in the soon-to-be-abandoned Marlins home ballpark, which usually doesn't rate homer-friendly and doing it in Citizens Bank Park.
Honorable Mentions: Courtesy of Naveen, a few others of a ridiculously good home-field advantage nature: Juan Marichal (1966, 1969 Giants), Bert Blyleven (1974 Twins), Jon Matlack (1978 Rangers), Bob Tewksbury (1992 Cardinals),
Roger Clemens
(1997 Blue Jays),
Kevin Brown
(1999, 2000 Dodgers),
Jake Peavy
(2008 Padres) and
Tim Lincecum
(2009 Giants).
Lastly our trivia answer:
Mike Morgan
was the last pitcher to finish a season with a home ERA that matched or bettered where Weaver is now. Morgan must have gotten the benefit of Wrigley Field a few times. He finished with a home ERA of 1.38 for the 1992 Cubs.
Mark Simon is the Baseball Research Specialist for ESPN Stats and Information. He thinks 1986 is the best baseball season ever. Follow Mark on Twitter @msimonespn and the Mets blog at ESPNNewYork.
July, 6, 2011
7/06/11
12:00
PM ET
By
Christina Kahrl
| ESPN.com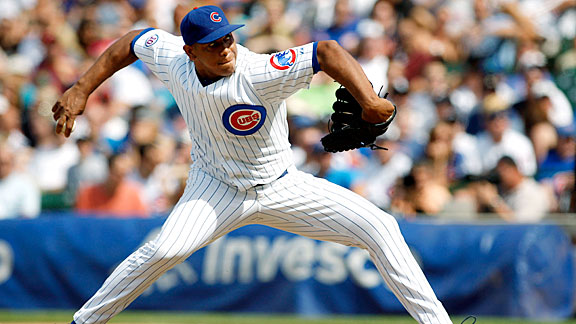 Jerry Lai/US PresswireRelievers like the Cubs' Carlos Marmol have contributed to this era's high strikeout totals.
To add some perspective to the overall rise of the strikeout, let's make a quick switch to the conversation and move from K/9 to the total percentage of plays that end with a strikeout.
That done, this year pitchers are striking out batters 18.4 percent of the time, slightly lower than last year's 18.6 percent, but in the same vicinity, and that's consistent with the steady increase in strikeouts we've seen over the past 30 years. For the sake of comparison, in 1980 batters were being struck out 12.7 percent of the time, which represents an inflation rate for strikeouts of a little more than 46 percent over three decades.
Just in case you've got
the
Year of the Pitcher, 1968, up on a pedestal (or a higher mound), for the sake of comparison you'll find that was when batters were striking out 16 percent of the time. Not shabby, but that's a clip major league hitters shot past in the early '90s without looking back. Of course, not even lowering the mound had a critical impact on MLB's overall strikeout rates -- it took adopting the DH in 1973 to really bring it down to where it was in 1980.
Heck, thanks to the power of Baseball-Reference.com, let's run this as a little quick and dirty table, moving through five-year increments starting in 1980 on up to last year, with 1968 and 2011 tacked on for good measure.
K%
is self-explanatory, while
BIP%
is the rate of balls in play;
Mr. Average
is an example of an ERA title qualifier whose K% was around MLB-average that year.
The result: Strikeouts? Up, up, up. Balls in play? Not too coincidentally, down, down, down.
I won't pretend to claim exactitude in my selections of "Mr. Average," since I went for people with name recognition close to the MLB-average strikeout rate. That said, I don't think I'd be hazarding all that shocking a guess if I suggested that the guys at the end of this table throw harder than the guys at the beginning.
Having thrown all this out there, there are three additional areas worth touching on: The changes in how often you'll see pitcher's counts and how often then wind up a strikeout, the changing use of bullpens and relievers, and the impact of what all these strikeouts mean in terms of balls in play and particularly in terms of defense.
The count:
It shouldn't surprise you at all that in comparing data from 1990 and 2011, symptomatic of the rise of strikeouts, we're seeing more at-bats reach pitcher's counts (0-2, 1-2, but also 2-2 and 3-2), and hitters are striking out more frequently once they get into these counts (generally about 2-3 percent more often). Call that a reflection in the change of approach, or of better pitchers, or umpires reading those memos about speeding up games, or perhaps all of these things and more, but it's a day-to-day fact of life for big league hitters that they're more likely to get behind, and more likely to whiff once they get there.
Relievers:
This goes back to
something I wrote a couple of weeks ago
about how, in today's lower-scoring environment, starters are pitching later into their ballgames, which in turn creates fewer possible plate appearances and outs for relievers. With teams nevertheless still carrying seven relievers per pen on average, one way of looking at it is that this means fewer things for them to do, but the other is that it becomes that much easier for a manager to secure the platoon advantage on defense, or get an advantageous batter/pitcher matchup in general.
As a result, it really shouldn't be all that surprising that relievers these days are striking out batters 20 percent of the time
on average
, or about as often as Nolan Ryan was striking people out when he pitched in 1980. But it's every day for every team, for roughly a third of every ballgame, and that's before we get to today's truly spectacular nothing-in-play people like the Cubs'
Carlos Marmol
.
One interesting thing to note: In 1968, the reliever strikeout rate was
lower
than that of starting pitchers, something you just don't see any more, and won't.
Defense:
After the Rays put their Devil in his hell in 2008 and flipped from baseball's worst defense to one of its best, it became fashionable in sabermetric circles to talk a lot about the new importance of defense. Now, in the broad strokes, sure, you didn't want to field what very well might have been baseball's worst defense ever, as the 2007 D-Rays had been while enduring a modern-record worst Defensive Efficiency (.652).
However, nowadays balls in play per game are happening a lot less often, and Defensive Efficiency marks these days are still worse overall than they were in 1980, when a higher volume of plays
had
to be made in the field, because people weren't being struck out. Thirty years ago, 76 percent of all plate appearances ended with a ball in play; that dropped to 70 percent in the '90s, and it's below that at 69 percent today. To put it another way, thirty years ago the teams you'd see in a game were fielding almost six more balls in play per game than you'll see from your seats today. Where did those plays go? You already know -- they're happening at home plate.
So where does defense come in? Well, think about it: More strikeouts means more time spent with guys standing around in the field watching all the whiffery. It means that not only is there less chance that a ball in play is going to happen in the first place, there's that much less possibility that ball is going to get hit in the general direction of one of the lowest-percentage spots on the field, like the outfield corners -- or where guys like
Lance Berkman
happen to be parked these days.
Christina Kahrl covers baseball for ESPN.com. You can follow her on Twitter.