SweetSpot:

Orlando Cepeda
January, 7, 2012
1/07/12
10:34
AM ET
I used to play my friend Dusty in a Pursue the Pennant simulation league, back when the game was still played with cards and dice. Our battles were famed for our Dennis Martinez-Nolan Ryan pitching duels, but Dusty also had Fred McGriff. He killed me. Considering I was stuck with fat, past-his-prime Kent Hrbek as my first baseman, I lusted to acquire McGriff. He was, after all, one of the premier hitters in the game -- although nobody seemed to give him much attention as such at the time, as he was kind of the quiet assassin plying his lumber north of the border.
Crime Dog has a pretty good Hall of Fame case, and it has nothing to do with his owning the last great nickname in baseball or even the Tom Emanski commercial. As Jim Caple once wrote, if McGriff ever makes the Hall of Fame, there should be no controversy over which cap he'll wear on his plaque -- he should
just wear this one
. He'd whip that bat through the zone, finishing the swing with a high-arcing flourish, his top hand coming off the bat, his bottom hand ending above his head. You always knew a Fred McGriff swing. It was a thing of unique, awkward beauty.
This will be McGriff's third year on the ballot and he hasn't done well so far -- 21.5 percent in 2010 and 17.9 percent last year. But check out his career numbers compared to the past three first basemen elected to Cooperstown:
Murray, with his long career and 3,000 hits and 500 home runs, soared in his first year. Cepeda was a Veterans Committee selection in 1999, which essentially forced the writers to finally vote in Perez the following year.
Let's look at two more numbers: career WAR and seasons in the top 10 of MVP voting.
McGriff: 50.5, six (best finish: fourth)
Murray: 66.7, eight (best finish: second two times)
Perez: 50.5, four (best finish: third)
Cepeda: 46.8, three (best finish: first)
So McGriff favors comparably with Perez and Cepeda, although to be fair, they are pretty soft as far as Hall of Famers go. On the other hand, Hall of Fame voters have been tough on first basemen -- only four Hall of Famers who played at least 50 percent of their career games at first base began their careers after 1936 -- Cepeda, Perez, Murray and Willie McCovey.
McGriff's career is a little tough to analyze, since he began in the reputed pre-steroids era and then played into the heart of the era of high-powered sluggers. So while his production remained fairly consistent, his
value
went down, in comparison to other first basemen. Here, let me show you. Here are his rankings in various categories among players who played at least 50 percent of their games at first base each season.
In 1989, a .924 OPS was good enough to lead the American League (and rank second behind Will Clark among first basemen). A .930 OPS in 2001 ranked only seventh. McGriff was one of the best first basemen in baseball from 1988 through 1994 -- a solid run of seven seasons. A mid-career dip and increase in offense around the majors lessened his value. By 2000, a first baseman who hit 27 home runs with an .826 OPS had little value at all; every team seemingly had a first baseman who could match that rate of production.
It doesn't help McGriff's case that he's not identified with one team. He did make four playoff appearances with the Braves (and one with the Blue Jays) and hit very well in the postseason -- .303/.385/.505 in 50 games -- but going from the Blue Jays to the Padres to the Braves to the Rays to the Cubs to the Dodgers seems to have sapped his legacy. Perez, for example, was a key component on the Big Red Machine. Having a label like that helps. For McGriff, his best seasons were performed in relative anonymity in Toronto and San Diego. His monster numbers from those early years don't look as impressive in comparison to the monster numbers of a decade later.
But they were. From 1988 to 1994, he ranked fourth, first, third, third, third, fifth and fifth in his league in OPS. How many Hall of Famers can claim a run like that?
In the end, however, McGriff remains borderline. The biggest problem is that there are three first baseman on the ballot who are
better
Hall of Fame candidates in Jeff Bagwell, Mark McGwire and Rafael Palmeiro. Obviously, there are complicating issues around those guys. Plus, there are first basemen such as Keith Hernandez, John Olerud and Will Clark, who arguably had similar value to McGriff, albeit compiled in ways that didn't appeal to Hall voters (on-base percentage, defense).
For now, I say McGriff is just short. And that's not an easy assessment to make for a guy with 493 home runs and over 1,500 RBIs.
April, 13, 2011
4/13/11
5:55
PM ET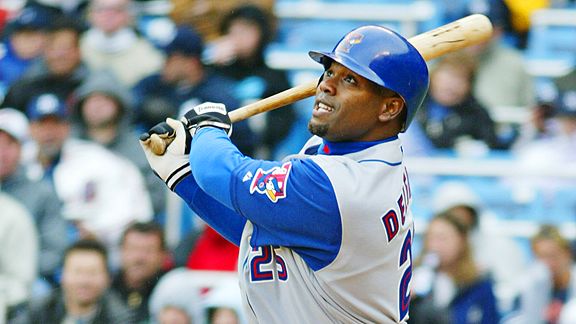 David Seelig/Icon SMICarlos Delgado hit 473 home runs and drove in more than 1,500 runs in his career.
Carlos Delgado
officially
announced his retirement
, in slightly less dramatic light than
Manny Ramirez
.
He was a great hitter, a player worthy of some random thoughts ...
1. Delgado came up through the minors as a catcher and everyone knew he could hit -- he ranked as Baseball America's No. 4 prospect in 1993 and No. 5 in 1994. He caught two games in the majors but the Blue Jays originally tried him in left field before he settled in at first base. The attempt to make him a catcher meant he spent two seasons in Triple-A when he was ready for the majors (and probably cost him 500 career home runs).
2. Long home runs. Outside of maybe
Mark McGwire
,
Barry Bonds
and
Sammy Sosa
(ahem), did anyone in the past 15 years hit longer home runs than Delgado? Loved that left-handed power stroke, like he was using a big sledgehammer.
3. The four-homer game against Tampa Bay in 2003. Delgado had taken antibiotics for a cold earlier in the day and homered in all four trips to the plate. His fourth homer was a mammoth blast to center field off
Lance Carter
.
4. His 99 extra-base hits in 2000 -- he had 57 doubles, a triple and 41 home runs -- tied for 16th-most in one season. Delgado hit .344/.470/.664 that season -- and finished fourth in the MVP voting. Yes, there was a lot of offense that year.
5. His one season with the Marlins. Actually, I don't remember this much at all.
6. Finally making a postseason appearance with the Mets in 2006 -- and raking. He hit .351/.442/.757 in 10 games, with four homers and 11 RBIs. In Game 7 of the NLCS, the Cardinals wanted nothing to do with him -- they walked him three times.
7. He only made two All-Star teams (2000 and 2003). What? The same number as Scott Cooper? How is this possible? Well, here are the first basemen who got selected in his prime years ...
1998:
Jim Thome
,
Rafael Palmeiro
,
Mo Vaughn
.
1999: Jim Thome, Rafael Palmeiro,
Ron Coomer
... yes, Ron Coomer! ... plus THREE DHs (
Harold Baines
,
John Jaha
and
Jose Canseco
).
2001:
John Olerud
,
Tony Clark
,
Jason Giambi
,
Mike Sweeney
.
2002: Jason Giambi,
Paul Konerko
, Mike Sweeney.
2004: Jason Giambi,
Ken Harvey
... yes, the immortal Ken Harvey.
2005:
Derrek Lee
,
Albert Pujols
. This one was weird. The NL selected only two first basemen, but Pujols started at DH. Third baseman
Morgan Ensberg
ended up playing first base. But
Cesar Izturis
and
Felipe Lopez
were All-Stars that year.
2006: Albert Pujols,
Lance Berkman
,
Ryan Howard
,
Nomar Garciaparra
. Nomar was hitting .358 at the break.
2007: Delgado had a bad year.
2008: Lance Berkman, Albert Pujols,
Adrian Gonzalez
. This was the year Delgado had a monster second half.
Anyway, I'm not saying he deserved to make it all those years, but it's surprising he was only a two-time All-Star. Heck, Bruce Benedict was a two-time All-Star.
8. His stance against the war in Iraq. Not an easy decision, but I applauded his courage to take a political stand
with thought and conviction
.
9. He finished with a career WAR of 49.1 via
FanGraphs
, 44.2 on
Baseball-Reference
. I'd thought it would be higher, but he's being compared against some great first basemen from his era. That places him about 26th among first basemen (minimum 50 percent of career games at first base) since 1901, similar in career value to guys like Orlando Cepeda, Gil Hodges, Don Mattingly and Boog Powell. He loses a lot of value for baserunning (terrible) and fielding (below average). Based on hitting value alone, he's about 13th to 15th among first basemen.
10. Hall of Famer? Not quite.