December, 11, 2011
12/11/11
11:09
AM ET
By
Javier Maymi, ESPNDeportes.com
| ESPN.com
Joaquin Arias
, famous for being the "player to be named later" in the deal that sent
Alex Rodriguez
from the
Texas Rangers
to the
New York Yankees
in 2004, is tearing up the Dominican League, batting .370 with 29 RBIs for the Aguilas Cibaeņas and hopes to turn that performance into a chance to compete for a roster spot somewhere in spring training.
Arias
Arias spent all of 2011 in Triple-A Omaha in the
Kansas City Royals
organization where he batted .232 and was granted free agency in November. The Royals had picked him off waivers from the
New York Mets
in November 2010.
While playing a competent second base for Aguilas, the 27-year-old Arias is also fourth in the league in stolen bases and is tied for league lead in triples with
Chicago White Sox
prospect Alejandro de Aza, who is playing locally with the Toros del Este.
Meanwhile, free agent pitcher
Miguel Batista
is trying on a new role with the Aguilas since joining the team a week ago. Batista is sharing closer duties with
Boston Red Sox
pitcher Tony Peņa Jr.
Hamilton wants to be the next Pujols
St. Louis Cardinals
prospect
Mark Hamilton
might be playing himself into contention for a roster spot with the big club by having a productive winter for the Hermosillo Naranjeros in the Mexican Pacific League.
Hamilton, a 6-4 left-handed hitting first baseman, hit .345 at Triple-A Memphis in 2011 and is following up with a .340 winter with 20 RBIs in 77 at-bats in the second half of the regular season.
With the departure of
Albert Pujols
, the Cardinals need to make decisions for first base in 2012 and might look to fill the roster spot from within. Hamilton was the Cardinals' second-round draft pick in 2006.
Salazar wants back in the Show
Released by the Marlins last June,
Oscar Salazar
is determined to make it back to the majors and is putting together a stellar winter season with the La Guaira Tiburones to prove he can return to the same form which saw him hit .302 with the
Baltimore Orioles
and
San Diego Padres
in 2009.
Through 48 games, Salazar has 35 RBIs, seven home runs and is batting .260 and has been key in the clutch to help the Tiburones to the top of the standings.
Salazar has teamed up with outfielder
Gregor Blanco
, who last month signed with the
San Francisco Giants
, and
Hector Sanchez
, also a product of the Giants farm, for a combined 99 RBIs in 48 games.
Aviles making an impact
Boston Red Sox infielder
Mike Aviles
, who is trying his luck playing right field for the Ponce Leones, is making a quick impact since joining the team this week.
Aviles drove in four and hit two home runs, helping the Leones beat the Mayaguez Indios 5-3 in 14 innings in only his second game. Through his first five games, Aviles is hitting .265. Prior to joining the Leones, Aviles, who played five games in the outfield for the Red Sox, had said he wanted to improve his skills to perhaps compete for the Red Sox right field job in spring training.
Meanwhile,
Milwaukee Brewers
prospect
Martin Maldonado
is batting .338 through 25 games with Mayaguez with three home runs and 11 RBIs.
October, 3, 2010
10/03/10
9:35
PM ET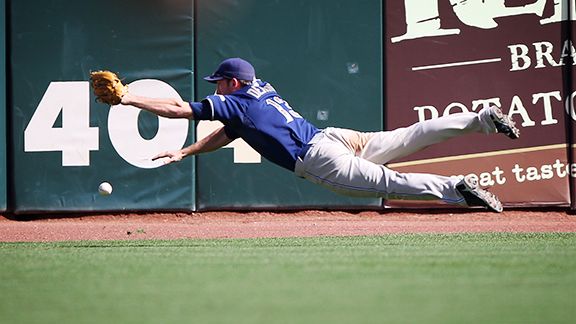 Jed Jacobsohn/MLB Photos/Getty ImagesOutfielder Chris Denorfia and the Padres fell just short on Sunday.
SAN FRANCISCO -- There are games you analyze, and there are games you watch.
The game that decided the National League West and
two
postseason berths was the sort of game you just watch.
After 161 games, what was Bud Black supposed to do? His team hasn't been scoring lately, but then his team really hasn't scored much all season (or last season, or the season before that). The front office worked hard all summer and did add
Ryan Ludwick
and
Miguel Tejada
to the lineup.
But Ludwick didn't hit much and Tejada won his MVP Award a long, long time ago. Black spent all season cobbling together lineups -- and especially outfields -- from a menagerie of spare parts and Triple-A guys and other teams' rejects. The Padres rarely scored, and when they did score without
Adrian Gonzalez
' help it was usually a minor miracle.
So they had to pitch. And when it came to the first through the sixth innings, they had to pitch mostly with guys you'd never heard of.
Jake Peavy
? Gone.
Chris Young
? Hurt. They pitched with guys named Latos and Richard and Stauffer and LeBlanc and Correia. Talented young men, to be sure. But nobody's idea, six months ago, of a pennant-winning rotation.
From the seventh through the ninth, it was quite a bit easier. Most games, Black literally had seven guys in the bullpen who were really, really, really good. It's actually sort of phenomenal, to have that many relief pitchers with strikeout-to-walk ratios so many pitchers would die for.
Edward Mujica
, who hit a little rough patch in September and didn't get to pitch against the Giants this weekend, struck out 72 hitters this season and walked
six
.
Ernesto Frieri
(who did pitch against the Giants, briefly) struck out 41 batters in 32 innings. And those were the relievers Bud Black did
not
particularly trust.
So they had to pitch, and they had to pray. When you're picked to finish in last place and you've got one of the lowest payrolls in the National League, you've got to pray a little.
For most of the season, that recipe -- Adrian Gonzalez, pitching, prayer -- worked really well.
Beginning on the 26th of August, it stopped working. The Padres lost 10 straight games, and their lead in the West went from six-and-a-half games to one game. They eventually lost their lead, but stayed exceptionally close to the Giants until losing three of four games to the Cubs last week, in San Diego. In the three losses, they scored two runs.
That left them needing a miracle this weekend.
They almost got it. They broke through with six runs Friday and four runs Saturday, a 10-run gusher that represented the most runs they'd scored in consecutive wins in nearly three weeks. The Braves lost two games against the Phillies, who weren't even really trying to win. Sunday, another Atlanta loss would guarantee the Padres at least one more game.
Granted, that wouldn't have been a miracle, exactly. What would have been a miracle, almost, was the Braves blowing a six-run lead against those non-trying Phillies ... and it very nearly happened.
Not quite, though.
They didn't need a
miracle
to beat the Giants, and play another day. But in the first inning, they did receive a minor miracle when third-base umpire Mike Everitt ruled that leadoff man
Andres Torres
' drive down the left-field line dropped foul when, as replays suggested, it probably hit the line. Everitt's call probably cost the Giants a run.
There wouldn't be any more minor miracles for the Padres, though. Let alone the full-blown, drop-to-your-knees-and-beg-for-salvation sort. They did get somewhat lucky, as starter
Mat Latos
gave up a bunch of rockets to the Giant hitters but most of them were caught.
If you want to do a little analyzing, you can analyze Bud Black's decision, on the 7th of September, to let Latos throw a season-high 113 pitches in a game against the Dodgers. Maybe if Latos had thrown 93 pitches, he wouldn't have 0-4 with a 10.13 ERA in his next four starts.
But that was a close game, and Latos had thrown
nearly
113 pitches a few times before, and maybe he would have been ineffective down the stretch regardless, considering that he'd never thrown even 125 innings before in one season. The Padres knew Latos might eventually tire, but given their situation they probably had to pitch him ... and pray.
And in Game No. 162, it really didn't matter how well Mat Latos pitched (and despite all those rockets, he gave up only two runs in six innings). Because the Padres didn't score.
Bud Black didn't use
Tony Gwynn
, Jr. He didn't use Jerry Hairston, Jr. He didn't use
Matt Stairs
, or
Oscar Salazar
, or
Aaron Cunningham
. He did (oddly) use
Luis Durango
. But I would challenge any of my brilliant friends to look at Bud Black's bench in Game 162 and come up with a combination of players that would have gotten him three or four runs against the Giants' bullpen.
You want to analyze the game? In the top of the seventh inning, Miguel Tejada batted against
Ramon Ramirez
, with two outs and two on base. Adrian Gonzalez lurked on deck. If Tejada could keep the rally alive, Gonzalez would have a chance to put a completely different spin on things.
Tejada struck out. Maybe Bud Black should have sent up a pinch-hitter for Tejada ... but you don't pinch-hit for your No. 3 hitter. Maybe you should, very occasionally. But you don't. Not in real baseball. Anyway, if Tejada had reached, Bruce Bochy would have gone to a left-hander to face Gonzalez. Which would have left the Padres hoping for another minor miracle.
The Padres just didn't play well enough to beat the Giants in this particular game, and it didn't have anything to do with the managers. The better team won the game, and the championship. In baseball, praying usually isn't enough.